This morning we woke up in San Sebastian early as we had a fun day planned – Wine Tasting in Rioja – and even more important than that…It was MY BIRTHDAY!  I'm a bit of a princess when it comes to my Birthday and there's no wasting a second of it by sleeping in! Every year, Dan and I take each other away for our birthdays.  I've taken him to Tarifa and Biarritz and he's taken me to Puglia and Tuscany.  This year we decided on a 10 day long road trip through Western France and Northern Spain instead of two separate trips.  So far, we'd spent time in Bordeaux, Arcachon, Cap-Ferret, Biarritz and San Sebastian and today was Dan's turn to plan the trip to Rioja for my birthday.  He'd organised the wine tastings, hotel and dinner and I was excited to get the day started and see what was planned.
We walked along the sea front, collected our hire car and headed out on the 90 minute journey to the Rioja Region.  Travelling through gorgeous scenery it wasn't long before we started to see some vineyards.                       

Aside from eating and exploring, my other big passion is wine.  Ever since taking a WSET course I've developed a huge appreciation for it (It tastes pretty good too!)  I love Rioja especially and so a day spent there was definitely on my bucket list!
There are many towns in the Rioja region but our first stop of the day was in Haro.  Rioja is split into three regions Rioja Alta, Rioja Alavesa and Rioja Baja.  Haro is in Rioja Alta ('High' Rioja – the area is more elevated than other Rioja regions) where we would be spending most of our time.  They make wines in a more "old world" style, the ones that we like the most, with rich, fruity flavours.  Arriving on the outskirts of Haro we pulled into our first winery, Viña Tondonia.  Dan had picked this one because they're well-known for their fantastic wines.  They release some lovely aged wines (white and red) with deep, oaky flavours.
I loved the juxtaposition between the old and the new.  The very modern tasting room shaped like a decanter sat side by side with the beautifully intricate glass and woodwork of the original winery.
We went inside and although it wasn't even 11am, we weren't the first ones there.  I could really get to like this place!  No-one thinks badly of you for drinking before midday!  Wine Tasting in Rioja is quite a relaxed affair, much more so than in Bordeaux.  We had made appointments at all the wineries but for most of them there was no need to.  We could just have wandered in and out as they do tastings all day long and are always open to visitors, especially the ones located in towns.  The ones that are out on their own in the hills prefer you to make a booking in advance.
We ordered a tasting selection of three of their red wines.  These were the Viña Cubillo, the Viña Bosconia and the Viña Tondonia and took them outside into the courtyard to drink as it was such a beautiful day.
I loved all the outdoor furniture.  It was all made from old wine barrels and they even had a chair with a built in wine holder! I have got to get me one of these!
Back to the wines.  It turned out that we really liked the youngest, cheapest one which surprised us! The Viña Cubillo was surprisingly complex and excellent value, so wouldn't feel bad for drinking lots of it!  The other two, although lovely, didn't give enough bang for their buck!  The increase in price just wasn't worth it in our opinion.  It's not very often we like the cheapest wine so it made a nice change!  Definitely a great wine for everyday drinking and one we'll be looking out for.  I've looked online and you can get it for around £10 – bargain!
Continuing on our wine tasting tour of Rioja we wandered a bit further down the road where we found the Muga winery.  Muga is one of the most famous Rioja brands and I absolutely love it.  I've drunk it everywhere from a picnic in the park in Madrid, to the oldest restaurant in the world, Botin and I love the well-integrated oak in their wines.  It's not overpowering but it's enough to make an impact.  There is also a real consistency in quality across their whole range and not just the reds!
Having only ever tried their red, we decided to go for a selection.  We ordered a glass of their white, one of their rosé and one of their red to compare and contrast.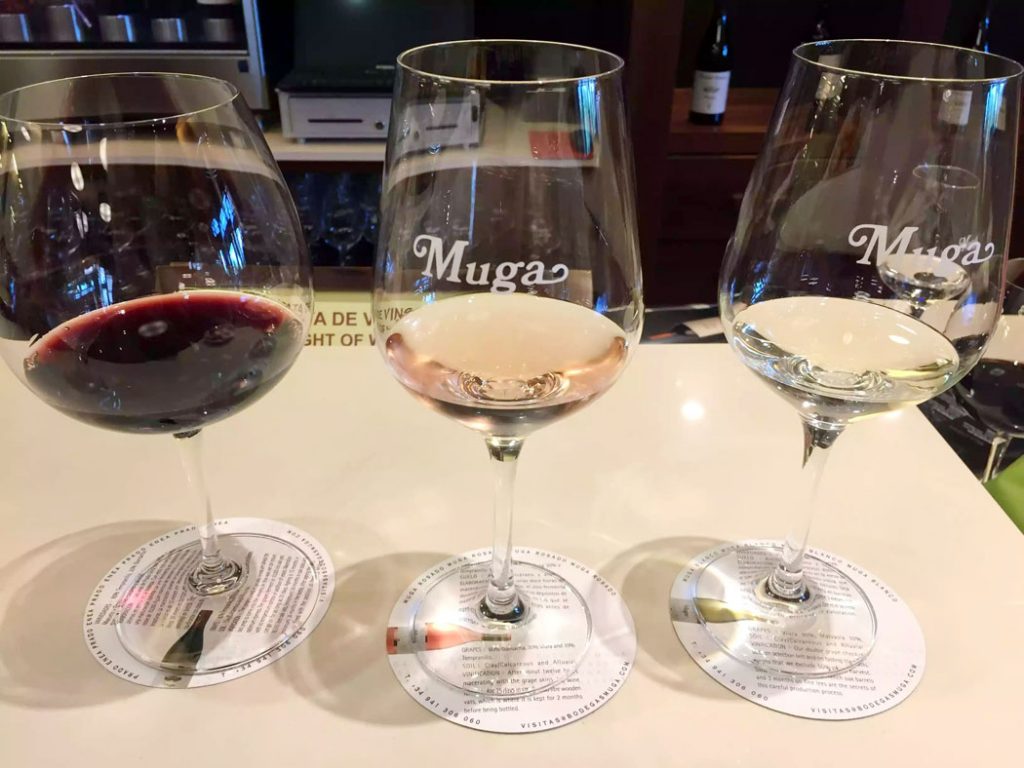 I love an oaky, white wine and their white was a lightly oaked Viura.  This is the grape most whites from Rioja are made with.  It was light and fresh with just a hint of the oak and definitely a great wine to drink in the heat of Spain.  Very refreshing without being too heavy.  The rosé wine was also very subtle, more like a Provençale rosé and had delicate strawberry notes.
Both great wines but they just didn't hold up to the Prado Enea Gran Reserva that we tried.  This is their flagship Gran Reserva and was fantastic.  Heavy and deep and fruity with lots of well-integrated oak.  Not cheap at about €60 a bottle but we loved it so much that we left with a bottle of it.  Looking forward to enjoying that one with a nice juicy steak or my slow roasted shoulder of lamb in front of the fire this winter.
Our final tasting in Haro was round the corner at Viña Alta.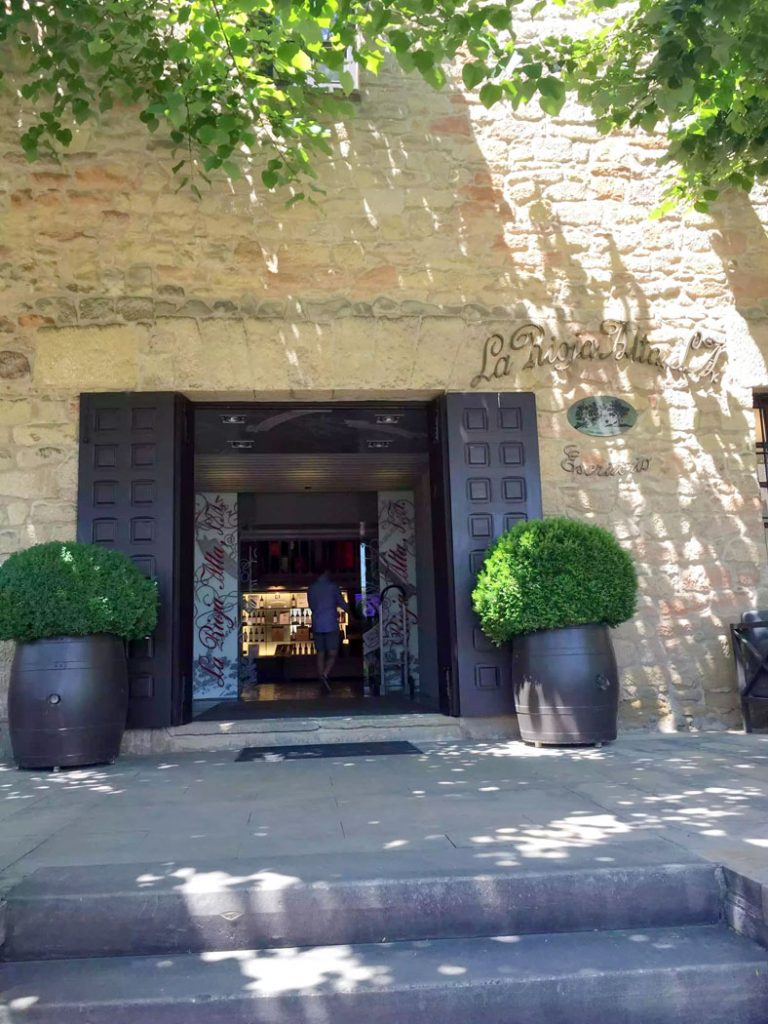 We chose a glass of their young Albarino and a glass of the very special Gran Reserva 904 to try.  We headed outside to taste our wines on the gorgeous sun terrace.  The Albarino was nice, crisp and acidic and very typical of its variety, but the Gran Reserva was something special.  It was full of cherry and chocolatey flavours  with hints of cinnamon and vanilla.  Slightly tannic and with a spicy aftertaste we couldn't resist buying a bottle of their 1998 vintage.
Still on the outskirts of town, we decided to head into the centre for a bit of lunch.  Wine Tasting in Rioja from 11am certainly gives you a bit of an appetite!  Haro is set up high on a hill but the walk isn't difficult and we were there in about 10 minutes.
I was shocked at how quiet it was, hardly a person to be seen. We wandered around through the tiny streets until we got to the Cathedral.  We'd been recommended a side street off the Cathedral for lunch and it was lucky we were as we'd never had found it otherwise.  There were a selection of about 5 restaurants to choose from so we picked one and headed inside.
The restaurant had a very Olde Worlde feel to it and it was cosy and we were made to feel very welcome.  We ordered some tapas to share; Jamon Iberico and Gambas Al Ajillo…along with some more Rioja wine!  The food was lovely and fresh and just took the edge of our hunger enough (we didn't want to spoil our appetites for dinner)!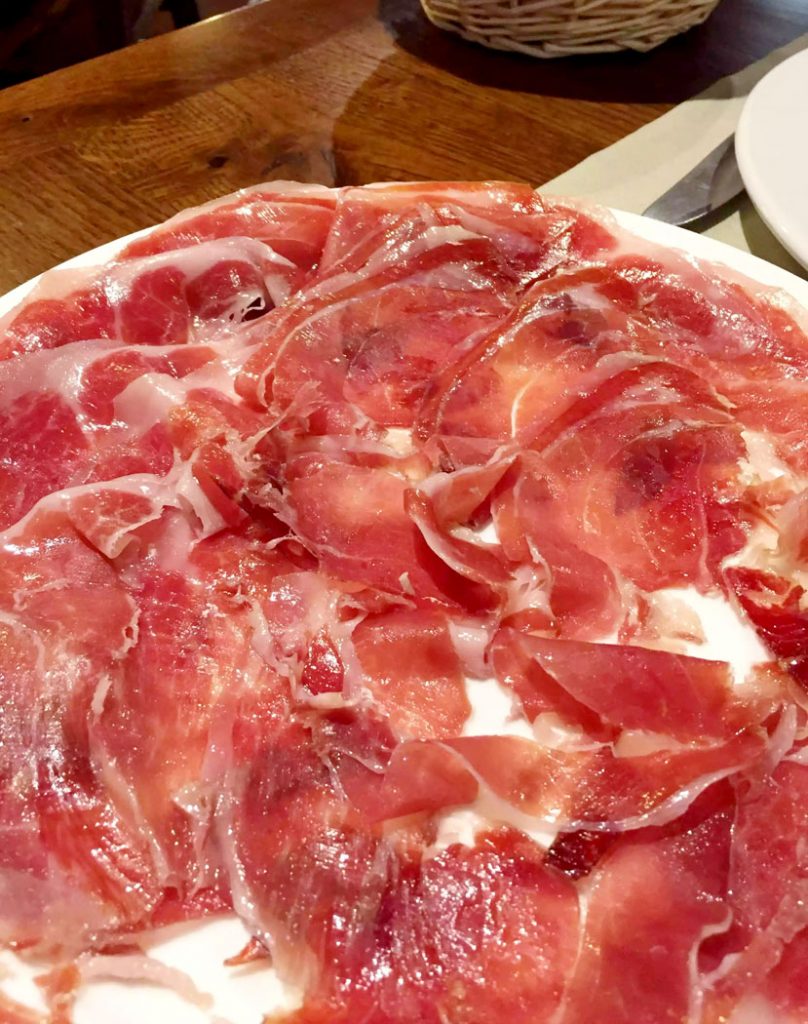 Wandering back to the car, Dan told me that he had one more booking to complete our day Wine Tasting in Rioja.  This was at Viña Real, which owns several prestigious wineries, including Contino, Viña Real, Cvne and Viña Imperial.  This meant we could taste different wines from all their vineyards scattered over Rioja.
We arrived to a beautiful modern winery set on top of a hill.  On entering it was obvious that they'd carved into the hill to create the majority of the area as the space was so much larger inside than outside.  We were the only ones tasting that afternoon so we got the personal treatment from the sommelier, Daniel.  We tried so many different wines including a Contino 100% Graciano variety that they were the first vineyard to try (others are all copying them now).  It was very complex, herbaceous and minty with a deep blackcurrant flavour and like nothing we'd tried before.  (Graciano is an old style of grape that fell out of favour until Contino brought it back a few years ago).  We just had to buy a bottle!
Our other favourite was the Contino Vina del Olivo, which we also bought.  Made from grapes picked from the best vineyard (which has a beautiful olive tree in the middle – hence the name) it was stunning.  Dark fruits mixed with a spicy, peppery taste it was another one that we just had to purchase!
Then, as a special treat Daniel offered to show us around the winery on a private tour.  We got to see the cellars where he explained that they'd drilled into the mountain as the environment was perfect for ageing the wines in.  Cool, slightly damp and dark we could see rows upon rows that stretched deep into the hillside.  3 years it took to create the tunnel but the investment was worth it for the perfect wine cellar!
After our fabulous tour we made our way back to the car and drove to the small town of Laguardia where we would be staying for the night.
We checked in to our lovely Spa Hotel (one of the nicest we stayed in on the whole trip!  Well done Dan).  Sadly we didn't have time to enjoy the facilities and the Spa as we ran straight back out to wander around Laguardia.  Set on top of another hill it was a 10 minute walk away but soon we arrived just in time for aperitifs!  We looked around the town.  It was very similar to Haro, all cobbled streets and tiny alleyways with almost no-one around again!
We found a local bar which looked welcoming and ordered some tapas and wine as a way to kick off our dinner.  This was the perfect aperitif.  A delicious glass of aged Rioja along with some Jamon, Salami, Chorizo and Manchego!  The bar itself was stunning, all open brickwork with winding staircases and it felt very authentic.  It seemed like the place that the locals would wander to for a drink rather than a tourist hotspot!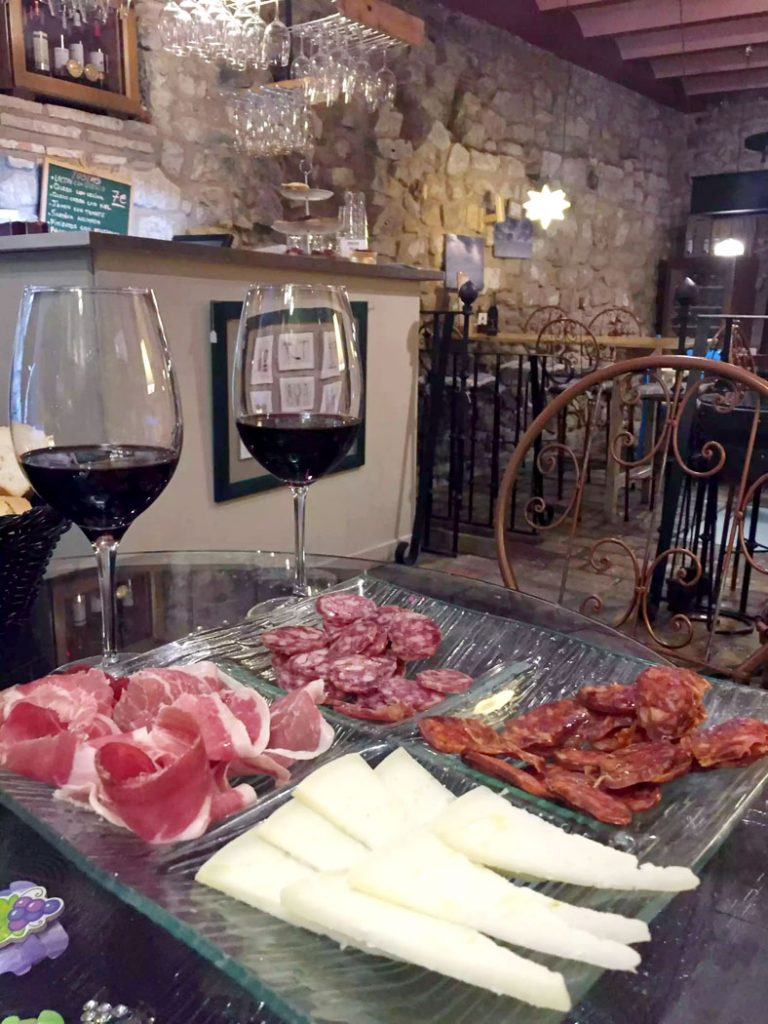 Next up was the surprise dinner that Dan had planned for me.  He showed me to a lovely boutique hotel in the centre of town.  They had a wine bar in their underground caves, all cut out of the rock.
We had a nosey around and found the most amazing private dining room.  I can just imagine sitting here having a special dinner with a group of close friends.  It was deep underground and very atmospheric!  Maybe next time!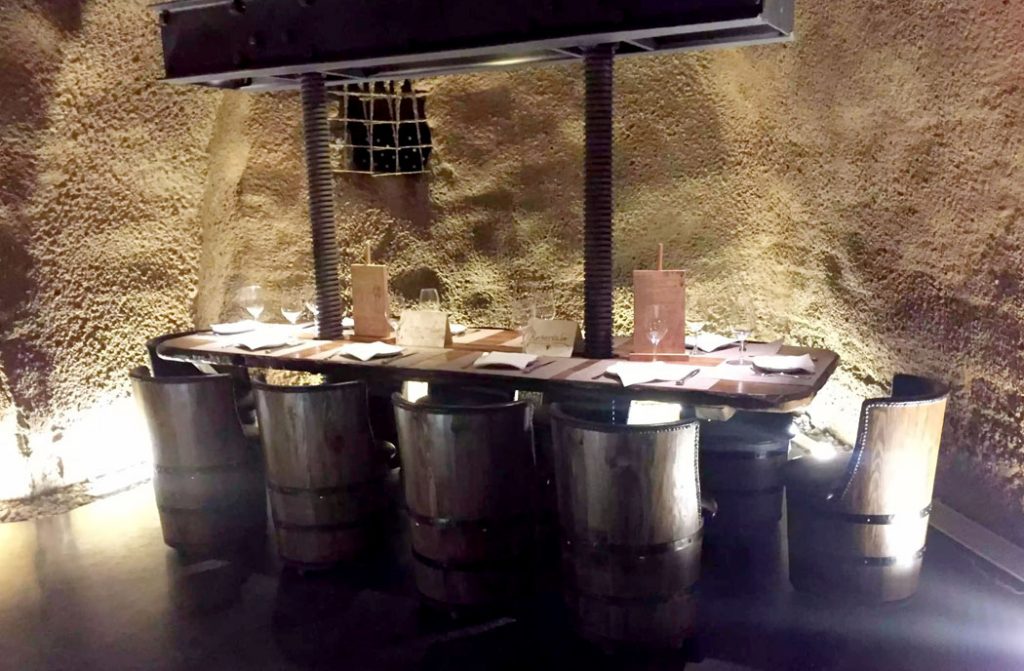 Tonight, we were having dinner in the main restaurant, Los Parajes.  It was beautifully decorated and very elegant with huge chandeliers and velvet curtains.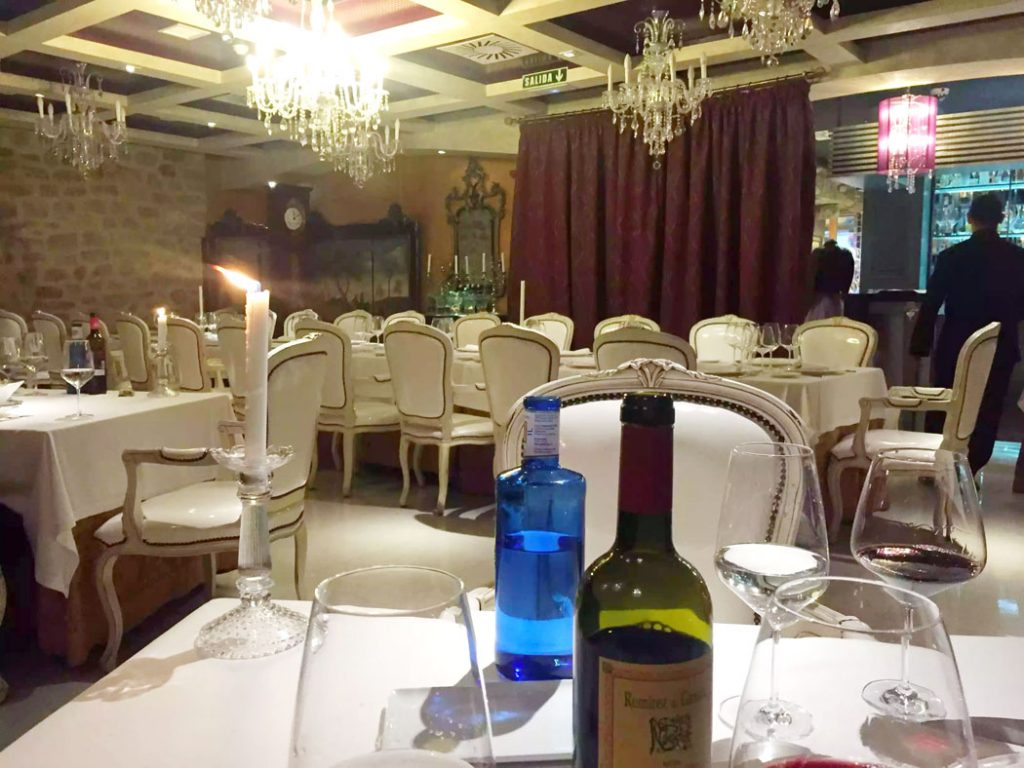 We sat down and ordered a bottle of Protos 1.  A delicious red wine that is one of our favourites but the sommelier recommended another at the same price which he said was even better.  I tend to be wary of sommeliers up-selling wines when I know what I like but as it was the same price we decided to go with his recommendation.  He brought out a bottle of Remirez de Ganuza Rioja Reserva 2009. He was right, it was spicy, oaked and full of dark fruit flavours and with a very complex taste and long finish.  We were impressed with his selection as it was something we'd probably never have chosen from the menu.
Having just had some tapas, the edge had been taking off our hunger so we decided to share a starter.  I picked the sprout salad with baked pear, walnut, dried cranberry and gorgonzola cream.  It was so rich and decadent.  Delicious, but not the nice healthy, light starter I'd been anticipating.  It was a fresh, tasty salad full of different flavours, all topped off with lashings of creamy Gorgonzola sauce and balsamic drizzle.  Perfect for a special occasion but a bit too decadent for everyday!  But then it was my birthday so we were going all out!
For my main course I ordered the Loin of venison with eggplant, cream of sweet onion, cocoa oil and baby vegetables.  It was perfectly cooked, pink in the middle and just melted in my mouth.  I loved the sweet sauce it was paired with.  The cherry tomatoes added acidity were a great way to cut through the richness of the whole plate.
Dan had the Galician sirloin with fresh foie gras, port sauce and potato strudel.  What dish isn't made better by adding foie gras?  Again, the meat was perfectly cooked and the steak was tender, juicy and so tasty.
We definitely didn't need dessert but as it was my birthday I felt like indulging!  A big cheese plate for me and a caramelised brioche french toast with meringue milk ice cream for Dan.  Our meal definitely ended on a high note!
We wandered (staggered) back to the hotel, knowing we were going to sleep very well that night!  Wine Tasting in Rioja was the perfect birthday present!  I just wish the day didn't have to end!
Pin it for later