Read about my hike to Cap de Creus here!
Cadaques, a little fishing port on the Catalan Coast in Spain was the destination for this week as I was spending the week with Dan and his extended family on their summer trip.  I'd never been before and not spent much time in the Catalan region so was really looking forward to getting to know the area a bit better – all I knew was that it was where Salvador Dali lived – so I guess the place must be a pretty inspiring one!
The nearest airports to Cadaques are Girona and Perpignan, but with very limited flights and extortionate prices we decided to fly to Barcelona instead and get the train to Girona the next day to meet the others (the flight, train ticket and a night in Barcelona including accommodation worked out cheaper than a direct flight to Girona! Bargain!)  So we went to get our train from Barcelona Sants Station to Girona only to find out they were all full.  What?  In England you just squeeze on, sit in the aisle, squished up against someone's armpit – it's a free for all, but in Spain they're a bit classier than that obviously – it's a seat or nothing – no standing allowed.  Unfortunately for us, that meant nothing – so we looked into other ways to get there.  No buses, taxi and car hire were too expensive, eventually we found the local train – which although went all round the houses, would get us there in about 1hr 45mins (the fast train takes 35mins!) so with no option we got that.  At Girona we were picked up by Dan's mum and we made the hour and a half journey to Cadaques by car.  The first half was fairly uninspiring, but as we climbed the windy mountain roads towards the coast, the views were breathtaking (if you get car sick this may not be the trip for you!).  We were all looking out to see who could spot the town first and as we drove down into the little fishing village everyone was very excited to see what was in store.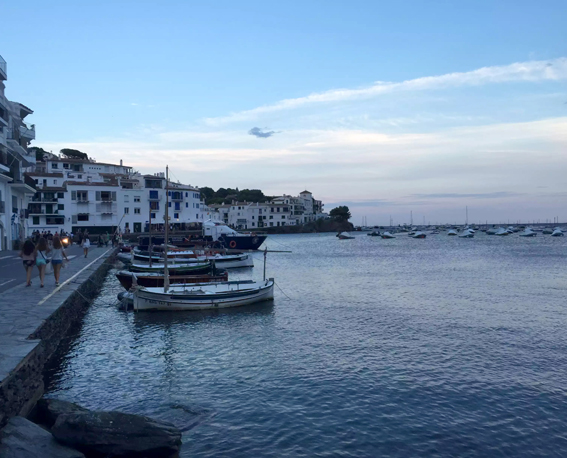 We were staying in a beautiful town house right on the sea-front and as we pulled up the owner was there to greet us.  Dan and I got given the most beautiful room with an amazing bed with a very ornate headboard and a view out over the town and sea from our balcony.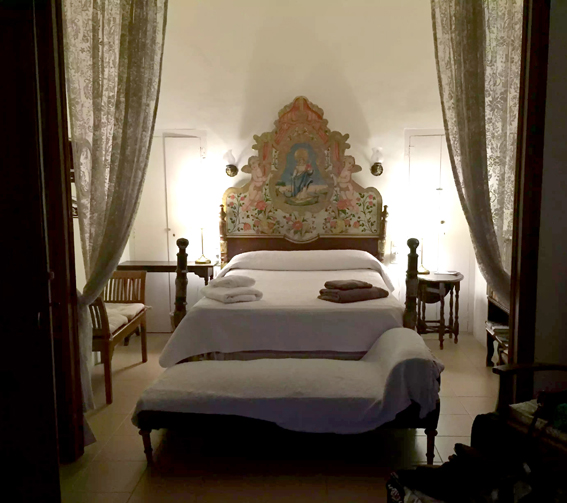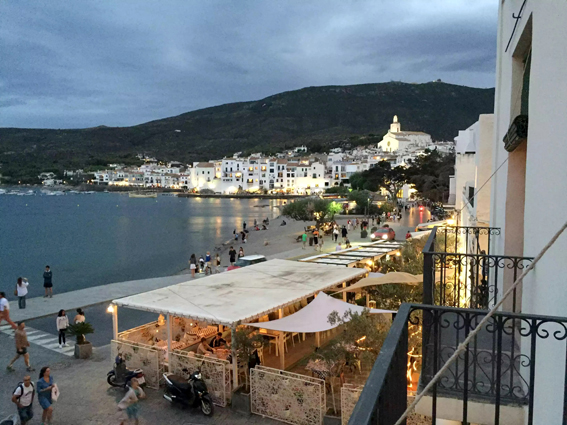 Excited to explore we all decided to head to a local restaurant La Gritta recommended by the owner of the house.  Obviously a popular one we had to wait for a while to get a table for 10 but it was so worth it.  The food was delicious, unpretentious and the restaurant was really fun and buzzy.  We were all starving from the journey so my Prosciutto & Melon followed by an Avocado Salad went down a treat.  As did the lovely bottle of Raimat that we had with it.  The parents decided to head back to the house but we (the kids if you can call 30+ year olds that) went out on the town.  We headed to Bar La Frontera with all the cousins which was a really buzzy outdoor bar, covered in fairy lights.  We all had a few cocktails which were definitely made using Spanish measures!  The G&Ts definitely had more gin in them than tonic and my Aperol Spritz was the strongest I've had – the drinks weren't cheap but they really don't skimp on the amount of alcohol!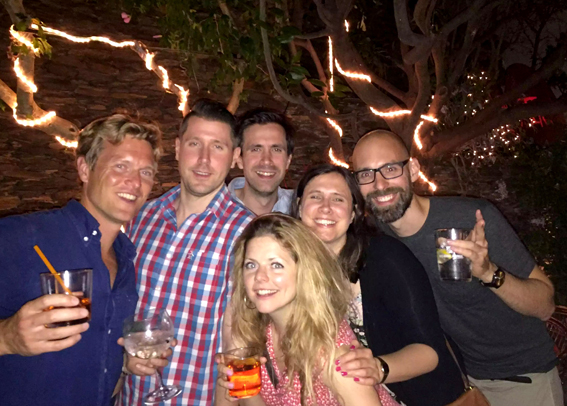 Suddenly it was 3am – I have no idea where the time went – so we headed back to the house and I think we stayed up til about 4am chatting and catching up before heading to bed.  The next morning I should've needed a lie in after the late night but I woke up early and flung open the shutters – How's that for a view?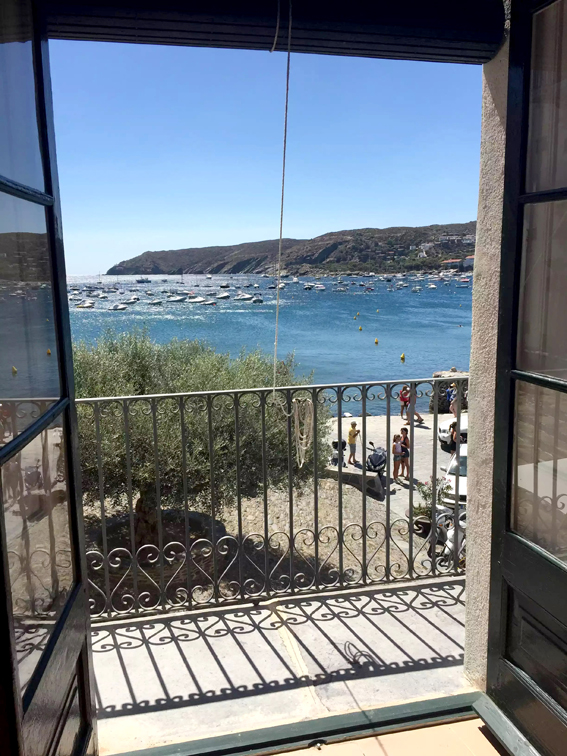 Not able to sleep with all that sunshine outside I decided to take a wander around the town while the others slept and get my bearings.
I wandered around the coast looking at restaurant menus (my favourite pastime!) and there was a local table-top arts and crafts fair so I had a look at that too.  I headed up into the back streets to the church that over-looks the whole town for a great view over everything.  Then I wandered down the high-street looking in shops – I loooove foreign supermarkets (I know I'm strange) – until Dan got out of bed and met up with me.  We went for a wander around the coast in the other direction and then headed back to the house to spend the rest of the day on the beach.
Whilst in Cadaques the days were spent wandering around town, sunbathing on the beach, reading books, playing cards, swimming in the sea and just generally chilling out.  A few days were slightly more energetic.  One day we went on a 20km hike to Cap de Creus and back, a National Park nearby but i have a separate blog post about that day coming shortly! Edit: you can read about it here!
Some days we headed a bit further afield.  One day we hiked the other way to find a tiny secluded beach called Sa Cebolla – just over the headland.  We'd looked on the map and decided to try and find a quieter beach than the main Cadaques one.  A lot of the beaches were only accessible by quite steep tracks or from the sea so they were not as busy as the main beach so we headed off on a steep climb, over the hills ..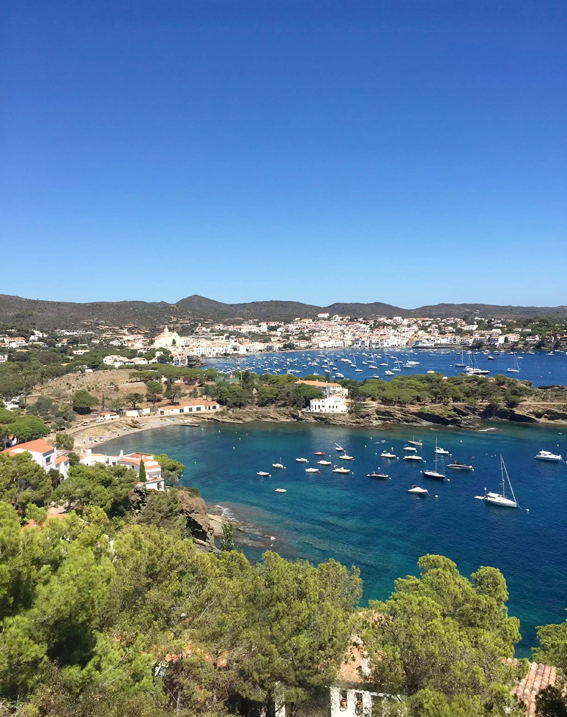 The view from the top of the hill on our hike
Our efforts were rewarded with a gorgeous bay, much quieter than the main beach, with the same crystal clear waters, and plenty of rocks for Dan to jump off of!
On another day we decided to explore the Stunning coastline a bit further and – hired kayaks and a stand-up paddle board to the same beach we were at the day before – Sa Cebolla – to show the others who hadn't been able to come with us.  I really enjoyed the kayaking but it was pretty hard work.  It was nice to be able to jump into the sea to cool off when we reached the beach!  The stand up paddle board was good fun too and we all had a go on that – I'd definitely give it another go at some point!
The evenings gave us a chance to eat at some great restaurants – some deserve their own special mention and will have separate blog posts but we loved l'Ecantina (try the amazing fried artichokes!) and Enoteca MF de Cadaques to name a couple.  Edit:  Read my review of Enoteca MF here.
Delicious fresh fish dishes on the menu everywhere meant that I was spoilt for choice.
There were lots of other meat and tapas offerings that were great too. Prosciutto and melon was my go-to lunch at an outdoor beach bar most days and I loved all the antipasti that was available. Jamon and manchego are my favourites!! And my last meal of duck breast in a port sauce was one of the best meals I had there!!  Unfortunately I couldn't eat any paella but those that could said it was delicious!!
The bars were great fun too.  After the first night at la Frontera, we didn't really have many more late nights out, choosing instead to go a bit more low key having sundowners or simple after dinner drinks.  Plenty of sangria and Aperol Spritzs were drunk in the seafront bars!
We also tried some amazing wines while we were there – Priorats and Raimats and the best whites were the Albarinos.
Some of my favourite wines from the trip
 Unfortunately I didn't get a chance to visit Salvador Dali's house in Port Lligat (a 5min walk away) – I left a few days before the other's to get back to work and they visited it on the day I left – but that just gives me an excuse to go back another time!
One restaurant that we didn't get to try which was raved about by the locals was La Cantito.  Every time we tried to book a table it was fully booked, so I guess that says something about its popularity – oh well, another reason to go back!
Cadaques at night is just as beautiful as in the day – the town is buzzy in the evenings but  with a peaceful feel to it, not a raucous one.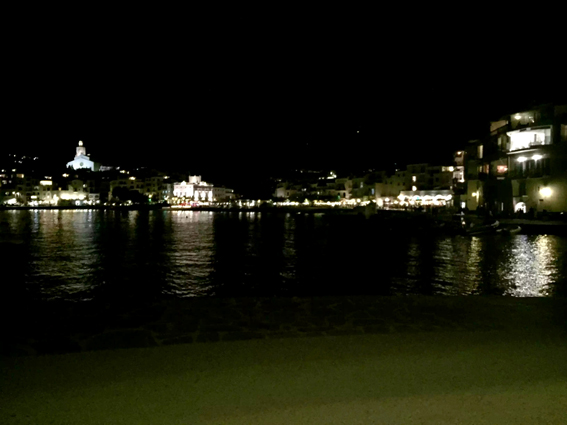 All too soon it was time to leave – even though I'd postponed my flight already an extra couple of days! My trip back to Barcelona airport was much less frantic than the journey to Cadaques.  Dan drove me to Girona where I got the train to Barcelona Sants (in 35mins) and then the metro to the airport (another 10-15mins) – it was a really easy journey.
Another way to do it is to get a train to Figueras (the nearest station to Cadaques) and then the drive is less than an hour.  Figueras is on the Paris to Barcelona line using the TGV so it's a very quick journey to Barcelona (and only about 4hrs to Paris!)
Cadaques stole my heart and as the sun set on my last day I definitely did not want to go home but I know I'll be back!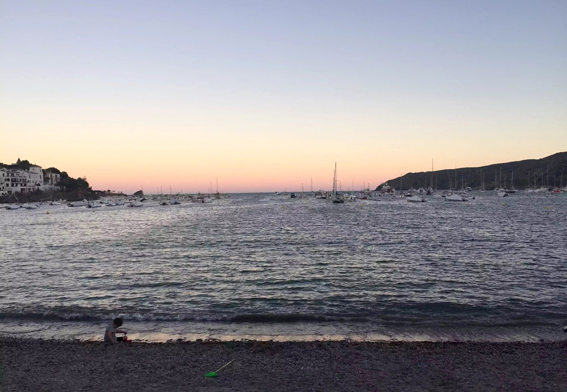 Read about my hike to Cap de Creus here and my dinner at Enoteca MF Cadaques here.

Pin it for later