Maria's is my favourite beach restaurant in Portugal and you can read about it on my Top Restaurants in the Algarve Round-Up.  Maria's on a Sunday is always one of my favourite days of the year.  It's such an amazing atmosphere, lunch in the sun, the Outsiders Band playing all the old classics and when it really gets going there's dancing on the tables and even the staff get involved.  Unfortunately, I'm not the only one that loves a Sunday Funday down at Maria's and it was fully booked back in April for every Sunday during the summertime (I was inconsolable when I rang up to book and was told this and already have a note in my diary now to book Sunday up for next July on the 1st of January!!)
Anyway the 2nd best option was to go on Saturday lunch, they still had live music and so we decided to go along and see what it was like.  We arrived and were shown to the best table in the house, right on the edge of the terrace with perfect sea views.
Not a bad view to spend your lunch looking out at!
We started the meal with aperitifs and I ordered an Aperol Spritz – and just had to take the obligatory 'cocktail in the sunshine' shot.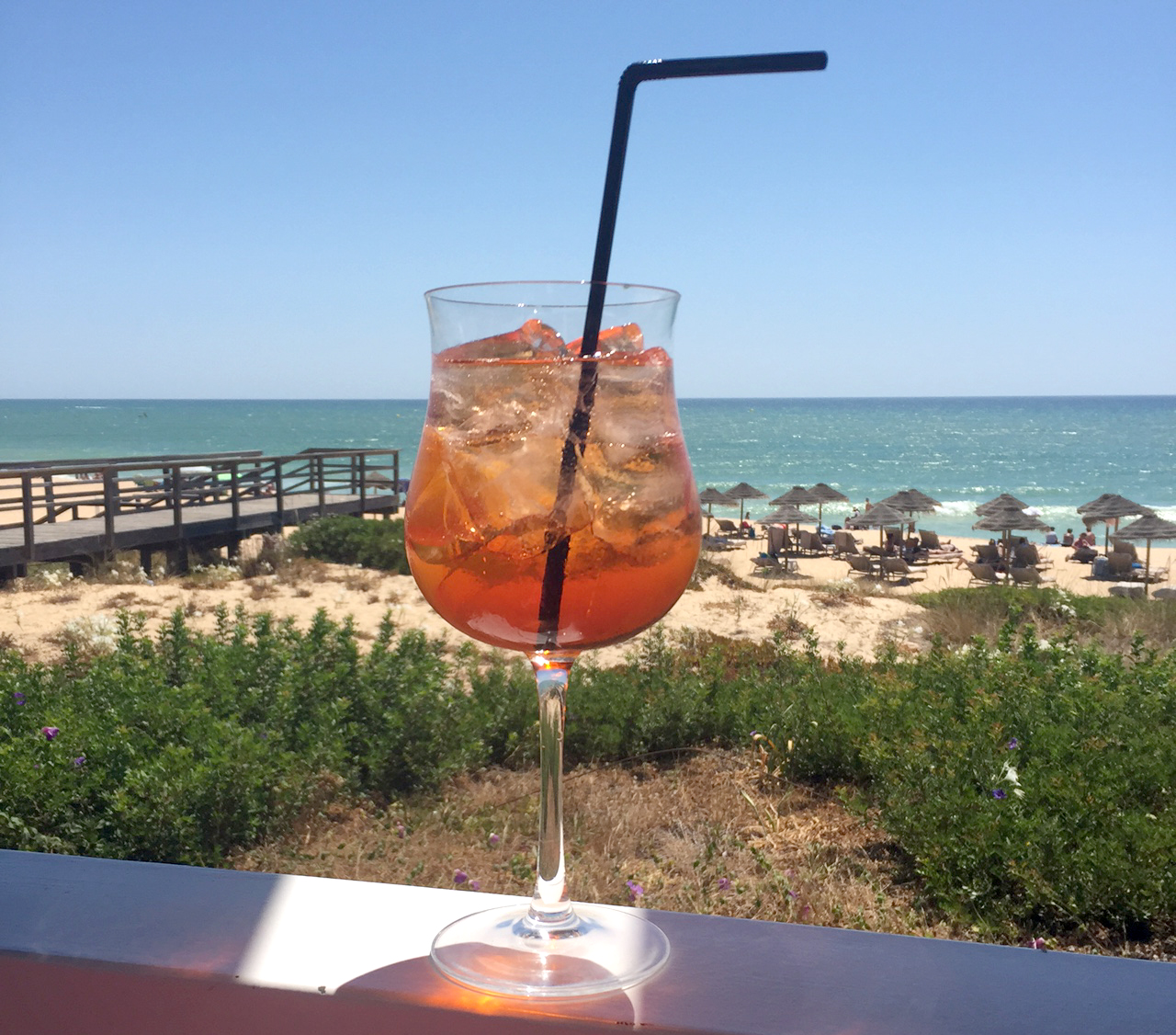 We were brought the menus and we ordered a bottle of l'Ostal Cazes Rose wine which we always order when we're there.  I know it seems a bit ridiculous to be drinking a Provencale Rose in a Portuguese Beach Bar (and normally we do order Portuguese Wine, both red and white when we're eating out) but I'm yet to find a Portuguese Rose that I like.  I like a very light blush wine and they all seem a bit too pink and heavy for me and a bit too fruity – I'm open to recommendations though if anyone has some good ones they want to share?  The l'Ostal Cazes is a very light, drinkable lunchtime wine – light enough not to give you a headache when you're lying in the sun later that day.  Fruity but not too much so it tastes of strawberries and pomegranates and pairs very well with seafood.
Picking the food here is always the tough bit – I love the sound of everything on the menu and always have such a hard time choosing.  Luckily Mum and I have the same taste in food and very similar diets so we decided to share everything.  Our absolute favourite is Clams Bulhao Patao (a Portuguese speciality – clams cooked in white wine, olive oil, garlic, lemon and coriander) and I'd been dreaming about them since the last time I was in Portugal and I always have them when they're on offer, so that was a non-negotiable.  But what to pick for the other dish?  I normally pick the grilled squid (squid is one of those things that can be amazing or pretty disgusting depending on how it's cooked, but Maria's always does such an amazing squid that I have it all the time there.)
However this year they've obviously changed their menu a bit and there was a delicious sounding Sea Bass Ceviche on it and the goat's cheese salad is always a favourite. The prawns cooked in garlic, chilli and brandy sounded great too – I was spoilt for choice!
Luckily the boys were good sports, picking dishes that we could all share, so between us all, we went with the clams, the grilled squid, the ceviche and the prawns.
The clams tasted exactly how I remembered and were outstanding.  I've tried many times to re-create the sauce that they're cooking but I just can't get it right.  The balance of flavours is amazing but I'm sure it tastes better anyway because of where it's being served.  What food wouldn't taste better on the beach, on holiday, in the sunshine – maybe that's where I'm going wrong and why it doesn't taste the same in grey, rainy England!  Salty and cooked with plenty of garlic they really are my favourite Portuguese dish and I can't get enough of them!
The squid as usual was cooked to perfection – not chewy or rubbery at all but perfectly grilled and with a dressing of olive oil, lemon and garlic, (can you tell that's how I like my seafood ;P ) it was great seafood at its simplest.  I loved the slightly charred flavour on the squid – it was obviously cooked on a BBQ or over a flame which gave the whole dish a delicious smoky flavour and crisped up some of the tentacles for an interesting texture contrast.
I was definitely pleased we ordered the Sea Bass Ceviche.  It was a new-to-me dish at Marias, but light and fresh and citrussy it was the perfect starter to get the palate ready for the rest of the meal.  All of my favourite flavours in one dish, fish, lemon, coriander, avocado and then tomatoes, grapes and walnuts too – I was in heaven.  Definitely one to remember and order again next time.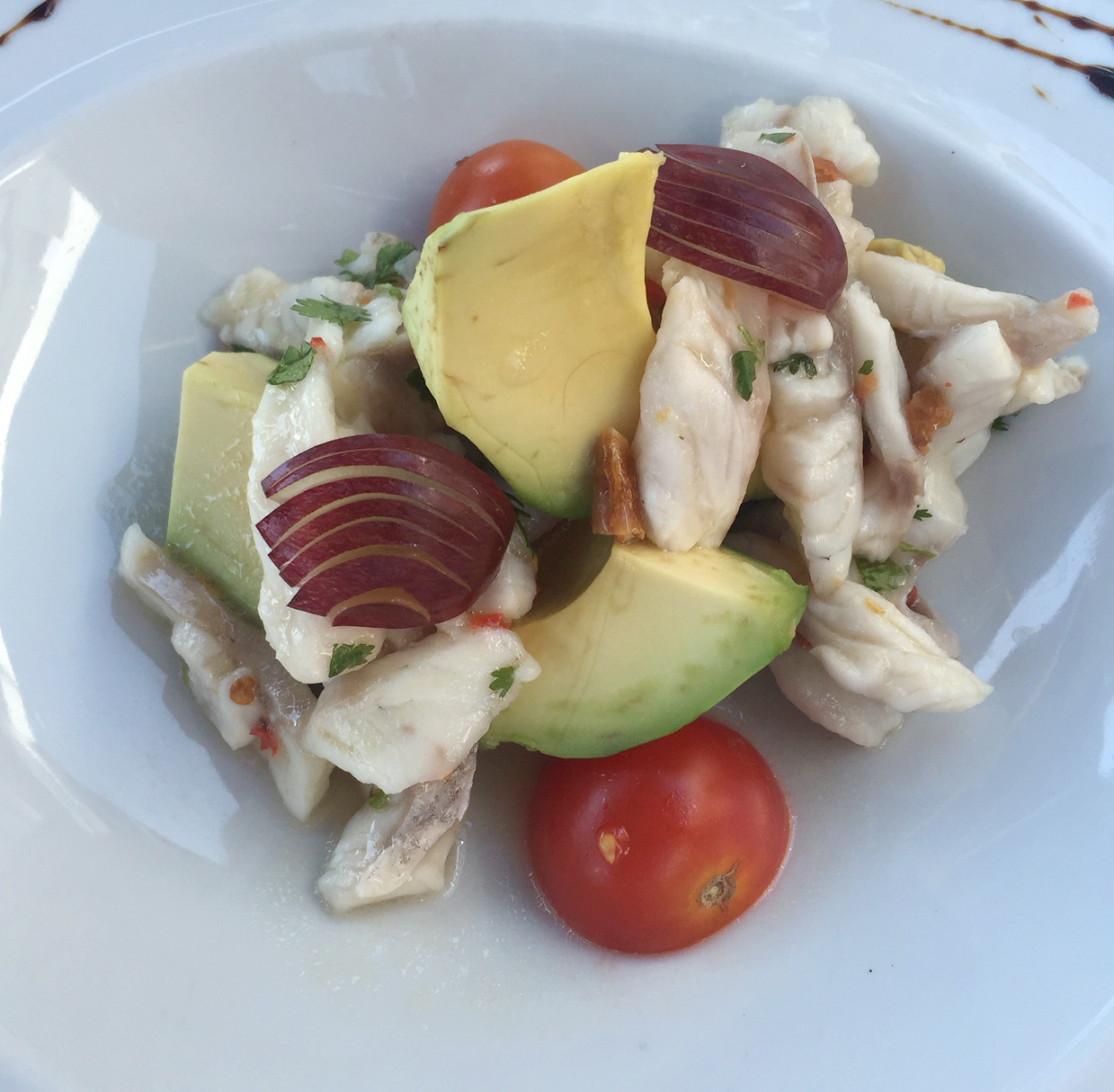 The prawns were pretty big and cooked really well.  They were tender and the sauce that they came in was pretty special.  Garlicky with a hint of brandy and some of juice that the prawns had been cooking in, it was a cross between a sauce and a bisque and it made a nice change from the other starters which were much lighter and fresher.
For a main course I ordered the monkfish and prawns skewer.  Just plainly drizzled with some olive oil and a squeeze of lemon it was the perfect light dish for the hot lunchtime.  The skewer had been barbecued so it had that slight charcoal flavour and tasted amazing in the sunshine.  The monkfish was really juicy and meaty – it was exactly the kind of healthy, fresh dish that I'd been looking forward to.
Mum ordered the grilled sardines and, as we were sharing, we split the main courses so I got to try them too.  They were juicy and flaky on the inside with a delicious salty, crispy skin and we had no problems polishing them off.  Sardines in Portugal are pretty sentimental to us – I've been eating them out there ever since I was a kid so it really takes me back to my childhood when I get to have them again.  We've tried cooking them at home, grilling them, on the BBQ, every method possible but we just can't get them to taste the same, so now sardines are reserved solely for Portugal and only when someone else is cooking them!  And an insider tip – Portuguese sardine season is in July and August, so if you order sardines at any other time of the year, they'll almost certainly be frozen.
We ordered our mains to come served with a tomato and onion salad rather than the potatoes that came with the dish. I don't know what it is but this salad just tastes better in Portugal – maybe its the tomatoes (fresh and juicy and so flavourful) unlike the ones we get in the supermarkets here which can be a bit tasteless. I think it definitely has something to do with the oregano that the Portuguese sprinkle all over the top of it – I'll definitely have to remember that trick, it really elevates the salad to a whole other level.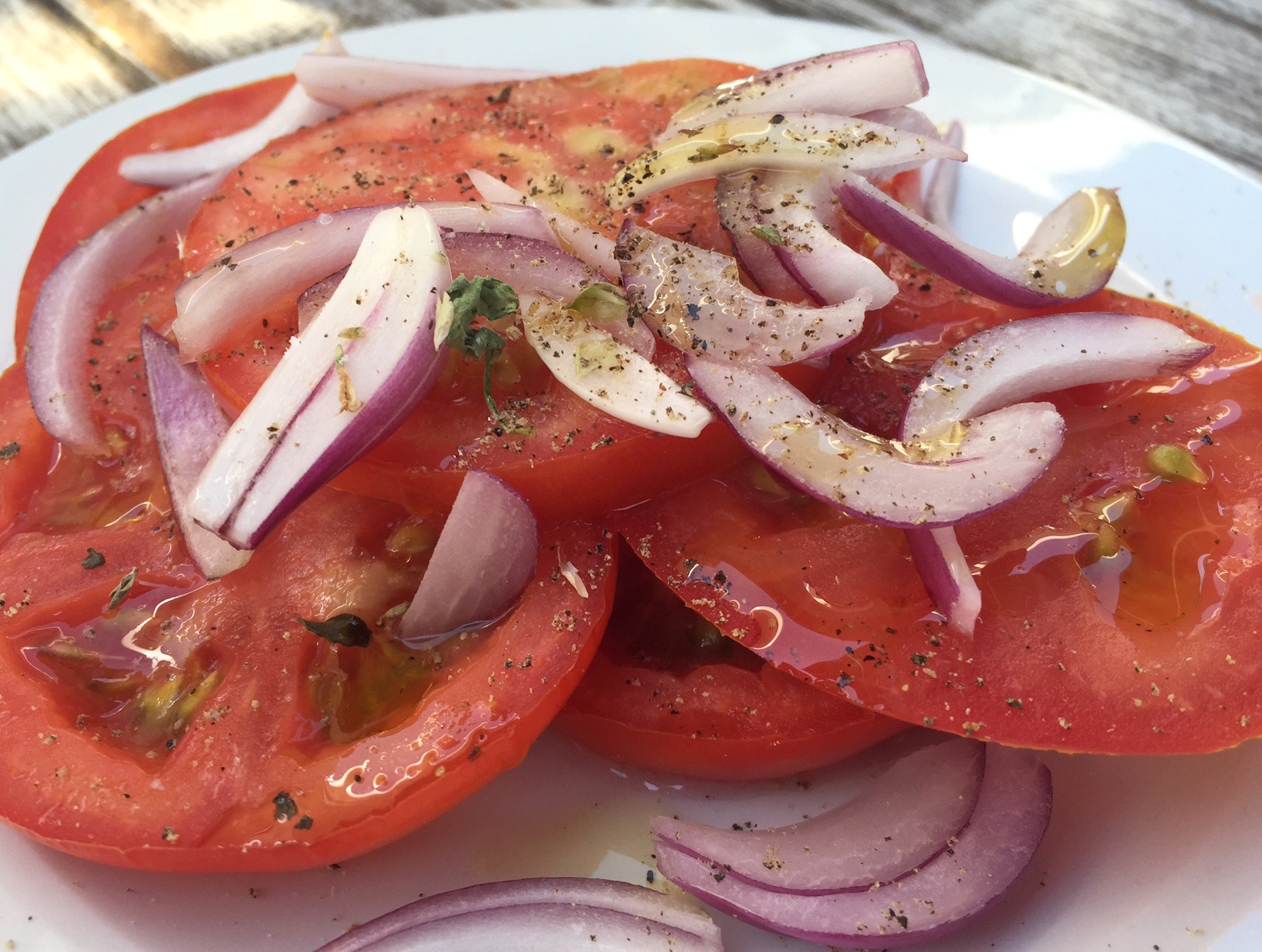 The boys ordered Portuguese Prawn Curry for their main dishes, which came served with the famous African Rice.  Not a dish I'd have picked for a hot summer lunchtime but the boys said it was delicious.  You can have it as mild or as  you like and the boys went for the spicier option.  It had quite a kick to it but was also creamy and coconutty at the same time and the fruit that it was served with made it fresher and less heavy.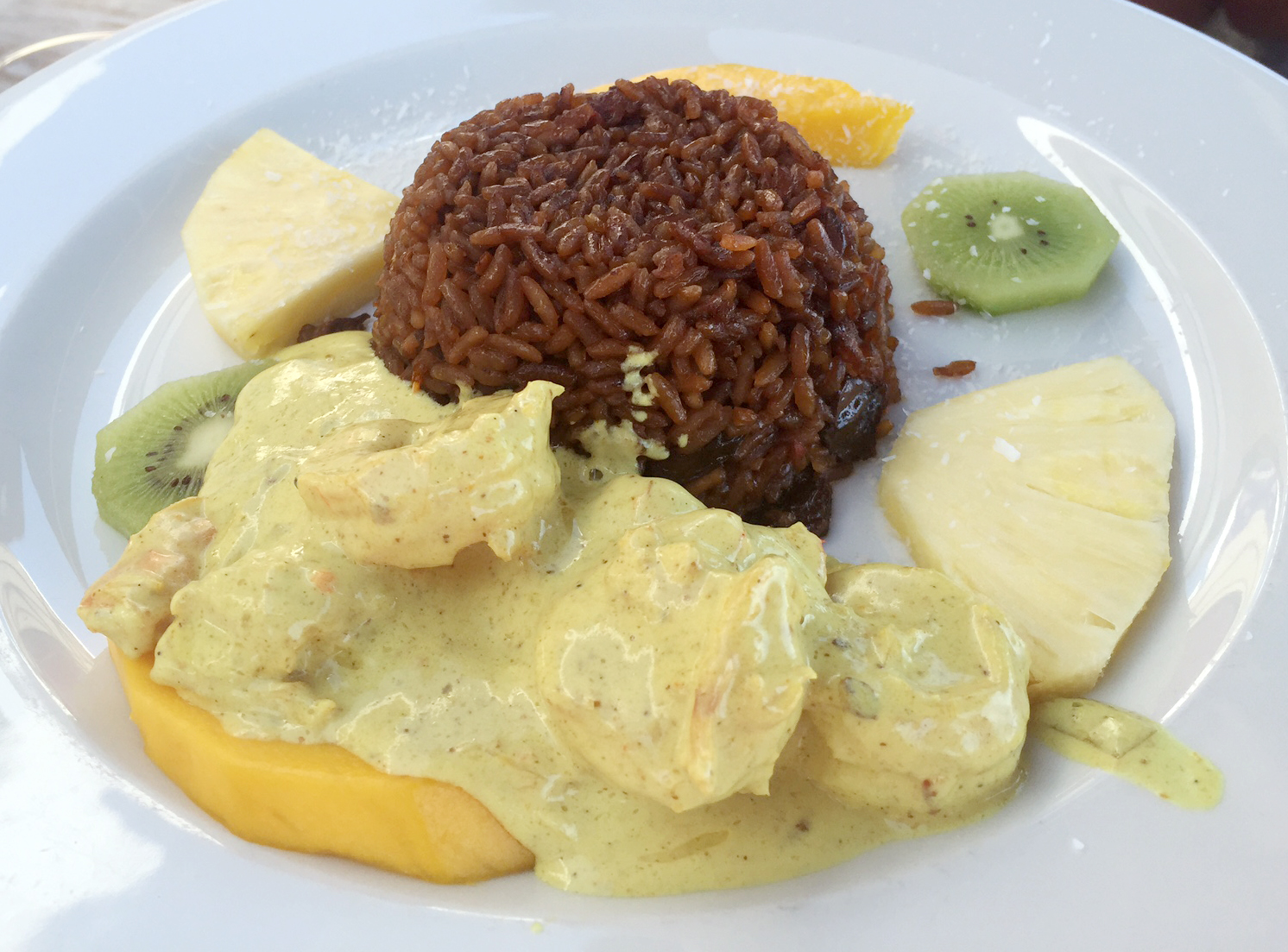 Dessert really wasn't necessary but we ordered the cheese plate anyway – something to share while the music was playing!  They were so accommodating, making it without bread and crackers but with extra fruit so that my mum and I could eat it.  (Although, had food intolerances and my special diet not been an issue I'd definitely have gone for the Snickers Cheesecake.  It sounded amazing and all of the other homemade cakes and desserts in the display cases looked pretty damn delicious!)
At 3pm the music started up and today it was 2 guys playing acoustically, a guitar and a drum kit I think it was.  The vibe was much more chilled than on a Sunday, the music was more of a background thing than the main event but it was still great – They even played Sweet Home Alabama (my family song) which we weren't expecting so we got up and had a little dance to that one (though no-one was dancing on tables today 🙁 )
And to top of a fabulous lunch we even saw dolphins playing in the water just in front of the restaurant.  I've never seen dolphins in the wild in Portugal so that made the lunch extra special – seeing them jumping around in the water was the most amazing sight.
I'm off now to book for Sunday lunch next July – gotta get in quick!!
Pin it for later