Paris is the city that captured my heart.  I spent a year living there and I do my best to go back at least once a year.  I love just wandering around and exploring but sometimes you need a bit of extra help to find the true hidden gems in Paris.  The places below are all places you would never just stumble across.  You have to know that they're there or you would never find them.
I like to research a place thoroughly before travelling there, so in my hours spent pouring over travel blogs, newspaper articles and glossy magazine stories I've managed to find some amazing places that most people would just never know existed.   From restaurants to bars to hotels, I hope you'll find a few new favourites that will capture your heart too.  Far away from the tourist traps, these ideas will help you see Paris through the eyes of a local!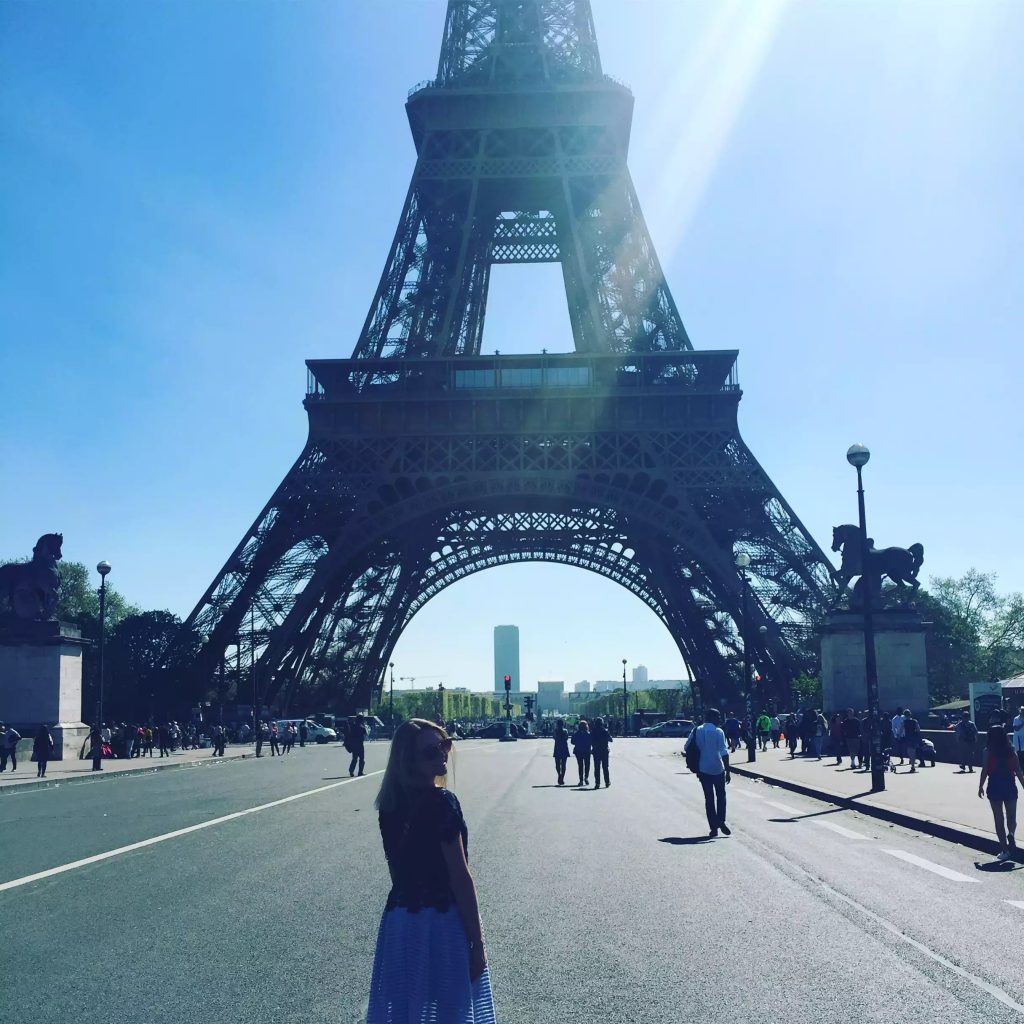 Behind some imposing doors on the Boulevard St Germain is the most beautiful courtyard restaurant.  I found this place by doing quite a bit of research online because from the street you don't really know it's there.  The food is quite American themed – think Burgers, Lobster and Cobb Salad but it's the setting that is just so beautiful.  Whether for lunch in the sun or a romantic candlelit dinner it's just such a stunning location.  And you'd never know you were just 10 paces from one of the busiest streets in Paris.  A relaxed dining experience in the centre of Paris that feels like you're worlds away from reality!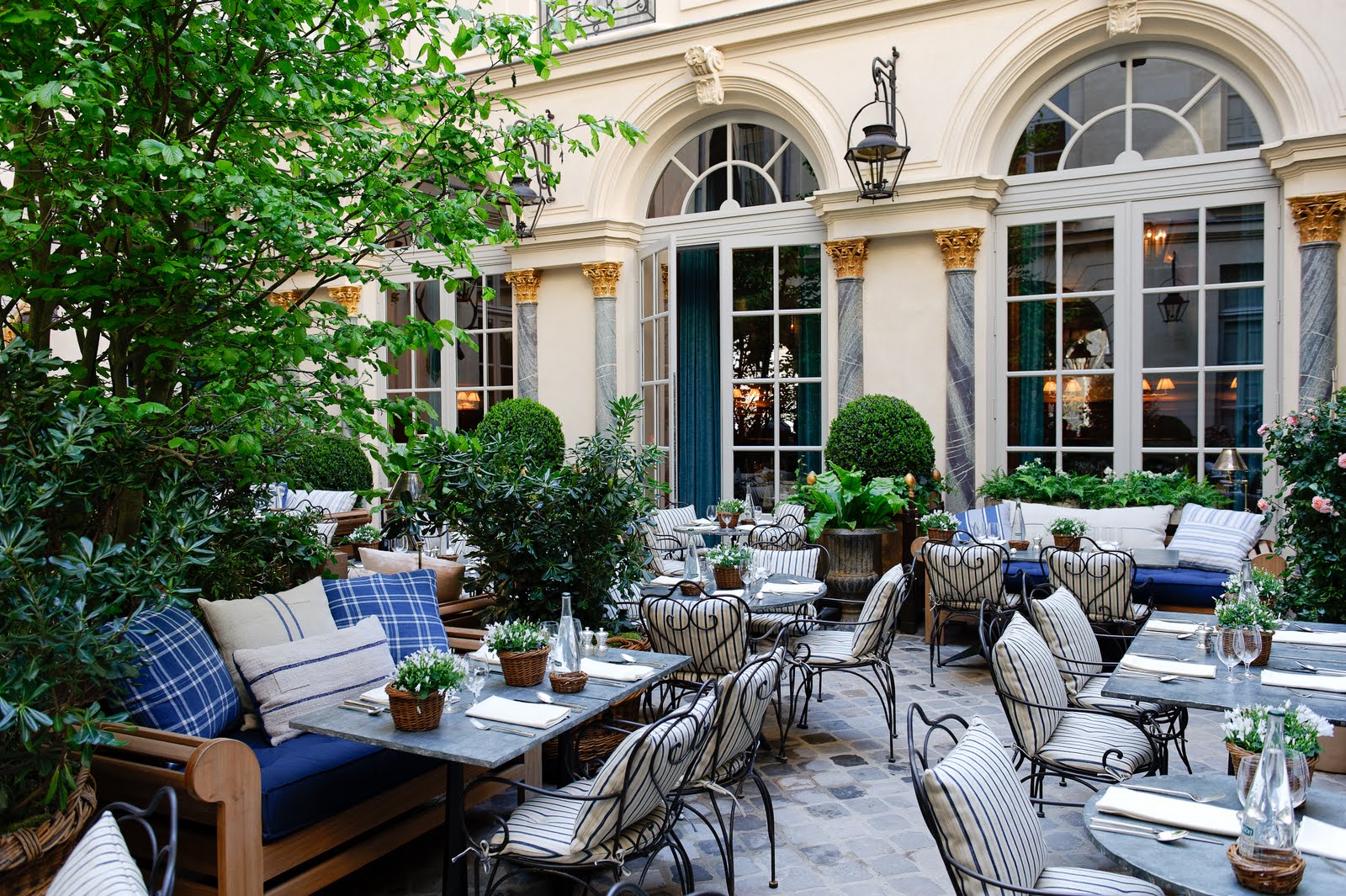 Just out to the west of Paris is a small island in the Seine called Île St Germain.  Most Parisians have never even heard of the island, let alone the restaurant, so it really is one of the definitive Hidden Gems in Paris.  The whole island is parkland and in the middle there is a restaurant set in stunning gardens.  L'île is absolutely beautiful and best visited on a sunny day when you can eat outside on the terrace under the gorgeous cherry blossoms.  The food is chic brasserie style with salads, steaks, seafood and fantastic ingredients.  I've had the goats cheese millefeuille as a starter and also the tuna tartare and the freshness of the produce is fantastic.  Good simple food done really well in a beautiful setting – what more could you ask for?
If you fancy taking a wander through the Bois de Boulogne on a sunny day then don't miss this amazing restaurant.  Set in the rose gardens on the far west side of the Park, you'd be hard pushed to find somewhere more hidden away.  With an incredible terrace area for dining outside and a light bright dining room if you prefer to eat indoors, this place is definitely one of Hidden Gems in Paris.  The menu is light and elegant, with plenty of salads and seafood.   Exactly what you want for a light lunch, outside, with a crisp glass of white wine.  You can also rent the entire place out and I think it would be a beautiful setting for private events or even a wedding reception.
My favourite of all the Hidden Gems in Paris has to be the Pavillion de la Reine.  While exploring Places des Vosges one day I saw a very discreet sign on the wall saying Pavillion de la Reine.  Wandering through the huge doors I found myself in an oasis, far from the hustle and bustle of the main square.  The Pavillion de la Reine is a Spa Hotel set just back from the Place des Vosges and while I've never stayed there, what I love so much about it is the beautiful courtyard.  You can sit in the sun and relax with a glass of wine and never know that you are in the centre of Paris.
The courtyard itself is beautiful, very green, with ivy climbing the walls and lots of modern art sculptures from the gallery next door.  I've sat here for many an afternoon taking a quick respite from the business of the streets.  The staff are very friendly and the bar is an honesty bar so you help yourself to wine/champagne and pay for what you had at reception at the end.  It really is a small haven of tranquility in a bustling city and you leave feeling relaxed and re-charged!  I'm sure it would be amazing to stay there too but it seems pretty pricey!
We just go there for the wine, the peace and the sunshine.  It's definitely a favourite spot for both me and my mum!
I used to live at the other end of the street to this hotel and never thought much of it until one day when they left the main door open and i could see all the way through into the stunning courtyard at the back.  I've never stayed her so I can't vouch for the rooms and service – I'm just so enthralled by the terrace and courtyard area that I can't wait to stay one day.
I can just imagine, breakfast, with the newspapers in a sunny spot – heaven!  They used to only let you book three months in advance – no earlier, so we never managed to get a room as they all filled up so fast.  Recently they've changed their booking system so you can now book up to 9 months in advances so here's hoping that next time I go to Paris I can get in!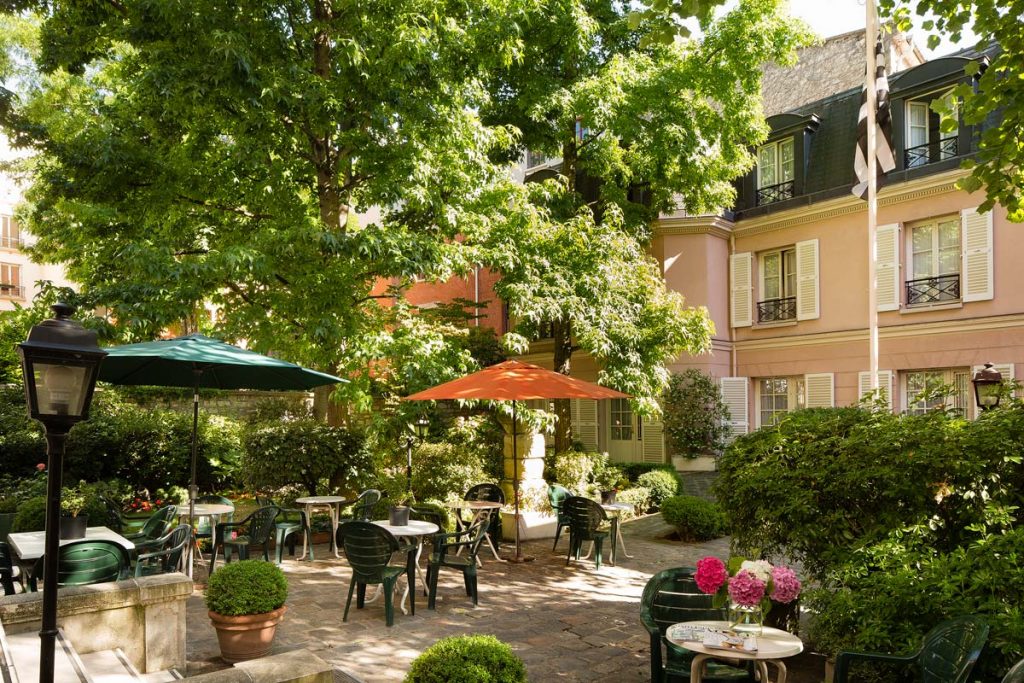 This bar is not so much one of the Hidden Gems in Paris, as it was an impossibility to find.  Situated at the top of the Tour Montparnasse I think it has the best view in all of Paris.  Most people trek up the Eiffel Tower to get a bird's-eye view of Paris but from the tour Montparnasse you can get the same view with the Eiffel Tower included in it!
I'd done some research so I knew it was up there, but when we got the tower there were no signs, no directions, we thought we'd got it wrong.  Finally we asked someone who explained you had to go to a special door round the side and take the lift to the top – you'd never know what to do unless you asked!  When you arrive you step into a beautiful champagne bar with a completely unrivalled view of Paris and the Eiffel Tower.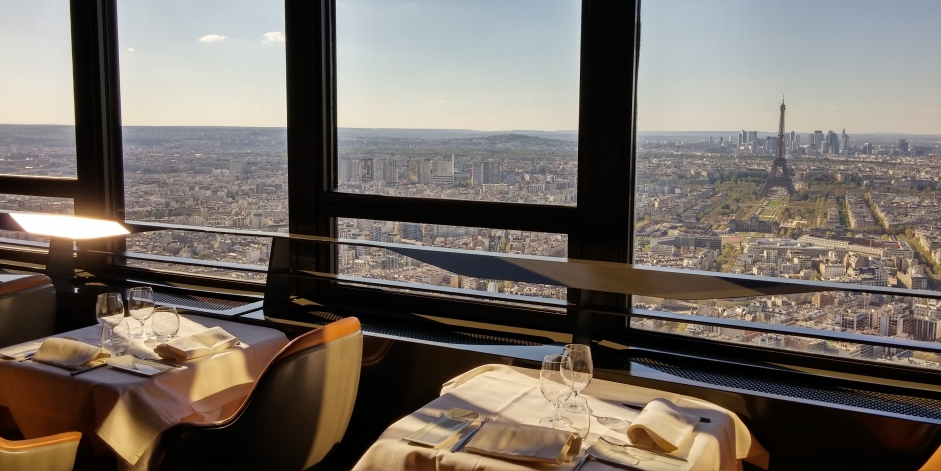 Amazing during the day but even more spectacular at night when the whole of Paris is light up and the Eiffel Tower sparkles.  Definitely the best view in town!
When all the tourists head to the crush of the Artist's Square in Montmartre to grab a drink, you can act all smug as you venture one street further to find this tucked away courtyard cocktail bar.  Bathed in sunlight you can enjoy an afternoon drink amidst  the cobbled stones and lush vegetation.  The cocktails are fantastic, the vibe is very chilled and it's very easy to lose time here and realise you've spent an entire afternoon sitting in the sun and sampling cocktails.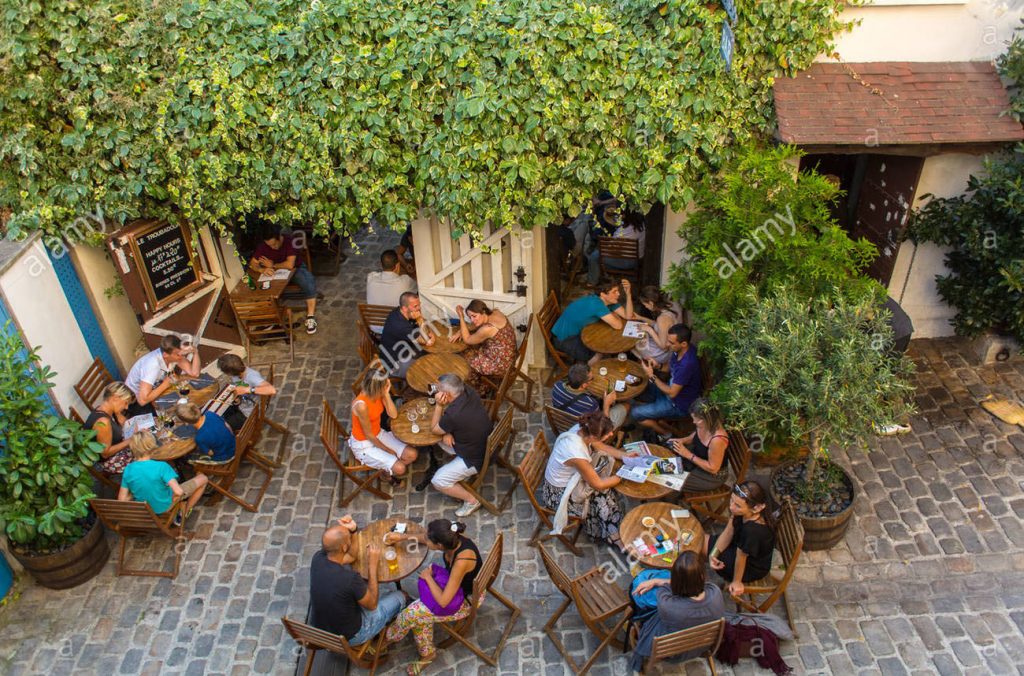 If old school glamour is what you're looking for then you need to head to the 16th arrondissement where you'll find the luxury St James Hotel.  A beautiful Parisian Mansion that is definitely one of the Hidden Gems in Paris.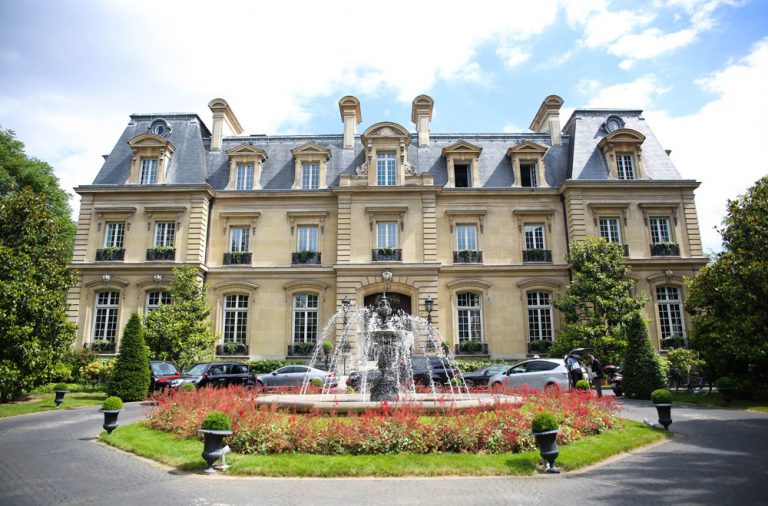 A luxury boutique hotel and private members club that is way out of my budget for a night's stay, but i can afford a drink in their beautiful library bar.  A martini in here is the perfect aperitif to any night out in Paris and the relaxed environment is charming and luxurious at the same time.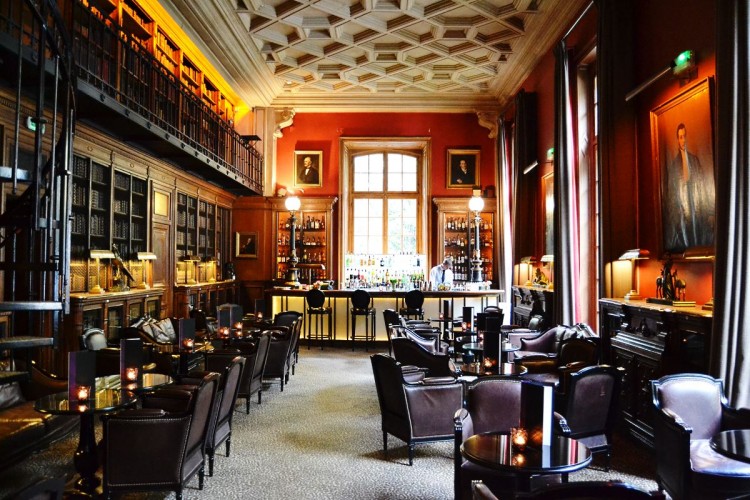 So there you have it – all of my favourite Hidden Gems in Paris – I've done the hard work for you – now all you have to do is go and enjoy them!  If you love finding different places you should check out my Top Restaurants in the Algarve post or my post on the  Most Authentic & Traditional Restaurants in Madrid.
Pin it for later