If you read my recent post on How to Ski Chamonix you'll notice that there was one restaurant that I raved about in particular – La Cabane des Praz.  Situated in the small village of Les Praz de Chamonix, the restaurant can be reached via a black run or the Cable Car from the Flégère ski area if you're skiing.  You can also get there in 10 minutes in the car from the centre of Chamonix.
We happened upon  it, completely by accident!  Having skied all morning we were starving and decided to head down the black run into the village to find a restaurant.  Somewhere along the way we must have taken a wrong turn and we ended up skiing onto the snow-covered Chamonix golf course! Oops!  After some cross-country skiing (walking) across the golf course we were exhausted and tired by the time we made it to the village so we decided just to go into the first restaurant we got to!  We lucked out big time!
La Cabane des Praz looks like a ski lodge from the outside but inside it is obvious that it is slightly more upmarket than your normal ski resort restaurant.  We were a bit embarrassed to walk in, sweaty and in our ski gear but were soon made to feel at home.  They even let us in, in our ski boots!  We were shown to a lovely cosy table by the window so we could look out over snow-covered golf course!  In the summer you can sit outside on the terrace and there are fantastic views over the mountains too.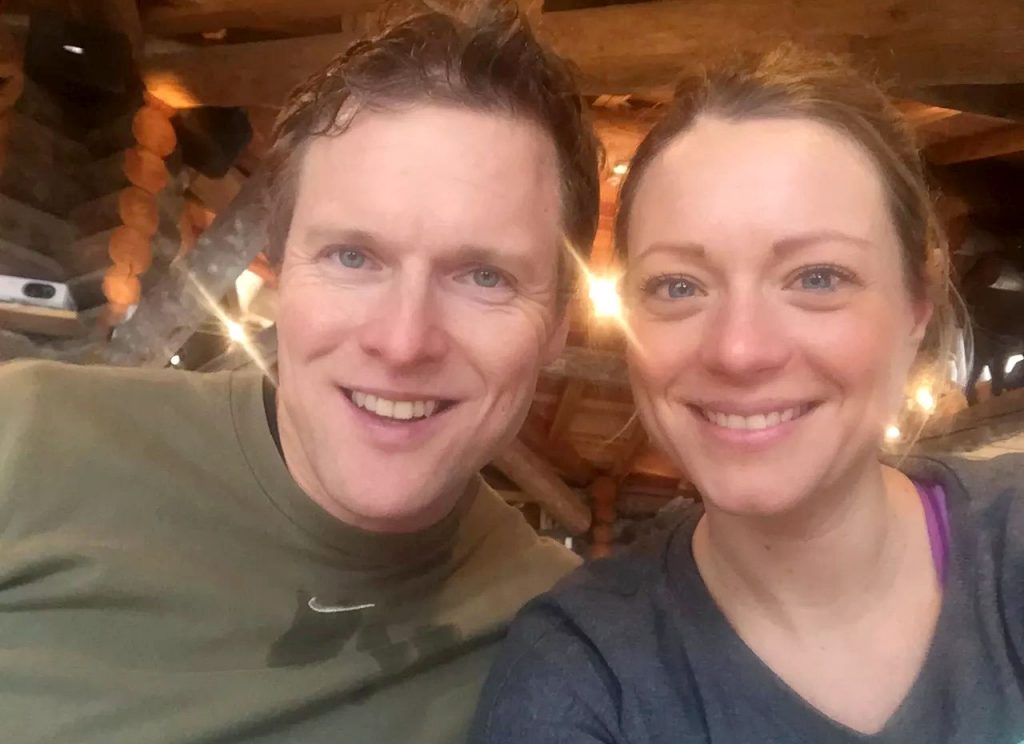 We started with the wine list which was very extensive!  We settled on a Guigal Cotes du Rhone 2012 – a complete bargain at only €25!  It was full of crisp red fruits with a hint of smoke and vanilla.  A perfect lunchtime wine that wouldn't be too heavy (we had more skiing to do that afternoon) but would go fabulously with the main courses we had all chosen.
The Food at La Cabane des Praz
La Cabane des Praz has quite an extensive menu and everything sounded absolutely delicious.  We could've started with oysters if we'd wanted and there were all the usual Savoyard Specialities.  Fondues, Pierre Chaudes (hot stones that you cook your meat on) and Tartiflette!
I couldn't get past the first page though!  The beef carpaccio caught my eye and i just had to order it even though it was only a starter!  I just couldn't resist as it was all my favourite flavours on one plate!  And an enormous portion!  I was a bit worried that it wouldn't be enough as I was so hungry but I needn't have been.  Definitely glad I didn't order a main course as well – it was plenty.  I found the beef was so deliciously tender and it just melted in my mouth.  And paired with the parmesan, pine nuts and artichokes, it was heaven on a plate.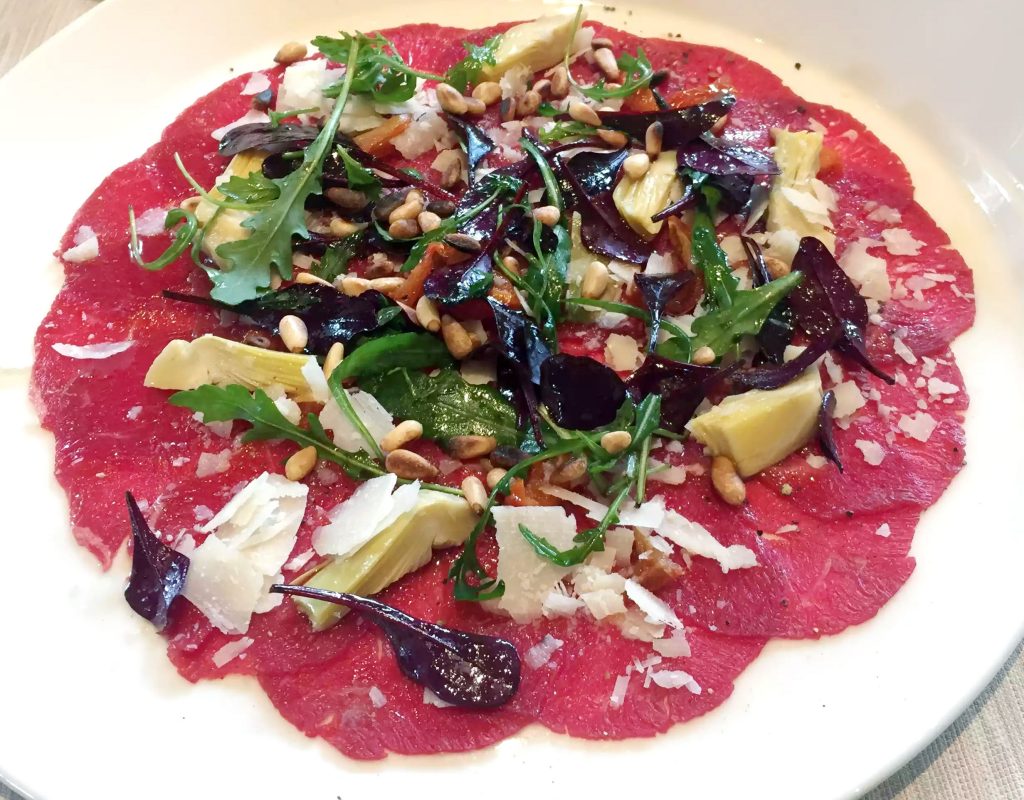 Dan and Fordy decided on the Slow Cooked (7 hours) Lamb with mashed potato and sautéed vegetables.  You could tell this had definitely been cooked for that long as it fell apart and was incredibly tender and delicious.  I had to sneak a taste.  If there was one slight criticism it was that the portion was slightly small for hungry (greedy) boys who had been skiing all day.  However, had we ordered starters or desserts it would have been plenty big enough.  Beautifully presented and it was nice to get some vegetables.  You don't often see vegetables on offer for lunch in ski resorts!!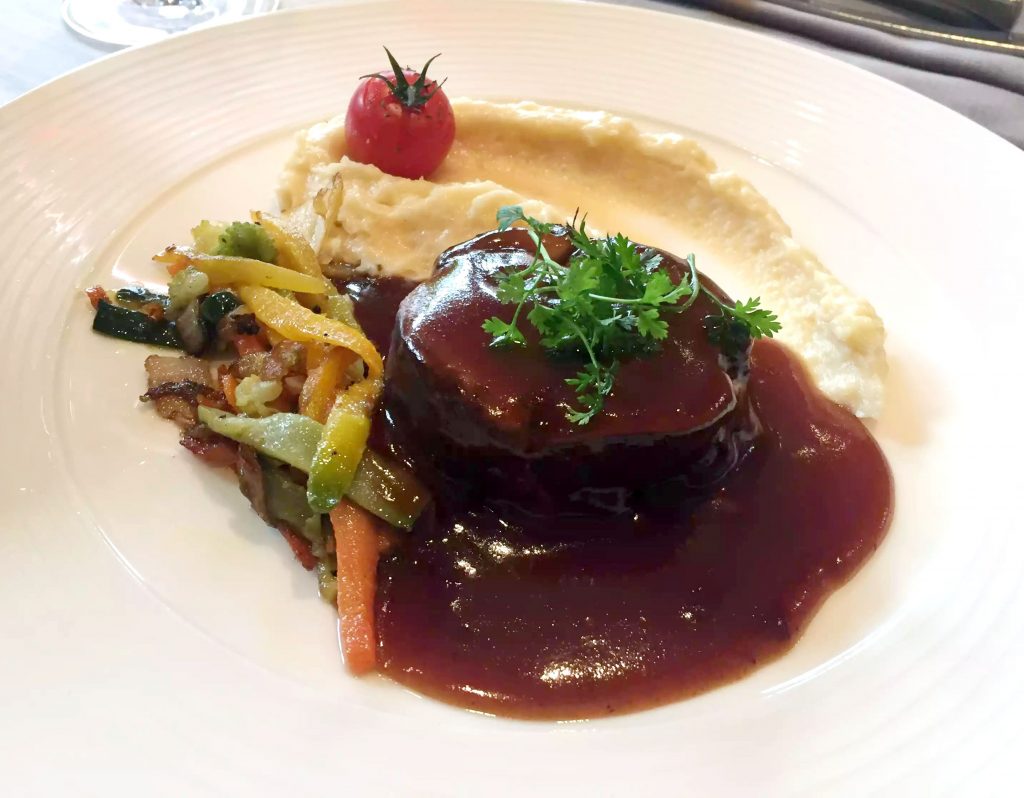 Mark ordered the Savoyard classic – Tartiflette – a kind of cheesy, creamy, bacon and potato gratin, cooked in the oven with plenty more melted cheese on the top.  Perfect skiing fodder and I was so jealous I couldn't eat it – it did look absolutely delicious!  And tasted incredible he assured me!  Definitely not a small portion either – it was enormous but he still managed to get through it all!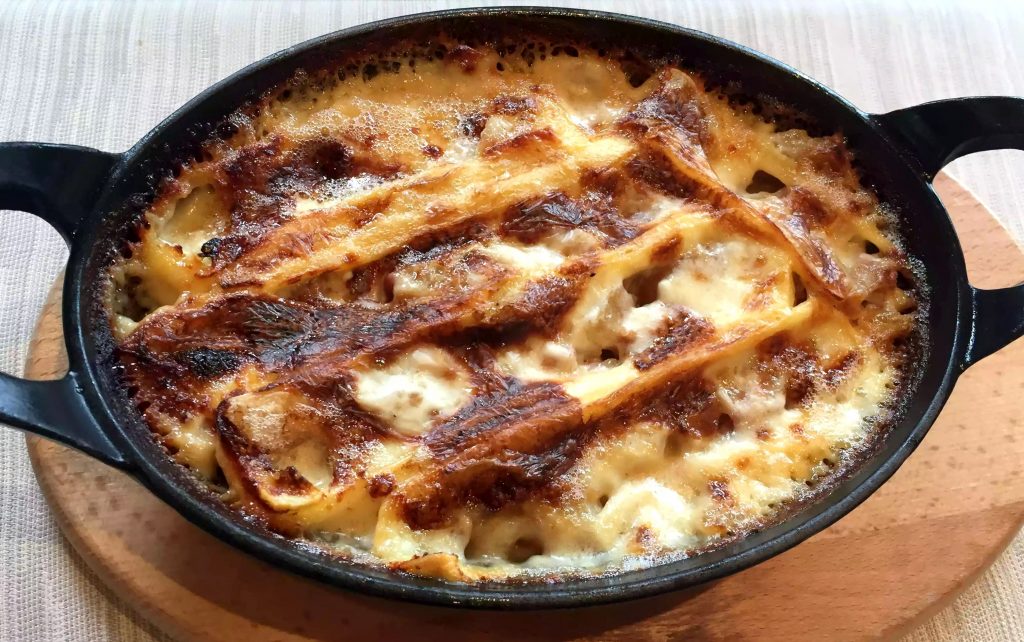 The Verdict
We ended up ordering a second bottle of wine and would probably have stayed all day had the mountains not been beckoning.  For such amazing food and delicious wine, the bill only came to €50 a head.  I thought that was incredibly reasonable for the quality of the food.  We even joked to each other that we should come back for lunch everyday!  A delicious meal and fantastic wine in a cosy, elegant environment for a decent price.  What more could you want!  I can't recommend La Cabane des Praz enough as it was the best meal we had during our trip!
Pin it for later