First off, please excuse me for the awful picture showcasing this fantastic recipe.  I simply got so excited after realising that making it this way with these ingredients worked, that I set to work, using it in a lasagne and completely forgot to take a nice pretty shot of the finished béchamel in a pretty bowl with a sprinkling of nutmeg on top!  Next time I make it, I promise to update this recipe with a much more attractive picture!  (Edit:  Phew – taken a couple of better photos now!)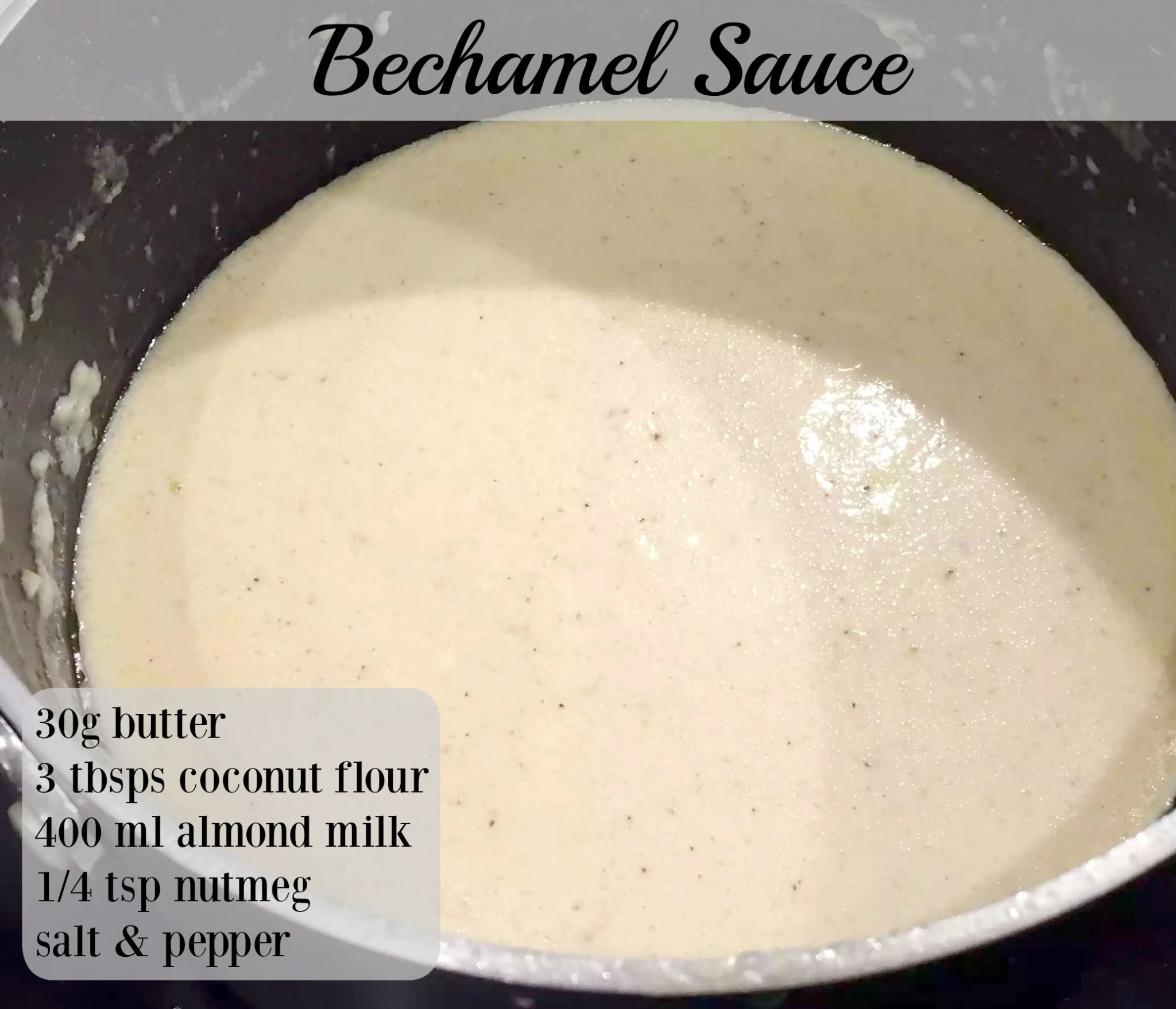 Desperate for a lasagne this week I had to come up with a recipe for the béchamel sauce part.  I'd already made the Bolognese earlier in the week and bought the courgettes to use instead of pasta, so the béchamel sauce was the last ingredient on my list.
A traditional béchamel sauce (or white sauce as it's sometimes known) is made with butter, flour, milk and nutmeg.  As I can't have milk and flour, I decide to experiment and replace them with coconut flour and almond milk to see if I could create something similar to the original recipe.
I started off by melting the butter in a pan over a medium heat.  Add in the coconut flour and stir to combine into a roux (a sort of flour butter paste – basically just mix until it comes together and there are no lumps).  The roux is what thickens the sauce, the coconut flour absorbs the liquid to make everything less watery.
Add a few tablespoons of the almond milk (I make sure to always buy one that it just almonds and water, as many have other ingredients added – or you could make your own) and stir until all the lumps are dissolved and you have a smooth paste.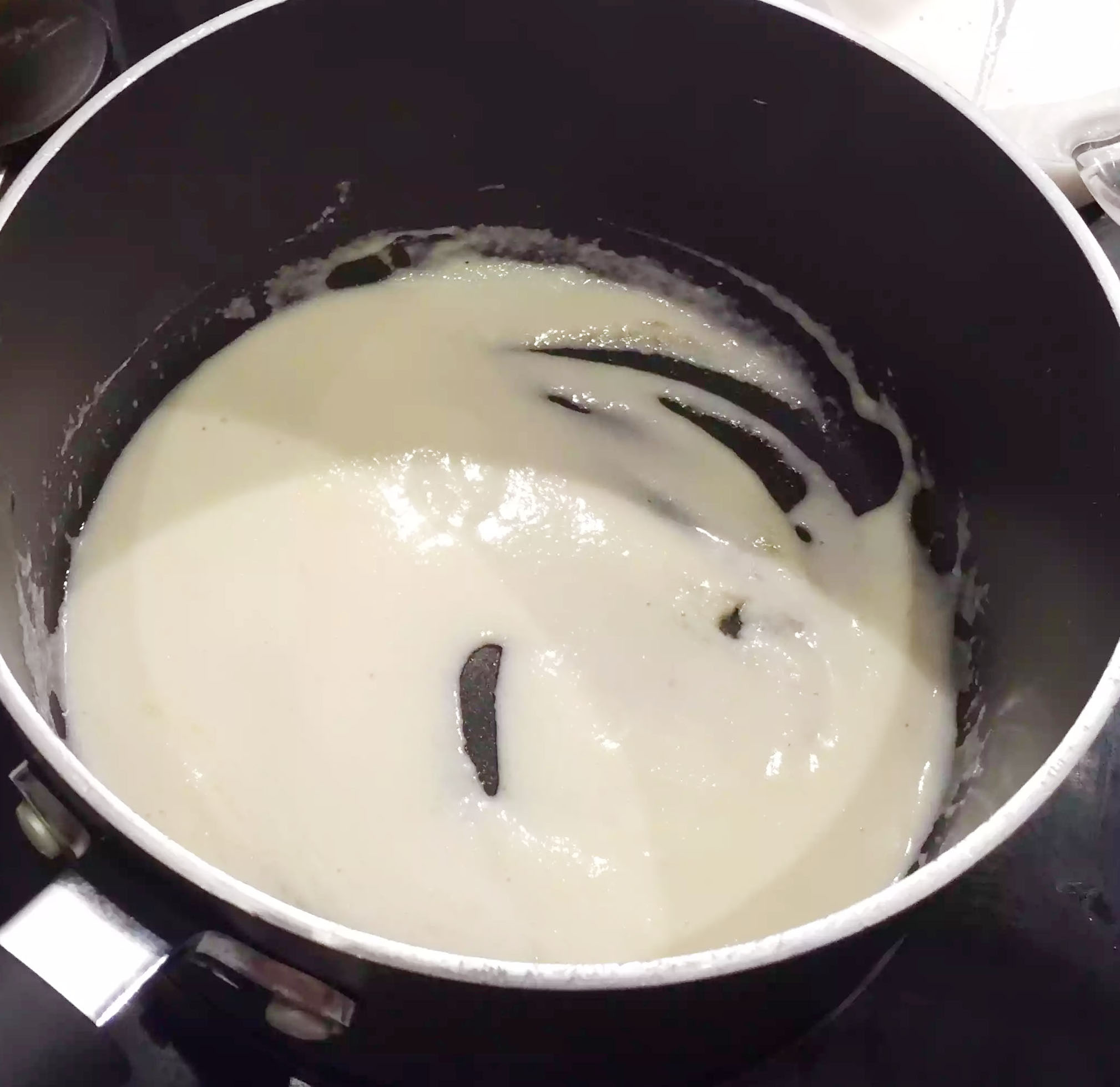 Then you can add in the rest of the almond milk, confident that there will be no lumps in your end sauce.
Add the nutmeg and plenty of salt and pepper – this will ensure that you get a savoury sauce rather than it being too sweet from the almond milk and coconut flour.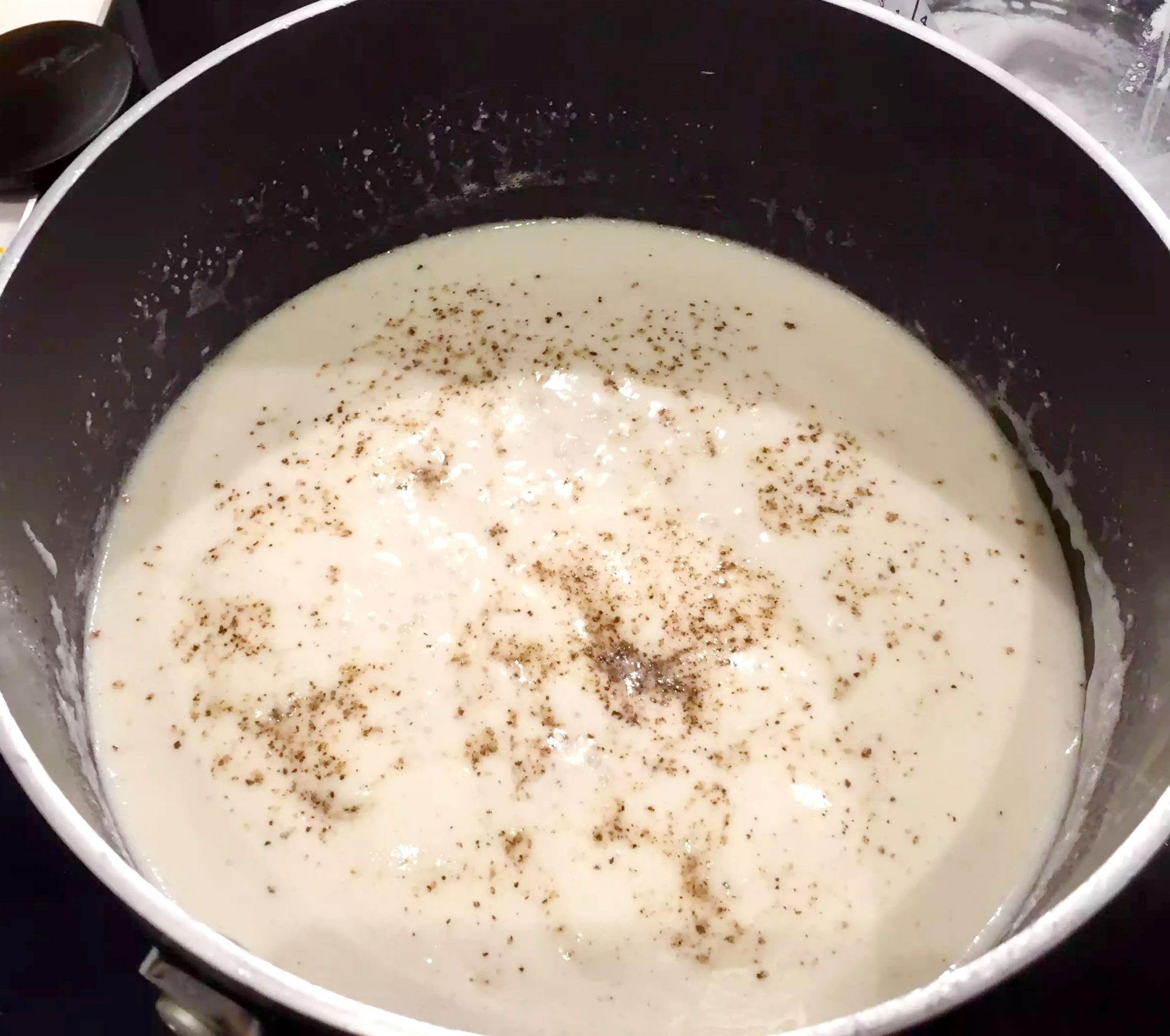 Turn the heat on the hob up quite high and let the sauce simmer and reduce for about 10 mins, stirring often so that it doesn't burn on the bottom of the pan.  The bechamel will be ready when it is no-longer watery and runny and is a thicker consistency, almost like a custard.  You will get around 250ml of bechamel sauce by the time it has reduced enough.  This is a great amount to make a lasagne that will feed about four people, so you can scale up or back depending on your requirements.  I used all mine straight away so I can't vouch for whether or not it would freeze well, but you can freeze a traditional bechamel, so I don't see why this should be any different.  Just make sure to heat it up slowly when you re-cook it, whisking quite well so that it doesn't separate.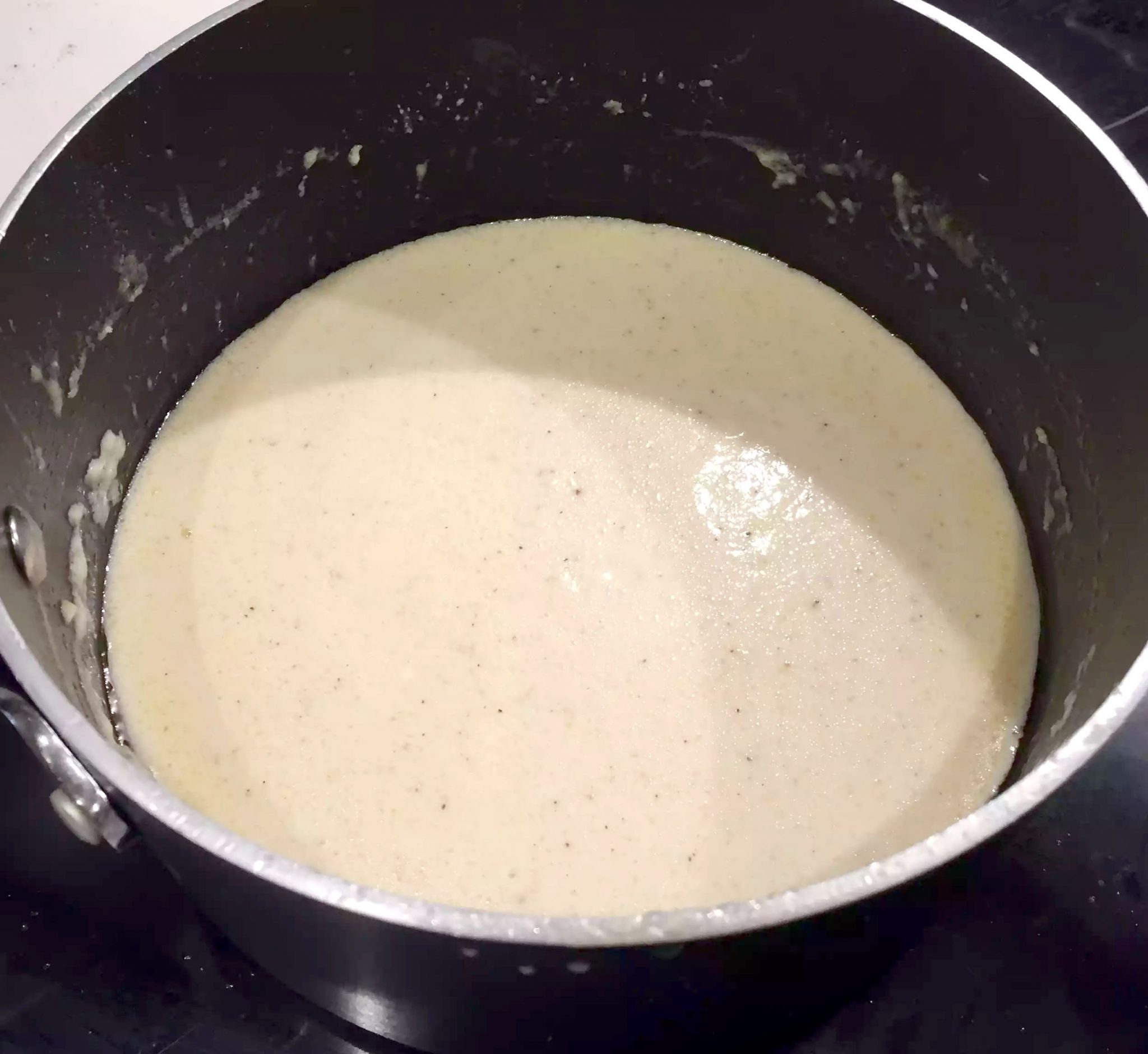 I chose to add in 100g of mature cheddar cheese while it was simmering to increase the savoury flavour for my lasagne, but this is an additional step that is entirely up to you.  If you do add the cheese then you could use it as a cheese sauce for cauliflower cheese or macaroni cheese or anything else you would normally use a white sauce for.
What is it like?  Well, it's definitely not the smooth béchamel sauce you would expect if you used the traditional ingredients.  It is slightly grainy from the coconut flour but I actually really loved the taste of it.  I was expecting it to be sweeter than it was but it was surprisingly savoury.  It is a really good alternative to the traditional version, and especially when cooked into a lasagne, there was no way to tell the difference and you couldn't detect the graininess at all!  It even passed the Dan test – he had no idea it was any different from a normal sauce and couldn't believe it when I told him the ingredients!
And coming from someone who loooooves cauliflower cheese, I'd be very happy with this as the sauce that it's cooked in.  It really is delicious!
Edit:  I used this béchamel sauce in my Paleo Lasagne and my Cauliflower Cheese and they were both absolutely delicious!
Pin it for later