Sometimes, when you're on holiday a glass of wine just wont cut it.  You want a cocktail!  Something thirst quenching and refreshing and preferably pretty looking!  But all of them have some kind of liqueur in them and due to the medical diet that I follow, I can't have refined sugar.  You can feel a bit left out when everyone else is sipping their sugar laden Mojitos and Pina Coladas so I decided to create my own Refined-Sugar Free White Wine Sangria.  I used to love the one that Maria's Restaurant makes – delicious, but very potent – so I went about creating a similar flavour without the sugary additions!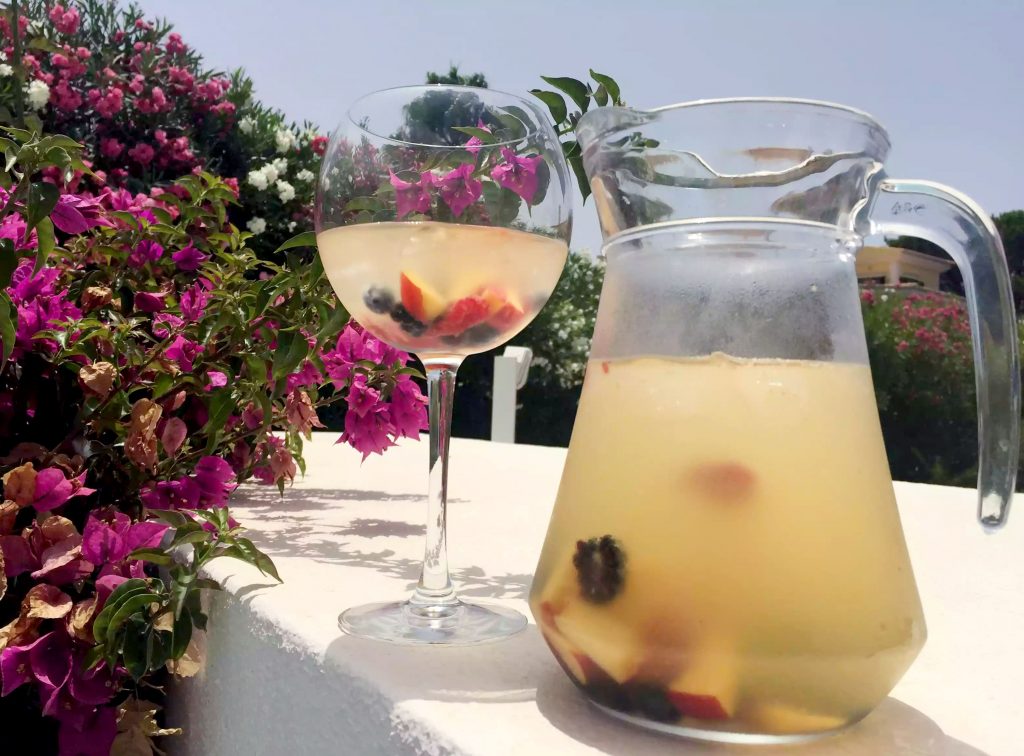 It's very simple to make and you only need a few ingredients.  First you need to chop up the fruit.  I prefer soft fruit in my Sangria and I like a mix of colours so I used blackberries, nectarines, raspberries and blueberries but you can use whatever fruit you have to hand.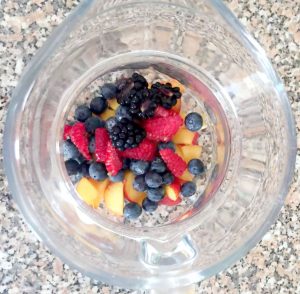 Add this to the bottom of a 2 litre jug along with plenty of ice!  Uncork the white wine and empty the whole bottle into the jug as well.  Any white wine will do – the fruit juice masks a lot of the taste so don't bother with an expensive one!  I used a Portuguese Vinho Verde as it's a perfect light lunchtime wine with a slight sparkle.   Add 250ml pineapple juice – make sure you buy the fresh stuff, not from concentrate or anything with added sugar.  Alternatively you could juice your own which would probably be even more delicious!  You could also use a different juice if you prefer but in order to keep the colour of the White Wine Sangria try to use a pale yellow one – something like peach or grapefruit or even orange.
Top up with sparkling water – about 500ml – or to taste depending on how strong you like it.  The drink is perfect and very refreshing like this but you may want to add an extra kick!  Traditional White Wine Sangria has lots of spirits added to it, like white port or rum, but as we're avoiding the refined-sugar, you can use vodka for the extra punch!  100ml should give it the necessary kick!  Stir all the ingredients together and serve in a large glass over some more ice.
Delicious and refreshing!  And no need to feel left out from the cocktail scene.  It looks beautiful in the glass and means that you can join in with everyone else.  Just don't let them have a taste!  I did and they all wanted mine instead!!
If you like  Cocktails you should check out my Summer Cocktail Round-Up.  They're all Refined Sugar-Free so there's sure to be something to tickle your taste buds!  The Vodka Watermelon Cooler is particularly delicious!
Cheers!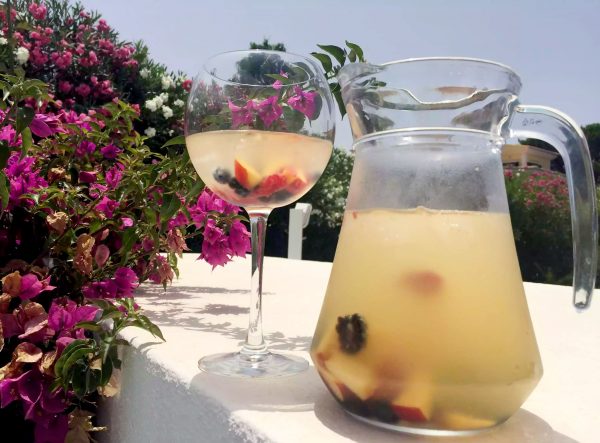 | | |
| --- | --- |
| | |
Chop up the fruit - any fruit will do - but I like soft fruit in my Sangria with lots of different colours so I used blackberries, raspberries, blueberries and nectarines.

Add to a 2l jug with plenty of ice.

Uncork and add the whole bottle of white wine to the jug.

Add the sparkling water to taste.

Stir well and serve in a large glass over more ice.
Add vodka to the Sangria as well, before stirring.
Allergy & Dietary Information for White Wine Sangria
This recipe is Grain-Free, Gluten-Free, Dairy-Free & Refined-Sugar Free.  It's also suitable for Paleo, SCD, and Vegan diets.
See my Products Page for Ingredients & Bakeware that I recommend.
Pin it for later