This weekend I was off on a trip to Newcastle to sample the city's culinary delights.  Newcastle is probably not the first place you'd think of as a Foodie Paradise so I was intrigued to see what the city had to offer.  This weekend was in collaboration with Newcastle Gateshead.com who had planned a Newcastle for Foodies tour for us.  They are promoting their #TheTyneIsNow campaign as Newcastle has recently been voted the Rough Guide No.1 place to visit in 2018.  I was excited for a fun-packed Foodie Weekend and to experience a town I'd not visited before.
We got up super early on Saturday morning and jumped on the Virgin Trains East Coast Service at London Kings Cross.  They had provided us with complimentary tickets and we travelled First Class to Newcastle.  In only 3 hours we arrived leaving us plenty of time to enjoy the whole two days!  Now for the food tour of the 'Toon'!
Fenwick's Food Hall
This has to be a must-do on the tour of Newcastle for Foodies.  The whole Food Hall was renovated about 3 years ago and is a complete Foodie Paradise.  Wandering around all the different produce counters you can see plenty of locally sourced ingredients.  Local meats, fish and cheese hold pride of place alongside ingredients from further flung places!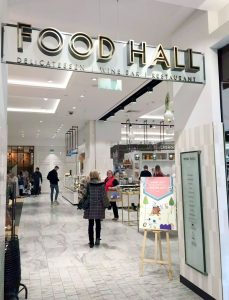 My favourite area was definitely the seafood bar.  With an Oyster happy 'hour' (or 2) every day from 3pm-5pm serving locally caught oysters for £1, I was in heaven!  I'm sure I'd be found there most afternoons if I lived in Newcastle!
The restaurants there all sell food made with the produce from the Food Hall, so you can try before you buy!  There are also plenty of samples to be had as you walk around.  I had some samples at the cheese counter and fell in love with a local creamy cheese with flakes of nettle leaves in it.  I just had to leave with a small piece to take home!
And don't forget the booze!  Their alcohol section is fantastic.  So many delicious wines and the variety of gins is amazing.  Incredible flavours and blends and many of them local to the area.
Fenwicks also often has local producers and suppliers hosting pop-up stalls.  They are so passionate about their products that you get a glimpse into why local artisanal food is so important to support. 
Fenwick's Food Hall – 39 Northumberland Street, Newcastle Upon Tyne, NE99 1AR
Cook House
The next stop on our tour of Newcastle for Foodies was Cook House.  A restaurant run by a food-blogger turned restauranteur Anna Hedworth.  Set in a tiny shipping container, it's on a back street in Ouseburn Valley.  It's so out-of-the-way you'd never find it if you didn't know where it was.
We were welcomed inside and shown to our table.   The place is tiny!   There's only room for about 15-20 diners and all the food is cooked on the one stove in a tiny kitchen.  Despite its tiny, out-of-the-way location, Cook House is still generating lots of interest.  It's recently been featured on TV on Hidden Restaurants with Michel Roux Jr.
Anna had cooked us an incredible feast, the majority of which was perfect for my dietary requirements.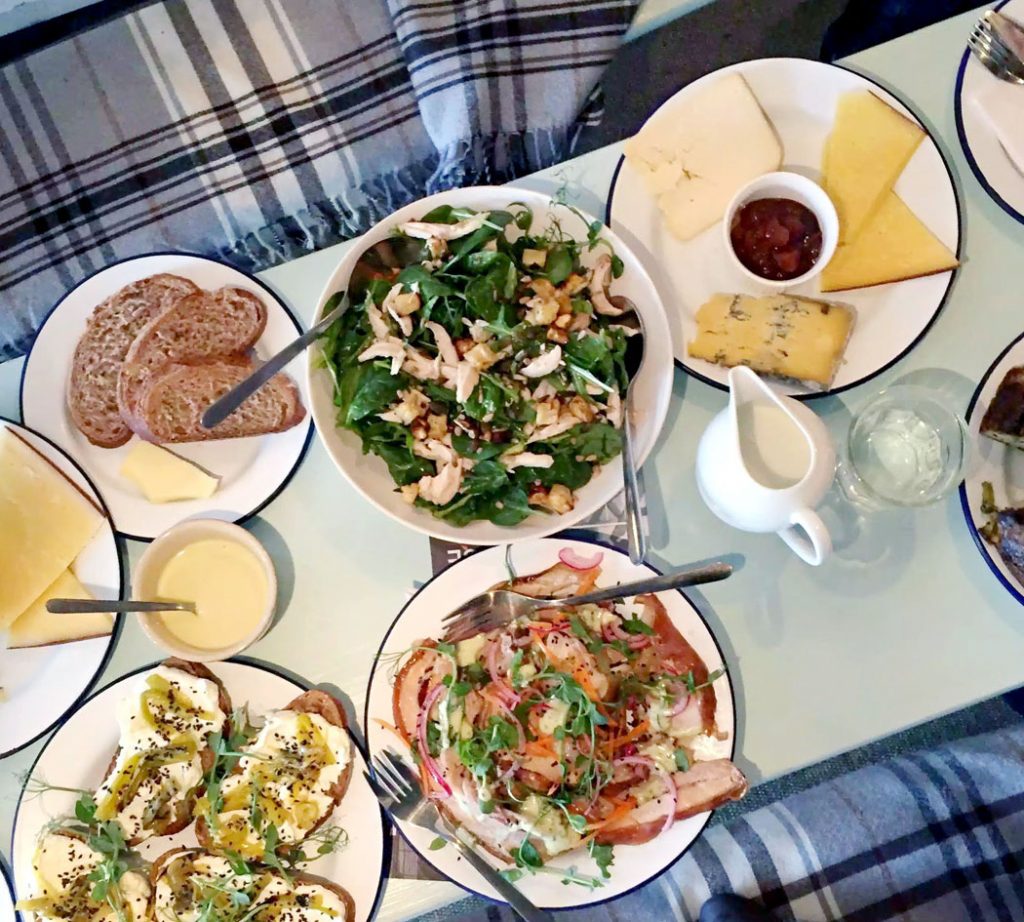 We had delicious roast pork belly, a goats cheese and wild garlic frittata and a roast chicken and celeriac salad.  There was also a local cheese plate with spiced apple chutney and everything was incredible.
As we were eating, Anna came out to talk to us about her vision for the restaurant.  She's hoping to move to somewhere a bit bigger soon, with a bit more foot traffic to try to expand her reach.  She's also very excited for the cookery book she has coming out later this year so watch this space!
Anna also holds pop-up supperclubs and other events so check out the website to see what's coming up!
Cook House – 20 Ouse Street, Ouseburn, Newcastle upon Tyne, NE1 2PF
A Walking Tour of Ouseburn's Microbreweries & Pubs
Next up on our tour of Newcastle for Foodies was a visit to some of Ouseburn's microbreweries and pubs.  You can't go to Newcastle and not try the beer – so I'm told.  Our host for the afternoon was Alastair Gilmour.  He is a well-known beer journalist and Telegraph columnist and was going to give us a tour of his favourite beer hangouts!
The Ouseburn  Valley was a kind of post-industrial wasteland but has now been regenerated.  It is a culturally up and coming area and has a sort of trendy East London vibe.  It also has a large concentration of pubs!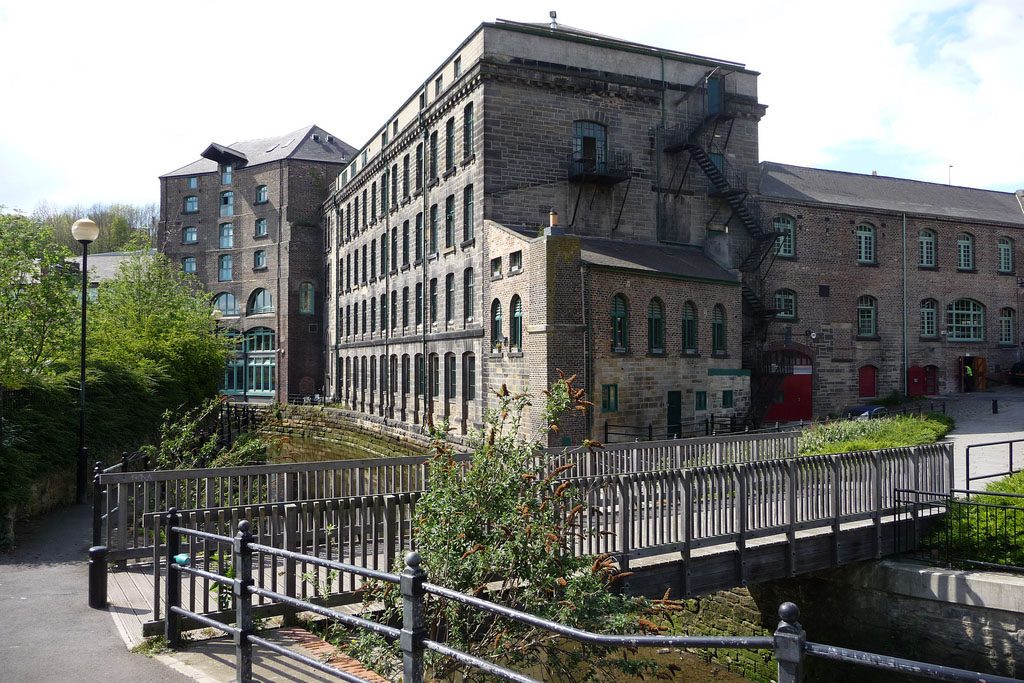 Unfortunately, being gluten-free, beer is off the menu for me.  Alastair made sure I didn't feel left out by ordering me a Prosecco  and a cheeky G&T while the others were sampling all the local brews.  We visited a few different pubs – Arch 2, The Cluny and The Cumberland Arms (up high on top of a hill – check out that vista!)
Alastair then took us to the last pub, the Free Trade Inn.  He'd promised us that this was the perfect place to take a sunset photo over Newcastle and we weren't disappointed.  Just look at that view!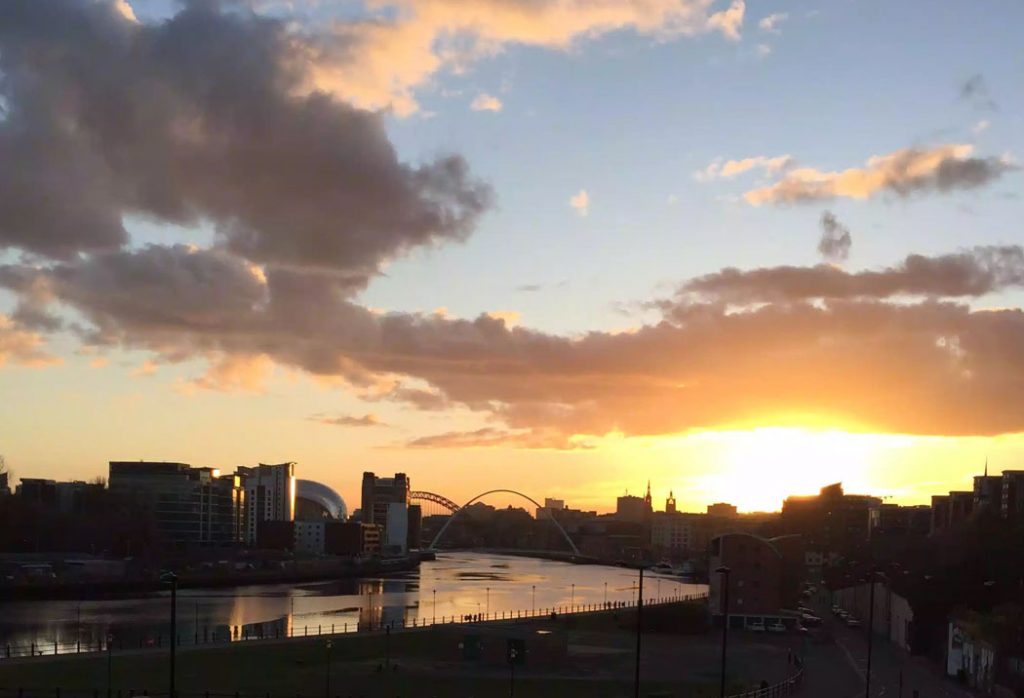 Despite not being a beer drinker I loved Alastair's enthusiasm for the subject.  His knowledge of local history was so interesting and I loved hearing how the city, and especially Ouseburn, has changed recently.  Alastair offers beer walking tours and if you fancy an interesting afternoon then book yourself one on his website.
Alastair Gilmour – Cheers North East 
Dobson & Parnell
For dinner that night, as part of our Newcastle for Foodies weekend, we had dinner organised for us at Dobson & Parnell.  It's described as a fine dining restaurant and the head chef used to work at Jesmond Dene House so we knew we were in for a treat.
On arrival we were shown our table and offered a glass of Prosecco.  We looked at the menu and the waiter explained which dishes I could eat given all of my dietary requirements.  We ordered a bottle of 2016 Sauvignon Blanc, Domaine la Prade (£25) for the table and sat back to discuss the day.
The waiter arrived with an amuse bouche from the chef.  It was a smoked mackerel roe purée with leek ash which was absolutely delicious.  It was so tangy and creamy and it definitely got us salivating for our starters.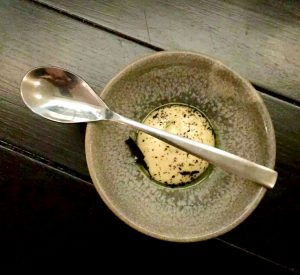 I'd ordered the spiced carrot hummus which came with baked heritage carrots and a linseed crisp (£8) as a starter.  It was earthy and I loved the crunch that the linseed crisp added to the whole dish.
For my main course I'd chosen the halibut with baby turnips, razor clams, mussels and a shellfish jus (£24).  The fish was cooked perfectly, moist and flaky and the mussels and clams really elevated the dish.  It was hearty and much more filling than I would have expected a fish dish to be.
For dessert we ordered a few for the table and I tucked into the cheese plate!  I'd definitely recommend Dobson & Parnell as a restaurant to spend an evening in if you're in Newcastle.  There's also a seven course tasting menu that sounds incredible.  I'm after that one next time!
Dobson & Parnell – 21 Queen Street, Newcastle Upon Tyne, NE1 3UG
Wylam Brewery
The next day we were up early to head to the Wylam Brewery.  Set in the old naval museum in Exhibition Park the building is architecturally incredible.  Wylam Brewery took over the building so it wouldn't be torn down as it had been derelict and the council couldn't afford the upkeep.  It is so light and airy and an incredible event space.  They've even had Sting play a concert there recently!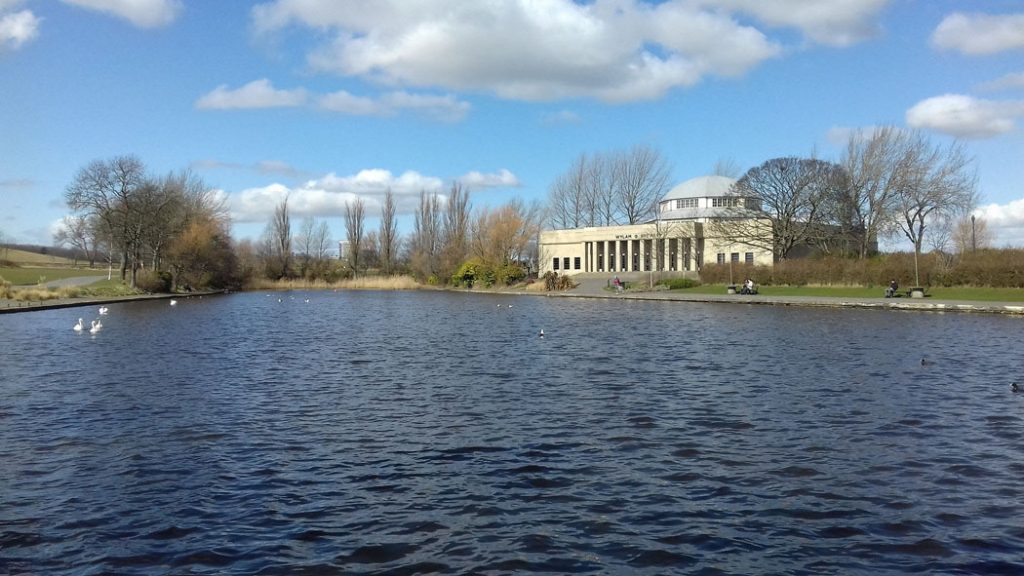 We were shown inside and had a quick tour and explanation of the brewing process.  Dave Stone showed us around and you couldn't help being enthralled by his passion for beer.  The tour ended in the obligatory photo booth shot!  Check out my fellow foodie bloggers!  Kelly of Kelly Prince Writes, May of Eat Cook Explore, Rosana of Hot & Chilli and Anne-Sophie of City Cookie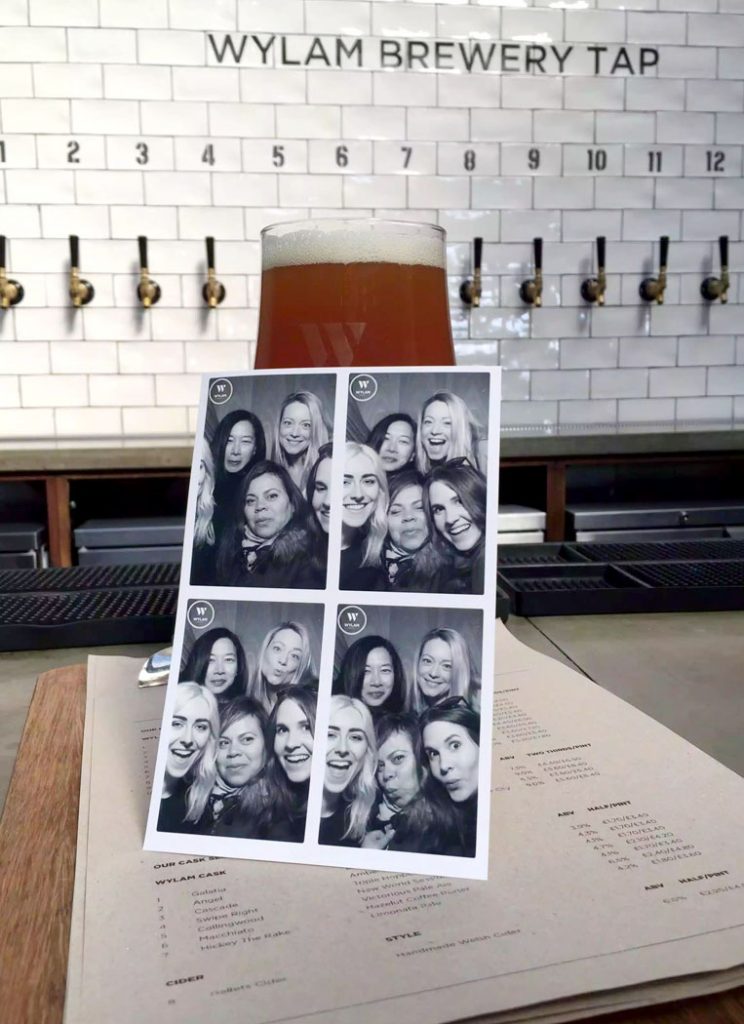 Next up it was time for the tasting.  We were shown into the main bar and were overwhelmed by the amount of beers on offer.  Dave even had a gin, made at the brewery, for me to try!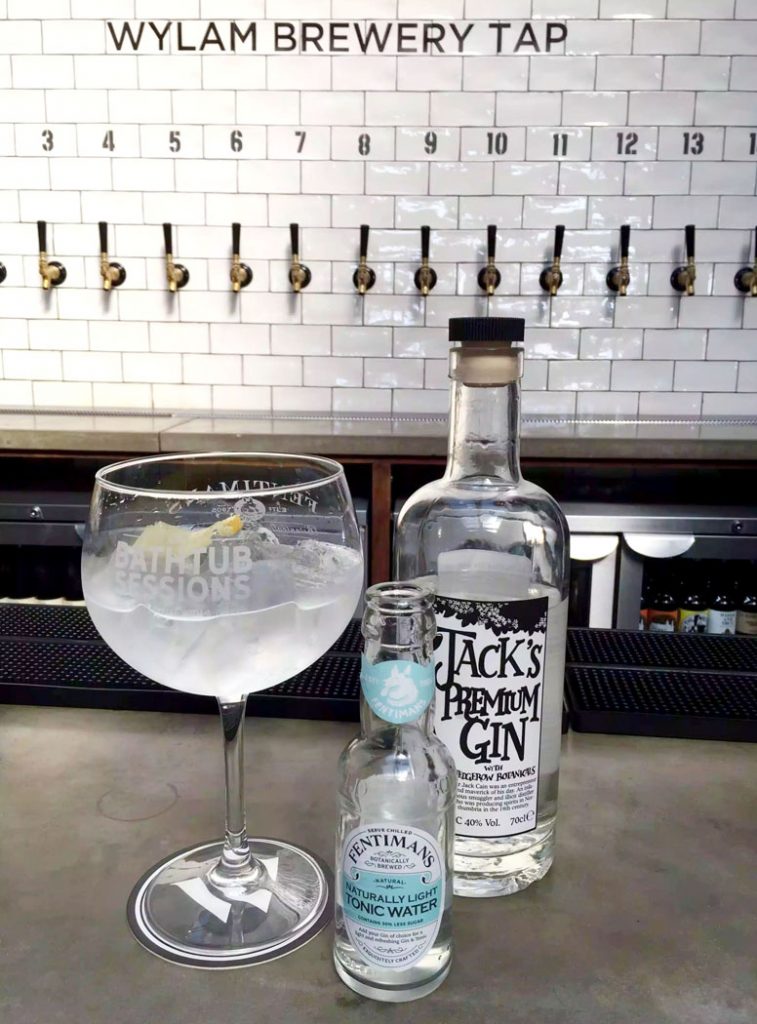 The bar itself was designed beautifully.  I loved the urban feel with all the exposed brickwork.  The tables had all been laid up for their incredible Sunday roast dinner.  Dave then made the mistake of showing us the kitchen quickly!  Never take a group of hungry food bloggers into the place where the magic happens.  A few seconds later we were all seated in the beautiful event hall anticipating an incredible roast lunch ourselves!
And what a roast lunch it was, I'm not sure I've ever had a better one! That crackling though…Wow!  All the meats were delicious and the other girls were wowed by Yorkshire puddings that were as big as their heads.  For a girl who can't drink beer, I definitely did OK for myself at Wylam Brewery.  G&T and a roast dinner was so much more than I was expecting!  Thanks Dave!
The pictures speak for themselves but I can thoroughly recommend the Sunday Roast at Wylam Brewery.  But make sure you book as they're always full, weeks in advance!  They also had some interesting looking nibbles on their weekday menu too.  I'm loving the sound of the grilled watermelon with fresh goats cheese & mint (£6).  Also the burrata, blood orange, roasted beetroot & honey (£6).  Yum!
Wylam Brewery – Palace of Arts, Exhibition Park, Newcastle upon Tyne, Tyne & Wear, NE2 4PZ
Rileys Fish Shack
No visit to Newcastle would be complete without a trip to the seaside.  And no Newcastle for Foodies tour would be complete without a trip to Riley's Fish Shack.  Jay Rainer gave it a 5* review and said "Call off the search. Close down the web browser and put away the guide books. I have found the eating experience of the year."  Riley's were also featured alongside Cook House on Hidden Restaurant.  Because of this we bundled ourselves off to Tynemouth for lunch.
Riley's is set in a shipping container shack on the beach (all the fab foodie finds up here seem to be held in shipping containers!)  Its food is renowned and there's always a queue outside.
All the fish dishes are cooked in a wood fired oven and this is no standard fish and chip shop.  Crab cakes and Monkfish Wraps or Grilled Lobster are all on the menu here.
Unfortunately we were still full from our huge roast lunch at Wylam Brewery so we couldn't face anymore food. It looked so good though that we even contemplated ordering one dish between the five of us, just so that we could have a taste.  Knowing that we had afternoon tea booked in too we made the tough decision to skip it but it's definitely a must-do for the next time I'm in town
Riley's Fish Shack – King Edward's Bay, Tynemouth, NE30 4BY
Afternoon Tea at Jesmond Dene House
Jesmond Dene House was our base during the weekend and a luxurious one it was too.   My room was stunning and breakfast tasted incredible!  Smoked salmon and scrambled eggs, cooked perfectly made this foodie very happy.
Our Newcastle for Foodies trip wouldn't be complete though, without sampling their renowned afternoon tea!  Having heard great things about it we were all keen to check it out.  We ordered the champagne special (£37.50) and chose our teas from their extensive list.  I went for the Assam tea as I fancied something quite strong with bold flavours.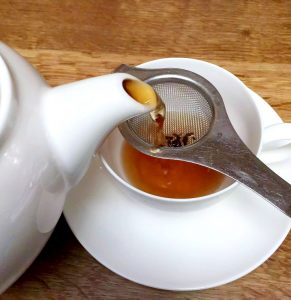 The champagne and tea arrived along with the food!  It was absolutely stunning.  3 tiers of sandwiches, quiches, scones and the most beautifully intricate petit-fours.  I was just sad that I couldn't eat any of it, but not to worry, Jesmond Dene House hadn't forgotten me.
They served me a delicious Roast Beetroot & Soft Goats Curd Salad with Walnuts & Watercress.  Then, out came a cheese plate with grapes and celery.  I was in heaven.  Not being able to eat sugar I don't have a sweet tooth and would much rather have a cheese plate any day!
The food at Jesmond Dene House was really delicious.  I was just sad that I didn't have the chance to sample their dinner menu!  Oh well, next time!  It's somewhere I'm definitely heading back to. 
Jesmond Dene House – Jesmond Dene Road, Newcastle Upon Tyne, NE2 2EY
I loved my Newcastle for Foodies weekend but feel like I've barely scratched the surface of this fun and vibrant city.  This summer is the perfect opportunity to return to Newcastle and spend some more time there.
Newcastle Gateshead will be hosting the Great Exhibition of the North starting in June! It will be over 80 days of artistic and cultural exhibitions and performances spread out all over the city.  If you want to see for yourself then head up there between 22nd June and 9th September!
Pin it for later