I love Burrata
(in fact I love all cheese!)  It's one of those things that I always order from any menu when I see it offered.  In fact I ordered it just last week at our Date Night dinner at Roast Restaurant.
There's something about the firm outer shell, giving way to the gooey, creamy centre that gets me every time.  100 times more decadent than mozzarella, it's pure indulgence.  Made by forming mozzarella into a kind of pouch and then filling it with a mozzarella and cream mixture before sealing into a ball, I just love cutting into it and having the centre ooze out.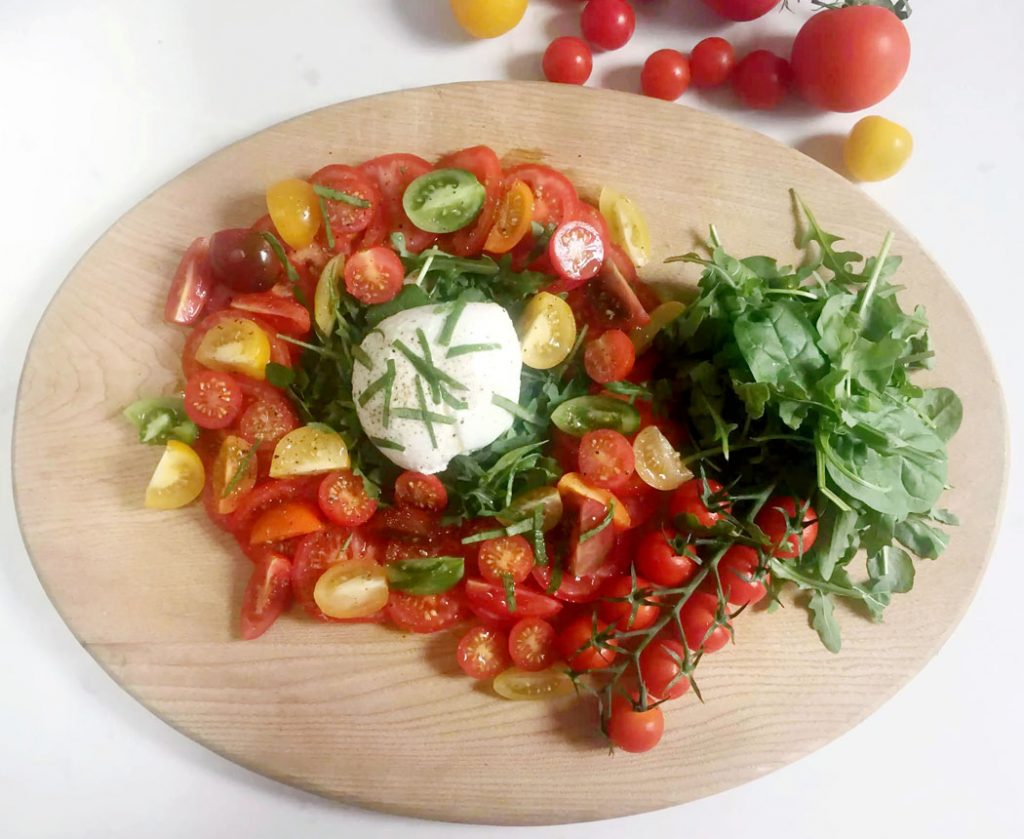 So delicious, it's best eaten without doing too much to it.  Like traditional Mozzarella, Burrata is best served with tomatoes and basil and a drizzle of really good extra virgin olive oil.  Those are just classic Italian flavours that complement each other so well.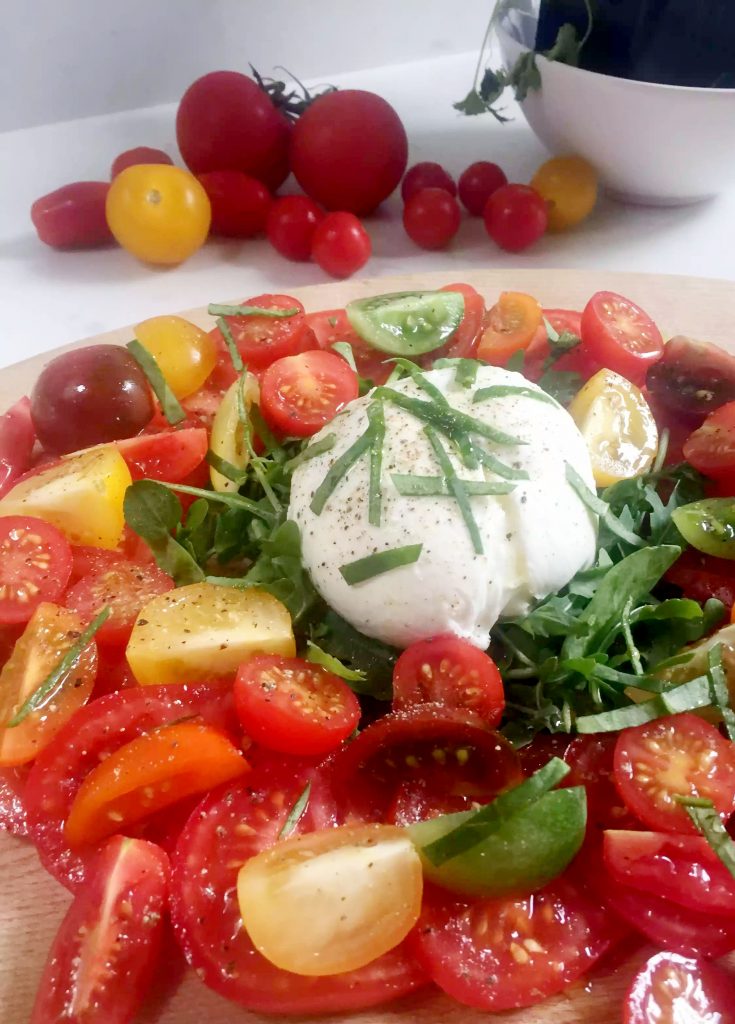 I was hugely inspired by the wide selection of tomatoes that are available in the shops at the moment.  Without too much trouble you can usually find plenty of varieties in most major supermarkets.  I bought a mix of beef tomatoes, pomodoro tomatoes, cherry tomatoes on the vine and then some green yellow and even purple ones to add a bit of colour and drama to the dish.  I simply chopped or sliced them up and arranged them on a wooden board.  A touch of rocket or any salad leaves and the Burrata as the centrepiece makes a stunning platter for the table.  All you need to do is finely slice some basil, drizzle a good quality olive oil over the top and grind some black pepper and sea salt over everything.
I like to keep the Burrata whole instead of slicing it.  It's much more dramatic when you cut into it at the table and the gooey centre oozes out.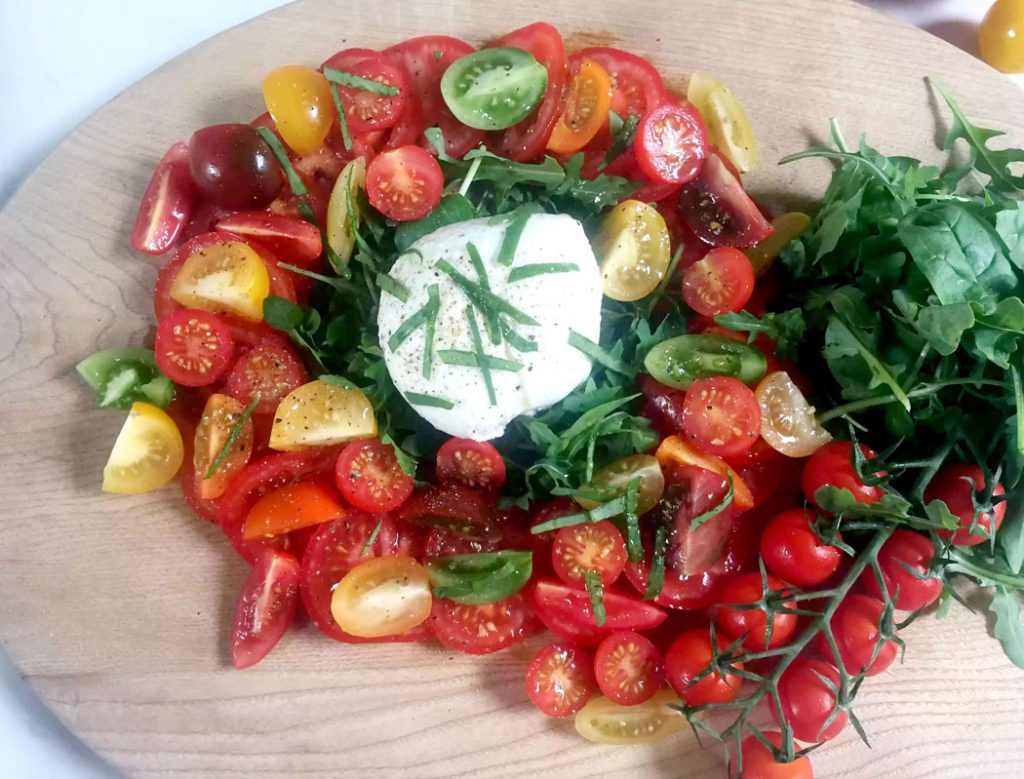 One of the easiest but most delicious dishes you will ever prepare.  You just have to make sure the ingredients are really good quality and very fresh.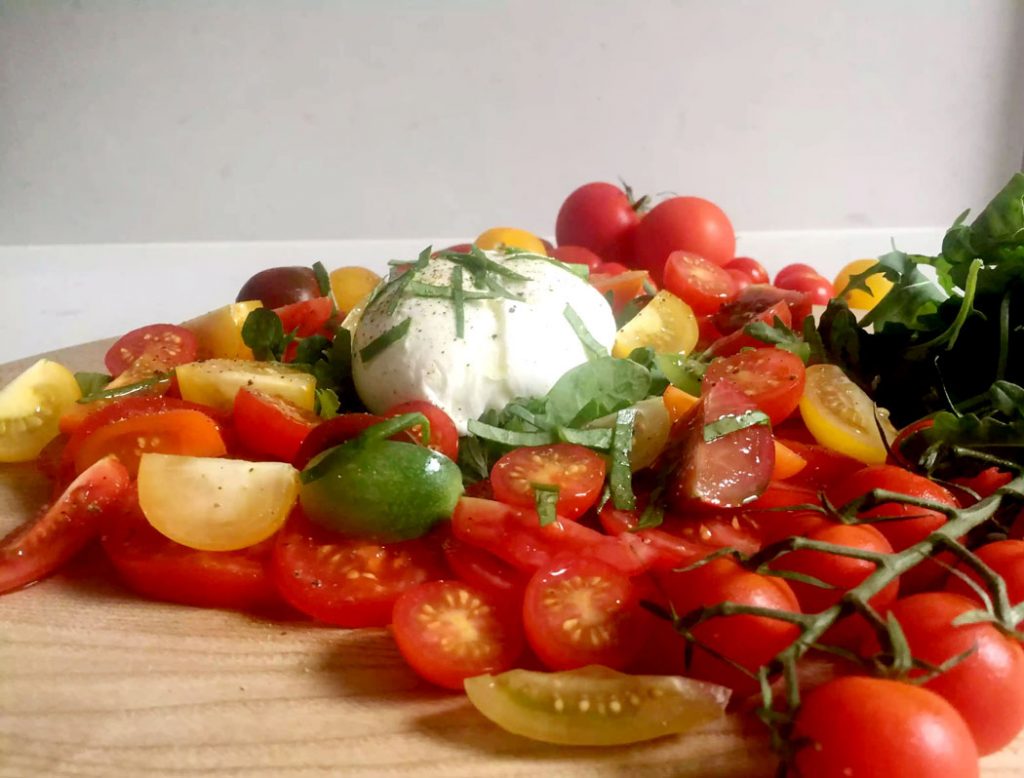 I like to serve it as an appetiser along with some crackers at a dinner party.  Or, if I want to treat myself, a whole Burrata, just for me as a main course.  It's also delicious with some good quality balsamic vinegar drizzled over the top too, if you can cope with the sugar in it.  Burrata Caprese Salad is perfect for a summer lunch or a dish at a BBQ and one that will definitely stand out!  If you like the combination of creamy cheese paired with sweet fruit you should also try my Watermelon, Mint & Feta Salad or my Roasted Peach, Feta & Pistachio Salad!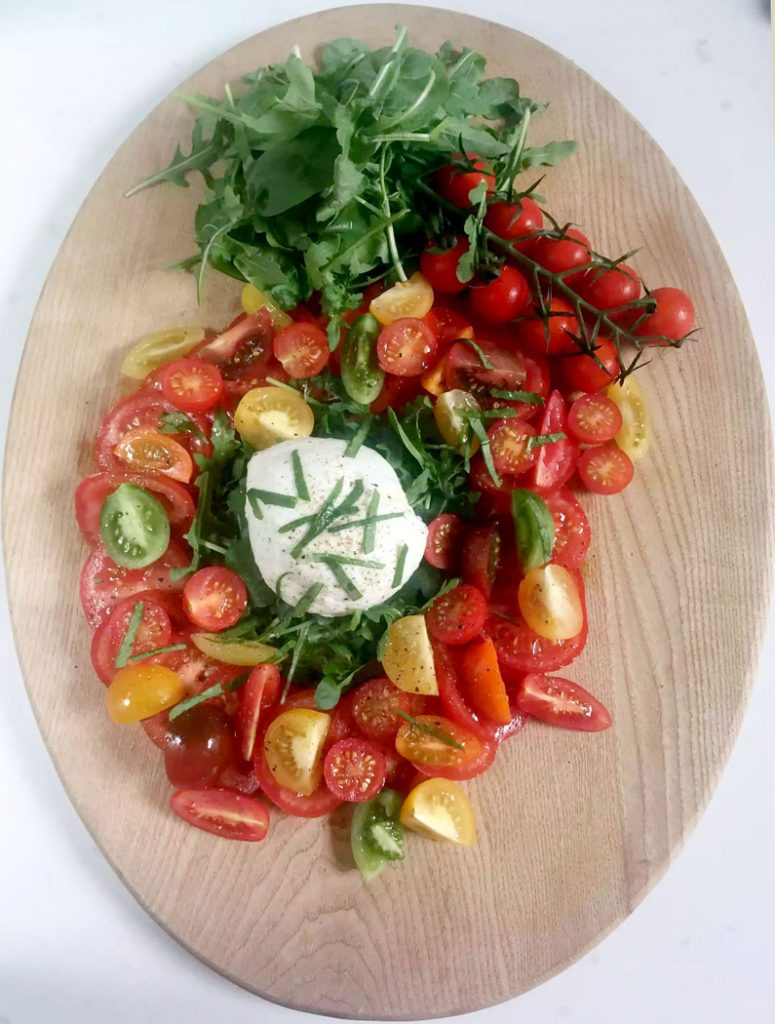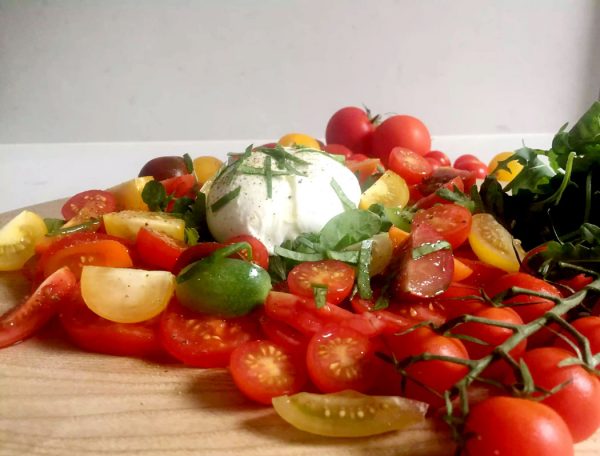 | | |
| --- | --- |
| | |
Slice the beef tomatoes into thin slices.

Chop the cherry (grape) tomatoes in half.

Arrange the tomatoes and rocket on a large serving platter or chopping board.

Top with the ball of burrata.

Thinly slice the basil leaves and sprinkle over the top of the dish.

Drizzle a good quality olive oil over the whole dish and season with a sprinkle of sea salt and ground black pepper.
Allergy & Dietary Information for Burrata Caprese Salad
This recipe is Grain-Free, Gluten-Free, & Refined-Sugar Free.  It's also suitable for Low Carb and Vegetarian diets.
See my Products Page for Ingredients & Bakeware that I recommend.
Pin it for later