The weather in London is beautiful at the moment so it meant a lovely walk this evening to Berkley Square and to Bocconcino Restaurant.  Bocconcino had invited us for a complimentary meal to try their Italian fayre and, as that's my favourite cuisine I was very excited! I love Mediterranean flavours and fresh seafood and Bocconcino Restaurant promised it all.
As we arrived the first thing that stood out was the beautiful flower display outside.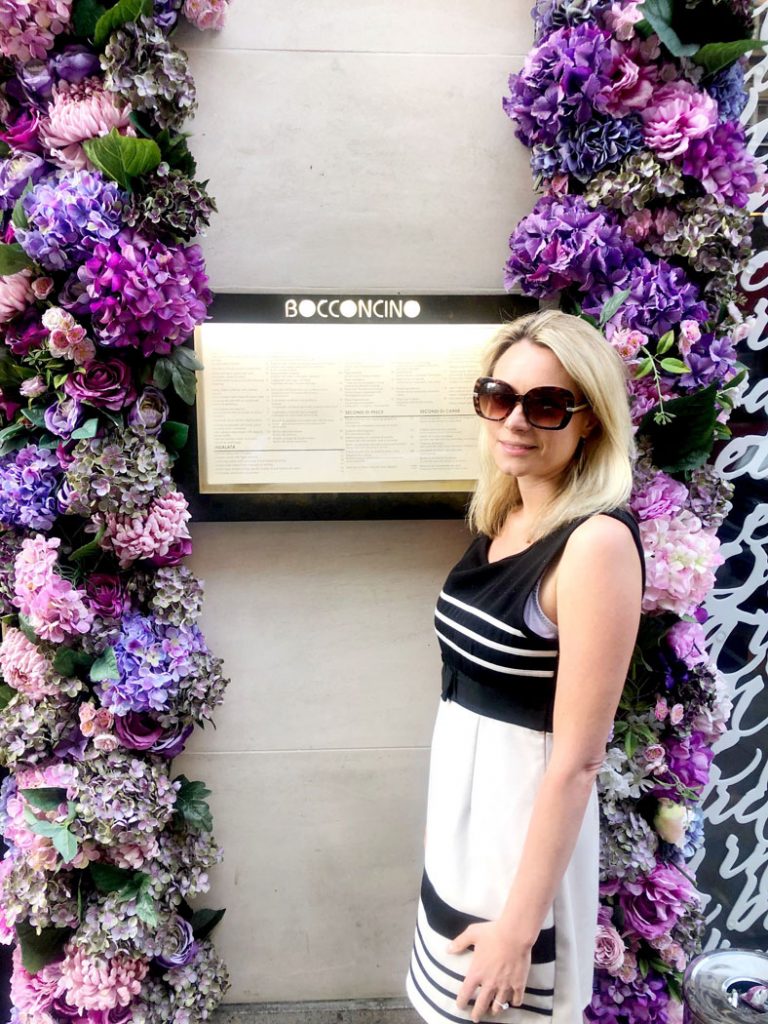 We walked in, were greeted and shown to our table down the spiral staircase.  Bocconcino restaurant is light and airy with lots of exposed brickwork.  It's  very modern, yet cosy at the same time.
We sat down, took a look at the menu and the sommelier came over and asked our wine preferences.  We were ordering a lot of seafood so we decided to go with a white tonight.  He selected a bottle of Roccolo Grassi, Soave from Veneto, (£ 69) for us to complement the food we had picked.
Next up was the main course.  Dan had gone for pasta and had chose the Linguine alle Vongole.  Not being able to eat pasta, and deciding to be adventurous I had gone for one of the house specialities.  I love octopus and this one sounded delicious as it was served with braised escarole, olives and pine nuts (£ 30).  And wow – was it a special dish.  Firstly it was enormous and secondly it was so tasty!  They certainly don't scrimp on the portions here.  In fact it was so huge, Dan had to help me finish it.  The octopus was so tender and I loved the crispiness of the ends of the tentacles.  The olives  and vegetables were the perfect accompaniment and it's definitely a dish I would order again.  It was the perfect summer evening meal!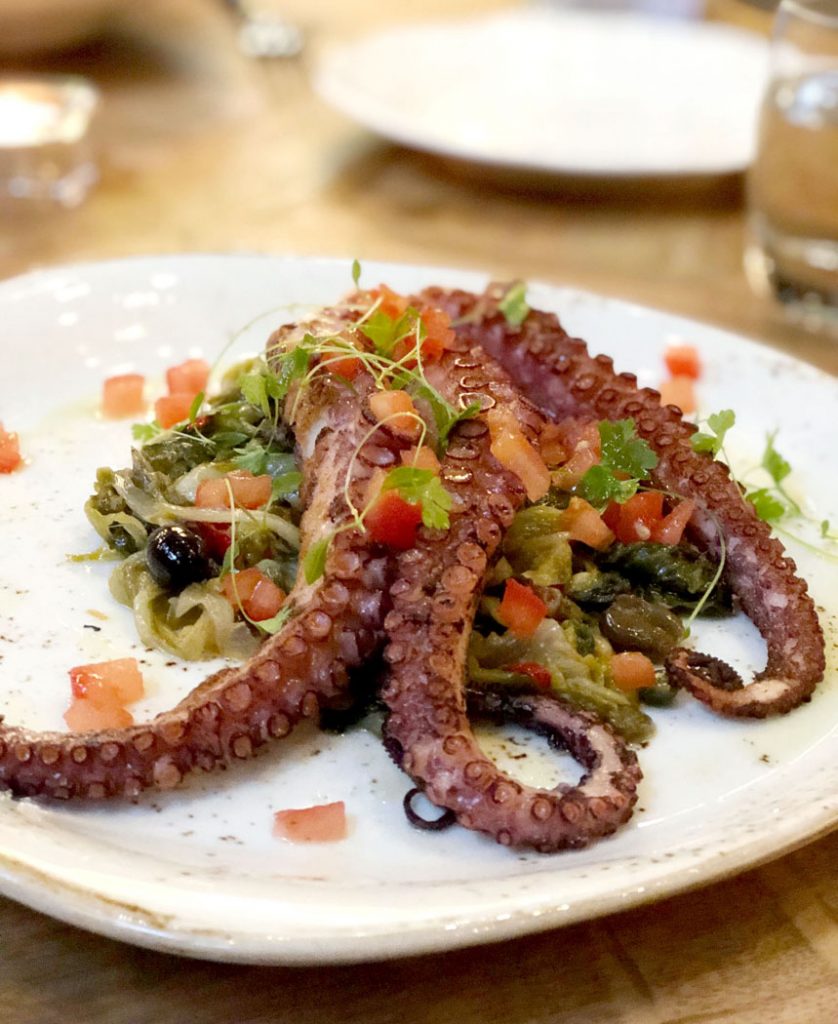 Then it was time for dessert.  I really wasn't hungry in the slightest but I can never resist a cheese board (£ 15) when there's one on the menu.  Maybe I should have!! This again was enormous – 5 different Italian cheeses along with grapes, honey and crackers.  The cheeses were Gorgonzola, Taleggio, Pecorino, Truffled Pecorino and Robiola.  Top tip – the Gorgonzola and the Truffled Pecorino were the stand outs!  I also had to order a glass of delicious Nebbiolo to go with it because you have to have a glass of red wine with a  cheese board!
Dan shocked both of us by choosing the Millefoglie (£ 9).  He normally doesn't eat dessert or like sweet things very much but he said he just fancied a dessert tonight.  This was pastry filled with a creme patissiere, chocolate and hazelnuts and for a guy that doesn't like sweet things he had no problem polishing off the lot – and then helping with the cheese too!
All in all, we really enjoyed our meal at Bocconcino Restaurant.  I especially loved that they had so many options that weren't just pizza or pasta.  When you go to an Italian restaurant and can't eat gluten, sometimes there are only one or two dishes that I can choose from.  At Bocconcino Restaurant there was so much choice.  There are so many seafood and meat dishes that there's definitely something for everyone!  I'll definitely be back to try out some of the other options!
19 Berkeley Street
Mayfair, London
W1J 8ED
020 7499 4510
Reservations@bocconcinorestaurant.co.uk
I was invited for a complimentary meal at Bocconcino Restaurant in exchange for a blog post, but as always, all opinions are my own.
Pin Bocconcino Restaurant for later