Stocking up on wine for a party or a wedding…or just because?  A wine trip to Calais is definitely worth doing if you are purchasing a significant amount.  Dan and I are getting ready for our wedding at the end of August and with 200 guests we're going to need a lot of wine!
Having done wine courses before, we know what we like and what we want to serve to our guests.  With the tax and duty that is levied on wine when it comes across the Channel you can save at least £4 per bottle compared to UK prices!  This meant a huge saving overall on the amount we would be needing for the wedding so we headed over to Calais in a three-car convoy to do some shopping.  A family booze cruise was underway…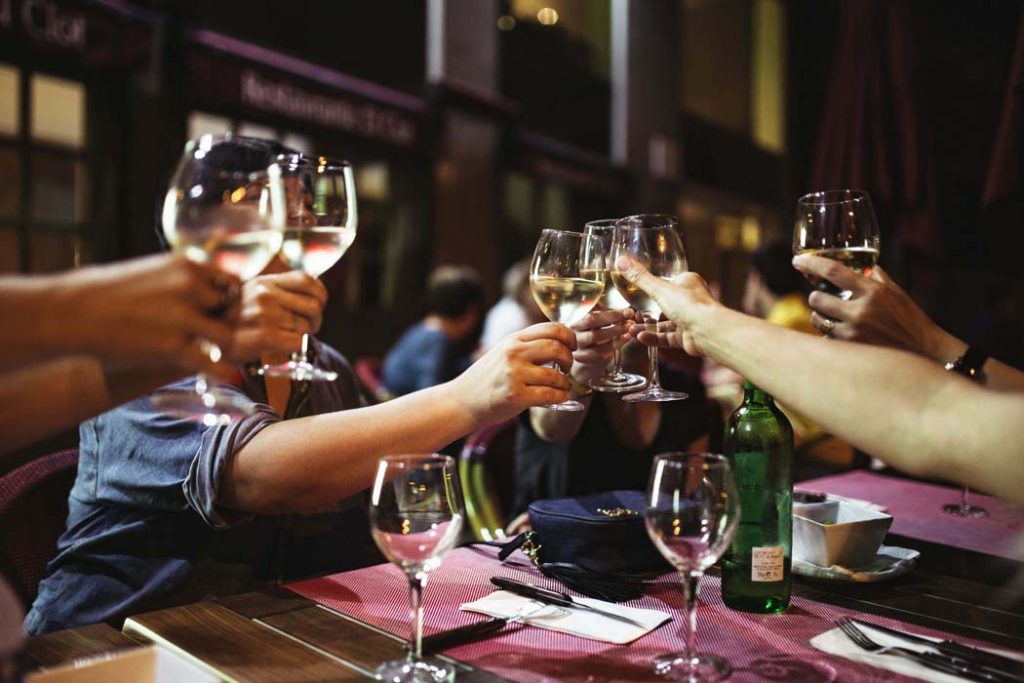 Getting there
Now if you're off to Calais to stock up on wine you're probably taking a van or a car so you have two travel options…Le shuttle or a ferry.
The Ferry – This takes about 2 hours and departs from Dover.  The bonus is that if its a nice day you can sit outside while sailing across the channel.  Also there are restaurants and bars on board as well as duty free and other shops.
Le Shuttle (EuroTunnel) – This is the train that runs under the channel and takes cars / vans / lorries etc, departing from Folkestone.  It's a much faster option at 35 minutes from start to finish and the trains run every 30 minutes.  They're also very accommodating if you arrive early, (which we did) and will endeavour to get you on an earlier crossing if there's space.  Once inside there is nothing to  do but the crossing is so quick that it doesn't matter.
Some of the wine warehouses in Calais offer to pay your Channel crossing if you commit to spending at least £250 so it's well worth looking into this if you know you'll be spending that much.  The Calais Wine Warehouse, Pidou and Majestic all offer this option.  We decided to take Majestic up on their offer and did a lot of pre-tasting at their store in London (they have stores all over the country) of the stock that we knew that they would have in Calais.
We pre-ordered our red from them but they are very flexible.  If you find something you like more, once you're over in Calais, you can change your order (depending on availability) as long as you still spend the minimum amount to guarantee the free crossing.  It will save you around £50 per car so it's well worth doing if you know you'll be buying enough wine.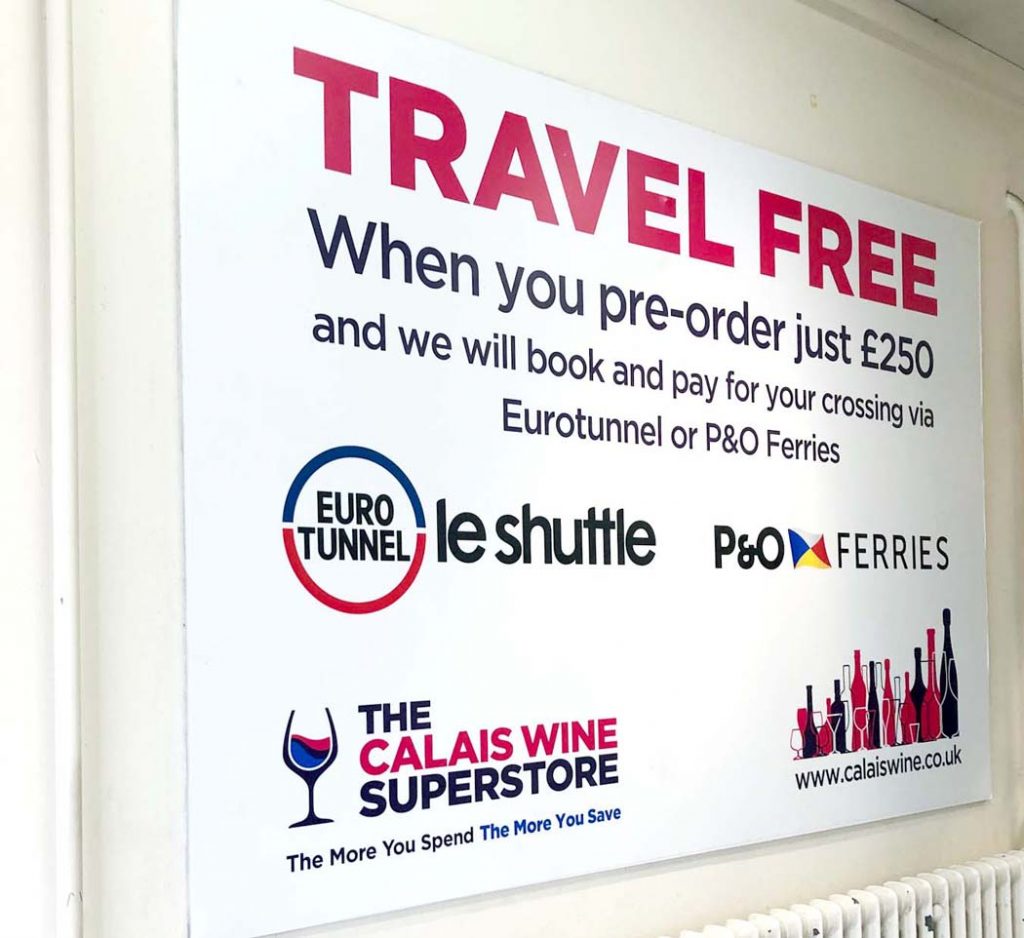 The Wine Merchants
There are plenty of wine merchants to visit on your wine trip to Calais and we did our research in England on the best ones to go to:
Calais Vins is the closest wine merchant to the Le Shuttle terminal (less than 5 minutes).  It's a really good stockist of French wines and has a great fine wine section too!  We stopped here first as we'd looked online and seen that they had a great selection of sparkling and white wines.  Feeling pretty comfortable with the red we had chosen from Majestic, our main aim was to hunt down bubbles and whites.  We arrived and were greeted warmly by the owner Jerome.  He took us to the tasting area and asked about our preferences.  We told him out likes/dislikes and our budget and showed him a list of wines we thought would be suitable that we'd seen on the website.
We started with the bubbles and he opened a bottle of the one we had seen and also another that he recommended.  Actually, we ended up going with his recommendation as it was a delicious Crémant, made just a few kilometres outside of the champagne region (A Crémant is a sparkling wine made in the same way as Champagne but doesn't come from the Champagne region.  A very similar product and much more reasonably priced!)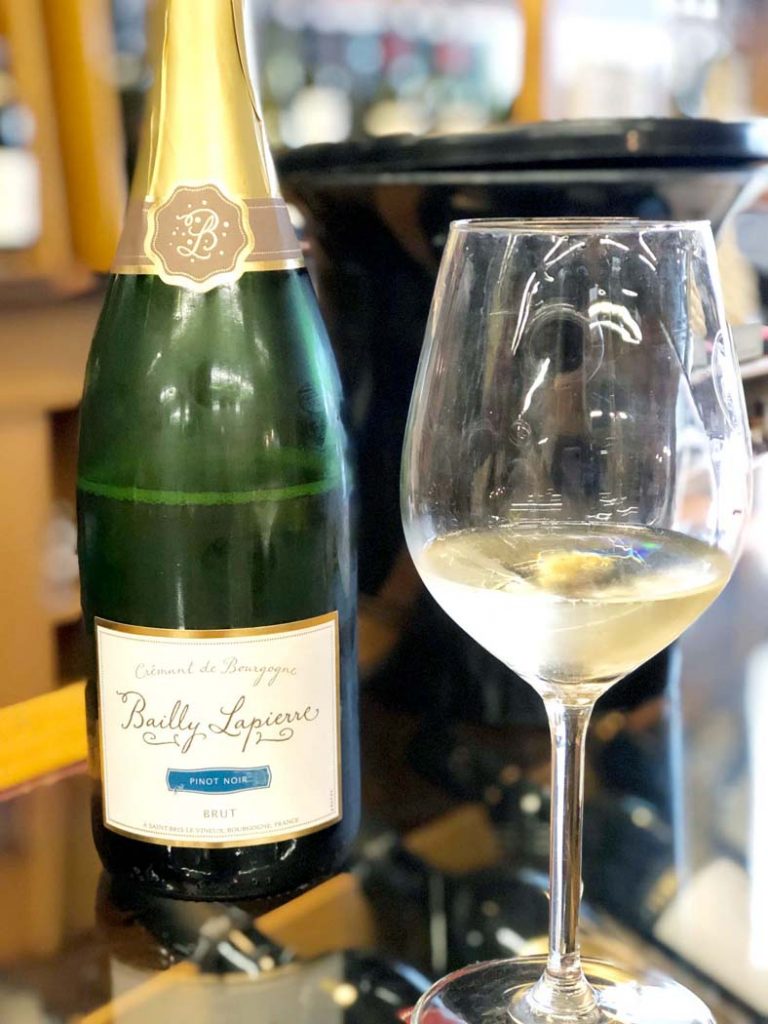 Next we moved onto the whites and he opened a few bottles that we had suggested and also a couple of his own suggestions.  We felt so welcome and really enjoyed the tastings along with his impressive knowledge of the wines and their producers.  We settled on the white and promised to come back the next day to collect as we didn't want the wine sitting in the car overnight.
The next day we went back and his colleague Stephane allowed us to taste the wines we had picked again, just to ensure we were still 100% happy with our choices.  I really can't praise Jerome and Stephane enough for their customer service.  Nothing was too much trouble and they really took to heart our comments and needs.  We'll be back as we saw they had a great fine wine section too!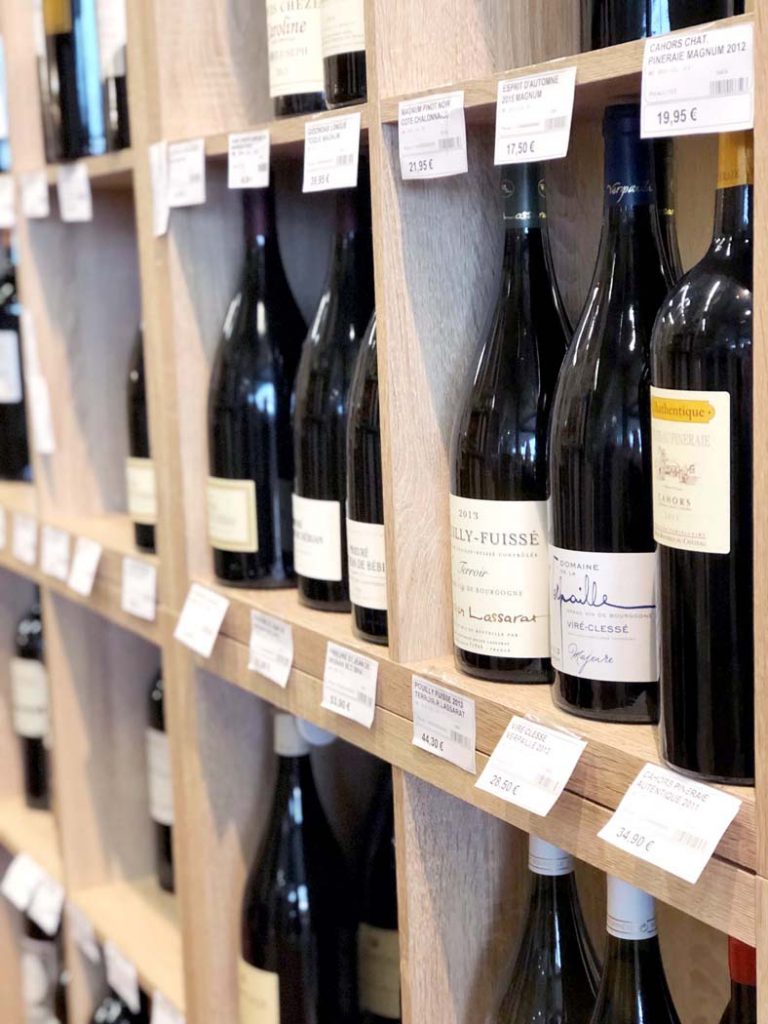 That afternoon, we headed to a different area, more like a retail park,  to visit Majestic.  Having already tasted quite a few wines from Majestic in England we were fairly set on the red we wanted.  Walking in they had a tasting table with about 50+ wines open that you could try.  It was more of a 'help yourself' affair but there were staff around if you wanted any advice or recommendations.  It was through this tasting table that we found a second white for our wedding (yes we're serving two whites!  We couldn't pick and we know that our love of oaky Chardonnays isn't to everyone's preference so we're offering a choice of whites.  A rich oaky one and a lighter, fresher one!)  Without this tasting experience we might never have found the fresh white that we are both huge fans of now.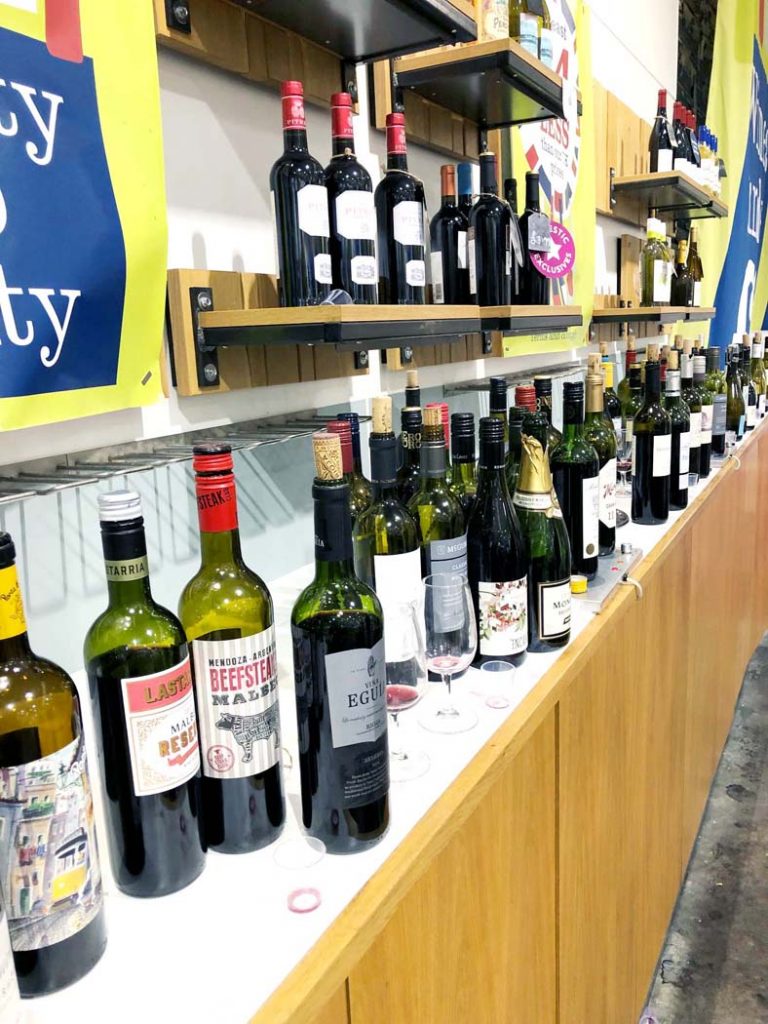 The tasting table also gave us the opportunity to taste some others that maybe weren't suitable for the wedding but are definitely suitable for our wine cellar.  We ended up with cases of a white Rioja, a red Rioja Reserva, some Rosé and a few more bottles for personal consumption!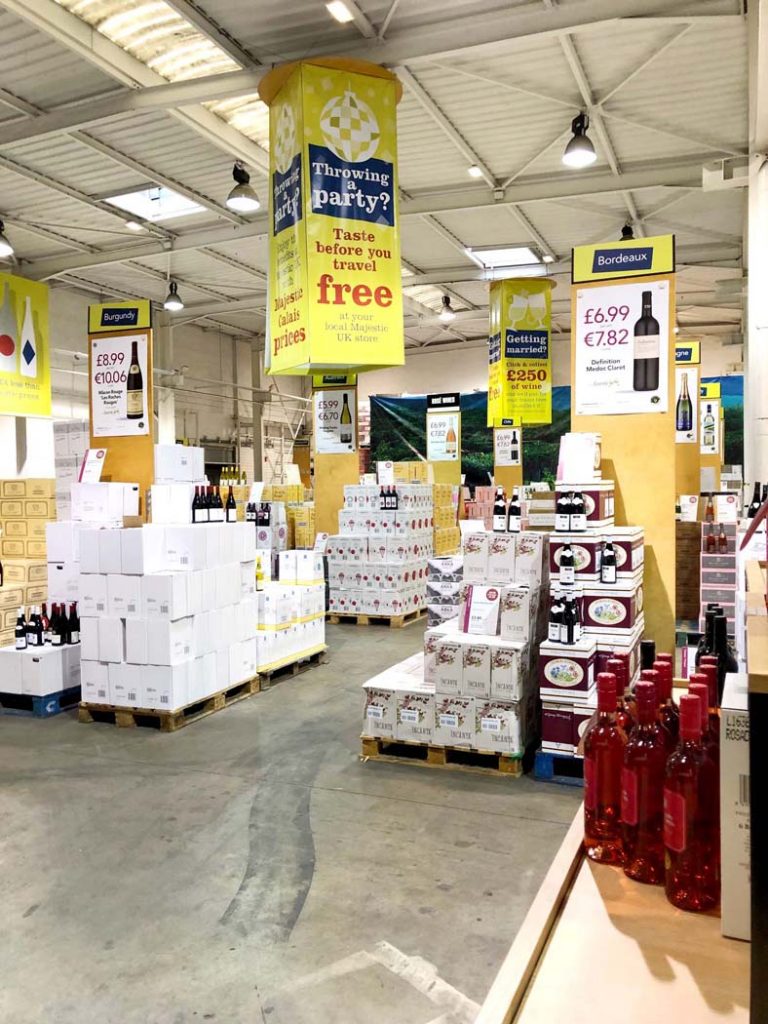 Next we moved on to Pidou which was next door.  This was more of a cash and carry supermarket.  There's no tasting room so I would suggest going here only if you know exactly what you want.  The benefit of Pidou is that they also sell other alcoholic beverages.  They do beers, cider, liqueurs and spirits so if you're looking for gin, vodka etc this is definitely the place.
Finally we visited the Calais Wine Superstore  which was also very close.  This boasts a temperature controlled tasting room with 100 wines so we were interested to see what was in store.  Unfortunately the wine selection in the tasting room was very limited (definitely not 100 wines) and most were very low value (€2-3 a bottle).  They did have a few nicer wines on Enomatic machines.  These machines allow you to try a pre-programmed amount of wine and keep the rest of the bottle fresh if it's not drunk straight away.    However, we only popped in to take a quick look as we had already made our selection. Their fine wine selection to purchase was also fairly limited.
There are also some other wine merchants that we didn't have a chance to visit:
Carrefour – located inside the Cité Europe shopping centre, Carrefour is a huge hypermarket.  It has a huge wine selection but the added bonus is that it also has all the supermarket staples.  It's the perfect place to stock up on French cheese and charcuterie.  Pastries, breads and all the things that France is famous for can be picked up here to take back to England.  As it's a supermarket, there's no tasting room but if you know what you want it could be perfect.  It could be like doing your weekly shop with yummier food and wine and cheaper prices!
Auchan is another hypermarket.   There are a few in the Calais area and it is similar in concept to Carrefour. It doesn't offer tastings but seems to be a great resource for Non Vintage Champagne.
Staying Over
We were trying to make this trip as economical as possible (saving for the wedding) so we chose to stay in the Holiday Inn as it was around £60 a room.  We were staying overnight as no-one wanted to be the designated driver, having to drive home after a day when everyone else had been tasting all the wine.
There was on street parking outside the Holiday Inn and in the main square (which was free) and I think a few designated parking spots for the hotel.  We parked up and got taxis around to the wine merchants so that everyone could have a drink.  The hotel was clean and suited our needs perfectly but was not very luxurious.  We enjoyed a drink in the hotel bar that evening and some of us had the breakfast the next morning.
Some other options, which I can't vouch for but have looked into are:
Hotel Meurice – A cute, very French hotel in the middle of town.  Quite traditional with a cosy bar area.
Hotel Victoria – A traditional hotel, very close to the Ferry Port.
La Clé d'Opale – A fancy, modern style hotel in the centre of town.
Eating Out
No wine trip to Calais would be complete without some delicious French food!  There are so many restaurants in Calais but they're all mainly located on one street or around the port.  Most are the bistro brasserie type and are great for a quick lunch to soak up some of that wine.
We ate in Café de Paris for lunch on the first day and Café De La Tour on the second.  Both were very similar, brasserie style 'non-stop' restaurants serving typical French food.  They offer salads, omelettes, burgers, moules frites etc.
For dinner we wanted something a bit more special.  We'd wanted to relax in a slightly more upmarket restaurant and had asked around for recommendations.  Jerome from Calais Vins, suggested we try Histoire Ancienne which was on the main street and this recommendation was solidified by other people we spoke to.  We weren't disappointed.  We were welcomed in to a cosy restaurant and offered the menu of traditionally French food.  There was a big open fire that they were using to cook on and the whole place smelled amazing.
We started with G&Ts while we looked over the menu of delicious, hearty food.  We ordered steaks, scallops, king prawns and lamb shanks and washed them all down with some more wine!  Just don't order the Andouilette unless offal sausage is your thing!  Poor Dan got caught out on that one!  Finishing off with a few whiskies we headed home full and happy ready for another day of more wine!
Maybe next time we visit we'll try some of these others that come highly recommended!
Du Vignoble Au Verre – a cute restaurant offering traditional French food and over 400 wines from small wine growers.  They also offer wine tastings throughout the year on special evenings.
Le Grand Bleu – elegant food in a modern trendy setting.  Set menus and tasting menus with a view of the port.
L'Essentiel – fine dining with an emphasis on local fish and meats.
L'Aqur'aile – fresh seafood including seafood platters, overlooking the ocean.
Calais Town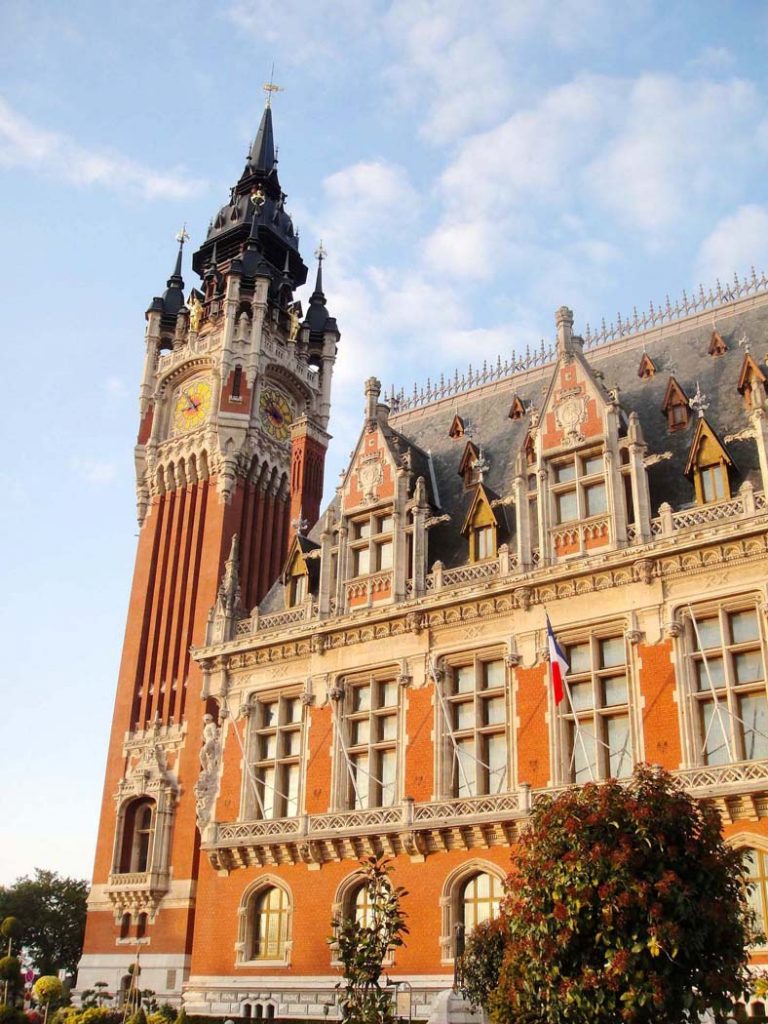 The town of Calais isn't necessarily somewhere I'd recommend for a visit unless you were interested in the wine.  There's not all that much to see and do apart from the main square and the restaurants.  There are some beautiful buildings such as the town hall and the park but if you're looking for a cute French village I would suggest heading a bit further afield to Boulogne-sur-Mer, Wissant or Ardres.  These are only a 20-30 minute drive away and are typically French with Old towns and cobbled streets and are more picturesque.
Cité Europe is a shopping centre with over 120 restaurants and boutiques.  Carrefour is located here.  It's only open Monday-Saturday (most places in France are still shut on Sundays although the wine warehouses remain open!) . As well as clothing boutiques there are also fine food shops so you can purchase delicious French delicacies to take home.  There is also a huge cinema and a bowling alley so it is definitely more of a leisure complex!
There are two museums in Calais.  The first is the  Musée des Beaux Arts which houses a fine art collection.  The second is the Musée Memoire which talks about the war era and the history of that period.
There is the Channel Outlet Store which houses all your favourite international brands at prices much cheaper than in the UK.  There is Mini Golf, a swimming pool and even the opportunity to go kayaking!
Surrounding Towns
If you want to head a bit further afield there are some lovely towns not too far from Calais.
Boulogne-sur-Mer is a cute, small city on the water which is a fishing port.  It has a fortified Old Town, a chateau, a belfry and a lot of other beautiful buildings. You can walk the castle walls and also visit the crypt!  There is a world famous aquarium and marine conservation centre and lots more to see and do on a visit.  If you go there you should check out Le Chais.  It's a wine shop and comes highly recommended for fine wine. 
Wissant is a little fishing village with a huge expanse of sandy beach.  It's famous for the cheese made there which is served in restaurants all over the region.
Ardres is a pretty, unspoilt medieval town.  With cobbled streets it's very picturesque and is an old market town and you can still visit the market today.  There is a lake with plenty of water-sports and it's a popular destination for families. St Jospeh village is nearby and is worth a visit for it's rural craft exhibitions.
Wimeraux is a relatively undiscovered town with a beautiful promenade and restaurants lining the sea front.  With activities such as mini golf, horse riding, sailing and sand yachting it's also very popular with families. If you visit you should try to get to the wine shop Mille Vignes.  They specialise in wines from the South of France and have a very interesting selection.
So there you go.  Now you have all my recommendations for a Wine Trip to Calais.
I would definitely recommend doing a bit of research before as it saved us a lot of time when we were there.  By knowing the types of wines and price points we were interested in we were able to focus in on the suitable wines for us.  However, if you're going on more of a tasting experience then Majestic and Calais Vins are probably your best bet.  We'll be back on another booze cruise soon to stock up for Christmas!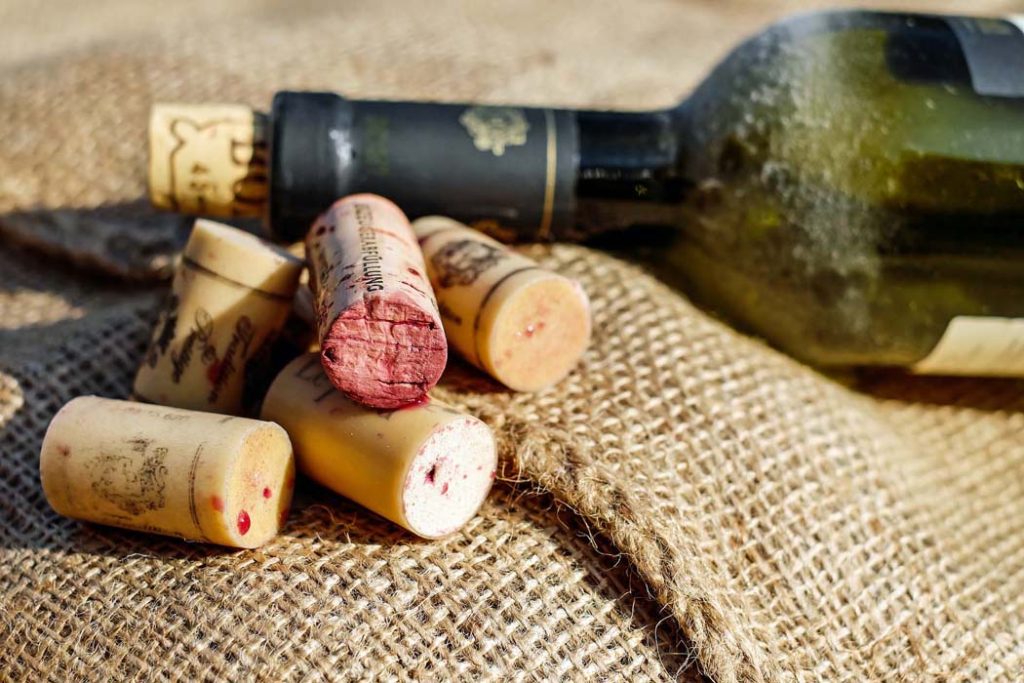 Pin A Wine Trip to Calais for later