NYC has been top of my bucket list for a long time.  Last year, Dan surprised me with a trip there for my Christmas present and straight away I set about planning the most amazing holiday!  5 days seemed like a long time for a city break but we soon found out that it wasn't enough time to even scratch the surface of this amazingly, vibrant city.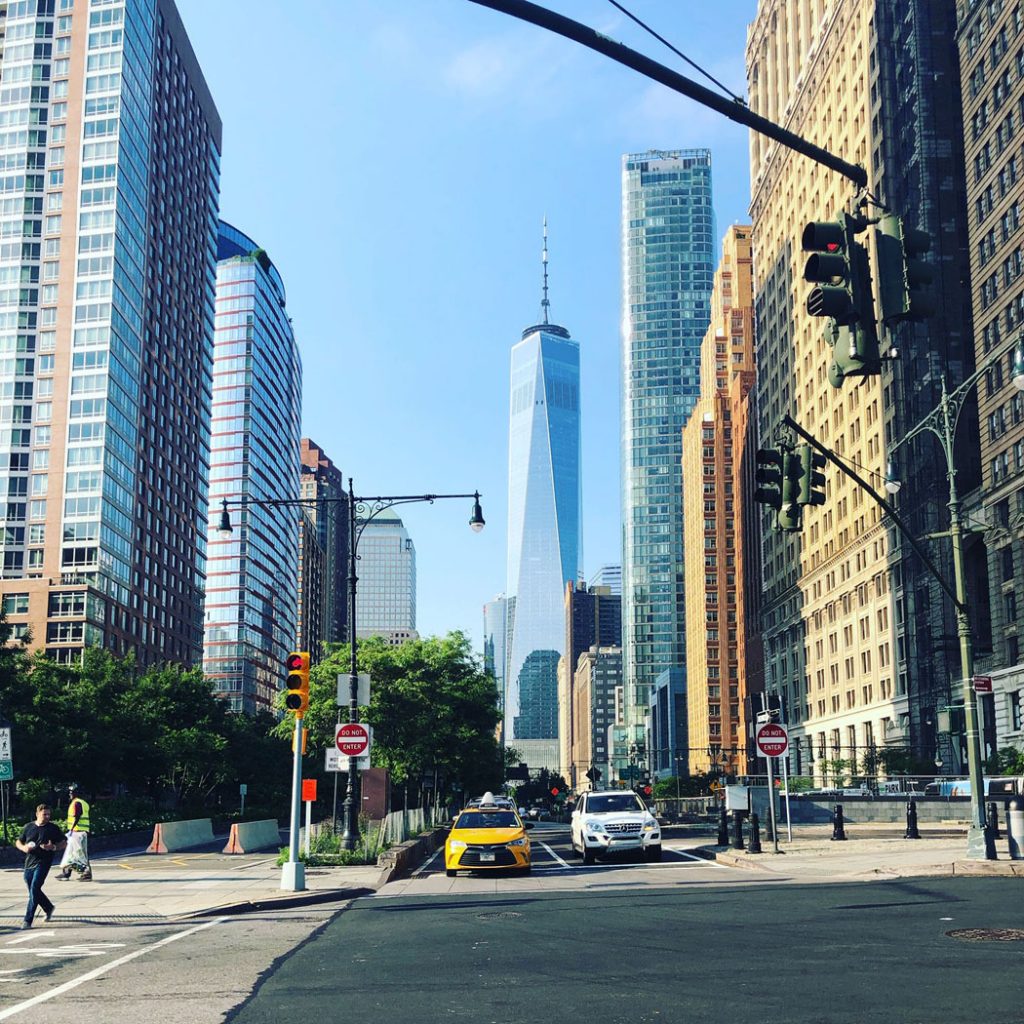 One of the best ways to see a city is from up high.  You can really get a feel for the layout of a place when you can see it all beneath you.  Because of this I hunted down recommendations for all the best views of New York City.  Having never been before I knew that I wanted to do all the usual touristy things.  Think Central Park, Empire State Building, Brooklyn Bridge, Statue of Liberty etc.  Dan who had been before had different ideas!  He'd already done the Empire State Building and wasn't keen to do it again.  So for the best vantage point we settled on Top of The Rock!
This is the viewing platform on the top-level of Rockefeller Center.  We had been offered City Passes by the New York Tourist Board and this was one of the attractions included in the Pass price.  They suggest booking your time in advance so we headed on over to Rockefeller Plaza for our allotted time slot.  I actually think this is better than heading up the Empire State Building for one main reason.  You can see the Empire State Building from it.  It's such an iconic part of the New York Skyline that you can't really appreciate when you're standing on top of it.
There are three levels when you get to the top.  The first is an all enclosed level with huge windows to look out over the skyline.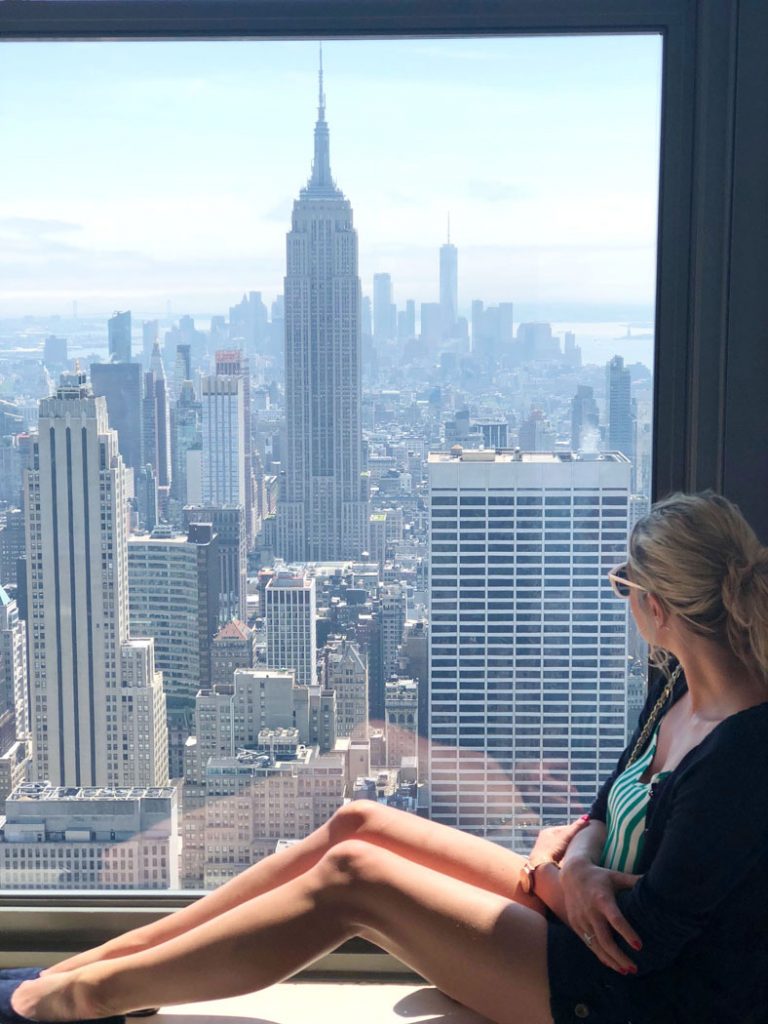 The next floor up is out in the open air with huge glass surroundings and the third level is completely open.  There are telescopes all around the edges so you can zoom in on your favourite attractions and you really can see the whole of the city from up there!  Don't forget to take a photo or two!
Statue of Liberty & Ellis Island
This was another touristy must-see that I had on my list.  Again, it was included in our City Pass and we headed down to the southernmost tip of Manhattan Island to catch the boat.  We sailed with Statue Cruises and picked up the ferry from Battery Park.  It really was incredible to look back on New York as we pulled out of the harbour and see it grow smaller and smaller in the distance.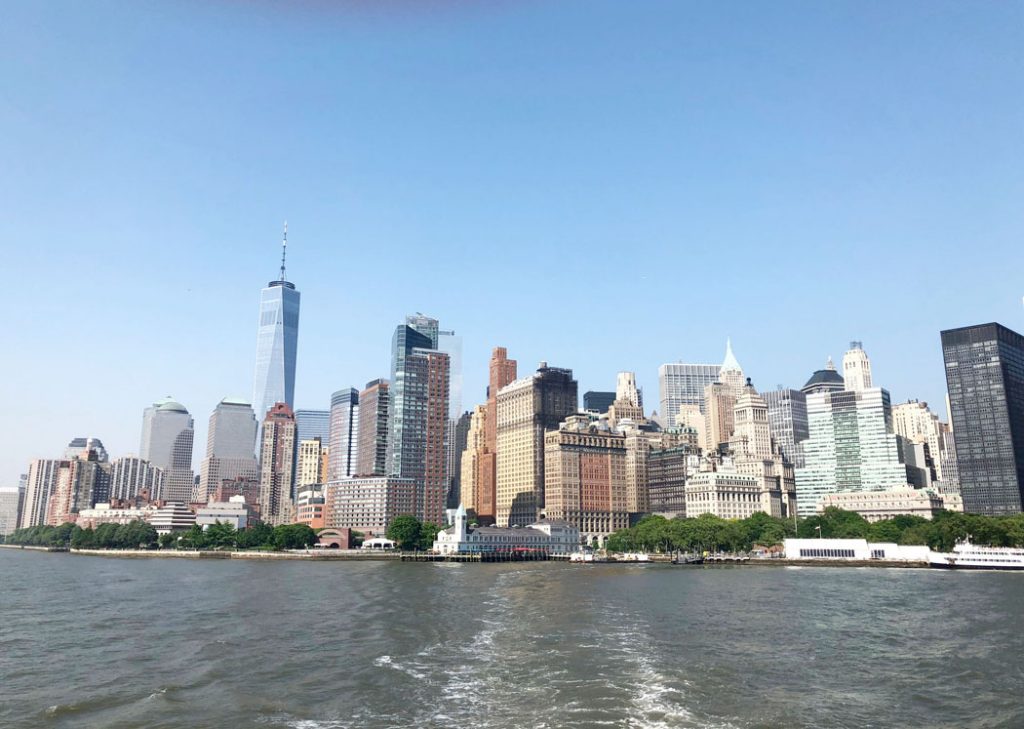 There are plenty of ticket options depending on whether you want to stop off at the Statue of Liberty or Ellis Island – or both.  You can also purchase tickets that allow you to go to the top of the Statue and look out of her crown.  We got the ferry quite late in the day and so didn't have time to stop off but it was a lovely cruise to do anyway and of course, the views of New York were stunning!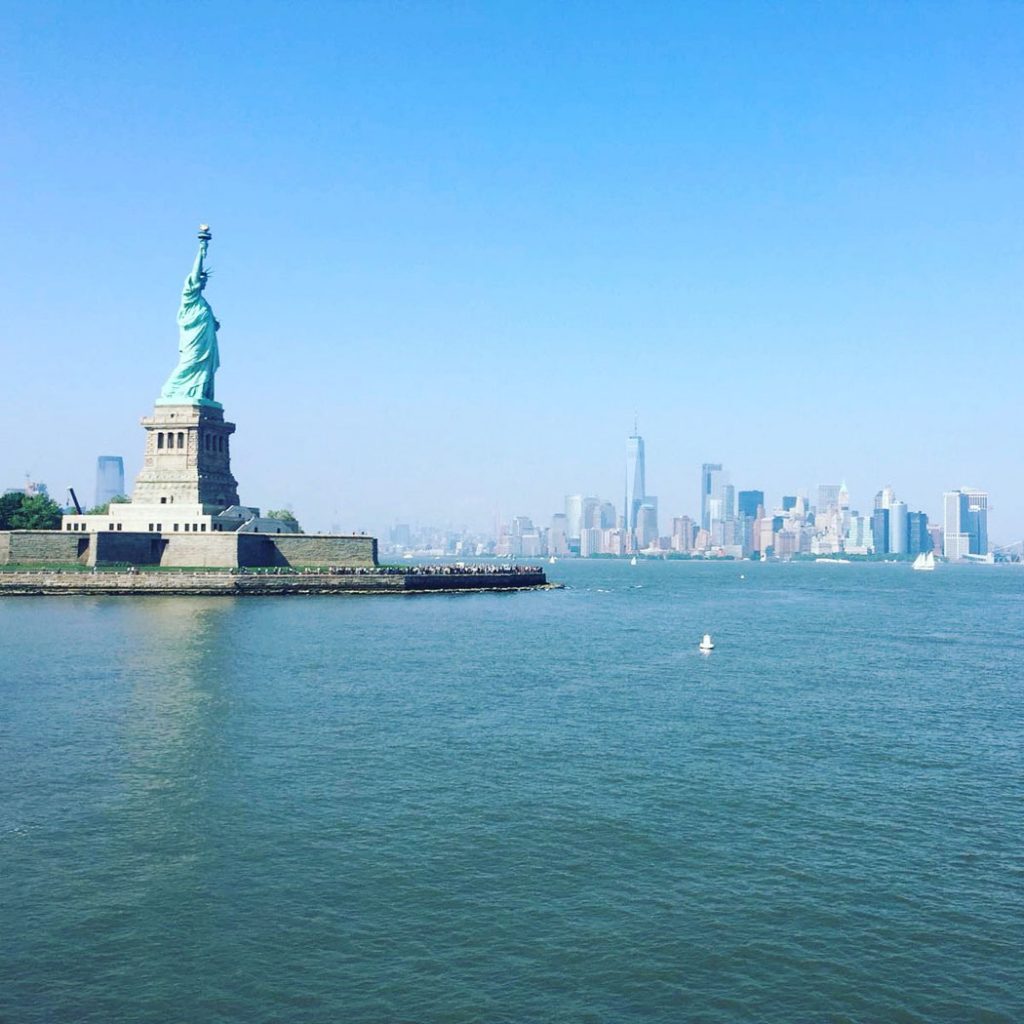 The Highline is a re-purposed disused freight railway set above New York City.  It was saved from demolition and has now been turned into a public park.  As you wander along the length of it there are food and coffee vendors, lots of street art displays and plenty of places to sit and enjoy the views.  Being a few stories up above the City gives you a totally different view than being at ground level.  You can peer into windows and watch the traffic flow underneath you.  It feels like a world away from the hustle and bustle of the city beneath you.
It's well worth a couple of hours wandering through the Meat Packing District high above the city.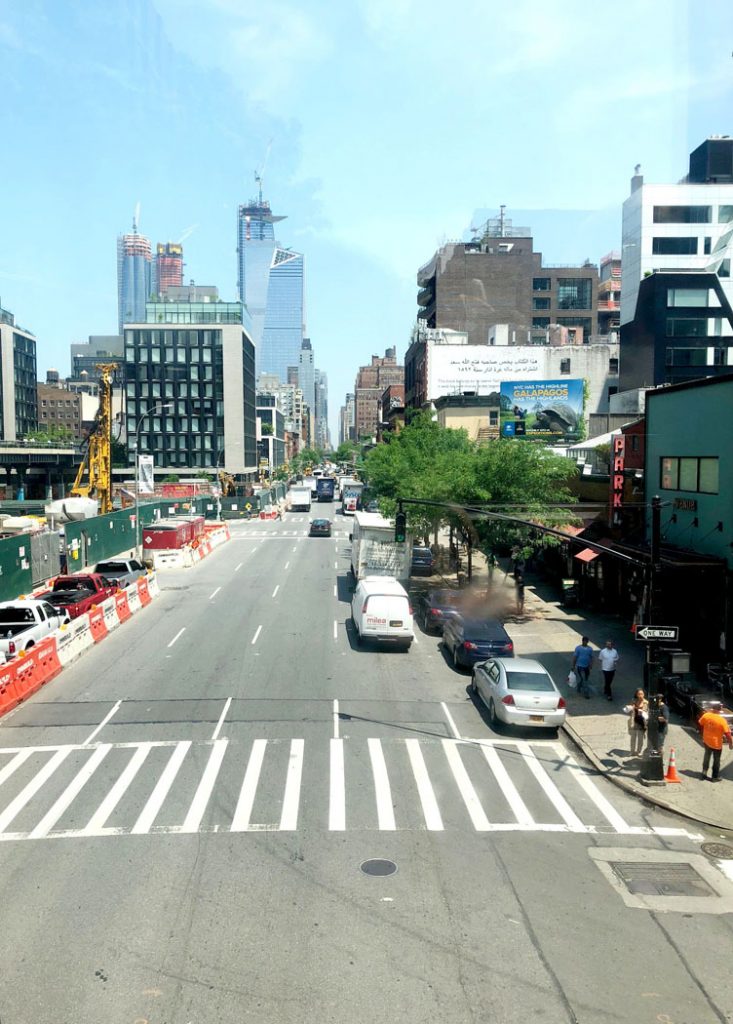 A Helicopter flight over the City and the Empire State Building
This one was a bit more extravagant but there really is not better way to see the city.  Up high in a helicopter really does give you one of the best views of New York City.  You've got to work for it though! We had to get the train out to Westchester (a northern suburb) for about an hour to get to the heliport.  We flew with Wings Air and they made everything so easy. I'd booked a sunset flight as I thought that would be the most beautiful time to see the city.  I wasn't wrong…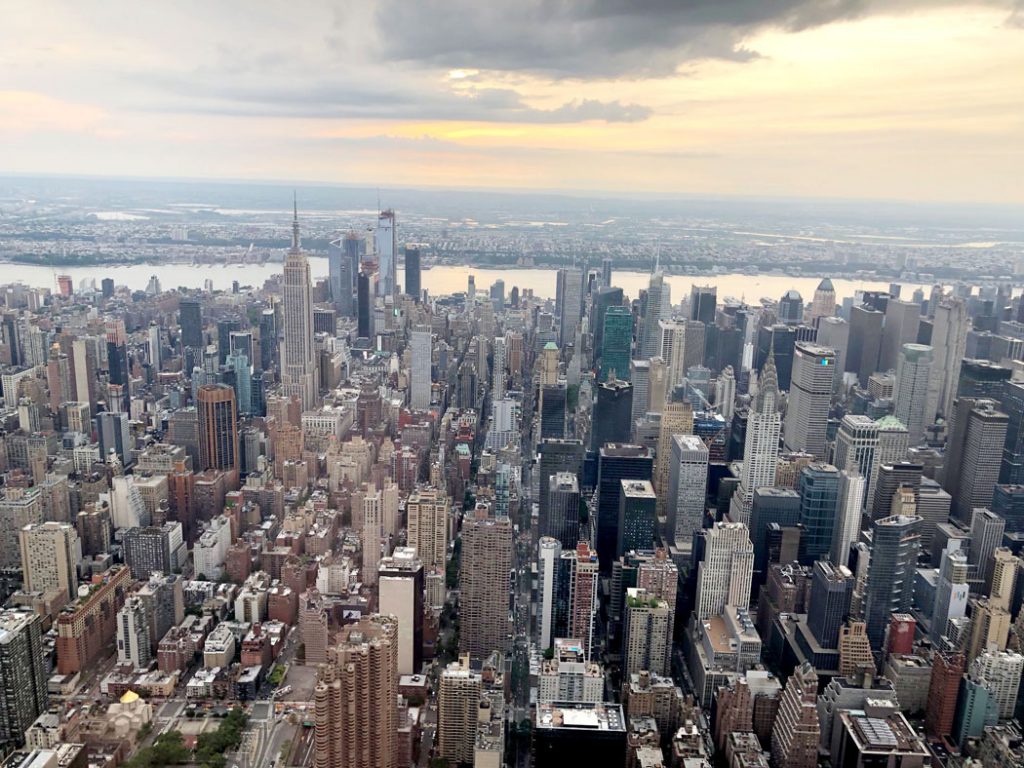 We turned up and within 10 minutes we were walking out onto the tarmac.  A few photo opportunities later and we were in the helicopter.
We got a short safety briefing and we were off!  It's the strangest feeling as you climb into the sky.  It's like being in a motorised bubble.  Our pilot was an incredible tour guide and talked solidly for the 30 minute flight.  He pointed out all of the major landmarks and explaining some of the history and stories behind the area.
After about 5 minutes of flying, Central Park came into view and it was incredible to be able to spot some of the places we'd been exploring the last few days.  We carried on, flying down the East side of Manhattan until we reached the Empire State Building.  Here, we got so close it felt like you could almost touch it.  Our pilot flew us round and round the spire so we could get great photos and it was amazing to see a view of New York City that not everyone gets to experience.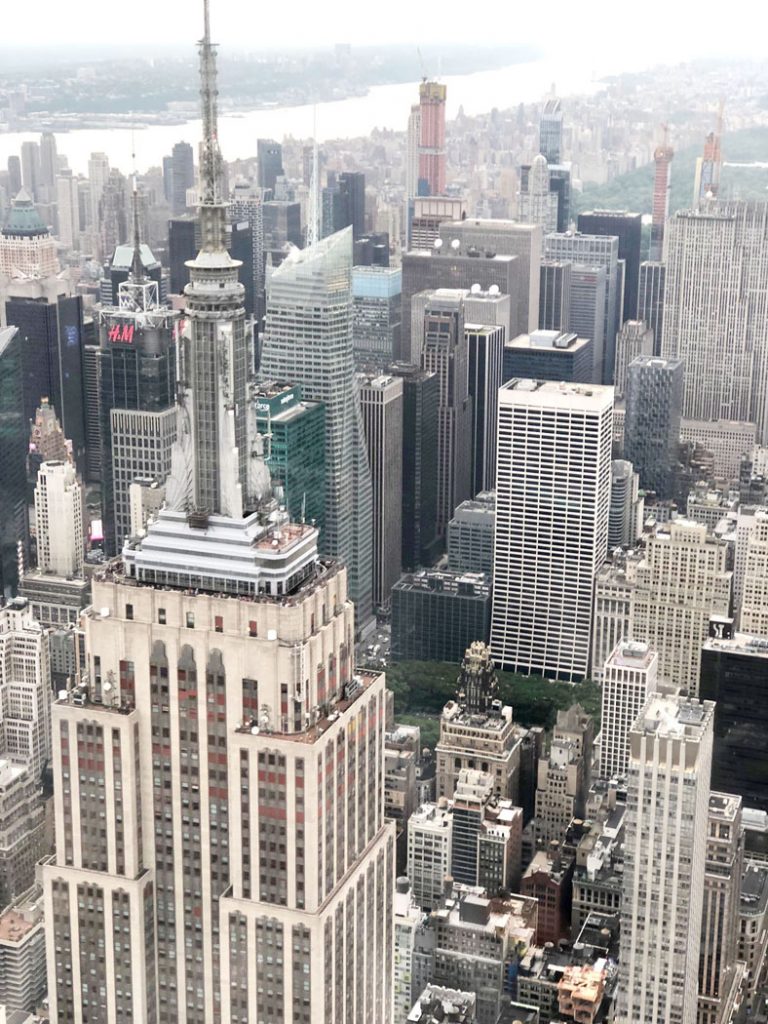 Finally we headed back up the West side of Manhattan and back to Westchester.  It wasn't cheap at $290 a person  but I didn't think that it was extortionate and the memories will last a lifetime!
So, having got a bit of a feel for the city I'm desperate to go back!  Have you got any other recommendations for the Best Views of New York City?  I've got a few on my list already…
One World Observatory – This is at the very top of One World Trade Center (the Freedom Tower).  It's the tallest building in the Western Hemisphere and offers the highest viewpoint in New York.
Empire State Building – I know Dan has already done this but I haven't.  Having been a Sleepless in Seattle fan for decades I feel like it's something I just have to do!
Brooklyn Bridge – We crossed over to Williamsburg one day but we ended up taking the Williamsburg Bridge instead of the Brooklyn Bridge.  Next time we're definitely going to go for the Iconic Brooklyn Bridge walk.  I'm told the views looking back over New York City are incredible from there.
Pin The Best Views of New York City for later