Heading off on holiday next week has got me all excited about Portugal.  I've been going to Quinta do Lago ever since I can remember (I'm told I was 2 on our first visit) and there's been very few years that I haven't been there for a holiday (some years I've been there 2 or 3 times as my cousin lives out there and I stay with her).  It really is my 'Happy Place' and I love everything about it, the weather (I'm a sun-worshipper), the beaches, the restaurants and especially the food.  Spoilt for choice, there is always fresh fish on the menu, salads, BBQs and of course Chicken Peri-Peri, but there is also an amazing fine dining scene and I love eating out in all the beautiful restaurants.  In fact eating out is some of these Best Algarve Restaurants really makes my holiday so special!
About 30 mins from Faro airport, The Golden Triangle (as the area is known) is the region between Vale do Lobo, Quinta do Lago and Almancil and it is the area we spend the most time in.  These are my top restaurants (from fine-dining to beach bars to cafes), in no particular order (they are all so different that it's impossible to rank them!)
Disclaimer – all opinions are my own and I have eaten at every one of these restaurants multiple times.  This is not a sponsored post and I have not received anything in return for these reviews:
The Best of the Best Algarve Restaurants
Maria's Funday Sundays
It's such a fun atmosphere that unfortunately it's pretty hard to get a table on a Sunday – they're booked up months in advance, but it's lovely for lunch all the other days of the week.  The white sangria is to die for, as is their Rosé wine (which we've been known to order by the magnum!)
It's also a beautiful place to go to in the evenings. Very romantic as you can sit and watch the waves crashing on the beach while eating your food by candlelight.  The food is always amazing – I've never had a bad meal, the seafood is so fresh – I really recommend the grilled sardines, the monkfish and prawn skewers and the Clams Bulhao Patao (a Portuguese speciality cooked in garlic, lemon, white wine and coriander) – and the staff are really friendly and make you feel so welcome!  The desserts always look amazing and there's always such a huge choice from Rocky Road, to Cheesecakes to Chocolate Brownies to Apple Pies – all homemade and spectacular.  They also have a rooftop bar, great for relaxing during the day or enjoying a sundowner in the evening.
Edit: A Review of Lunch at Marias August 2016 can be found here
Having said this was not in any order, Pequeno Mundo would be my number one on my Best Algarve Restaurants list for fine-dining.  The owner Joaquim has been there for so many years and always remembers us every time we go and makes us feel special and looked-after – he always calls me Princess!  It is a tough one to find, down some tiny roads, out in the countryside, but so worth it.  The setting is one of the most beautiful I've ever come across, an old Portuguese farm-house with a beautiful courtyard with fountains out the front and a garden out the back.

You can request to sit in the garden, courtyard or the house but I always choose the garden – it feels like such a magical place – and there's a special chair that I always have to sit in when we have aperitifs (known as the 'princess chair').

The food doesn't change year on year, in fact I think they've always had the same menu but what they do is amazing, and there's always a special dish on if you want to try something new.  The wine list is great too and the sommelier is always helpful in picking something new and delicious that won't break the bank.  My favourite starter there is the Codfish Carpaccio, but the Mussel Soup is the House Speciality (It comes with a puff pastry crust and although I can't eat it, everyone who's ordered it has said it's amazing.)  The fish of the day is usually an amazing bet, but they also do a fabulous steak and a great Thai Prawn Curry.  The desserts are always beautifully presented and if you're really lucky Joaquim will usually offer you a cheeky Port 'on the house' after your meal!  A restaurant with a very special place in my heart and one that's always top of our list when we're holiday meal planning!
Edit: My review of Dinner at Pequeno Mundo 2016 can be found here.
The Rest of the Best Algarve Restaurants
A Quinta is another very popular restaurant which usually requires pre-booking, especially in the summer.  A Quinta is set, just a minute or two outside of Almancil, up on a hillside so you get the most amazing views of the area and it's really beautiful in the evening (ask for a table on the terrace!).  The food is always amazing and they do a great duck confit and are well-known for their steaks!

All the salads they offer are delicious and very original, which is a nice change when most of the restaurants out here just offer a tomato and onion salad or a mixed salad.  They do rocket and parmesan with toasted mixed seeds or watermelon and feta with a mint dressing.  The staff are also some of the nicest in the Algarve – nothing is too much of a problem and they cater exceptionally well for dietary requirements.  The setting is so lovely and the people so accommodating that we always find ourselves sitting back and indulging in 'just another bottle of wine' (or one of their Espresso Martnis) not wanting the evening to end.

2 Passos is another beach restaurant, but one that has just had a big refurbishment.  It's set back a bit, behind the dunes, so you are quite a way away from the beach (you can still see it), but you are sitting in the middle of the Ria Formosa (the National Park) which has amazing views.  Ask for a table on the terrace (book early as they only have a couple) as I think it can get a bit hot in the main restaurant!
It has a tapas themed menu with plenty of sharing plates (mainly seafood dishes) but they also do their House Specialities – Cataplana (a Portuguese Seafood Stew) and the most amazing Algarvian fish cooked in a salt crust – they bring out what looks like a huge plate of salt and then crack it open to reveal a perfectly cooked fish on the inside.  The 2Passos style prawns are the best thing though – I have tried to replicate the sauce so many times but I just can't get it quite right.  Huge King prawns, butterflied, and grilled and then served in the most amazing buttery, garlicky, spicy sauce.  Portugal on a plate!  They also have a rooftop bar where you can drink during the day or evening…  Edit: You can read about my 2016 trip here.
Which brings me on to their affiliated beach bar 3moco, just on the beach in front of the restaurant.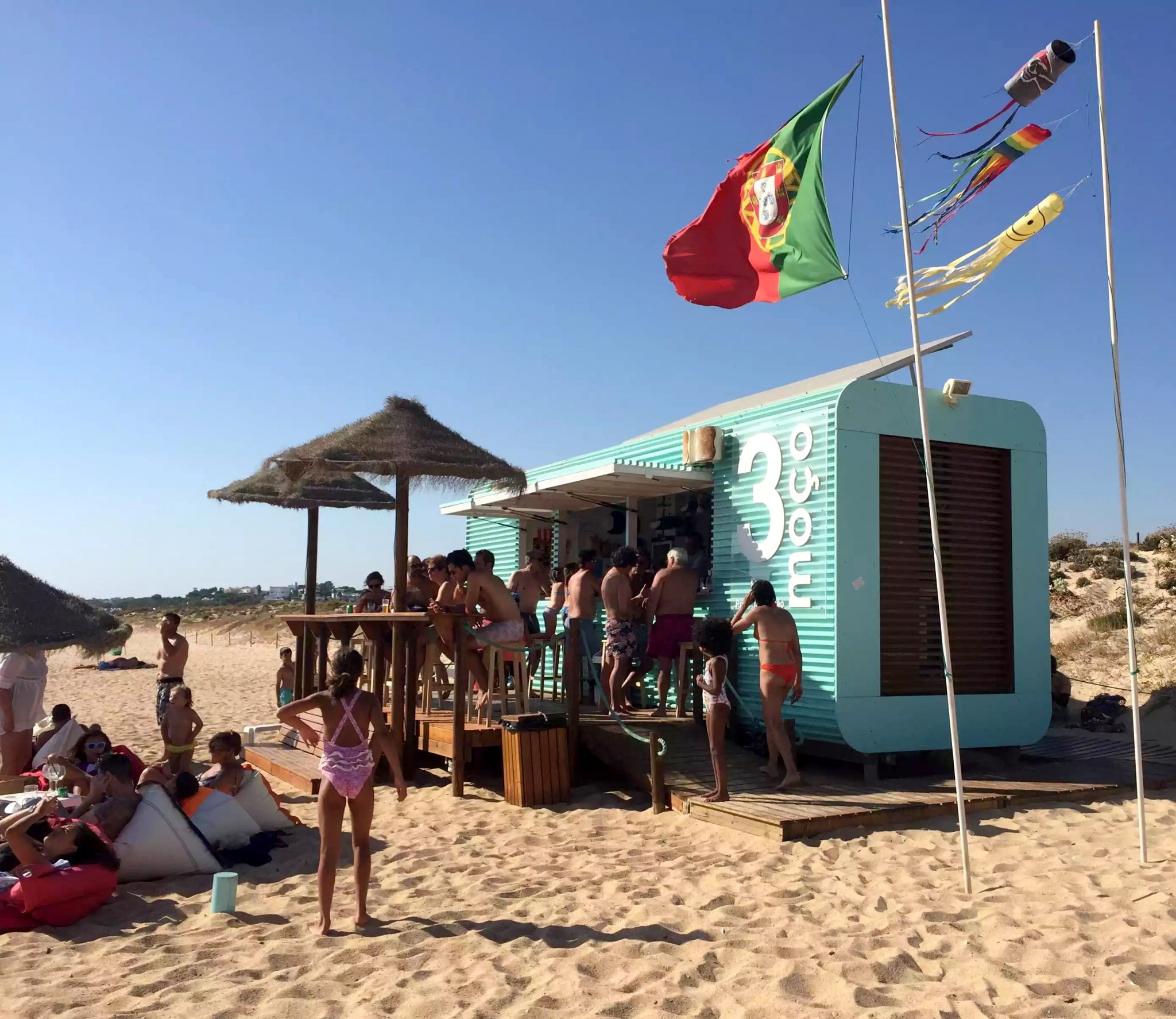 I'd rather have a drink here any day.  A little shack on the beach, it's fun, friendly and unpretentious and makes a fantastic sun-downer margarita!
The staff are very friendly and the Hendricks & Tonic is to die for, served with plenty of ice and cucumber (and a nice healthy serving of gin) it's the perfect way to end a day on the beach – and I think we tend to end most beach days here – we were certainly on first name terms with the bar staff by the end of our trip!  Check out my 2016 review here.
Casa do Lago

Casa do Lago is situated overlooking the lake in Quinta Do Lago.  The setting is beautiful and although it's very romantic in the evening, I prefer it for lunch as you get the full benefit of the lake views.The Speciality here is the grilled fish of the day which you can pick out yourself from a huge selection, fresh from the market, and they usually just grill it fresh with lemon and olive oil.  Oh and don't forget to wash it down with a glass of their amazing white wine sangria!  A beautiful place to spend a long lunch and there's even a beach there and a swimming pool with loungers so you can spend all day there if you want.
And, if you're not completely stuffed after your meal there's plenty of watersports on the lake to try your hand at – stand-up paddle boarding, windsurfing, kayaking, sailing, pedal boating….
Paixa

Paixa is a sort of Portuguese High-End Tapas Restaurant, not cheap, as you have to order quite a few sharing dishes but everything I've ordered has always been very high quality.  I love the idea of ordering a few things and sharing among friends – you get to try a bit of everything and it's easier to order dishes you've never tried before as you're not stuck with a huge portion to yourself if you don't like it.  There's plenty to choose from such as Jamon, Portuguese Cheese, Salt Cod Cakes, Octopus Carpaccio, Grilled Squid and much more.  They also do the famous Portuguese Bacalau (a salt cod dish with olives) and a great Steak sharing platter.  The decor is very opulent, lots of velvet and chandeliers and a big open fireplace in the middle (lit in the winter but full of candles in the summer.)  It feels very chic and glitzy and I've spent many a good night chatting over sharing plates with friends!
Parilla Natural

Parilla Natural is the place you go if you want to eat steak in the most stunning surroundings and see a celebrity.  It's an Argentinian steakhouse and has the most beautiful setting, up high with a huge outdoor terrace space, lots of chandeliers and fairy lights and looks very glamorous.

The service isn't always up to scratch – sometimes you feel like unless you're famous you're a bit of a second-rate citizen but that's not always the case.  I'm not sure I've been enough to give it a completely honest appraisal as I've only been a handful of times.  The steak is always delicious and perfectly cooked and the cocktails are some of the best in the Algarve.
Julias

Julia's is The Original Beach Bar.  I've been coming to Julia's for at least 30 years (ever since Julia herself owned it – although it's changed hands now – we used to play with her kids on the beach after we'd eaten!)  As children we used to eat here every lunch for £5 a head but 30 years on, like everything else in the Algarve, prices have gone way up.  The food is still very good though and the setting is beautiful, up on a clifftop overlooking the sea.  It's definitely the place to go for Julia's special African Rice – which has now become a staple in most of the restaurants in the Algarve.  Of all the beach restaurants in the same vicinity it's my favourite and has a special place in my heart for sentimental reasons!It also has great beach bar where you can get snacks and cocktails…
Marufos has to make the list even though it's just outside the golden Triangle.  There's actually two restaurants, one either side of the road (we tend to go to Marufos 2, not sure why, in the good old days we always used to go to Marufos 1 but the 2nd restaurant is just a bit quieter), and driving up to it, it's definitely not a beautiful setting (next door to a massive Lidl, and on the main road) and the actual restaurant is not much to look at either.  I remember back when we used to go to Marufos 1 – none of the cutlery, chairs, glasses matched it really was like eating in a hut which spawned it's nickname (to our family) The Chicken Shack.  Marufos 2 is slightly better but it still feels like you're eating in a canteen (all strips lights and paper tablecloths) but OMG…the food.  It's always full of locals and you can see why.  The chicken and chips is renowned for miles around (they actually still cook all the chicken at Marufos 1 and some poor waiter has to carry it on trays across the main road to the 2nd restaurant!).  The chicken is always perfectly cooked and the peri-peri sauce they give you to pour over it is like firewater!  Juicy chicken, huge portions, plates of fries and amazing salads.  The garlic prawns as a starter are fabulous, as are the grilled sardines, monkfish skewers and the Portuguese special of black pork.  Very quick and easy, no frills food and the best part is the bill – we have eaten and eaten (and drunk copious amounts of wine) and found it almost impossible to get a bill of more than 20euros a head.  The wine is so reasonably priced (about double supermarket prices) and the chicken and chips and salad is 7euros a head.  You really can't get a better meal for the price anywhere around!  So old-school is this restaurant that it doesn't even have a webpage but most people know of it and can probably point you in the right direction!
Pure Boutique Cafe is a fairly new cafe that opened in Quinta do Lago a couple of years ago and it's definitely one for the health conscious crowd.  Light and airy and situating itself next to the gym the whole places just screams healthy, and it serves juices, delicious salads and amazing brunches.  The juices are all freshly pressed and come in amazing flavours such as Watermelon & Lime, or Carrot & Ginger and you can get Green Smoothies too made with blended  vegetables and fruits and superfood boosters too or anything else the health fanatic in you desires.  The salads are all made fresh, in-house and change daily.  My favourite thing to do is go down there on the way to the beach and pick a couple of salads to take away to eat as a picnic – they're all full of superfoods and healthy ingredients but taste amazing (get there early though if you want a big choice of salads, as they make everything fresh, and once they're gone, they're gone!)
You can also eat the salads in-house along with anything on the light lunch menu, but the real treat is their brunch offerings.  From egg white omelettes, to smoked salmon and scrambled eggs, to yoghurt and granola to french toast with bacon, there is always something to tempt you.
Edit: Review of Pure Cafe 2016
Other Restaurants to Try…
Some others that I would highly recommended, (but which either aren't my absolute favourites, or are too new-to-me to be able to give an opinion on (some of these I've only been to once – or not at all) are…
Casa do Campo

Casa do Campo is a very typically Portuguese restaurant, another old farmhouse with a beautiful courtyard.  You want to get a seat outside under the fig tree which is the most perfect setting (but watch out for falling figs)!
Another beautifully romantic restaurant, the food is quite fancy and can be a bit hit and miss – some of it  is a bit of a throwback to the 80s but  I usually go with plainer food anyway so I tend to luck out!
Bovino is a new steakhouse that opened in Quinta do Lago in 2015.  The restaurant is huge and very cosy inside for the winter, with open fireplaces and lots of dark wood and leather.  The outside is perfect for summer dining with beautiful views from the cocktail terrace and a fabulous boutique pool and bar where you can lounge on four-poster beds all day and chill out to DJs.  The steaks weren't as good as at Parilla but they had only just opened when I was there and I've only been the once.  In 2016 they held a Love Brunch on Sundays with an all you can eat gourmet buffet including sushi, salads, cold meats, cheeses, prawns, oysters, seafood, steak, omelettes, bacon and eggs, fruit etc…the list is never-ending.  In 2017 it was called Beats & Brunch – it seems like they are re-inventing it every year!  After brunch you get free entrance to their pool party with DJs and cocktails all afternoon – will definitely be checking this out this year so look out for a blog post on it.  Edit:  A review of Love Brunch at Bovino can be found here.
Gusto

Gusto is a restaurant by Heinz Beck which is set in the hugely opulent Conrad Hotel (Hilton Group).  This really is the most upscale restaurant in the area.  The food has a local flavour but with many twists and preparation techniques that you'd expect to find in a Michelin Starred Restaurant (with a price tag to match!)
The second photo above is from when we spent Christmas Eve there a few years ago with a 9 course tasting menu!  Delicious, but just a tad too over-pretentious.  I can honestly say I've never eaten better tortellini (even in Italy).  The pasta was wafer thin and burst in your mouth releasing all the cheesy, buttery flavour (I still dream about it to this day) but when you ask for a chamomile tea and they bring the chamomile bush to your table and start clipping the leaves in front of you then it all gets just a bit too silly for my tastes.  Oh, and a water menu complete with salt and pH levels for each variety – surely water is water is water?? No?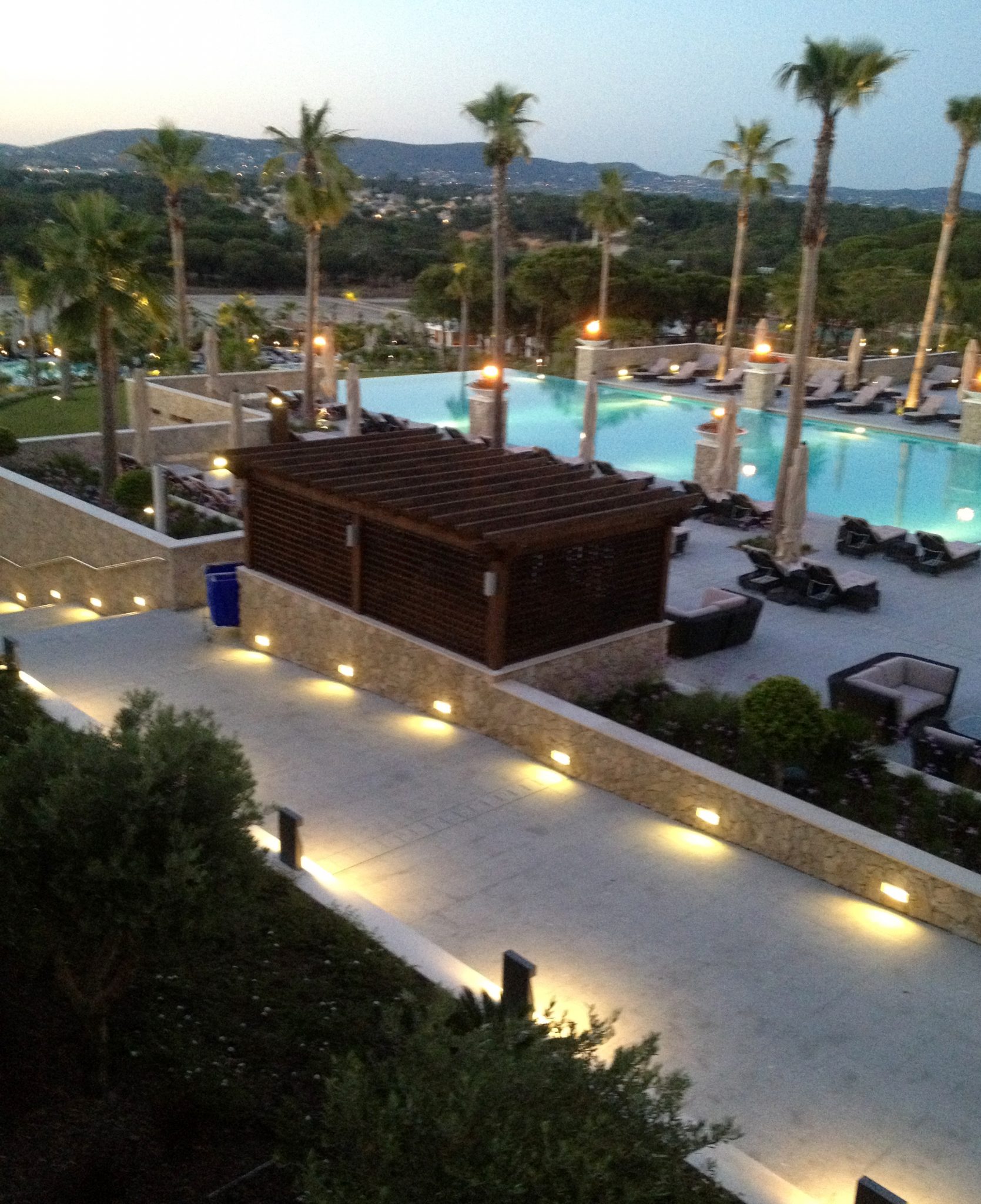 Having said that – for a once in a while treat it is a very special restaurant and the views out over the grounds and the infinity pool are spectacular – one to visit to say you've done it but definitely not an everyday occurrence!
Casa Vostra

Casa Vostra is a great Italian/Pizzeria in Almancil.  The setting is very airy and fresh and the food is lovely and not overpriced.  Amazing salads and I'm told the pizzas are the best in the Algarve!  Always busy and with a buzzy atmosphere, it's a more upscale version of a Pizza Express or something similar.  Children are very welcome, it's family friendly and they do take-aways.  But be sure to book in advance, it's a favourite spot for locals and tourists alike and if you turn up on the night during summer, chances are that you won't get in!
SandBanks

SandBanks is one of the many restaurants down at the Praça in Vale do Lobo and it just happens to be my favourite one there.  Similar food to all of the other beach restaurants, it does plenty of grilled fish, chicken peri-peri, burgers, wraps, salads etc and the food is always good.   The service is always great and they're very family friendly and as you can see from the picture – my little godson loves it there!
And some I'm yet to try but come with good reviews…
The Rotisserie

Started a year ago by the same guys that own Marias, I've only heard good things about this place.  We always tend to go to Marufos for our Chicken Peri-Peri and after 30 years of going there, we're obviously reluctant to change (or just too sentimental!)  Apparently the sides and salads are much better here, very creative and full of superfoods and healthy options it's definitely one I'm going to have to try!
Da Chico's Segreto

This is a new restaurant that opened this year.  We'd been to other restaurants in the same location over the last couple of years but they've never seemed to last.  I'm not quite sure why the location doesn't seem to work, it's stunning as you pull up with a beautiful wall of running water at the entrance.  It's right on the main road but they've cleverly built all the gardens up so that I don't even notice the traffic noise when I'm there, and the actual restaurant is beautiful.

They haven't really made the most of the space outside where they could have a lovely welcoming cocktail bar or something similar, but the actual seating area is lovely.  this restaurant is a bit different…it's Swiss Italian!! Yup that's right, pizza, pasta and fondue!  Slightly bizarre combination but if it works it could be a new thing!  I'm going to test it out this year so I'll report back with an opinion!
This is a bar/restaurant next to Casa Do Lago on the lake in Quinta do Lago.  Its much more casual dining but I didn't think much of the menu here when I took a quick look.  It was very stodgy and pub-food like, things like nachos and chicken wings and scotch eggs but I'm told they do great cocktails and during the summer they have live music every evening.  I'm yet to check it out but will update this when I have done.
And one to avoid..
We used to love this restaurant when it was called Waves a few years ago (amazing gazpacho!) but it's reincarnations have never been good – no-one seems to be able to make it work.  We had the worst meal we've ever had in the Algarve here – we should've known better when it was the only place we could get into at lunch, all the other restaurants were full!  Firstly, we were handed menus with extortionate prices (there was a much cheaper menu on display out the front).  We ordered a bottle of wine and three salads.  It took 10 mins to bring the wine and they forgot the glasses.  It took over an hour for 3 salads and even then my dad had to threaten to walk out before we got them.  My 'Algarvian Pepper Salad' was red and green peppers from a jar and my mum (who can't eat corn) picked the only salad on the menu without corn, only for it to turn up with corn on it.  We sent it back and they returned it (a plate of lettuce and prawns – the menu said lettuce, watercress, prawns, carrot, tomatoes and flaked almonds!) We sent it back again only to have the manager tell us that she really didn't think the restaurant was for us!!!  Correct – we like restaurants where we get what we order in a timely fashion!  It would seem we weren't the only ones with a bad experience here, judging by TripAdvisor!!
Edit:  It looks like plenty of other people agreed with me as this restaurant closed the week after we went!
Ugh Rant Over – sorry to end on a bad note but all my opinions are honest so if there's one bad one in the bunch I thought I should point it out!
I hope these recommendations have given you some ideas for when you're out in the Algarve.  If you try any of them, please let me know in the comments how you found them?  Also, any I've missed out?  Which are your Best Algarve Restaurants?  I'm always looking for new places to try!
Pin It For Later