Last night was the inaugural Great Northern Pub Wine Tasting & Food Pairing Evening.  We arrived at the pub to be welcomed with a glass of champagne and shown a list of the seven wines we were going to get a chance to taste that evening. Along with the champagne, there were 2 whites, 3 reds and a dessert wine and each wine was to be paired with one of 4 dishes.  Our host for the evening was Steve, from Genesis Wines, who would be talking us through each of the wines individually, all of which are on the Great Northern Wine List.
The Champagne was Jean-Marc Sélèque, Cuvée Spéciale, obviously from the Champagne Region in France and along with a 'Halbtrocken' Weingut Verienigte Hospitien Riesling from Mosel in Germany was paired with our first course, Panisse (a sort of chickpea cake) with tomato, artichoke, hazelnut, pine nuts and goats curd.  It's been a long time since I've seen a more beautiful dish.  It was visually stunning and almost too pretty to eat…almost!
So on to the wines…the champagne was nice but it wasn't really to my taste.  It was floral and citrussy but very dry and too tart and acidic for me.  I much preferred the Riesling.  This was slightly off-dry and tasted of stone fruits and honey – but not too sweet.  It was definitely my favourite of the two.  The champagne did taste less tart when paired with the Panisse, but to me, champagne should be a stand alone drink and not require food to make it more palateable.
The panisse was outstanding.  Fluffy and light it was a great way to start the meal.  All of my favourite flavours in one dish, I loved the artichokes and I'm a sucker for anything with goat's cheese, this was my favourite dish of the entire evening.
Next Steve showed us how both red and white wines can be paired with the same dish.  We had a Mt Beautiful Sauvignon Blanc from New Zealand and a Domaine de Mus, Pinot Noir from the Languedoc region of France, paired with Pork Rillettes with a cherry sauce.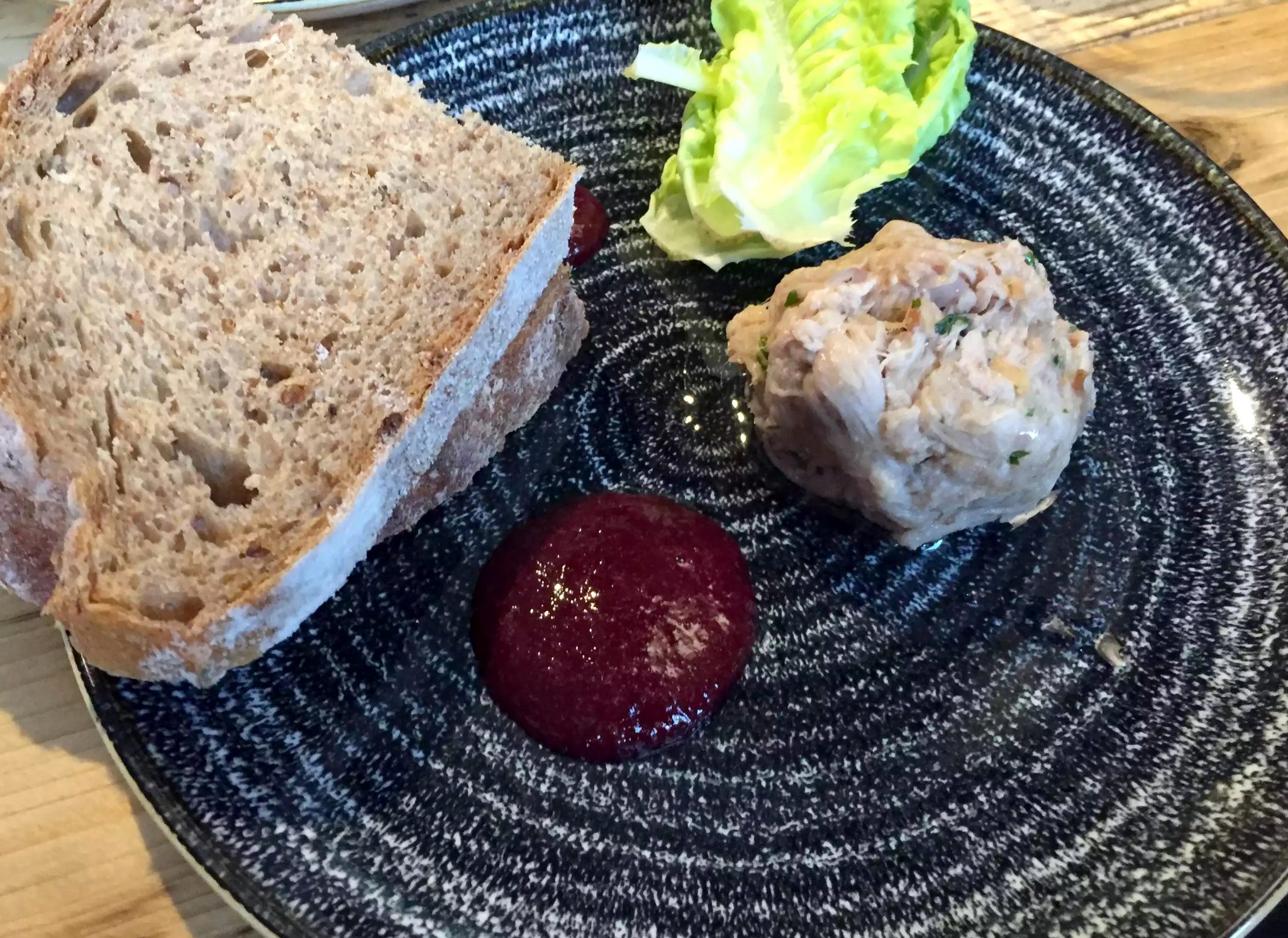 I'm not normally a fan of a Pinot Noir, I find it too light and prefer something heavier, but this was a very good one.  It was very smooth, with low tannins and lots of red fruit flavours.
The Mount Beautiful Sauvignon Blanc was a very interesting choice. It had much more of a tropical fruit flavour and less of the grassiness and gooseberry flavours that you would expect from a Sauvignon Blanc.  Steve also told us a story about the choice of labelling for the bottle. The vineyard owner found some old letters, written by his late father and had the lettering turned into the typeface for the bottle. I love personal stories like that, being a completely sentimental schmuck!
It was a 50-50 between most of the guests as to whether they thought the red or the white was a better pair with the pork. I personally preferred the Pinot Noir with it but that may just be me favouring the red wine as usual.
The pork was tasty, but is not a dish I would usually order, mainly because pork just isn't one of my favourite meats.  I couldn't eat the bread so i was given some lettuce to have it on (the chef was very thoughtful, most of the dishes I could eat anyway but where there was something I couldn't eat he provided an alternative!) but I found it quite fatty (I know that's the point of belly-pork) but it just isn't my thing.  The cherry sauce did a good job of cutting through the fattiness, as did the Pinot Noir, which is why I think I preferred it as the wine pairing for this dish.
Next up was the heavier reds.  A Villa Medoro, Montepulciano d'Abruzzo and a Bodegas Launa Rioja Reserva paired with Baby Squid with chorizo, pine nuts and a pea puree.
The Montepulciano was delicious, full of dark red fruits and with a slight spiciness to it, but…
Surprise surprise the Rioja Reserva was my favourite of the night, oaky and full of dark fruit flavours it was a very punchy wine and exactly the kind of thing I like.
I was sceptical about pairing squid with two such bold wines and thought they might overpower it but the dish was delicious and the rich, spicy, salty chorizo really brought everything together.
Our final wine of the evening was a Moscato d'Asti – a sparkling dessert wine which I'd never had before.  I'm more used to Sauternes etc for dessert wines but this was a really interesting and different choice.  It was delicious, not too sweet, and I'm sure it would have paired perfectly with the white chocolate and cardamom mousse with raspberry sorbet that was for dessert but unfortunately I couldn't eat it due to the sugar in it.  They did however, generously provide me with a small plate of the most amazing cheeses but I drunk the wine first and then ate the cheese as I didn't think the would complement each other very well.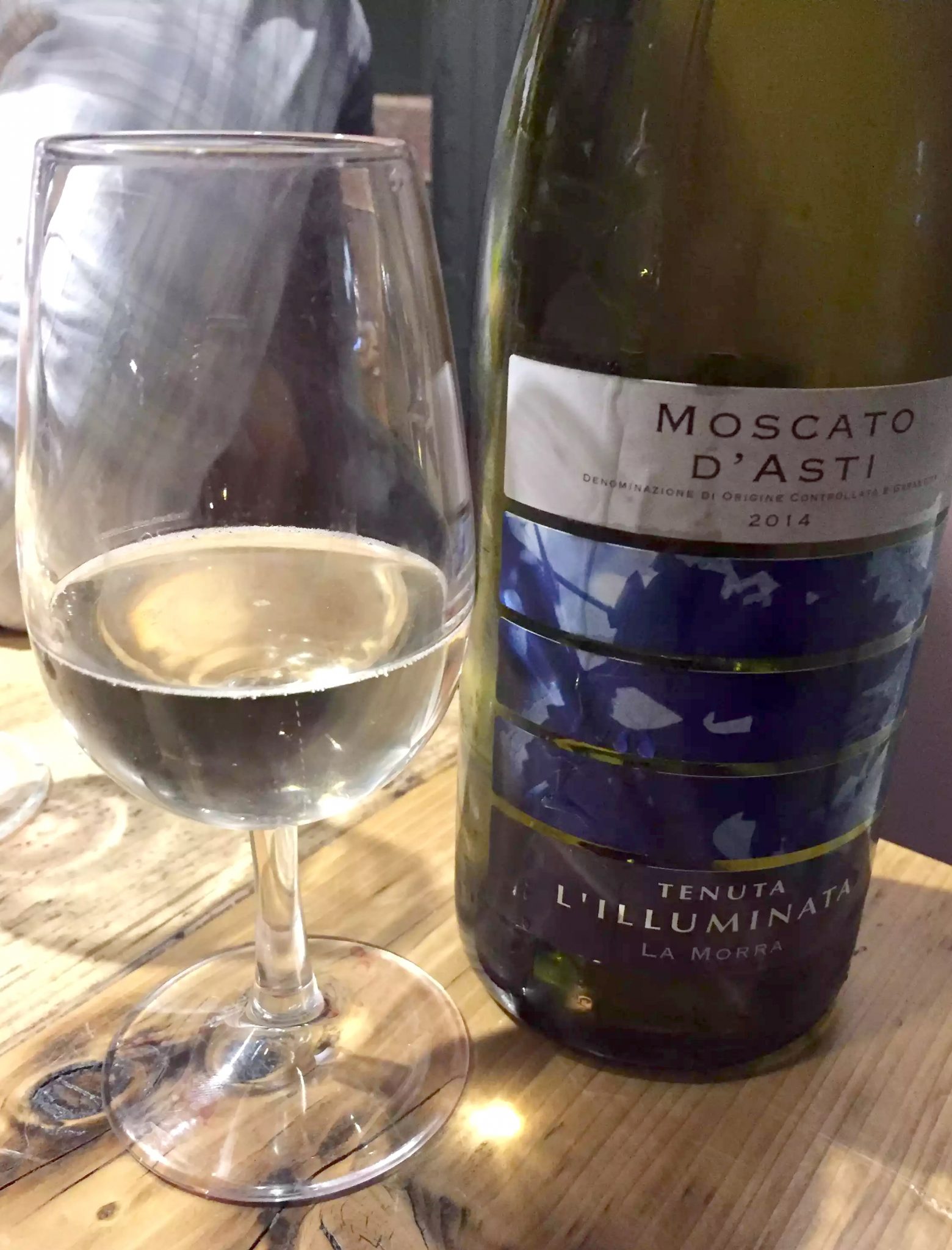 A very interesting and informative night and I'm looking forward to the next one!