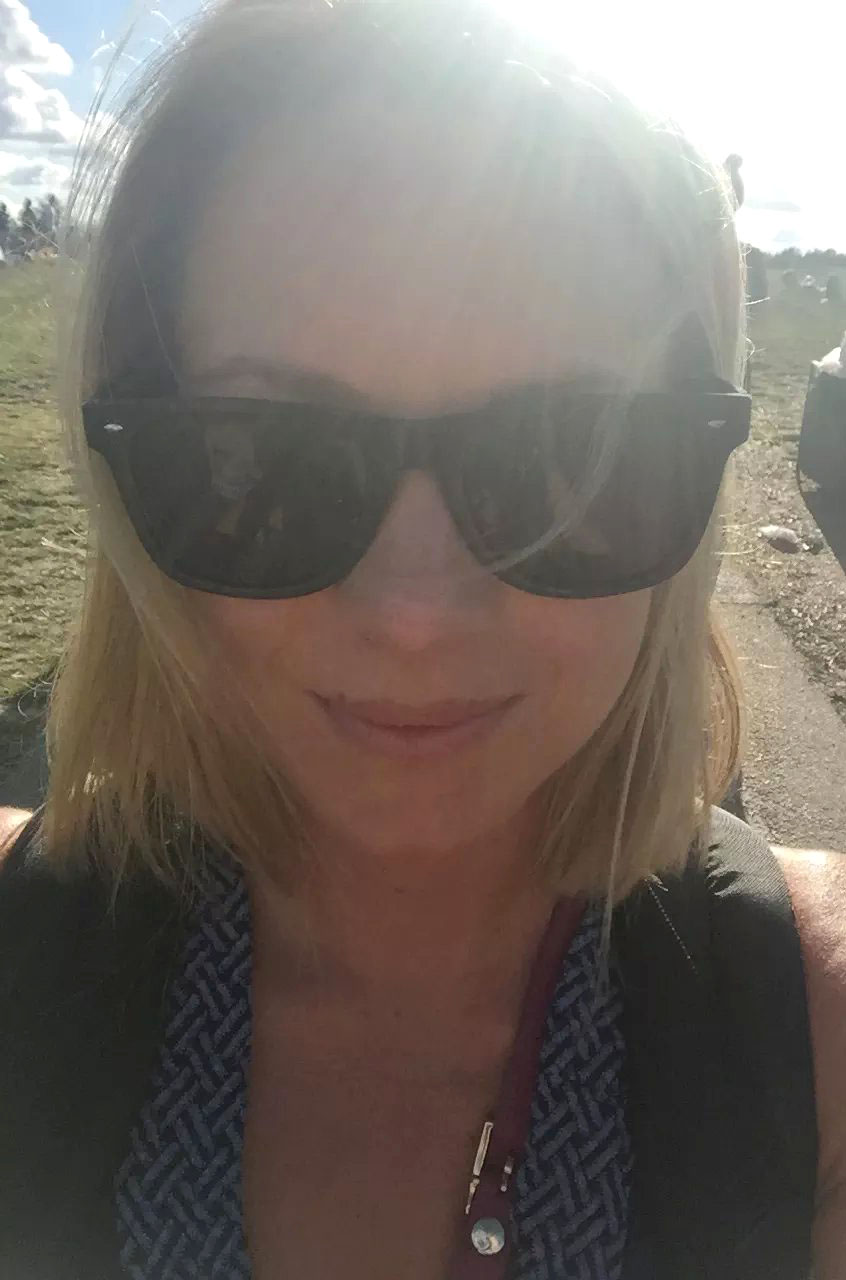 Tonight was a dinner out with Dan's family and as his brother Chris is due to have his baby any day now (and his girlfriend Emma-obviously Chris isn't having the baby), it was suggested that they stay near home and we meet them at a local restaurant.  They picked the Lure Fish Kitchen near to them in Kentish Town so we planned to meet up at 8pm.  Coming from St Albans as we'd been in town for the Great Northern Pub Beer Festival we jumped off the train in West Hampstead and decided to walk there over the Heath as it was such a lovely evening and Matilda had never visited Hampstead Heath before.
The walk was lovely and it was really nice to stretch my legs a bit and the view from the top of the hill over London was absolutely stunning!  I think everyone else must've though it was the perfect day for a walk in the park too, as the Heath was packed and everyone was out enjoying the sunshine.
We met Dan's family at a nearby pub for a quick drink and then headed over to Lure Fish Kitchen.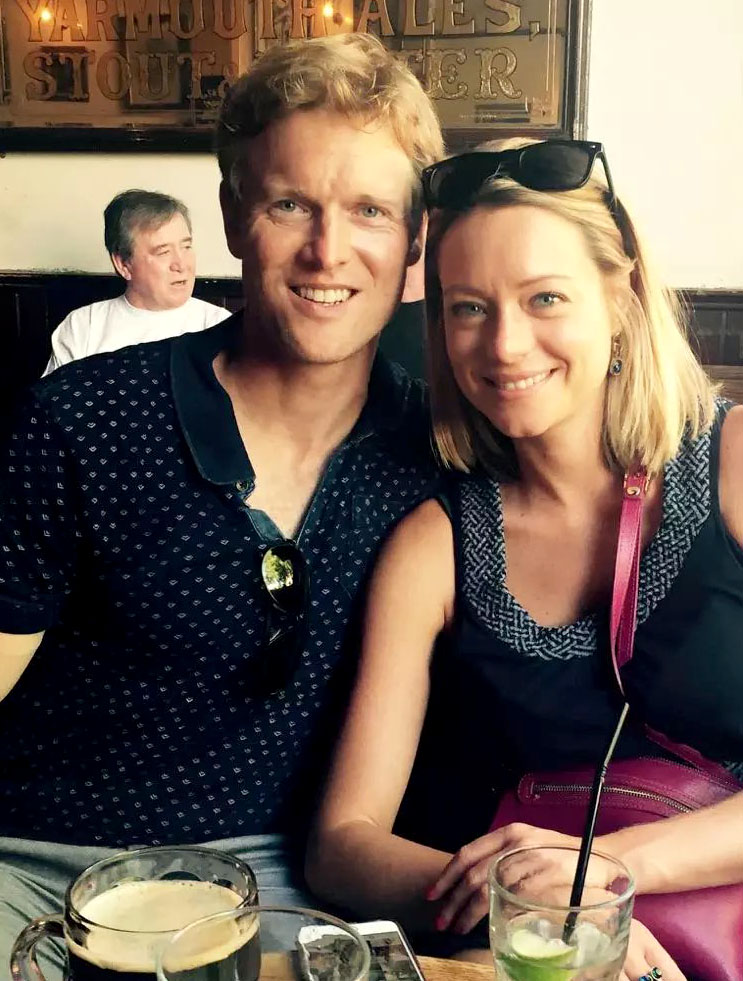 A bit like the Fish Cafe that we went to recently it was a fish & chip shop in the front and a smarter restaurant in the back.
We sat down at our table and I couldn't resist a pic of everyone.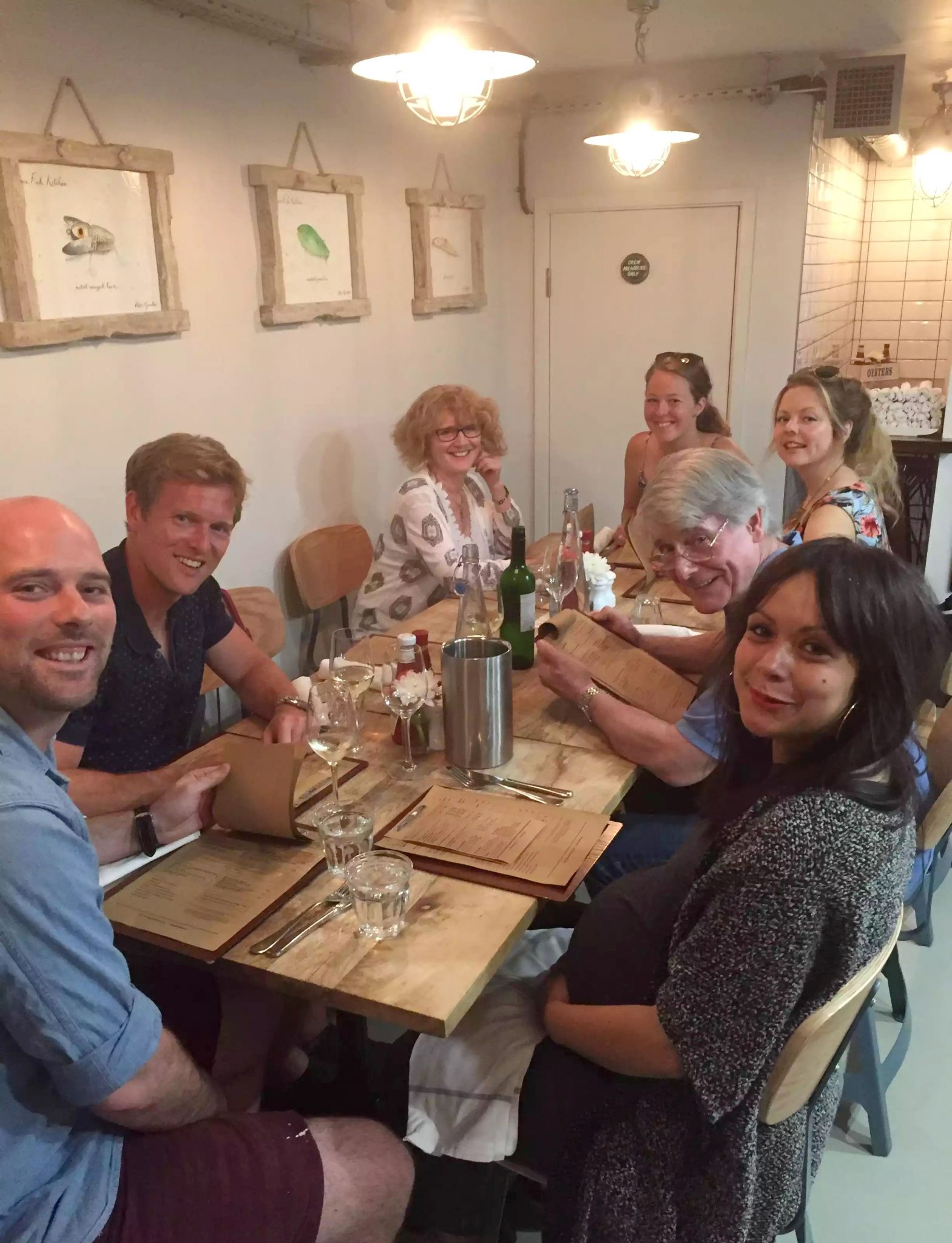 Chris had ordered the wine already so we poured ourselves a glass as we looked at the menu and the daily specials.  It was very crisp and refreshing and tasted of citrus fruits with a hint of peach and was a great wine to pair with the fish.
I decided on the Salmon Tartare for my starter and others picked the Prawns, the Mussels with Tarragon, Shallots, Creme Fraiche & Cider, and Matilda couldn't resist ordering an Oyster for herself (she loves those things – I wish I did, but I just can't get my head around the taste).  Edit:  Ever since taking an Oyster Masterlass at Bentley's Oyster Bar & Grill I've developed an intense love for these delicious shellfish.  Sweet and salty and metallic, I now love nothing more than a plate of oysters all washed down with a glass of champagne!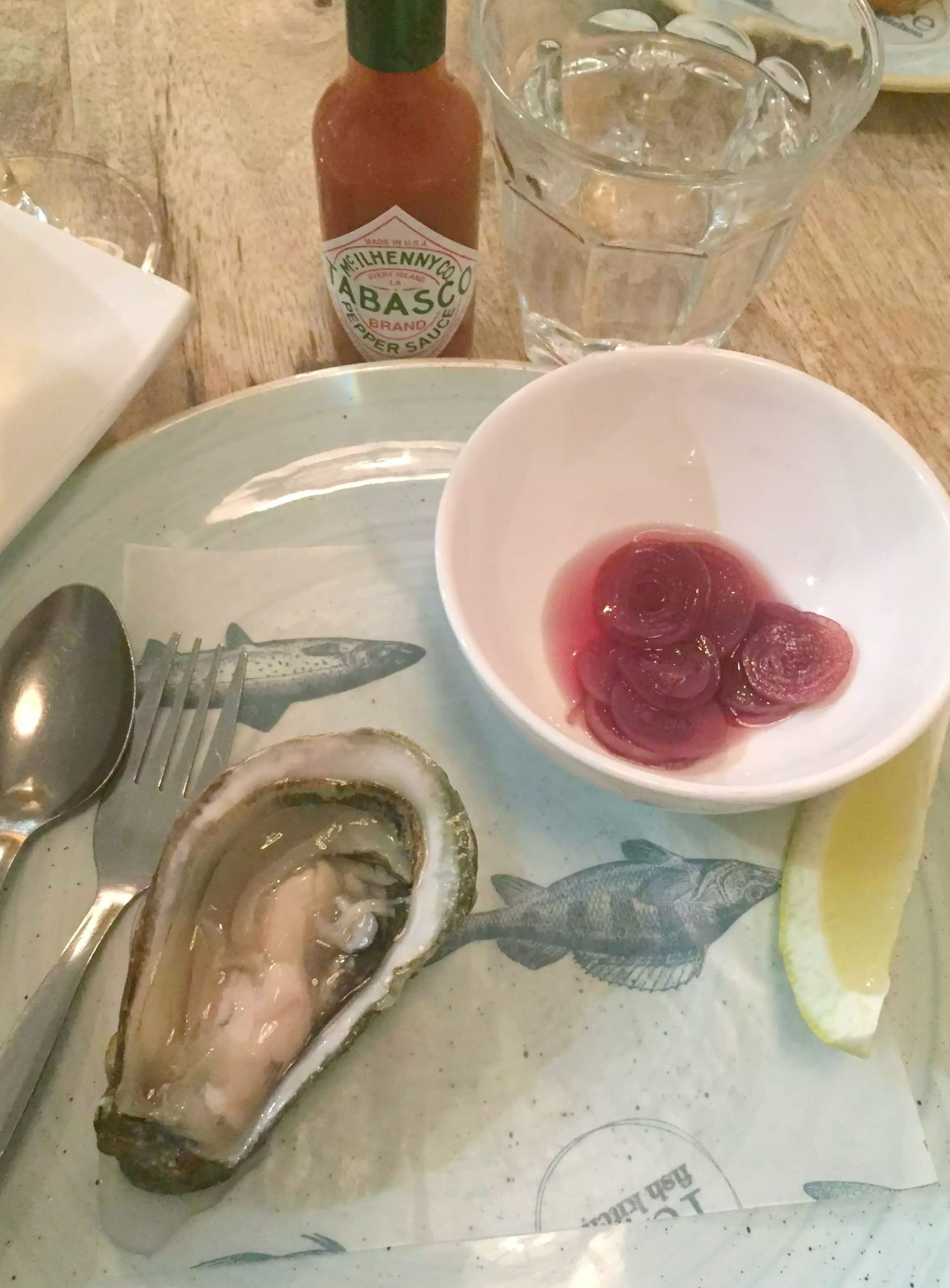 The starters arrived and my salmon looked amazing, beautifully presented and so light and summery.  I tried the fish and it was delicious, so fresh, you really couldn't beat it.  It was the perfect starter for the hot summer evening, citrussy and crisp, just like the wine!
I also tried one of Dan's prawns too and they were some of the best prawns I've ever had – no joke! They were enormous and really meaty but fresh and sweet tasting – I'm not normally a massive fan of cold prawns, but these were seriously good.
Matilda loved her oyster and the mussels went down pretty well.  I'm told the tarragon was a really different herb to pair with them and it worked really well.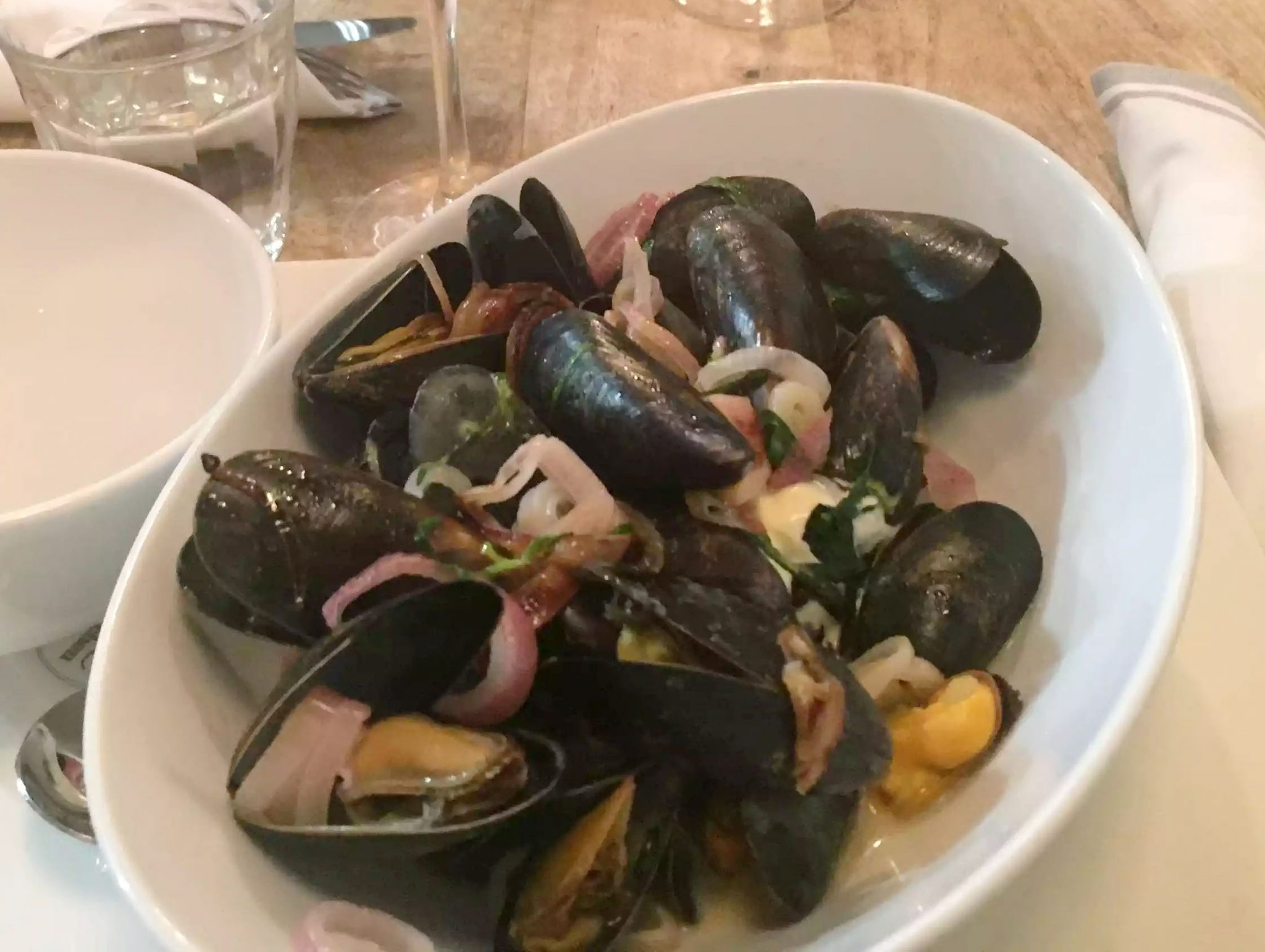 Then it was time for the mains.  I'd ordered the Pollock with Salsa Verde and sharing sides of broccoli with ginger and chilli and minted peas with Dan.
As you can see from the photos, you definitely need to order side dishes here, as all you literally get is your piece of fish otherwise.  The pollock was so fresh, and cooked beautifully and the salsa verde that it had been marinated and cooked in was really tasty.  The broccoli was outstanding – I'm definitely going to be doing mine in chilli and ginger from now on!  The minted peas were great, but not amazing but I loved the simplicity of the whole meal.  Not much to it, but every element was done well.  The best fish though, was what Dan had ordered…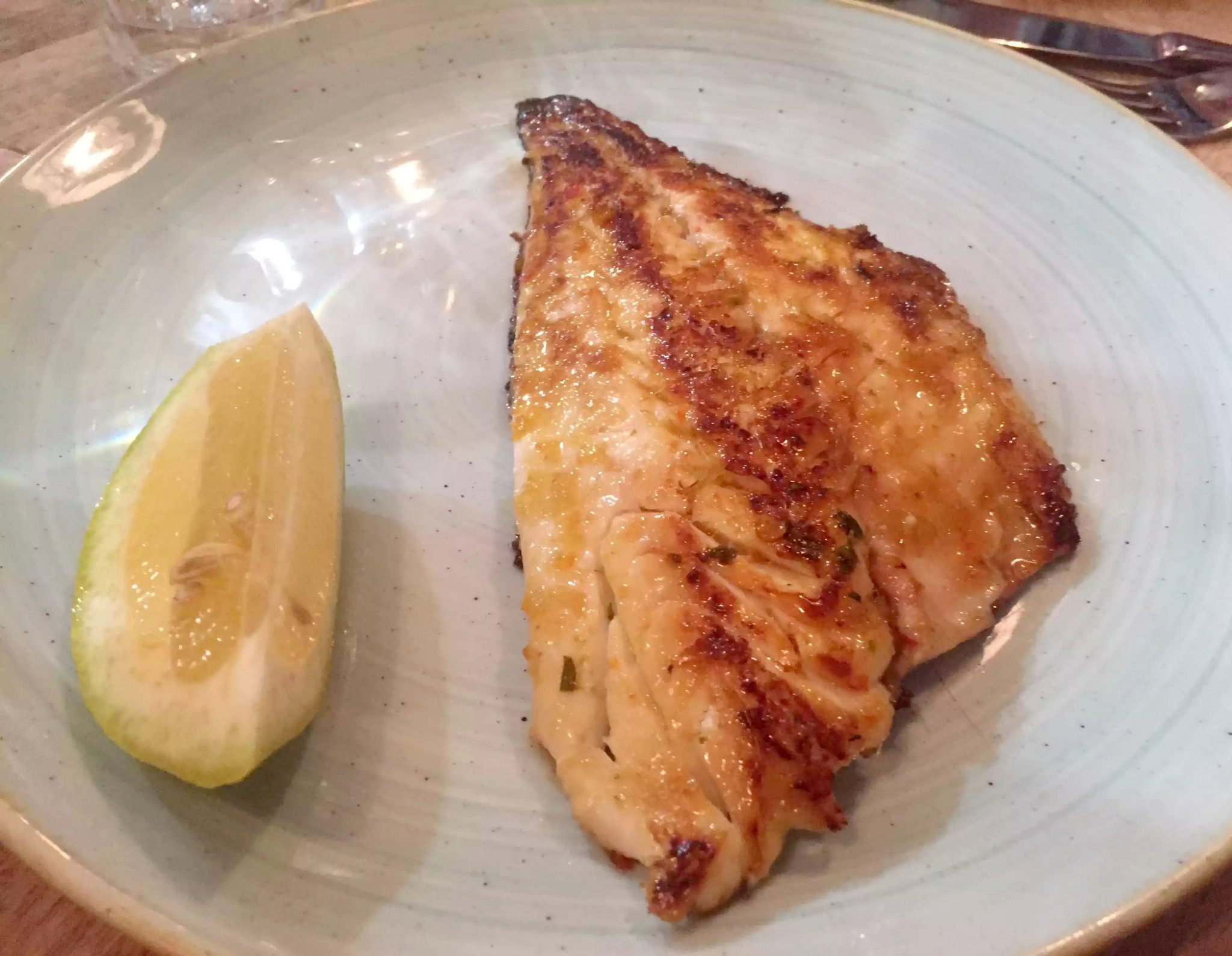 The gilt-headed bream in lemongrass, chilli and coriander dressing.  Not looking like much when it came out, I think he was a bit disappointed, but the waitress said 'Just try it' and she wasn't wrong!  The flavours were incredible!  Sweet and spicy and salty and citrussy, the marinade was one of the best I've ever tasted and I couldn't believe it was so flavourful!  Dan's mum had ordered the Special of the Day, the 'Sea Dog' (breaded cod in a bun with minted peas and tartare sauce and it was a showstopper of a dish.  So big that she couldn't get through it all!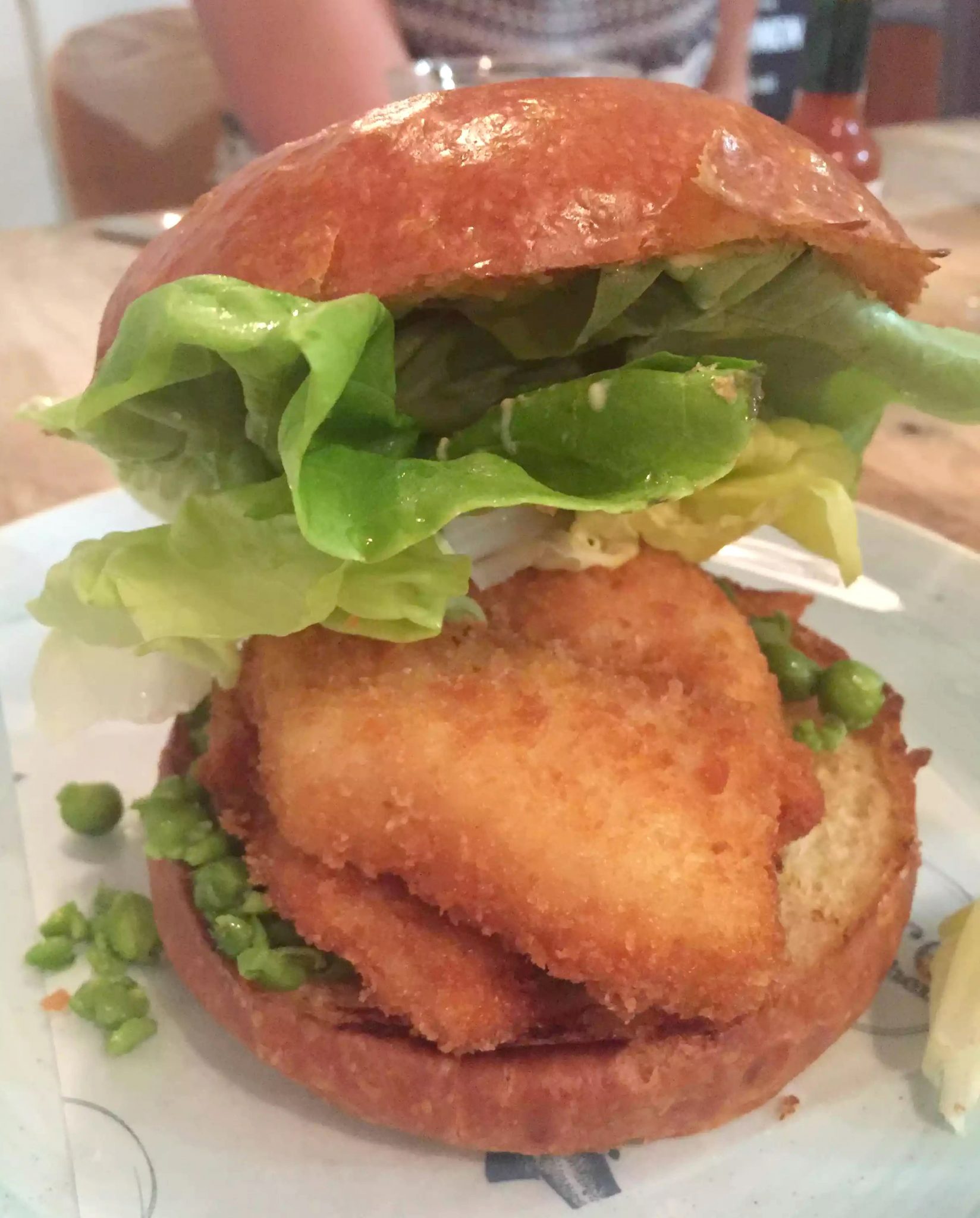 The most amazing bit was the price though! £30 each for a starter, main and a (ahem) few bottles of wine between us all is great for London prices.  We found a real gem and we'll definitley be back!
Feeling stuffed but not quite ready to finish the evening, we made our way home…via the bar at the Great Northern Hotel at Kings Cross, not to be confused with the Great Northern Pub in St Albans which is Dan's pub – it's a railway thing! Dan, Matilda and I all ordered cocktails to finish off what was a lovely evening.