Recently I was lucky enough to be invited along to an Oyster Masterclass at Bentley's Oyster Bar & Grill, Piccadilly, London.  The Oyster Masterclass gives you the opportunity to learn all about oysters, shuck them, pair them with wines, and of course eat plenty of them in a relaxed and informal environment.
The Oyster Masterclass is held once a month at Bentley's Oyster Bar and Grill and costs £65 per person.  They last for about an hour and a half and include free flowing champagne and wine and as many oysters as you can eat!  The nice thing about them is the maximum class size is 14 as you all sit around the long bar.  Cosy and informal and a great way to get to know other people and have fun in a relaxed environment.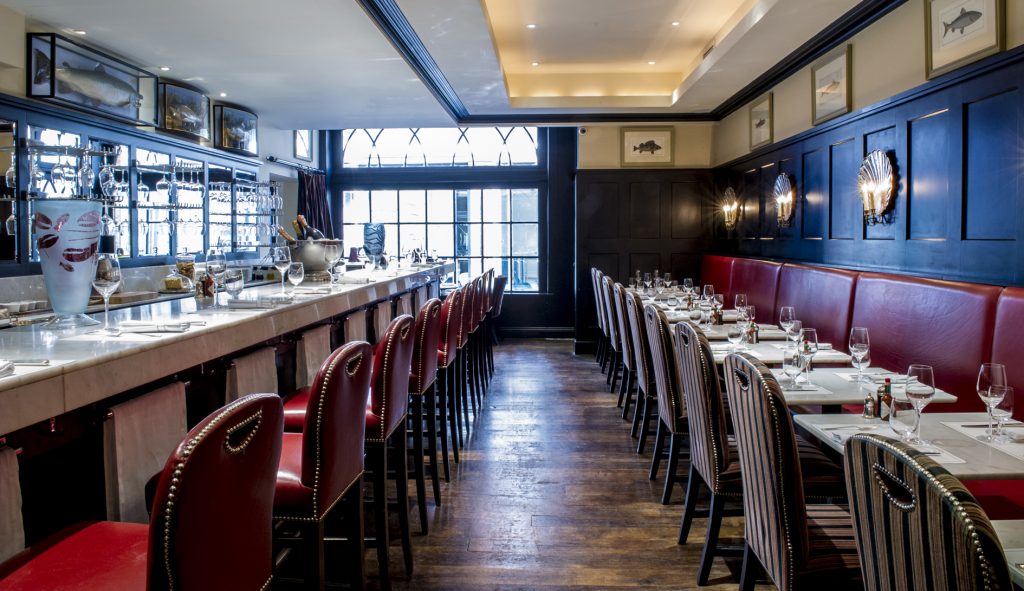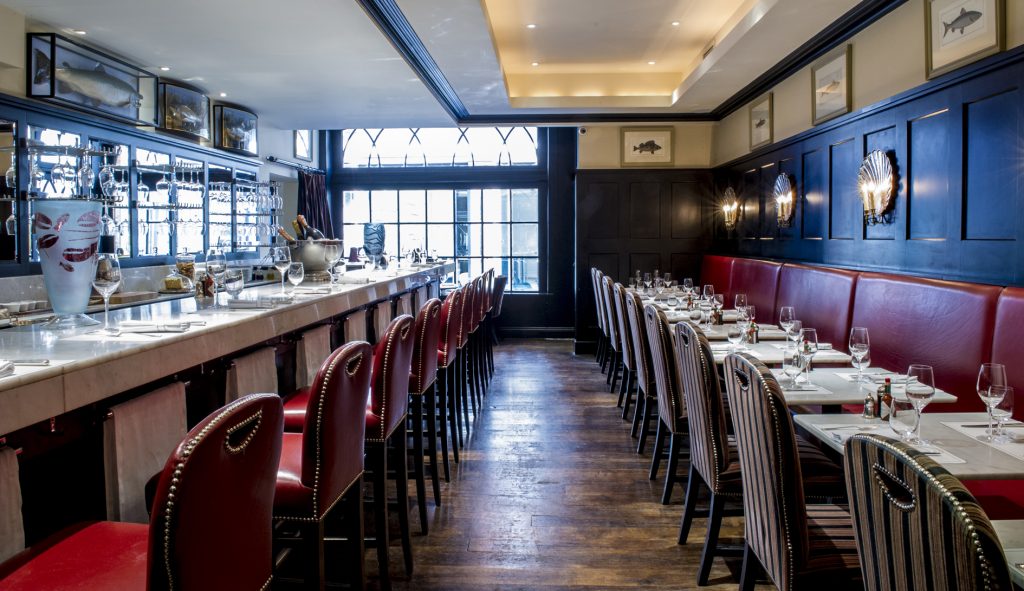 We arrived to a warm welcome and were shown to the long bar.  Starting with a glass of champagne definitely got us in the mood for a fun couple of hours ahead.  We were introduced to our hosts for the afternoon Fred & Helio – Oyster Shucking Aficionados and definitely the experts on all things oyster related.  With over 25 years of experience between them, they know what they're talking about!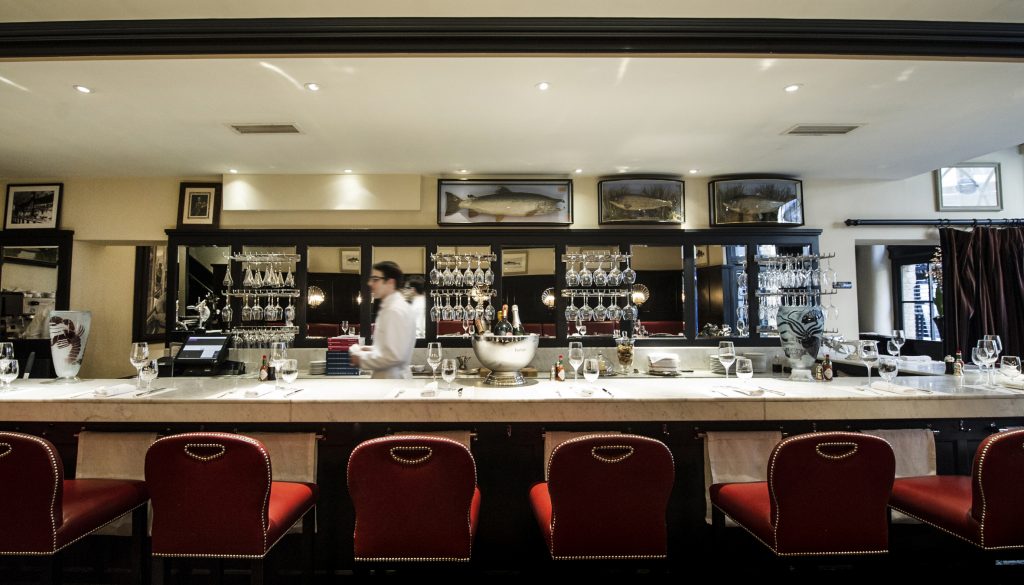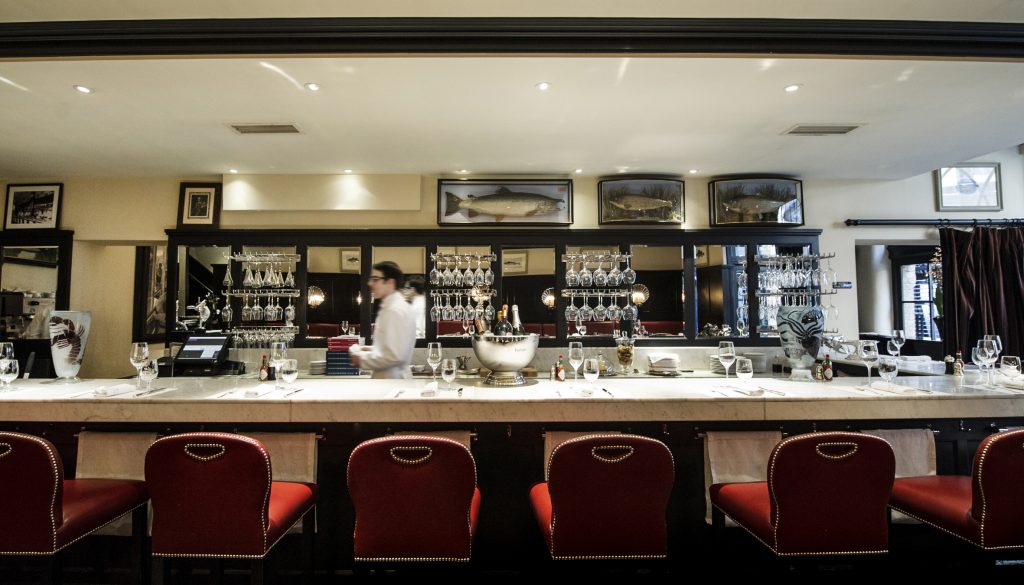 The class began with an introduction about the types of oysters served at Bentley's.  Richard Corrigan, the owner, is a staunch supporter of all things British and loves local produce so the only Oysters sold in his restaurant come from around the British Isles.  Today we were getting to taste one type of Native Oyster and two different types of Rock Oysters.  This basically means wild oysters and farmed or cultivated ones.
The Native Oysters that we got to taste were from West Mersea in Essex and they were up first.  I learned that Native Oysters can only be eaten for 6 months of the year.  It's illegal to catch them during summer as this is the time when they reproduce so you only get wild oysters in the colder months.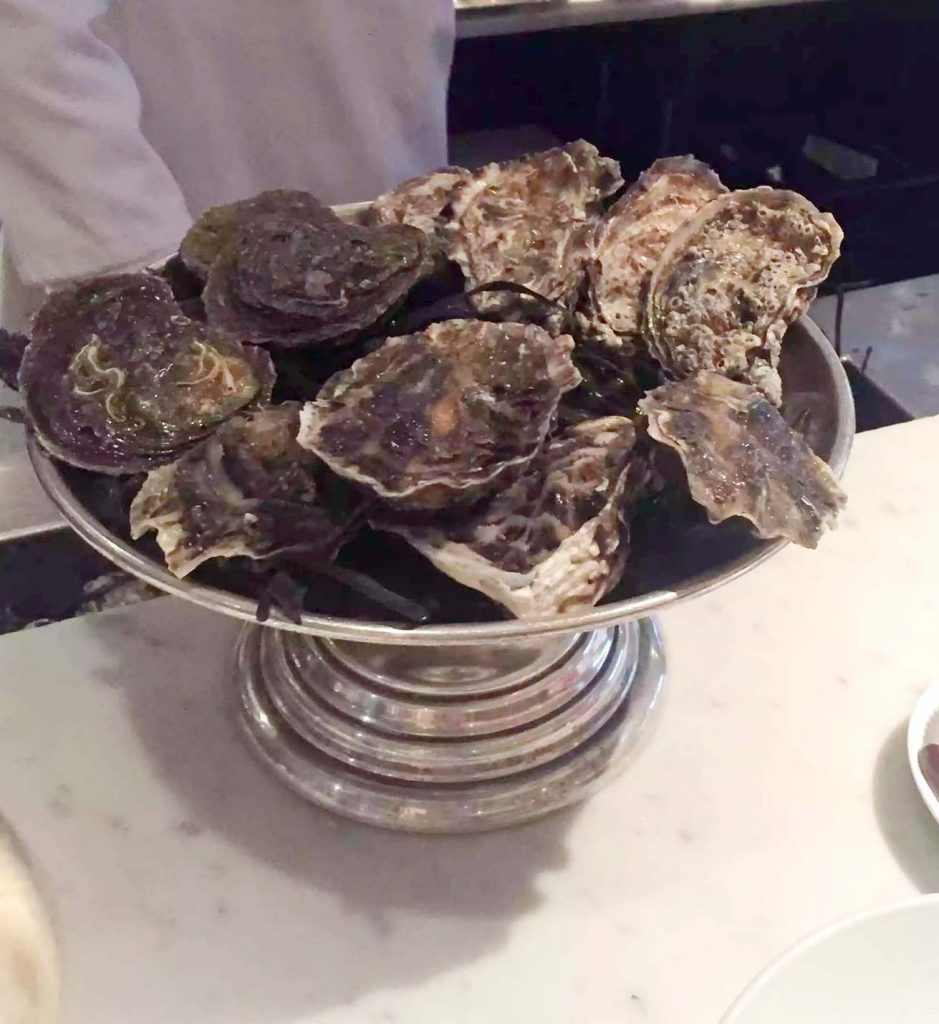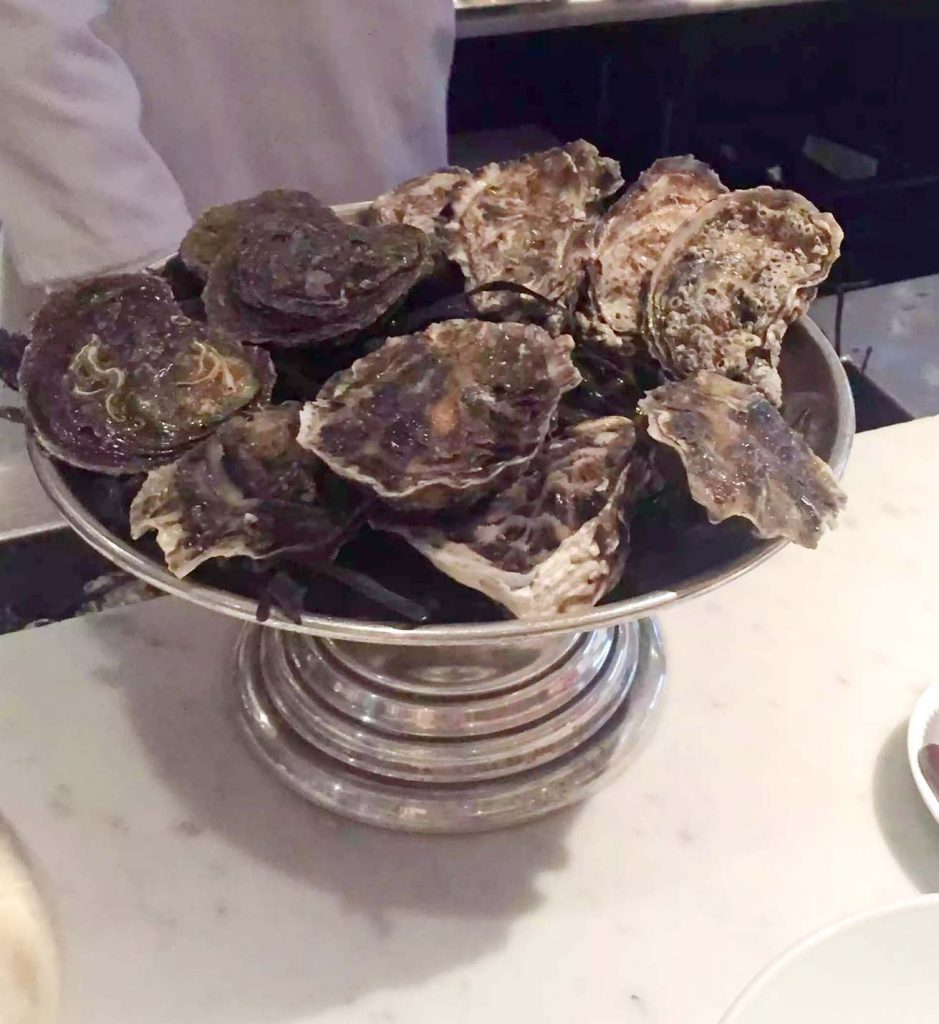 Oyster Shucking
Fred and Helio expertly shucked some of the oysters and gave them to us to taste.  They described the best way to eat them – lemon juice and a tiny bit of black pepper.  I can honestly say I've never had a better oyster.  That Native Oyster was so fresh and firm and meaty, and they were right, lemon and black pepper is definitely the way forward.  If you prefer there is shallot vinegar and even tabasco if you want it (although don't let Helio see you do that!)
Then it was over to us and our turn to have a go at shucking them!  We had a special block to hold the oysters.  Much easier than the way they were doing it in their hands!  We still had to stand up to get some force behind opening them!  They're slippery little suckers but  you know what – the expert tuition worked.  Not quite as neat as theirs but I did it without too much trouble.  I even impressed myself.
I then had a go with a couple more but it just seemed easier (lazier) to sit back and chat with the other guests while Fred and Helio opened them for us!  With the champagne free-flowing this was no hard task!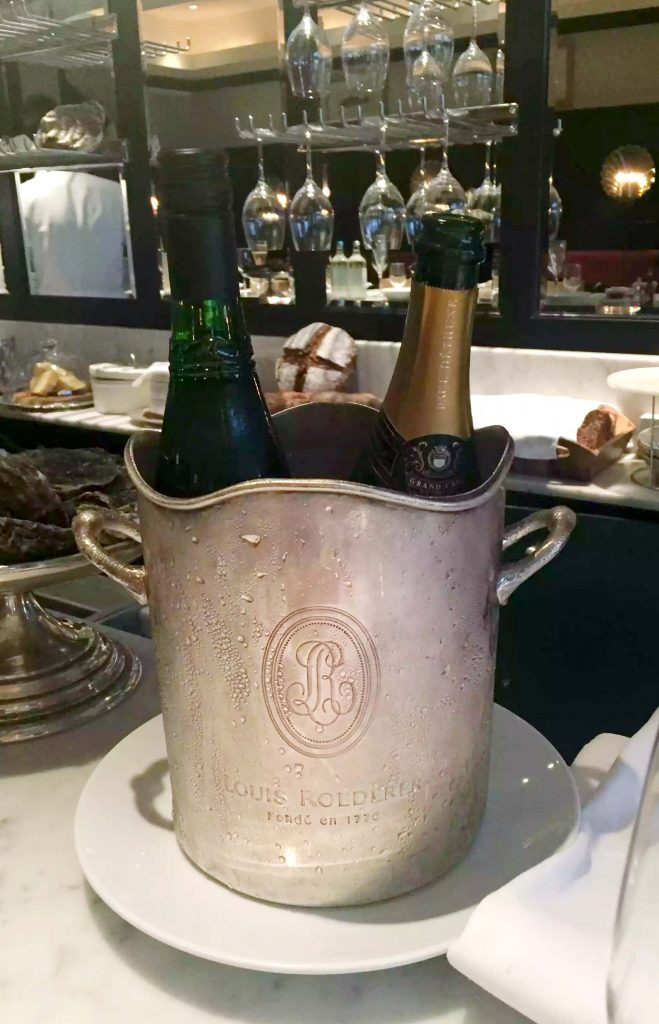 After trying the Native Oysters it was time to try The Rock Oysters.  Two different types that came from Dorset and Carlingford in Ireland.  I'm no oyster expert, but even I could tell the difference.  They were softer, less firm and meaty and slightly more watery in flavour.  During the class you get given an 'Oyster Passport' so you can record which ones you loved and which not so much!
Helio also opened a bottle of the House Wine – the Picpoul de Pinet for us to try as he wanted to show that oysters pair just as well with white wine as they do with the classic champagne.  He was right, the crisp acidity of the Picpoul really did match perfectly with the salty, almost metallic taste of the oysters.
Cooked Oysters
Then, just when we thought we couldn't eat any more oysters, (I must have eaten between 8 and 10!)  out came a tasting plate of cooked oysters.  Done in so many different ways, they were baked, fried, marinated and served with spinach, hollandaise, garlic, chorizo etc
Completely different to the fresh oysters, each was delicious in it's on right, but it only really tasted of the sauce or the way it had been cooked.  It had lost the fresh, saltiness that comes with the raw ones.  I have to say though, I absolutely loved the baked oyster with spinach and hollandaise sauce and the deep-fried oyster with chorizo and caramelised shallots!
All too soon the class was over but it really was a wonderful way to spend a few hours.  I loved it so much that I even booked my boyfriend and I in for a tasting plate of oysters for a Valentine's Day treat.  Very informative and educational and above all fun.  This Oyster Masterclass at Bentley's would make a great date idea, or a gift for a foodie friend!  Feeling a little bit tipsy I made my way home.  Now I'm looking forward to returning for more of the same on Valentine's night!
The Oyster Masterclass  at Bentley's Oyster Bar & Grill is held once a month  and costs £65 per person.  They last for about an hour and a half and include champagne on arrival, oyster master class and tasting with sommelier matched wines. You will also get to take home a goody bag with apron, recipe cards and oyster knife.  For more information or to book a class, visit this link. 
Pin it for later