Another date night and after taking Dan to Casa Paco in Madrid last month, it was my turn to be treated.  Having eaten in Bala Baya a couple of weeks ago, we found out that the chef there used to work for Ottolenghi's Restaurant.  It's a restaurant I've always wanted to go to and Yotam Ottolenghi is a chef I really admire.  I drool over his recipes on a daily basis and love the flavour combinations he creates.   He is an Israeli chef and opened his first deli in 2002.  He has since opened 4 further delis and created restaurant space in each of them as well as opening an online shop.  His cooking style has a strong Mediterranean Influence but also draws from many other cuisines from Middle Eastern to Asian!    We decided to head to the nearest Ottolenghi's Restaurant to us, the one in Islington.  There are 5 locations, all over London but we decided to go local.  Dan had called ahead and asked for a table for two as we'd heard that most of the tables there are large sharing tables so you eat with other people.  I quite like the idea of this, but not for our romantic Date Night so we were pleased when we got shown to our private table.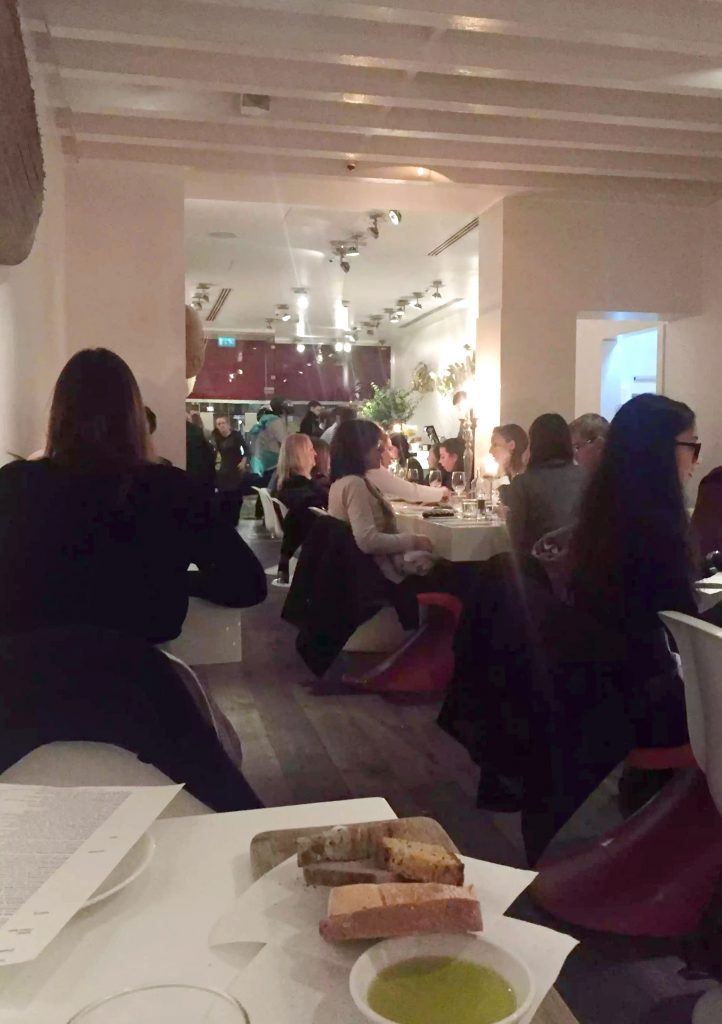 I explained my dietary requirements to the waitress and she quickly handed me the gluten-free menu.  Although I also avoid other foods, gluten-free is a great place to start and I can quickly spot if there's anything further that I need to avoid!  It takes a lot of the guess-work out over what is in the sauces and dressings etc!  It's great to know that a restaurant like this caters very well to a gluten-free diet!  And very thoughtfully, when Dan was brought bread and olive oil to dip it into, they brought me a small bowl of mixed nuts to nibble on while we looked at the menu.
The concept of the menu is that everything is designed to share (this seems to be a real trend at the moment).  Sharing plates are great because you get to taste a little bit of everything and I'm the kind of person who always wants to try everyone else's dishes anyway!  Half of the dishes are cold and half are hot.  All the cold ones are available in the deli at the front of the restaurant to take-away or have delivered!  There's also a huge array of tempting cakes, desserts and pastries if you're in the mood for something sweet!  It's a very interesting menu as the food is true to Ottolenghi's ethos and inspired by cuisines from all over the world.  Middle Eastern ingredients such as the date puree make an appearance alongside miso and soy and even the obviously British seared beef with mustard!
We Started with a glass of the Sauvignon Blanc while we decided which dishes to order.  It was crisp, fruity and refreshing and a really nice way to begin the meal.  We had been told to pick about 5 dishes between us and I was spoilt for choice.  We ended up having to pick 6 because we just couldn't decide!  I really wanted some of the vegetarian ones but Dan tends to prefer the meatier ones so we compromised on 2 meat, 2 fish and 2 veggie and he could eat most of the meat ones!
We also ordered a bottle of the Le Fole, Aglianico, 2011.  It was quite a fresh, acidic wine with strong tannins.  More red fruit flavours than black, almost cranberry-like and it would go really well with the meats that we'd ordered.
We started withe Roasted Aubergine (Eggplant) with Cumin Yoghurt, Coconut, Herb Oil and Chilli and the Roasted Cauliflower and Romanesco with Buffalo Ricotta, Capers, Date Puree and Pine Nuts.  I pushed for both of these dishes as they're really not Dan's thing at all.  I loved the sound of the first one.  The cumin yoghurt and coconut sounded really interesting and I'm loving everything aubergine (eggplant) recently.  It really seems to be making a resurgence on the dining scene and when it's char-grilled, the smoky earthy flavour is delicious.  As expected, the yoghurt, coconut and chilli combination was fantastic and really zinged up the aubergine – I  might go so far as to say it was my favourite dish of the night!  The cauliflower dish appealed to me as I liked the sound of the sweet date puree, with the rich ricotta and tangy capers.  It really was delicious – this is a great restaurant for vegetarians (not that I am one anymore!)  So many more exciting options than the standard mushroom risotto!  All the flavours were really interesting and different and put together in a very clever way.
Next up came the Yellow fin, Line Caught Seared Tuna with Mixed Sesame Seeds and Soy, Honey, Spring Onion and Ginger Sauce and also the Seared Fillet of English Beef with Sweet Coriander and Mustard Sauce.  These two dishes were all about the quality of the meat and the fish and we couldn't fault it.  The tuna was perfectly cooked, just seared on the outside and completely rare in the middle and it melted in your mouth.  I couldn't have the sauce but I didn't need it, I was happy with the fish on its own, enjoying the taste of the fresh tuna.  The beef was similarly cooked (extremely rare) which is perfect for me.  It too, was so tender and juicy and full of flavour and the sauce that it came with really gave it a kick.  These dishes showed off the quality of the ingredients to the max and you can tell that Ottolenghi's Restaurant really cares about sourcing great food.
All the cold dishes finished, it was time for the hot ones.  First up was the Char-grilled Octopus with Rose Harissa, Golden Raisins, Tapenade and Kale.  The octopus was so sweet and tender and I loved how it was cooked with the Middle Eastern flavours.  I love harissa and tapenade so this one was a no-brainer.  The kale was nice and tender and not tough as it sometimes can be, and the raisins added a touch of sweetness to the dish.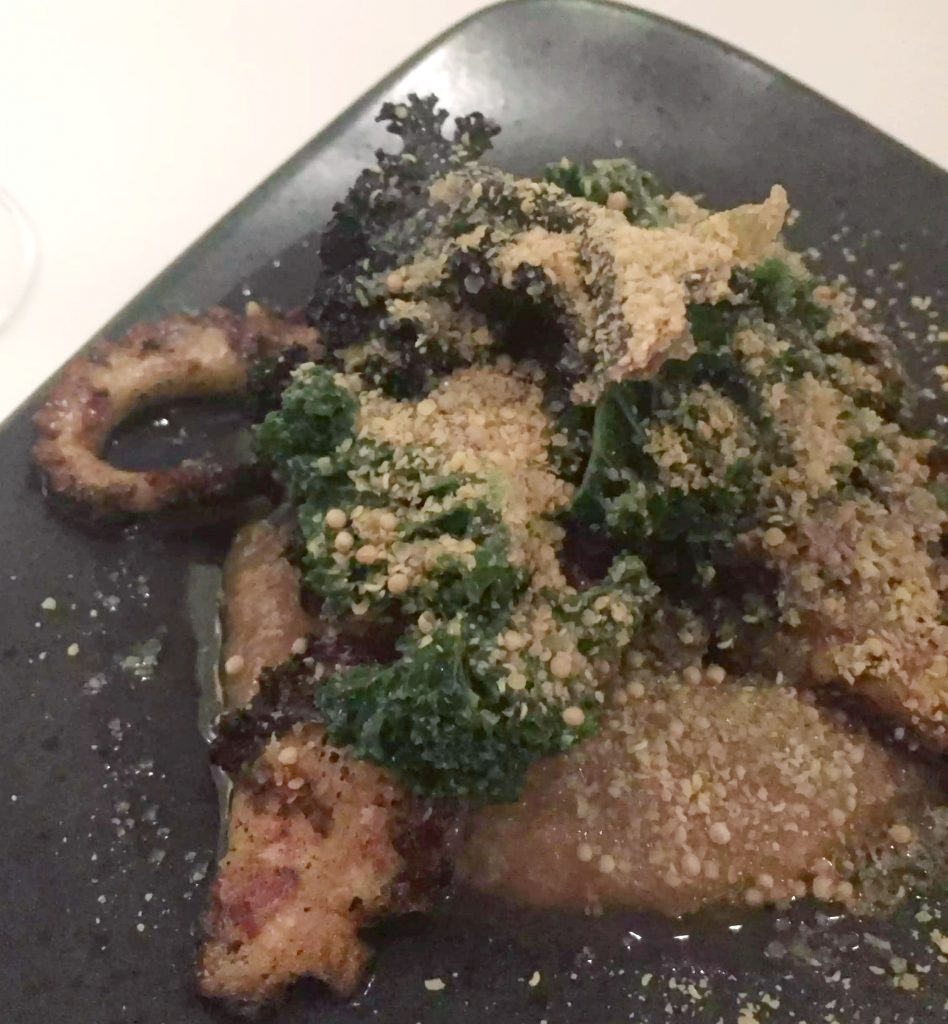 Finally we'd ordered the Smoked Lamb Rump, Charred Hispi cabbage, Dried Shrimps and Oregano.  The one Dan had been waiting for!  The lamb was beautifully tender and cooked nice and pink and the fresh oregano sauce was delicious.  A dish well worth waiting until the end for!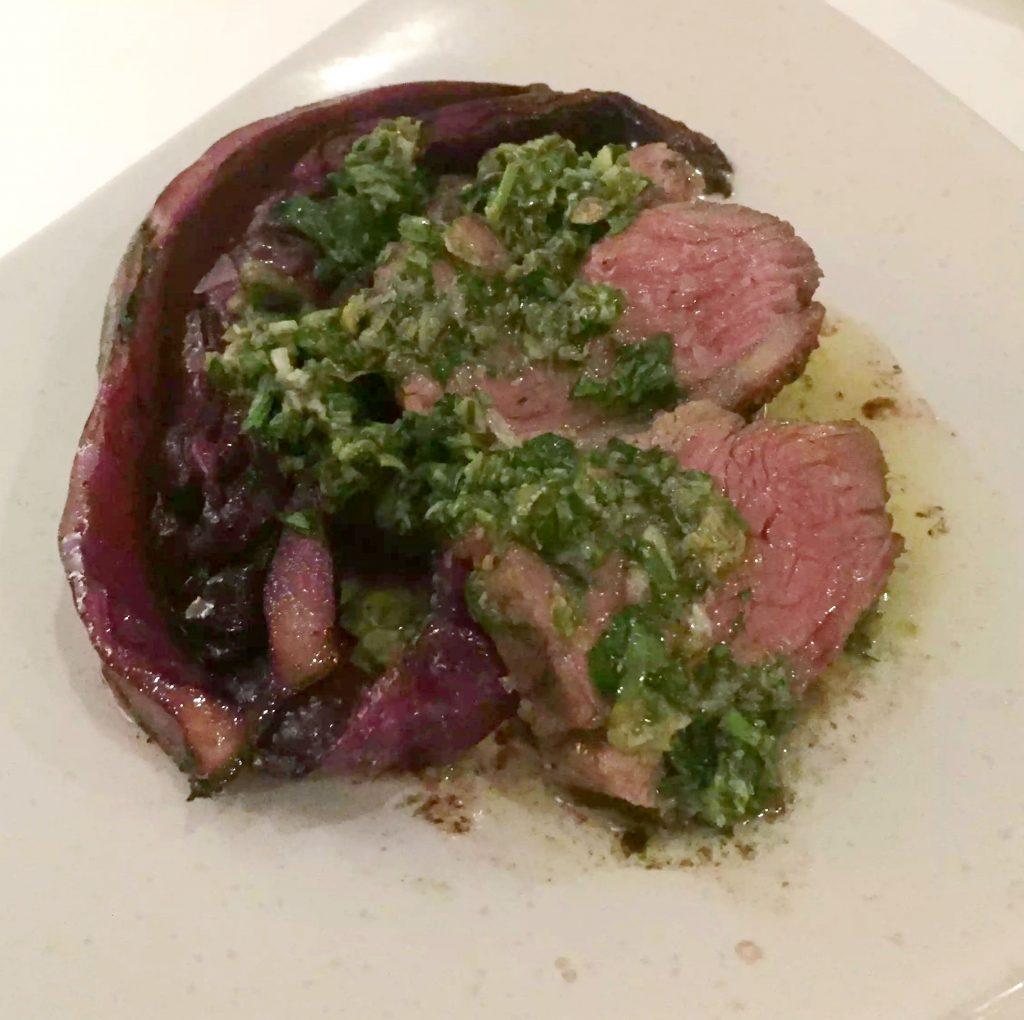 Feeling full, we decided to finished with a whisky each to relax before it was time to leave.  We both agreed that all the dishes had been very inventive and that the flavour balances were spot-on.  It really was one of the best and most different meals I've had in a long time.  I'd come back for the aubergine dish alone and now that I know they sell it as a take-away I'm going to be here every weekend stocking up. Ottolenghi's Restaurant also does a fabulous brunch but you can't book and it gets busy so get there early!  We're going to give it a go sometime soon so watch this space for more info…
Pin it for later