Madrid is such a gastronomic city with a huge tradition of cooking and eating, and the Madrilenos really know how to enjoy their food.  The best restaurants in Madrid that I have visited are the authentic Spanish ones with long histories attached to them.  They've managed, because of their long-standing reputations, not to have to cater to the tourist crowd, but to provide honest, authentic Spanish dishes in a traditional setting and environment.
I've been lucky enough to eat in all of these restaurants and each one had its own uniqueness and charm.  I would recommend ordering the House Speciality in each one – there's a reason it's called that!  They have perfected the dish over many years and I guarantee you wont be disappointed.  Read on to tempt your taste buds with some amazing dishes…
Any list of the Best Restaurants in Madrid, just wouldn't be complete without this first one.  This had to be number one on the list as not only is Botin one of the oldest restaurants in Madrid, but it is also the oldest restaurant in the entire world that is still running – certified by the Guinness World Record Association.  There's a plaque outside on the wall confirming it.  It opened in 1725 and has been running ever since.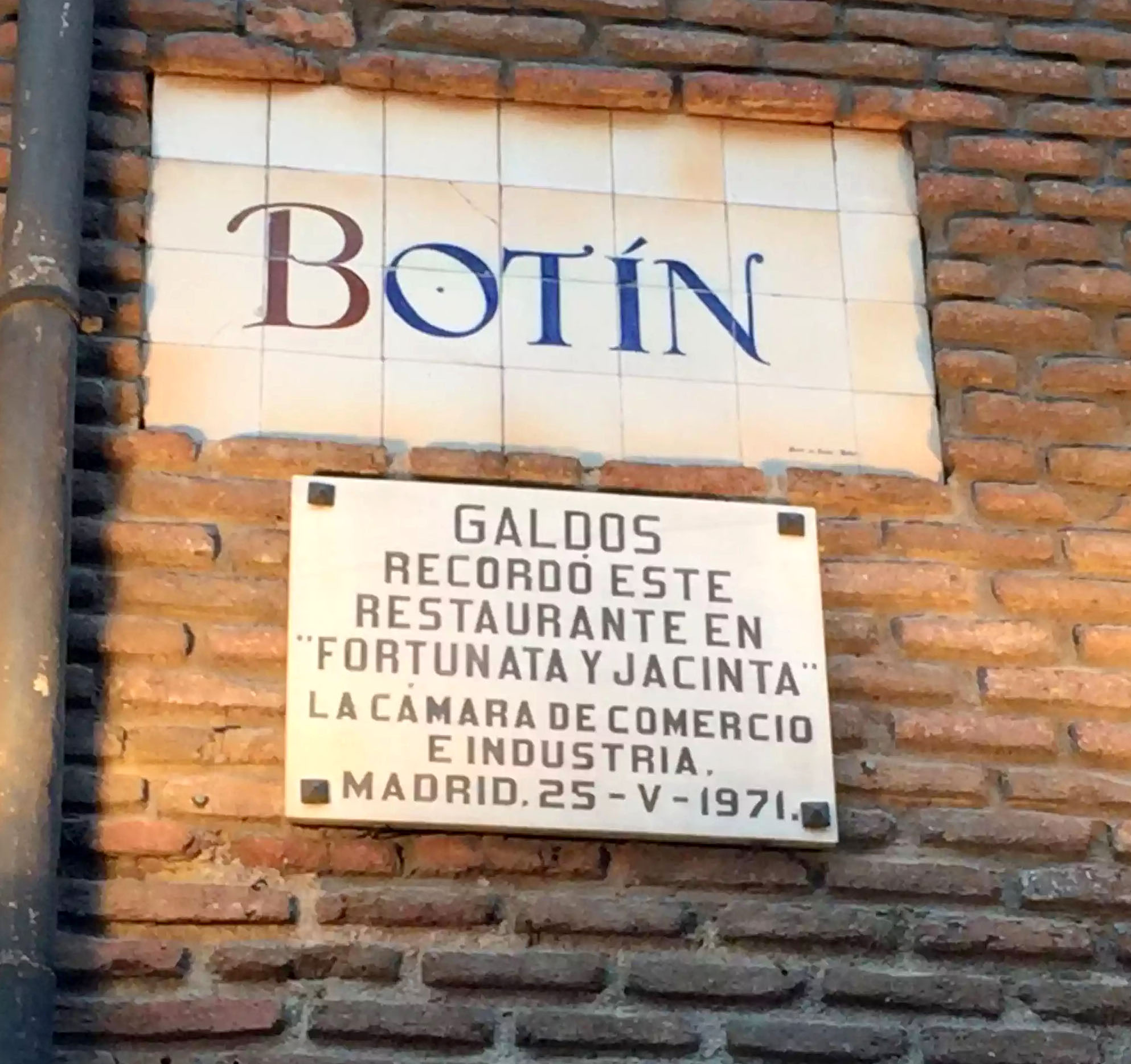 I'm lucky enough to have been there twice – once with Dan and once with my mum which you can read about here.
My top tip for the best table in the house is to ask for one downstairs in the cellars underneath the restaurant. We had to climb down a tiny staircase behind the bar, but were rewarded with the most amazing dining room.  You are literally eating in the cellars of the restaurant and they have absolutely stunning vaulted ceilings, exposed brickwork and such an authentic feel.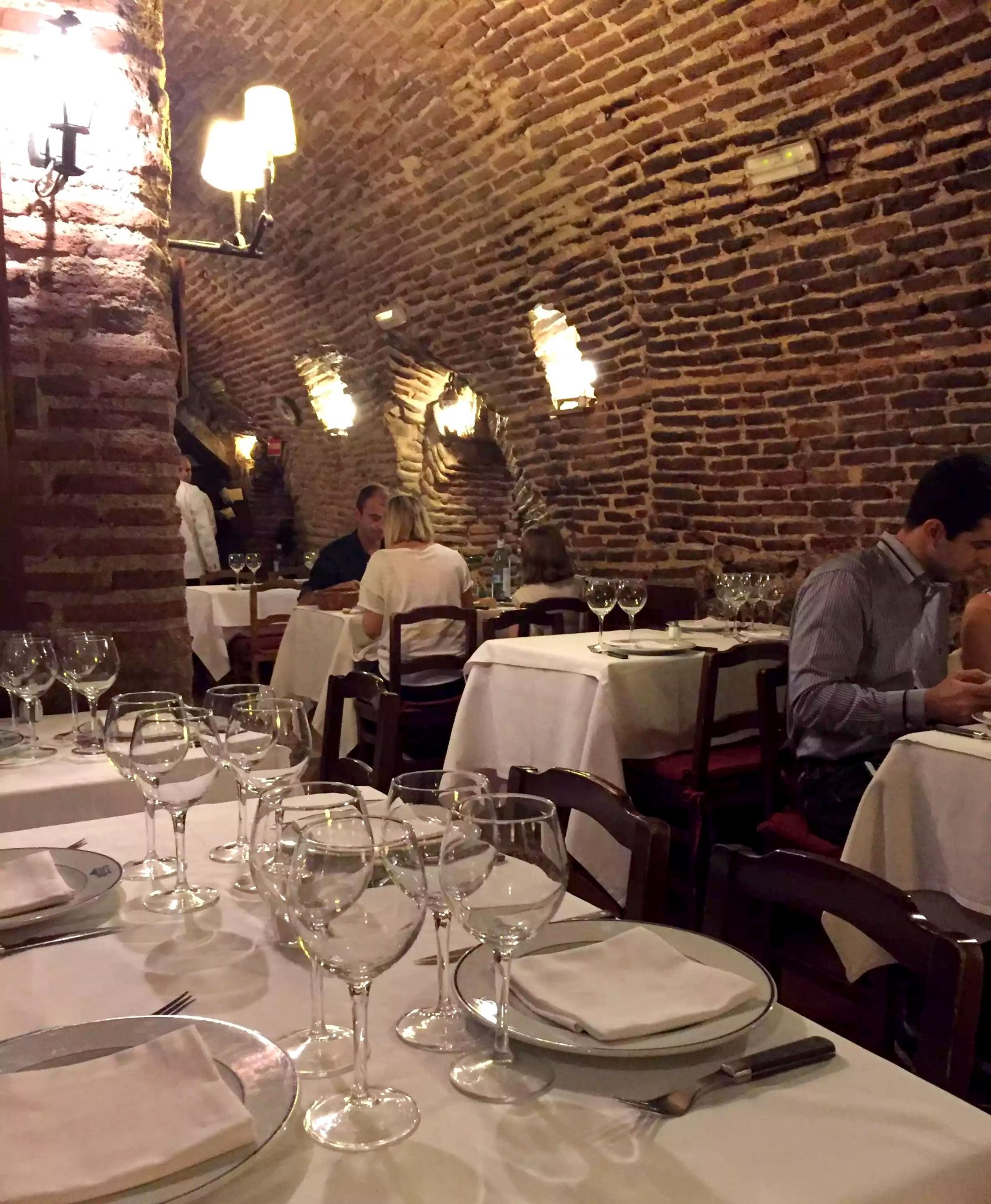 If you're lucky they'll let you go down even further into their wine cellar where you can see bottles with dust so thick that it must have been decades since anyone touched them!
The Starter of Clams Botin is one of my favourite dishes there, so delicious and, it's the perfect light, fresh dish to start off a meal that you know is only going to get heavier because…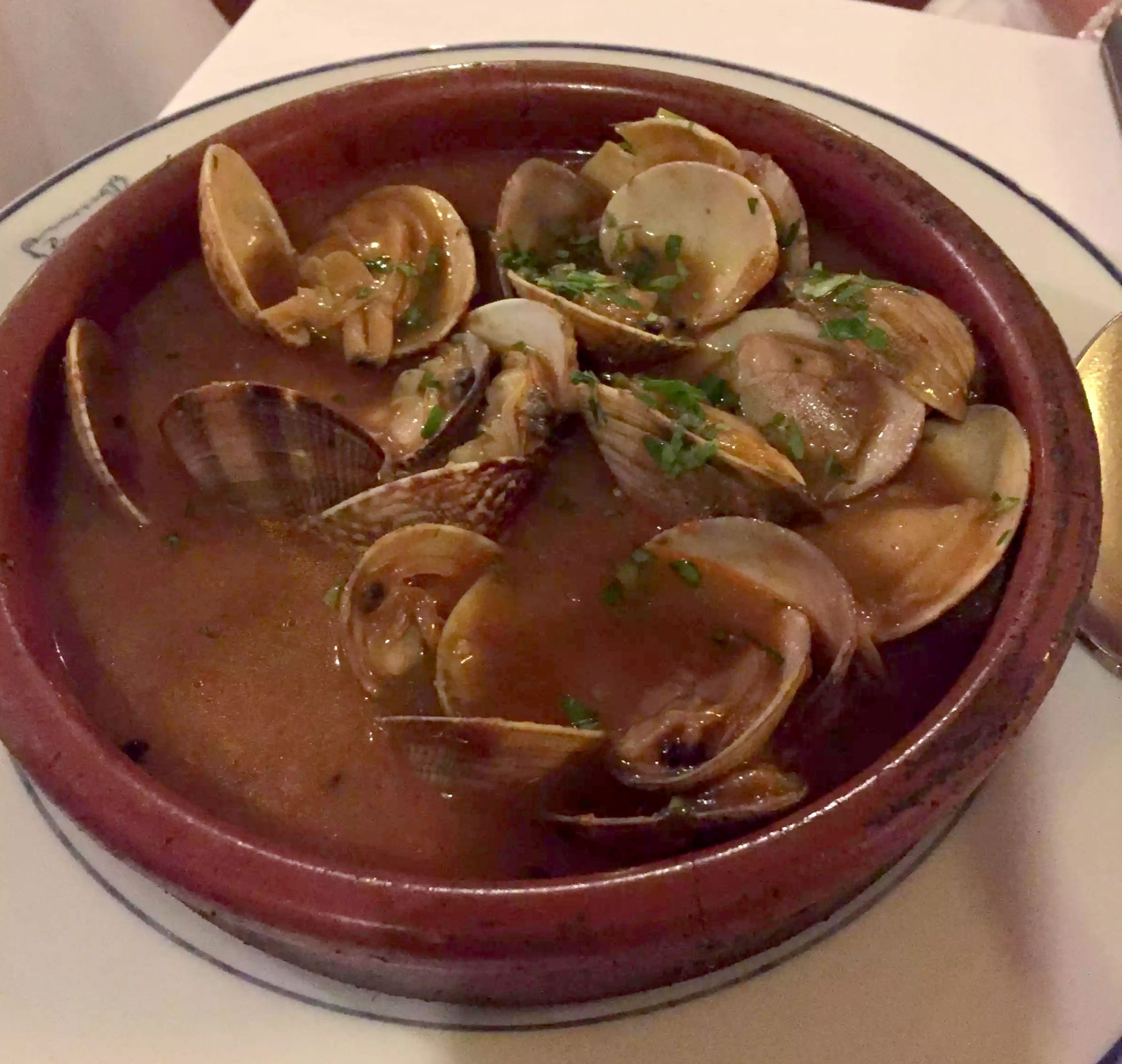 The House Speciality at Botin is the Roast Suckling Pig and it is definitely one not to be missed.  They cook it in their amazing Oak Burning oven in the old traditional way and it is amazing.  Succulent and tender, it really is authentic Spanish cooking at its finest.
Halfway down Calle Cava Baja 'The Tapas Bar Street' in La Latina you'll find this gem.  Frequented by celebrities, (you can see all the people who Lucio has been photographed with at the restaurant on the website – Eva Longoria to Will Smith, to Tommy Lee Jones and more) it is as much of a hotspot as you get in Madrid.  This celebrity status hasn't ruined the restaurant though as it is still as traditional and authentic as the day it first opened.
Casa Lucio is well known for its steaks, but the most famous dish is the fried potatoes topped with an egg – Huevos Estrellados.  When we ate there we had the Padron Peppers and a big steak to share and Dan had the Huevos Estrellados alongside.  He raved about it so much that I was so jealous that I couldn't eat any of it.
Another Speciality is the Cocido madrileño – a Spanish white bean stew, very traditional in Madrid.  I haven't had the chance to try it yet but it just gives me a great excuse to go back there someday.
Also on Calle Cava Baja, in La Latina, this is a restaurant that I took my mum to when we went on a girl's trip to Madrid.  You can read all about it here.  Another ridiculously beautiful oak beamed, traditional dining room where all the chairs have the names carved into their backs, of famous Spanish Celebrities that have eaten at the restaurant.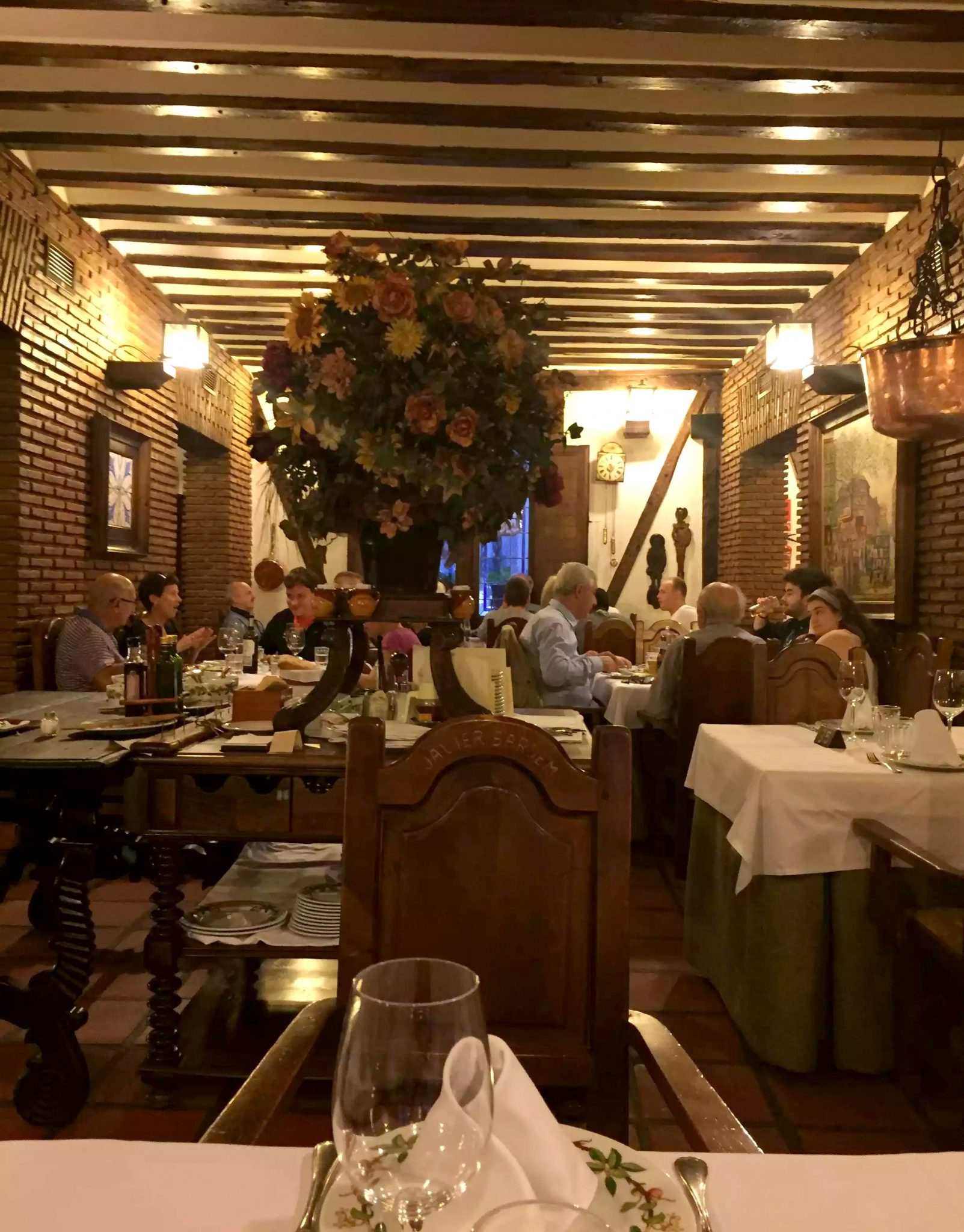 The House Speciality here is the slow roasted lamb cooked in a traditional wood-fired oven.  Mum and I were going to be good and have fish dishes but then the table next to us ordered the lamb and we quickly changed our minds.  We were so glad we did.  The meat was so tender that it just fell off the bone – it really was an exceptionally memorable dinner.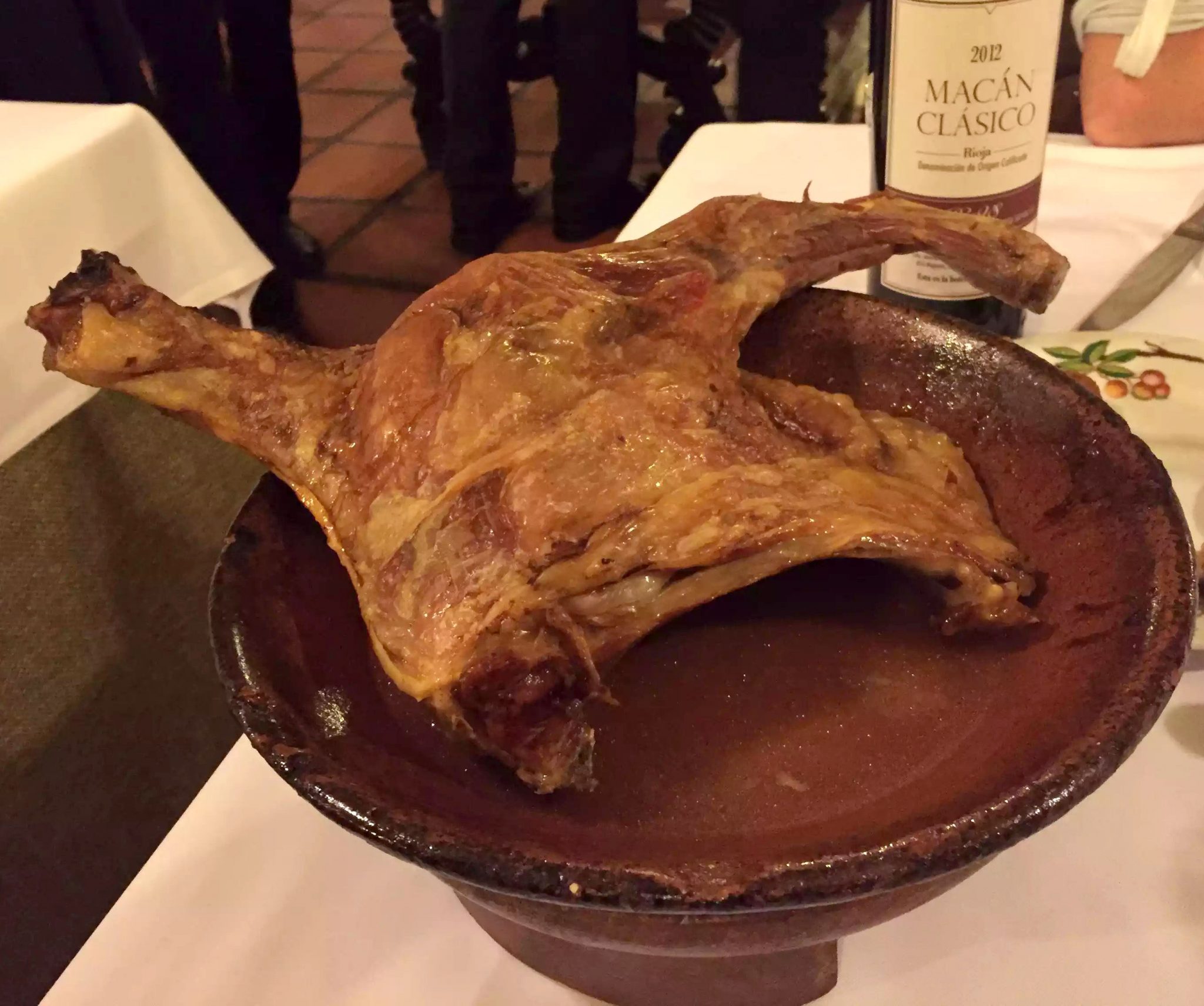 I took Dan here on our last trip to Madrid as it's his Dad's favourite restaurant and he's been raving about its steak for a long time.  You know you're in for a treat when you walk into a restaurant and it's full of locals propping up the bar, not a tourist in sight (apart from us!)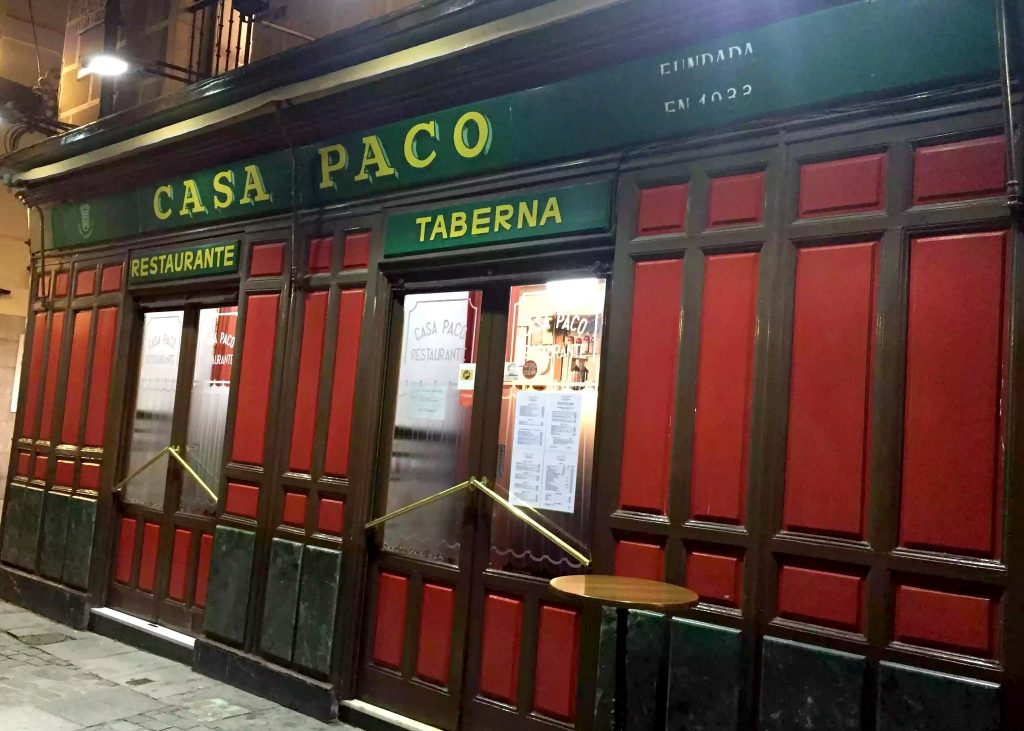 We ordered chorizo to start along with a bottle of wine and some Spanish cheeses and the quality of the produce was outstanding.  So fresh and tasty!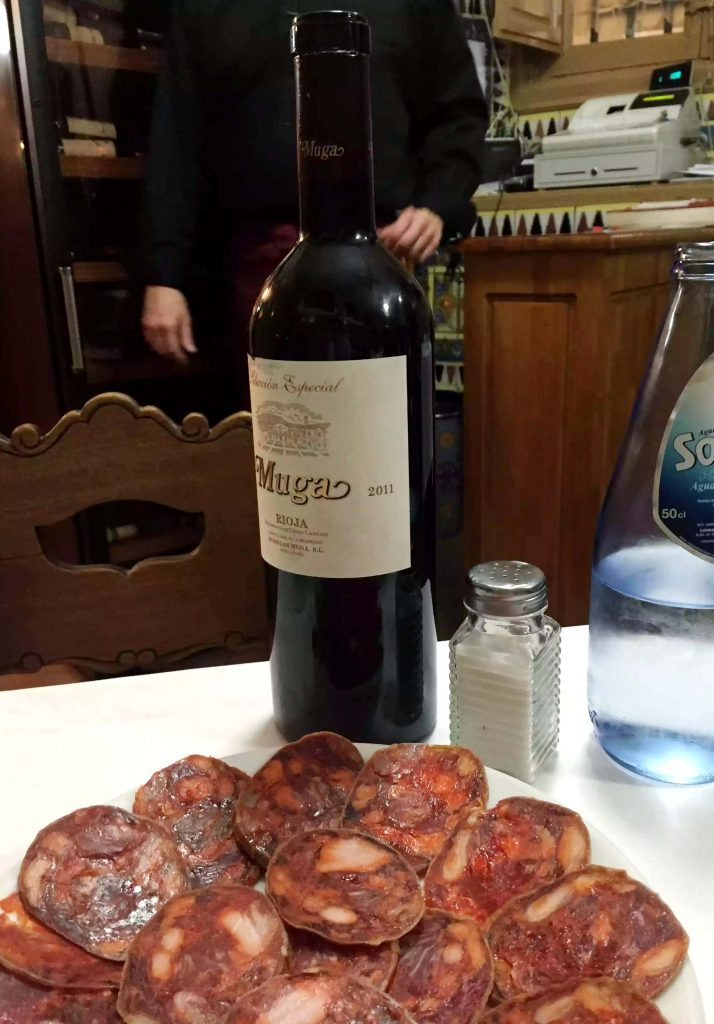 For our main course, obviously, we had to order the steak. There was a choice between the two specialities, the Churrasco and the Solomillo.  We chose the Solomillo for two and were definitely not disappointed.  It was absolutely enormous, more than enough for two people!
The best thing about Casa Paco is that they only cook the steaks halfway, perfectly charring them on one side so that they are delicious and crispy while leaving the other side completely raw.  They then bring it to your table along with a hot plate and you can cook the rest of it yourself to you liking!  Mine barely touched the plate as I like it very rare and it was incredible.  One of the tastiest steaks I've ever eaten and went perfectly with the Pisto, another of their Specialities (a sauce made from cooked tomato, onions, peppers etc)!  I truly believe that for steak, this is genuinely one of the best restaurants in Madrid.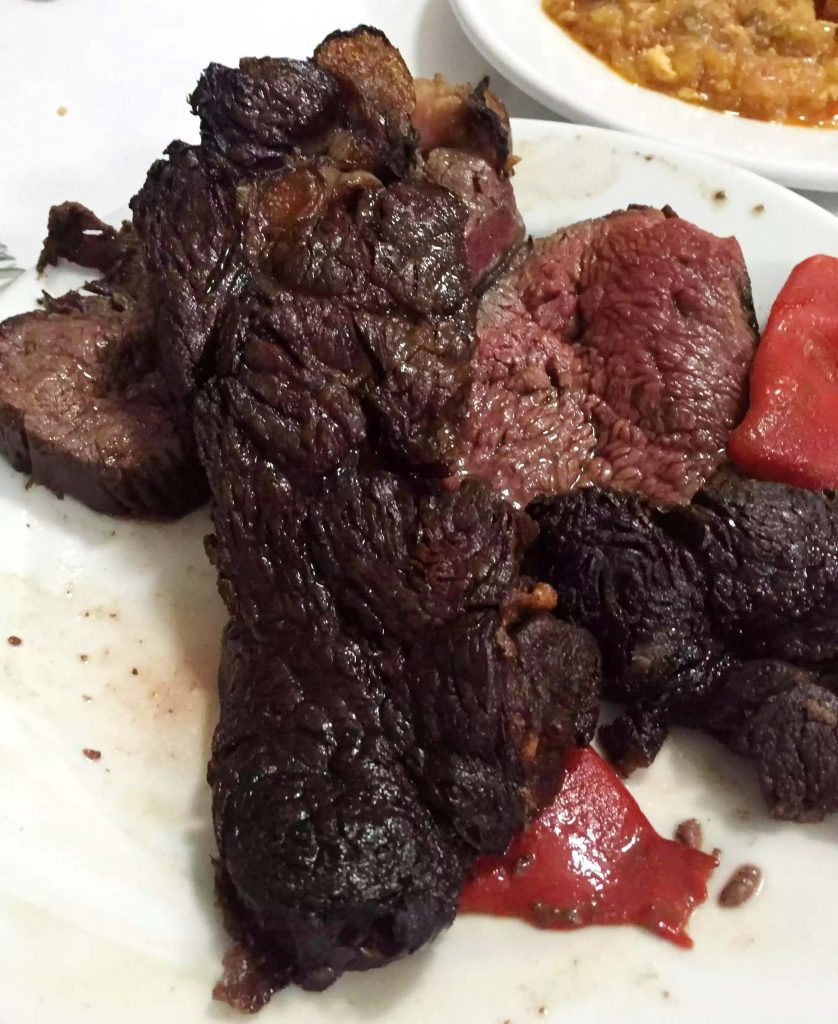 You can read all about our Casa Paco dining experience here.
So there you go, four of the Best Restaurants in Madrid.  I'm convinced that if it's authenticity and traditional Spanish cooking that you're after then one of these options is definitely your best bet.  Avoid the tourist traps and head to the restaurants that the locals actually eat at – you wont be disappointed!  ¡Buen apetito!
Pin it for later