Catch up on Madrid Day 1, Madrid Day 2
This morning was our last in Madrid, and we decided to do what most Madrilenos do on a Su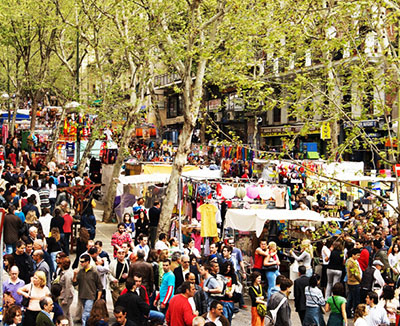 nday morning which is head to the El Rastro, flea market to wander around the stalls in the sunshine.  I didn't realise it would be so huge; there must've been a least a few hundred stalls, all selling clothes, shoes, souvenirs, craft products, sunglasses, everything you could imagine and you could barely move for the amount of people walking around.  It really was a sight to see but we didn't find anything for us so wandered all the way across town to the Westin Palace where my other birthday treat was waiting for mum.
I'd booked us into their Opera Brunch which is a buffet brunch complete with opera singers who walk around the tables as they sing.  The building was magnificent and we were shown to our table in a room with the most beautiful glass dome above us.
Told to help ourselves to the buffet, we were gobsmacked at the food on offer.  I'd read somewhere that there were over two hundred dishes available and this wasn't an exaggeration.  There was every food you could ever imagine wanting to eat on offer and all so beautifully presented.  There was cheese, salads, cold meats, lobster, crayfish, paella, steak, eggs benedict, roast beef, smoked salmon, mussels, foie gras, vegetables and the most beautiful canapés including everything from guacamole to savoury cheesecake, to gazpacho and so much more.  We were in foodie heaven!
Starting with the salads, cold meat and cheese I piled my plate high and headed back to the table where the waiter was offering us drinks, which were all included as well, so it was free flowing Rose Cava for me and wine for mum!  The food tasted as good as it looked, everything was absolutely delicious.
As we began to eat, the opera started and it was just mesmerising.  A soprano and a tenor serenaded us throughout the whole meal and it sounded amazing, especially in that room with the fabulous acoustics.  Nessun Dorma was a particular highlight.
We went back for seconds and this time i had some of the steak, and Eggs Benedict, minus the toast, and some more of the delicious salads (and a cheeky bit of foie gras).  By this point i was absolutely stuffed, but then there was dessert.  Again, these were so beautiful it was a shame to mess up the display, and they weren't all that there was.  There was also a chocolate fountain, fresh fruit, an ice cream station!  I had greek yoghurt with fruit and mum helped herself to some more cheese!
it worked out at about 75 euros a person which i though was extremely reasonable considering you could've eaten Lobster and drunk Cava for 3 hours straight with entertainment included.
We walked back towards the centre of town and wandered in and out of some shops having a look around.  The whole town was buzzing as it was the football cup final between Barcelona and Seville and there were plenty of football shirts everywhere!  On our wander i suddenly saw this sign…

which is a new favourite of mine.  In Spain, they drink it as an aperitif and it's quite herbal in taste and I got into it on my last trip to Madrid.  I didn't want to leave without having one so we found a spot in the sun and ordered drinks.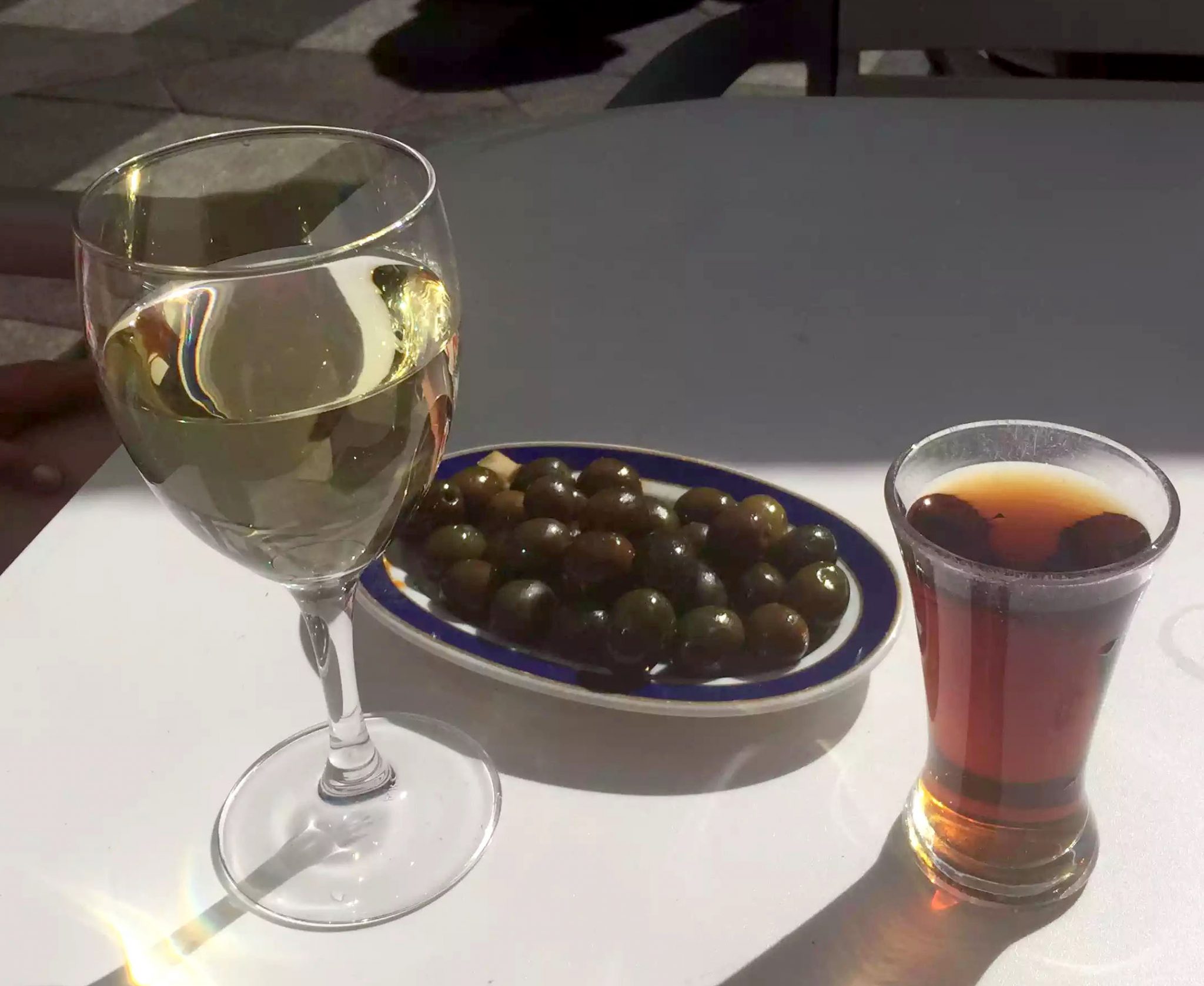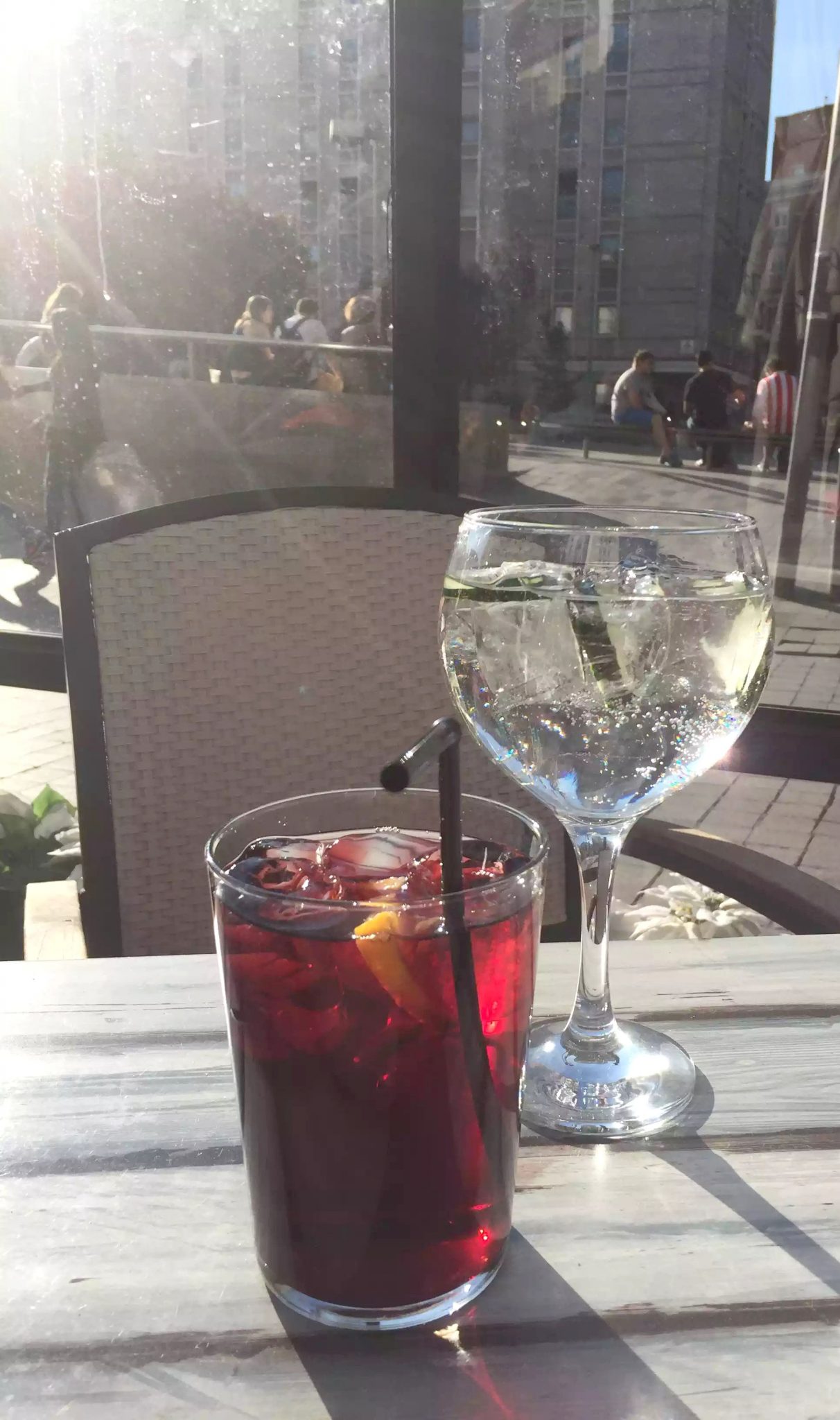 Nearly time to leave, we wandered back to the hotel, via one more sunny terrace and then it was off to the airport for the trip home!
Also see…Madrid Day 1, Madrid Day 2