See also Madrid Day 2, Madrid Day 3
Wow, so I've just come back from an amazing 3 days in Madrid with my mum to celebrate our birthdays, and what an amazing trip we had.  Perfect weather, lots of walking, sightseeing, fabulous food, amazing wine and a few special treats for my mum thrown in made sure that we had a fantastic time.
We arrived very late on Thursday night (mainly because the Friday was my mum's birthday so I wanted her to be able to wake up in Madrid on her birthday morning) so we didn't arrive at the hotel until almost midnight.  We were staying at the Hotel Life in the Malasaña District of Madrid, very close to the centre.  The hotel was a boutique hotel, designed in a very eco-friendly, stark style inspired by wood and space and it was very bright and clean and suited us perfectly.
We had to go out and celebrate the start of mum's birthday so we wandered around our neighbourhood until we found a cute bar to go and have a drink in. Madrid was still rocking at 1am on a Friday morning, (nobody eats until 10/11pm and then they go out afterwards) so although a glass of red and a rendition of Happy Birthday at 1am was fairly surreal, we didn't feel too out-of-place.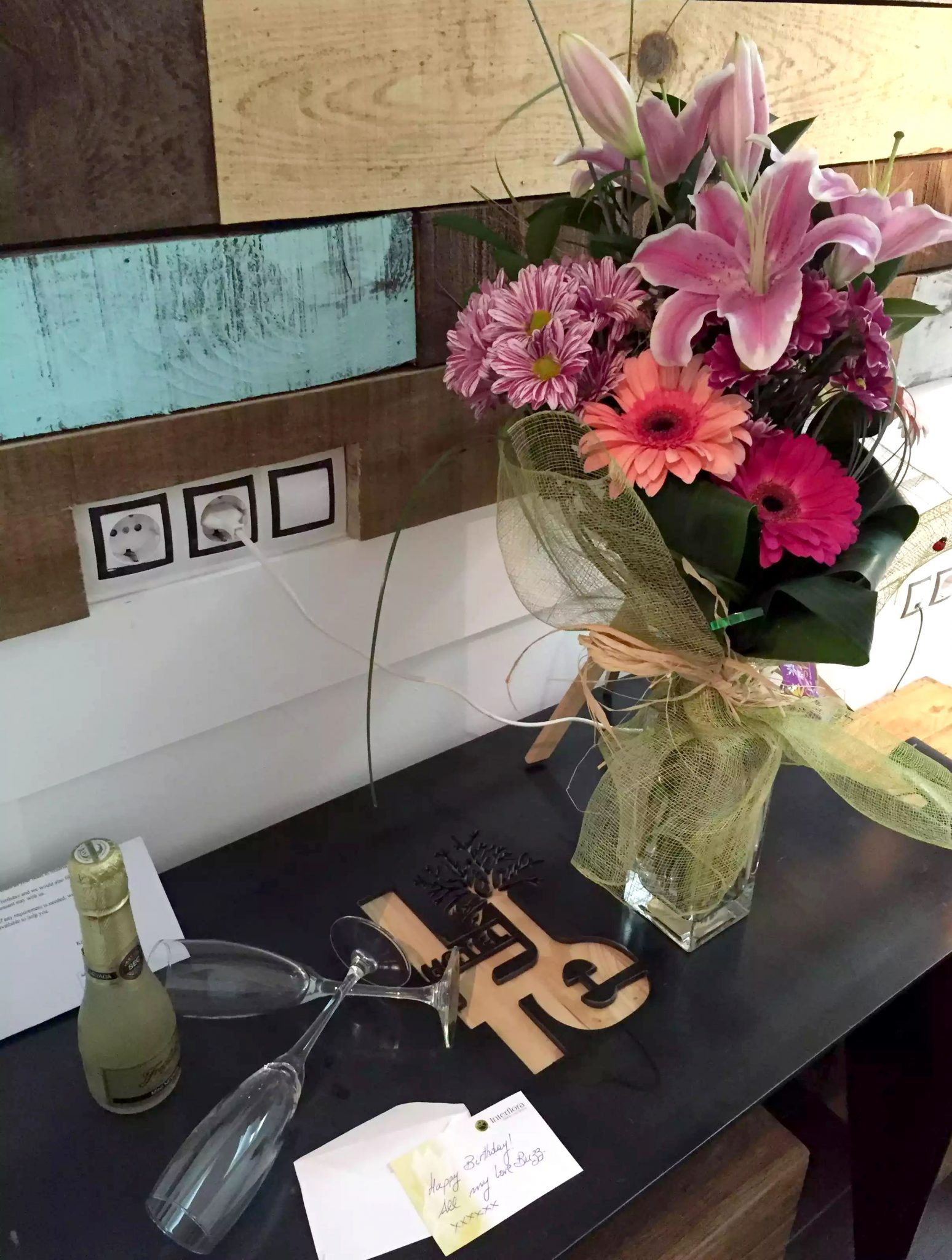 The next morning we woke up fairly early – my dad had had some flowers and Cava delivered to our room for mum's birthday (he's very romantic like that) which were stunning and he'd secretly slipped a card into her luggage and I'd bought a card with me so she started the day well!  I love researching and planning itineraries for 'what to do on holiday' so I filled mum in on our plans for the weekend, and today was going to be a whistle-stop walking tour of the sights!
We left the hotel to beautiful blue skies and amazingly hot and sunny weather, perfect for a walk around the city and headed through the Plaza d'España, surrounding a beautifully ornate fountain, to the Parque del Oeste, which comes complete with a 1200 year old Egyptian Temple, gifted by Egypt in return for Spain's help in protecting some of its temples which had been threatened with destruction, and re-assembled in the middle of Madrid!
Then we walked to the Cable Car station nearby and took a gondola all the way to the top of Casa do Campo, a big hill/park just outside the city.  It has the most amazing views of Madrid from the top so we stopped to take some photos and admire the view.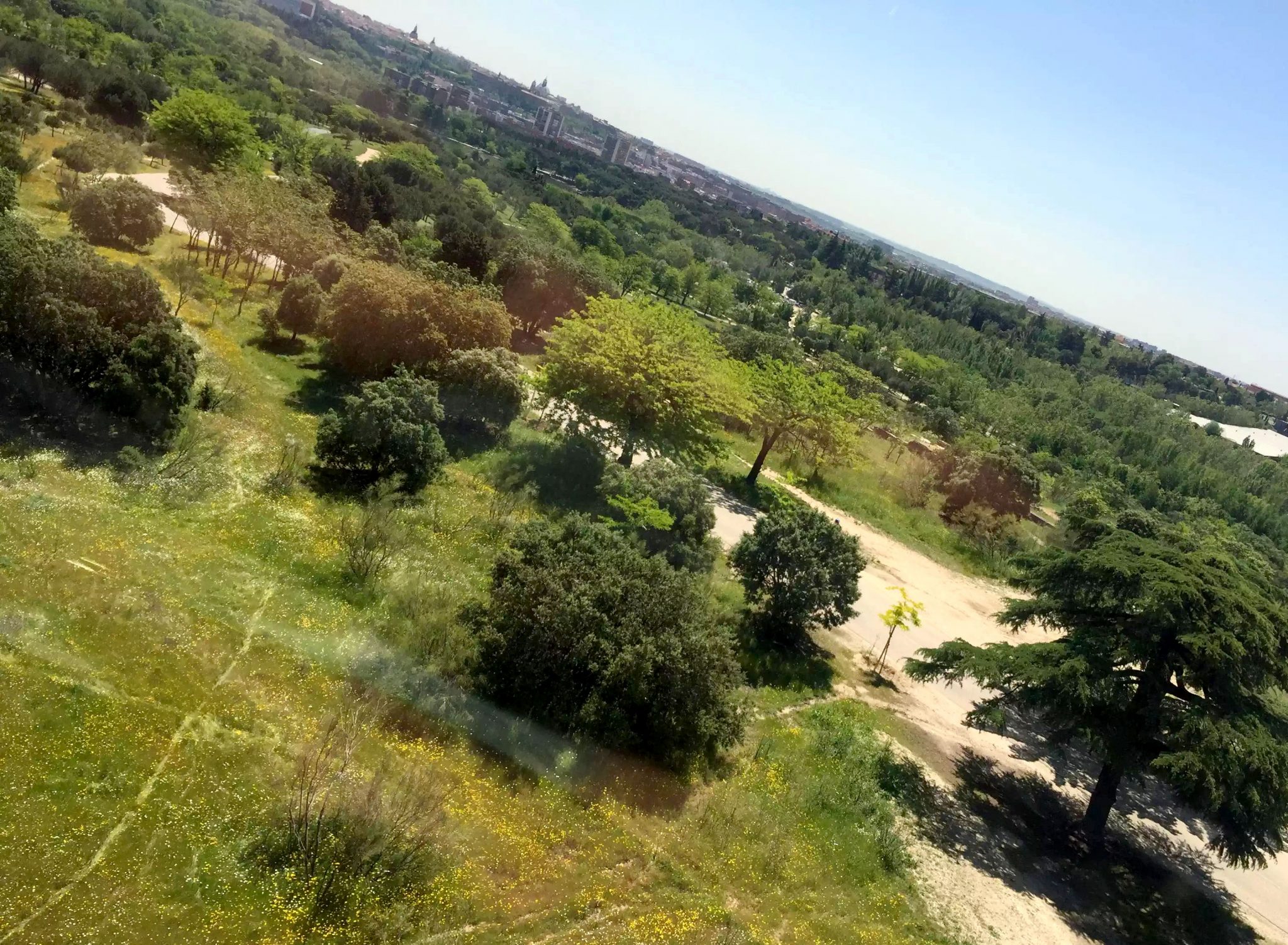 While Mum was taking photos, I secretly pulled the SCD Carrot Cake Muffins that I'd made her from my bag, borrowed a lighter from a lady nearby, and presented her with her birthday cake, looking out over the whole of Madrid, singing to her for the second time.  She was very touched with the effort I'd gone to, and thrilled about the muffin, which she said tasted absolutely delicious and provided some well-needed sustenance for the long walk back into the city.
We walked back into the city through Casa do Campo, a well-known, mountain biking, hiking and fitness trail spot for the locals, and both agreed it was so lovely to have a park so large and unspoilt just on the outskirts of the city.  There was no traffic noise, wildflowers growing everywhere and it was beautiful.  After about 30mins and as we neared town we came to the big lake and decided to stop and have a glass of wine and enjoy the view.  The wine was crisp and refreshing and very welcome under the hot sun, and came with a small plate of Paella (that we couldn't eat so we sneakily fed it to the birds – who loved it)!
We continued on, heading for the Palacio Real de Madrid in the distance and ended up in another pretty park, just on the outskirts of the city, as we crossed the river.
One area had a cute fountain that reminded me of the scene in the Sound Of Music (my favourite ever film by the way) so I had to take the obligatory dancing round the fountain photo! "Do you mean to tell me that my children have been roaming around Salzburg dressed in nothing but some old drapes?" – Love that film so much!!
After about 40mins walking (not including all the photo stops and the wine interlude) we reached Madrid and headed to the Palacio Real de Madrid and its beautiful gardens.  It really is a breathtaking building.  Much larger than Buckingham palace but in a similar style.  And the gardens were beautifully manicured and we had fun playing in the mazes.
Next we headed to the Mercado San Miguel , one of my favourite places in the city.  It's a huge undercover food market, selling every kind of Spanish food imaginable, to eat there or take away.  There are stalls selling cheese, jamon, sushi, fruit & veg, ice cream, tapas, tortillas, croquetas, smoothies, olives, nuts, oysters, seafood, wines, sherry and so much more.  I love wandering around and buying one thing from each stand and enjoying it at the stand up tables in the centre.  It's always buzzing and full of people and the atmosphere is amazing.  Edit: I wrote about this market and a few others in my Round-Up of the Best Food Markets In Madrid.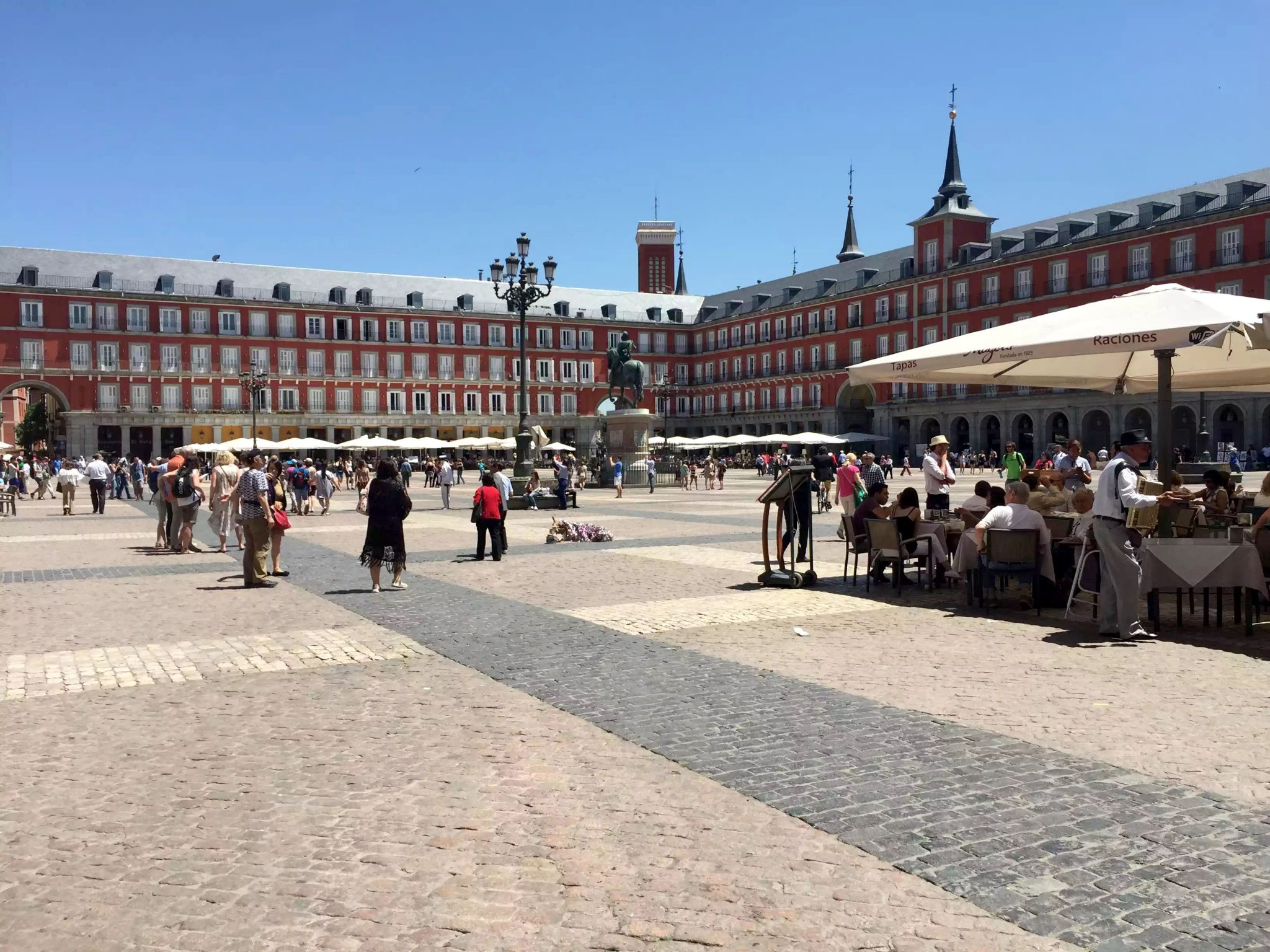 We walked around and couldn't resist some olives, but we decided that actually, after all the walking that we'd done that we needed a sit-down to eat so we wandered through to the majestic Plaza Mayor for a bit of lunch.  It's an amazing square and I always love visiting it for lunch or just a drink in the sunshine and to people watch.  The food is more expensive than in the little Tapas Bars as it's a bit of a tourist trap, but it was a beautiful spot so we wandered around and chose our favourite from the many restaurants on offer.  We settled on El Soportal as it looked the nicest, and had the lightest food on offer.  We ordered a mixed Spanish cured meat platter to share, which was delicious, with jamon, bresaola, salami, chorizo and a bit of manchego on the side.  I ordered a lovely bottle of Albarino to have alongside it which was very welcome in the heat of the afternoon sun.  We both soon realised that we would probably have been quite happy with just the meat to pick at but then our main courses arrived, a huge plate of Prosciutto with Melon for mum and a goat's cheese salad for me.  Having said we weren't hungry anymore, we both still managed to polish off our mains and mine was fantastic, a huge slab of creamy goats cheese on top of a salad of lettuce walnuts and raisins (and croutons which i picked out) all topped off with a sweet balsamic dressing.  We had major food envy though when the next door table ordered one of the hugest paellas that I've ever seen!!
Feeling refueled we headed off in search of an area that I'd noticed last time I was in town.  I came across it completely by accident on my last trip but it's an area devoted to wholesale buying and as my mum has a fashion accessories business, WishList, we thought it might be worth a look (or maybe a trip back in the future).  Normally we do our foreign buying in Paris but after wandering around some of the shops, it looks like Madrid could be an option too, and we even found the showrooms of some of our current suppliers!
All shopped out, we decided to go for one more drink before heading back to the hotel to get changed for dinner.  The drink was really just an excuse to show my mum my favourite Square (Plaza Santa Ana).  It's much smaller than Plaza Mayor but has a more Spanish and less touristy vibe.  We found some seats in the sun and I ordered a glass of Cava in the bar A Vinoteca to have while we people watched.
After sprucing ourselves up for dinner at the hotel, we decided to do Aperitifs the Spanish Way (with tapas) so we headed to a street called Calle Cava Baja, which is lined on both sides with Tapas Bars as far as the eye can see.  We stopped into one of the first ones and ordered a Rioja for me and a Verdejo for Mum.  They came with a tiny plate with a couple of pieces of chorizo and manchego as a free addition.  I love how the Spanish always give you a tiny tapas portion of something to go along with your drinks, usually, ham, cheese, crisps, olives or small plates of tapas or paella.  In fact, it's considered pretty bad form not to offer anything.  One more Tapas Bar and it was time to head to the restaurant.
Dinner was in Restaurante Botin which has the accolade of being crowned the oldest restaurant in the world, still running in its origial location, by the Guinness Book of Records.  Founded in 1725, it's nearly 300 years old.  I booked it, having been there before, as a special treat for mum, and because I knew the food was suitable for her diet.  Lots of plain grilled meats and fish would be perfect for her.
We walked in and the host pointed us in the direction of our table.  We thought he was joking, as he was pointing behind the bar, but on closer inspection, there was a tiny staircase, heading down to the basement room where we had been put for the night.  Well, we definitely lucked out!  I had asked for a table downstairs when booking, as before, we'd been on the first floor and I'd heard that the ground floor had more atmosphere, but the misunderstanding meant that we ended up in the cellar which was amazing.  All vaulted ceilings and open brickwork and definitely the place to be (even more so if it was a romantic meal you were going for).
We ordered a bottle of aged, white Rioja as I know mum had been dying to try one and it was one of the most amazing wines I've drunk recently.  It was very oaky, which we both love and had notes of honey and toast.  It was delicious and she's been raving about it ever since
Having had tapas and treats all day, we decided to get one starter and go for two mains and a side dish and share them all.  As a starter we picked the clams Botin, which came in a tomato sauce (I think it was the same one the cod was cooked in) and they were huge. For mains, we picked the grilled lemon sole, the cod in tomato sauce and peppers, and the side of grilled artichokes.  We both agreed that the artichokes were the stand out dish.  Everything was delicious but the artichokes were fresh ones, normally I would expect canned, and they paired so well with the salty jamon that we would have been happy with just a plate of those!  The other food was all delicious too, the sole was cooked perfectly and had such a delicate flavour, while the cod was much meatier and the sauce had such a depth of flavour, that they must cook it for hours!
Halfway through the meal, I noticed some steps behind me, leading even further down and it turned out to be a wine cellar where the keep the oldest bottles.  I begged to be able to have a look down there and they obliged as it was mum's birthday.  It was amazing! Some of these bottles must have had decades of dust on them!
Feeling too full for dessert, we asked for the bill, when suddenly one of the waiter's appeared with a huge, complimentary birthday cheesecake for m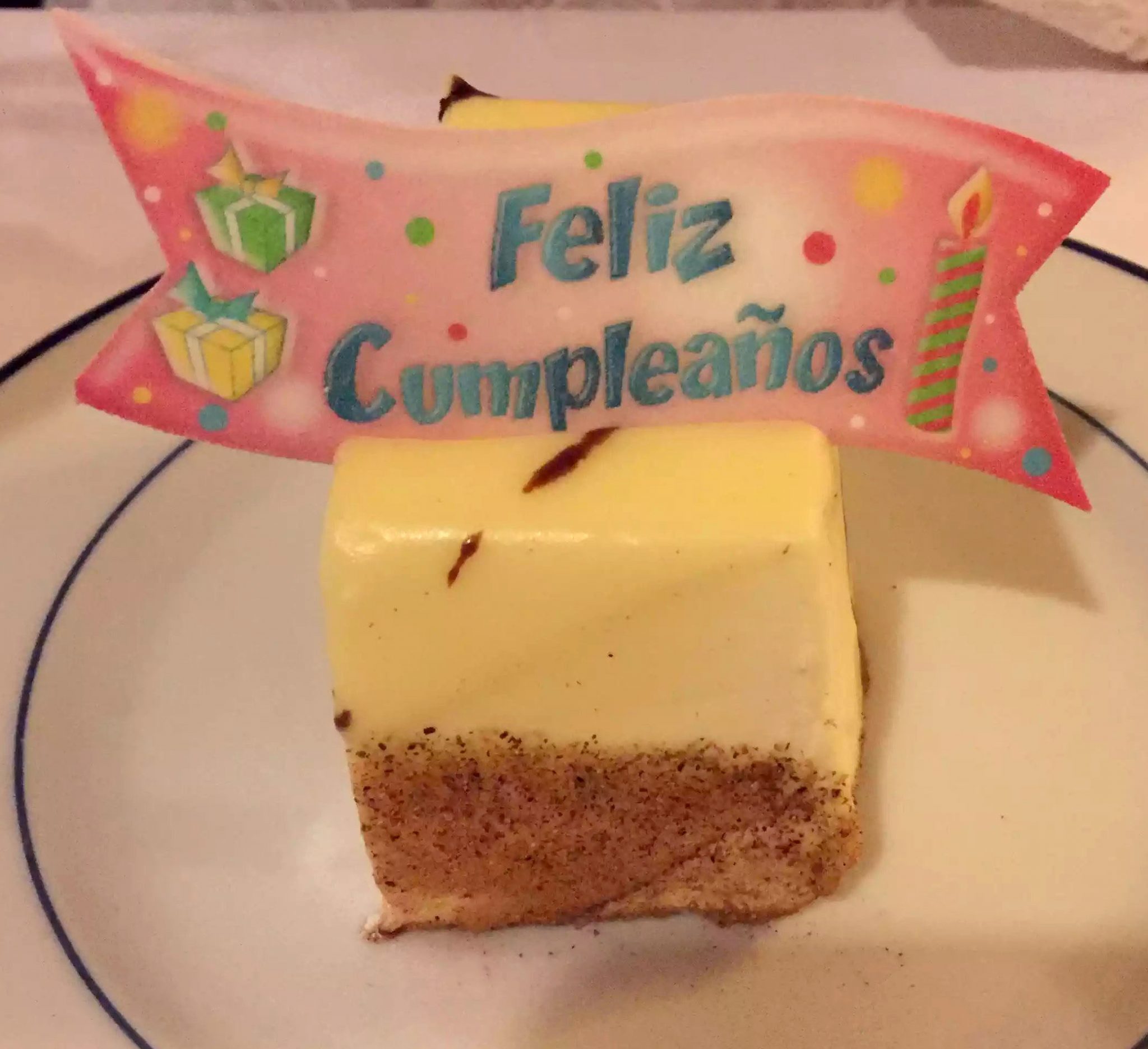 y mum.  We all sung to her (for a third time that day) and the the table next to us sung her Happy Birthday in Spanish which was a really sweet touch.  Not wanting to offend the waiters, I had to take one for the team and have a few mouthfuls of the cake, as it would've made mum sick to eat it.  We then mushed it up a bit so it looked like we'd eaten more.  It was a very sweet thought but not one that was of much use to us!
We thanked everybody for a fabulous evening and made our way out but when we got to the stairs they offered to show us their oven that originated from when the restuarant was first open.  It was amazing and it's still the same oven they use to cook all the Botin Specials in today – which I could see lined up on the shelves (namely shoulder of lamb and suckling piglet.  We felt like we'd had such special treatment, eating in the best dining room, getting a tour of the wine cellar, cake and then seeing the kitchen, it really was an amazing experience!
Not wanting to end the evening as we were having such a great time, and not being able to eat the cake had given mum an appetite for dessert, we decided to head back to the Mercado San Miguel for a cheese plate to share.  It was delicious, and we wandered home exhausted and definitely ready for our beds!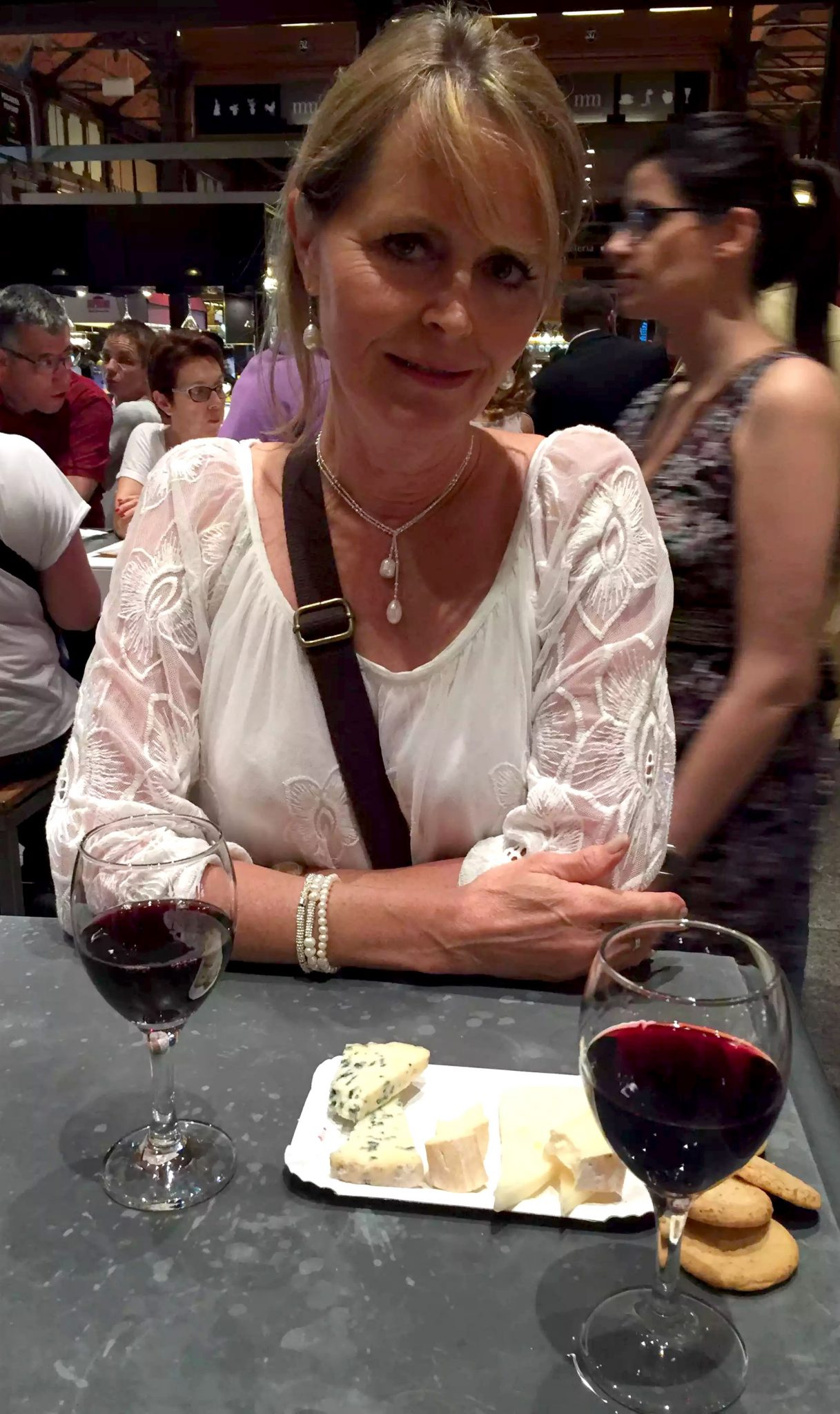 See also Madrid Day 2, Madrid Day 3
Pin it for later