Today I'd been invited to try the menu at Iberica Restaurant.  Normally I take Dan to these things but today I'd chosen to take my mum because she's a big tapas sceptic!  She's only had tapas a few times before but she's never really been impressed.  The first time was at a UK high street Tapas chain (I won't name and shame) and it was enough to almost put me off too!  Oily, greasy and just really bad, she's had a thing ever since that she's just not a fan of tapas.  Since then I've taken her to Madrid to try to change her mind.  Although we had some fabulous food there, it's one of those cuisines that she's never fallen in love with.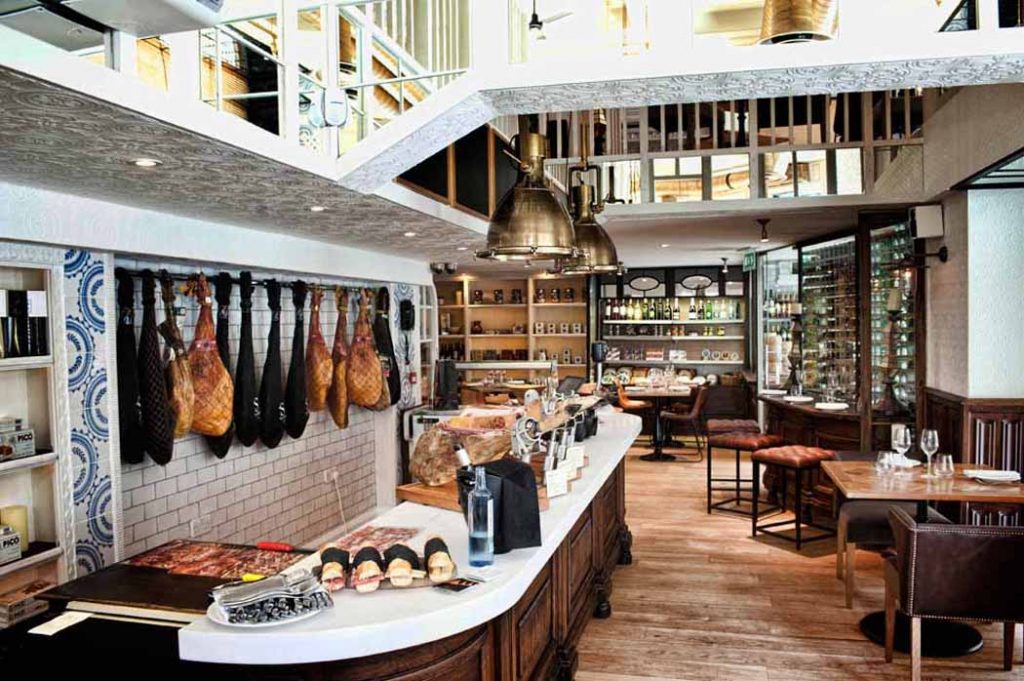 I'm a huge fan of Tapas.  Dan and I love to travel to Spain and have visited Madrid, Rioja, San Sebastian, Cadaques and many more places.  I love tapas done properly because I like the idea of sharing everything on the table with your friends.  It means you get a small taste of so many different flavours in one meal.  The quality of the food and produce can be exceptional and today, with the help of Iberica Restaurant I was hoping to show my mum what she was missing out on. 
We'd been invited to their flagship restaurant on Great Portland St.  We wandered in and were quickly shown a nice light, airy table by the window.  When we sat down we were offered a plate of olives (both of our favourite!)  Taking a look at the wine list  we decided to order a bottle of red.  I like my oaky Riojas so I asked the waiter to recommend a heavier oaked wine.  He suggested the  Torremayor Reserva 2012 (£38).  It wasn't a Rioja as it was from a different region, but it was made with the same grapes,  Tempranillo, and had been oaked for over 3 years.
The wine was well structured with red berries and oaky aromas of vanilla and a creamy aftertaste.  Just the thing to hold up to some big bold Spanish flavours.
So on to the menu.  We decided to get 6 dishes between the two of us which should be the perfect amount for lunch.  With both of us unable to eat grains, gluten or sugar, finding one dish on a menu is usually hard enough.  Here we were spoilt for choice!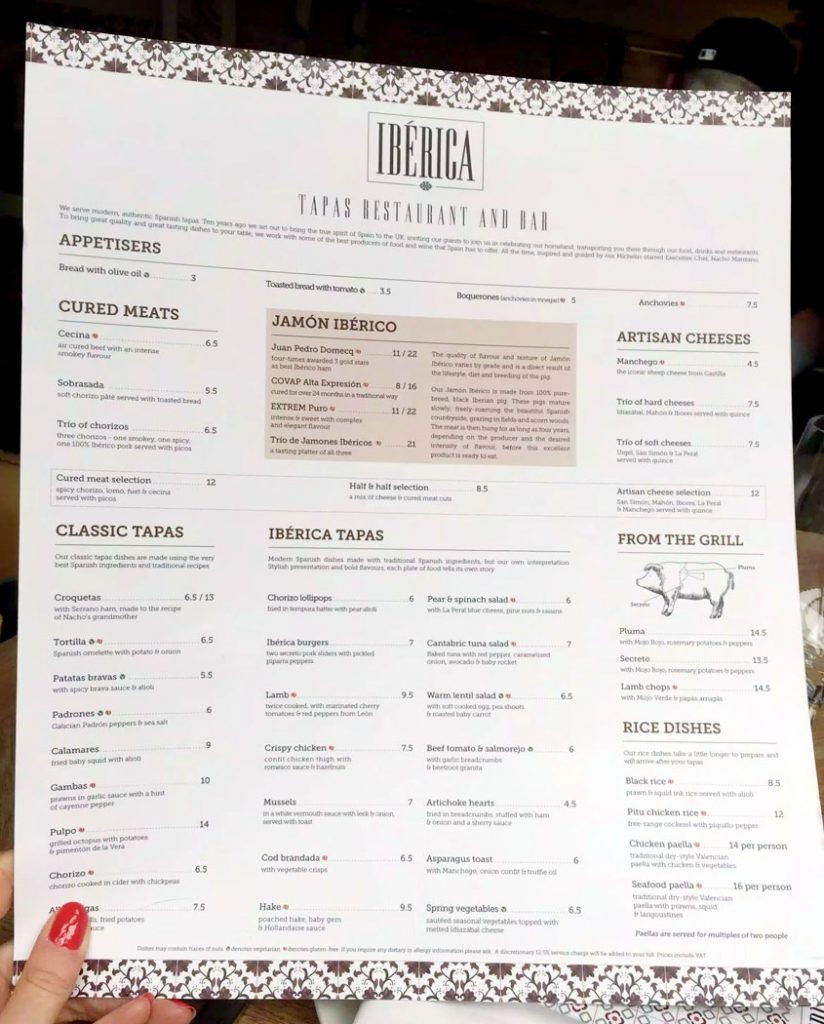 We knew we wanted the Jamón Ibérico.  It's one of my favourites and our waiter explained the options available to us.  They have three different types of Jamón on the menu, available individually, or as a sharing plate containing all three.
Not being connoisseurs, obviously we went for the Trío de Ibéricos (£22).  This meant we could compare and contrast all three types.  The waiter explained that the flavour and texture of the different Jamón is a direct result of the lifestyle, diet and breeding of the pig.   In this case they were free roaming Iberian black pigs, grazing on acorns.  The meat is then hung for up to as much as four years depending on the flavour they are trying to achieve.
The three types looked quite similar when they arrived but being able to compare them side by side meant that we were able to distinguish subtle differences.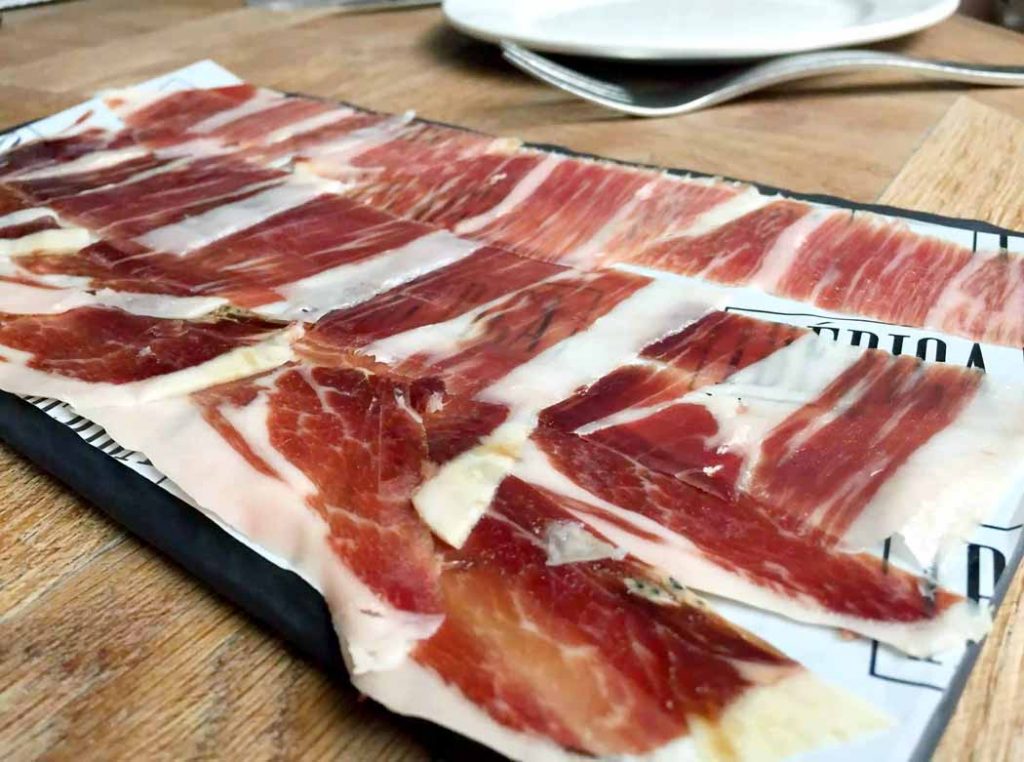 All three were delicious and absolutely melted in your mouth.  One was slightly sweeter and one was slightly nuttier but all were of fabulous quality.
Having loved the Jamón selection we decided on the same approach to the Chrorizo aswell.  We went for the Trio of Chorizos (£6.50).  It contained one smokey, one spicy and one 100% Iberico pork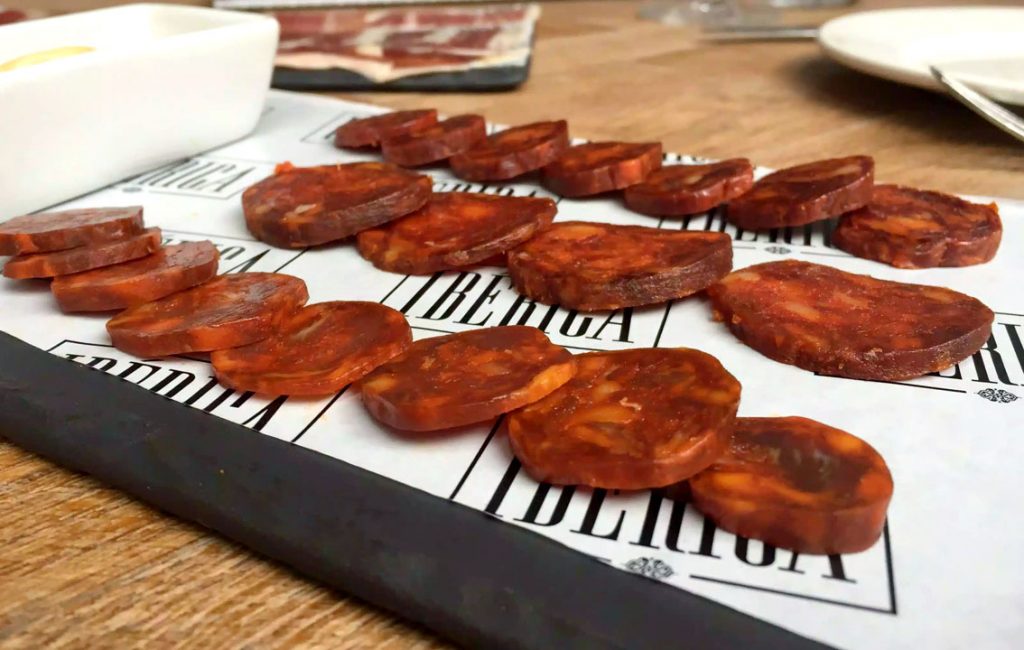 This dish surprised and delighted me even more than the Jamón.  I'll start by saying I eat a lot of chorizo!  I think it's like bacon – everything's better with bacon!  I put it in frittatas, in stews and even in scrambled eggs!  But I've never had chorizo like the ones we were trying today.  The slices were so soft and just melted on your tongue, not hard and chewy like the chorizo I've always had before.   The quality of the produce at Iberica Restaurant is definitely something to be experienced.
The meats went perfectly with the spicy, oaky red wine and we were excited for the rest of the Tapas dishes to come.
The next dish that was brought to us was the Gambas Al Ajillo (£10).  This was prawns cooked in a garlic sauce with a hint of cayenne pepper.  When the dish arrived it was obvious that it was unlike any Gambas Al Ajillo I've had before.  The waiter explained that the chef had come up with a new way of doing the dish.  He had blended the butter and bisque into an emulsion so it wasn't the standard olive oil sauce you would normally expect.  I thought the dish was quite expensive for the 5 smallish prawns that we received. The sauce was delicious though, much richer and less oily than in a traditional Gambas Al Ajillo.
The next dish we tried was the Pear & Spinach Salad (£6).  It came with La Peral blue cheese, pine nuts, raisins and a pesto dressing.  It was a nice light change after 3 courses of pure protein.  This one was great, all my favourite flavours on one plate.  The creaminess of the cheese complemented the slight tanginess of the pesto dressing and I loved the added crunch and sweetness from the pine nuts and raisins!  A perfect salad in my book!
Our last two dishes came out together aswell.  We'd gone for the poached hake and the twice cooked lamb . The poached hake was served with baby gem lettuce and hollandaise sauce (£9.50).  It also came with a purée made from the fish bisque & peas.  The hake had been cooked sous-vide and was done to perfection although the dish was quite cold due to the cooking method.  I imagine this would be lovely for lunch if the sun was shining on a really hot day but today, with the rain drizzling outside it really didn't do it for us.  It was a much more delicately flavoured dish and didn't really stand up to the fabulous, bold flavours we'd already been presented with.
The twice cooked lamb (£9) however was the stand out dish of the day at Iberica Restaurant.  It was served with marinated cherry tomatoes, roasted red peppers and a green pea purée.  The lamb had been cooked to absolute perfection.  It fell apart as we cut into it and melted in our mouths.  The acidity of the tomatoes cut through the fattiness of the lamb perfectly ad we ended the main course on a real high note!
Not really needing any more food we were presented with the dessert menu.  We decided to be piggies and order the cheese board.  Having been so impressed with the quality of the Jamón and Chorizo that we just had to give the cheese a go too!  We chose the trio of cheeses for £7.  The waiter came over and presented us with our selection.  There was a blue, a goat cheese and a hard, manchego type cheese.  They came served with quince jelly and apple purée.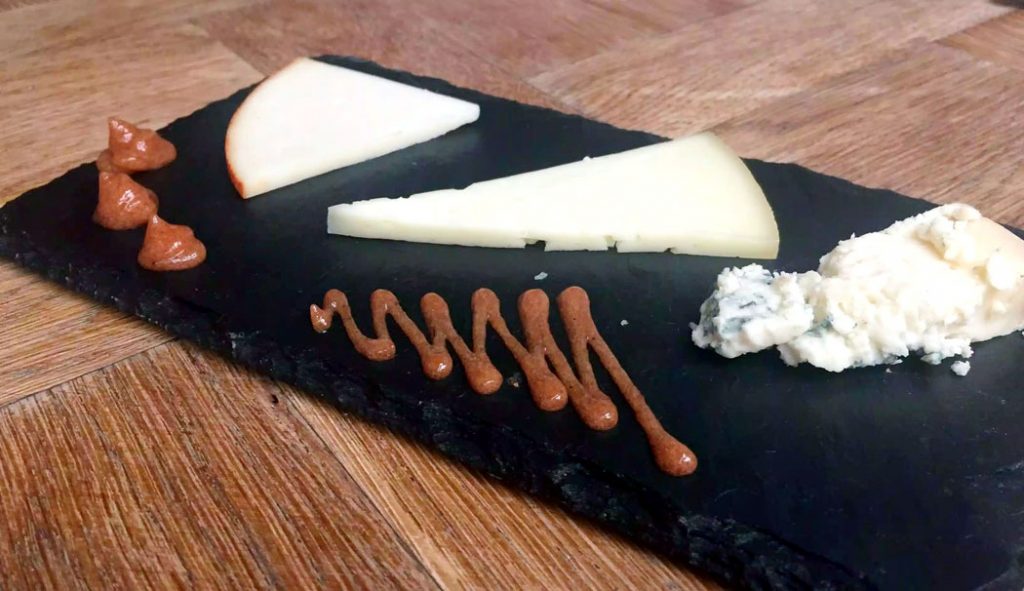 The cheese went fabulously with the small amount of red wine we had left!  It was the perfect way to end our meal!
And mum? She was definitely convinced.  She raved about the food, the quality of the produce and we'll be seeing a lot more tapas in out immediate future!  Success with another tapas convert!  Thanks Iberica Restaurant!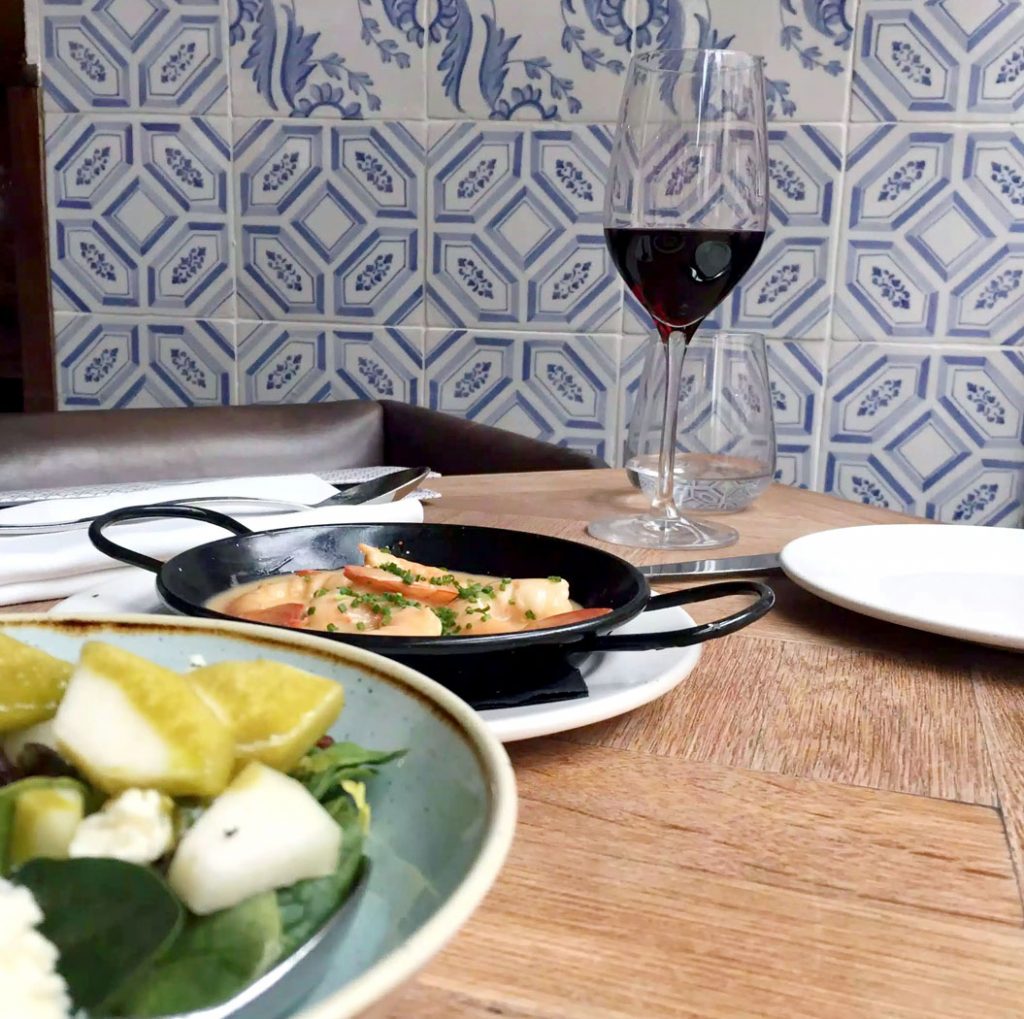 Iberica Restaurant has lots of locations all around London and the rest of the country.  To see your nearest restaurant click here and pay them a visit!  Since there's a few locations you'll be sure to find one nearby!
195 Great Portland St
London
W1W 5PS
0207 148 1615
reception.marylebone@ibericarestaurants.com
Disclaimer:  I received a complimentary meal in exchange for a review but all opinions are my own and reflect the experience I had during lunch at Ibérica Marylebone.  My reviews are always very honest and I thought the quality of the food and ingredients at Iberica Restaurant was of a very high standard.  I especially thought the produce such as the Jamon and Chorizo was exceptional!

Pin Iberica Restaurant for later