This post may contain affiliate links. I may receive products, services or money from the companies mentioned in this post. All opinions are my own. For more information see my Disclosure Policy
Last night's dinner was a follow-on from Madrid.  When telling Dan all about my trip, I realised that I hadn't eaten Gambas Al Ajillo (Garlic & Chilli Prawns/Shrimp) once on the whole trip, so to rectify it we decided to make it at home, and Dan offered to cook it .  Other than his burgers (and anything you can make with eggs) it's the one dish that he makes really well and really likes to cook.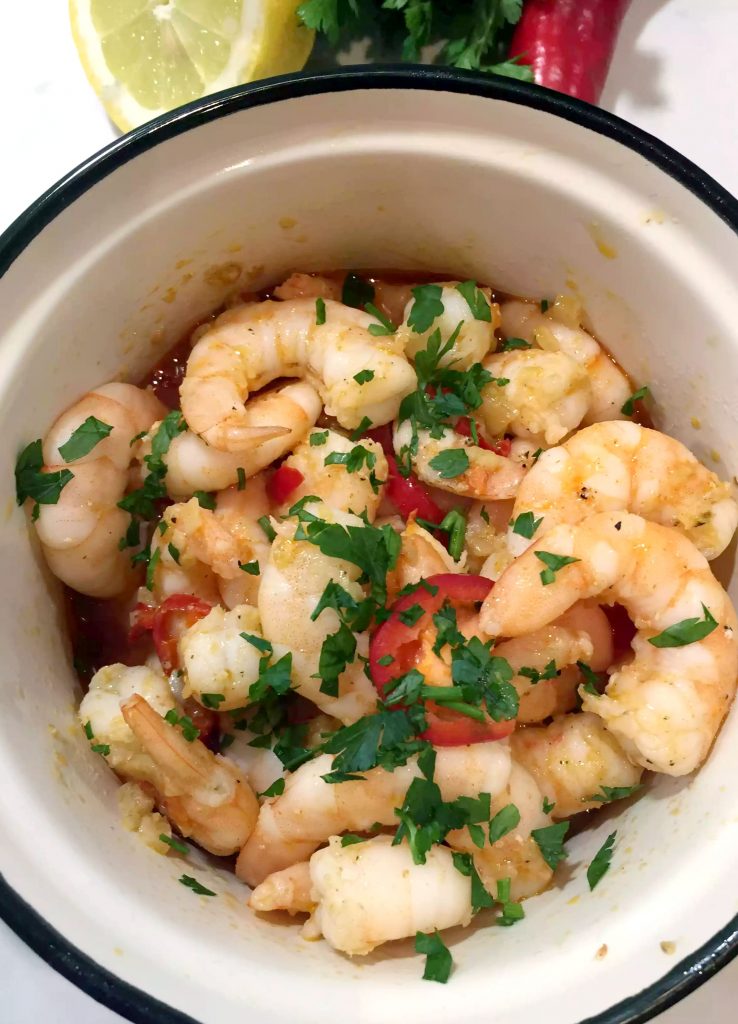 So Dan got on with making the prawns while I made a salad to go with them.  To start with he chopped the chillis into small pieces, thinly sliced 3 garlic cloves and crushed the other 3.  Warming the oil on a medium heat on the hob, he added the chopped chillis, the chopped and crushed garlic cloves and sautéed for a while until they started to colour.  Once the garlic and chillis have softened slightly add the paprika and let the whole thing cook on a slow heat for about 5 mins, to infuse the oil with all the flavours and allow the garlic to thicken the sauce slightly.
When we were ready to finish off the dish, he turned the heat up on the oil until it was sizzling and added the raw prawns.  Seasoning well with salt and pepper and stirring the prawns (shrimp) into the hot oil until they changed from grey to pink (about a min).  As soon as they were pink, we quickly took the prawns off so as not to overcook them – they will continue to cook in the hot oil as you serve them so maybe even under-cook them a tiny bit!  At this point we squeezed the lemon juice over the top and served them with  the chopped parsley sprinkled all over the top.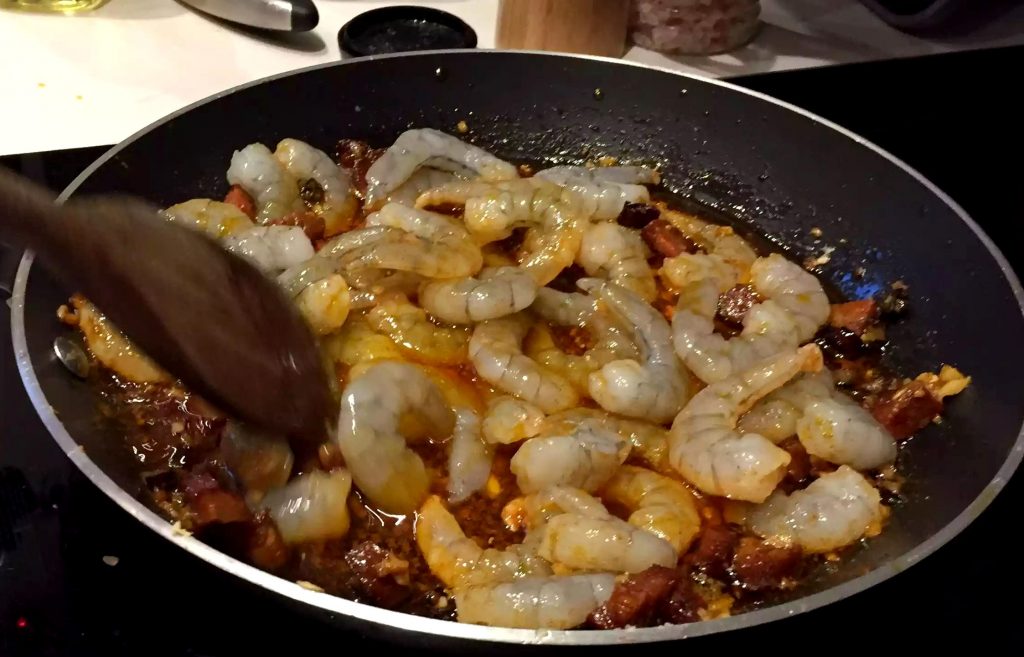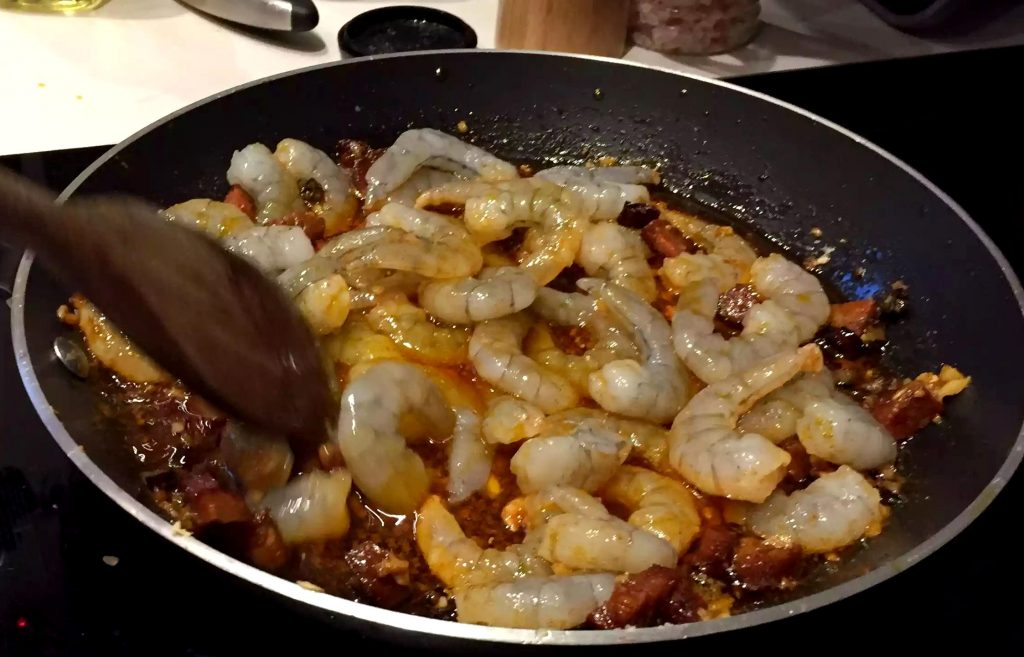 They were perfectly cooked, still juicy and the sauce was very spicy (use less chilli if you're not a big fan of the heat) and I almost felt like I was back in Spain (well, not really).  They're definitely best served with some bread to mop up the juices with.  They also go fantastically with my Butternut Squash Bravas (Patatas Bravas minus the potatoes)!
This recipe served two of us as a main course or it would serve four as a starter or as part of a tapas meal!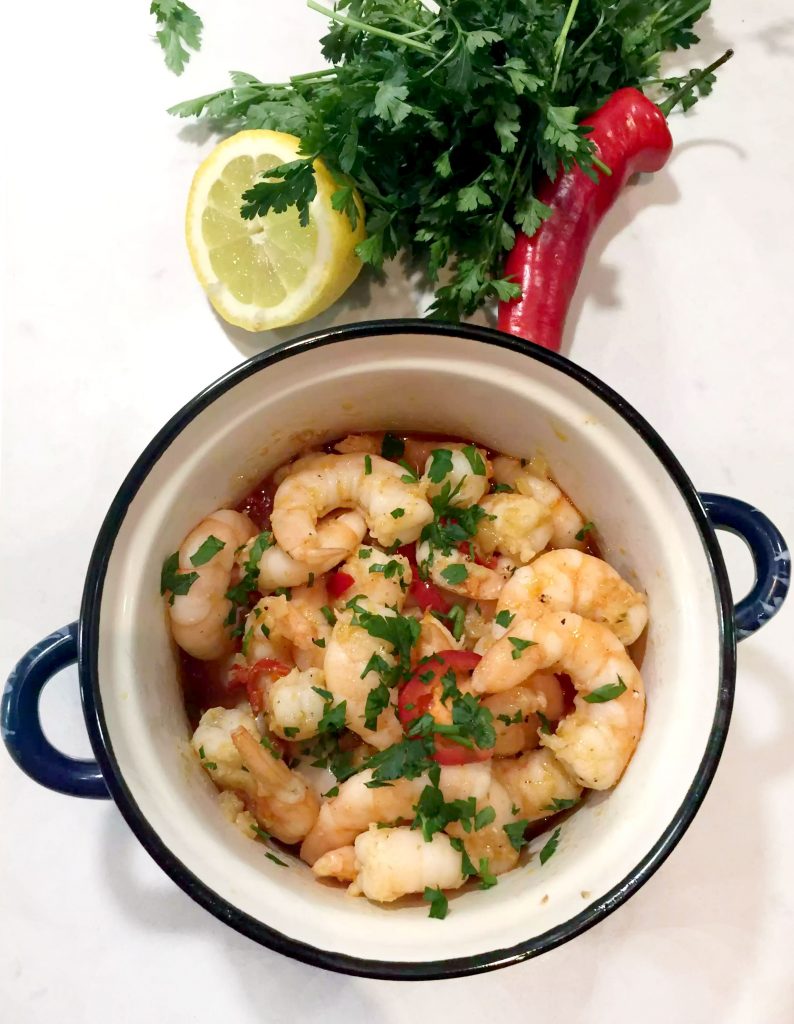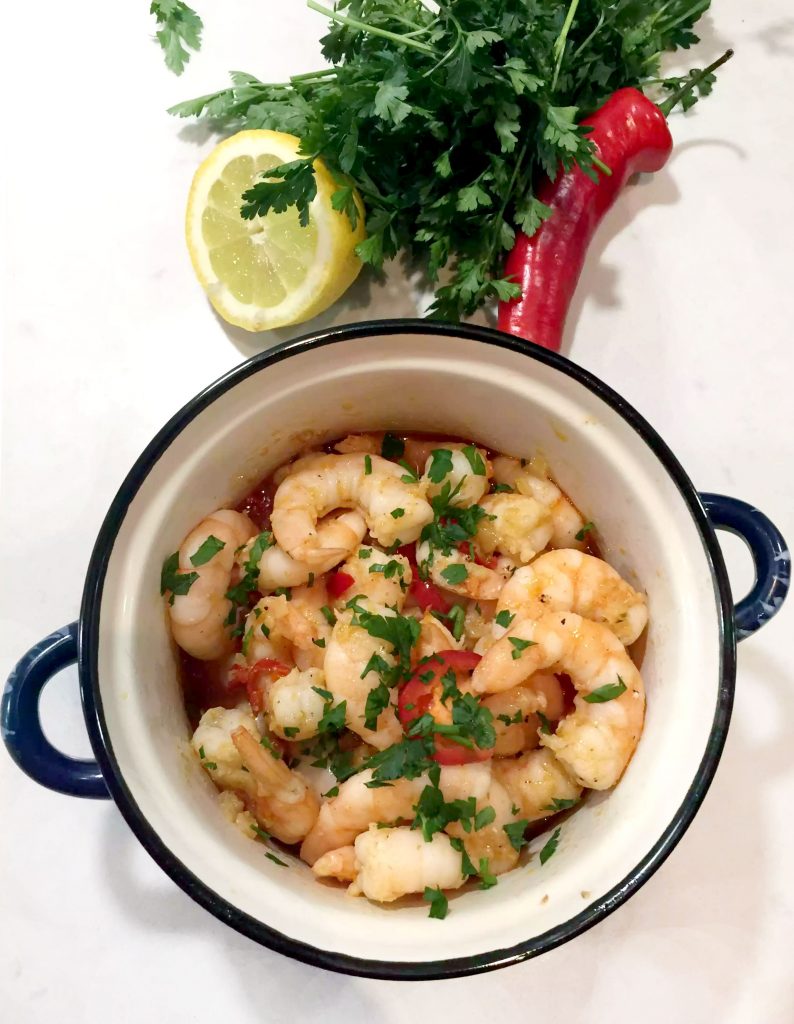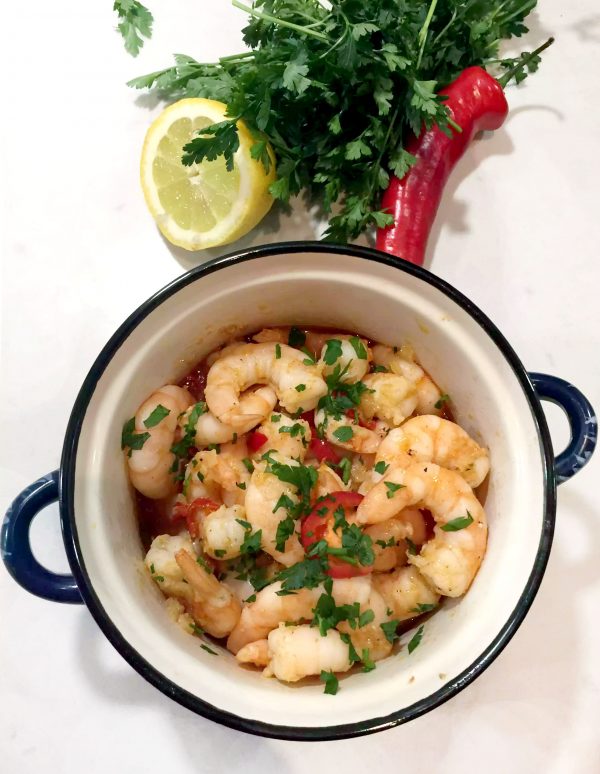 | | |
| --- | --- |
| | |
Heat the oil on a medium heat in a frying pan.

Chop up the chillis and slice and crush the garlic.

Add the chilli and garlic to the oil and cook for a minute or two until they soften.

Add the paprika and cook on a slow heat for about 5 mins.

Turn up the heat so that the oil is sizzling and add the raw prawns (shrimp).

Cook for 1-2 minutes until they have just changed from grey to pink.

Season well with salt and pepper, squeeze over the lemon juice and sprinkle over the parsley.

Serve immediately. Serves 2 as a main dish or 4 as a tapas or starter.
Allergy & Dietary Information for Gambas Al Ajillo
This Gambas Al Ajillo recipe is Grain-Free, Gluten-Free, Refined Sugar-Free & Dairy-Free.  It's also suitable for Paleo, SCD (Specific Carbohydrate Diet), Primal, Whole30, Low Carb & Pescatarian Diets.
See my Products Page for Ingredients & Bakeware that I recommend.
Pin it for later