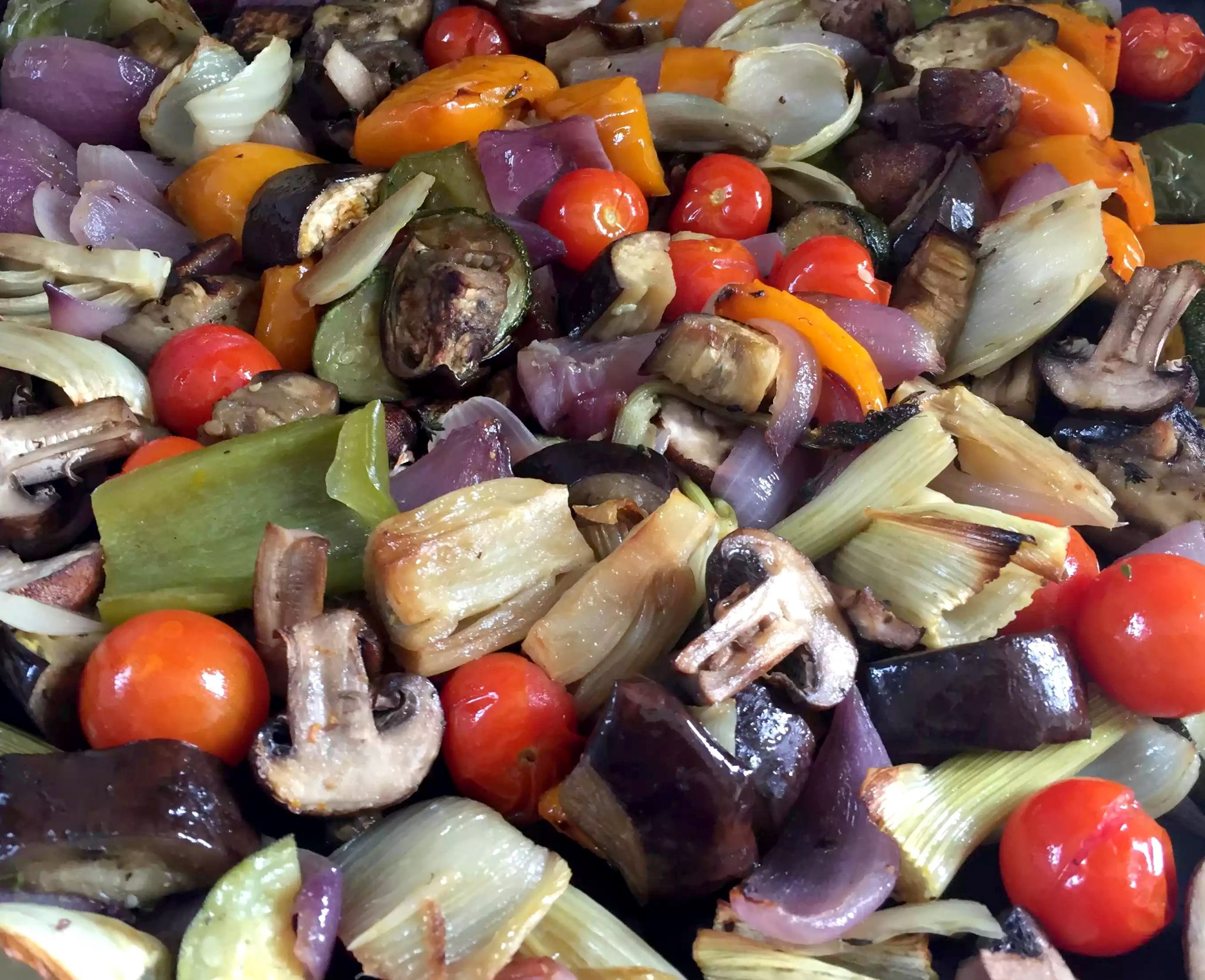 One of the easiest side dishes to make and one of the most delicious things to eat.  I eat these at least 2-3 times a week so I thought I'd share my foolproof method for cooking them.  I love that once all the prep work is done, you can just put them into the oven and forget about them while you get on with cooking the rest of the meal!  They taste so much more decadent than steamed or raw vegetables – I love the caramelised flavour and they go with meat or fish or are delicious just on their own.  The roasting really brings out the sweetness in the vegetables and I love the slightly charred flavour aswell.
Firstly you need to preheat your oven to 180C.  Then you need to select your vegetables – My usual go-to vegetables tend to be red onions, sweet peppers, asparagus, butternut squash and then whatever needs to be eaten up in the fridge – it's a great way to use up any vegetables that might get wasted otherwise, and once cooked they will keep in an airtight container in the fridge for at least another 3-4 days (they often taste even better the next day). Of course, you can just follow this method for cooking a single vegetable on its own – roasted butternut squash for example.
Prepare the vegetables by washing them and chopping them into chunks.  The idea is to cut them all to a similar size so that they cook at the same time.  I like bite size pieces but you could make them larger depending on what you will be using them for – for example you can roast halves of sweet peppers and store them in oil for future use.
Drizzle the oil over the vegetables and season well with salt and pepper (you could also add some chilli flakes too for a different take on them).  I like to use olive oil or coconut oil, but you could use any oil (whichever one you like the flavour of – or a flavourless one as long as it's suitable for heating).  Make sure you're generous with the oil.  You don't want the vegetables to dry out in the oven, otherwise they will burn.  For a standard size baking tray covered with vegetables I use about two tablespoons of oil and you can always add more during the roasting process if it looks like it needs it.  Then it's time to get your hands dirty.  I like to massage the oil and salt and pepper into the vegetables with my hands to ensure that they are all well coated but if you didn't want to use your hands you could toss them in the oil with a fish slice or something – just make sure you coat them really well.
Spread the vegetables out on a baking tray making sure not to crowd them too much otherwise they will steam instead of roast.  You really only want one layer – use two baking trays or roast in batches if you have too much.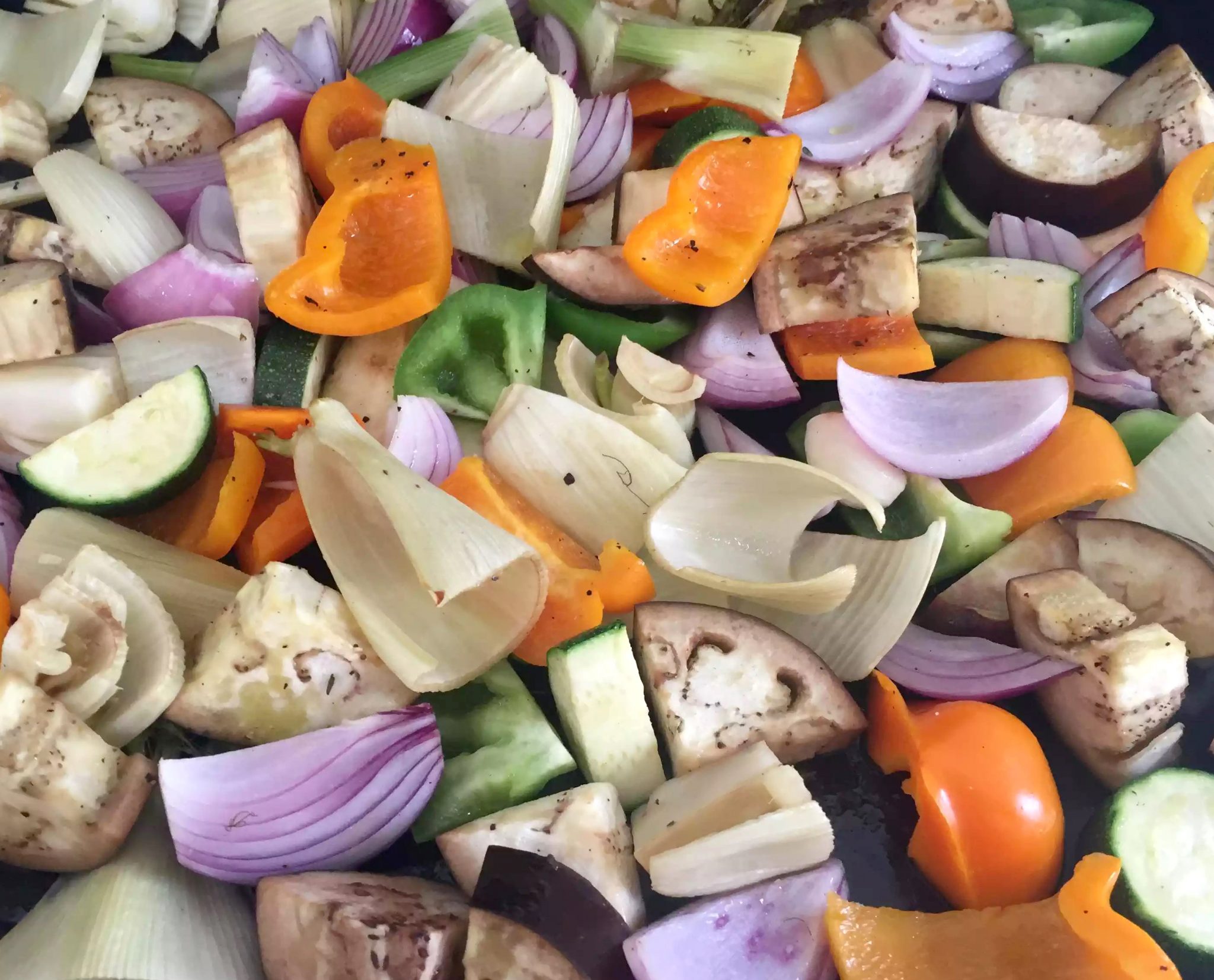 Then you can pop them into the oven to roast for the required time.
Here are the approximate times for roasting vegetables – they will vary according to your oven and also what size you have chopped the pieces but this is a general guideline to use until you are used to how long each vegetable takes.
These all cook for about 45 minutes so should go in first:
Butternut squash, sweet potato, turnips, swede, onion, fennel, cauliflower, broccoli, courgettes (zucchini), aubergine (eggplant), squashes, carrots, parsnips, beetroot
These take about 30 mins so you can pop them on them same tray 15mins into the cooking process (or roast them separately):
sweet peppers, tenderstem broccoli, asparagus, garlic cloves, brussel sprouts, artichokes.
These take about 10-15 mins so should be added towards the end of the cooking time:
Cherry (or any other kind of tomatoes), mushrooms, green beans, herbs.  Any herbs (rosemary, thyme, oregano etc) should be added at the 15 min mark so that they don't burn.  I love the flavours of herbs with my roasted vegetables and think that they really add something special to the dish.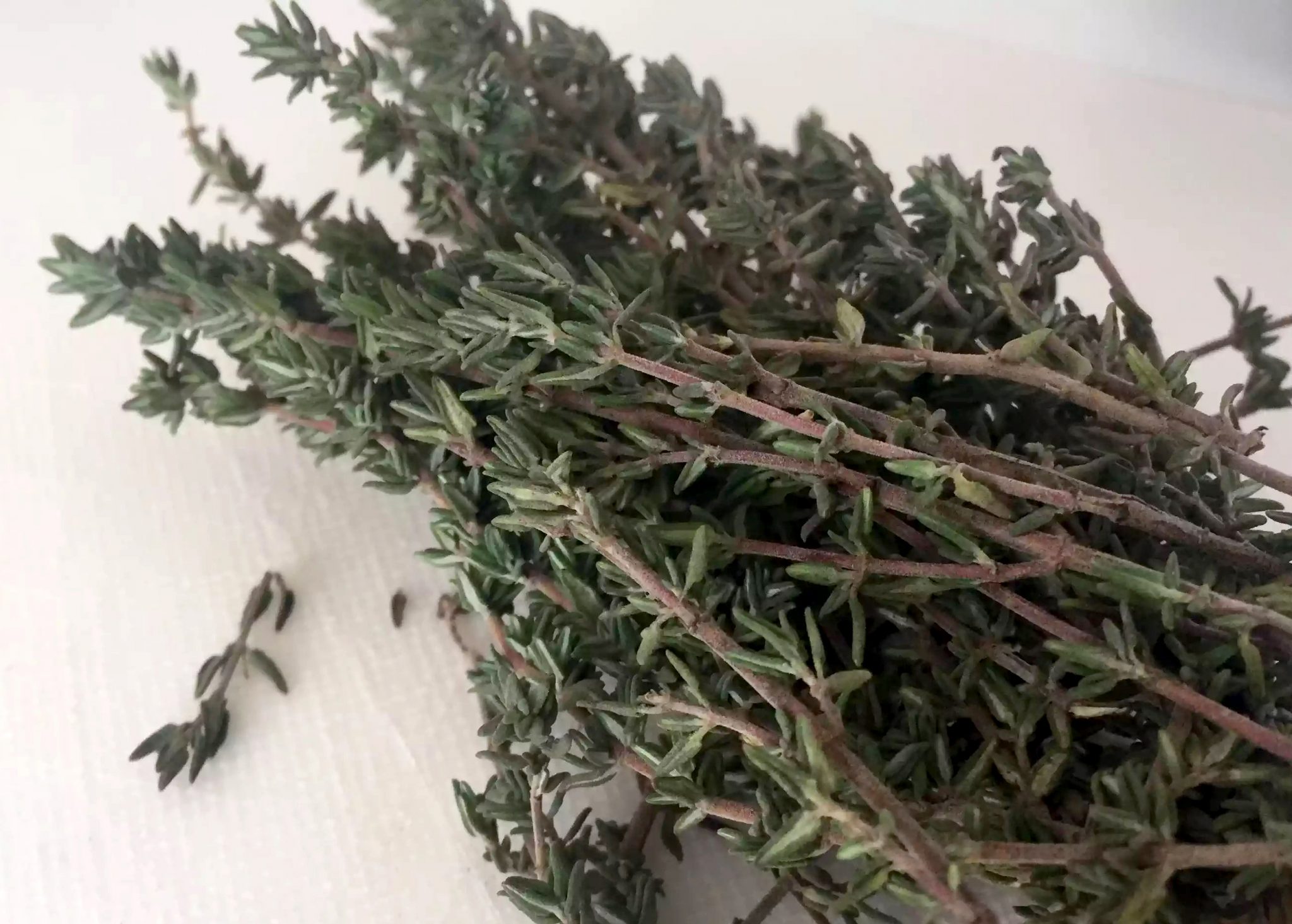 The vegetables are done when they have softened sufficiently – check the largest pieces by inserting a fork (or tasting 😛 ) and the edges have crisped and charred slightly.  Use them as a side dish, on their own, in salads the possibilities are endless.
Have fun experimenting – this is not an exhaustive list by any means.  Most vegetables can be roasted so try any that you can think of.  These are some recent meals I made with Roasted Vegetables as a side dish:
Harissa Salmon with Roasted Vegetables
Gambas Al Ajillo with Roasted Vegetables
Pan Fried Bream with Roasted Fennel & Cherry Tomatoes
Butternut Squash Fries are my favourite and can be done in the same way!
Baked Salmon with Roasted Vegetables and Roasted Butternut Squash
Celeriac, Salmon & Dill Fishcakes with Butternut Squash Fries
Pin or save this guide to refer to later!!  And let me know if I've left your favourite vegetable off!  I'll add it to the list!