This post may contain affiliate links. I may receive products, services or money from the companies mentioned in this post. All opinions are my own. For more information see my Disclosure Policy
It was Sunday Lunch at my parents' house, and for my dad's birthday and we'd bought an absolutely beautiful piece of meat from our local farmshop.   My favourite roast is Roast Rib of Beef so we went all out and bought this beauty!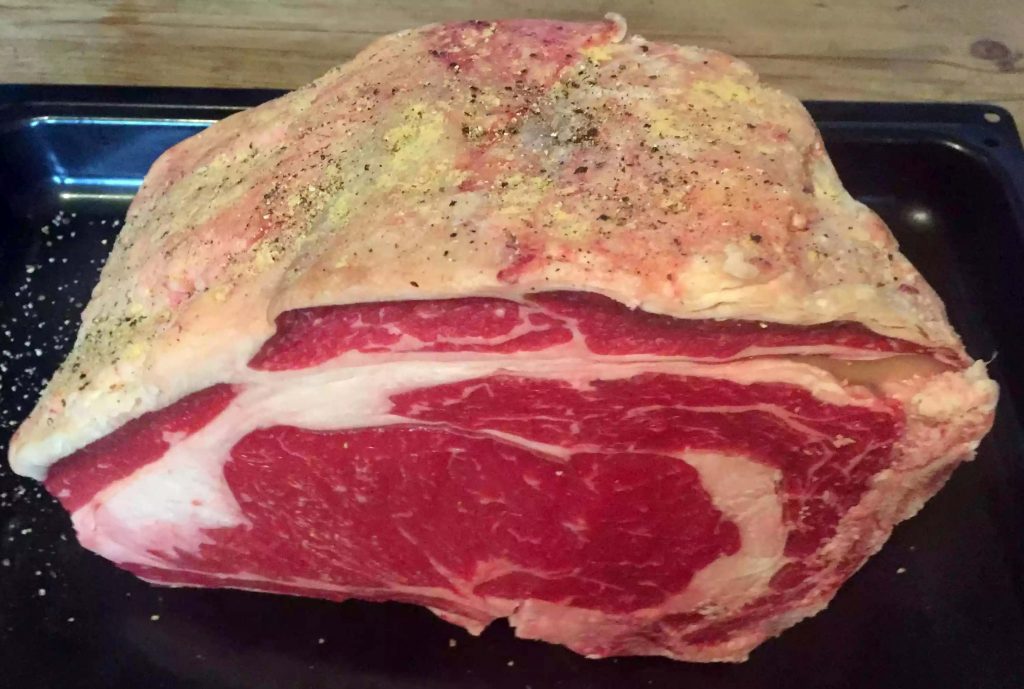 I love shopping in local stores rather than the supermarkets as you know where your meat has come from and especially at our farm shop, you know it is local!  We ordered three ribs of beef (which was probably enough for 6 hungry people) and set about preparing a beautiful roast dinner.
To start with you need to make sure the beef is at room temperature, so if you've had it in the fridge, take it out 30 mins before you want to cook it.  I preheated the oven to 240C and rubbed a mixture of mustard powder, salt and pepper all over the beef to add flavour and to help the fat crisp up in the oven.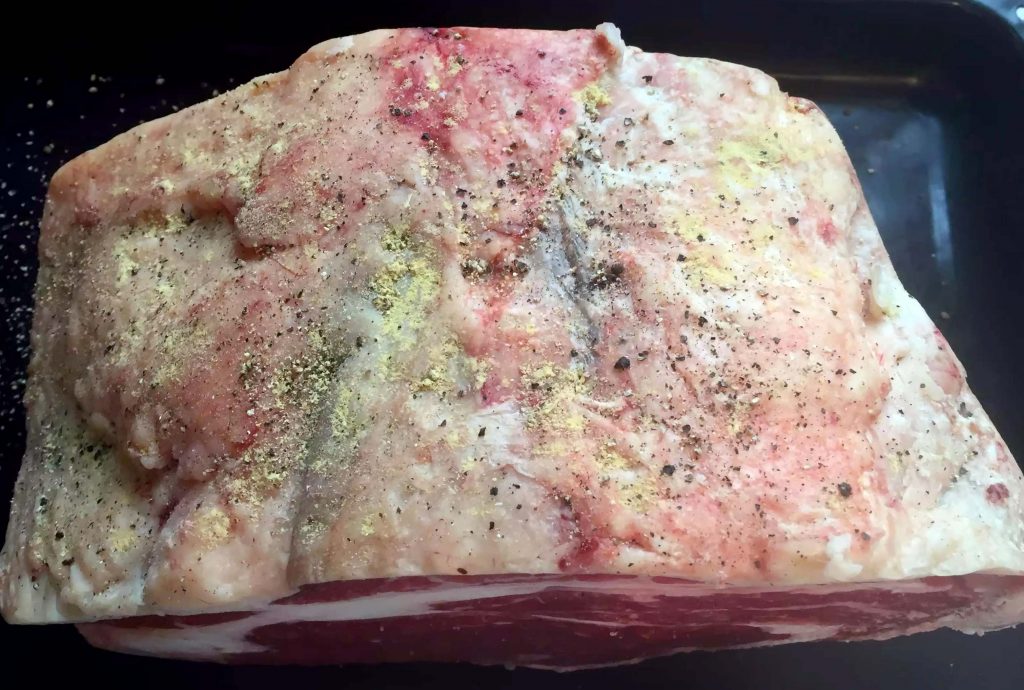 Put the beef into the oven for 20 mins at 240C to sear the outside and then lower the oven temp to 160C and continue for the time necessary to cook the beef to your taste – 12 mins per 500g for rare beef, 15 mins for medium and 20 mins for well done.  Our joint of beef weighed 3kg so we cooked it for 70-75 minutes as everyone likes it to be really rare and very pink in the middle.
Once the cooking time is up you need to remove the beef from the oven, cover it with foil and a tea towel to keep the heat in and rest it for 10-20 minutes.  This is important as it allows the juices to re-distribute throughout the meat meaning the meat will be much juicier and more tender.
Well the beef was obviously the star of the show.  As Dad carved it you could see it was perfectly pink and juicy in the middle. The fat had crisped up nicely on the outside and the whole thing was a masterpiece – easy to slice, juicy and full of flavour.  A perfectly cooked Roast Rib of Beef!
And a roast dinner is nothing without the trimmings!  While the others got the Yorkshire puddings and potatoes, I got the Roasted Root Vegetables, Roasted Carrots with Honey, Thyme and Toasted Almonds and some Cauliflower Mash which I'd added a bit of grated horseradish to.
The beef was so full of flavour and so tender, I think, along with Slow Roasted Lamb, it's definitely one of my favourite roasting joints of meat!  I'd rather have this than turkey for Christmas Lunch any day!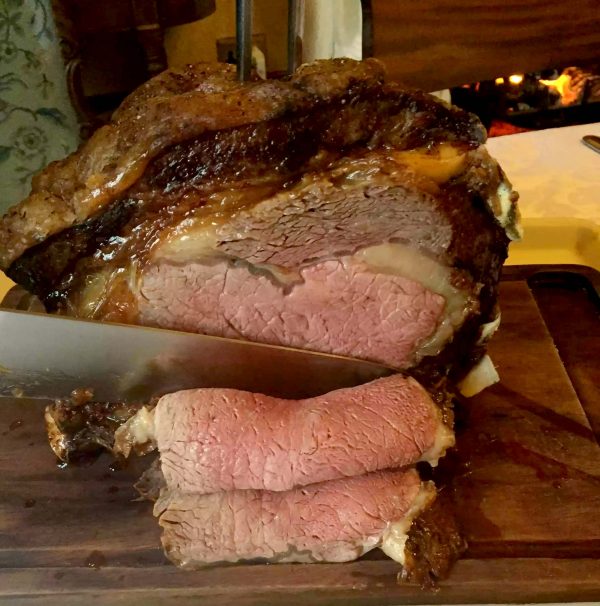 Cook Time

90

minutes approx
Cook Time

90

minutes approx
Make sure the beef is at room temperature before cooking.

Preheat the oven to 240C and rub the mustard powder and salt and pepper all over the beef fat.

Put the beef into the oven at 240C for 20 mins to sear it.

Turn the oven down to 160C and cook for a further 12 mins per 500g for rare meat, 15 mins per 500g for medium and 20 mins per 500g for well done meat.

Remove from the oven, cover and rest for 20mins

Carve and serve with all the trimmings.
Dietary & Allergy Information for Roast Rib of Beef
This Roast Rib of Beef is suitable for the following diets:
Grain-Free, Gluten-Free, Refined-Sugar Free, Dairy-Free, Paleo, Primal, Specific Carbohydrate Diet – SCD, Low Carb, LCHF, Whole30.
See my Products Page for Ingredients & Bakeware that I recommend
Pin it for later