A few years ago we were visting Biarritz for Dan's birthday treat and I wanted to surprise him with a delicious meal.  I did some research and chose L'Etable as a place I thought he'd love to eat at.  Rustic and authentic it was exactly the kind of restaurant that he likes.  Well, we had the most amazing meal there and the highlight was definitely their House Speciality.  A huge Chateaubriand for two, topped with Foie-Gras and Bacon!  Decadence at its finest!
Two years later and back in Biarritz, we decided that we just couldn't pass up the opportunity to eat at l'Etable again – that Chateaubriand left lasting memories.  I was lucky to get a table (it's always full) so we arrived straight from Arcachon on the train, dumped our bags in the hotel and headed out for dinner.
Down a tiny side street (you could easily walk straight past it if you didn't know it was there) we found the restaurant again and were welcomed warmly inside.  This blackboard is the only thing to indicate that there's a restaurant there and it's hard to see from the main street.
Shown to the same table as last time, we felt like regulars!  L'Etable is always busy and tonight was no exception.  We were lucky to get a table as the only availablility they had was at 21.30.  The restaurant was buzzing with locals and everyone seemed to be having a great time.
We decided to order an Aperitif to start with while we looked at the menu.  I chose a glass of White Bordeaux and Dan went for the Daily Wine Special which was a Pinot Noir.  The wine arrived along with a bottle of water which the waitress seemed very proud of.  Looking at it closely you could see that it was L'eau d'ici or 'Water from here.'  She explained that it's special Basque water and you can see all the Basque towns, including Biarritz, listed on the bottle.  Not being the best water connoisseur I didn't notice a different taste but she was adamant that it's the best water in the world…
The wine however definitely suited my palate.   A Semillon and Sauvignon Blanc blend, aged slightly with a delicious crisp frutiness, and the Pinot Noir that Dan chose was fantastic.  I don't normally order a Pinot Noir as I find it too light for my tastes but this had some depth and power to it and was one of the nicest I've had.
Then it was time to look at the menu.  We obviously knew what we were going for with the main course but we decided to go down the sharing route and ordered two starters to split between us.  The Salade L'Etable and the Special of the day which was the Oven Baked Camembert with Morcilla (black sausage).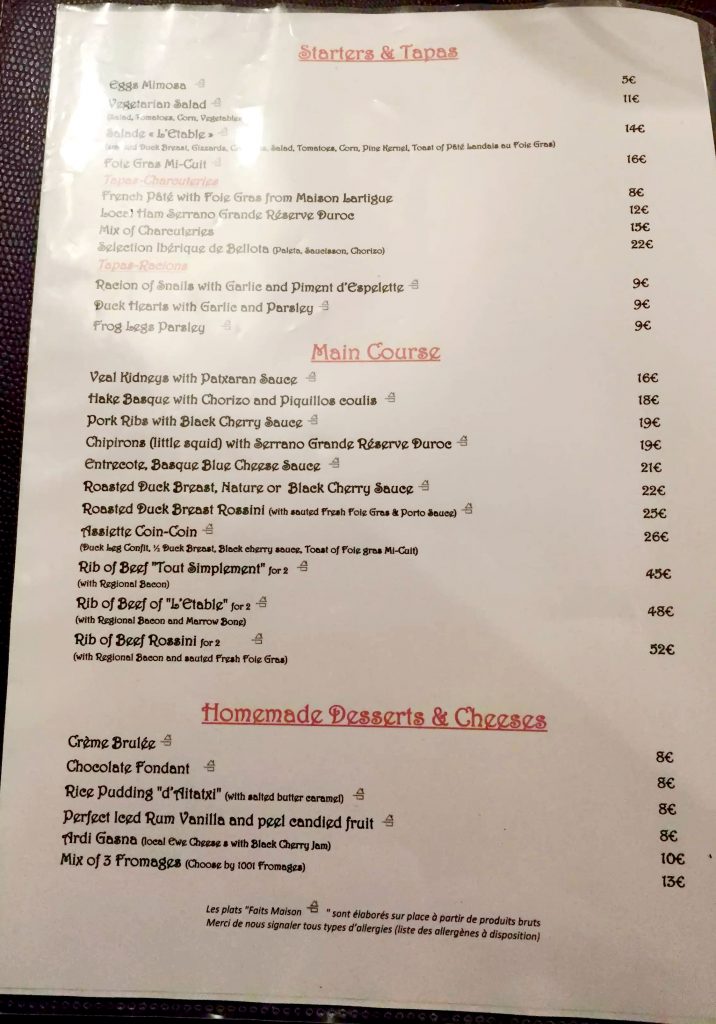 We also ordered a bottle of Chateau Laffitte-Teston Vielles Vignes – the wine list here really is very good and not overpriced.  We chose this as it is from the Madiran region in South West France, so very local to Biarritz.  Also, Dan was convinced this was the same wine we'd had last time we were here two years ago.  I'm never able to remember things like that!  Made with a blend of Cabernet grapes and Tannat grapes (a new to me grape variety) we thought we'd give it a go.  It was great – black fruits and oaky and with a slight liquorice flavour it would go perfectly with the gaminess of the duck and the richness of the main course!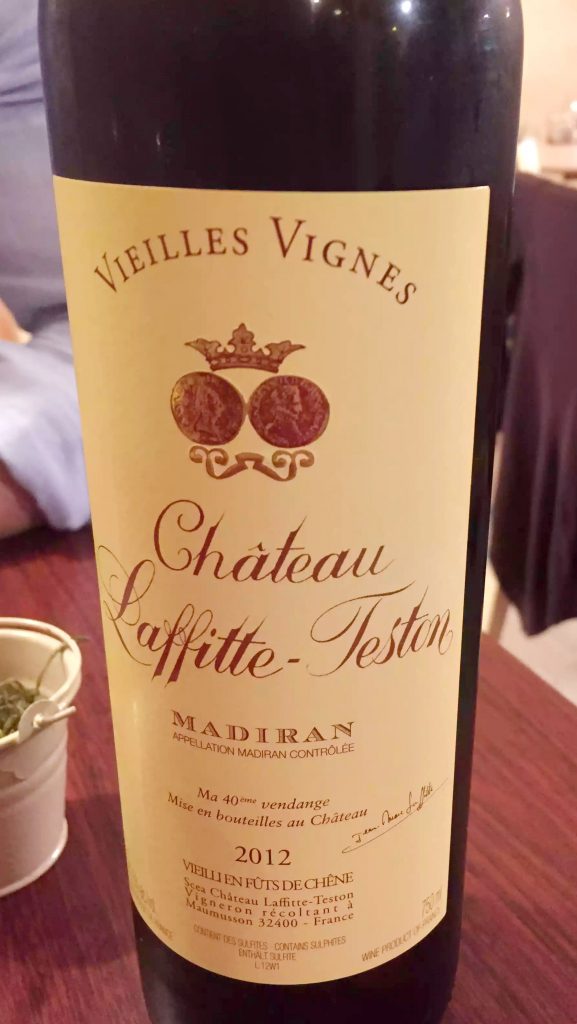 The starters came out and they were enormous.  Definitely a man sized salad with plenty of meat on it!  The Salade L'Etable was a huge plate of Smoked Duck Breast, Gizzards, Foie Gras Paté and Pine Nuts.  Not being a massive fan of offal I decided not to ask which part of the duck the gizzards were from and just dig in.  They were actually pretty delicious, I would guess maybe duck hearts?? but I'm no expert!  The smoked duck slices were delicious, very rare, almost carpaccio-like and to me, foie-gras is like bacon, it makes everything better!  I also love the way that the French dress their salads.  None of this pour it over the top thing like we do in England.  They mix it with the leaves in a separate bowl ensuring every piece is well coated before adding the toppings.  It really makes such a difference.
The Camembert was gooey and oozy, perfectly cooked and I surprised myself with how much I enjoyed the morcilla.  Not being a black pudding fan, it definitely added something to the dish and I liked the way it was sliced very thinly so it wasn't overpowering.  Dipping the salad leaves into the runny cheese is my idea of a heavenly starter.
And then we couldn't not have the Chatetaubriand again!  It was what we'd been dreaming about since our last visit.  And it definitely didn't disappoint!  This is not a menu you want to be eating if you're on a diet!
It came out on an enormous platter and it was absolutely huge!  Topped with two thick slices of foie-gras and crispy bacon it was a vegetarian's nightmare!
Charred on the outside and rare and tender inside, it was cooked perfectly.  I love the crispiness of the bacon and the smoothness of the foie-gras alongside the tender beef.  It really changes the textures and flavours up and works so well.  A couple of slices in though, I was beaten.  It was so rich that it filled me up pretty quickly.  (I think that's why Dan likes to share courses with me – he normally gets part of my share too!)  When the plate came out, I thought it was going to beat us, but somehow, the entire thing got devoured!
We definitely had no room for dessert although the cheeseboard sounded intriguing!  A selection from 1001 cheeses??  Surely they cant have that many out back in the kitchen!  The next day I happened to walk past a shop called 1001 Fromages – mystery solved!
A fantastic dinner, just as good, if not better than the last time we were here!  L'Etable we will be back, you never disappoint!
Pin it for later