Dan and I have been together 3 years!  Doesn't time fly!  But  how to mark our anniversary? A special event like that deserves a special restaurant so I was thrilled when the team at Roast Restaurant invited us there to try their menu.  It would be a lovely way to celebrate a special evening – date night here we come!
Roast Restaurant is situated above the hustle and bustle of Borough Market in a seriously stunning building.
Reached via an entrance in the market itself, we arrived and were shown to our table.  A corner table with a bird's-eye view of the area and a glimpse of St Paul's Cathedral in the distance.  London is always a stunning backdrop to any meal!  We were offered an aperitif to start.  I went for the Prosecco and Dan had a Beer, while we looked at the menu!
There was definitely something for everyone on the menu at Roast Restaurant.  From the name you'd guess right that its focus is on meat but there were plenty of fish options and even a complete vegetarian menu!
Dan and I guessed what each other would order to start and both guessed right.  Either we know each other too well or we're just too predictable!  I ordered the Burrata!  I always order it when it's on offer so it was an easy guess.  He went for the Chorizo Scotch Egg (Dan's a massive fan of chorizo and eats it at every opportunity!)
After making our choices we were introduced to the sommelier, Marco.  He told us that he would suggest some wine pairings to go with the dishes that we'd picked.  He asked us about our preferences, made some suggestions and came back with an Oddity Dry Furmint 2014, Hungarian Tokaji for me and a Franz 2014, Austrian red wine for Dan.
Marco was spot on!  I've drunk Tokaji before but only ever the sweet variety, as a dessert wine.  I've never tried a dry one before.  This had an amazing aroma of honey, passion fruit and peaches.  It smelled exactly like the sweet version but was dry and cleansing on the palate.  Fruity and delicious, I can honestly say it's the most enjoyable glass of white wine that I've had in a long time!   I'm off to buy a few bottles now!  Dan's Austrian wine was light and fruity and similar in body to a Pinot Noir which was a nice way to start the meal and pave the way for a heavier red with the main course.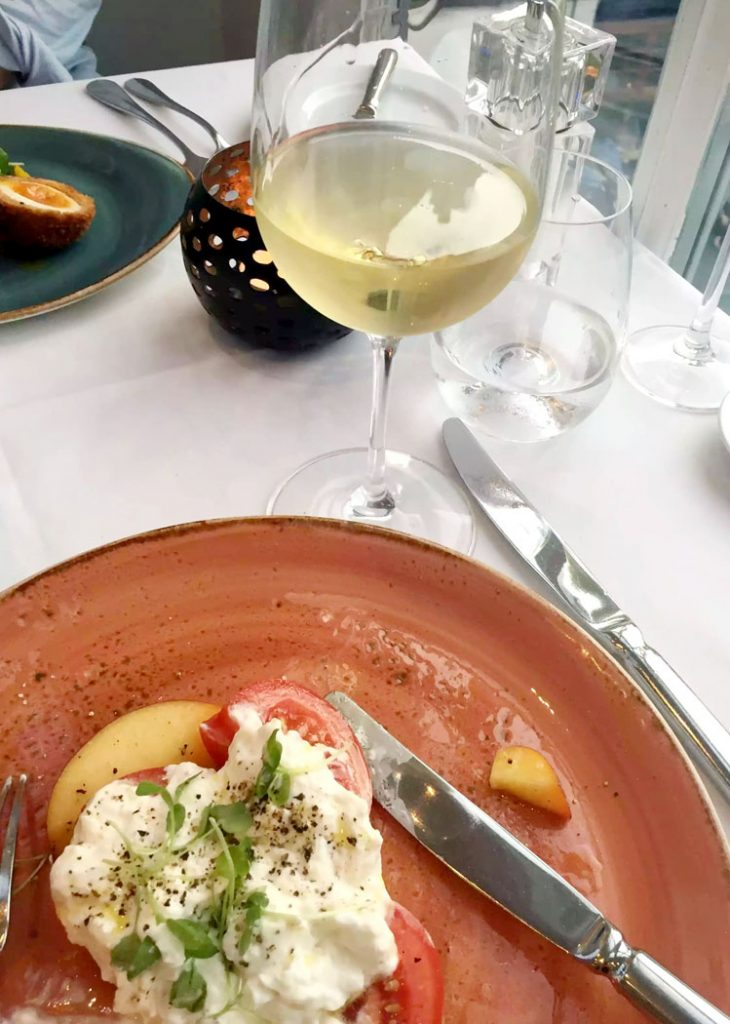 On to the food.  My Burrata was stunning.  Fresh, creamy, gooey and delicious and paired with the sweetness of the peaches and the ripe tomatoes I was in heaven!  Dan's Chorizo Scotch Egg was cooked perfectly, nice and runny in the middle so that the yolk created a sauce for the dish.  Not too heavy and breaded there was a good amount of chorizo and we both thoroughly enjoyed our starters.  We took a short break after the starters to finish our wine, before our mains arrived.
I'd ordered the Red Snapper and Dan had gone for the Sirloin Steak.  We decided to go for one meat and one fish dish to see how they compared.  The snapper was beautiful, the skin was such a fabulous colour and the sauce it was in was tangy and fresh.  I loved the charred artichokes that it came with too.  A nice light dish for a summer evening!  I know it's not the done thing to have red wine with fish but I love my red wine so I tasked Marco with finding me one to complement the Snapper!  Just like the last course, he came through perfectly.
He paired my fish with a glass of Faithful Hound 2014, from South Africa,  A lighter style of red than I'd normally choose  as I like heavier reds but it went perfectly with the fish.  The style of red I'd normally choose, a heavy Cabernet Sauvignon or a rich Malbec would've overpowered its delicate flavour.  This was light and full of red fruits and delicious.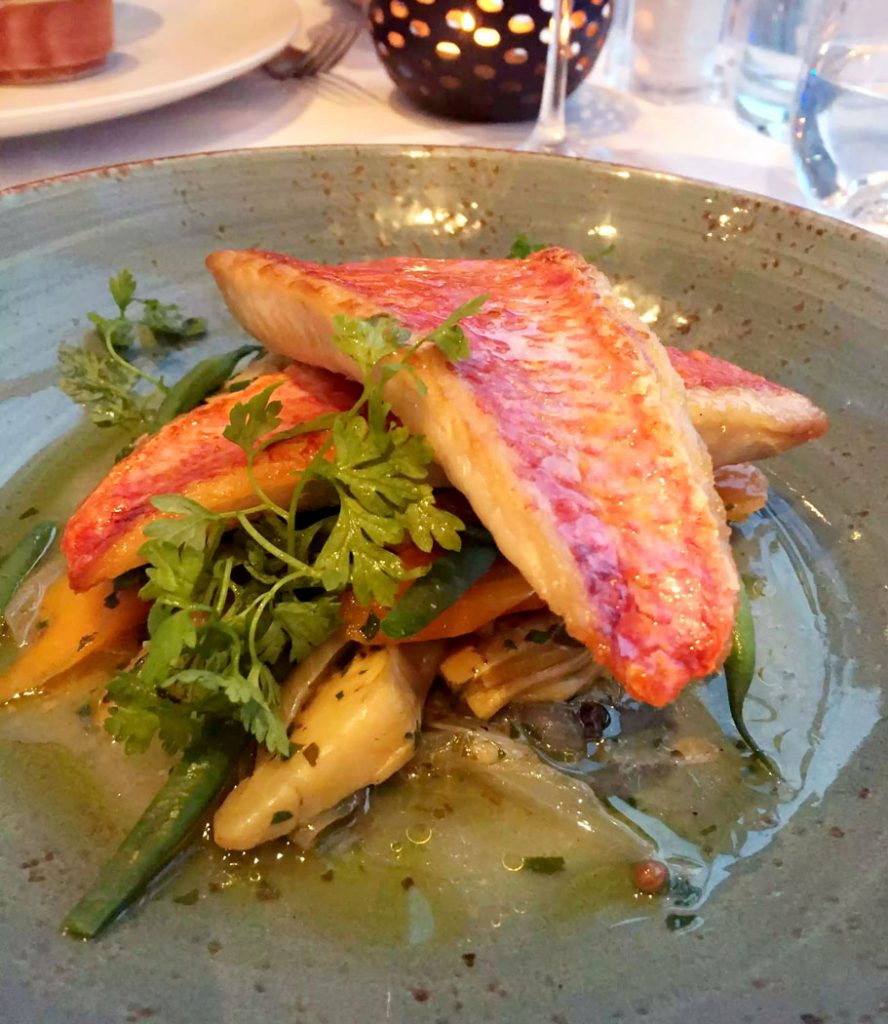 Dan's
steak
and chips was a sight to behold.  A huge piece of meat, charred on the outside and cooked medium-rare.  It was such a tasty piece of beef too!  It had a really strong meaty flavour, you could tell it was a really fine piece of meat and well-aged.  Roast Restaurant really do get their meat absolutely perfect.
The wine for Dan was a much heavier red to pair with his steak.  Marco had chosen him the Roast Malbec 2013, from Mendoza, Argentina.  A wine specially created for the restaurant which had dark fruit aromas with hints of tobacco, coffee and cinnamon.  Punchy and tannic it easily held up to the richness of the steak.
 I loved that we were able to try different wines throughout the meal.  Each one suggested really did complement the dish it was paired with and definitely added to the experience.  Normally when we go out we tend to order a bottle to share but this was a much nicer way of doing it and it's got me thinking about ordering wine by the glass a bit more often.
Not being huge fans of dessert (and pretty full at this point) we gave the menu a cursory glance.  But we got stuck on the cheese page!  Delicious cheeses that we just couldn't say no to so we ordered a cheese plate between us!  It was huge – we were expecting 1 portion between two but I think we got double!  And it would be rude not to have a glass of Port when faced with a delicious cheeseboard – took us back to our recent trip to Portugal!  So many delicious types of cheese and I love when they give you fruit to eat it with as I can never eat the crackers!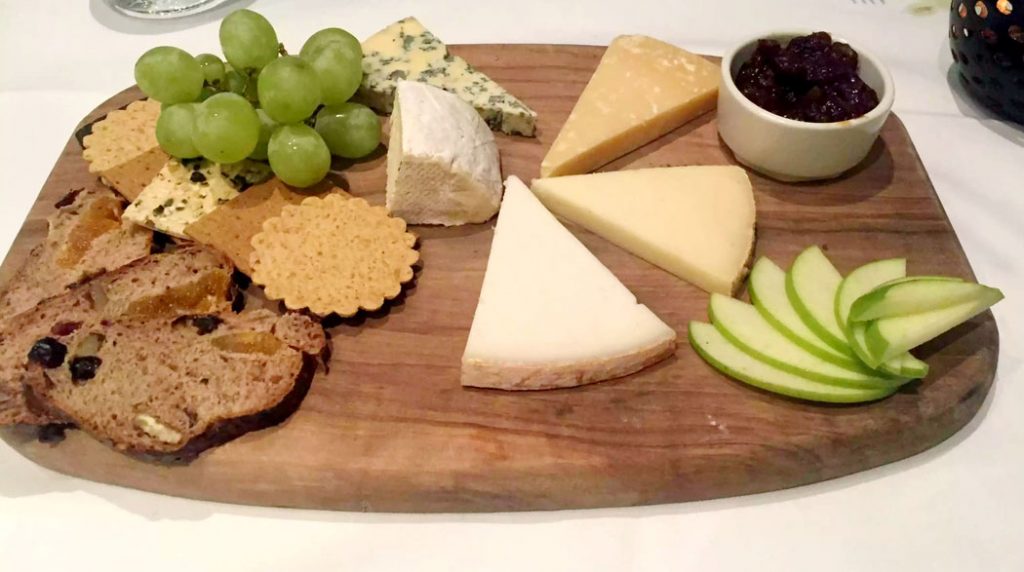 The staff at Roast Restaurant were extremely professional and very welcoming.  Special thanks has to go to Marco who made our experience so enjoyable!  The wine pairings were perfect and we got to try some 'new to us' wines that we hadn't experienced before!  Thanks Marco…and Happy Anniversary Dan xx
Pin it for later