Dan and I take it in turns every other month to take each other on a date night where we plan a special evening for the other person. Last time, he took me to The Ninth on Charlotte St (read about it here), a fairly new restaurant that's actually just been awarded a Michelin Star, and tonight it was my turn to take Dan out for Date Night and he'd requested that we go to Dehesa on Ganton St in Soho.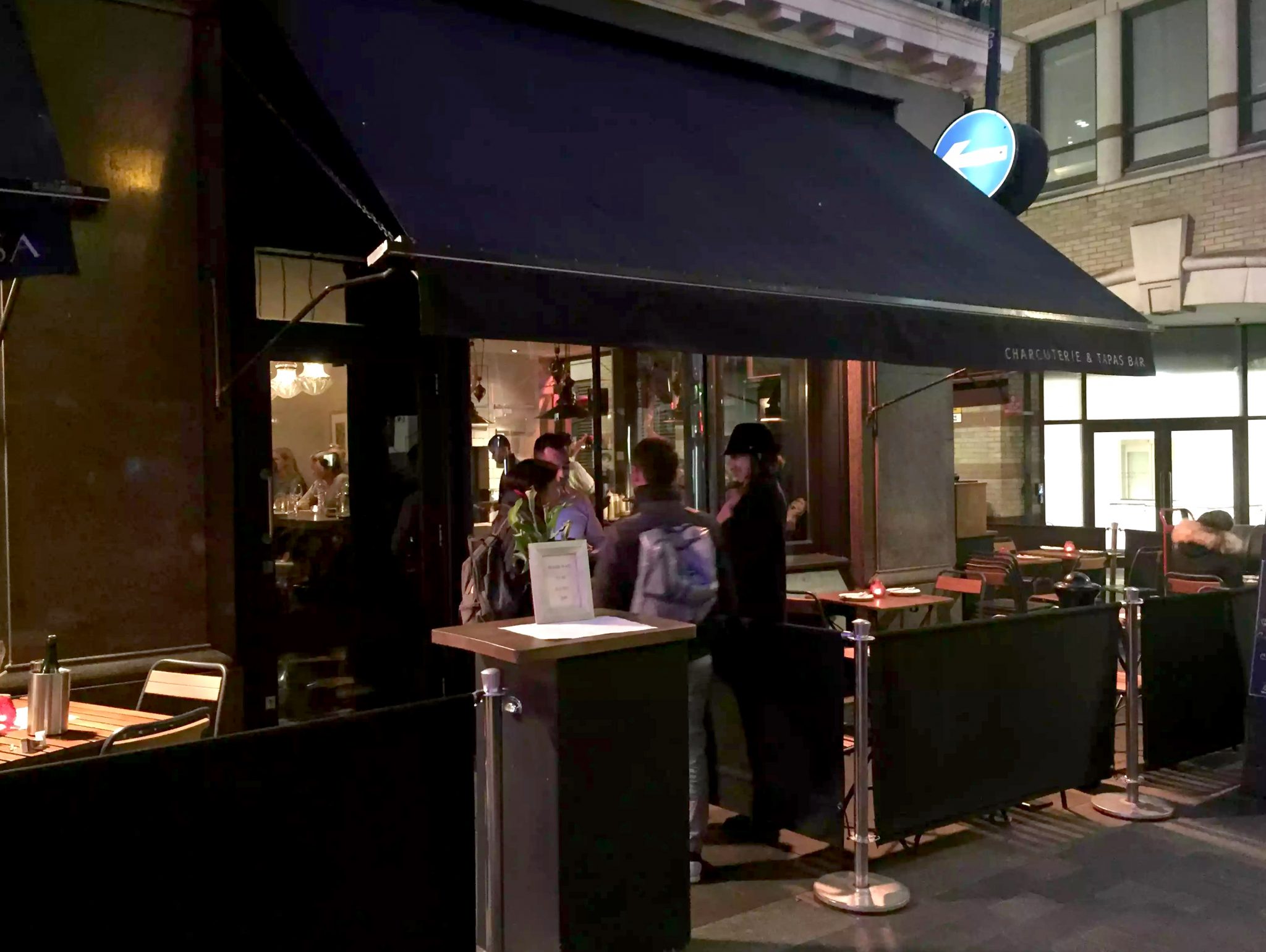 Dehesa is part of the Salt Yard group of restaurants, which include Salt Yard, Ember Yard, Opera Tavern and Veneta.  We'd been to Salt Yard and Ember Yard before and enjoyed them (in fact, Salt Yard was where Dan took me for our very first date) so we thought we'd give Dehesa a go.
We were shown to our cute little booth in the window and started off by ordering a couple of dirty Sipsmith Vodka Martinis.  I'd only heard of Sipsmith Gin before so it was interesting to learn that they also made vodka and to give it a try.  They were delicious – Dan's are better but then nothing compares to one of those so anything else is always going to be second best!
To start with we ordered a portion of olives and some Iberico Ham while we looked at the menu.  The food there is a mix between Spanish and Italian tapas style dishes so you order a few plates (4-5 we were recommended) to share between us.
I looooove olives – I can never get enough of them.  Dan doesn't understand my love for them, sure he likes them, but just a couple, whereas I have to order and eat the whole bowl anywhere we go.  Anyway, these were pretty good ones but the jamon was definitely the stand out.  Absolutely delicious, aged 5 years, and salty and chewy, they were the perfect appetisers to get us excited for the main course!
We ordered a rather more expensive than we normally would, bottle of wine to go with dinner as it was a special evening.  We chose a bottle of the Basape 2004 Rioja Reserva which was oaky and delicious with toasty vanilla and black fruit notes which matched best with the meatier dishes that we'd ordered.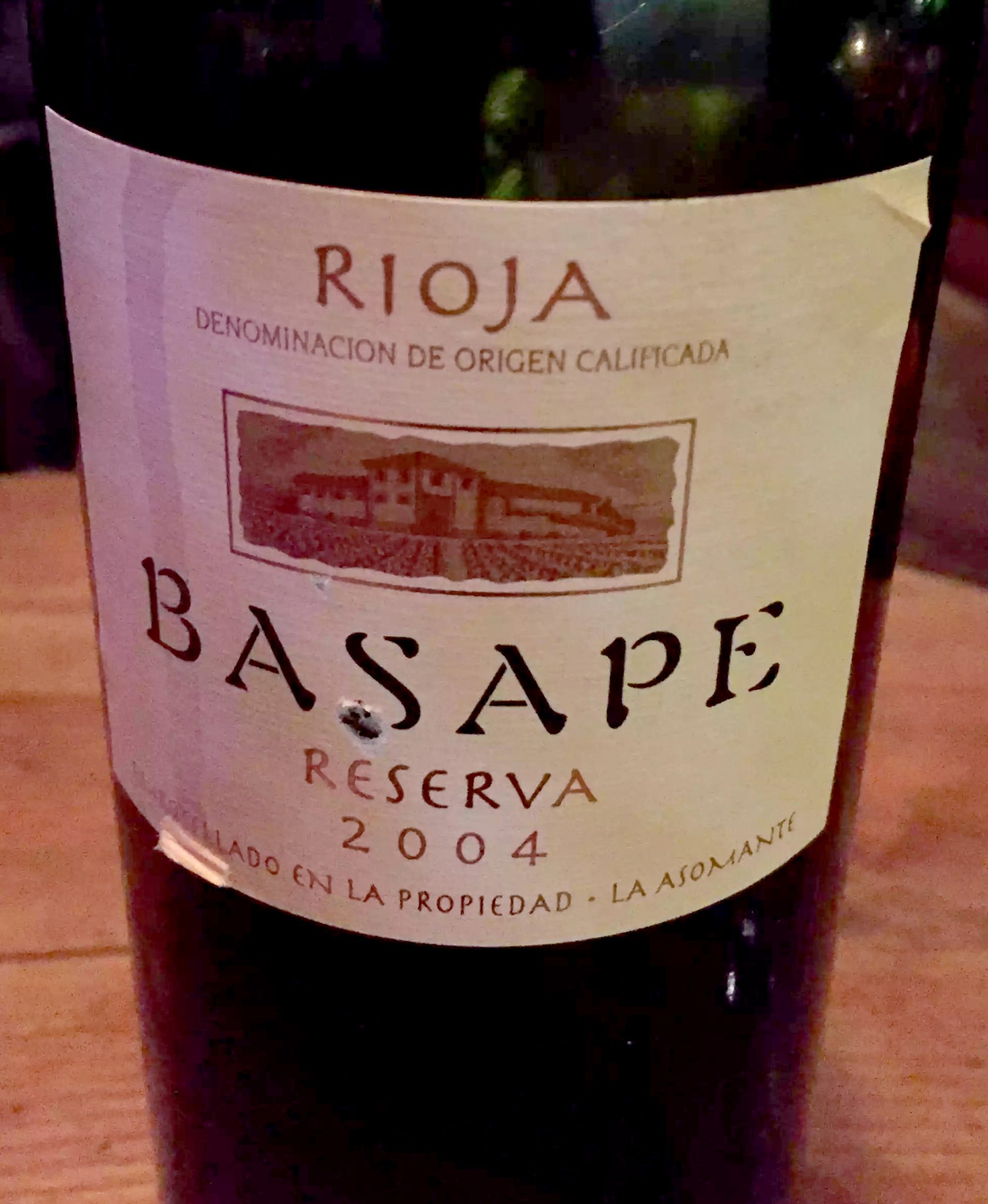 The first plate that we ordered was the Pan-Fried Monkfish wrapped in Vine leaves with Beetroot Puree, Beetroot Tops and Salted Grapes.  It was a great way to start the meal, light, but still quite 'meaty' thanks to the dense texture of the monkfish.  I'm not usually a massive beetroot fan – I think it tastes a bit like mud! – but the earthiness really helped in this dish and the salty grapes were great at bringing everything together and giving a real pop of flavour!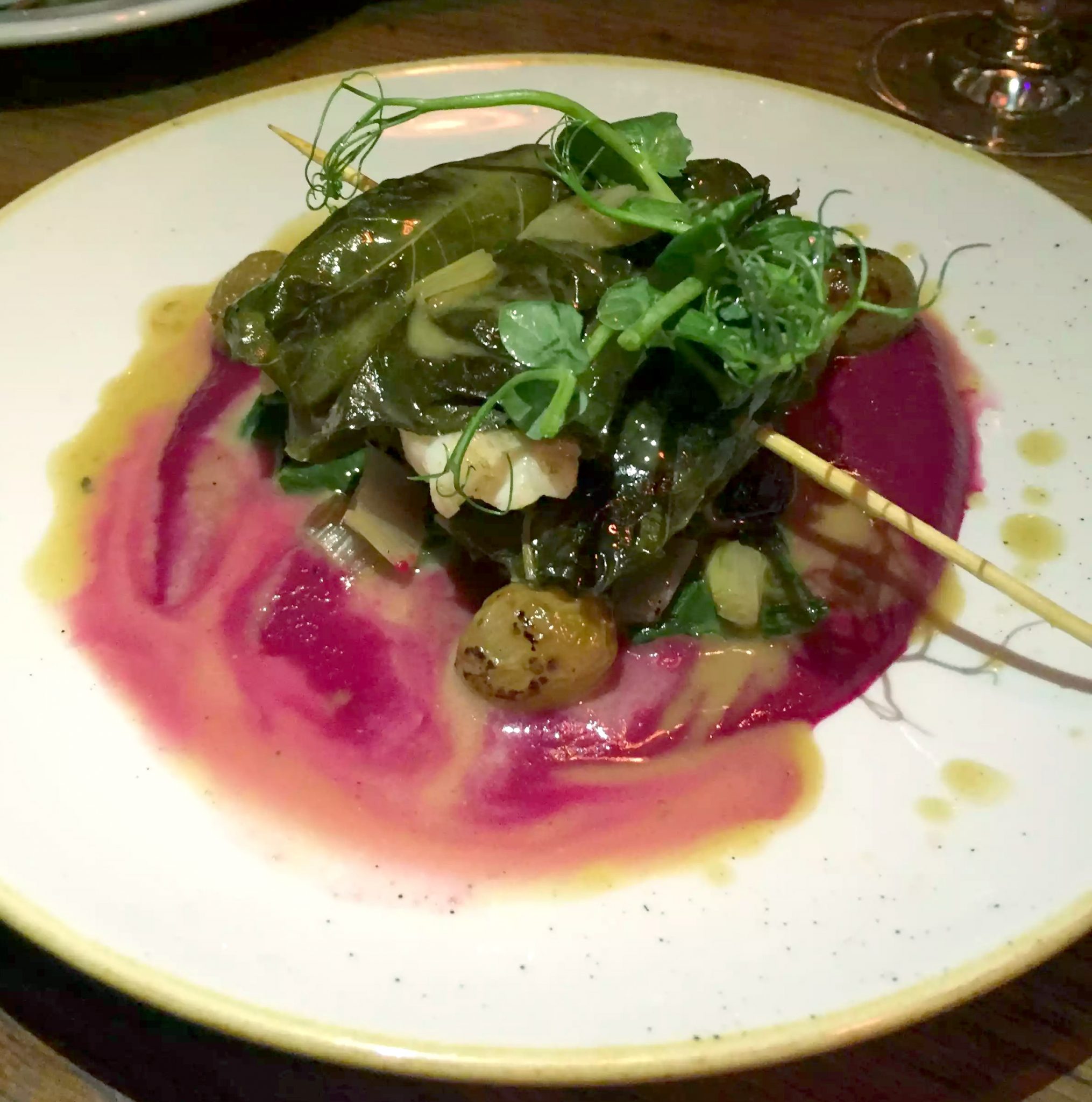 We also ordered the Bull's Heart Tomato and Courgette Salad with Ajo Blanco and Toasted Seeds.  I think Dan would've been quite happy with just meat and fish dishes but I needed some salad in there too, and this one didn't disappoint.  The tomatoes were beautifully ripe and sweet, the Ajo Blanco was wonderfully creamy and the crispy pumpkin seeds added a lovely crunchy texture!  Delicious, and very palate cleansing before the heavier dishes.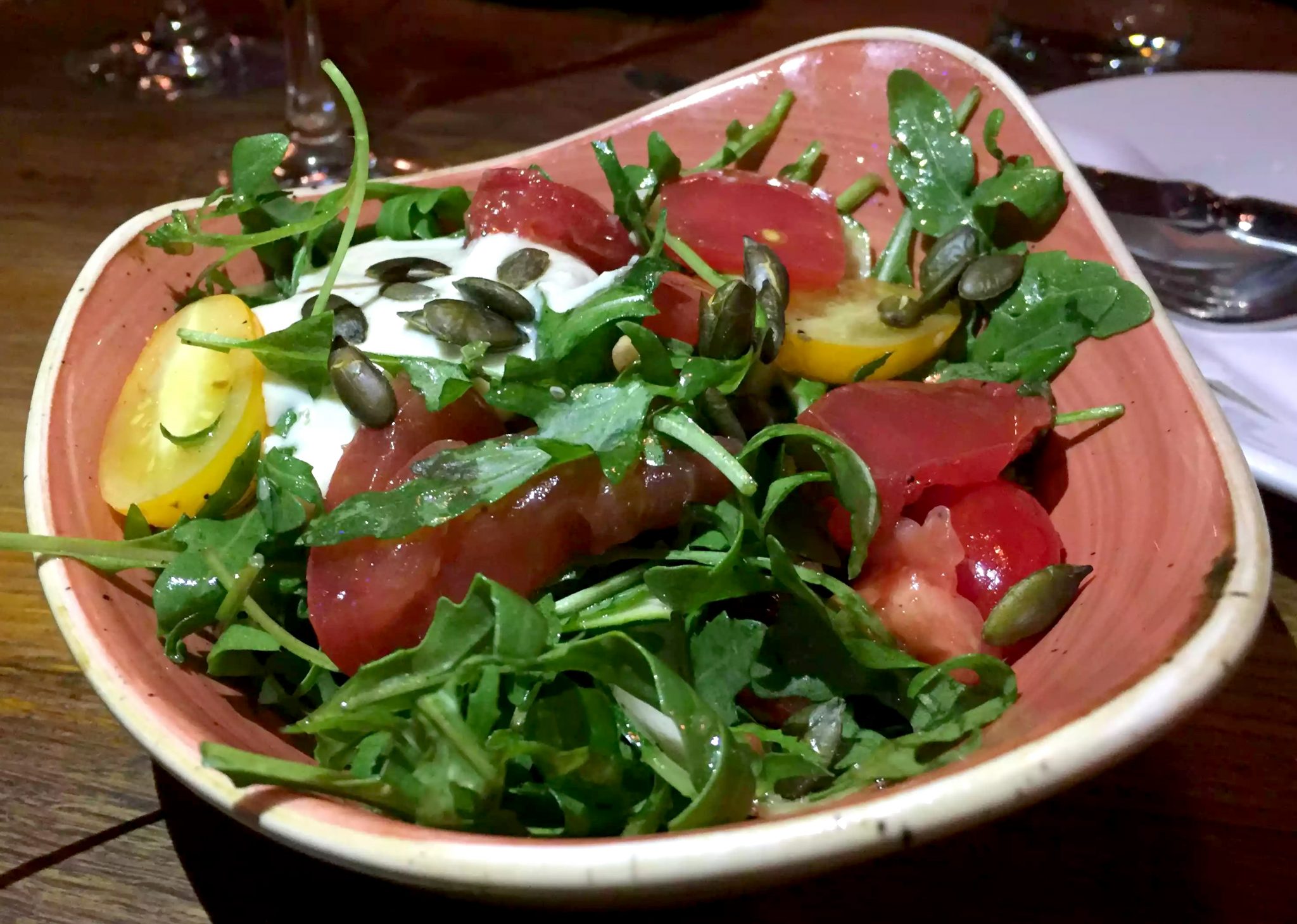 Our third dish was the Chargrilled Chorizo with Lentils, Spinach, Shallot & Paprika Dressing.  I love the smokiness and spiciness of a chorizo sausage and this one was great, I felt it overpowered the lentils a bit and they didn't add much to the dish but the chorizo was so great that it didn't matter.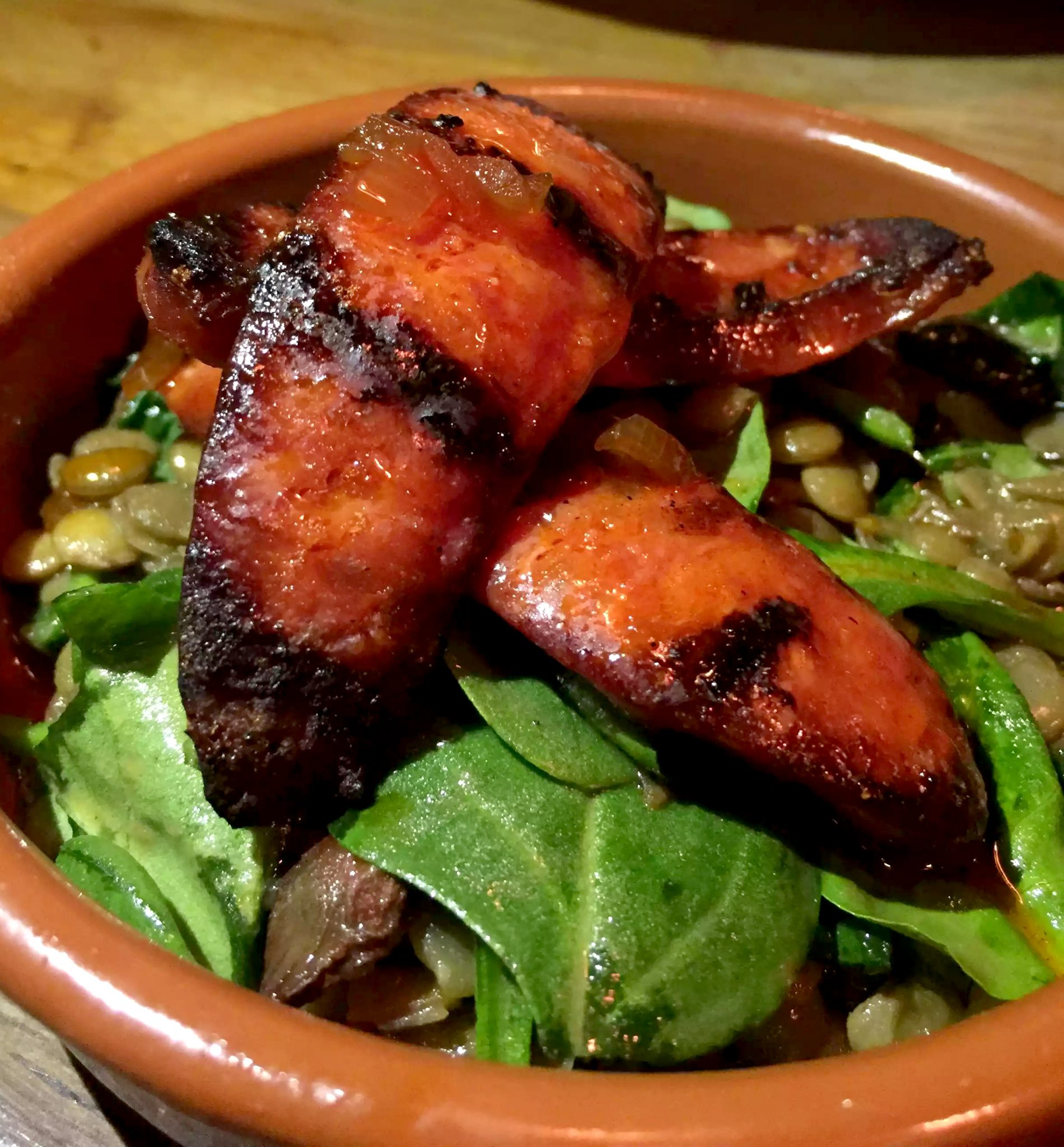 And lastly, our final dish was the Chargrilled Beef Onglet with Chickpea, Roasted Garlic puree, Grilled Courgettes & Girolle Jus.  Definitely the dish of the night for both of us.  The meat was cooked perfectly, charred and crusty on the outside and rare and pink in the middle.  The dish felt like a very hearty one and ended the meal on a really high note.
We didn't really need a dessert but we talked ourselves into it (wasn't very hard) by agreeing that the plates were all very small and we hadn't therefore actually had that much food, so we finished up with a plate of Spanish Cheeses to finish our bottle of Rioja with.  All in all, a lovely evening with some great food…and company of course 😉