This month it was my turn to be treated to date night and Dan had planned a surprise evening for me – I prefer not to know where we're going until the last minute, whereas he likes to pick where he goes!  I guess he doesn't trust me enough to choose wisely on my own 😛 .  I'd been told we were heading to Charlotte St which is only a short walk away from home so we set out for a fun evening.
Our first stop was Vagabonds and it's one of my favourite winebars in London.  It's a really interesting concept where they have 100 wines on tap and you can either try them by the sample (20ml), the glass (125ml) or by the bottle.  They also do a take-away service so you can try before you buy, or order a couple of bottles extra to take home with you or you can drink in the bar for a £10 corkage fee on top of the take-away bottle price.
In store, you get a kind of credit card which you top up with money and then you can go around and try all the wines that you like (the cost gets deducted from the card every time you press the button for another wine).  You can try some amazing wines that would be too expensive to shell out for a bottle for without knowing what they taste like, and because the sample sizes are only £1-3ish depending on the price of the wine, you can try wines you're not sure you might like without having to invest a lot of money.  It's a great way to work out what you like and what you don't without it being too expensive.  The wines also have really helpful descriptions that come with them and staff recommendations so that you can pick something that you think might be to your taste.
We decided to sample two wines each and get a bottle of our favourite one to drink in the bar, which has a really nice cosy feel to it.  They also serve food there, sharing-plate type dishes of charcuterie and cheese etc but I haven't tried the food there yet although I did manage to snap the menu, so maybe next time.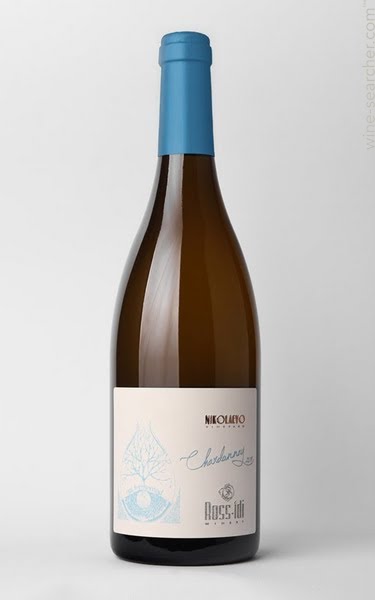 The first wine I chose was a Ross-idi Chardonnay from Bulgaria of all places.  This is what I mean about being able to try wines you might never choose normally (who's heard of a Bulgarian Chardonnay?) without having to buy a glass or a bottle.  I thought it was delicious, slightly off-dry and with tropical flavours like pineapple and peach. I thought the sweetness balanced well with the acidity but Dan thought it was a bit too off-dry for his taste and prefers something crisper.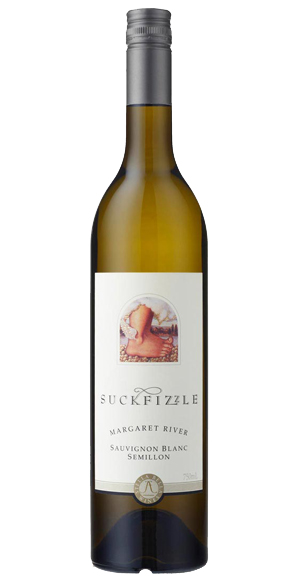 Dan went for a Stella Bella Suckfizzle (love that name!)  a Sauvignon Blanc/Semillon Mix from Margaret River in Western Australia.  This was much more citrussy with some gooseberry from the Sauvignon Blanc but still creamy and buttery from the oak.
The next one I picked was a Clara Benegas Chardonnay from Argentina (can you tell I was in the mood to try Chardonnays from strange countries?)  I loved it and actually so did Dan.  It was also slightly off-dry with tropical fruit notes, but not quite as sweet as the previous one I'd had due to the high acidity and slight citrussiness (yes, the spell-check really didn't like that word!)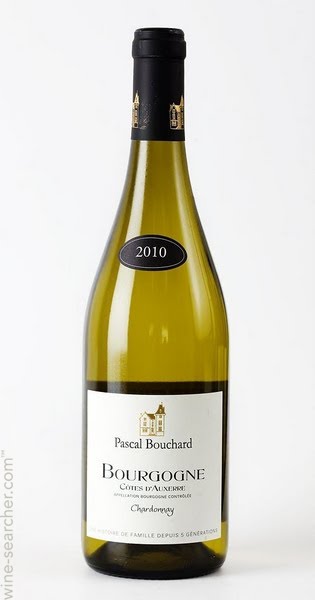 Lastly Dan went for a Pascal Bouchard Chardonnay 2014 from Burgundy in France.  A very dry, unoaked Chardonnay with a lot of acidity and citrus fruit flavours.
Seems to be fairly obvious that I like the more baked, tropical fruit wines and he prefers the crisper, citrussy ones!!
We ended up getting a bottle of the Clara Benegas Chardonnay, finding a compromise in slightly off-dry (for me) but still young and crisp (for him) and found a couple of cosy armchairs to sit down and drink it in.  I'm not sure we've quite mastered the art of the selfie yet!!
Sitting and enjoying my wine, I'd decided that the suspense was too much and I wanted to know where we were going for dinner.  He pointed directly across the road and said we were going to a newly opened restaurant called The Ninth.  I'd never heard of it but it's a new restaurant from the famous chef Jun Tanaka (Le Gavroche amongst others) and the restaurant serves 'simple but refined French Mediterranean-style dishes, all made for sharing'.  Sounded just up my street as Mediterranean is probably my favourite cuisine so the boy done good!!  We headed over the road and were seated straight away.
The restaurant was very buzzy with low lighting and quite a romantic atmosphere.  It was very modern looking with exposed brickwork and I really liked various table options.  You could sit at the bar, at a high table, low table, round table, square table, in an alcove, there were plenty of options.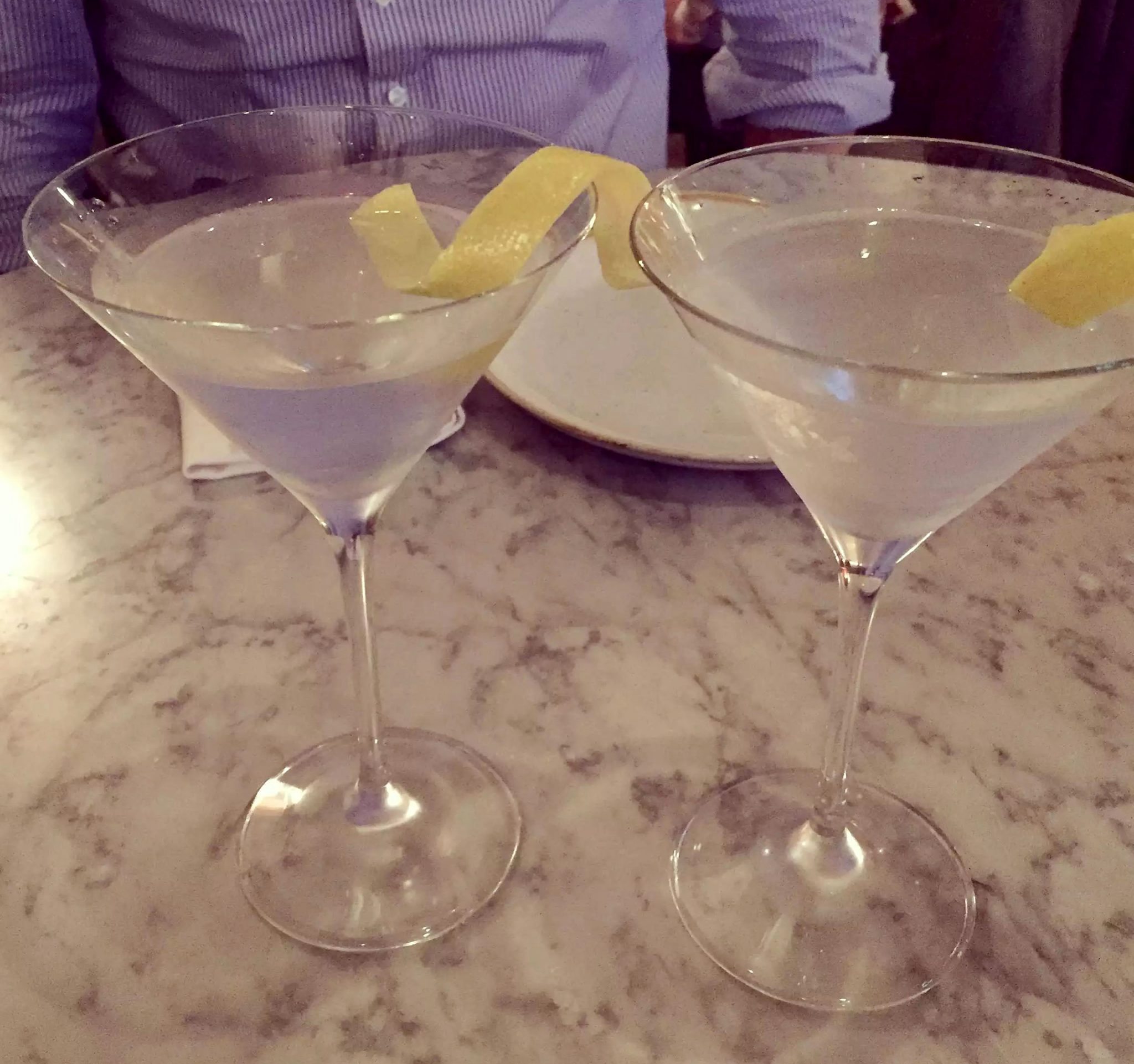 We were seated at our (high) table and the cocktail list was brought over.  Dan is a bit of a Martini snob (to be fair, he does make the best ones himself) and will rarely order one when we're out as he thinks he can do a better job!  He asked the waitress what the Martinis were like and her reply was 'Damn good because I make them myself!'  Her enthusiasm was enough for us to give them a go and we decided on two different ones, his a vodka martini (Belvedere) and mine a gin martini (Hendricks).  I have to say, both were pretty damn good and even Dan was impressed although he had to have his with a twist rather than a dirty one as they had no brine – hence the reason I chose a gin one!
We had a look over the menu and as all the plates were recommended for sharing, we decided to order two starter plates, two mains and two sides and share them all.  The choices were all really interesting and there were plenty of dishes that I liked the look of.  For the starters we ordered the caramelised scallops with peas and hazelnut pesto and also the crisp lamb shoulder salad with watermelon, tomato and feta.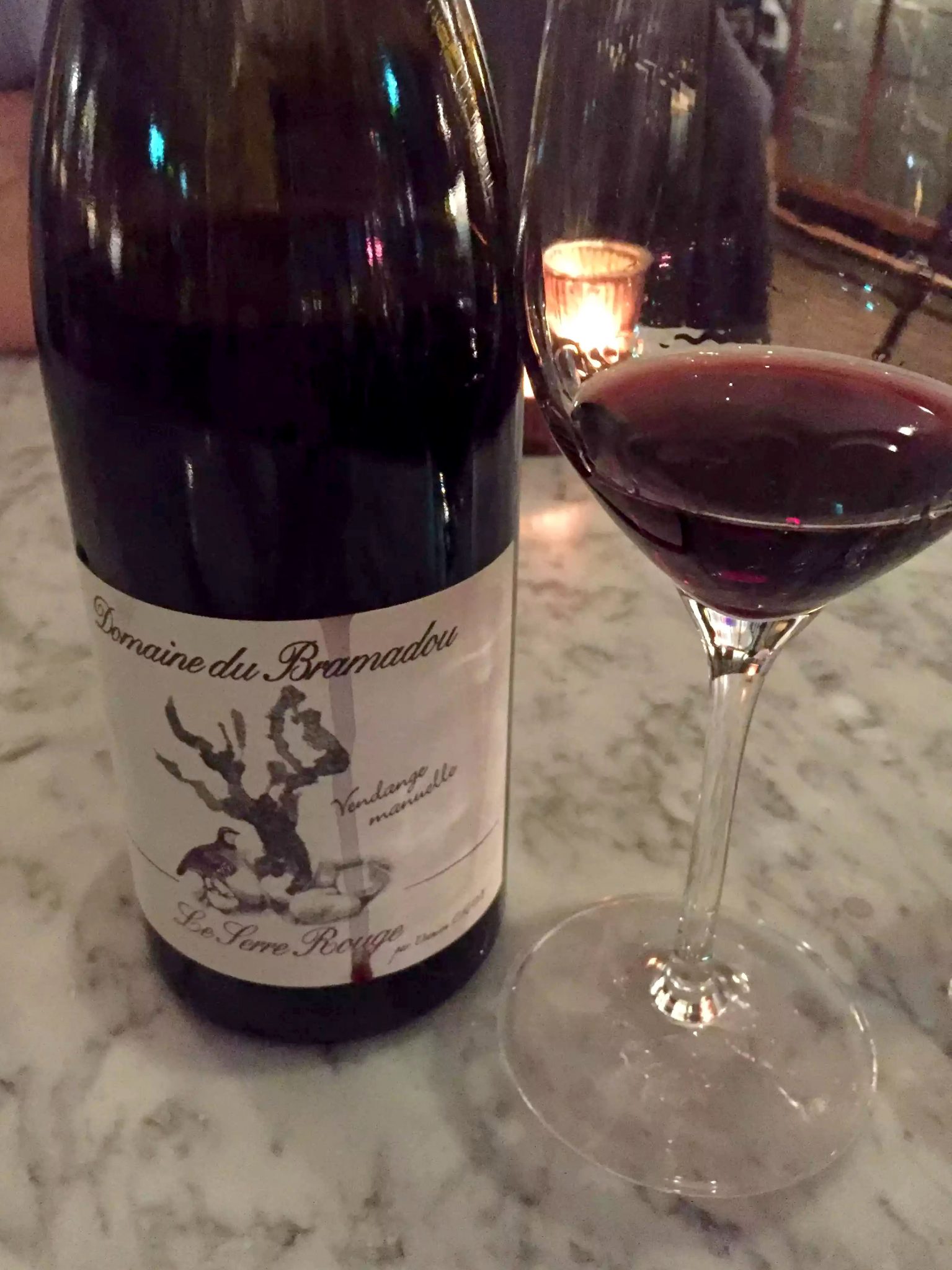 We decided to order a bottle of wine to go with dinner and picked the La Serre Rouge, Domaine du Bramadou, Roaix, Côtes du Rhône Villages from 2013  which is a GSM blend wine (Grenche, Syrah & Mourvedre).  It was delicious with plenty of black cherry fruits and slightly spicy notes and would pair well with the food we'd chosen.
The scallops came out first and they were so good that we inhaled them before I was able to take a photo!  Damn that Martini – alcohol always makes me forget about snapping food for the blog.  Perfectly caramelised and the pesto was a delicious addition.
Next was the lamb shoulder salad which was a pretty hearty dish for a starter.  The lamb was slow cooked and tender but the skin was beautifully crispy and the salad it came with ensured that the dish was light and not too heavy or fatty.
For our mains we had decided on the whole roast sea bream with lemon confit and fennel salad and the chargrilled Iberico pork with herb vinaigrette and piquillo peppers.  We also ordered a side of marinated baby artichokes and broad beans and one of the ratatouille with chorizo and crispy egg.
The sea bream was fairly spectacular and cooked perfectly with a salty, crispy skin and a moist, flaky inside.  The freshness of the fish was allowed to shine through as it had been cooked very plainly with the lemon confit and crisp refreshing fennel salad on the side.  At the other end of the spectrum was the pork dish.  Fatty and slow cooked and heavier it was just as delicious, but in a different way.  It was a much richer and heavier dish and the acidity of the vinaigrette cut through the oiliness of the pork perfectly.
The sides were just as good as the other dishes and could probably stand alone!  I'm a big fan of artichokes at the best of times and fresh ones are a real treat.  Cooked simply with the broad beans in a bit of lemon juice they were a nice light accompaniment whereas the crispy egg with ratatouille and chorizo was again, the complete opposite.  The crispy deep fried egg had such a satisfying crunch to it when we cut it open and the yolk was perfectly gooey and coated the whole dish as it oozed out (it might actually have been my favourite dish of the night!)
Too full for dessert we decided on a digestif cocktail so we crossed the road again and headed to the Charlotte St Hotel for a nightcap.  A Negroni for me and a Springfield for Dan which was a mix of gin, lychee, cucumber and elderflower.  Mine was delicious but I think the wine must've gotten to Dan – either that or he didn't read the menu properly as he found his a bit sweet and didn't realise it would have lychee in it so he wasn't too much of a fan.
Loving that I can walk anywhere in London (it feels so liberating and such a change from living somewhere previously, out in the country, where you need to a car to get anywhere) we wandered home slowly through Fitzrovia and Russell Square, enjoying London at night!  One of my favourite Date Nights to date!!