A traditional Spanish Restaurant where the House Speciality is Steak cooked on a hot plate at your table!
I took Dan to Casa Paco for Date Night on our last trip to Madrid as it's his Dad's favourite restaurant and he's been raving about its steak for a long time.  It's a traditional looking restaurant in La Latina, on Plaza Puerta Cerrada, 11 not far from Plaza Mayor or Calle Cava Baja.  The outside is painted red and green with big yellow writing so it's pretty hard to miss!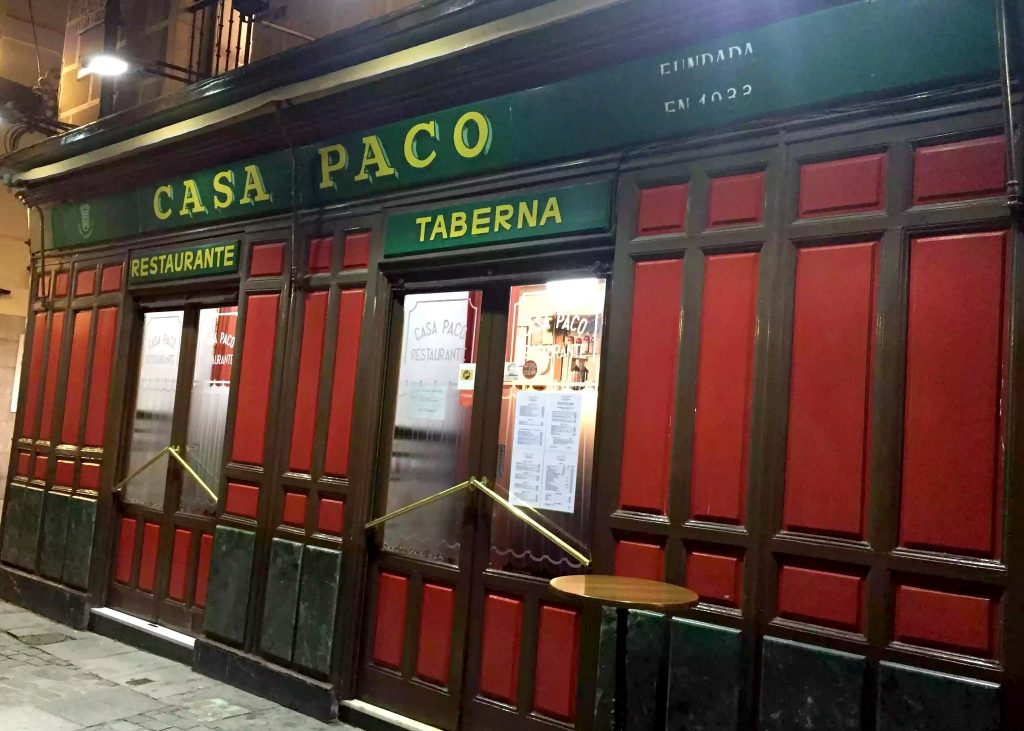 We ate late, as they do in Spain, having had some drinks and tapas before so we were pretty hungry when we wandered in at 10pm.  Walking in to Casa Paco, there are locals drinking at the bar and it feels like a pretty authentic place.  We were shown straight to our table and we sat down and ordered a bottle of wine – the Muga Reserva 2011, which luckily we both love, because the wine list wasn't very extensive and actually, that was the best and most expensive bottle on the menu, priced at €35!
Plenty of old bull fighting pictures and the tiled walls made this feel like a traditional restaurant and it actually seemed like there were a lot of Spanish eating there and not too many tourists.
We were offered the menu which was pretty extensive.  I've found that in traditional Spanish restaurants like this it's usually best to order the House Speciality – it will definitely be what they're famous for and they will have the cooking of it down to a T!  For example, if you go to Restaurant Sobrino de Botin, (read about my visit here) I would recommend ordering the suckling pig (so famous that Hemingway mentioned it in his novel 'The Sun Also Rises') or the sopa de ago  (an egg, poached in chicken broth, and laced with sherry and garlic).  In Casa Lucio you just have to order their famous Huevos Rotos (Fried Potatoes topped with  a runny fried egg) – they're the House Specialities for a reason as it's what they do best!  And obviously at Casa Paco, it's the steak!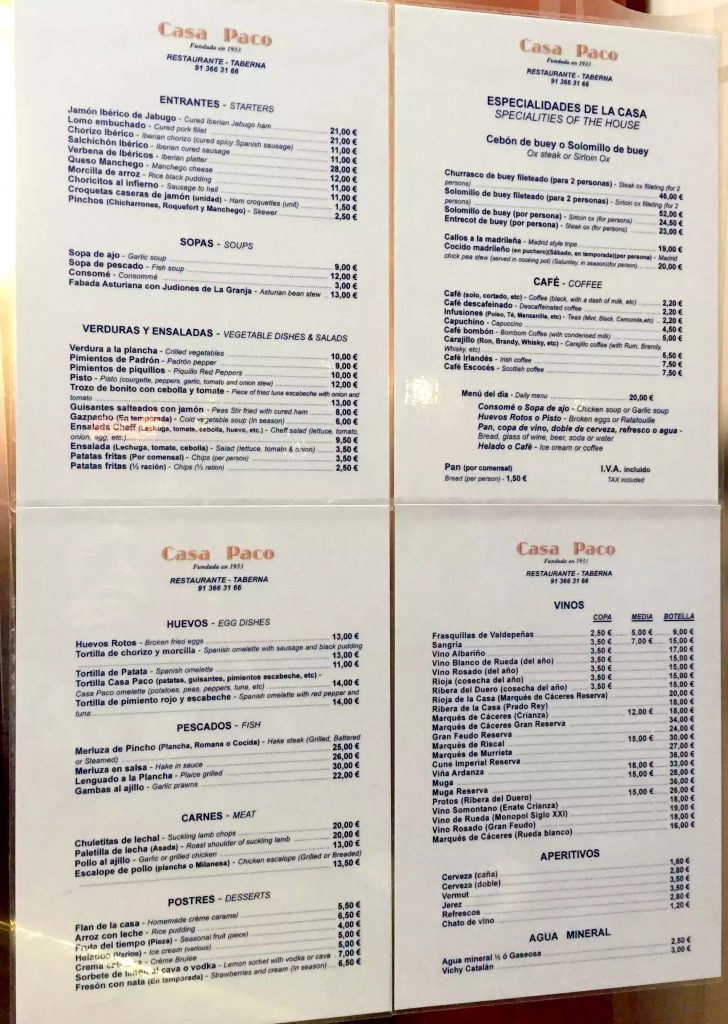 We ordered some starters, Dan was desperate for croquetas so he got one filled with ham and cheese while I really wanted some chorizo so we ordered a plate of that too.  We also decided to share the Pork, Manchego and Roquefort skewer as it sounded intriguing…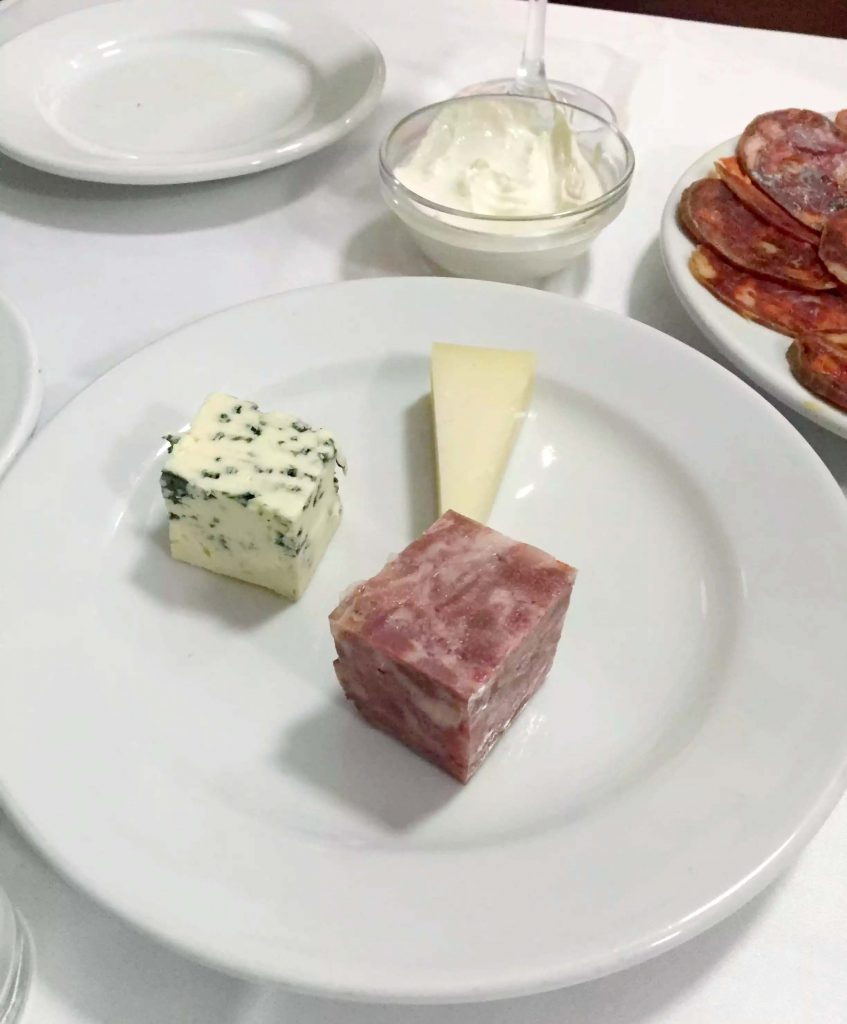 Your guess is as good as mine, we were pretty confused when it came out.  Not a skewer in sight but just some rather large lumps of meat and cheese on a plate.  At least it tasted good, the produce was really good quality, if somewhat lacking in presentation.  The plate of chorizo was enormous, definitely too much for one person as a starter so I was glad we were sharing it.  The quality too was amazing and it went beautifully with the Muga which was oaky and spicy with dark fruit flavours, plenty of body and a hint of cinnamon.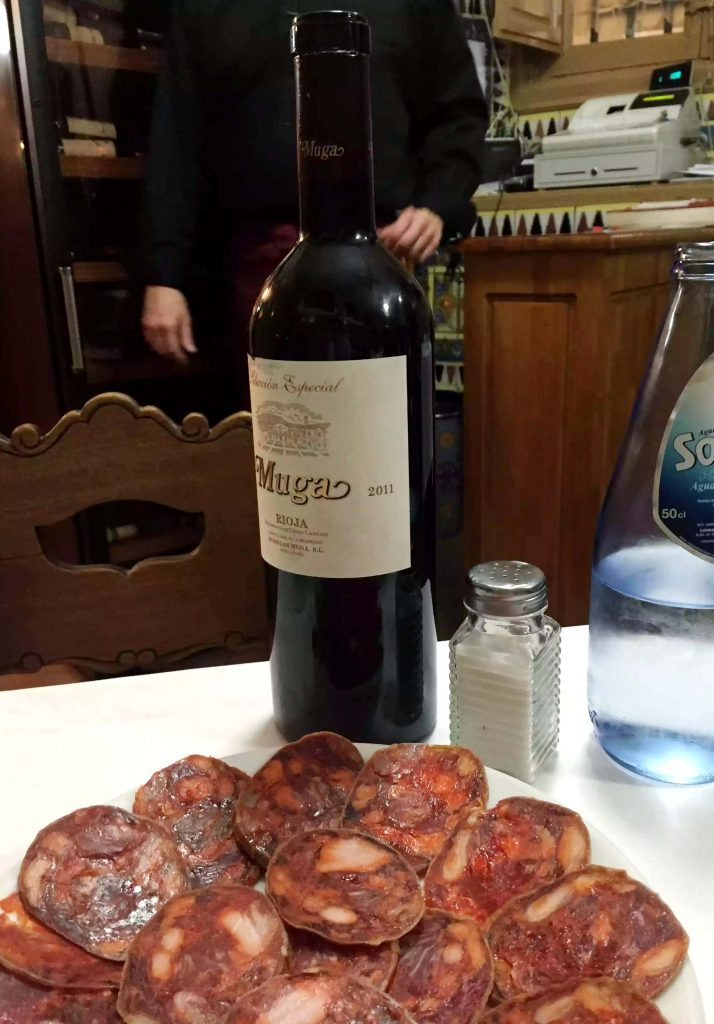 For mains, obviously, we ordered the steak, but not just any steak.  We ordered the House Speciality Solomillo for two which I believe translates to a Sirloin cut.  It was a sight to behold – It was enormous and came out perfectly charred on one side and completely rare on the other.  We were given a hot plate in the middle of the table and the idea was that we were to sear the steak ourselves, to just how we like it.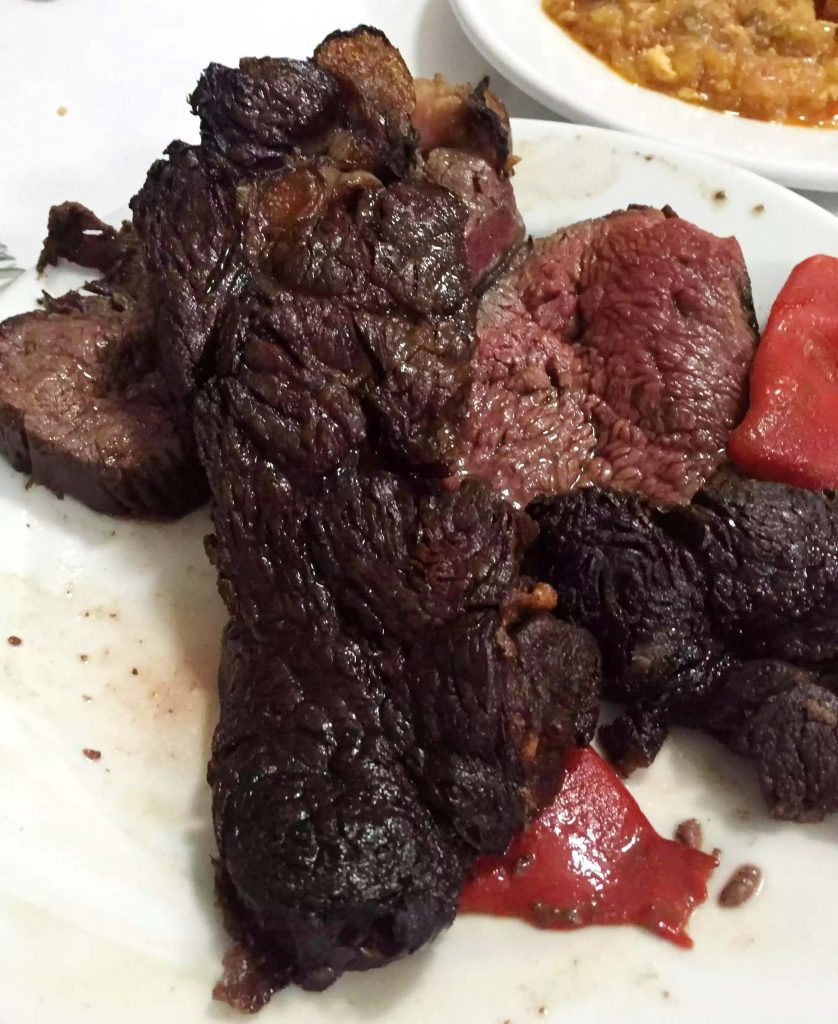 Well, you can probably guess that mine barely touched the plate before I whipped it off for a bite – I like it very rare.  Honestly it was the best steak I've ever had, super rare in the middle with just the right amount of crispy charring on the outside and with so much flavour!  It was obviously well aged and I don't think I've ever eaten a tastier steak.  Absolutely delicious.  The pisto that I'd ordered to go with it (not being able to eat the chips) was another House Speciality and actually went really well with the steak.  Almost like a ratatouille but less tomatoey, (full of onions, peppers and courgettes) it was fresh and you could taste all the individual vegetables and it added a lovely sweetness to the dish.
The portions were huge, so big in fact that as amazing as the steak was, I couldn't finish it all and we definitely didn't have any room for dessert.  A couple of coffees was enough to finish with and we left just after midnight – I think we might even have been the last ones in the restaurant!  Casa Paco certainly lived up to our expectations…and Dan's Dad's recommendation!
Pin it for later