One of my favourite things to do when I travel is to check out the local food markets.  I love just wandering around, seeing what the locals eat and buy, trying a few things, maybe buying some lunch for a picnic and just generally enjoying the atmosphere.  I'm in heaven in Madrid as there's so many different food markets and they're all a little bit different so I've done the research for you (tough work sampling all that food!) and here are my recommendations for the Best Food Markets in Madrid:
This is a stone's throw from Plaza Mayor in Plaza San Miguel and is possibly the most famous of all the food markets in Madrid.
It's a tapas lover's dream – an indoor market with stalls selling every kind of food imaginable.  There are 33 stalls selling cheese, jamon, sushi, fruit & veg, ice cream, tapas, tortillas, croquetas, smoothies, olives, nuts, oysters, seafood, wines, sherry and so much more.  You can read about my last trip there when I was in Madrid with my Mum, here.
What I like most is that everything is tapas (bite) sized so you can wander around picking one or two things from a few stands to make up your lunch.  You can buy it to take away but most people eat there, either standing at one of the stalls or by getting lucky and managing to nab one of the few tables that are dotted around.  This time I made myself up a cheese plate, bought  some jamon and a glass of Cava and was all set until I saw a new-to-me stand…the burrata stall!  Needless to say it was the highlight of my gastronomic lunchtime experience.  I ordered the burrata topped with pesto (palming the bread bit off on Dan) and it was absolutely amazing, the best burrata I've ever eaten, so creamy and light and just so incredible that I went back for a second one topped with smoked salmon!
I have been known to go for the oysters and champagne on occasion or even the caviar bar (when I'm feeling pretentious) but not even I could stomach the gulas (imitation baby eels made from surimi) although they seemed incredibly popular!
It's always buzzing and full of people and the atmosphere is amazing.  Open from 10am-12am weekdays and 10am-2am on weekends, it's also the perfect after-dinner stop for a plate of cheese and a glass of red wine!  Or even blue wine if that's your thing – I didn't try it but I'm told that it tastes like white wine and has no artificial colours in it…Hmmm, jury is definitely out on that one!
Open from 10am-12am Sun-Weds and 10am-2am on Thurs-Sat
This market is in the Chueca district (Calle Augusto Figueroa 24) and is slightly different in that there are a few tapas type stalls but many of the market's 22 stalls are for purchasing your shopping.  There is a cheese stall and a meat stall but it's like heading to the butcher or the cheesemonger and people come here to buy something special to take away and have later rather than eat there.  There are however a few bars and stalls that serve you food at the market but I like to use this market to buy provisions for a picnic and then head to the Retiro Park nearby to eat it.
You can read about the last time I was there and the food that I bought here.  We decided to buy ourselves some meat, cheese, fruit and salad (and a lovely bottle of wine) and head to the Retiro Park to sit in the sunshine and eat our picnic.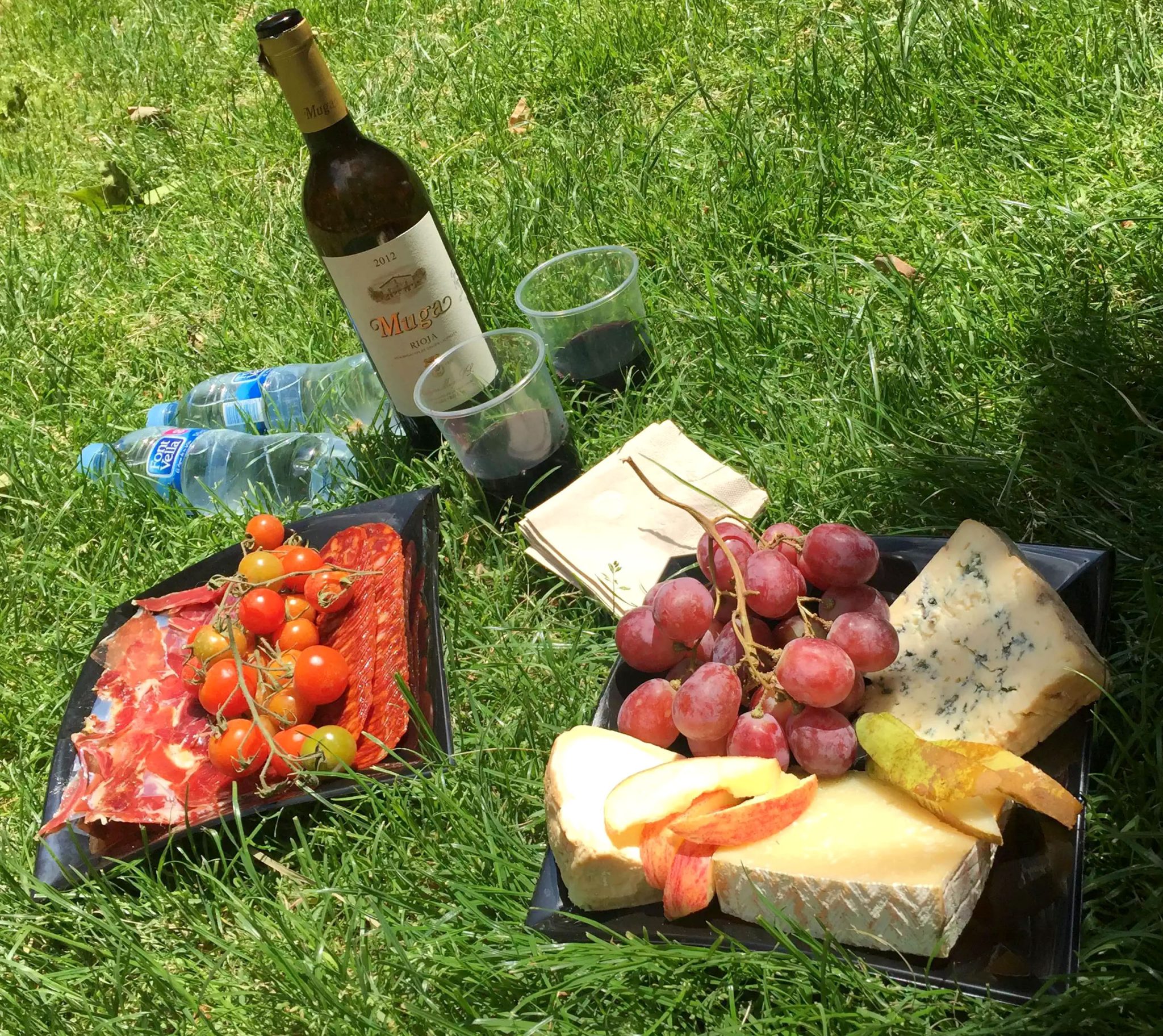 There is a lovely terrace bar where I've enjoyed a glass of wine (or two) having made my purchases, and (also a rooftop  bar that I've not been to as it was closed for a private function last time we were there – it's rumoured to have a stunning view over the city and is famed for its large 'gin tonics')!
The Mercado San Anton is open Mon-Sat 10am-10pm, Sun 10am-3pm; restaurant open Sun-Thurs 10am-midnight, Fri-Sat-10am-1.30am
This is in the Malasaña District of Madrid on the famous Fuencarral St (Calle Fuencarral 57) – here the food is more of a cook-to-order thing and is hot rather than tapas style nibbles.  You can have paella, steak, tacos, pasta etc.  It has a much younger vibe here and everyone seemed to be out eating before a night on the town although it is open earlier in the day too.
The three-storey building has a very industrial feeling with lots of exposed pipes and brickwork and has a very urban look to it.  The best thing about this market is that they provide lots of opportunities to try the food before you buy it.  I walked round munching on steak and cheese before settling on a grilled vegetable omelette (I was craving some greens at this point – the Spanish don't seem to do any vegetables with their meals and there are very few tapas options with anything green on them!)
There are 18 stalls and three bars across three floors so plenty of choice for dinner and also lots of tables to prop yourself up at as it's harder to eat a plate of food standing up than it is tapas.  There's also an outdoor patio and a prettily lit terrace for warmer nights.
Open daily 10am-1am
New to the food markets in Madrid scene, at only a year old, my last recommendation is again, extremely different.  Found in the smart, Salamanca district, (Calle Goya 5-7) this food market is in an old theatre and each tier (stalls, circle, dress circle) etc has been converted to house different stands.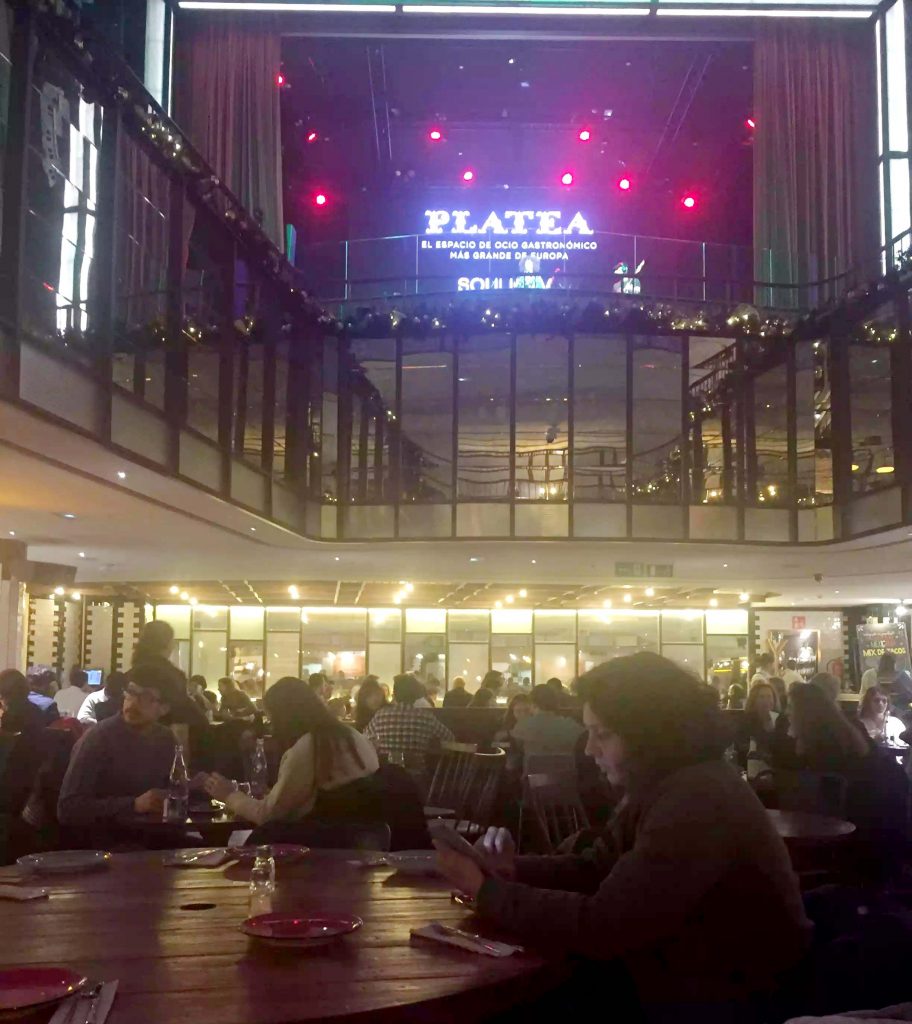 On the ground floor there's even a restaurant where you can sit and order from any of the food stalls and have the food brought to you.  This means that if you all want something different for dinner, someone can have sushi, while someone else is eating steak, while another is having pizza – it's great if everyone has a different idea on what they'd like for dinner.  We ate here after spending the day in Segovia and I ate a salad while Dan had a burger and our friend Guillermo had Huevos Rotos – everyone was happy!
There's always some form of entertainment on, from jazz bands to soul singers, meaning that Platea is definitely a buzzy venue and the fact that it's a theatre means that there is no natural light.  This makes it feel like more of an evening venue rather than somewhere you might go for lunch although its open everyday from 12!
There are also a few smarter restaurants (where the food is cooked by Michelin star chefs) within the building but these are separate from the main area and usually need a reservation.  There are great cocktails, plenty of tables and although not the cheapest of the food markets, it's not too expensive (and you get free entertainment!.)
Platea is open Sun-Wed noon-12.30am, Thurs-Sat noon-2.30am
So whether for lunch or dinner, there are plenty of options here.  I'm sure you could even last the whole trip just eating at the different Food Markets in Madrid, but I would recommend visiting some of the traditional restaurants too!  Botin, the oldest restaurant in the world is fabulous and one of the most famous and if you're a steak lover then you should definitely try Casa Paco. Whatever you decide, I'm sure you'll agree that Madrid is definitely a Foodie Paradise!
Pin it for later