Last week I went for dinner with some girlfriends of mine.  We picked Morada Brindisa in Soho as there was something for everyone and it was conveniently located for us all.  It's just off of Leicester Square so perfect for post work drinks and dinner.  Morada Brindisa is a new restaurant from the Brindisa group and is slightly more upscale than their other tapas bars.  The food is centered around the Castilian-Leonese tradition of roasting  meats, seafood and vegetables in an 'asador' – a vast wood fired oven.  I've been to other Brindisa Resturants and enjoyed the food before so we thought we'd give this new one a go!  I've also spent a lot of time in Madrid and love visiting all the Restaurants and Food Markets out there – tapas is definitely a favourite of mine!
The Wine
We arrived and were shown to our table. We were given the wine menu and decided to go for a bottle of El Bonhomme.  It was a wine from Valencia and was a mix of 50% Cabernet Sauvignon and 50% Monastrell (a grape I'd never heard of before) so we decided to give it a try.  It was delicious, full of dark cherry and plum flavours with a strong oaky taste so it was exactly the kind of wine I like.  Full bodied, rich and heavy and would go fantastically with most of what was on the menu.  You can bet we ordered a second bottle later in the evening!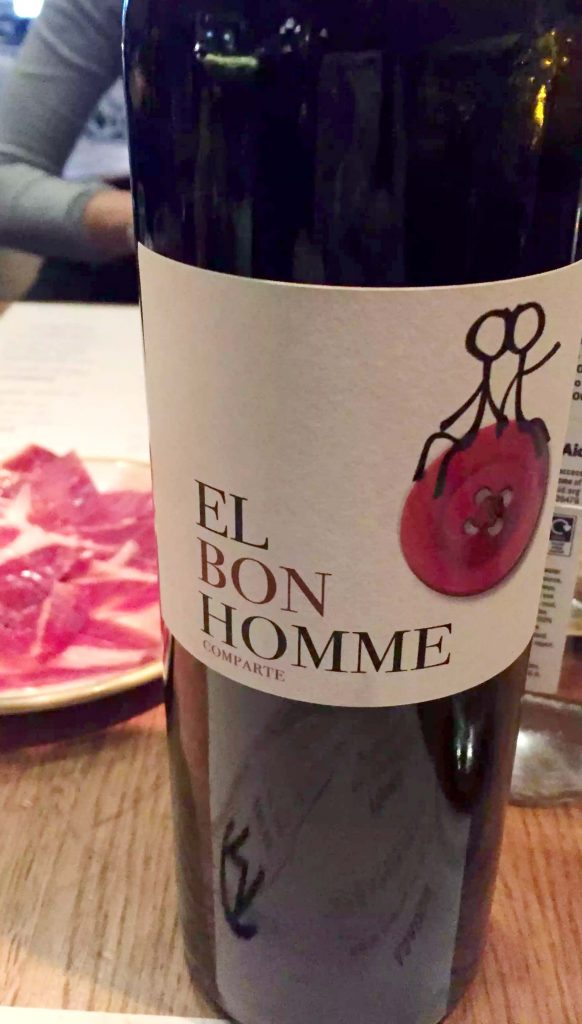 With the wine sorted, we had a chance to take a look at what was on offer for the food.   As the restaurant is an upmarket tapas bar, there were a lot of small plates and we were advised to pick 2 each and share them.  Luckily we all have similar tastes so it wasn't hard to make decisions about what to pick.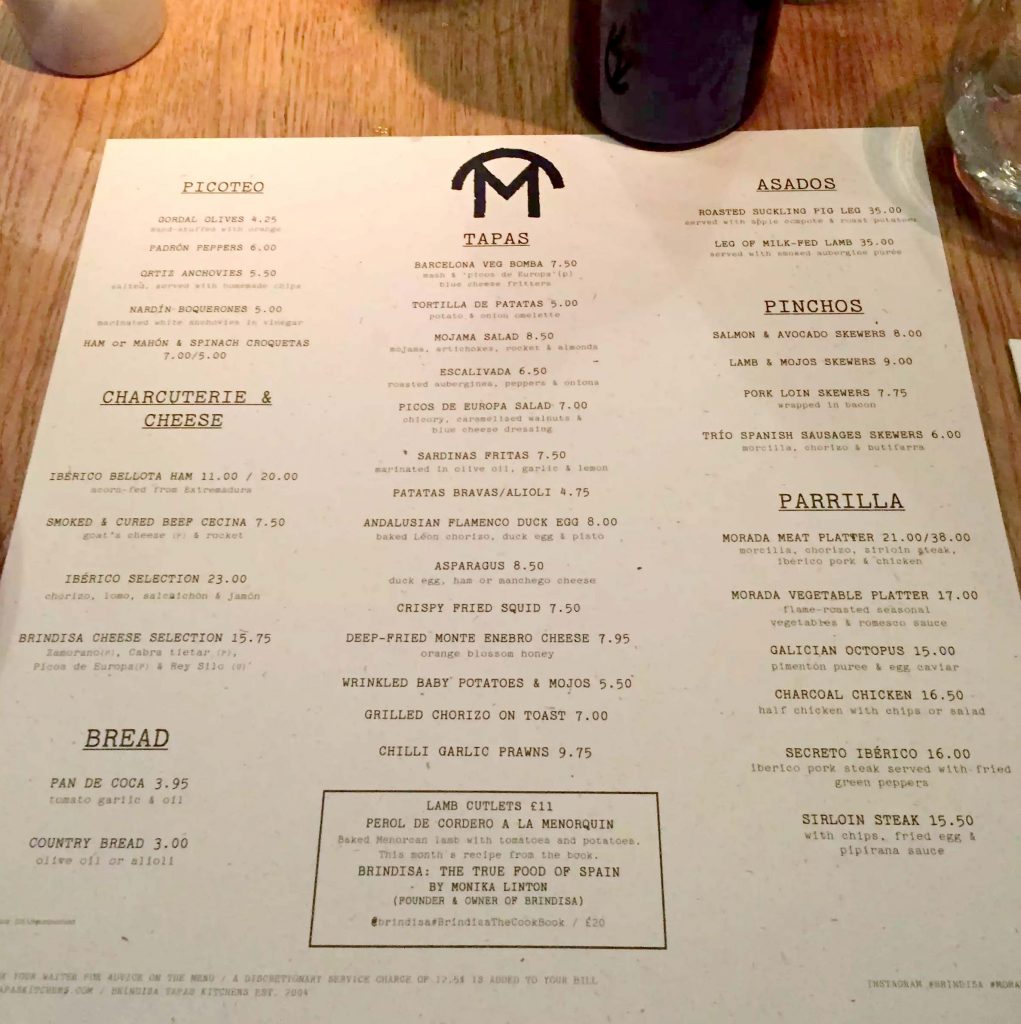 The Food
For me personally, you can't go to a tapas bar and not order the Jamon Iberico or the Padron Peppers.  Two such classic Spanish Dishes.  We ordered a plate of each to share as well as a Cheese selection which included 4 Spanish Cheeses – Zamorano, Cabra tietar, Picos de Europa & Rey Silo.  These dishes all came out together and we got stuck in.  It was a great way to start the meal, the saltiness from the peppers definitely got our taste-buds working.  The Jamon was absolutely delicious – the real stuff, not the cheaper alternative you  find all too often in other restaurants.  And the cheeses were great – each one was really different.  There was a blue one, a soft one and two similar hard cheeses that were fairly similar to Manchego.
Next up we ordered the Escalivada which was roasted aubergines with peppers & onions – the good thing with going out with the girls rather than the boys is that they don't balk at vegetarian dishes!  In fact, other than the Jamon and the prawns, I think everything I ate that night was vegetarian and we didn't feel hard done by without the meat.  The roasted vegetables were delicious, perfectly seasoned and cooked with plenty of garlic and olive oil.  They came with a delicious tapenade and we had no problems polishing off the plate fairly quickly.  The others also ordered a plate of the Crispy Fried Squid but I had to pass on that one as I can't eat the batter.  Fair enough as every other dish we ordered was perfect for my diet.  They said it was delicious, light and crispy with tender squid and a delicious aioli to dip into.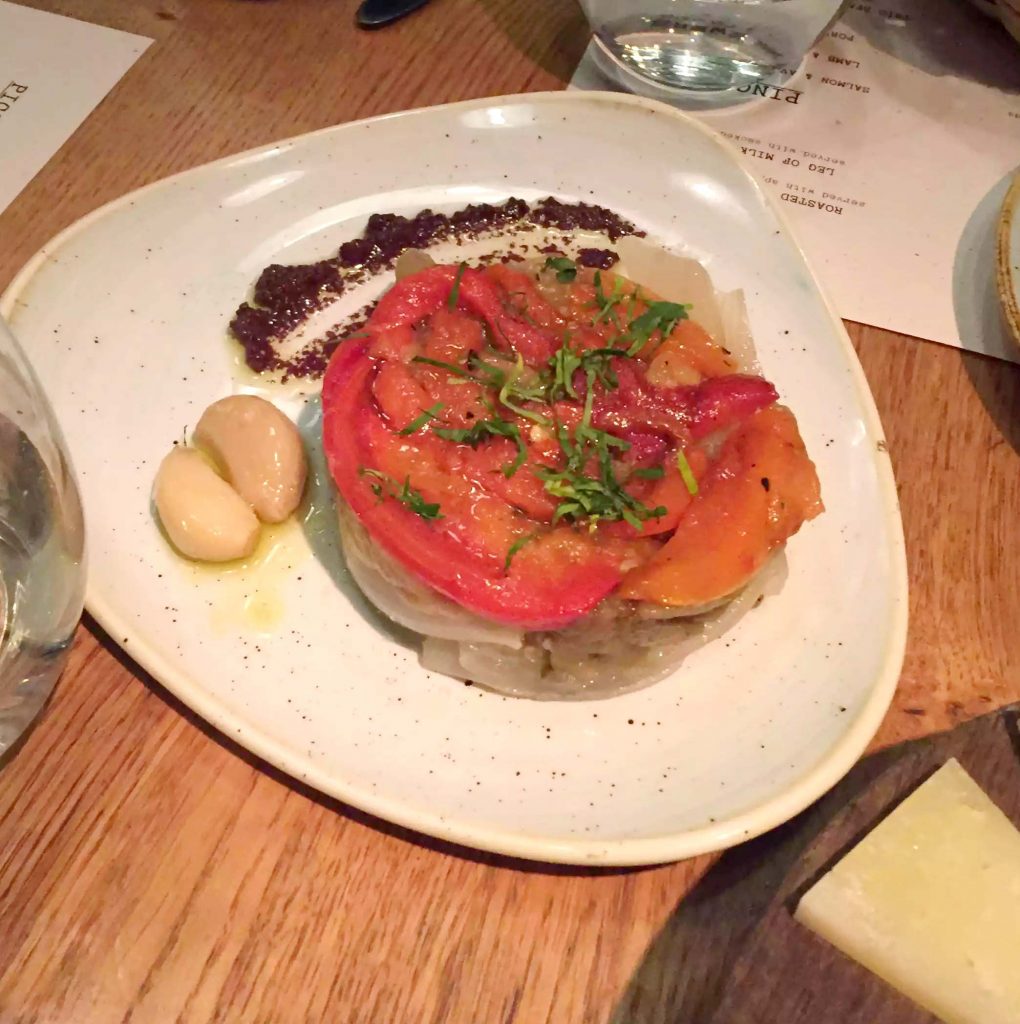 Next up were two dishes that I would definitely consider to be the dishes of the evening.  The grilled asparagus with a fried duck egg, and Manchego cheese and the Chilli Garlic Prawns or Gambas Al Ajillo.  I can honestly say I've never had a more flavourful sauce than the one that the prawns came in.  Sometimes it is oily rather than garlicky but this was incredible.  So much taste and the prawns were cooked perfectly too!  Sorry Dan, it might even beat the Gambas Al Ajillo that you make at home.  The roasted asparagus was delicious and the crispy fried egg was cooked just right so that the yolk oozed out over the whole plate when we cut into it.  A simple dish but so delicious and effective – who would have thought that egg and vegetables could be so tasty!
We probably didn't need it but we decided that we were still a bit hungry (crazy after all that food!) so we ordered the Morada Vegetable Platter.  It was mixed roasted vegetables done in the 'asador' (Morada Brindisa's famous wood fired oven) with a romesco dipping sauce.  This was a light, fresh dish – the perfect way to end the meal as it didn't leave us feeling heavy or weighed down.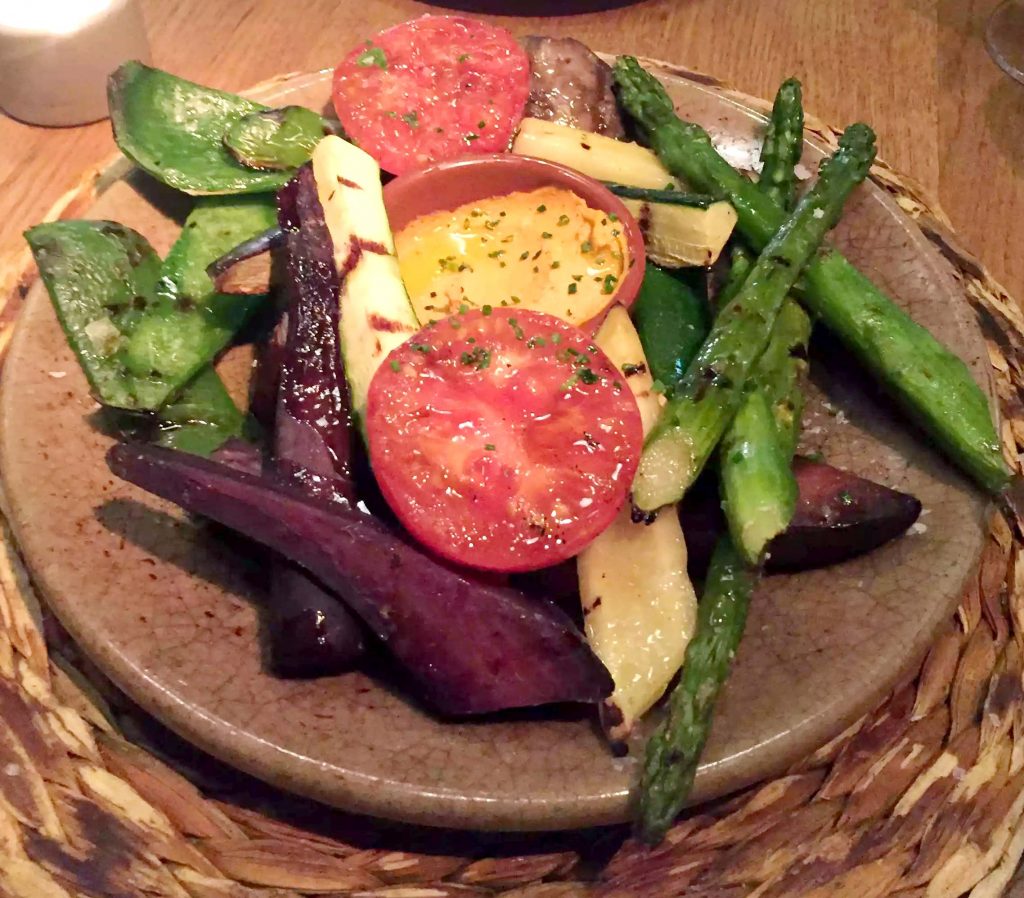 It was such a lovely dinner and I love this way of eating.  Sharing everything means you get a little taste of so many delicious dishes.  It means you all get to discuss all the dishes, what you liked and what didn't work, rather than each just having your own dish to try.  You can compare and contrast dishes and flavours and it gives you a much greater insight into the chef's cooking style and ability . It's also a fun way to eat too as sharing and laughing and chatting makes for an enjoyable atmosphere and a great night out!  Morada Brindisa is definitely a fun restaurant to visit with delicious food and a buzzy atmosphere.
Pin it for later