There's a new restaurant opened up in South Quay, Canary Wharf that's causing a bit of a buzz.  Jazzgir has only been open for a few months but it's already making a name for itself in the area.  We were invited along one night to try out Jazzgir and  see what this new concept in fine dining was all about.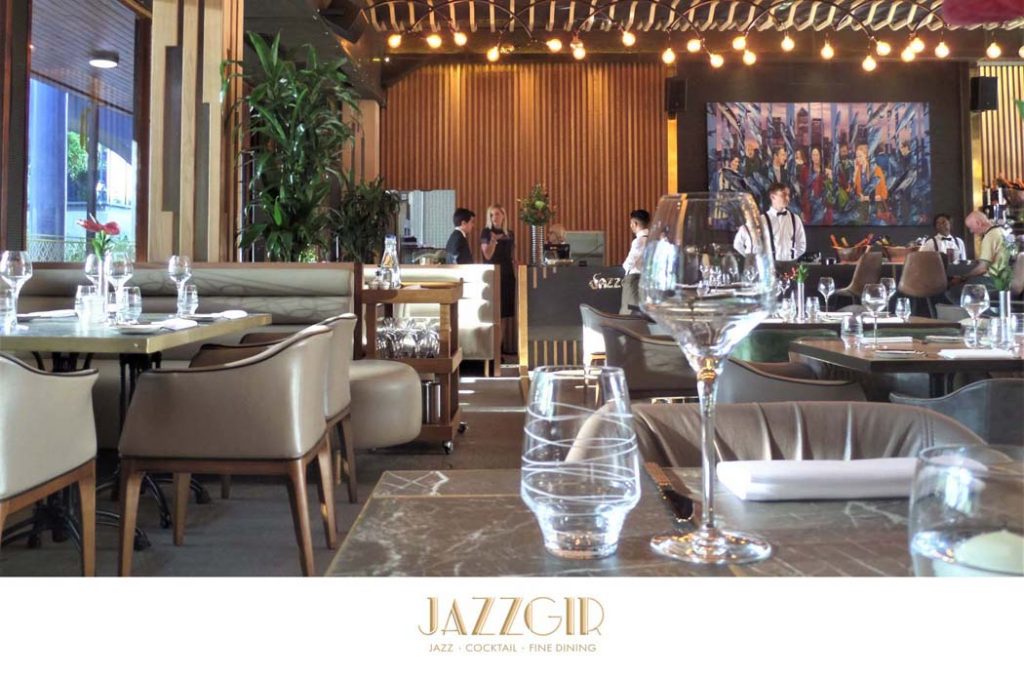 The restaurant itself is situated right on the Quay so you get a view out over the water as you approach it.  Once inside we were shown to our table and our host Alex came over to explain the restaurant's concept.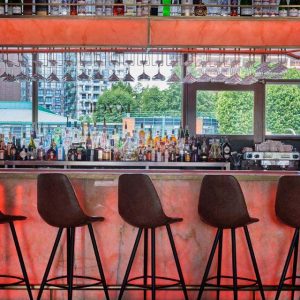 Jazzgir aims to provide its patrons with a three-pronged attack on their senses! The three elements are fine dining, incredible cocktails and live entertainment.  The fine dining from Executive Chef Samuel Tineo comes in the form of sharing plates.  Larger than tapas style plates but small enough to be able to enjoy a few different ones.  The menu boasts a selection of 16 dishes to choose from.  Each one is priced at £12 or you can have 5 for £50 which is the recommended amount for two people.  Small plate fine dining is not a concept I've seen before but definitely one I was up for trying.  I love tapas style eating where you can try a small amount of a variety of dishes.  The different tastes and textures combine for a really interesting and flavourful meal.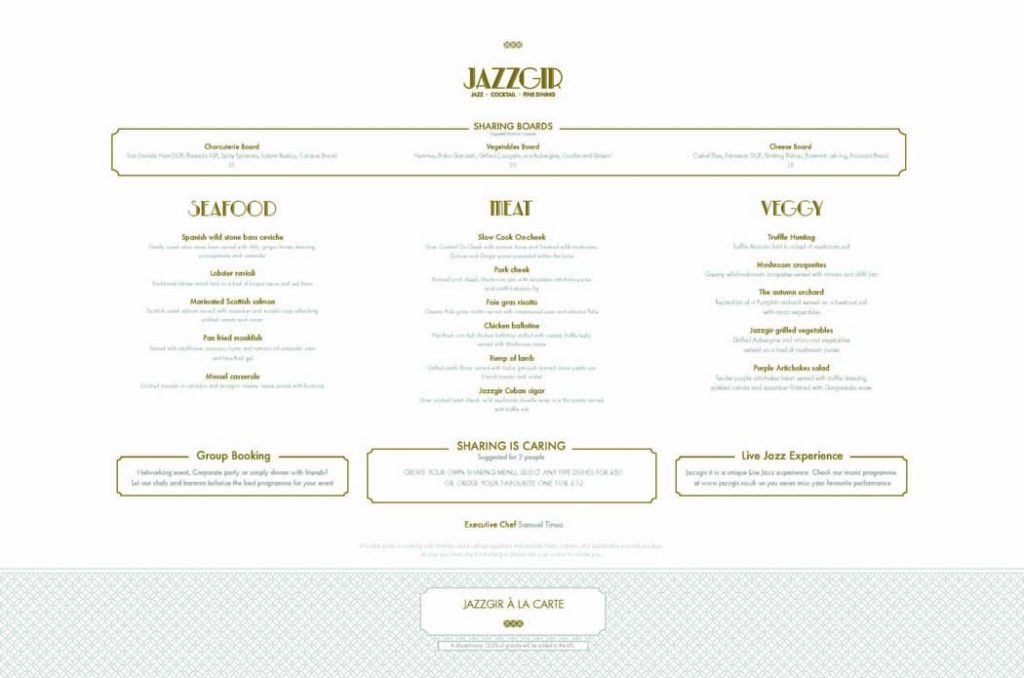 Soon after we were seated, Jazzgir's mixologist, Daniele Romolini, came over to see what flavours we liked in our cocktails.  Not being able to eat sugar, my preference is for nothing too sweet so he suggested two different cocktails for us to share.
I told him that a Negroni is my favourite.  He suggested The Padua Negroni (£9.50).  This was a mix of Martin Miller Gin, Aperol, Antica Formula Vermouth and Orange bitters.  However he had an even more special treat in store for us.  He'd recently made a Negroni that he'd Barrel aged for a month which he suggested instead.
The other cocktail that he suggested was T
he Bitter Heaven (
£10).  This was a blend of  Sipsmith Gin, Solerno Blood Orange liquor, Grapefruit juice, Honey and Ginger Syrup, Lemon & Basil.  The Syrup was homemade so there was no added sugar which was perfect for me!
The cocktails arrived and the presentation was stunning,  The Negroni even came served in its own bottle with a cute label listing its batch number.  It was opened at the table and poured over ice for us.
I really loved both cocktails.  The Negroni was smoother than many others I've tried with a slight toastiness from the barrel ageing.  I surprised myself though by actually preferring the Bitter Heaven.  It was tart and refreshing with just a hint of sweetness.  What surprised me though was the Basil.  It went so well and really provided a different layer to the drink.
We took a look at the menu and were recommended some of the dishes by the kitchen.  They were going to bring a selection for us to try so we didn't have to worry about choosing any!  Lucky for us as we couldn't make up our minds!
We were offered a glass of white wine from the menu.  Knowing I was starting with fish, I ordered the 2016 Sauvignon Blanc Ribbonwood, Marlborough, New Zealand £10.50.  It was fresh, elegant and fruity with grapefruit being the dominant flavour after goosebery and citrus.  Nice, light and refreshing and perfect to pair with fish as a starter.
Dan went for a glass of the 2016 Picpoul de Pinet, Baron de Badassière, France £8.  The child in me laughed at the name.  I was imagining a BadAss Baron when in fact I'm sure it comes from a very picturesque part of the Languedoc.  Fresher and crisper than mine it had hints of green apple and plenty of delicious acidity to get our mouths watering!
While we were enjoying our wine and waiting for our first course to come out we saw some of the platters going to other tables.  Big wooden boards groaning under the sheer weight of the cheeses and charcuterie they were displaying.  They looked amazing.  It would be great to have after work with a few cocktails, sitting at the bar listening to the music and sharing some delicious cheese!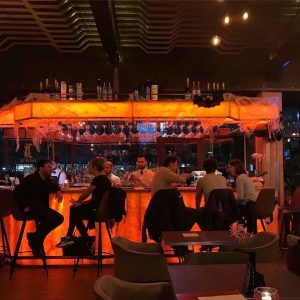 But now it was time for our food.  At Jazzgir they don't serve the food all at once.  The cold courses come first followed by the warmer dishes.  It's a sort of starter, then main course style idea but all the dishes are the same size and for sharing.  The first dish I was brought was the Spanish Wild Stone Bass Cevice.  Gently cured citrus stone bass served with chili, ginger honey dressing, pomegranate and coriander.
The dish had everything.  Acid from the citrus, creamy freshness from the avocado and a pop of texture and sweetness from the pomegranate seeds.  There was a hint of heat from the ginger and saltiness from the caviar, neither of which overpowered the delicate fish.   It truly was a spectacular dish.  I loved all the fresh flavours that were combined in this and we both agreed this was absolutely the dish of the day!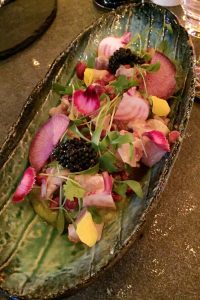 Dan was served their House Speciality, the Jazzgir Cuban Cigar.  It was  slow cooked lamb shank and wild mushroom duxelle wrapped in a filo pastry and served with truffle ash.  It's a playful dish and is certainly an experience.  It came to the table under a cloche which was filled with smoke.  Once at the table they removed the cloche with a flourish allowing the smoke to escape and you get the first hit of the cigar type smell.  It was even served in an ashtray!
Every element of the cigar was there from the smoky aroma to the look and representation of the whole dish.  A very clever concept.  The one thing it was missing though, was a sauce of some description.  The lamb, although deliciously slow cooked and tender was not quite moist enough to balance the filo pastry and the ash.  The smokiness really came through in the final dish and the presentation really did make it a stunningly clever concept.  With me not being able to eat certain elements of the dish, he had this one all to himself!
While we were eating our first courses the entertainment started up.  They have a few different acts on their books and they vary them depending on the day of the week.  Live music is Thursdays, Fridays and Saturdays.  Tonight's offering was a singer with a violin, accompanied by the piano and a double bass.  They started off with 'One Day My Prince Will Come' thanks to Valentine's Day the day before!  There were some well-known tunes in the set as well as some lesser-known ones too and the music was great.  My criticism would be that it was too loud to continue holding a conversation at the table.  This meant that all our focus was on the entertainment which may be what they are going for.  I would have preferred to have it as more of a background vibe that enhanced rather than overpowered the atmosphere.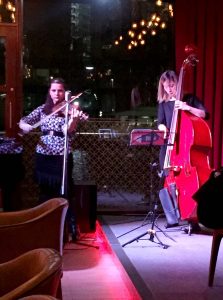 Suddenly our next food course was up.  This time I had the Pan Fried Monkfish .  It was Served with cauliflower couscous, a curry and turmeric oil, coriander cress and lime fluid gel.   Again it looked beautiful.  Vibrant and colorful and art on a plate!  The fish was cooked well and I loved the curry flavours with it.  Not too overpowering, the flavour of the fish still shone through and the lime gel gave a crisp acidity to it.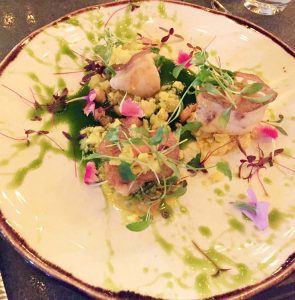 Dan's next course was the Truffle Hunting.  He definitely seemed to get all the dishes with the quirky presentation.  This was Truffle Arancini laid in a bed of mushroom soil.  Decorated with real twigs and leaves it was a very autumnal looking dish.  The presentation definitely enhanced the earthiness of the truffle flavour and was a really fun way to display them.  They were nice and gooey in the middle with a crisp shell and I think he was pleased he was getting all the heavier, carby dishes all to himself!
We ordered another glass of the same wines each having both enjoyed our previous picks!  Just in time, as the third course was up.  I was offered the Chicken Ballotine.   This dish was pan-fried, corn-fed chicken ballotine stuffed with creamy truffle leeks and served with Mushroom sauce.  I was thinking that there didn't seem to be much sauce on the plate but the chicken was perfectly moist so it didn't need a huge amount.  I loved the texture of the Parmesan crisp it was served with too, which provided the necessary crunch.  Another beautiful plating though!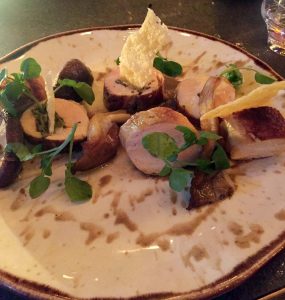 For his last course, Dan got the Marinated Scottish Salmon.  It was Scottish cured salmon served with a cucumber and wasabi soup, refreshing pickled carrots and caviar.  The soup was an incredible green colour and the salmon was to die for.  It was cured, so almost raw, which gave it a lovely silky texture and the wasabi provided a bite to cut through the oiliness of the fish.  Beautifully presented with edible flowers it was a spectacular, vibrant looking dish.
We left feeling very full.  The six dishes between us was a lot of food!  5 would be more than enough for two people to share.  The portions were larger than tapas and almost main course size!  Great value for money  and Jazzgir definitely wowed up with its new concept in fining dining small plates.
We'll definitely be back for more and we'll try it for after works drinks too.  I've got my eye on those sharing plates!
15-16 Harbour Exchange Square
Canary Wharf
London
E14 9GE
Tel. 020 7001 0400
Email reservations@jazzgir.com
Pin it for later