If you like Dinner in Polignano A Mare read more at:  Puglia Day 1, Puglia Day 2, Puglia Day 3, Puglia Day 4
I'd been desperate to visit Puglia (the heel of the boot of Italy) for a while now after hearing how beautiful and unspoilt it was.  It's one of those places that really hasn't hit the tourist consciousness yet and still seems to be a very rustic, authentic part of Italy.  As my birthday treat this year Dan had booked us a long weekend in Puglia, travelling around and visiting  many different towns.
An after work flight from England meant that we ended up arriving fairly late at Bari airport in Southern Italy.  We were keen to get on the road early to get to our first stop Polignano A Mare, hoping that we'd be there in time to get something to eat.  We grabbed our hire car and headed 30mins down to the coast to find our hotel and check in.  Dan had booked the Hotel Covo dei Saraceni, a gorgeous cliff top hotel in Polignano A Mare, and upon checking in, we were told we'd been upgraded, free of charge, to a Junior Suite (check us out!!)
The room was lovely, but we ran in and out quickly, to drop our bags, and head to the Old Town for dinner in Polignano A Mare.  We walked from our hotel (just there on the left on the cliff top in the photo), past the famous beach and through the archway into the beautiful Old Town.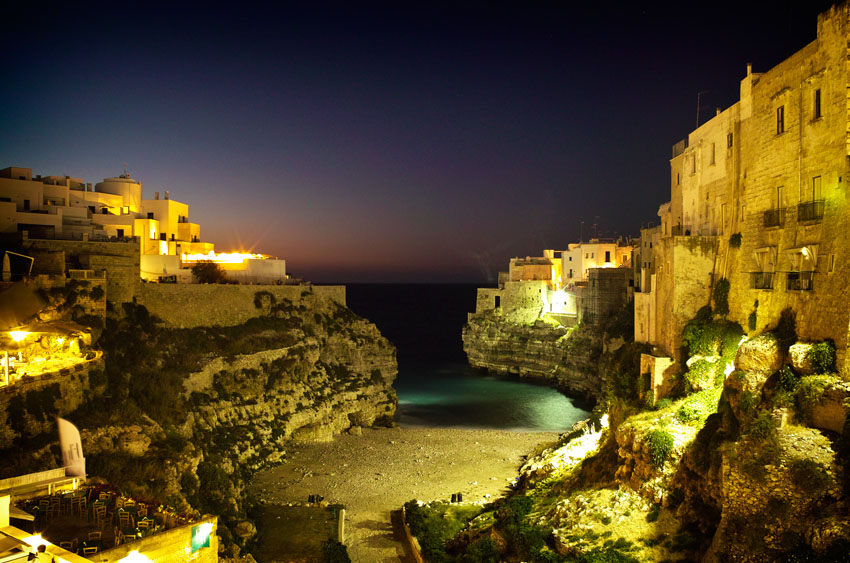 We'd been told by our friend Lara that there was a great little restaurant, just inside the walls.  We headed there, fully prepared to beg for our supper (it was about 10.45pm).  On arrival at the Osteria dei Mulini, we were told that it was no trouble at all and were shown to a cute table outside.  It was so lovely to be able to sit outside and eat in May.  It was worlds away from the weather back in England and we felt like our holiday had really begun.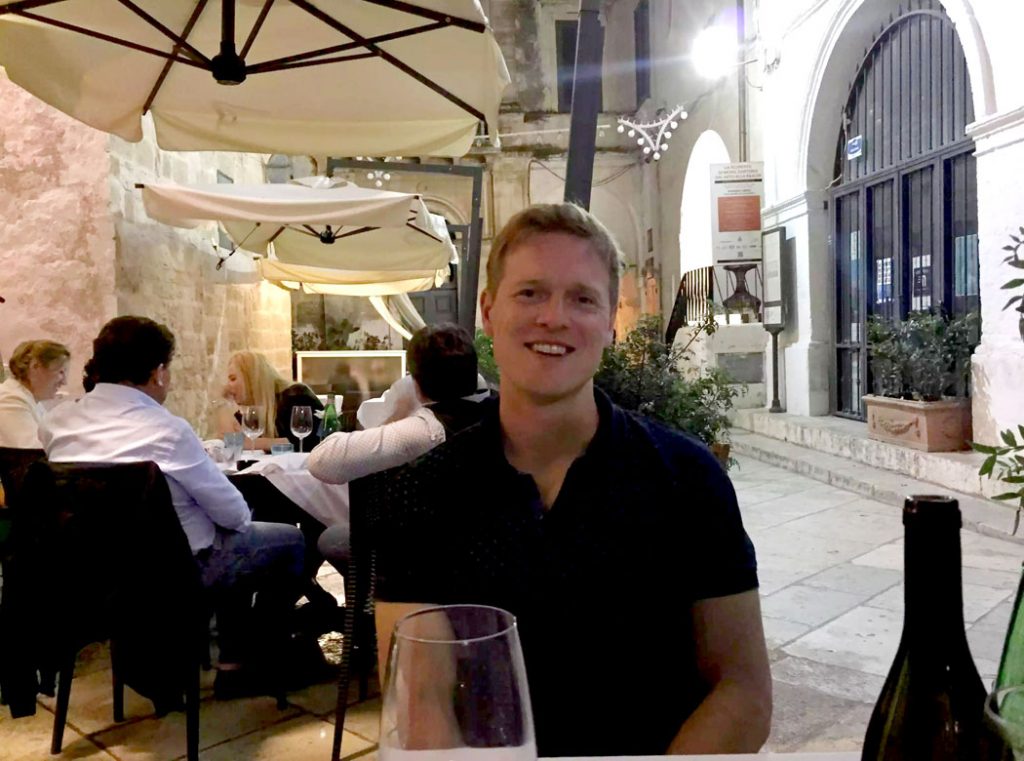 We sat down and took a look at the wine list.  As Primitivo is the main black grape variety in Puglia we ordered a slightly aged bottle of this while we decided what to eat.  Going Italian, I picked the Smoked Burratini to start and Dan went for the seafood pasta.  Expecting the food to be a bit more rustic, we were absolutely amazed at the quality and presentation.  My smoked burratini might be the best mozzarella I've ever eaten.  A firmer outer shell gave way to a gooey creamy centre and the smoked taste came through amazingly well and when eaten with the cherry tomatoes and pesto, it was exactly what I had been wanting.  Dan's pasta came with the hugest prawns on top (almost mini crayfish) and he said it was delicious.  Definitely a great start to our dinner in Polignano A Mare.
The wine, a Morella 2013 was dark, jammy and full of ripe fruit flavour and went wonderfully with the pasta and also the ripe tomatoes in my dish.
For mains I had the sesame crusted tuna with a side of mixed vegetables and the waiter almost laughed at me when I asked for it rare.  It was the – 'as if it would be served any other way' look) so I was pretty happy with that.   It came out looking and smelling delicious, perfectly cooked and tasted so fresh.  Even the vegetables were amazing, grilled aubergines, courgettes and cherry tomatoes with balsamic drizzle.  They tasted better than any vegetables in England.  I could tell the quality and freshness of the produce in this area was going to be amazing!  Dan was starving so he ordered the steak which he also said was cooked perfectly, but came very randomly with grated cheese on the side.   Not something I've come across before but maybe that's how they serve it down here!
The bill was surprisingly reasonable, less than €40 a head so we left full and happy.
We decided to wander around town for a bit longer and find somewhere to have a drink.  The Old Town was beautiful, all white stone buildings, tiny alleyways and impressive churches and arches.
Rounding a corner we came across this staircase with words written on it.  Livvy, a kind blog reader has translated for me.  It means…
"Visitors, the biggest sin of all is the sin of having a soul blind to others. And the greatest joy of all, is the joy of knowing the good that we have seen and to see all that is good in miraculous moments" (Edgar Lee Masters)
Even the graffiti here is a work of art!  Deep, meaningful and with the perfect sentiment for two people just beginning their holiday adventure!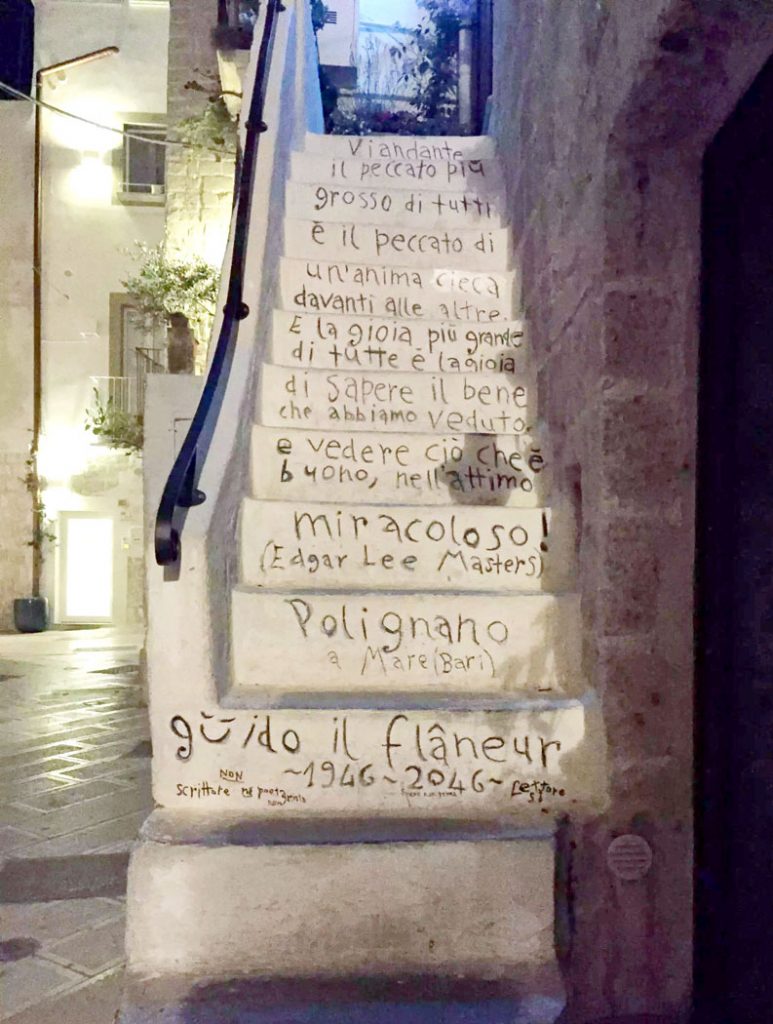 Continuing on we came out into a large square and found a little bar, Dei Serafini.  We decided to order after dinner cocktails!  2 Negronis, which were delicious, but huge!!
Everybody seemed to be packing up about now and heading home.  We were about to turn in for the night when we heard music coming from down a tiny back-street and went to investigate.  We found Bar Infermento with the friendliest locals, who all dragged us in for a last drink.  I wanted a fresh head in the morning so decided not to have anything, while Dan ordered a wine.  Then the owner of the bar came out and all the locals started chanting 'Amaro Amaro,' which is the local liqueur (a bit like Jagermeister) and she poured shots for everyone in the bar.  There was no way I was going to get away with not drinking, but when she started pouring the second one, I snuck it to Dan, who, like a trooper, took 1 (or 2) for the team.  We had a great night, trying to chat to each other and make each other understood, though not really speaking the other's language.  It was one of those evenings that you could never plan, predict, or try to replicate, just a right place/right time sort of thing.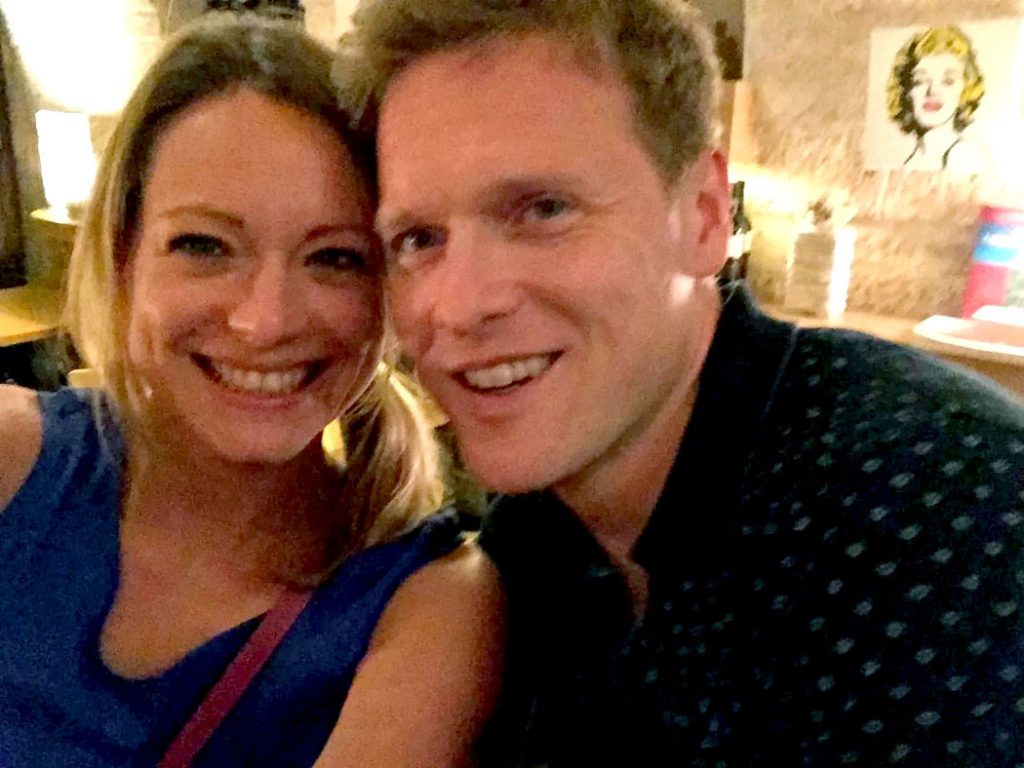 Dinner in Polignano A Mare was the perfect way to start our tour around Puglia!  WE couldn't wait to wake up and explore tomorrow!
Read more:  Puglia Day 1, Puglia Day 2, Puglia Day 3, Puglia Day 4
Pin it for later