Catch up on  Puglia First Night, Puglia Day 1, Puglia Day 3, Puglia Day 4
This morning we woke up early again and it was slightly overcast 🙁 so we decided to take a trip down the coast to see if we could chase the sun.  Having researched the prettiest beaches in the area, the one that was closest to us that came up most was Punta Prosciutto (the beach of ham??? – not sure about the name), about 40mins away so we set off for there.
Driving along the coast road, we decided to stop on the way for a coffee and pulled over in San Pietro in Bevagna. Parking up we found ourselves in the middle of their Saturday market, where there was a lot of tat (fake handbags etc) but also some beautiful flower stalls and amazing smelling fruit stands with the ripest produce at incredible prices, especially the cherries!  We found a little cafe and grabbed a coffee (and Dan grabbed a chocolate doughnut – and got most of it round his face, but wiped it off before I could take a photo!)
Back on the road, we made our way to Punta Prosciutto, a gorgeous horseshoe shaped beach with beautiful white sands and crystal clear water (I can't express enough how amazing the colour of the water is, I've never seen anything like it in Europe before – only maybe in the Bahamas or somewhere like that).  We settled down for a bit of chill out time and sunbathing until our tummies started to rumble.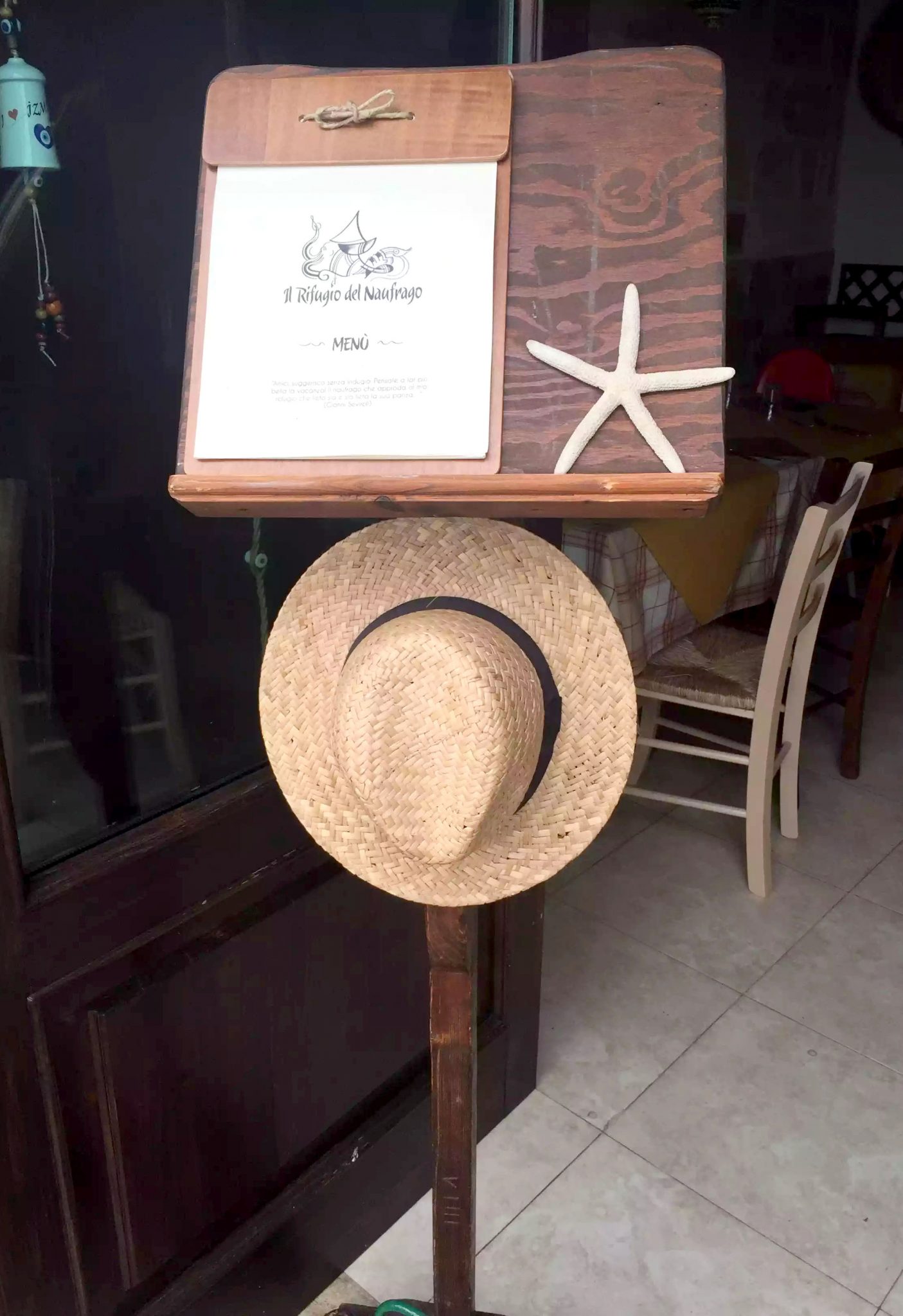 As it was still off-season (for the Italians anyway) none of the beach bars were open so we decided to head a bit further down the coast to Porto Cesaro, a little marina that looked like it had a few restaurants dotted about.  Wandering around the port, it seemed like quite a few restaurants weren't open yet for the season, but we managed to find a sweet one on the waterfront called Il Rifugio del Naufrago, full of Italians, which bodes well, and with one free table, we grabbed it.  We ordered a bottle of the aged Puglian Chardonnay, which sounded amazing, only to be told that they didn't have any of the wine on their wine list…only house red, white or rose. (Bit odd, never come across that before), but we went with it and ordered two glasses of house white – wrong choice, it was really pretty bad!  Still no luck with finding a good white Puglian wine so far.
I ordered the grilled sea bass with a side of mixed vegetables and Dan ordered the creamy seafood pasta.  Mine was delicious, the fish perfectly flaky and moist and even came with a mini chargrilled squid that I hadn't ordered.  And the vegetables were amazing, they really seem to know how to get them right, whether its just the freshness of the produce, or the way they're cooked, they always taste amazing.  Dan had food envy when his arrived, he'd wanted the pasta that the people on the nearby table were having, and thought that's what he'd ordered – no such luck, but he said it was tasty anyway.
Next we headed along the seafront until we came across a bar with a fantastic view, Imperatore.  We spent the next couple of hours there, chatting, playing cards, beat and people watching and drinking Aperol Spritz!
We had no plans for dinner tonight so we decided to do a bit of research – TripAdvisor always comes in handy for that!  Looking near to where we were staying, it was a throw-up between a restaurant called La Barca, which had been recommended to us but was fine dining and quite expensive, or taking a punt on somewhere else.  Wanting something a bit more relaxed, we decided on the small village of Leporano, not far from Marina di Pulsano, and chose Le Camelie restaurant (No.1 on the list) as it looked like a cute little trattoria.
Walking in, it was definitely different – they were very welcoming, but we were the only ones in the huge restaurant (apart from the obligatory table of twenty thirteen year olds, there for a birthday party – and the table of their long-suffering parents!)  Not such a romantic dinner setting then!  We giggled and decided to make the best of it and stay anyway.  We looked at the menu and ordered the antipasti plate to share for a starter – you can't go very wrong with that!  While we were waiting for it, the waiter bought over a complimentary dish of garlic snails.  Not the biggest fan of snail, I gave it a go, but one was all I could manage!  The antipasti came out and was surprisingly good.  Maybe not as fresh as some of the other produce we'd sampled, but it was definitely passable.
For mains, as it was a pizzeria, Dan went for that – a meat feast kind with ham and pepperoni.  I asked for the grilled seabass on the menu, even though I'd had it for lunch as it looked like the safest option.  The waiter came back with his IPad and Google Translate on it.  No, sea bass, mixed fried fish was what it said.  I tried to explain that I wanted grilled fish – as I wasn't sure if the fried fish would be battered.  No, grilled octopus was all they had…looked like I was having grilled octopus!  Actually it turned out they'd done me a favour, it was absolutely delicious, maybe not what I was after originally, but it definitely hit the spot.  Cooked perfectly so it wasn't chewy, but had little crispy bits on the outside, with all of the chargrilled BBQ flavour, it was 100 times better than I'd been anticipating.  Dan's pizza looked pretty good too and he said it was just what he was after – maybe Tripadvisor hadn't got it completely wrong.  Not the most romantic setting, but the food was good.
Soon after that it was time for birthday cake and the parents bought us over a slice as a sweet gesture, in apology for the rowdy crew of thirteen year olds!!  So La Camelie – better than expected when we walked in, but definitely a night to look back and laugh at the randomness of it all!
Catch up on  Puglia First Night, Puglia Day 1, Puglia Day 3, Puglia Day 4