Catch up on… Puglia First Night, Puglia Day 1, Puglia Day 2, Puglia Day 4
Another stunningly beautiful day to wake up to this morning…

…so we decided to make the most of the sunshine and drive to a nearby beach as we knew that this afternoon we had to head back to the hotel to shower the sand off before we went to our wine tasting in Manduria that afternoon.  We decided to drive down the coastal road and just stop at prettiest beach, we could find.  Easier said than done when they are all absolutely beautiful.  After many shouts of 'that one' 'that one' we just pulled over and jumped out.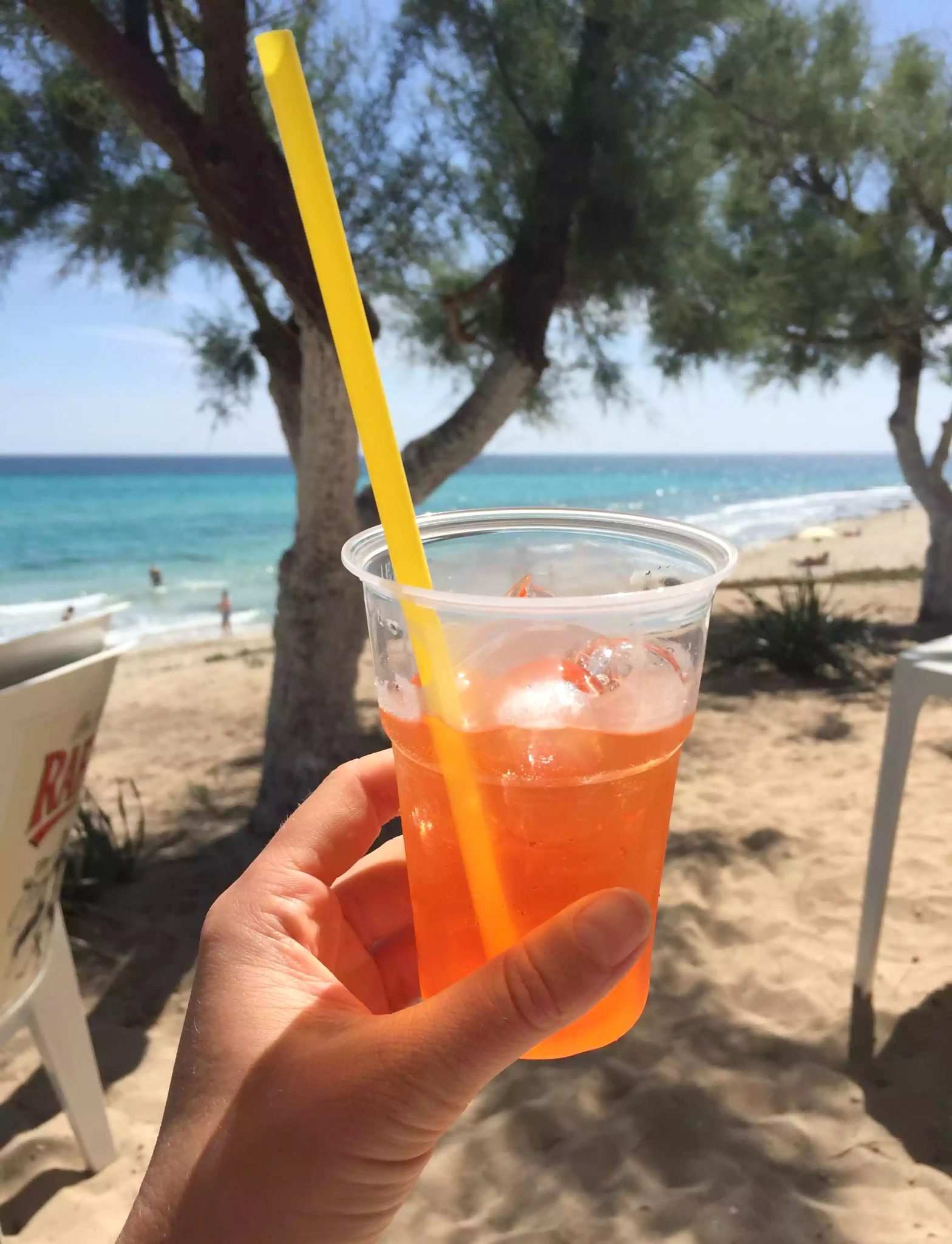 We wandered up and down the beach for a while, taking it all in, and then found a secluded spot and set up for a few hours, lying in the sun and dipping in and out of the water when it got too hot.  We had nice relaxing morning, playing cards on the beach, heading to the beach bar for an Aperol Spritz and just generally enjoying the sunshine!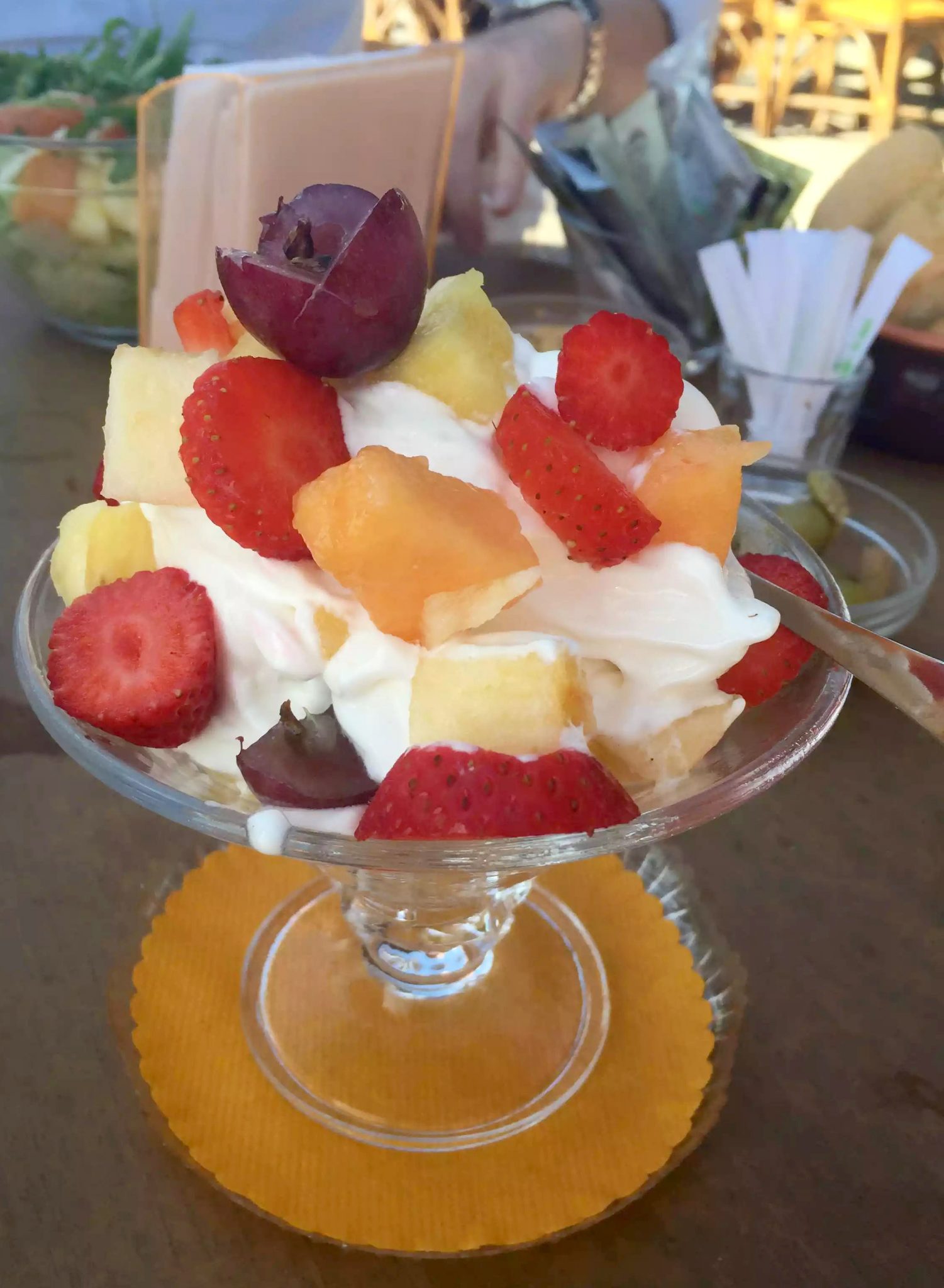 Not wanting to eat too much as we knew that our wine tasting was coming with nibbles, we headed for a quick snack at El Caraibe.  I went for the Fruit Salad with Natural Yoghurt and Dan had the Smoked Salmon Salad – very refreshing and the perfect amount to keep us going until dinner.
Next it was off to the town of Manduria.  We were heading for the Museo della civiltà del vino Primitivo a wine museum attached to the Cantina Produttori Vini Manduria, a co-operative with more than 200 farmers who pass their grapes to them during harvest, at which point they make the wine to sell for them.
First we were shown a tour of the museum, a collection of old tools and staged rooms to show what wine production would have been like years ago – not hugely interesting, but luckily they rush you through it, as I think they understand that everyone is really just there for the wine tasting!!  One thing we did learn is that Primitivo got its name because it is the first grape to be harvested during the season as it ripens the fastest (Primitivo meaning first in Italian).
The first wine we tried was a Puglian Rosé, Amoroso, made with the Primitivo grape.  It was quite refreshing but a bit too sweet for my taste – it tasted heavily of strawberries, and I prefer a rosé that's a bit more like a blush.
We then tasted a Figlio white wine, Sereno, which we requested, as we hadn't been able to find any decent white wine in Puglia so far (probably because we had no idea what we should've been looking for).  It was so much better than any of the other whites we'd had so far.  Light and citrussy and well-balanced, it would've been perfect to drink in the Puglian sunshine.
Then all the rest of the wines were made with 100% Primitivo but had been aged differently.  The first one, Memoria, was from the last year's harvest and had been bottled without oak so had all of the characteristics of a young un-aged Primitivo.  Quite tannic and with a peppery flavour, it was a very easy-to drink-wine.
The second, Lirica, had spent 6 months in French oak barrels so was slightly more robust and the third, Elegia, had been aged for 12 months in oak barriques (smaller than barrels so that more of the wine comes into contact with the oak and therefore has an oakier flavour).  This one was a naturally sweeter wine, but not overpoweringly so.
The last, Sonetto, had been aged in barriques for 24months.  It was heavy and oaky and was definitely my favourite of the lot.  Tasting of dark fruits and plums, it was and rich and powerful and less tannic than the younger ones, due to the oak.
Finally she let us try their sweet wine, Madrigale.  I was expecting something like a port or a Pedro Ximenes type sweet, gloopy, sugary wine, but this was very different.  It was just naturally sweet, and hadn't been fo,rtified so it was the same alcohol content as the table wines, and came in a bottle of the same size.  It was very drinkable, you could easily have a large glass of it and we absolutely loved it, having never tasted anything like it before.  We bought a bottle to enjoy over the next couple of days, and I thought it would make a really interesting gift or dinner party addition for anyone into wine as it's so completely different from anything out there.  We might have to have a crate shipped over!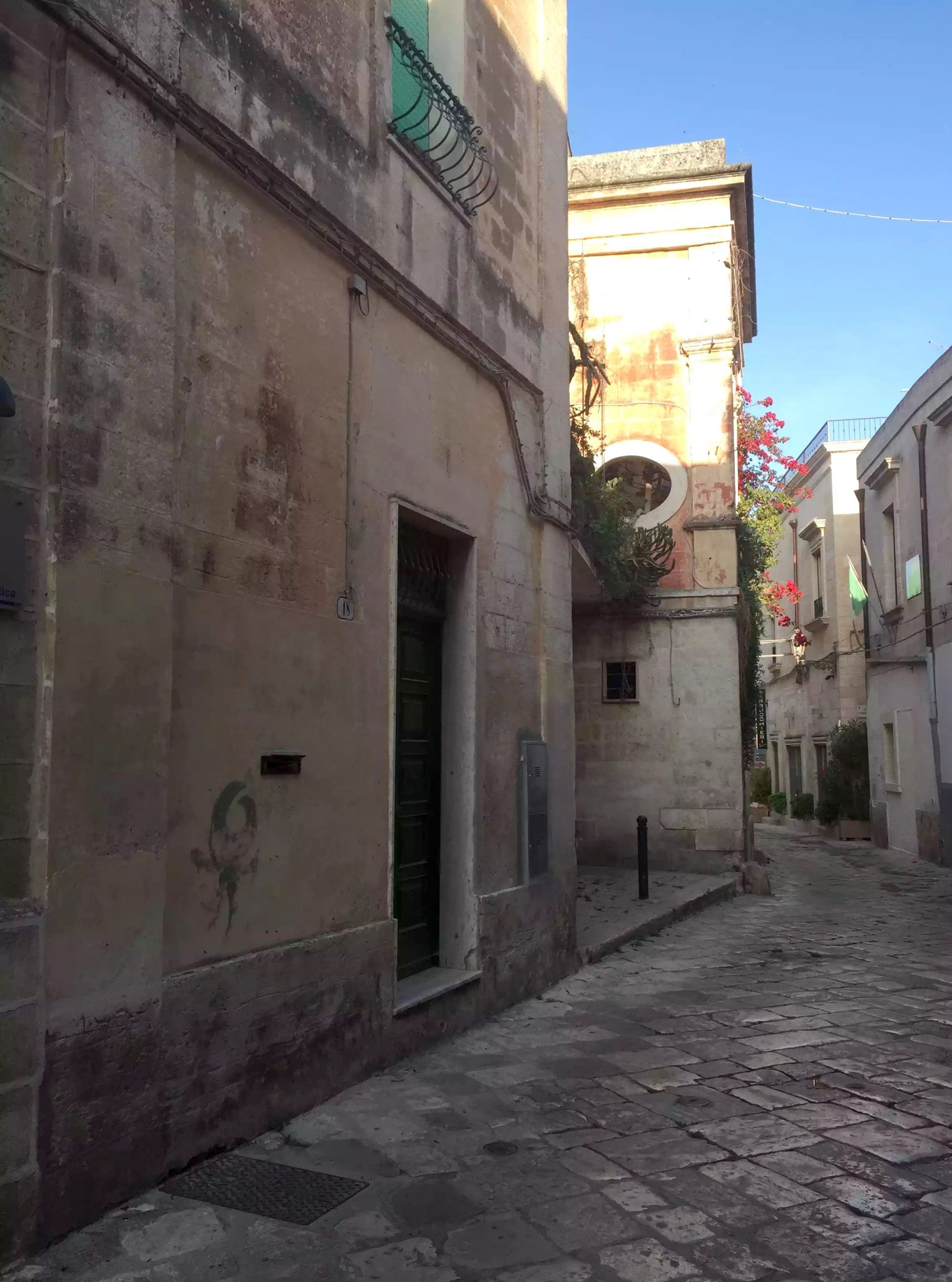 After the tasting, we wandered into the Old Town of Manduria to find somewhere for dinner.  Unfortunately, as it was still quite early, everywhere was going to be closed for the next few hours (and most places weren't even open for the season yet), so we decided to have a drink in a very sweet bar that we found and then head somewhere closer to home for dinner.
The bar owner was very sweet, and when we asked for Primitivo, he recommended his personal favourite, bring it out to us with some snacks so we could enjoy a proper Apperitivo!
TripAdvisor to the rescue again, we decided to head to Pulsano, about 5 mins drive from Marina di Pulsano, for dinner.  Dan's research before the trip had suggested a great restaurant, but when we pulled up it was closed.  Wandering around, we found out this was because the local school was playing a concert in the main square and everyone in town was watching it.  It was a really beautiful sight, classical music and singing, with some modern stuff thrown in and we stayed and watched for a while.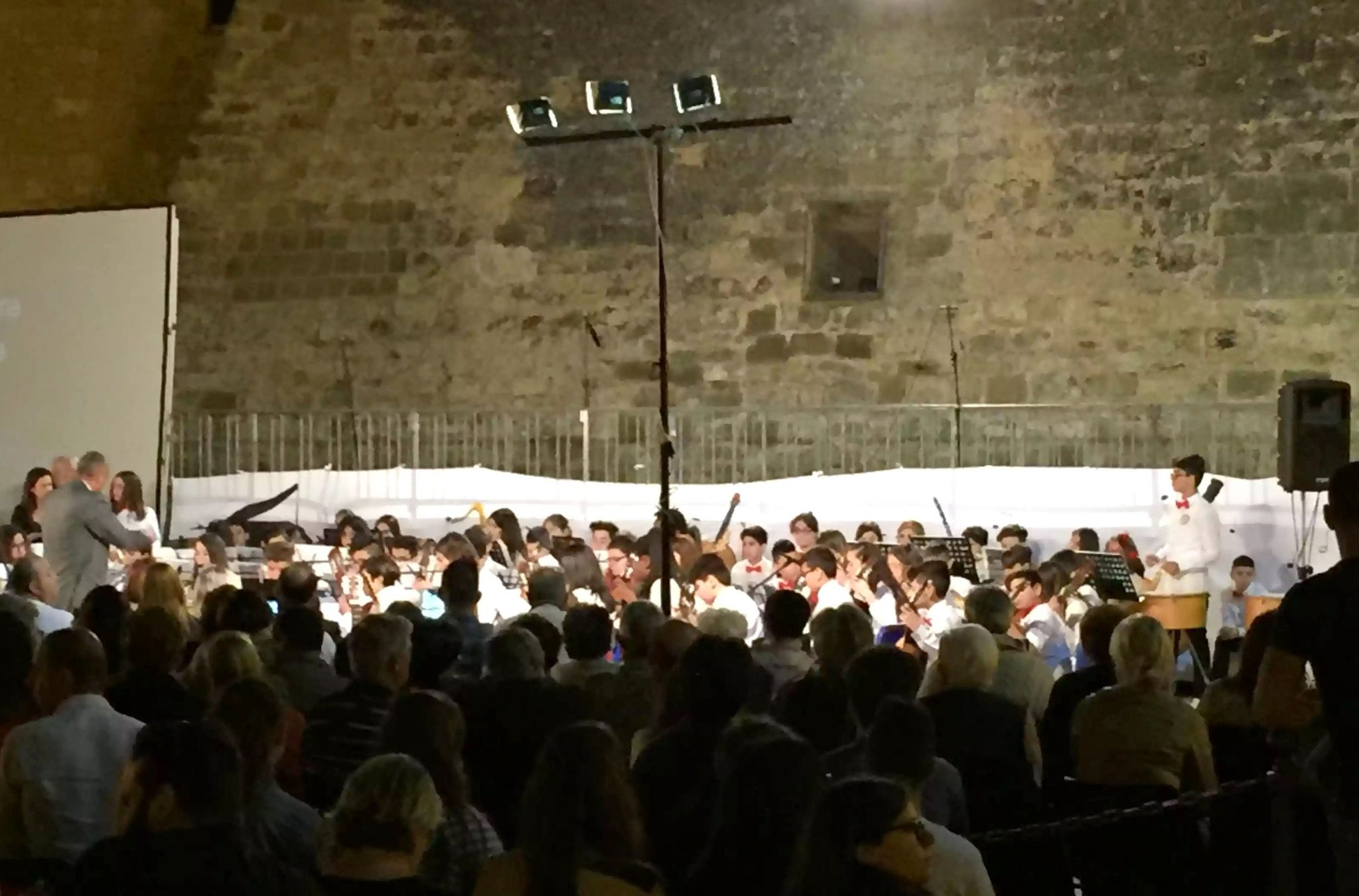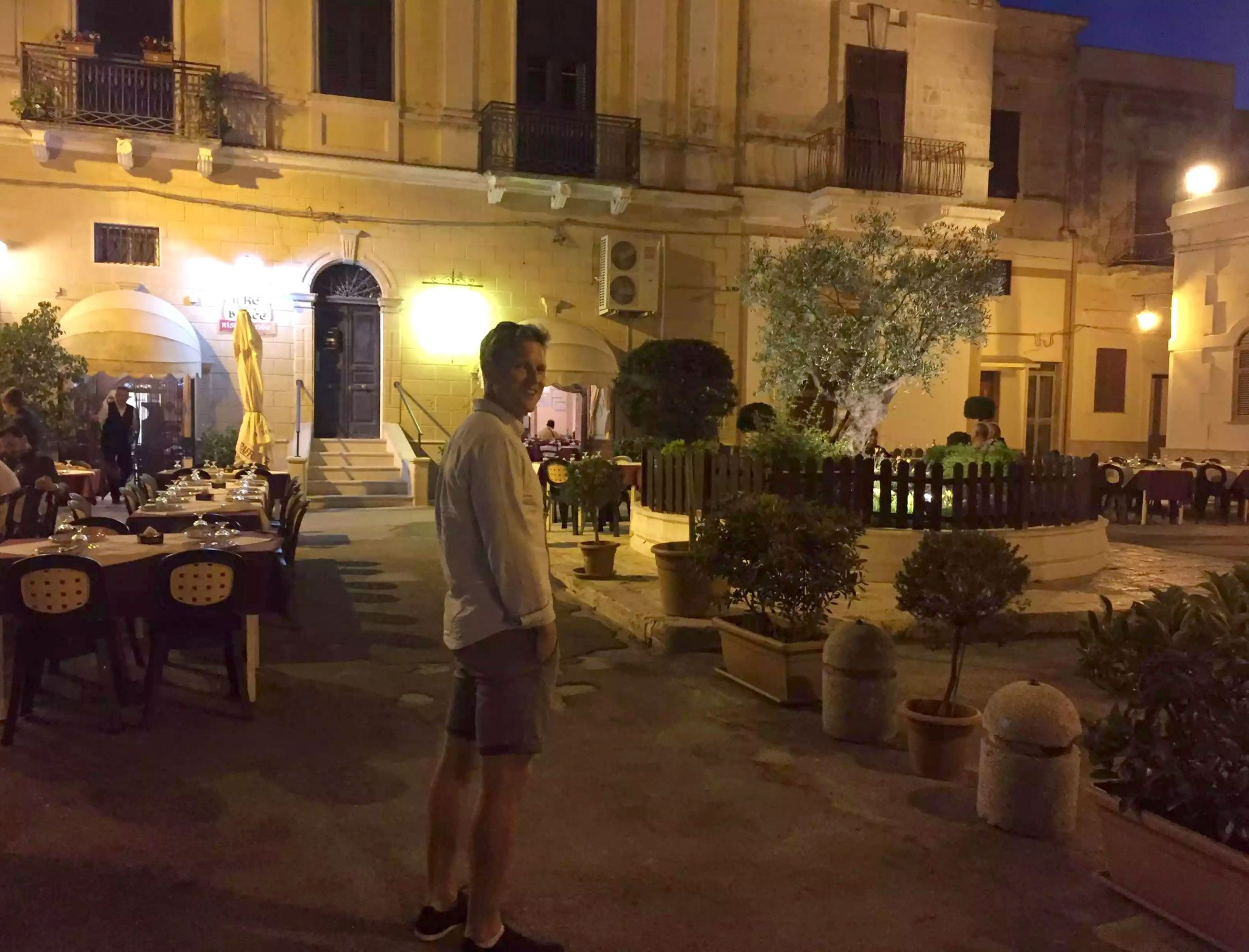 Wandering around, we came across beautiful little square with a restaurant that seemed open, Il Re della Brace, so we decided to stop and have dinner there. We sat down outside in the square, waiting to be brought the menus when the waiter gestured for us to follow him.  We went inside and suddenly it became clear, the restaurant was attached to a butcher's shop.  You had to choose the meat that you wanted and then they would cook and serve it to you.  Good job I wasn't a vegetarian anymore!
There was so much meat and it all looked really fresh, so we ended up picking a steak, a spicy sausage and a rolled kebab.  We went back to the table and they brought over a huge salad and a plate of chips, we ordered two glasses of house red and settled back to wait for our food.  We weren't disappointed, the steak was huge and the kebab and sausage were so tasty (although I dread to think what meat was in them, as we really didn't know what we were ordering – the kebab definitely didn't taste like beef – I'm choosing to believe it was definitely not horsemeat or something similar!)  And the bill….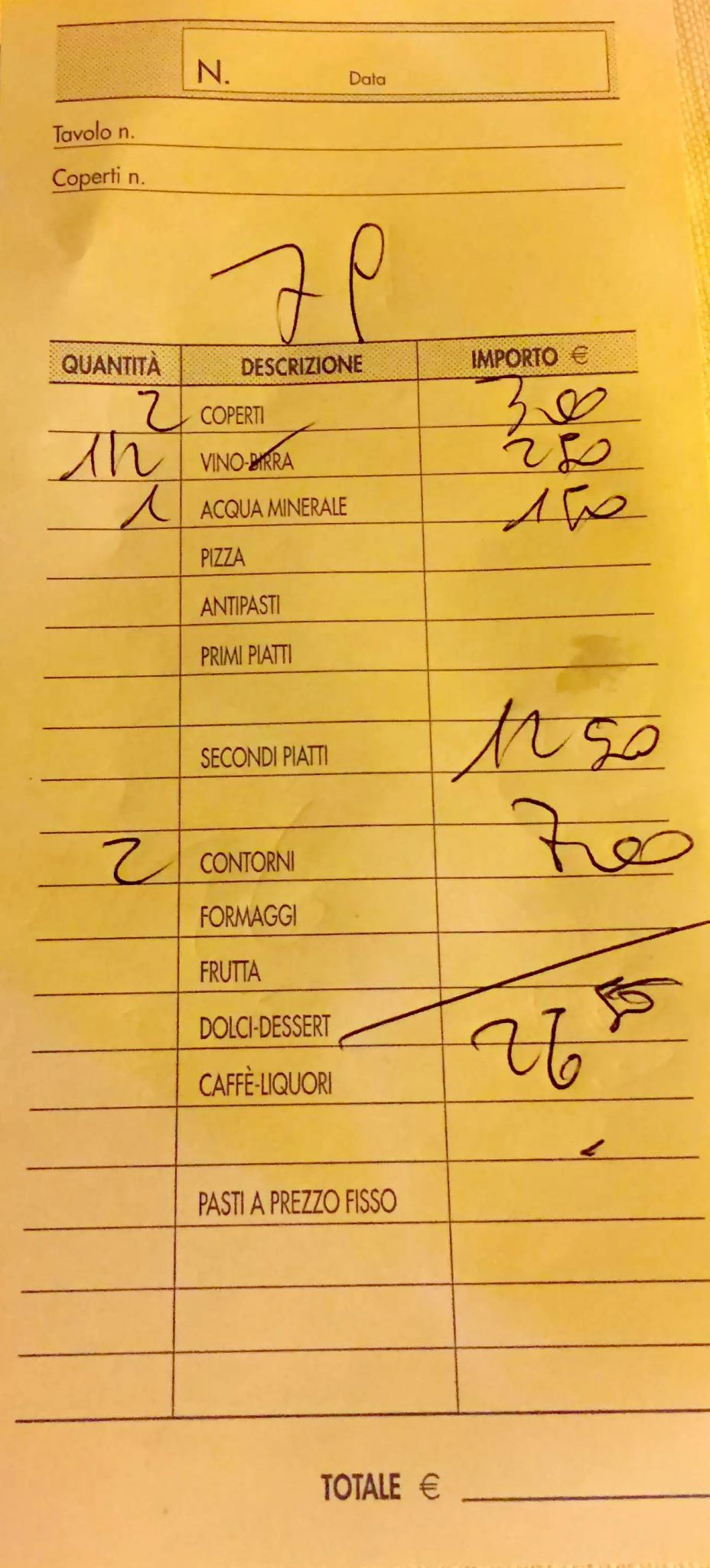 26.50 euros!! for steak, sausage, kebab, salad, chips, water and wine for 2, UNBELIEVABLE!
Catch up on… Puglia First Night, Puglia Day 1, Puglia Day 2, Puglia Day 4