Birthday Month Continues!!!  And tonight I was getting treated to a birthday dinner out by my friends Wioletta, Fiona and Robin.  The destination had been kept from me for weeks but I'd finally been let in on the secret – we were going to Beach Blanket Babylon in Notting Hill.  Wioletta had been there once before and hadn't stopped raving about it – a restaurant for a princess she said – so last night the three of them took 'Princess Emski' (as they call me) to dinner.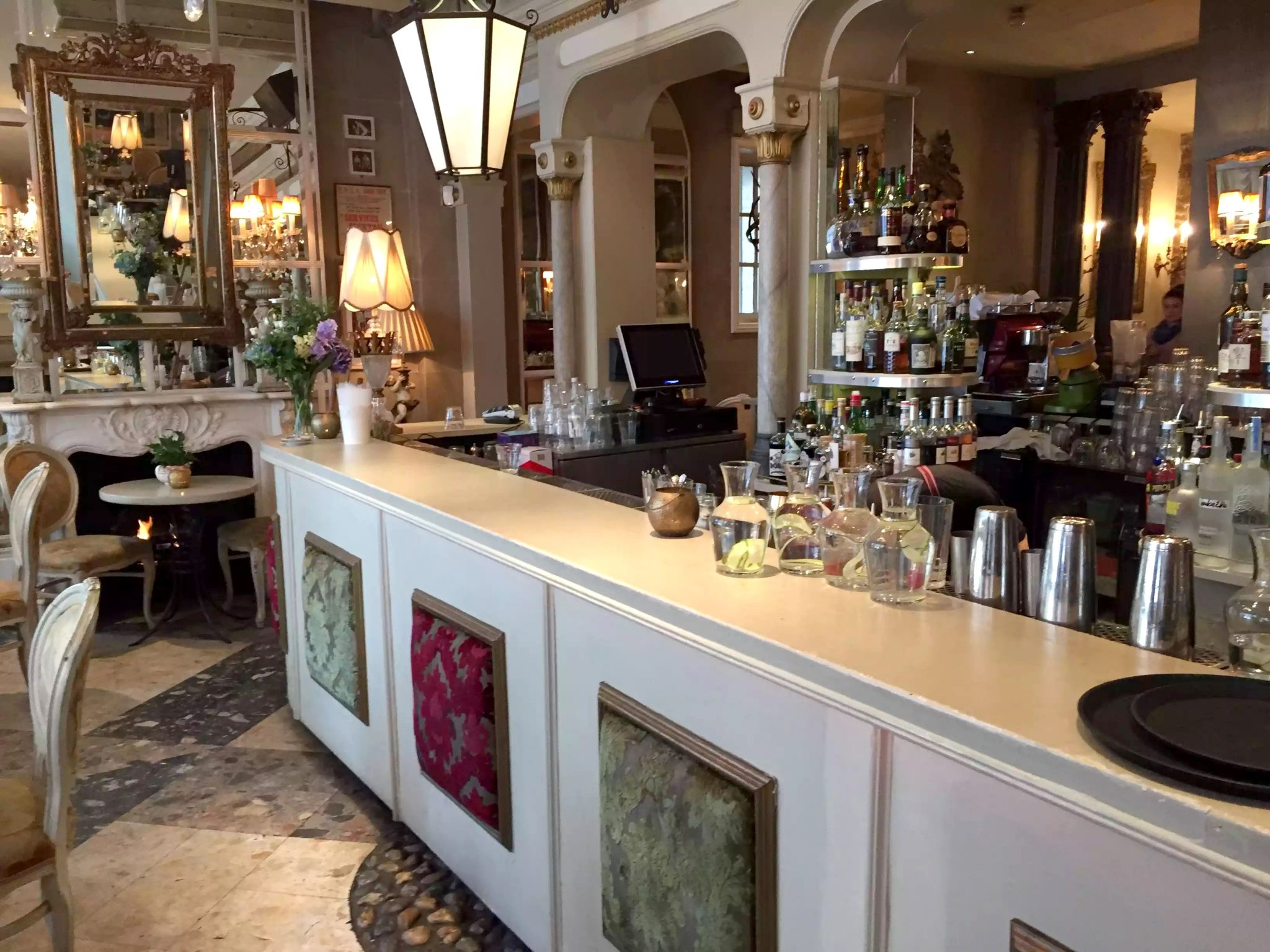 Arriving at the restaurant I could see what she meant.  It was absolutely beautiful – very opulent in the bar area with plush chairs and lots of mirrors and chandeliers with a lovely terrace out the front for warmer days.  Then we were led down a spiral staircase, over a little bridge into the cellar to the main restaurant which was stunning.  Called 'the Crypt' it was like something out of a fairytale, arched ceilings, and stone walls it felt very special – apologies for the quality of all the photos, it was pretty dark down there!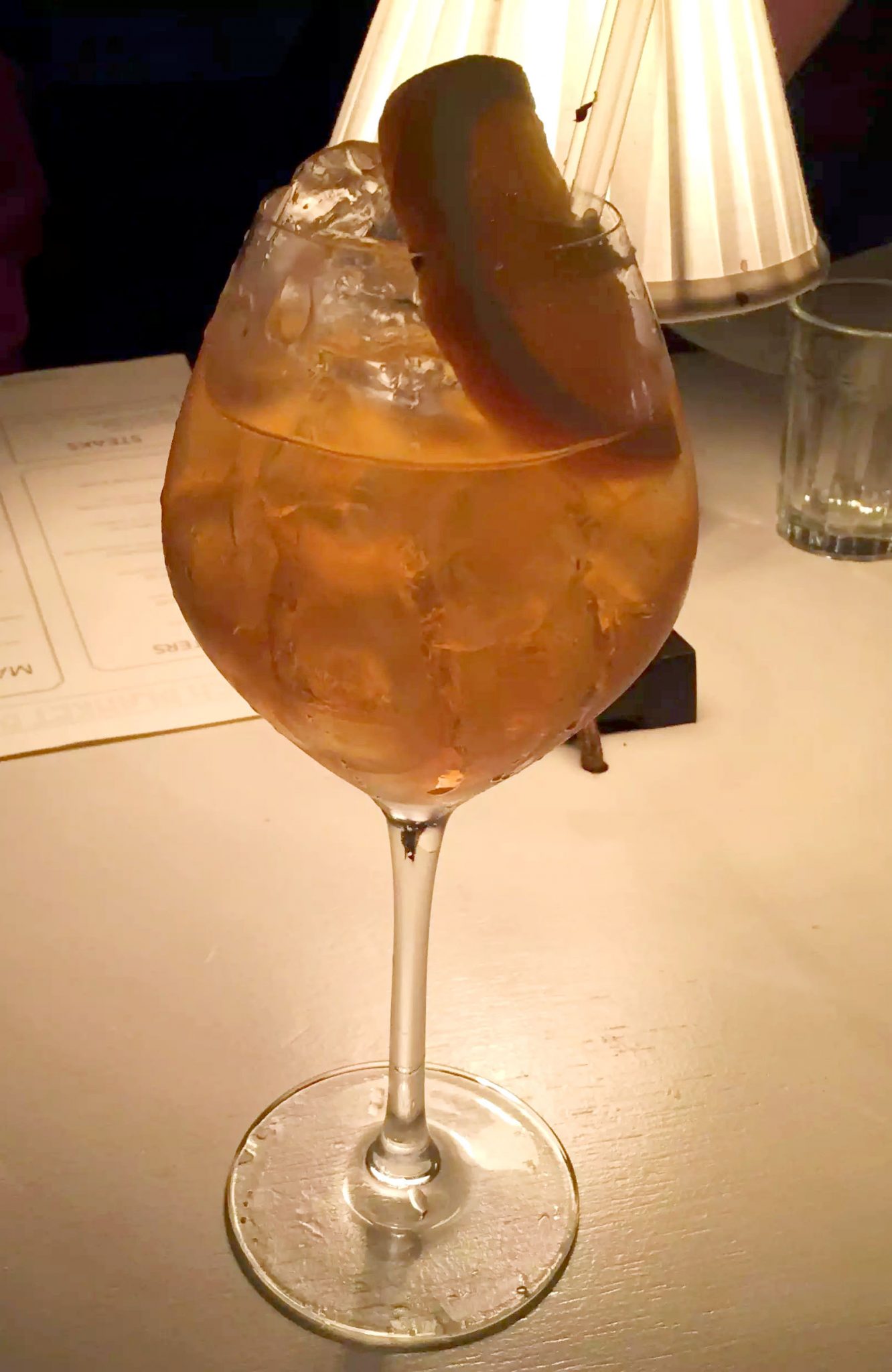 First on the menu was a cocktail – we all picked the Rhubarb Spritz which was a combination of Rhubarb Vodka, Aperol and Prosecco and it was pretty strong.  Normally in an Aperol Spritz you add soda water to the Aperol and Prosecco to make it a lighter drink.  They'd added vodka, it was pretty punchy, but delicious.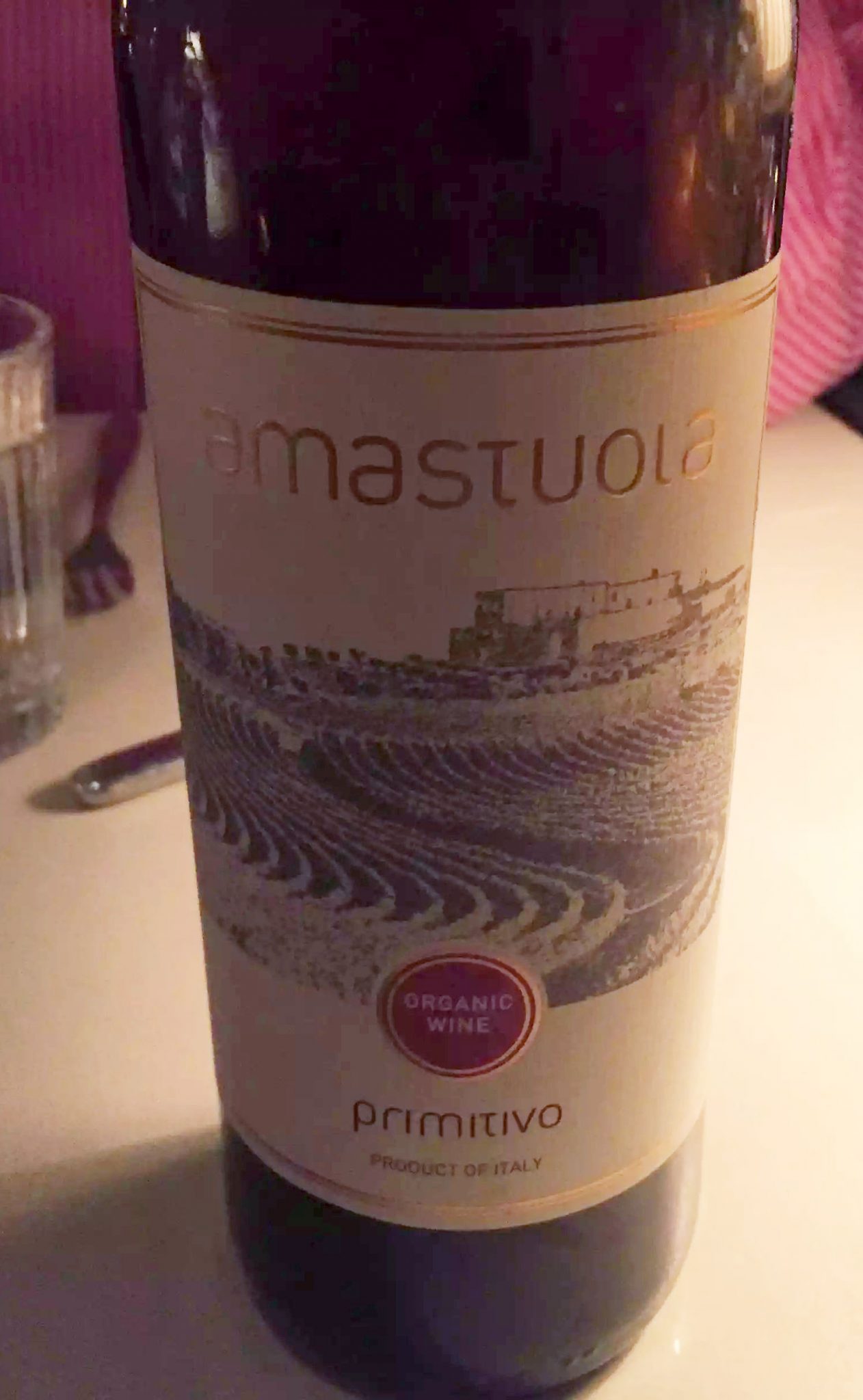 So on to choosing a wine.  I picked a Primitivo (loving the Puglian wine lately) to share with Wioletta and ordered a Sauvignon Blanc for the white drinkers! We had a look at the menu and everything looked incredible.  Every time we thought we'd made a decision we'd look at the next thing down and change our minds!Spoilt for choice with the starters I was torn between the Pear Salad with Endive, Walnuts & Rocket, The Buffalo Mozzarella with Avocado and Heritage Tomato but eventually settled on the Beef Carpaccio.  Fiona ordered the Fried Squid with Chilli and Lime Mayo, and Robin and Wioletta both had the Crab and Avocado Cocktail.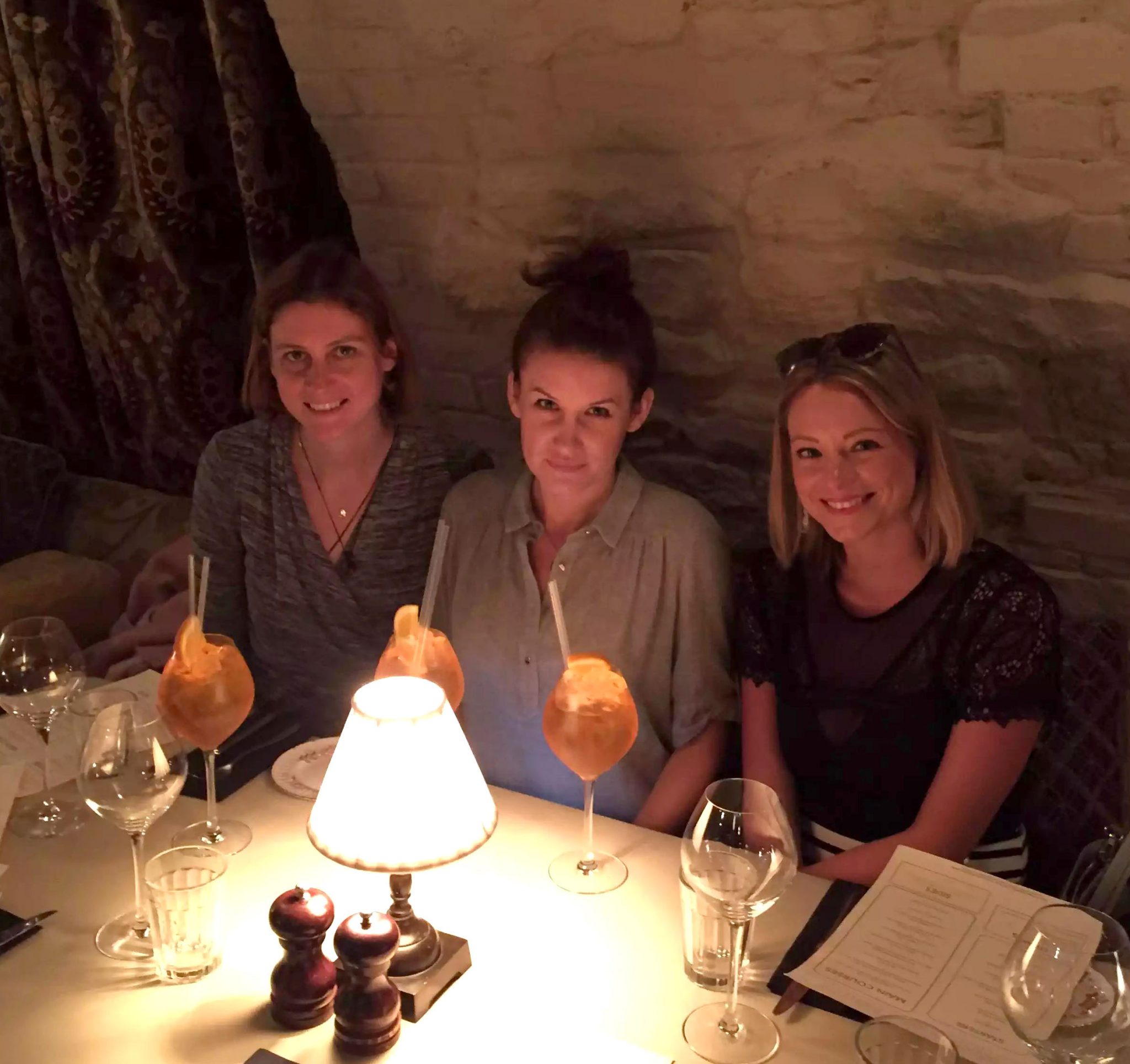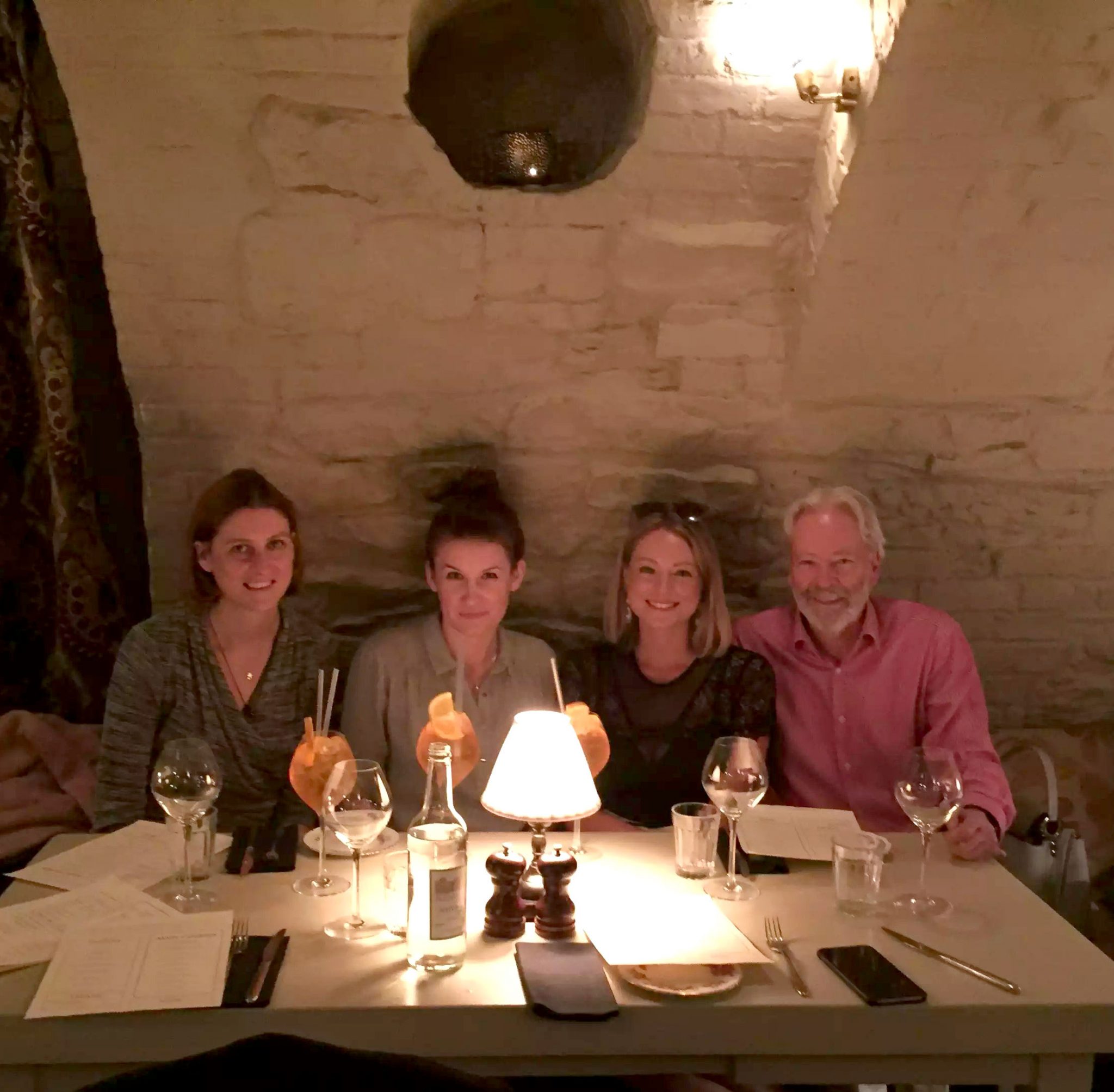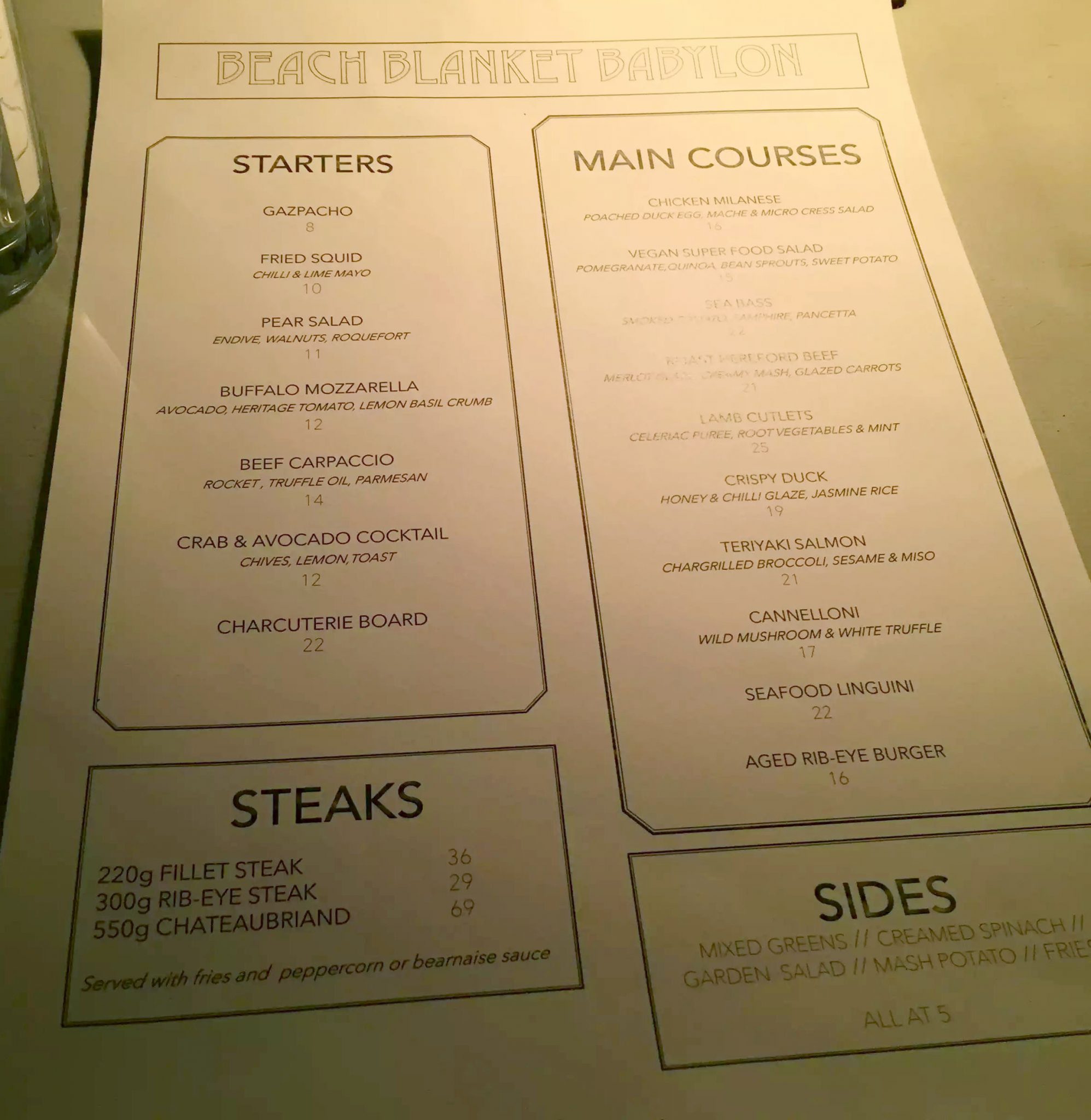 The dishes were all beautifully presented and my beef carpaccio was delicious.  Seared round the edges and perfectly rare inside, on a rocket and parmesan salad, it was the perfect starter to pair with the Primitivo.  I had a taste of W's crab and avocado cocktail which was delicious, the reason I'd decided not to try it was that 'cocktail' to me sounds like the Marie Rose sauce which I can't stand, but luckily it was just crab meat and avocado with lemon and chives – served with some sourdough toast.  I couldn't try the chilli squid unfortunately but it looked (and tasted I'm told) delicious.  Perfectly crisp and not soggy or chewy at all, it was very fresh rather than heavy like batter can be sometimes.
For my main course I originally picked the Sea Bass dish but unfortunately the waitress came back to tell us that the Sea Bass had finished so I went with the Lamb Cutlets with Celeriac Puree and Roasted Carrots.  It was a good decision – cooked perfectly, it was a much better pairing with the wine than the Sea Bass would have been, and the celeriac puree was absolutely delicious, sweet and creamy and really smooth and I had it with a side of the mixed greens.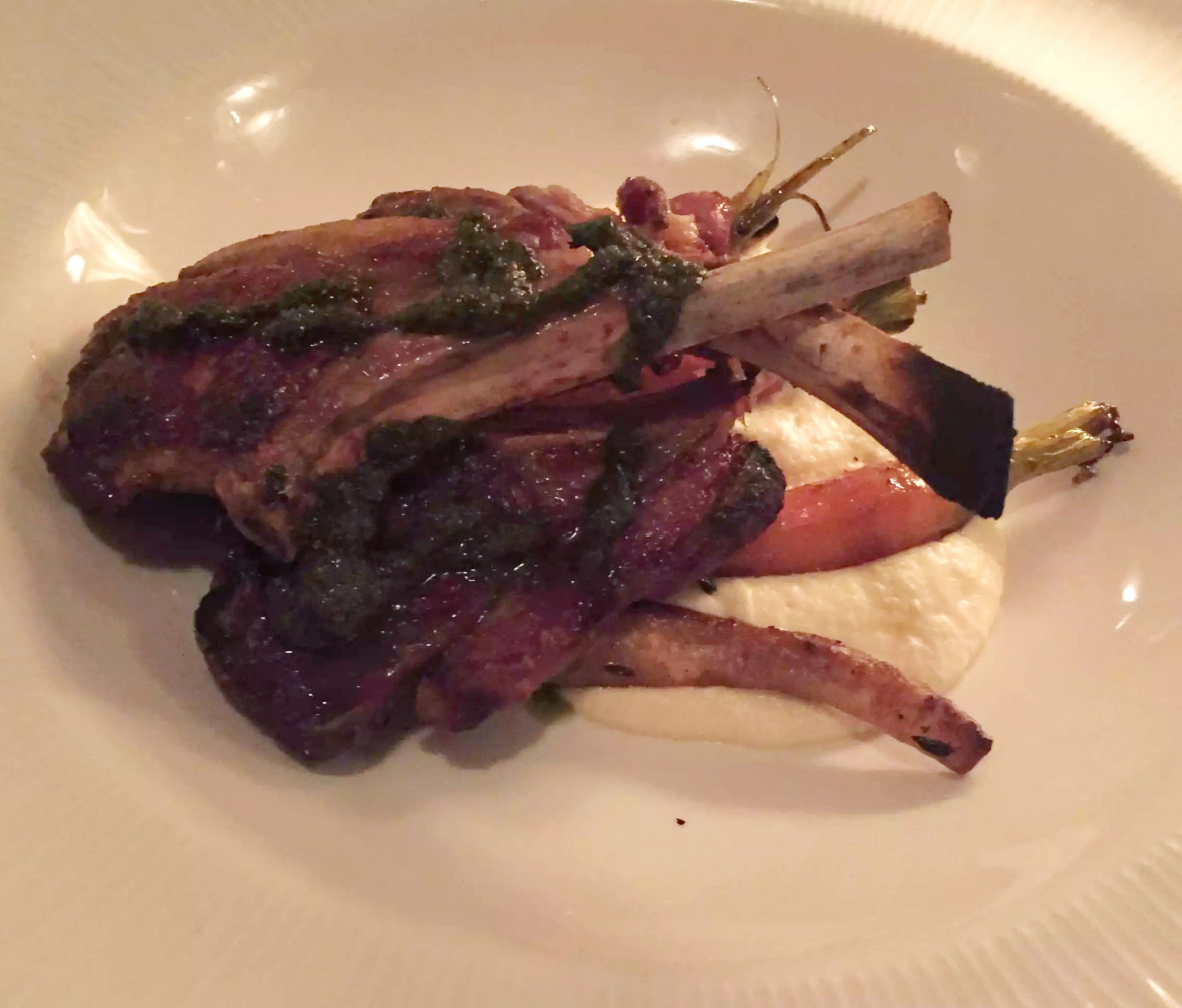 Robin had the Chicken Milanese with poached duck egg and Fiona had the Teriyaki Salmon with chargrilled broccoli, sesame and miso, neither of which I could try , but all the plates were empty at the end of the main course which is the telltale sign for the standard of the food!
We ordered some espressos and sat around chatting for a while.  Then, just as I thought it was over and time to head home, our waitress appeared singing Happy Birthday and carrying a slice of Birthday Cake with a candle in it.  It was a kind of chocolate brownie cheesecake and I felt bad not having any of it after the effort they'd made for me so I had a small bit – it was delicious, but I'm sure I'll pay for it tomorrow!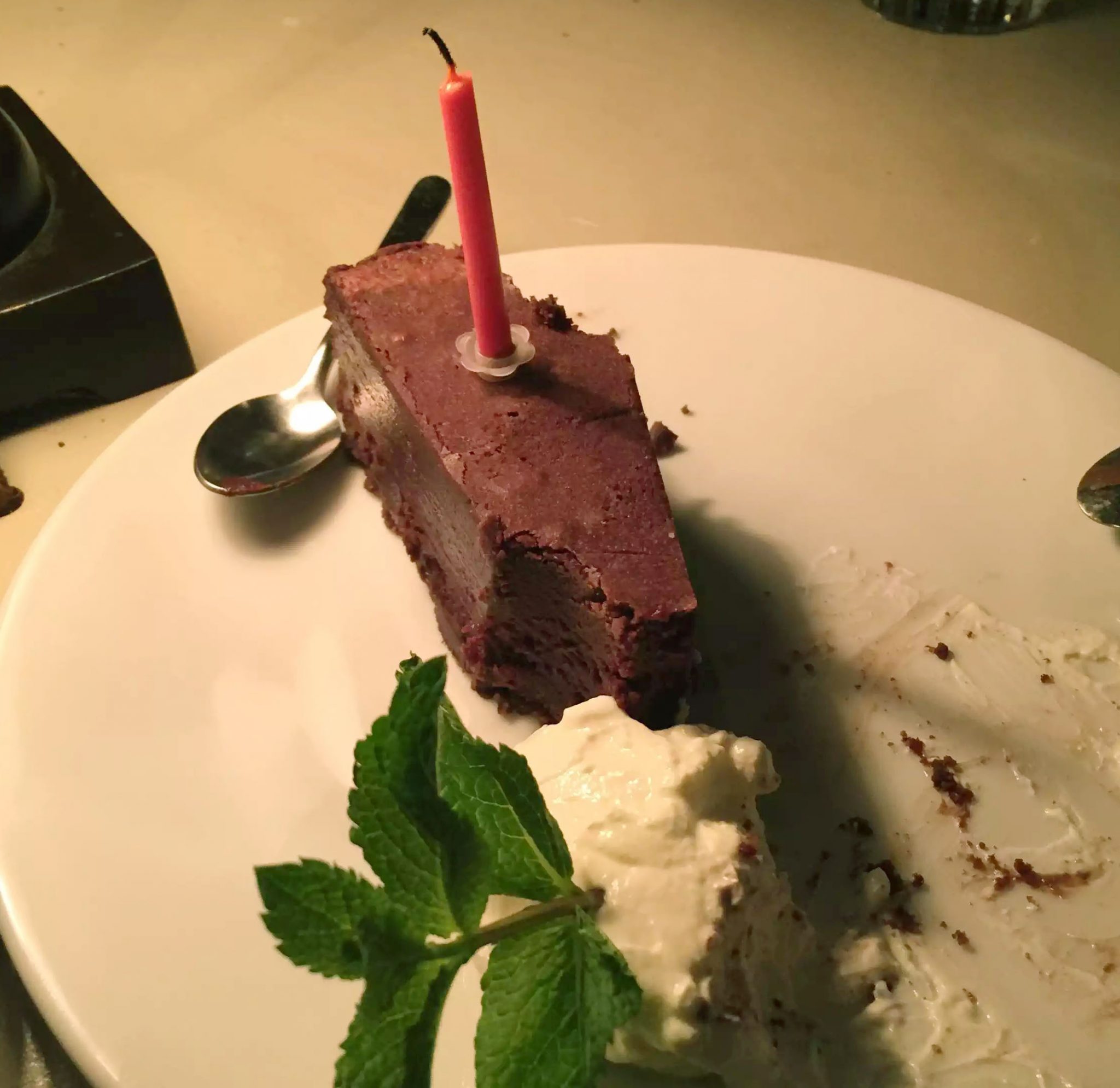 Thanks W, Fi and Grev for a fantastic night out!  I had an absolutely fantastic time and felt spoilt like a princess!! xxx