Having been treated to my birthday dinner out at Beach Blanket Babylon earlier this year, it was time to treat the other birthday princesses (Wioletta & Fiona) to a night out to celebrate their birthdays.  Knowing that neither of them had been to Balthazar in Covent Garden, I thought it would be a really fun place to spend the evening – I'd been there once before and really liked it but that was a couple of years ago, so it was time to give it another try.
The four of us, Me, Wioletta, Fiona & Robin arrived and were quickly shown to our table.  I love the decor inside – it's very French, just like a typical upscale brasserie and the atmosphere always feels very buzzy.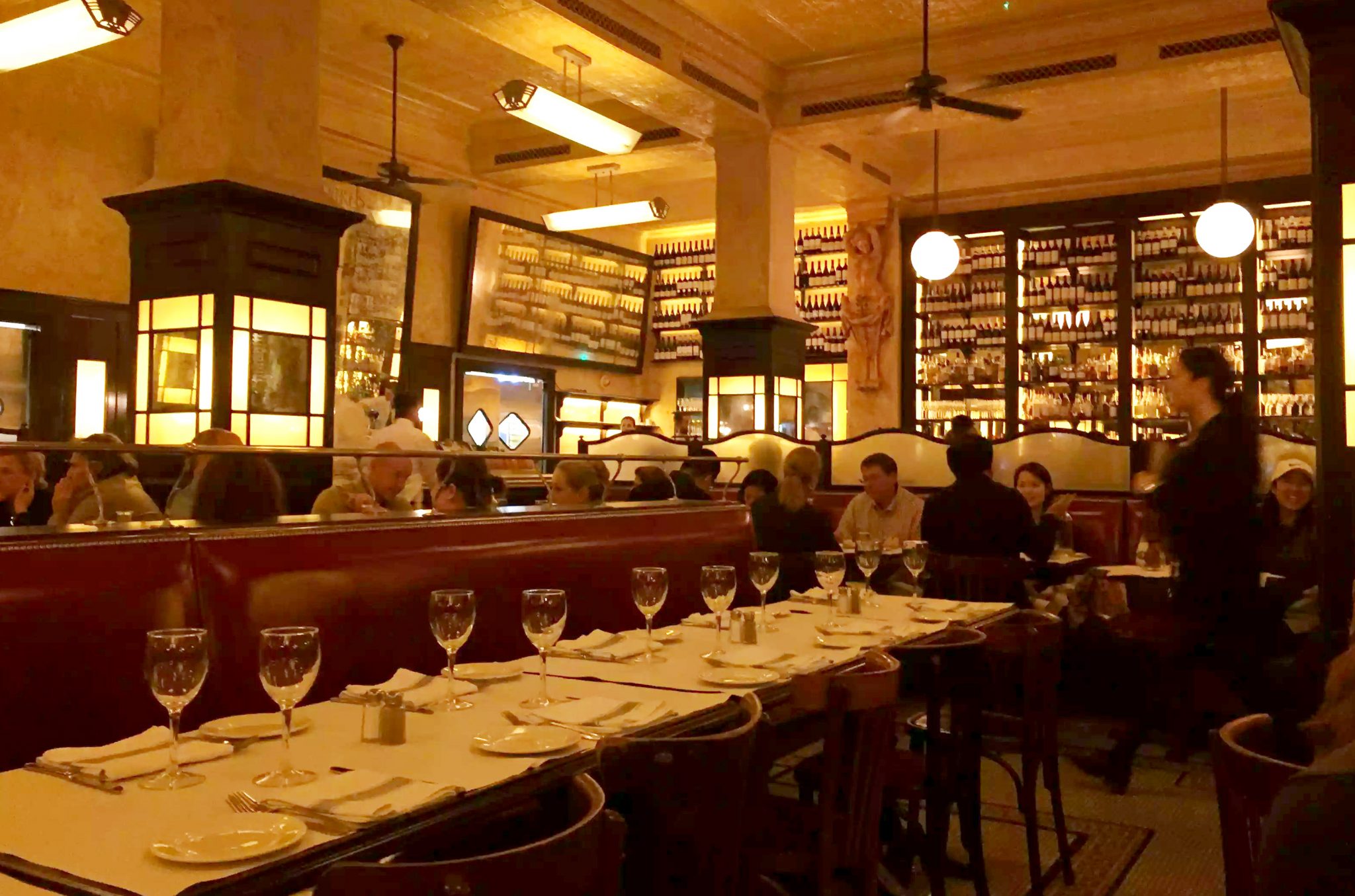 I ordered the wine, a Muscadet for Robin & Fiona and a Bordeaux for Wioletta and I (Robin doesn't drink red and Wioletta doesn't drink white so we always have to order two bottles – no big sacrifice!)
The menu looked delicious – there were so many options that I fancied that I decided to split starters with Fiona – I ordered the Octopus Tomato & Basil Salad with shallots, olives and a lemon dressing and she ordered the Burrata with tomatoes and a balsamic reduction.  Robin also went for the octopus salad and Wioletta chose the Seabass Ceviche with elderflower and lime.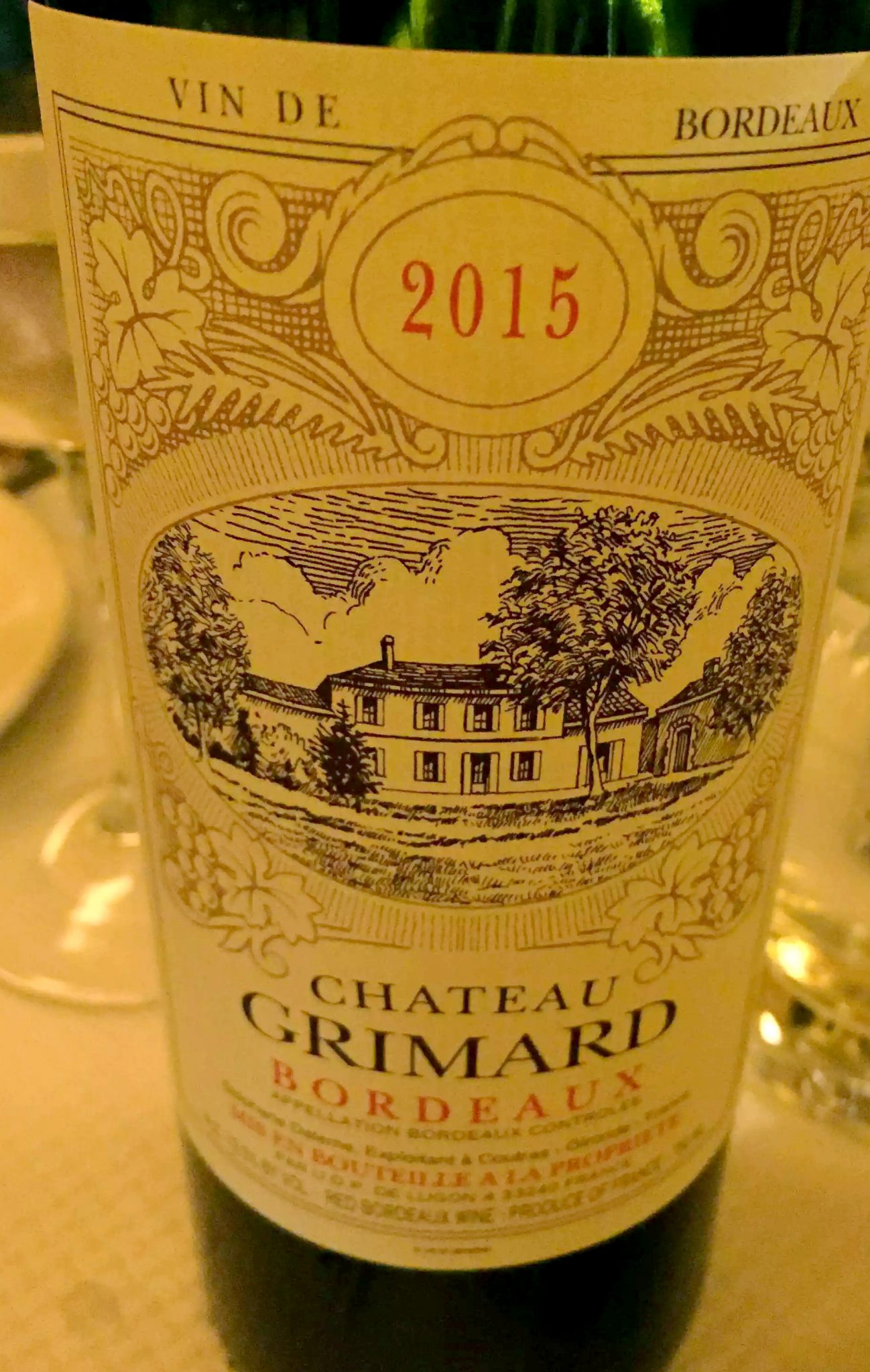 The wine arrived and the Bordeaux was good, but not spectacular.  It was a 2013 Chateau Grimard and was quite plummy and heavy on the red fruits but not really heavy enough for me.  Wioletta likes a Merlot though and it was her birthday so I chose something that I knew that she'd like.
The starters arrived and they looked beautiful – the presentation was fabulous.  My octopus salad was great, very light and fresh and the octopus wasn't chewy or overcooked.  I loved the paprika flavour on the octopus and the celery leaves were a really lovely, fresh addition.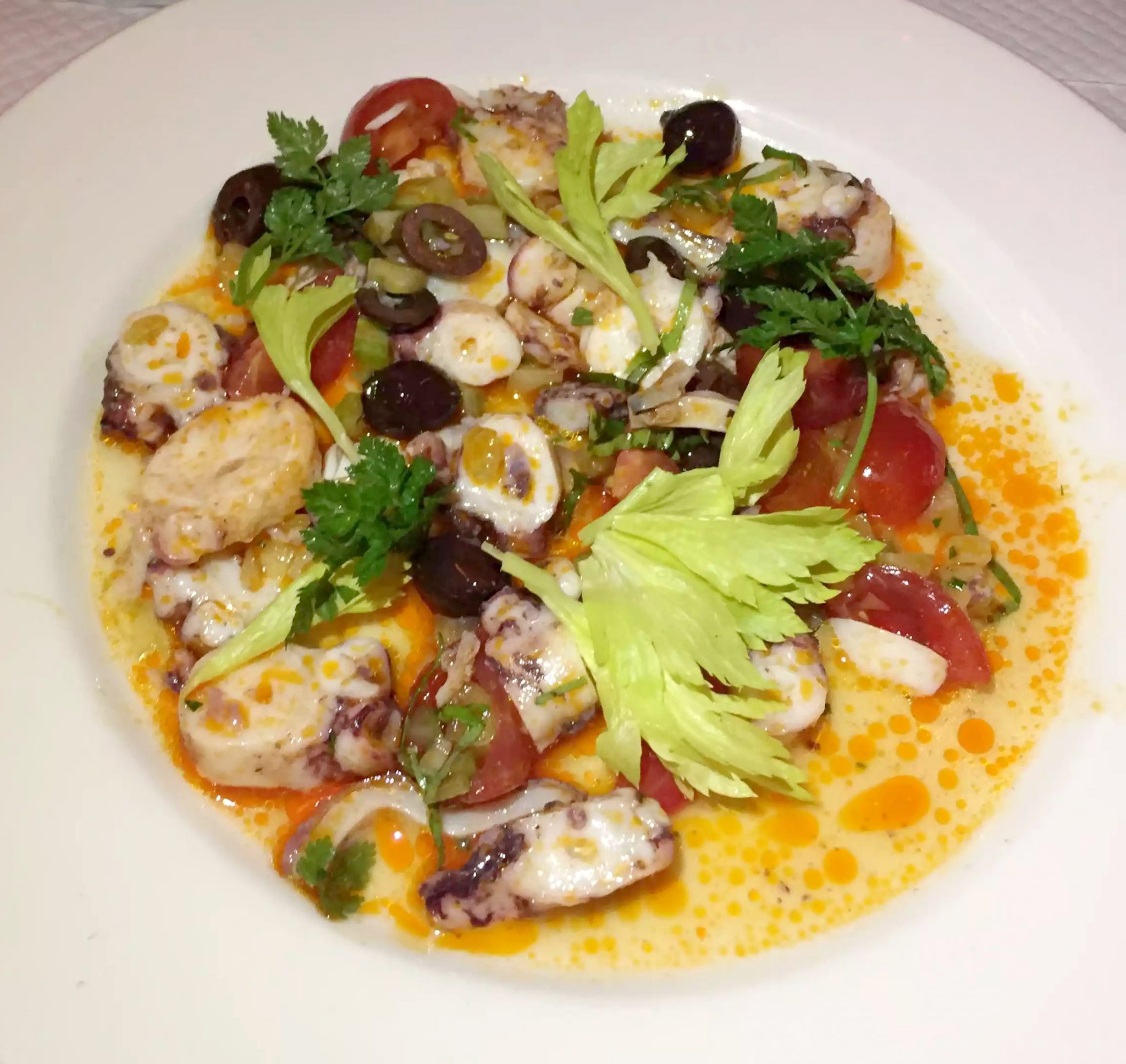 Fiona's Burrata was lovely too – so creamy and gooey in the centre, it was very rich but also not too heavy at the same time.  But Wioletta definitely won with her starter choice.  Her seabass ceviche stood out as being spectacular. When I read the menu it called to me, but the elderflower put me off a bit – I was worried it would be sweet and sickly but that wasn't the case at all.  Fresh and light – heavy on the lime and light on the elderflower it was absolutely stunning and she looked very smug with her choice!
For my main course I'd ordered the Roasted stone bass with artichoke purée, smoked aubergine, baby fennel and a tomato, basil and olive dressing.  It was cooked well and the fish was nice and meaty, but the stand-out part of the dish for me was definitely the smoked aubergine.  It was just like a dollop of babaganoush on top of the fish and  full of garlicky and smoky flavours it was absolutely delicious.
Robin ordered the Chicken Paillard with a frisée salad, roasted tomato and Parmesan.  I think we all agreed that although it was fine, this was the least interesting dish, but then Robin always picks chicken when he goes out!  He's promised to let us make the menu choice for him next time.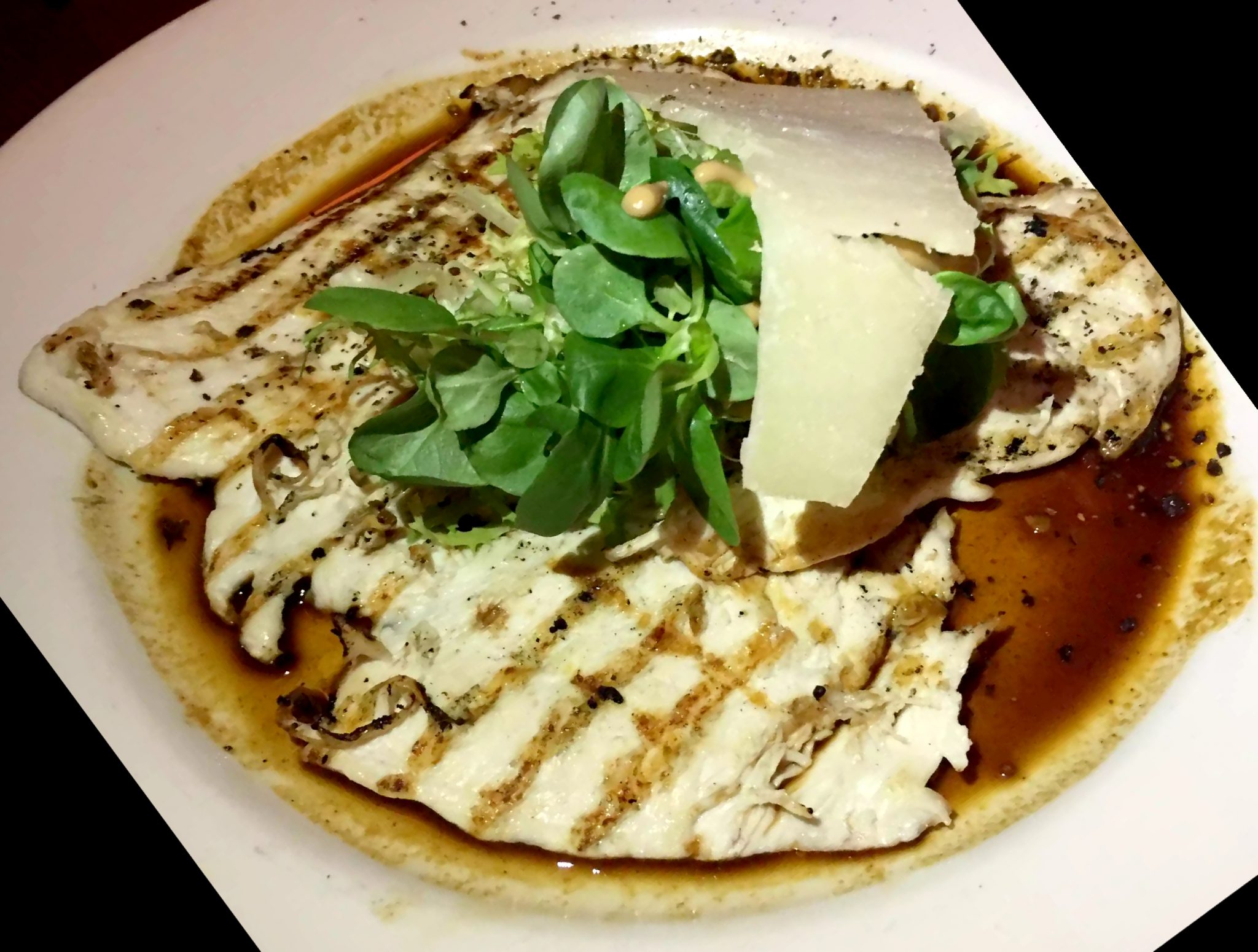 Wioletta's Duck Confit with Cipollini onions, wild mushrooms, confit new potatoes and a red wine jus was delicious, crispy skin on the outside and juicy meat, though possibly not as good as the Duck Confit at A Quinta in Portugal.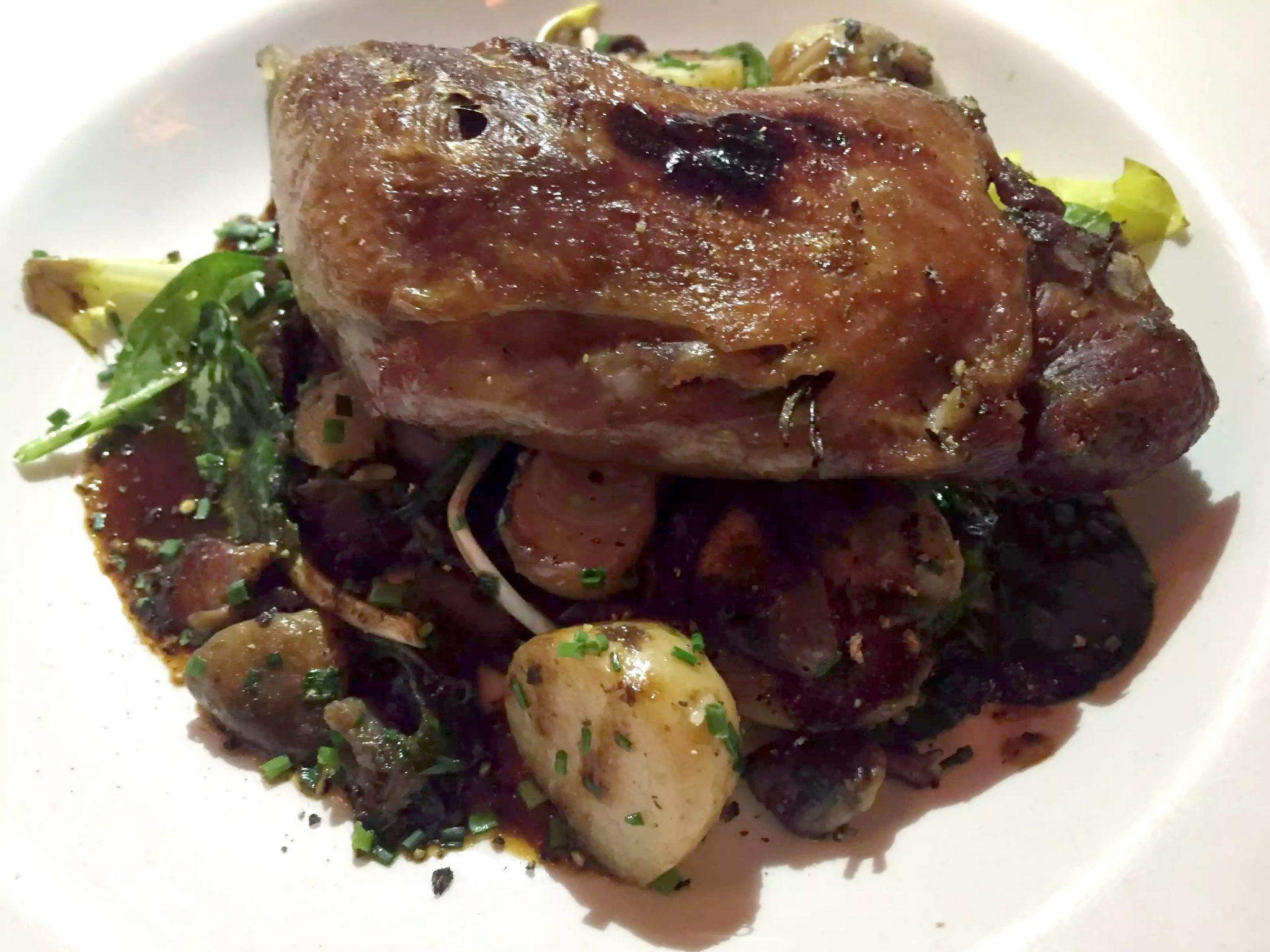 Fiona definitely won the main course round though with the ox cheek bourgignon which was the Plat du Jour and it was seriously one of the most delicious dishes I've tasted in a long time – I'm still dreaming about it.  Not the most photogenic dish ever, but definitely one of the tastiest – slow cooked beef cheeks are now definitely on my radar for a recipe creation soon!  They melted in the mouth and the sauce was rich and thick and tasted of beef and red wine – it really was a comfort food dish and definitely one for the coming colder months.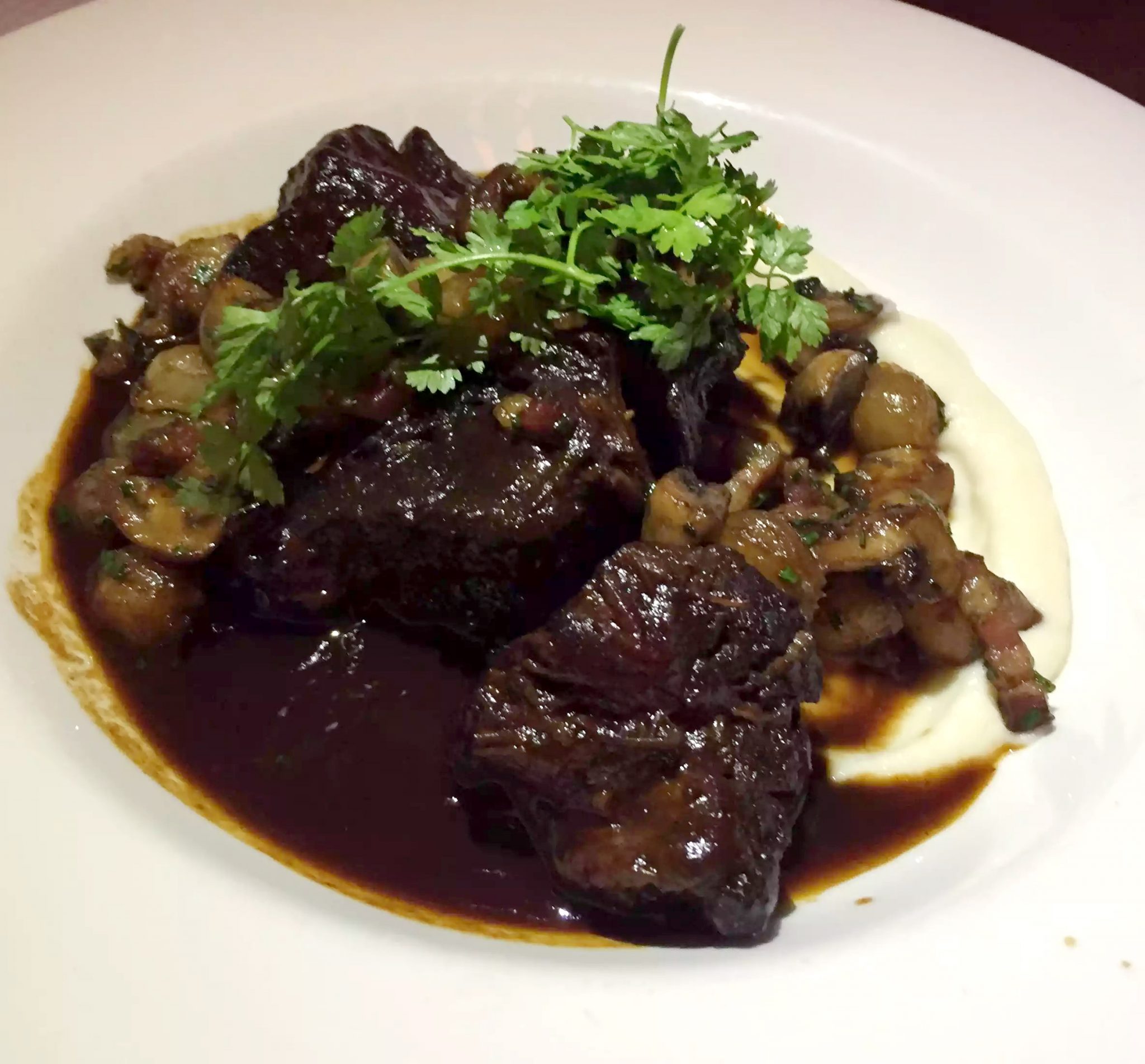 Everyone had a lovely evening and the food was great – we all agreed it was one of the best meals we'd eaten out in a long time – We'll definitely be back – in fact I've already booked a table for later this month!
Happy Birthday Girls!