Once again, my favourite night of the year – dinner at Pequeno Mundo – in fact I've already written about this amazing restaurant in my Top Restaurants in the Algarve Round-Up!  It's such a special place and has huge sentimental value for my family and myself.  We've been coming here for years and it's always the first dinner that we plan when we discuss which restaurants we want to book for our holiday.
It's not the easiest restaurant to find, down a few windy roads just outside of Almancil, but there are some sign posts now and it's well worth the effort as you'll realise when you pull up.  The restaurant is an old, Portuguese farmhouse, traditional in style and with a stunning setting.  There's a beautiful courtyard out the front complete with fountain and a lovely garden out the back.  You can request to sit in the garden, courtyard or the house but we always choose the garden – it feels like such a magical place – and when you live in England, being able to dine al fresco is always a huge bonus!
We've been here in the winter before though and sitting inside feels really cosy then – they even have a real log fire going.
The courtyard and the interior
The owner Joaquim always makes us feel so welcome and this time was no different – we only go there once or twice a year but he always remembers us (and calls me princess!) so it feels like coming home.  He showed us into the garden where there's a special chair that I always have to sit in when we have aperitifs (known as the 'princess chair') – someone else was in it this year 🙁 the cheek of it!!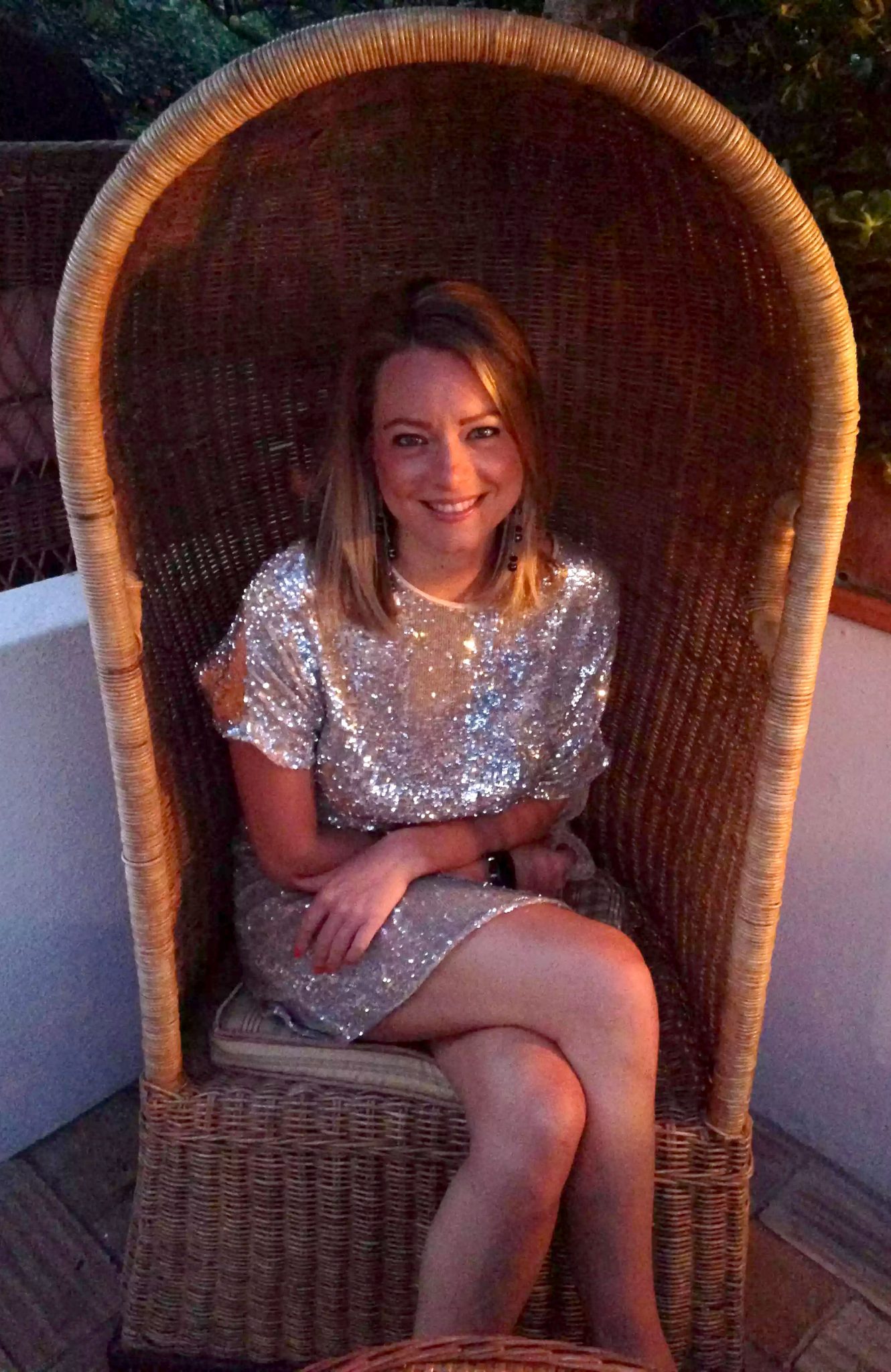 We ordered drinks – Hendricks & Soda for me and Joaquim explained the specials to us.  Then we were left alone to look at the wine list and menu at our leisure while enjoying our drinks and the atmosphere in the garden.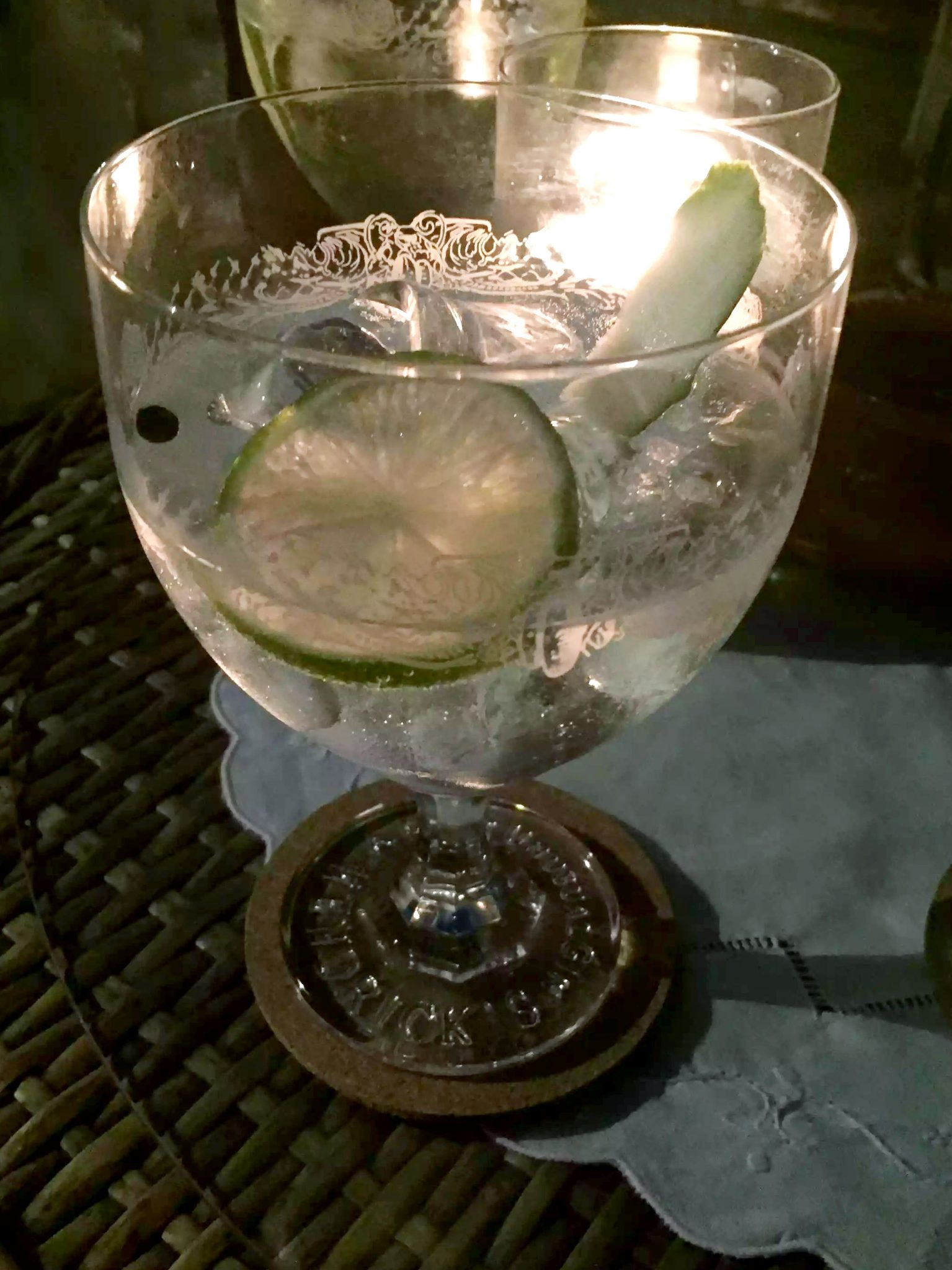 The wine list is huge and if you're overwhelmed then the sommelier is there to help you out.  She is always very good, helping you choose something you'd like and not upselling or forcing the expensive bottles on you.  This year we went for the Dona Maria white and the Crasto red to drink with our dinner.
The food at Pequeno Mundo doesn't change year on year, in fact I think they've always had the same menu but what they do is amazing, and there's always the Specials which change often, if you want to try something new.  Famous for their Mussel Soup  which is the house speciality  (it comes with a puff pastry crust and although I can't eat it, everyone who's ordered it had said it's amazing) and their Bouillabaisse which I'm told is one of the best ever, they have every dish down to a fine art.   The fish of the day is usually an amazing bet, but they also do a fabulous steak and a great Thai Prawn Curry.
Joaquim came to take our orders and then we were shown to our lovely table on the terrace, overlooking the garden.  We started on the Dona Maria white wine which was from the Alentejo region and was chilled perfectly.  It was light and crisp and citrussy but with some tropical fruit flavours too, perfect for the light seafood dish I was about to eat.
But first, an amuse bouche of a bacon wrapped date was brought to us and it was absolutely delicious.  Sweet and sticky and salty, it was perfect to get us in the mood for the rest of the meal.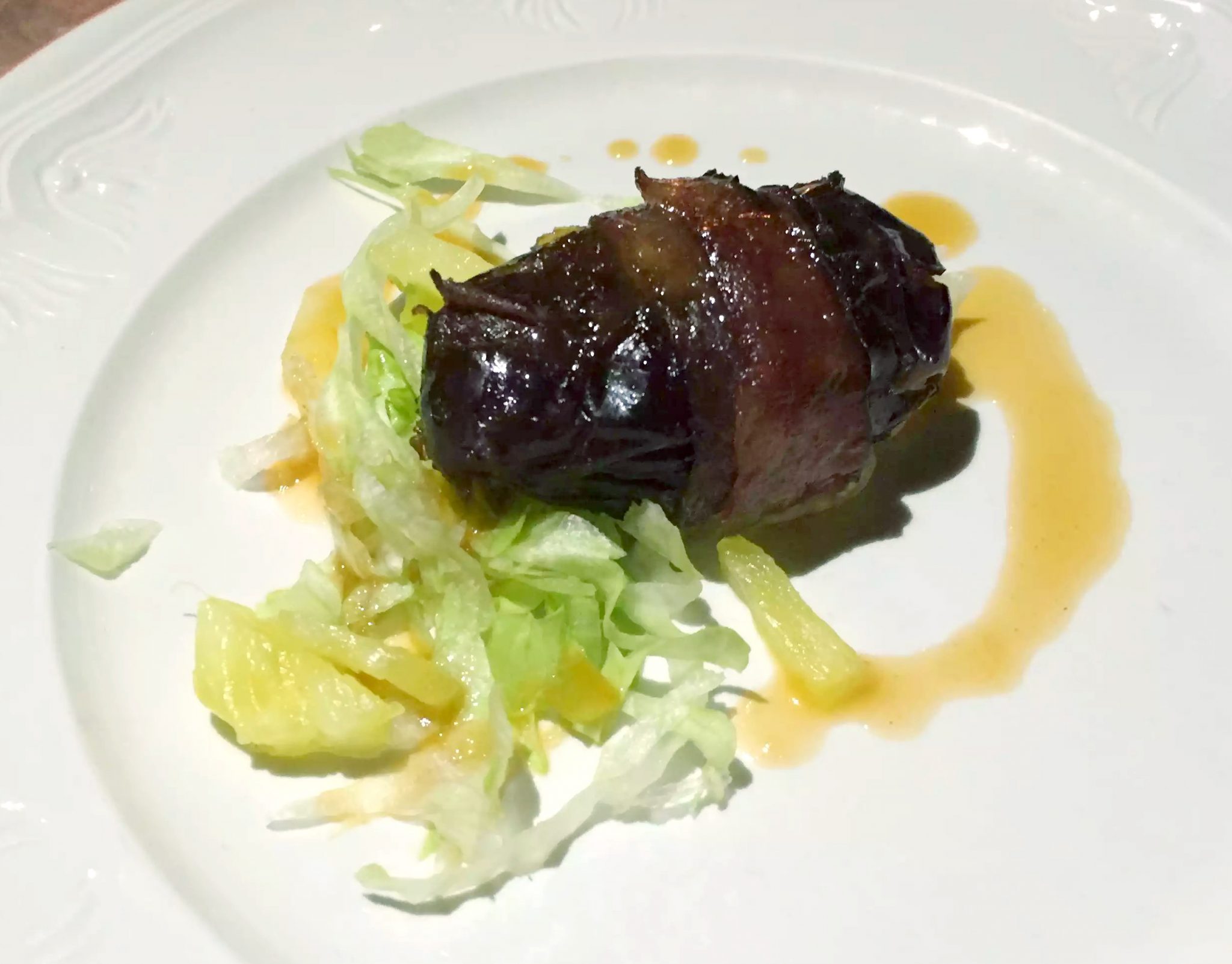 My favourite starter there is the Codfish Carpaccio, which I have everytime and I always think I should choose something else but then I remember how delicious it is and I'm not tempted by any other dish.  Today was no exception so I had ordered it again.  It comes drizzled with olive oil and served with a fabulous tapenade and some fresh tomato and basil.  The problem is, everything is so good and they execute it so well that the first thing you've tried there is so amazing that you stick with it forever as you don't think anything else can live up to it.  I definitely need to try out some more of the menu at some point!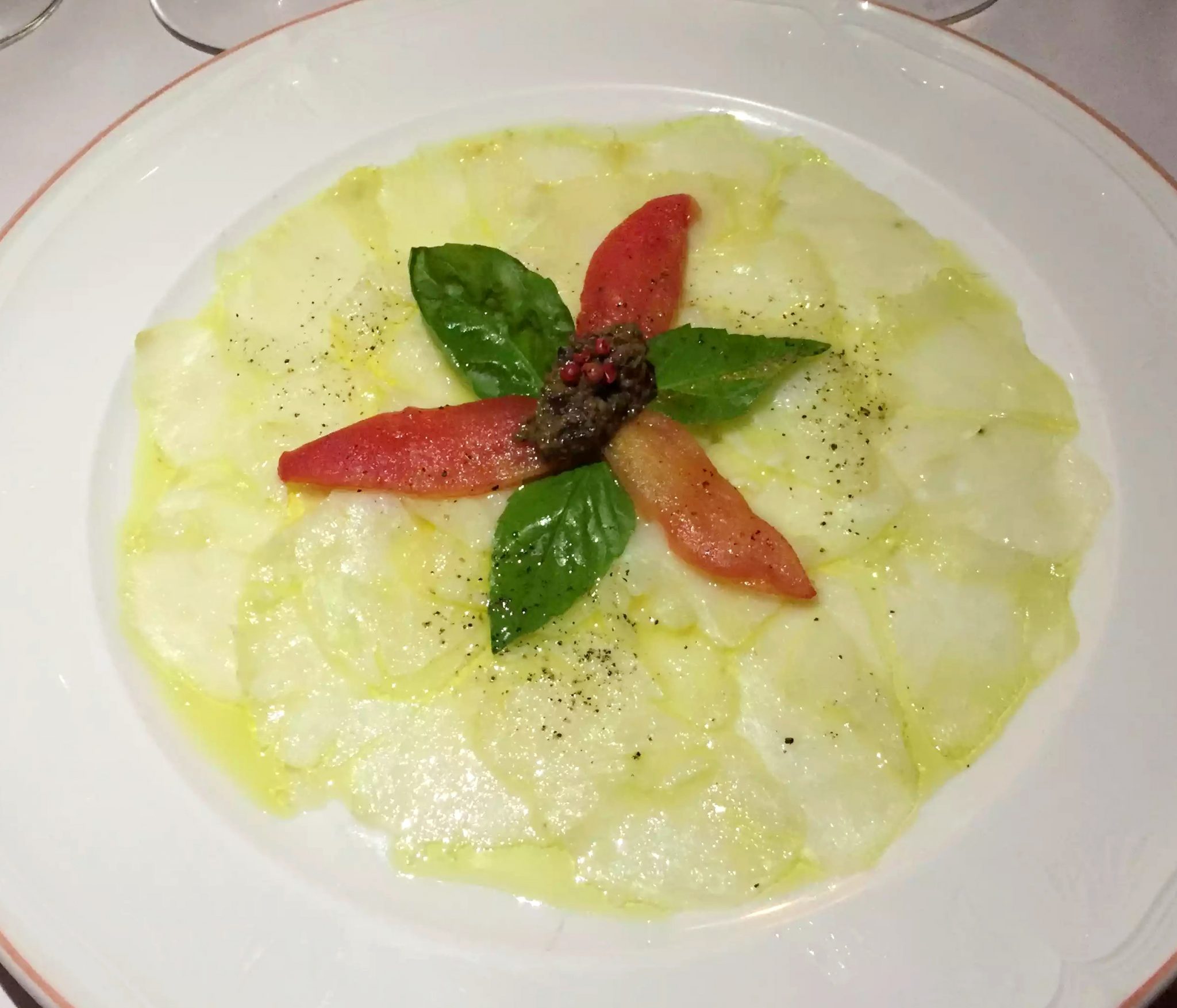 It was just as delicious as I remembered – the cod is always so fresh and works amazingly well with the fresh tomatoes and basil and the salty tapenade.  It's the lightest starter (leaving plenty of room for more food!) but is so tasty I just can't bring myself to order anything else!
Mum usually always orders the codfish to start with aswell, but today she went for the starter special which was a Mango & Prawn salad.  It looked beautiful on the plate and she said it was really tasty but I could definitely see her eyeing up my starter.  I think I picked right.
Creatures of habit all of us (or boring some might say 😉 ) my dad also went for his standard favourite starter there, the beef samosas which he absolutely loves and my cousin Charlotte went for the special of the Day which was King Prawns in a creamy sauce – (she comes here all the time as she lives out here so can afford to go wild with her menu choices and try different things unlike us!)
For our red choice we  had ordered the Crasto Wine which was … definitely one of my new favourites out here!  A wine from the Douro region in Portugal it was very fruity, both red and black fruits with a hint of chocolate.  Delicious, but I probably should have been drinking it alongside a nice steak!  However, for mains, mum and I had the chargrilled sea bream with a salsa verde and steamed vegetables.  As always, Pequeno Mundo got it perfect.  The fish was juicy and well cooked with the slightly charred flavour from the grill.  The vegetables were cooked al-dente and the salsa verde was light and fresh.  Damn, they did it again, now I'm going to have to order it next year too!
Charlotte had the Chorizo crusted Turbot  with a saffron sauce (look at the amazing colour of it) which was the special of the day.  The fish was really meaty and it inspired me to try a similar recipe at home – look out for it coming soon on the blog.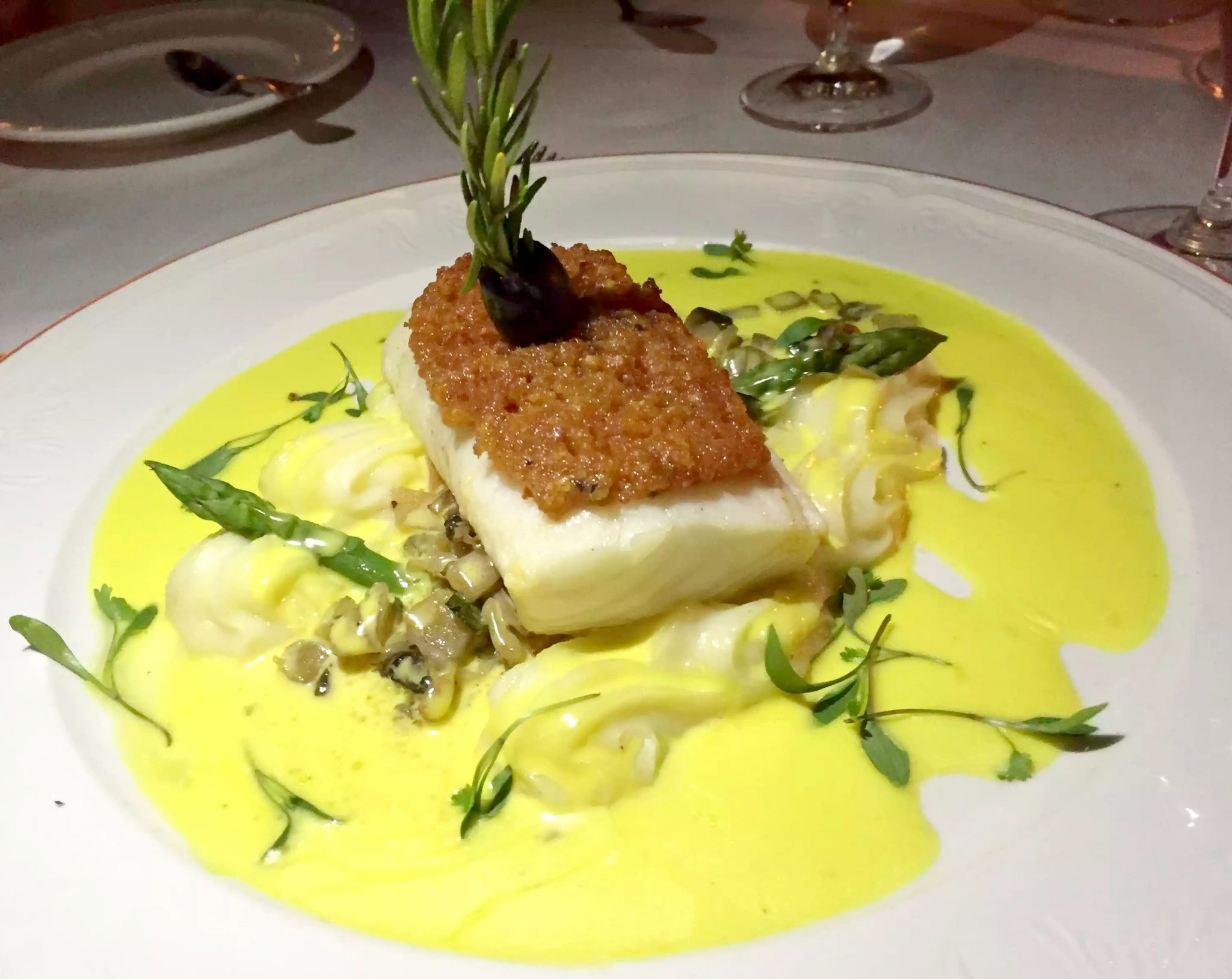 Dad had chosen the bouillabaisse – not one of my favourite dishes, but this one was really good.  The bisque had so much flavour and the seafood was spectacular – huge prawns and meaty chunks of fish it was very rich and decadent.
Nobody could face dessert as we were all too full, but Joaquim always offers us a drink on the house, so I asked for a port and it was the perfect way to end our meal, sitting and chatting and enjoying the candlelight and the atmosphere in the garden.
My parents went back the following week as they were staying out in Portugal longer than I was and needed another Pequeno Mundo fix, and my cheeky mum sent me her pic from the princess chair entitled 'There's a new princess in town!'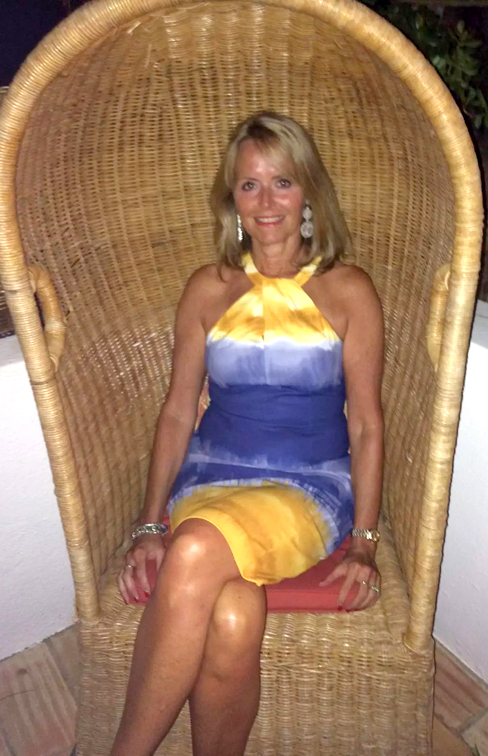 A restaurant with a very special place in my heart and one that's always top of our list.  We look forward to it every year and it's never disappointed us.  Joaquim and his team have really got a little gem here!  Another fabulous dinner in the most amazing setting – it really doesn't get much better than Pequeno Mundo.
If you like this, check out my Top Restaurants in the Algarve Post for more hidden gems!