To read more check out my posts on Cadaques and hiking in Cap de Creus National Park.
Tonight in Cadaques, Dan & I decided to go out on our own as all the others were eating in, so true to form, we picked the local wine bar Enoteca MF.  We had a short wait for our table as the restaurant seemed pretty popular (always a good sign) and while we were waiting we decided to get a glass of wine.  We asked for the wine list and when it arrived, what we hadn't realised is that all the wines in the restaurant were the wines from one single vineyard, the owner of which ran the restaurant!  The wines were all Martin Faixo (MF) wines from his Sa Perifita vineyard in nearby Cap de Creus.  We basically had a choice of his white, red, or rose!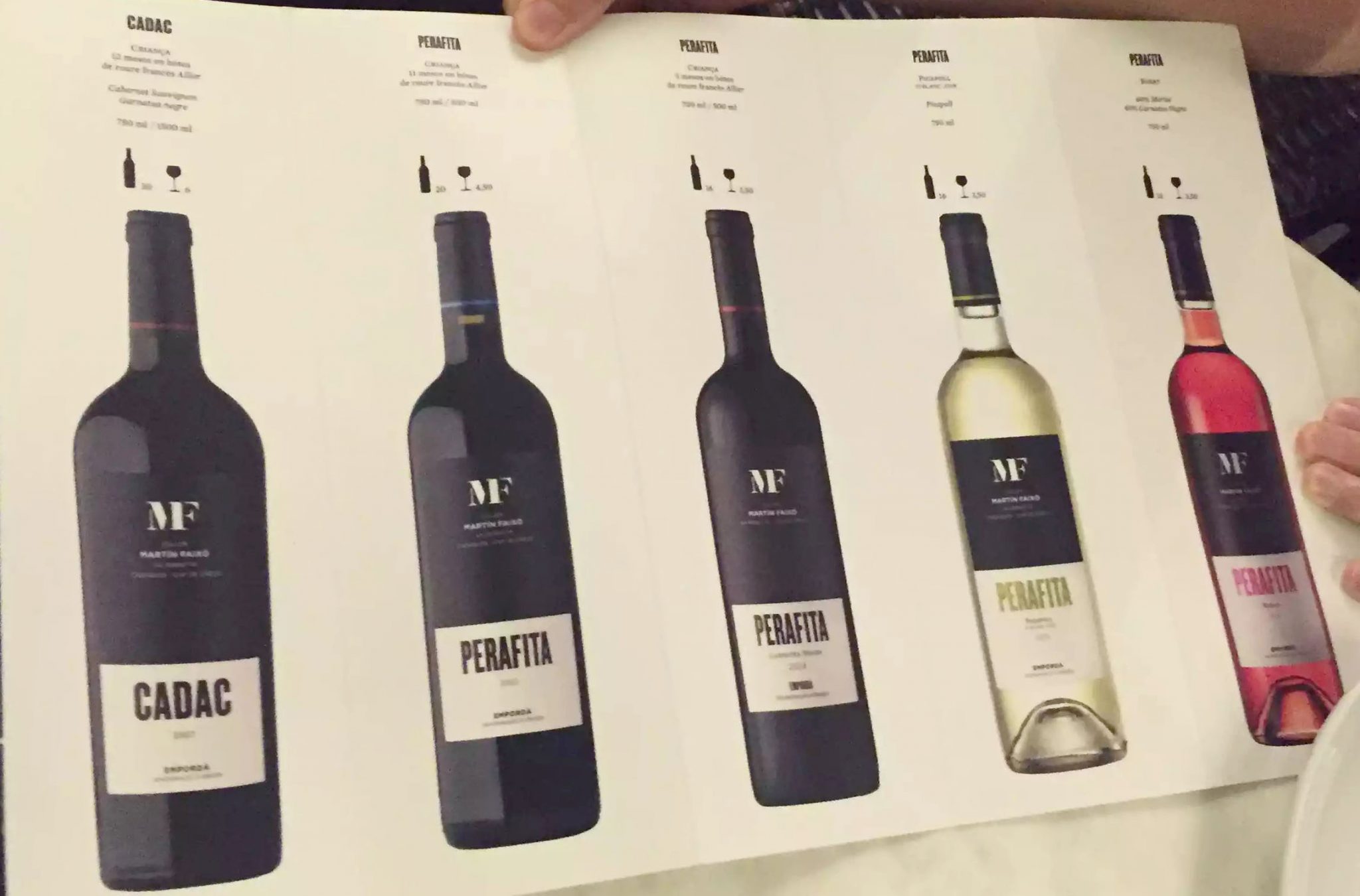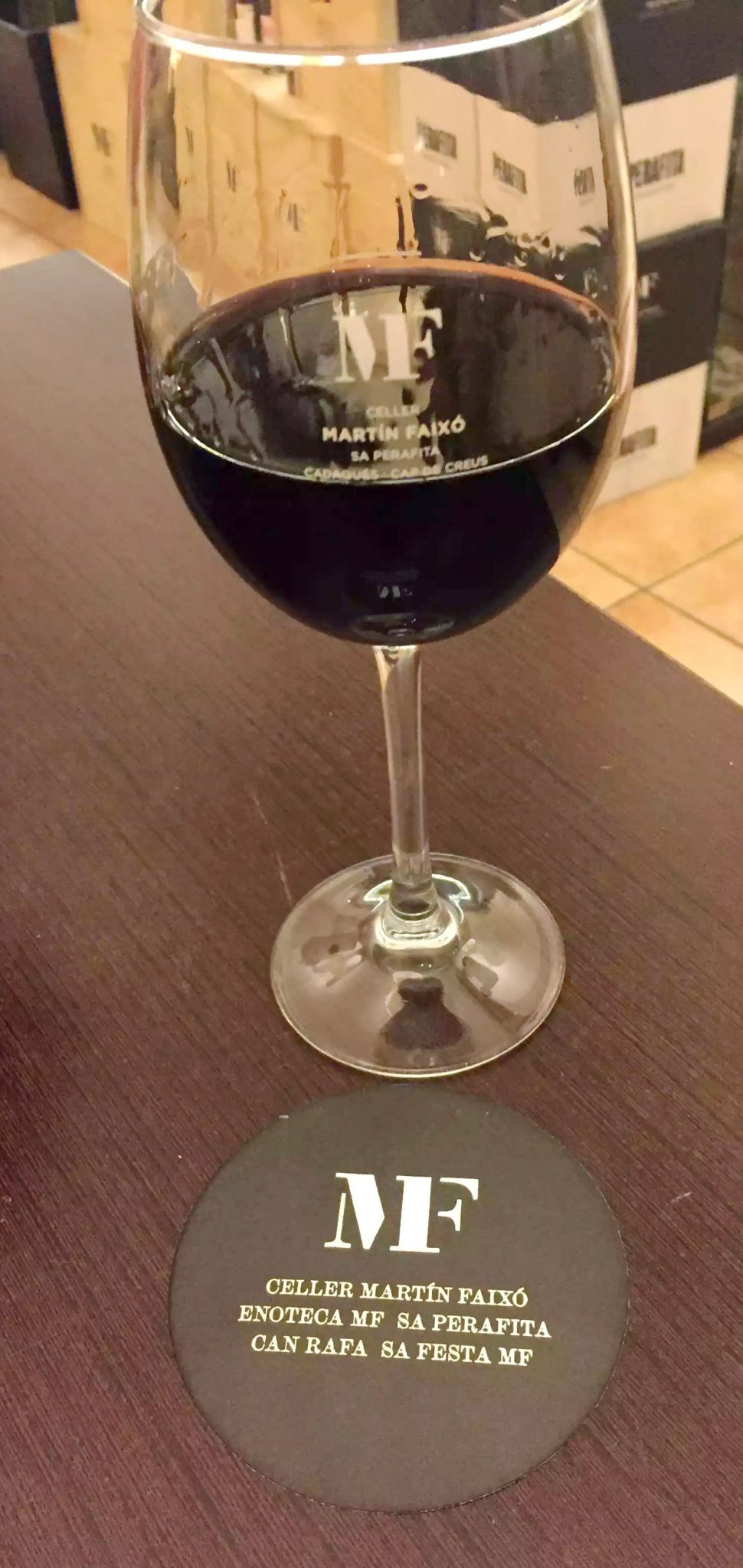 We both chose the red and had a glass of it while we waited for our table.  We chose different ones so we could try each others to get a feel for the wines that this vineyard produced.
I chose the Cadac which was a blend of Cabernet Sauvignon and Grenache Noir which is aged for 12 months in French Oak Barrels.  It was very plummy and quite heavy on the red fruits with black fruit notes as well.  It was quite a robust wine with powerful tannins and I really enjoyed it.
Dan went for the Perafita which was a blend of Grenache Noir, Merlot & Cabernet Sauvignon, aged for 8 months in French Oak Barrels.  It was spicy and fruity and fuller bodied than I had expected – if the wines were this good then we were definitely looking forward to the food.
The food tonight came from an extensive tapas menu written on a big black board which changes everyday.  There was certainly a wide variety of options and everything sounded very tempting.  So much so that we decided to order a few dishes and share everything – poor old Dan has to order the ones that I can eat though (grain & gluten-free) so that meant no cannelloni for him 🙁 but there were plenty of other options to choose from.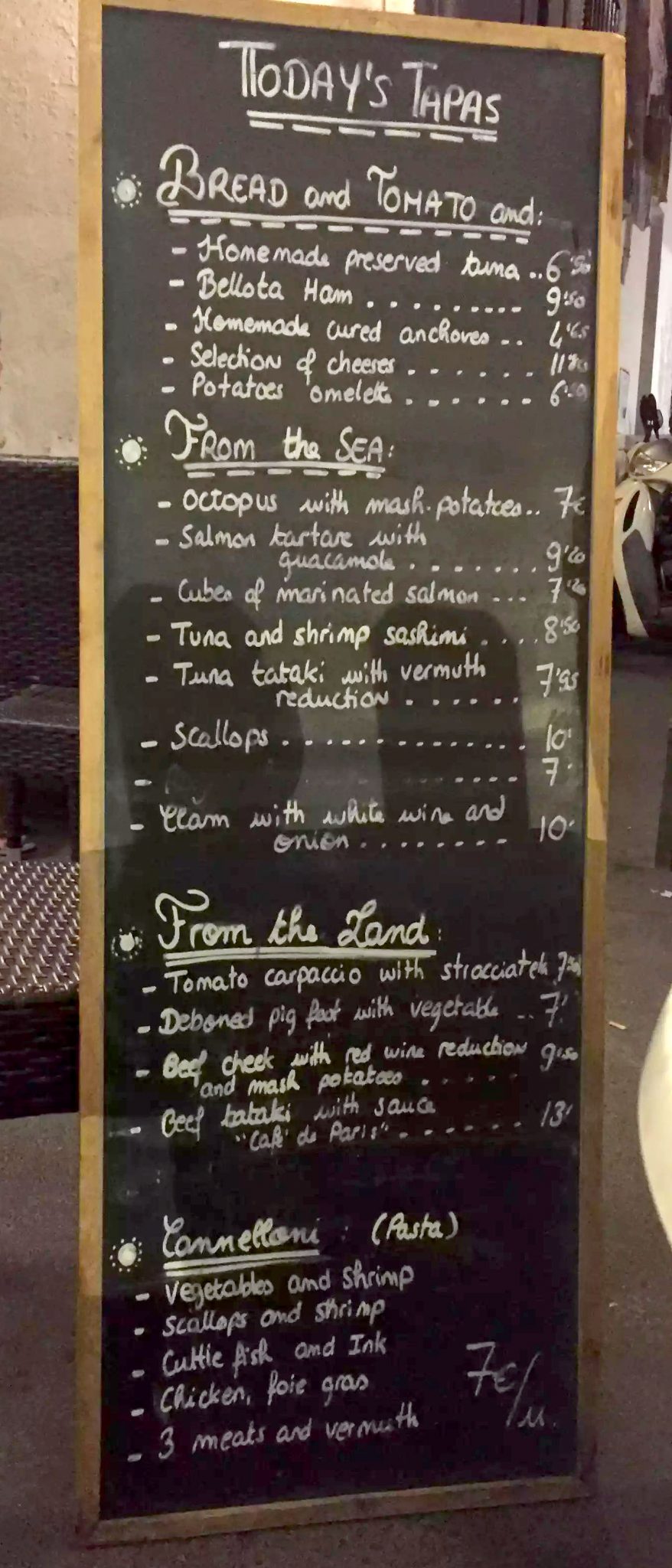 To start with we ordered the selection of cheeses which came with pan con tomate.  I discovered pan con tomate when we were in Tarifa, (Southern Spain) earlier this year and am so jealous every time someone orders it.  It's a breakfast staple in that region and it's basically bread, rubbed with a fresh garlic clove and then topped with pureed fresh tomatoes and sometimes a sprinkle of oregano.  Dan had it for breakfast once and the tomato topping came on the side so I got to try it.  It was amazing and I've longed for it ever since but I think I'm going to have to make it myself with my own bread.
The cheese board was huge and there were at least 6 different cheeses, one of which was definitely manchego, one had truffles in and the others we had no clue about but all were delicious.  They came served with an onion marmalade and a quince jelly and it was the perfect start to our meal.
The next dish that we'd ordered was the salmon tartare with guacamole.  It was a nice fresh dish, the salmon was very tasty and the avocado was so light and creamy.  The presentation was beautiful and I loved the addition of the salmon roe on the top which elevated it to another level.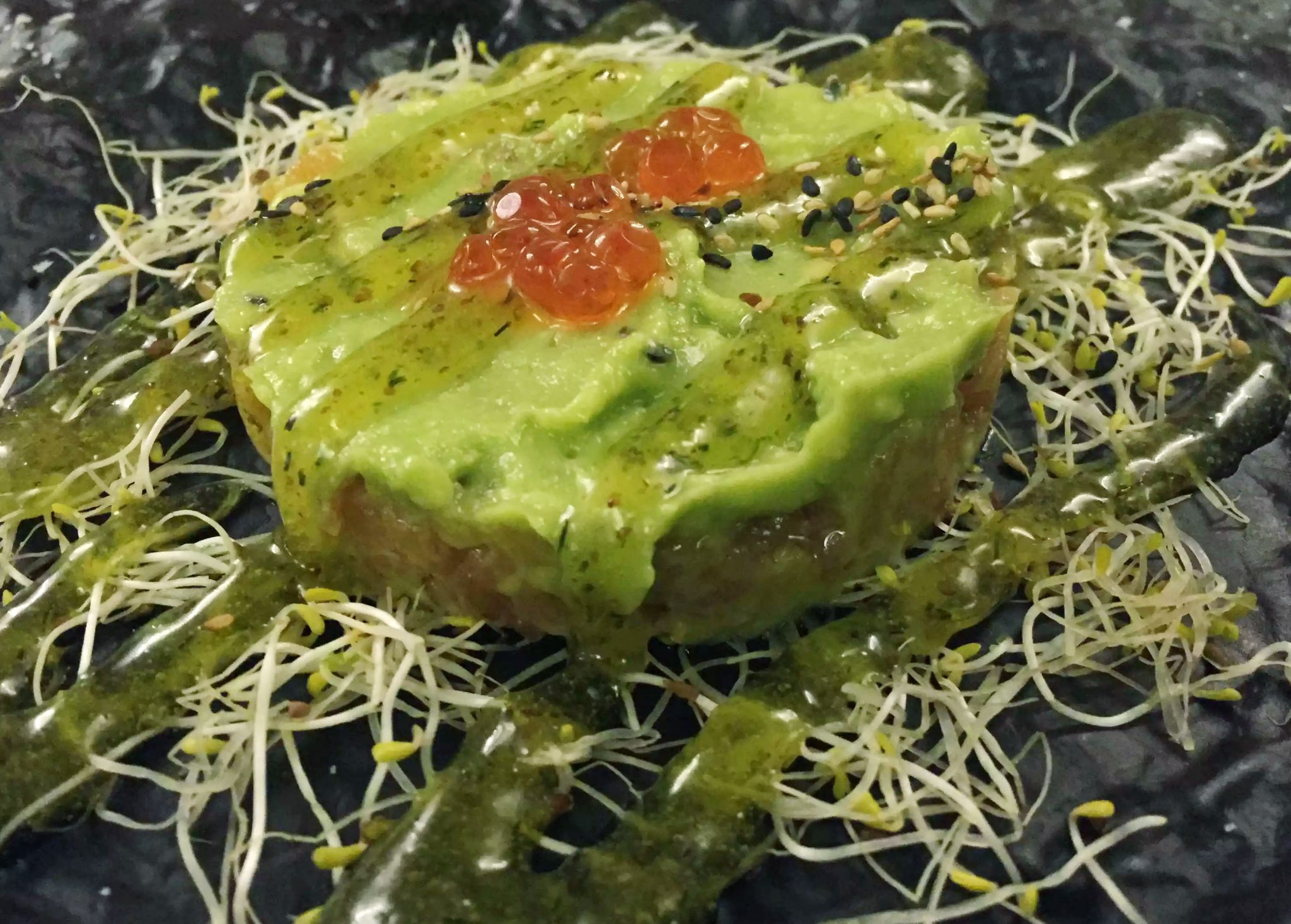 The third dish of the evening was the tuna tataki with vermouth reduction.  4 small bitesize pieces of tuna cooked to perfection (just seared on the outside and rare in the middle) in a delicious rich vermouth sauce (I tried Vermouth in Madrid last year and became quite partial to a glass – it's a sweet fortified wine, a bit like a port) and it made a delicious jus for the tuna.  I think there was some soy sauce as well in there as the dish definitely had a slightly Asian feel to it, with the spring onions and toasted sesame seeds.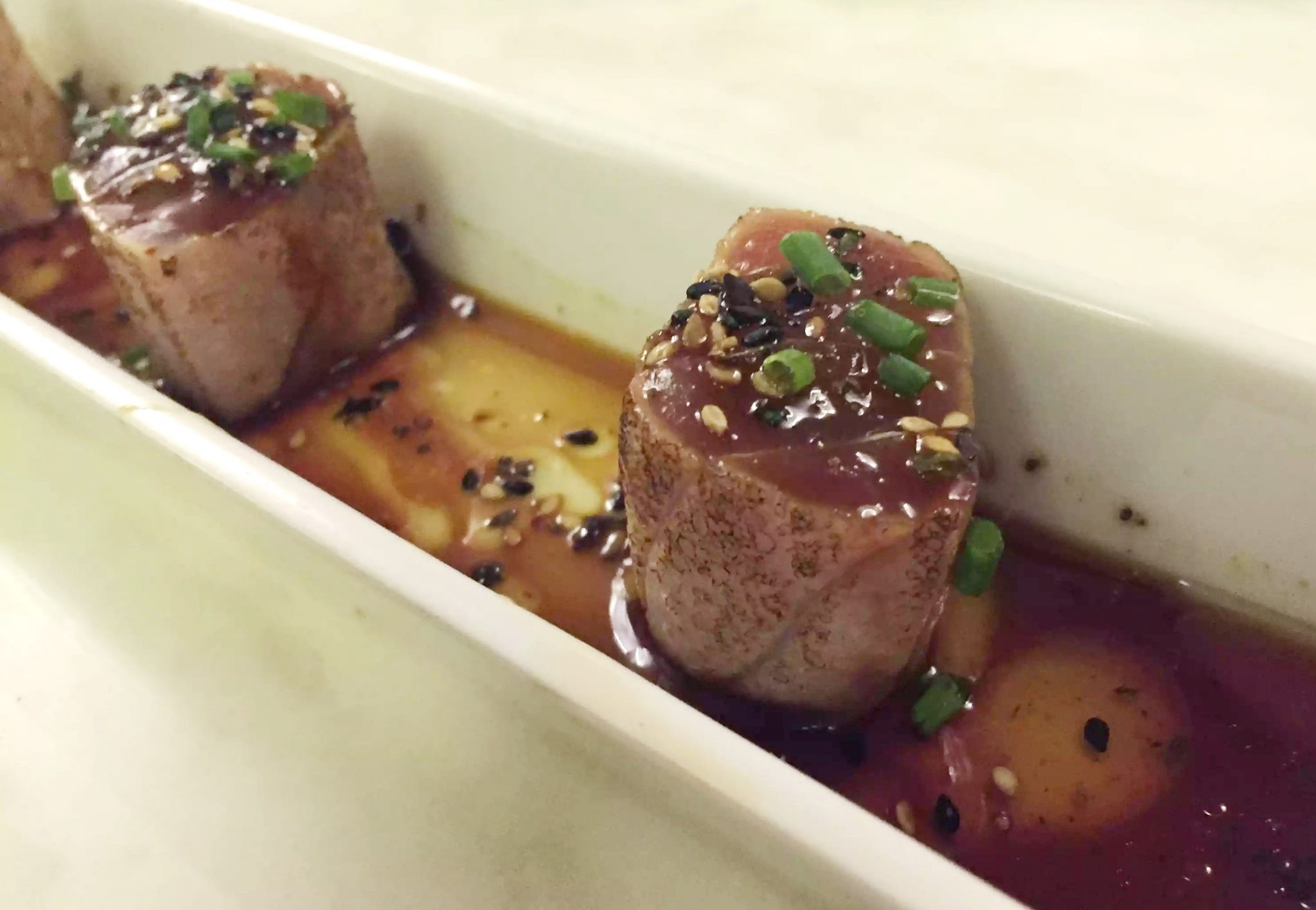 The final dish of the night was the beef cheeks with red wine reduction and mashed potatoes.
The photo really doesn't do it justice (actually it kind of does – it wasn't a pretty dish) but OMG the flavour was out of this world.  Having dissected the dish (removed all traces of mashed potato from my portion) I was in heaven.  The beef was so tender that it melted in your mouth and the red wine flavour really came through.  They'd obviously been slow cooked and they were slightly caramelised as well.  It was definitely the stand out dish of the night.
The plates weren't big at Enoteca MF but they were so flavourful that you didn't feel like you hadn't had your fill (plus it was coming towards the end of the holiday and a week of eating out every night means that a lighter meal is actually quite welcome.)  It was definitely the most creative food we'd eaten all week – very different from all the other restaurants around who served a mixture of grilled fish, seafood, meat and paella.  It was in between a tapas bar and a fine dining restaurant but a place I would definitely go back – I want to try the rest of the menu now!
To read more check out my posts on Cadaques and hiking in Cap de Creus National Park.