This year we went to Marufos after our visit to Armona Island as we'd had a long day and didn't want to spend an hour getting ready to go out somewhere fancy.  We got home, jumped in the pool, threw on clean beach clothes and headed out to The Chicken Shack.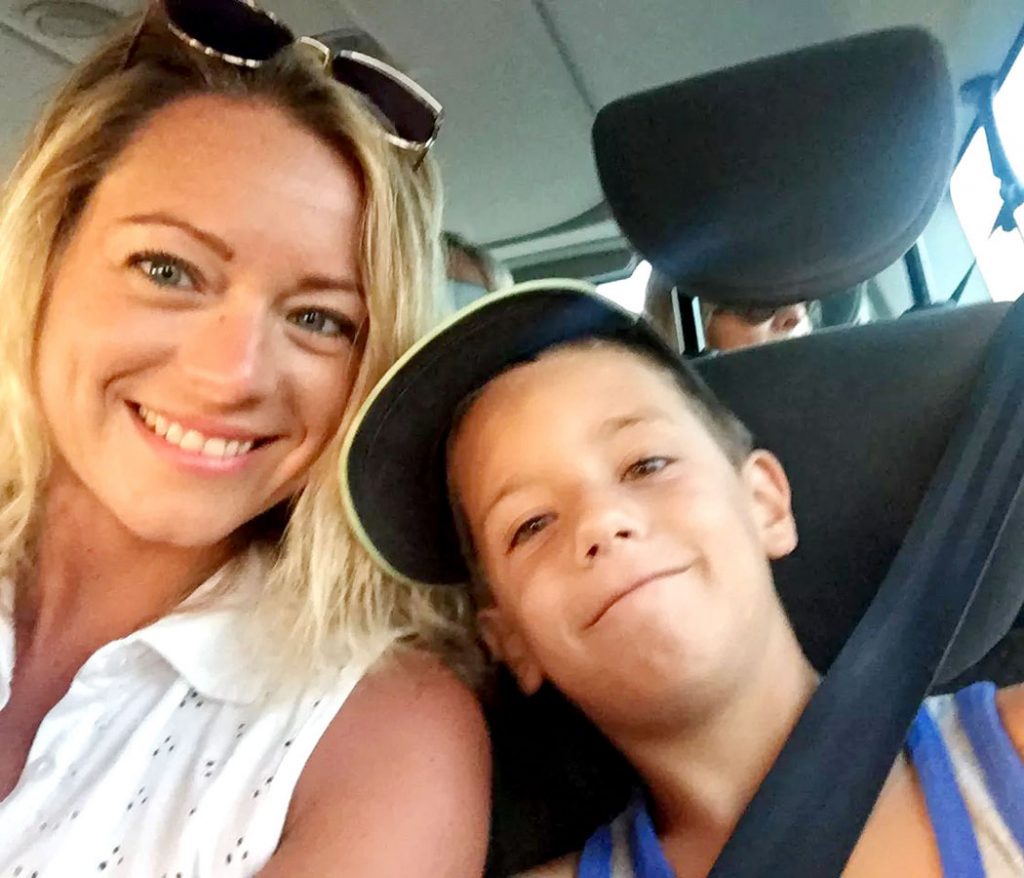 Marufos is an Algarvian institution, I personally have been going there for 30 years and it holds a much-loved place in the hearts of me and my family and also many locals!  A fine-dining experience it is not, neither is it in a beautiful setting (on a main road next to Lidls) but the chicken is unrivalled throughout the whole of the Algarve!
When I first started going to Marufos it literally used to be a shack, hence the affectionate name 'The Chicken Shack' that we and many others give it.  The chairs didn't match, the crockery and glassware were all chipped and you didn't even want to think about having to go to the toilet while you were there!  Today Marufos has expanded and they now have Marufos 2 as well (literally on the opposite side of the main road).  Both restaurants now have their own kitchen (Long gone are the days of cooking the chicken in the one and only kitchen and then having the waiters run it backwards and forwards over the main road!)  Cue why did the chicken cross the road jokes…
They have smartened up their act but it is still far from being a posh restaurant.  In fact it is the antithesis of all the fine-dining restaurants in Quinta do Lago and Vale do Lobo.  It's very family friendly and you can turn up straight from the beach in shorts and a T-Shirt.  There are  no airs and graces here.  But there is a reason that there is a waiting list to get in (a board outside the restaurant that you sign your name and party size on) and a reason that people keep coming back.  It's not for the ambience (fluorescent lights and a TV screen showing the football in the corner) it's for the chicken!
Once you have signed your name up on the list you can wait outside or take a drink in the bar until the waiters call you to your table. The wait isn't long and we were quickly seated at our table.  We glanced at the menu, but the whole table already knew what they were having.  'Chicken and Chips for seven people please and two tomato and onion salads!'  Chicken Peri-Peri is everyone's favourite!  We ordered a bottle of Vinho Verde and a bottle of Cabernet Sauvignon from the very reasonable wine list and waited for the food.
As with most of the restaurants in Portugal you get the obligatory 'Couvert' here.  A basket of Portuguese Bread is de rigueur, but here you get the old school tins of sardine pâté
too.  Most other restaurants have gone too upmarket for this and serve you tapenade or tuna pâté – not that I'm complaining as I love both, but there is a special spot in my heart for Portuguese Sardine Pâté.  You also get a scrummy Portuguese Cheese made with sheep's milk to share with the table.  Mild and creamy it's absolutely delicious!
And then the food appeared.  Huge platters of roasted, spatchcocked chicken, crispy fries and delicious salads!  Simple food at its best.  They grill the chicken simply and then provide you with piri-piri sauce.  Then you can spice it up to your desired heat!  A few drops is enough though – that stuff is lethal!
The chicken is so juicy and flavourful, with the charred exterior from having been cooked over an open flame rotisserie.  Everyone gets half a chicken, as many chips and as much salad as you can eat.  Not being able to eat the chips because of the medical diet that I follow I can't vouch for the taste.  However they all still disappeared so they must have been great.  They looked really crispy and crunchy!  Salads just taste better out here too. Tomatoes taste like tomatoes rather than the watery offerings we get in the UK.  The simple Portuguese favourite, tomato and onion salad, is the perfect crisp accompaniment to the juicy chicken.  Load up your plate and you're set!  A crisp glass of Planalto or Casal Garcia and you've got the perfect meal.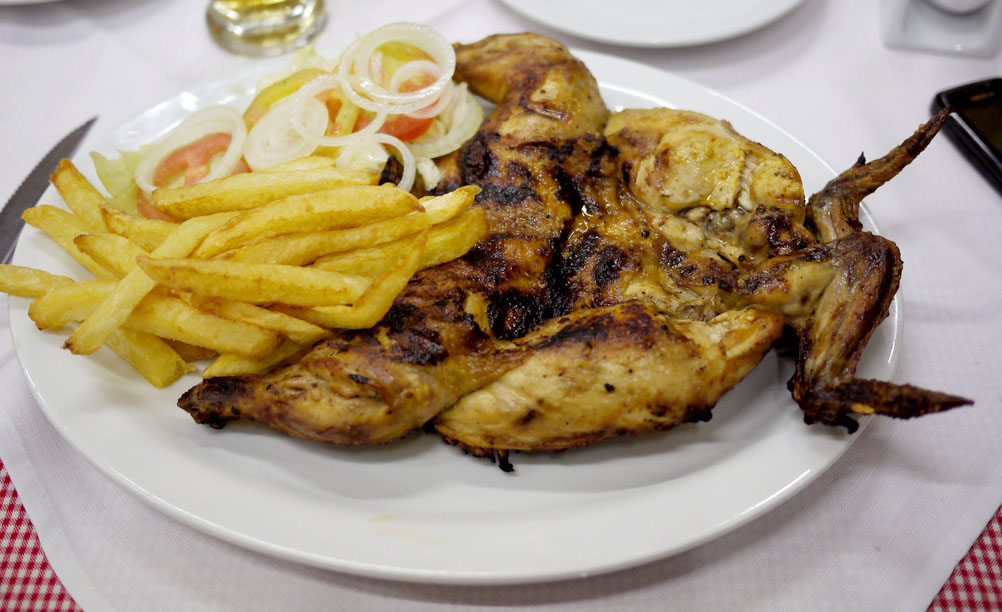 They don't only do chicken at Marufo's though.  The starters of garlic prawns and Clams Bulhao Patao are outstanding .  I used to be pescatarian (gasp!) and can personally vouch for the selection of fresh fish that they have.  Sardines were my all-time favourite, but the monkfish and prawn skewers were delicious too!  They have the Portuguese Speciality Black Pork on offer and plenty of steaks so if chicken isn't your thing, you'll still be spoilt for choice!  Everything is so fresh and all on display so you can pick your own dinner!
And what's even more amazing is the price of everything!  I don't think I've ever paid more than €15 a head.  Even that was with a more expensive bottle of wine.  It's the bargain supper of the holiday – you'd be hard pushed to make it yourself for less.  We always joke when the bill comes 'I'll get this one, you can get the bill tomorrow at Pequeno Mundo!'
Marufos has, quite simply, the best chicken in the Algarve and I've eaten at a lot of restaurants out here!  The Chicken Shack is recommended on my list of the Best Restaurants in the Algarve and I can't speak highly enough of it!  It's way too old-school to have a website but it does have a FaceBook page.  Everyone has heard of it though so you can just ask around for directions!  Give it a go – you wont be disappointed…and watch out for the peri-peri sauce!
Pin it for later