One of the things I love most about my annual trip to Portugal, is getting to spend quality time with my godson Ethan.  He's on school holidays for the summer so I was thrilled to be getting him for an entire day and we all decided to take a day trip to make it even more special.  I love the islands off of Faro, having spent time on Ilha Deserta so we thought about trying a different one and settled on Armona Island as we'd never visited before.
There are two easy ways to get to Armona Island and both leave from Olhão port, the next town East from Faro.  You can catch the ferry or you can hire a water taxi to take you there.  In the summer the ferry leaves Olhão on the hour every hour, then leaves Armona Island for the return journey on the half hour and costs about €3 return.  The water taxis are all lined up ready to go when you are, and they cost €25 one way.  Unfortunately we'd just missed the ferry so we decided to get the water taxi.  Not a bad price when split between 5 of us.
We jumped in and set off.  Let's just say that we over-took the ferry in no time.  The water taxi took 5 minutes whereas the ferry takes half an hour!  It felt so nice to be out on the water racing along with the wind in my hair.  Time for godmummy godson selfies – someone was definitely excited!
We arrived at the port, which is on Armona Waterfront Beach.  This is a busy beach lined with cafés and restaurants and most people stop and spend the day here.
However we'd been given the insider tip by my cousin.  Walk down the main street, past the fishmongers and holiday homes and just keep walking.  One long straight road so you can't get lost and it's about a 20 minute walk.  The island is very safe, there's no cars at all and it was so nice to see all the tiny cabins and quaint holiday homes.  This is where the Portuguese come for their summer holidays!
20 minutes later and we arrived at the boardwalk, we followed it a bit further through the dunes that are so typical of the Algarve region in Portugal.
We crossed over the top of the dunes and were greeted with one of the most beautiful beaches I've ever seen!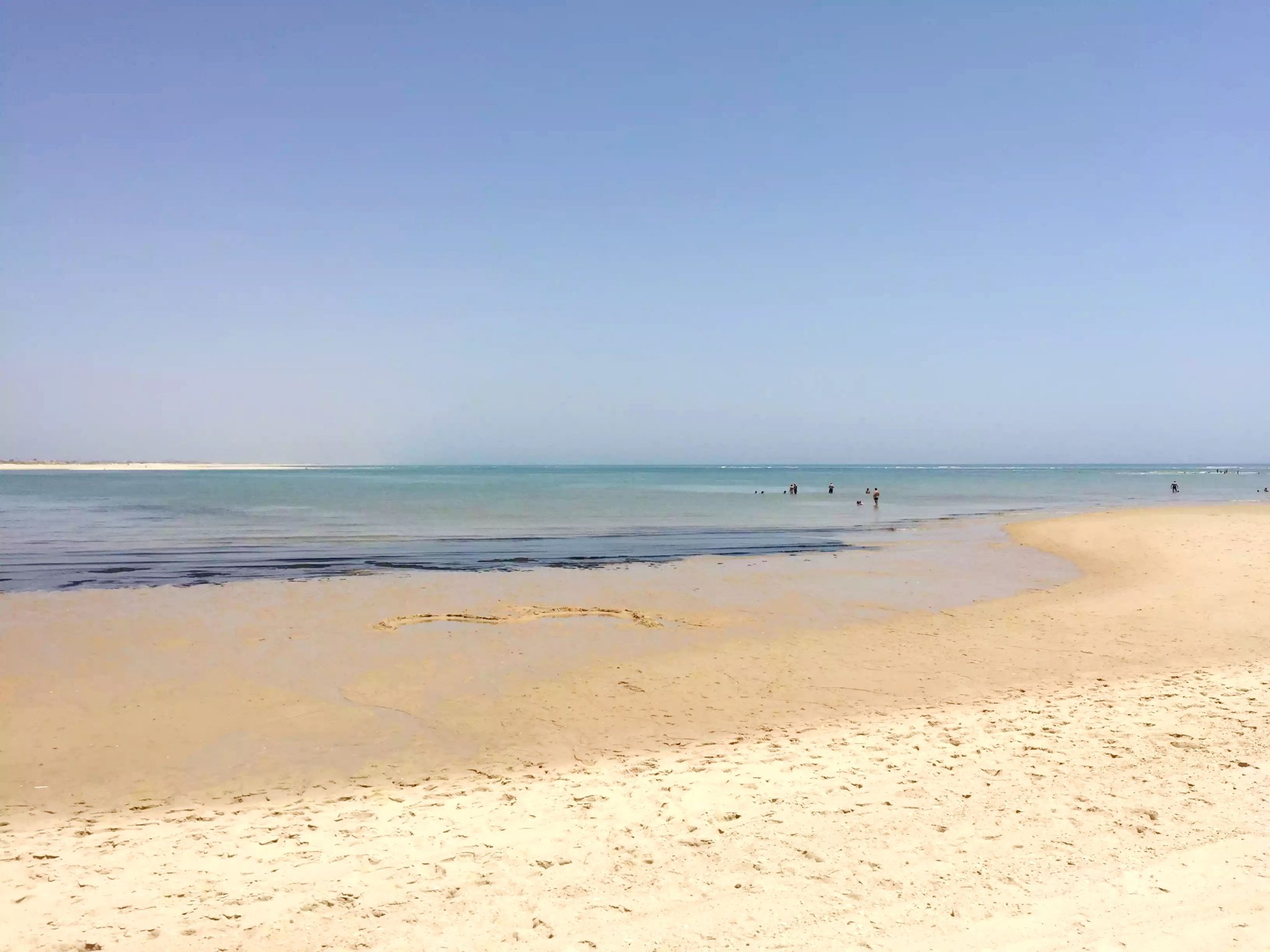 It was definitely worth the walk.  This is known as the Atlantic beach and it's insanely picturesque.  Pure white sands, clear crystal waters and almost no-one else on the beach.  The walk was long in the hot sun but you have to put the effort in to find the hidden gems like this place!  The Atlantic coast is known for its rough waves and cold water but this was some of the calmest and warmest water I've ever seen.  Perfect for families with little kids as it's incredibly shallow – you'd have to walk hundreds of metres to get above knee-high!
The first thing we did was to head into the water.  There were plenty of sand dunes and spits to explore and huge fish to spot (or chase if you're Ethan!)  Honestly, the water never got over my knees and it was like a bath!  We waded around for a while, Dad ventured out further to go for a proper swim and find some waves, but all too soon it was time for lunch.
My cousin had reserved us a table at the restaurant on this side of the island, Restaurante Santo António.  All the others are back by the ferry port, although there is a beach bar on the Atlantic Beach too that does bar snacks and drinks.  It's well worth reserving a table as it's a long walk back to the ferry port if you didn't bring a picnic and the restaurant is fully booked!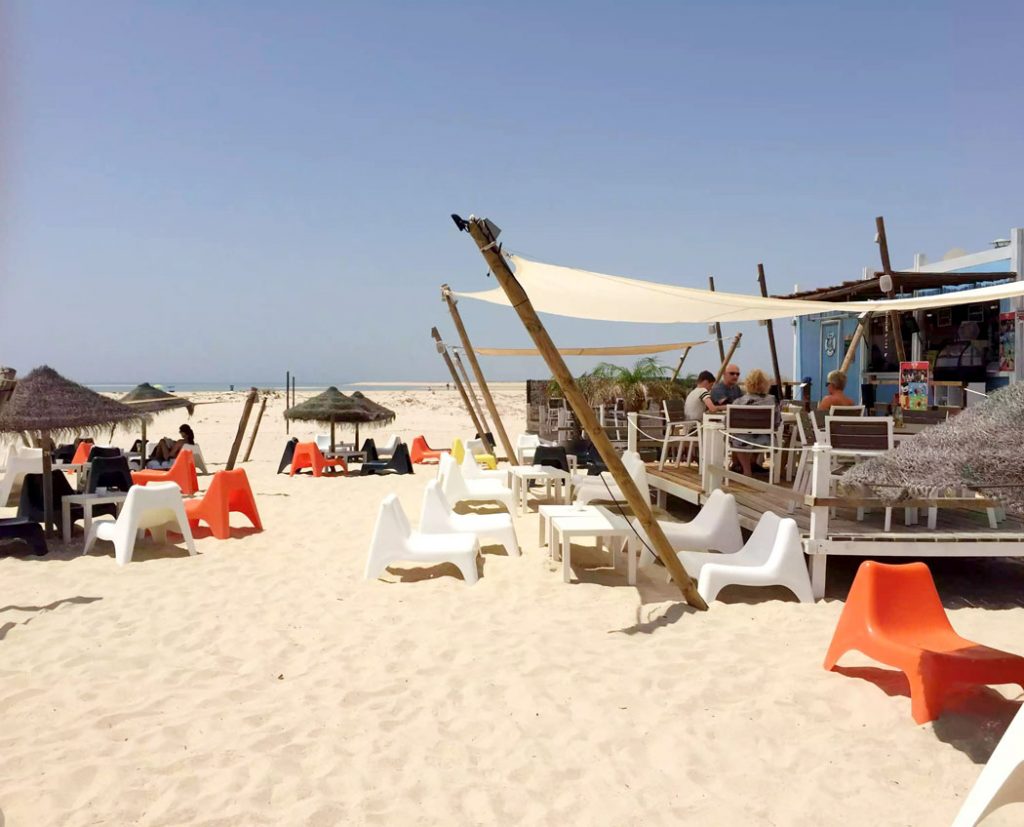 We walked back across the boardwalk and sat down to a delicious lunch of fresh sardines, grilled fish and salad and a chilled bottle of Vinho Verde.
We spent the afternoon relaxing on the beach, swimming some more and playing beach games.  Aiming to get the ferry back, we timed it so that we had plenty of time to walk back and get a ticket before it departed.  This time we managed to catch it so we sat on the top deck and watched the island grow smaller behind us as we headed for Olhão.  I think someone was worn out!  I'm not sure who was more exhausted though, me or him!
Back in time to head off to Marufo's (or The Chicken Shack – as we call it) for dinner!  A perfect end to a perfect day.
Pin it for later