Having visited Biarritz a couple of times now, I've definitely got a very soft spot for this gorgeous town.  A seaside town steeped in history, it's where old school glamour merges with a cool, surf vibe.  A place where you can promenade along the beach, eat amazing seafood or try you hand at extreme sports – definitely something for everyone.  It's where Spain mixes with France, the Basque region as it's known, with influences from both countries and cultures.  Small enough to be able to walk everywhere yet big enough to be able to explore, it really is a perfect blend of everything needed for an amazing holiday.  It's also extremely easy to get to with its own airport and a mainline train station just outside town – it's only a 5min bus or taxi ride into the centre from both of these! And with so many amazing experiences to have there I just had to compile a list of the top things to do in Biarritz.  You can check them off as you go through and it will ensure you get to see the best that this town has to offer.
Biarritz was one of the stops on our recent road trip through France and Spain, between Arcachon and San Sebastian and returning to this beautiful town just reinforced my love for it.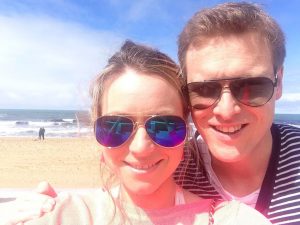 …so here's my list of the top 10 things to do in Biarritz!
I guess, top of the things to do in Biarritz list, has to be this!  Surfers from all over the world flock to Biarritz to catch the waves on the main beach – the Grande Plage.  Every time we come to Biarritz it seems like there's always an international surf competition on, and while I'm not too sure of the rules or point scoring system, it's always fun to watch the pros out on the waves!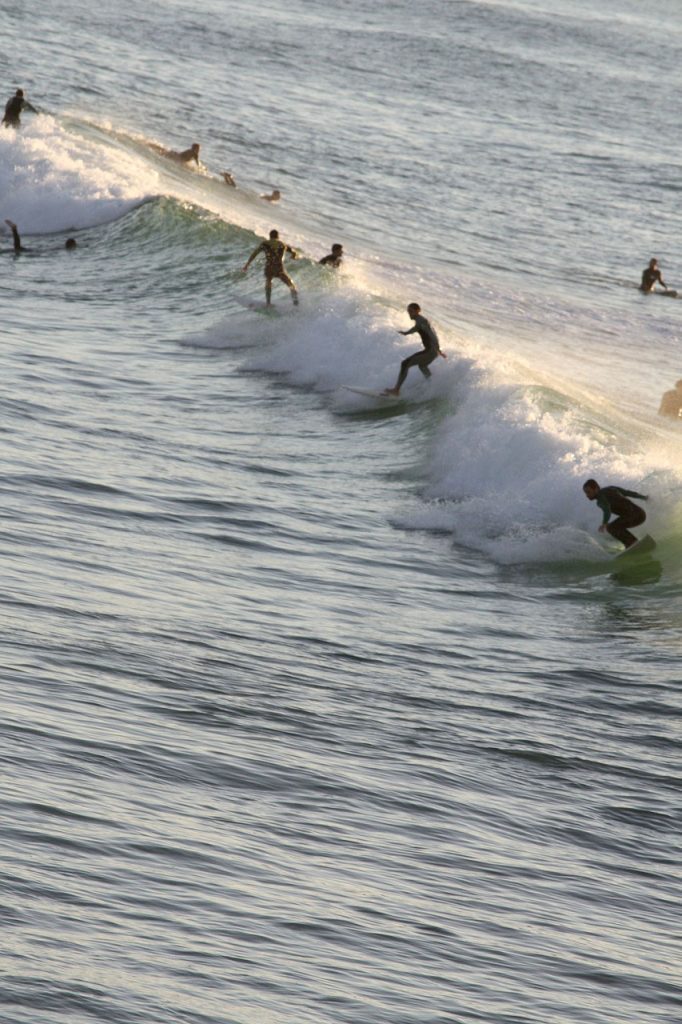 Even if you don't have their skills you can hire a board for a day or take a lesson.  Surf lessons start from about €40 an hour or you can just hire a board for about half the price and go it alone!  Just make sure you don't get in the way of the pros though!
This has to be one of my favourite ways to start an evening in Biarritz.  The Hotel du Palais is the largest and most luxurious hotel on the seafront and it is opulence personified.  A huge cocktail bar with velvet banquettes and armchairs, crystal chandeliers and an enormous grand piano, it is the epitome of elegance, but the best views are from the terrace outside.  At sunset, the scenery just can't be beaten and there's no better way to see it than relaxing with a delicious martini and some canapés.  If you can't shell out for a room at the hotel (an eye-watering €600 euros a night minimum – well out of my budget) it's a way to experience a little bit of luxury without the hefty price tag!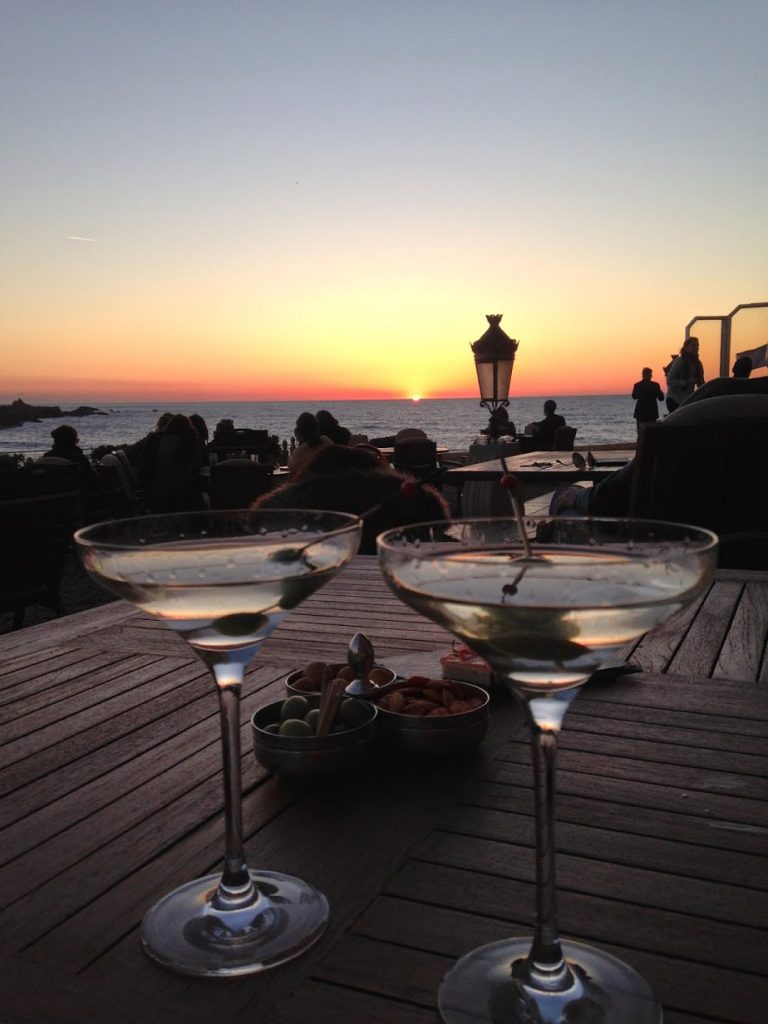 Visit the Port des Pêcheurs for a Seafood Lunch
The Port des Pêcheurs is a cute fishing harbour surrounded by seafood restaurants.  The fishermen haul in their early morning catch and then these restaurants prepare it fresh for you.  Fish of the day, grilled calamari, razor clams, bouillabaise and so much more.  All the seafood is incredible but I have to recommend the moules à la crème!  Big juicy mussels in a rich creamy sauce eaten out on the terrace overlooking the port.  It's definitely my favourite lunch spot in Biarritz, and with a glass of House Wine at €2 you can afford to have a very long lunch there!  There's a few restaurants to choose from, some shack-like, some slightly smarter but I've tried them all and they're all great!
Promenade on the Grande Plage
The Biarritz Promenade runs the entire length of Grande Plage from the Casino to the Hotel du Palais.  Walking the length of the promenade you can be transported back to Biarritz in its 40s heyday and imagine all the elegantly dressed ladies and gentlemen taking their afternoon stroll here!  These days, the walk is just as pleasant and allows you to enjoy views out to the ocean or up to the town.  There's also plenty of bars and cafés lining the promenade so you can grab a coffee and watch the surfers out on the waves.

Tapas at the bars surrounding the Market
Part of the charm of Biarritz is the mix of French and Spanish culture that you'll find here.  That's why no trip is complete without a night out in the Market Square which is surrounded by Tapas Bars and Restaurants.  It's a little bit of Spain in the middle of France and the atmosphere is so buzzy and lively.  Another good time to visit is just after the market has closed, when the locals are relaxing after doing their shopping.  With eight to ten different tapas bars, all slightly different there is sure to be something to suit your taste-buds.  From the authentic Bar Jean serving Spanish Tapas and Pinchos, to Le Comptoir du Foie-Gras (Most of the tapas are laden with this delicious treat) to the more elegant Chistera et Coquillage, which does a slightly more fine-dining take on the idea of Tapas.  It's a fun, vibrant area with plenty of free-flowing Rioja!

Les Halles is the market place in the middle of the Tapas Square.  It's open every morning from 07.30 to 14.00 and also in the evenings during July and August from 18.00 to 21.00.  It's not a Food Market for tourists like some others I've been to, but it's actually where the locals go to do all their shopping.  Come to think about it, I've never seen a supermarket in Biarritz, Les Halles must be the main place to buy groceries.  I love all the fresh produce and one of my favourite things to do is buy some cheese, meats and salad for a picnic.  Then, take this to the beach and enjoy lunch in the sun with a view!  Heaven!!
Visit the surrounding areas
Biarritz is in the middle of some beautiful countryside with very dramatic landscapes.  Visiting neighbouring beaches in the area shows you just how wild this Atlantic Coastline can be.  The Côte des Basques is a much wilder beach, just next to the Grande Plage and is popular with experienced surfers.  The next door town of Anglet is also a great place to walk around, very picturesque and quiet in comparison.  We always like to explore when we visit a new place and have spent many a morning wandering along the coastline finding another gorgeous stretch of beach to enjoy…along with a glass of wine!
If you're looking for something a bit more challenging, the "Vélodyssée", is a bike track of more than 1400 km which runs along the Atlantic Coast.  Taking you along the Biarritz coast and then the beaches of Anglet to Saint-Jean-de-Luz and Hendaye-Plage.  Very popular with experienced and novice cyclists alike.
Day trips to Pau and Bordeaux are also possible and you should definitely try to visit one of the nearby vineyards.
Visit the Rocher de la Vierge (The Rock of the Virgin Mary Statue)
Way out on a rocky outcrop in the middle of the sea is a statue of the Virgin Mary.  Reached from the mainland by a bridge, the views are spectacular.  It's a popular pilgrimage place and the statue was built in 1865 in order to bring good luck to all sailors.  It has the most picturesque views of the coastline and is a great spot for photo taking.  Just don't try to visit on a rough day though, the waves can crash over the bridge and you'll get very wet!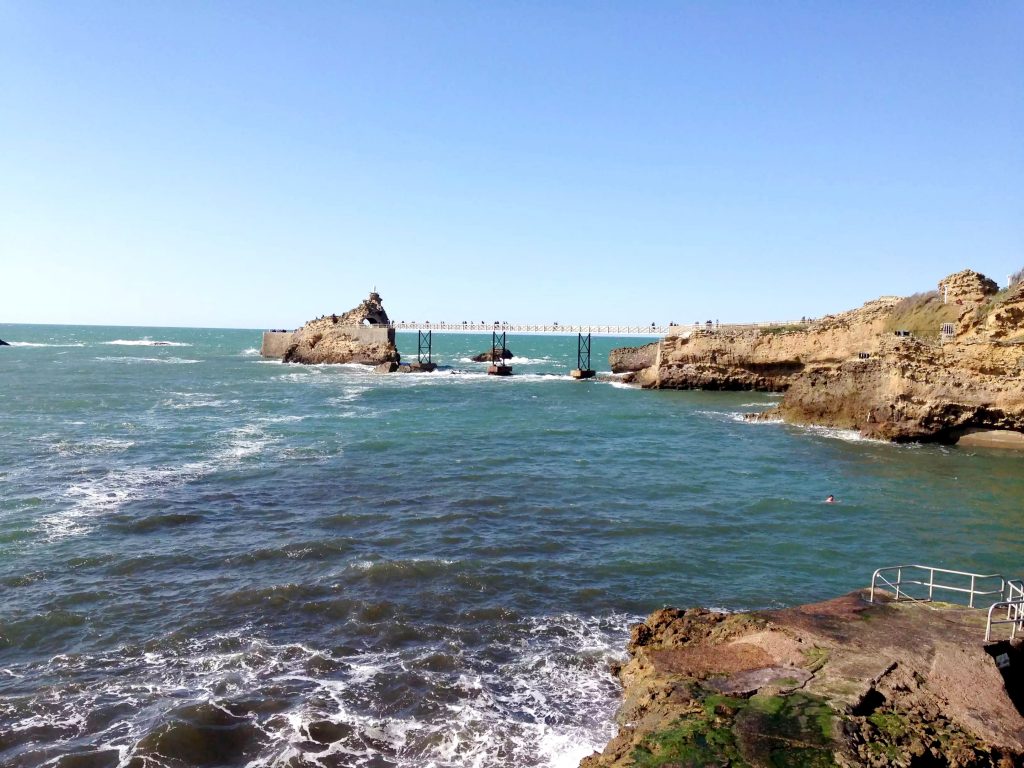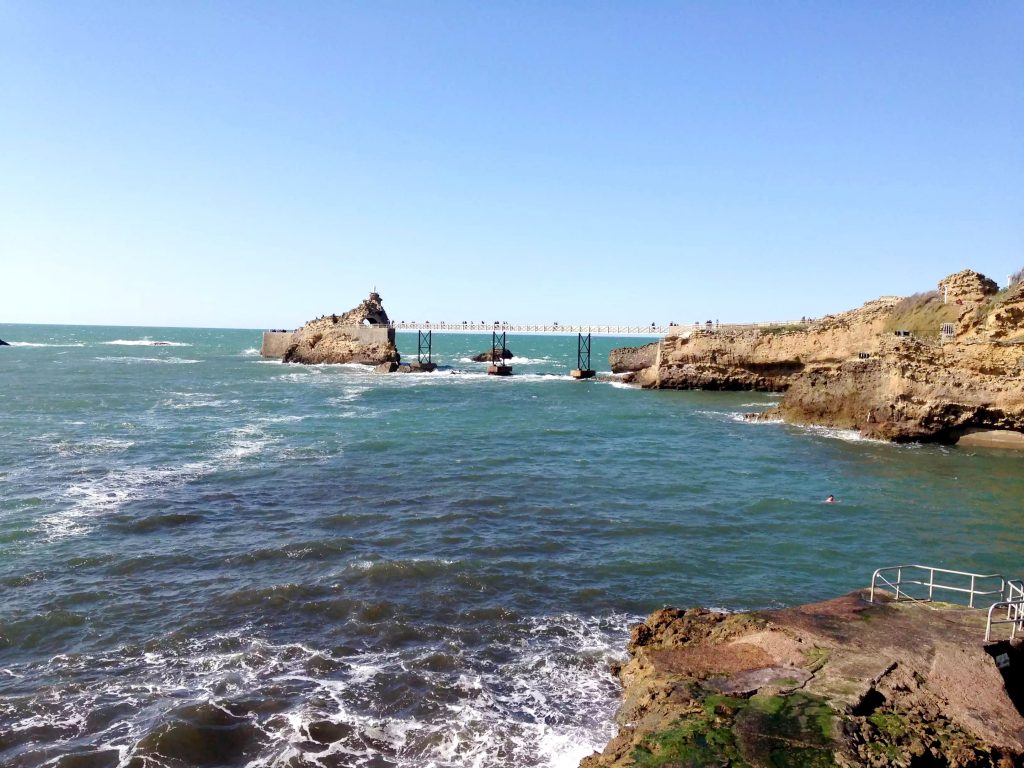 Our first trip to Biarritz was for Dan's Birthday a couple of years ago and I wanted to take him out for a special meal while we were there.  I did my research (luckily, as you'd probably never find it otherwise) and discovered L'Etable.  A tiny French bistro down a small alleyway, not far from the seafront, you could easily walk past it without realising it was there.  But it's definitely one not to be missed. The food is amazing (the portions are huge – be warned), the wine selection is impressive and the service is warm and inviting.
A night spent in here feels indulgent yet the prices are very modest.  And what's more indulgent than a huge Chateaubriand steak?  A huge Chateaubriand steak topped with foie-gras and bacon of course!  The House Speciality which you just have to order – it's for two, don't worry!  A true gem of a restaurant but you'll need to book as it's always full!
Built in 1831, the Biarritz lighthouse dominates the surrounding landscape.  Out on a peninsula it warns of the dangers of the sharp steep cliffs and rocky waters and is so beautiful when all lit up at night.  Easily reached by a short walk from the Grande Plage (about 10 minutes) it is just as fabulous in the day and makes for some spectacular views.  If you're feeling extra energetic you can even climb the 248 steps for the best views around!

Other notable things to do  in Biarritz are a visit to the casino (this would have been fabulous in its heyday but is a bit trashy now),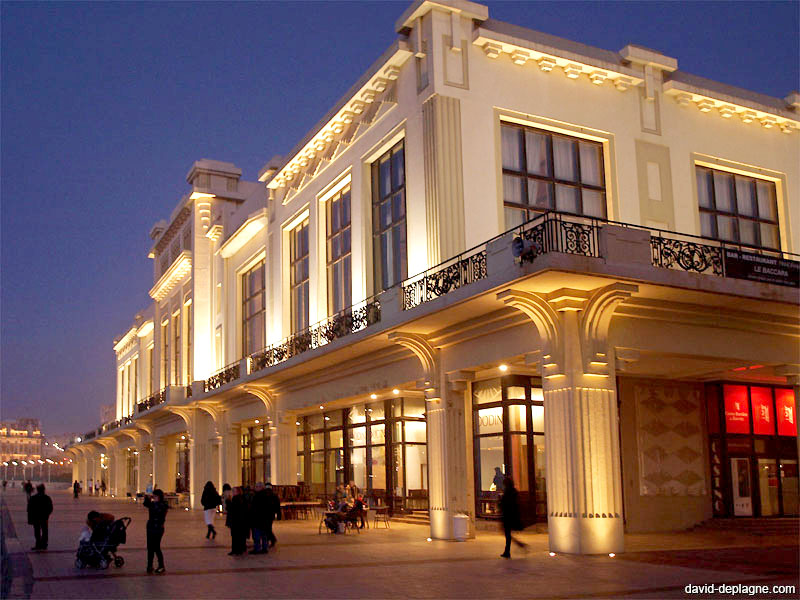 a visit to the aquarium,
or you can even take the seaside train which runs along the cliff tops!

And if you're there at the end of July, the Bayonne Festival is a must.  20 mins bus journey away in the next town is the third biggest festival in the world!  Don your red and white clothes and party with a million other visitors!  Read all about my experience here!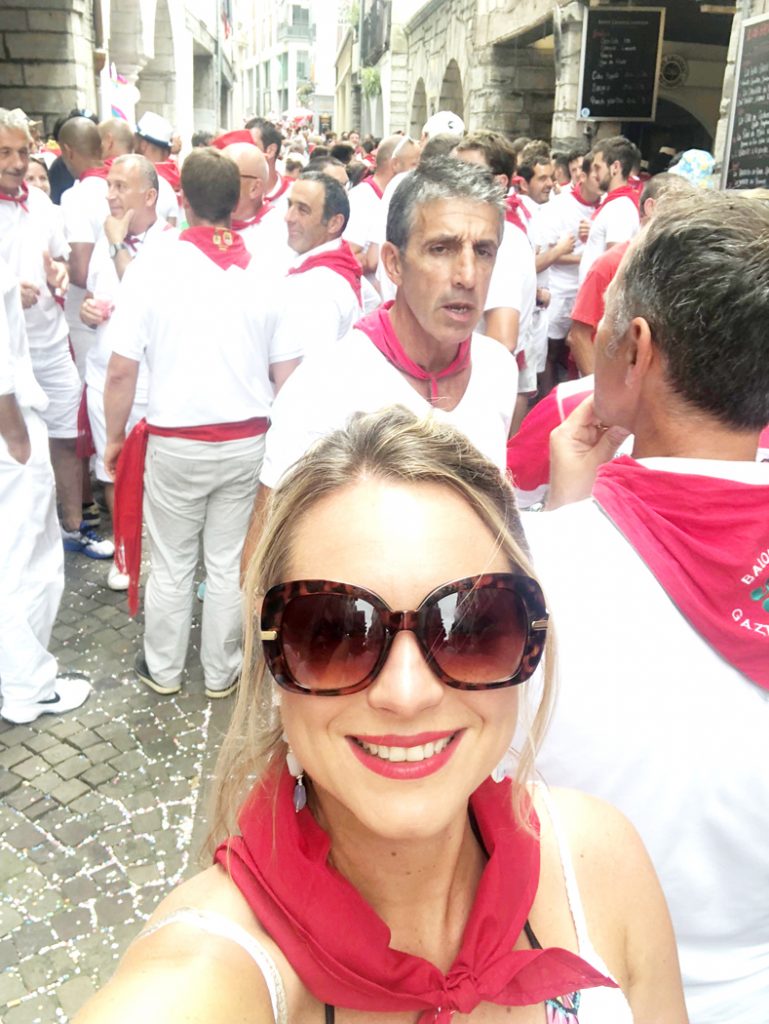 So that's it – definitely something for everyone.  Is there anything I've missed of my Top 10 things to do in Biarritz list? – I'd love to hear your thoughts and recommendations in the comments below!
I love this town and I hope if you visit that you fall in love with it too!
Pin it for later