We caught the train from Bordeaux to Arcachon, an hour-long journey that cost about €30 for a one way trip, and arrived at Arcachon Train Station.  Arcachon is a seaside town on the West Coast of France, almost directly west of Bordeaux.  It looks out over the Bassin D'Arcachon, an inlet that is surrounded on 3 sides by land and the Peninsula of Cap Ferret.  The whole area is surrounded by National Parks and is a wildlife haven well-known for its bird-life.  What to do in Arcachon?  Everything, it has something for everyone!
As our hotel was only a 20 minute walk we decided to take the scenic route, through town and along the beach to get our bearings.  The town was one main high street with a few side roads off of it and it was full of shops, bars and restaurants.  It had a really buzzy vibe, and with this being a seaside town, it had a very relaxed feel to it.  We got to the beach and it was beautiful!
Having spent the last couple of days sweltering in Bordeaux it was so lovely to feel the sea breeze and everything felt so much fresher by the coast.  We found our hotel, we were staying at Hotel les Vagues, and checked in.  The hotel was really nothing special and was in desperate need of an update but by the time we booked there really wasn't much available online.  (We later found out that this was a Bank Holiday weekend in France so the seaside resorts were pretty full)!  This was fine, and clean and was right on the coast (although we didn't have a sea view) and perfectly adequate for a couple of days.
We dropped off our bags and headed straight out to the beach.  The tide was in at this point so there wasn't much beach in the area by our hotel but Dan was desperate for a swim to cool off.  We found a pontoon nearby and he had fun in the water for a few minutes before we had to get ready for dinner.
I'd asked our hotel owner in Bordeaux, what to do in Arcachon and he said we just had to visit La Cor(o)niche for dinner so we'd booked the day before and we had a reservation for that evening.  As we had a late reservation at 9.45 and it was 10km away we decided to take a long walk to dinner with a pit stop for a sundowner halfway!  We came across a cute little beach bar called Le Bikini and I ordered a white wine spritzer and Dan ordered what he thought sounded like a local beer.  In fact it was beer with some kind of syrup in it but , if that's what the locals drink…
It was such a lovely setting, right on the seafront and amazing views up and down the beach.  The bar played chill out music and everyone was enjoying the evening and the start of the Bank Holiday weekend.
The walk was along the beach most of the way and it was lovely to watch the sun set as we strolled to dinner.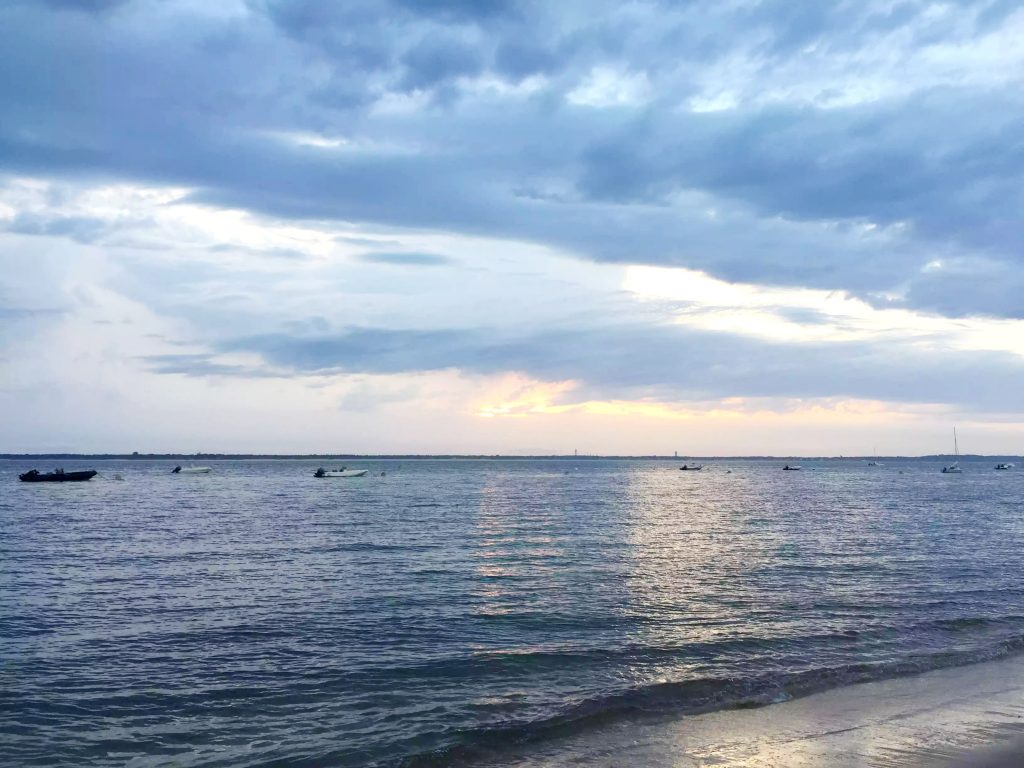 I don't think we'd quite realised how long it would take us though – nearly two hours and we were absolutely starving by the time we arrived.
We were greeted by a fantastic sight though.  La Cor(o)niche is a beautiful luxury hotel set high up on a cliff edge looking out over the ocean and the views are spectacular.  It is just at the northern tip of the Dune du Pilat too (the largest sand dune in Europe) so there are fantastic views of that too!  We were given the best table in the house, right on the edge of the restaurant looking out over the cliff top.
However no sooner had we sat down then the clouds rolled in and the winds whipped up!  It was amazing how quickly the storm rolled in from nowhere.  We asked to be moved inside (like the hundreds of other diners) and to the restaurant staff's credit, after a wait, everyone was seated indoors.  Just in time as the rains came down and then the lightning started.  It was a shame to have to eat inside but it was dark by then so there was no view anyway.  If I was to come back I'd book this restaurant for lunch (or at least an early dinner) to take advantage of the fabulous views and scenery before it gets dark.
At our table we used our knowledge gained on our Wine Tasting Tour of the Médoc to choose a bottle of 2009 Moulins de Citran to have with our dinner,  It was delicious and well oaked with dark fruit flavours and although I was having fish I still wanted the red wine.  If I'm having dinner I always prefer to have red wine even if it doesn't pair so well with my meal – sacrilege I know – but with wine I always say, go for what you like, not what you're told is best!


The menu was a set menu and we decided on the two courses, starter and main for €58.  Not cheap but it was a special meal in a beautiful setting and we felt like splashing out a bit tonight.  Dan went for the Shrimp Bowl with Dashi and Squid Ink Linguine and I went for the Artichoke Salad with Burrata, Pesto and Bresaola.  Dan doesn't normally go for a soup but I think the squid ink linguine in it won him over and made the dish a bit heartier.  He said the flavours were very complex and he loved every bite.  My salad was lovely and fresh and the burrata was to die for.  Burrata and goats cheese are always my favourite items on a menu.  I loved the rich creaminess of the cheese paired with the bresaola and the artichoke and enjoyed it immensely.
Next up, Dan ordered the Iberian Pork with mash and truffles and I went for the whole Dorade with celeriac puree and butter sauce.  Dan's pork was nice, but I found it a bit chewy.  He liked it though and ate it all, and some of my fish! My fish was enormous and perfectly cooked, but the star of the dish was the celeriac puree.  Buttery and creamy and unbelievably smooth.  It was so silky and I'm desperate to try to recreate it at home.


We ordered coffees and a taxi home (no mean feat when there's limited taxis in the area and a thunderstorm outside) but eventually we made it back to our hotel.
We woke up the next morning to glorious sunshine.  The storm had obviously cleared the air and it was a beautiful day.  I'd done some research on what to do in Arcachon and the number one activity on our list was to take a day trip across the Bassin d'Arcachon to Cap Ferret.  I wrote a separate blog post on this amazing day which you can find here– oystersand champagne, amazing beaches and delicious seafood!
Arriving back from Cap Ferret we decided to have dinner and drinks in town that evening.  We stopped off at a couple of bars for sundowners before heading to Chez Diego for dinner.

Love the sand sculptures
It was a buzzy restaurant right on the sea front and came highly recommended on TripAdvisor so we got ourselves a table at the front with an amazing view and ordered a bottle of wine.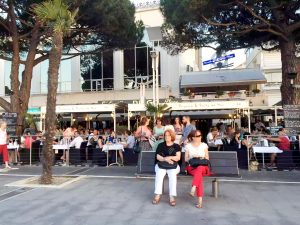 Still full from our !double lunch! in Cap Ferret we ordered small bites off of the tapas menu and shared some mussels, sashimi, meats and cheeses with a bottle of wine, staring out to the sea.  A lovely end to a really lovely day.
The next morning we woke up to another stunning day and decided that it was the perfect morning for a run.  Taking a jog along the seafront was absolutely spectacular and everyone was out enjoying the weather.  It seems like the number one activity to do in Arcachon is hire bikes to get around everywhere.  We wished we had some more time so we could do the same and explore properly.
We ended up back at Le Bikini for brunch.  We ordered a meat and a cheese platter to share along with a bottle of their chilled white wine.  Everything was delicious but we soon realised that cheese and the midday sun don't mix very well as everything started to melt quite quickly!
The rest of the afternoon we spent on the beach relaxing, reading and enjoying the sunshine.  This place had definitely captured my heart.  I loved the relaxed atmosphere, the bars and restaurants with great food and wine, the huge stretches of sandy beaches and the beautiful scenery and nature.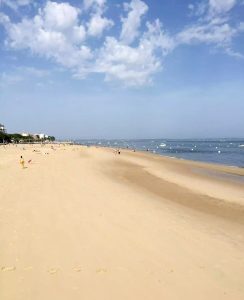 Unfortunately, that was all the time that we had to spend in Arcachon.  Our next destination was calling.  We headed back to the train station to catch the train to Biarritz, the next stop on our trip.
Dan and I both agreed that we hadn't spent enough time in Arcachon.  We didn't even scratch the surface of what this amazing town has to offer.  We wanted to hire bikes and explore the wider area more.  There's some amazing National Parks and beautiful countryside that surrounds Arcachon.  After enjoying our day trip to Cap Ferret so much, we wanted to try out some of the other ferries that would take you to other towns such as Andernos Les Bains and Lege Cap-Ferret.  We also didn't get to explore Ile au Oiseaux in the middle of the Bassin d'Arcachon where you can see the most amazing wildlife.  I'd have loved to have done an all day cruise around the Bassin and also visited the Dune du Pilat (biggest sand dune in Europe).  You can sand surf down it or roll down it which looks like so much fun.
I also wanted to visit the Oyster Farms and see how they're reared? bred? farmed? fished? not sure of the correct terminology there!
All in all there  is so much still for us to do there that Arcachon, we'll be back!
Pin it for later