Last week I was invited to try out Suvlaki Restaurant in Soho, London.  The restaurant is on a small side road, Bateman Street, just South of Soho Square  and it really stands out on the street.  I love the vibrant colour and design which is the work of the designer Afroditi who has created a Greek Oasis in the middle of London.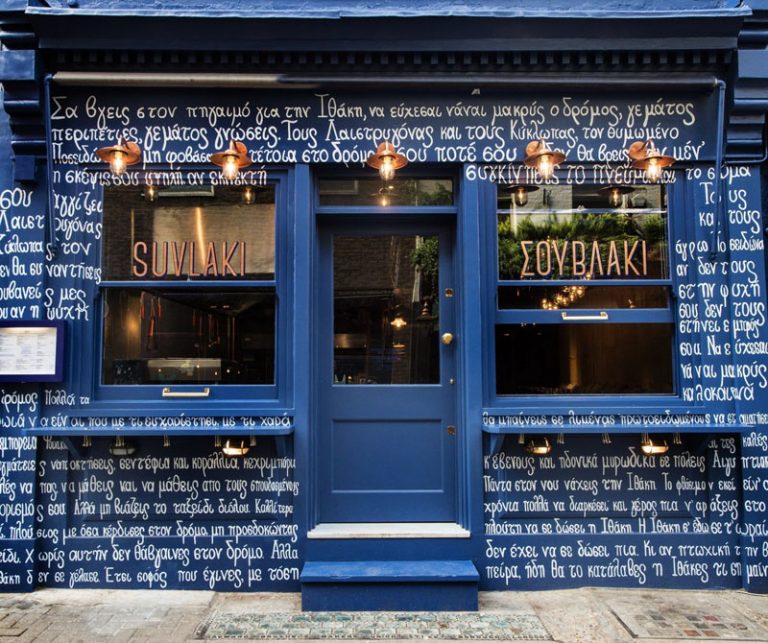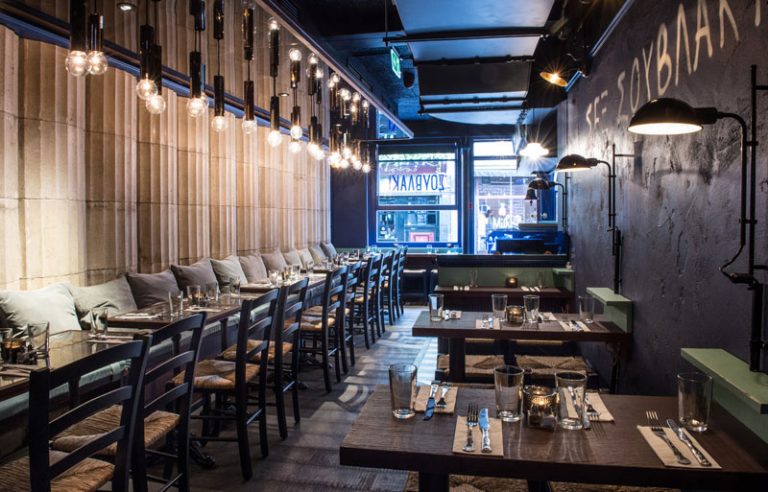 We walked in to this tiny restaurant with a big personality!  It was very lively and buzzing – and full on a Tuesday night which had to be a good thing!
We were shown to our seats and given the menus. our host explained that it is like a Greek Tapas concept.  The menu was designed by Chef Elias Mamalakis, one of Greece's top chefs and media personalities.  Everything is for sharing and comes in small portions so you can try all the different flavours.
The wines were all Greek and, as we are complete Greek wine novices we went with recommendations from our host.  We decided to try to different whites so we ordered a glass of each to share and compare
We tried the Kokotos Agrimi 2015 which was so unbelievably light.  We both agreed that we'd never had a wine so light but it was still fresh and full of crisp acidity.    Greek whites often have a bad reputation (I've drunk some pretty awful Retsina in my day) but this was definitely the p
erfect wine for drinking under the hot Greek sun and you wouldn't get a headache as it was so light.
The second wine was Alpha Estate Malagouzia 2014 and it was more full-bodied and complex.  It has a much fruitier flavour, tasting of tropical fruits flavours and was my favourite of the two.  I like my wine to have more flavour and body and the first one was just a bit too light for me.
Next to the food!  We were recommended 4-5 dishes per person.  The menu was split into Snacks, Sides, Small Plates, Signature Dishes and Suvlaki (which means 'little skewer' in Greek).  We decided to order a couple of things from each section of the menu and we went with the Tzatziki, Fava and Cheese Nibbles to start.   Most of the small plates, snacks and sides were around £3-5 per dish so they were not expensive.
The Tzatziki was thick and creamy and full of garlic, just as it should be.  A lovely fresh way to start the meal.  I couldn't have the pita breads but Dan assured me they were delicious.  Charred and chewy with a good dose of olive oil.  Next up was the Fava.   A spread or dip made of fava beans topped with onion, capers and chilli.  The chilli packed a hefty punch, elevating the dish from one that may otherwise have been a bit bland and I loved the fresh acidity from the capers.
The Cheese Nibbles I had to dissect a bit as I couldn't have the bread but the cheese itself was delicious.  With a sort of  bouncy, halloumi-like texture it was salty and chewy and was delicious when paired with the sweet fig jam.  I just love that combination of salty and sweet together.
Next up were the salads .  We had gone for the Chickpea Salad and the Wilted 
Kale.
Dan tends to see salad dishes as superfluous to a meal – he's all about the meat, but I like the light, fresh palate cleansing that they provide.  The chickpea salad was absolutely delicious.  Fresh from the lemon and mint and with that sweet, salty flavour profile again, from the pomegranate and the feta.  It was a greek salad with a twist and the addition of the chickpeas made it a heartier dish.
The Wilted Kale Salad was a combination of cavolo nero, orange and metsovone cheese topped with toasted pine nuts.  Again, the acidity of the oranges cut through the earthiness of the kale and I loved the crunch from the pine nuts.  Two great side dishes that stand alongside the meatier ones and still hold their own!
Before our other dishes came out, we decided to order a bottle of red wine.  Again, not knowing anything about greek wine we went with a recommendation and chose the Alpha Estate Axia 2014. It was a blend of Syrah and the Greek grape Xinomavro which I hadn't tried before.  It wasn't cheap at £37 but it was absolutely delicious.  Full bodied like you'd expect from a Syrah with a peppery flavour and lots of ripe fruits.  Perfect to go with the meatier dishes coming up.
And right on time the next three dishes came out.  The Prawn Saganaki,  the mixed Mushroom Sauté and the Sage Smoked Siglino.
Well, the prawns were definitely the stand-out dish! Served in a white wine and tomato sauce, melted feta and fresh basil they were my dish of the evening.  Perfectly cooked they were so juicy and this was the point where I start to resent the whole 'small dish' idea!  I could've eaten a double portion all to myself!  Oh well, I guess you could always order a further portion if you find yourself enjoying one dish in particular!
Next up was the mixed mushroom sauté.  It was exactly as described and so much more.  The mushrooms were incredibly meaty and so full of flavour!  I loved the crispy leeks on the top!  They added much-needed texture and a lovely charred flavour that went so well with the earthiness of the mushrooms.
Then we had the Sage Smoked Siglino – a posh man's pork and beans.  It was crispy cured pork with haricot (navy) beans and baby spinach.  I was expecting a large piece of pork belly but it was crumbled and fried so that it resembled bacon bits!  It was then stirred through the beans and spinach and the result was a meaty, salty crunchy mouthful with which was definitely a hearty dish.
Feeling fairly full at this point, we still had two more dishes to come, the Chicken Kebab and the Mount Olympus Wild Boar Skewer.
It was definitely my fault for not reading the menu properly but I was expecting chunks of meat rather than a sausage. (It clearly states wild boar sausage on the menu) so I was a bit disappointed when this came out.  Although delicious, the sausage tasted like a frankfurter and I was expecting a 'new to me' flavour, having not tried wild boar before. Probably the only dish that slightly disappointed but definitely my fault for having the wrong expectations.
The
chicken kebab
, we ordered, as it was one of the House Specialities.  A simple dish, but can go so wrong if the chicken is overcooked, dry and bland.  Well Suvlaki definitely have it right.  It was the juiciest chicken I've ever had in my life.  I don't know whether it is the cream cheese marinade (might have to try that one) but it was perfectly cooked, so tender and so full of flavour.  I loved the oregano in it and the tomato and black olive salsa was a great addition.  A really spectacular dish to end on!
I loved the concept of sharing all the dishes at Suvlaki Restaurant – it's one of my favourite ways of eating (except of course when you want more of a particular dish – Prawn Saganaki I'm looking at you!!  I loved the buzzy feel in the restaurant and the price points are great for sharing a few dishes.  All too often eating this way racks up the bill but there are plenty of cheaper options to supplement the more expensive dishes.
The dishes of the night were definitely the Prawn Saganaki and the Chicken Skewer.  I'd go back and order them twice over next time.  And I will definitely be going back.  The Suvlaki Restaurant is opening a  new, bigger restaurant in Shoreditch later this month so I'll give that one a go next.  And make sure you check it out too!  You wont be disappointed!
I'm also going to attempt to re-create most of the dishes we tried for the blog – they've given me some fantastic inspiration, so let me know in the comments what your favourite dish would be!
Suvlaki Restaurant, 21 Bateman St, London, W1D 3AL
Pin it for later