Arriving in Bordeaux to gorgeous sunshine we were all smiles for the first stop on our road trip tour of Western France and Northern Spain.  With our love of wine, Bordeaux was the obvious first stop!  We only had 24 hours in Bordeaux so we had to make the most of our time there.
There are a few options for getting into Bordeaux from the airport.  The first is the direct Airport Bus which lasts 30 mins and drops you at the main station for about €7.  The second is a taxi which is about €30-35 and the third is the local bus which takes about 45 mins and costs €1.50!!  We decided to do things like the locals and get the ordinary bus as it was cheapest and it had a stop very close to our hotel.  Big Mistake!!  Top tip – pay the extra money and get the direct airport bus!  We were squished into the bus with hardly any room to breathe on a sticky (38C) morning.  The bus then proceeded to stop at about 40 stops until we reached our one – each stop only seemed to be 200m away from the last one!  The whole journey took closer to an hour and we were pretty hot and bothered by the time we arrived!
We walked the short distance to check into our hotel and were greeted with the warmest welcome.  We were staying at Au Coeur de Bordeaux and the owner Danny couldn't do enough for us.  The rooms weren't yet ready but he gave us maps of the area, talked us through the sites, the best restaurants and the best places to try wine!
Walking Around Bordeaux
We headed out in the sunshine and found a beautiful square next to the Cathédrale Saint-André de Bordeaux to have a coffee.  Travelling done, the holiday had finally begun and we felt thoroughly relaxed.
We decided to start off with a wander around town.  The Old Town is beautiful, full of small cobbled streets and completely pedestrianised so you can amble around without having to worry about the traffic.  There are cute bars and shops everywhere and covered arcades, it's so picturesque.
It's not very big and we soon found our way to the river, the heart of the city.  That weekend there was going to be the annual River Boat Festival and everyone was setting up tents along the river in preparation.  Bordeaux is a city of two bridges, the old and the new and both are stunning in their own way!
We headed to Place de la Bourse, a beautiful square on the river where Bordeaux has created a water feature in front of it.  The reflection from the Bourse at night in the water is absolutely stunning.  Everyone was making the most of the splash pool and fountains on this scorching day!
Having been up since 3am we were starving so we found a cute cafe next door called Le Castan for lunch and a glass of wine.  A crepe for Dan (how French!) and a goat's cheese salad for me.  A glass of Bordeaux white in the sunshine and we were in absolute heaven.
That afternoon we were off on a wine tour of the Medoc, arranged for us by the Bordeaux Tourist Board so we headed back to the main square to meet the bus.
We ended up wine tasting in Margaux and Moulis and I promise to re-cap our trip in a future blog post!
Back in town it was time to wash up for dinner and drinks.  It was my turn to treat Dan to Date Night so I'd booked a cute restaurant called Au Bouchon des Chartrons but it was quite a way from the town centre (about a hour's walk from our hotel).  Luckily the Bordeaux Tourist Board had provided us with their City Pass so we hopped on the tram which got us there in no time at all.  I highly recommend the City Pass.  For €29 you get free travel on Bordeaux public transport and discounts to so many attractions.  You'll definitely save money in the long run.
Before dinner we decided to have an aperitif in one of the bars along the river.  The riverside area near to the Cité du Vin has been completely regenerated over the last few years and now has a modern, buzzy vibe with wine bars and cafés lining the riverbank.  We ordered a glass of Bordeaux Blanc while we people-watched the Bordeaux citizens.  Everyone was out for a stroll or a run along the river enjoying the fabulous weather.  We drank our white wines as the sun set and then it was time to head to the restaurant.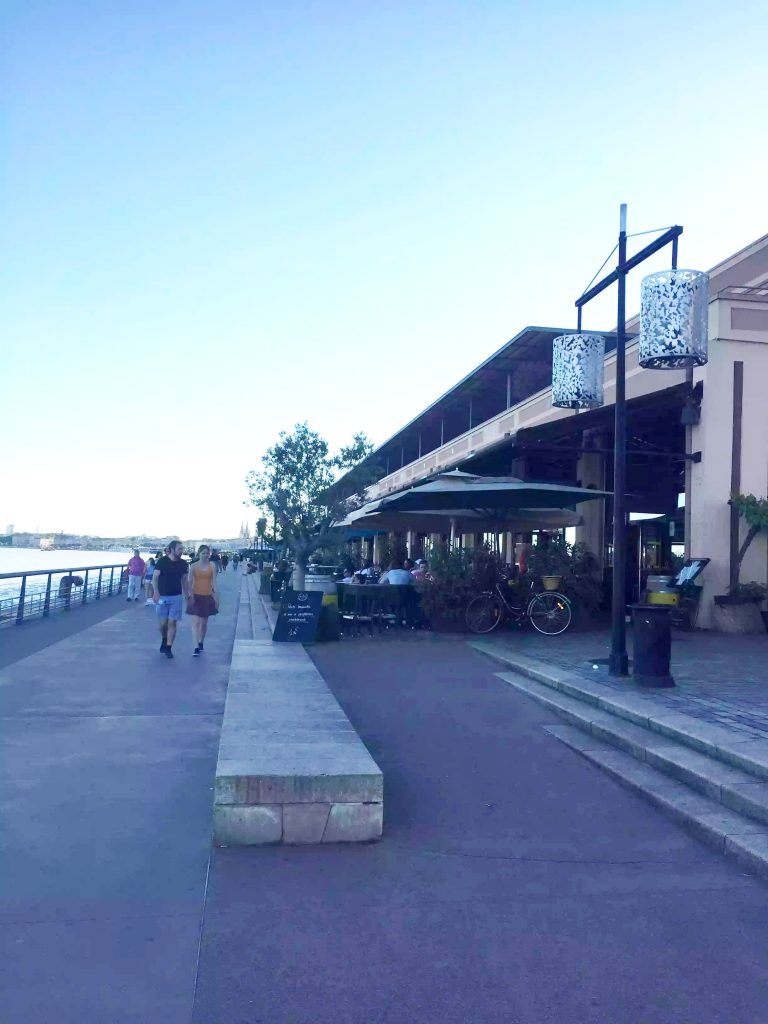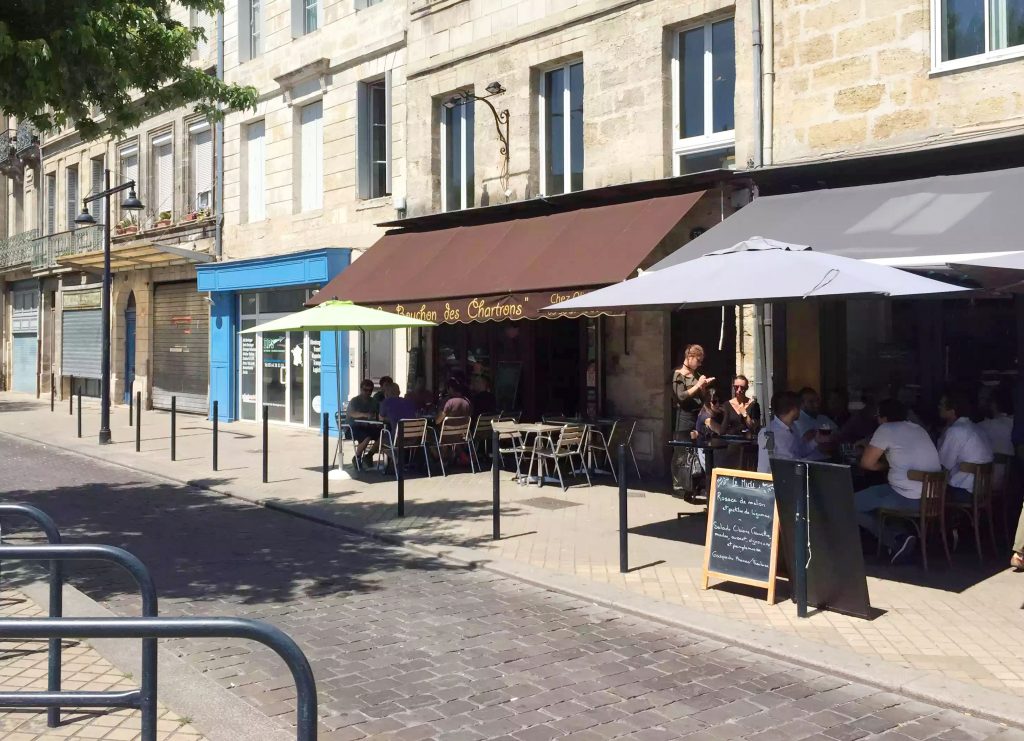 I'd picked Au Bouchon des Chartrons after researching a lot of restaurants in Bordeaux.  It came highly recommended serving delicious home-cooked food and had a fabulous wine choice.  We arrived and were shown to our table and we asked for the wine list.  The waiter just gestured around the room.  The wine bottles all around the restaurant were priced up and you could pick anything off the shelves.
On recommendation from our waiter we ordered his favourite, a bottle of the Plume de Paloumey 2008.  A red from the Haut-Medoc, where we had just spent the afternoon.  Our waiter decanted it for us and offered us a glass of white wine on the house while we waited for it to breathe!  I liked this place!!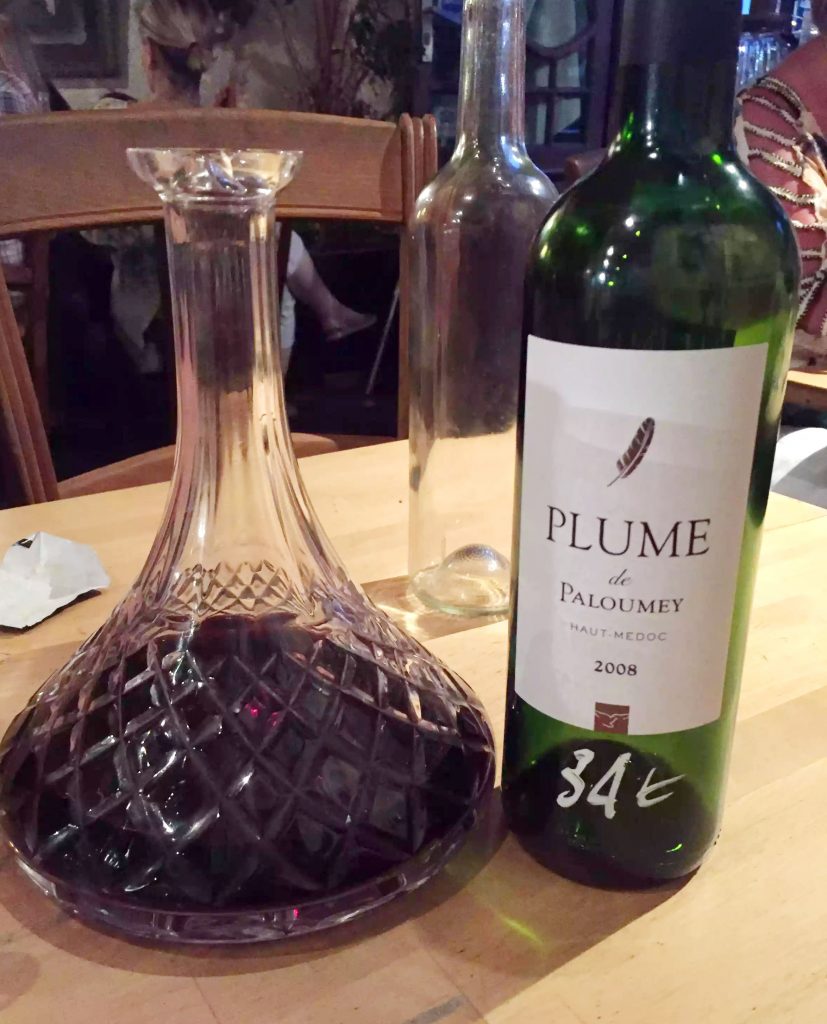 The menu was chalked up on a blackboard and changes everyday.  Once a dish has sold out it's gone and tonight it looked like the bone marrow was the favourite as it was all gone already.  The set menu was exceptionally reasonable, 2 courses for €25 euros or 3 for €30 and all the dishes sounded amazing.  Dan wanted the Chateaubriand though so we went off menu.  His date night, his choice!  We decided to share the Antipasti platter to start followed by the Chateaubriand, cooked rare of course, as a main dish.  The Antipasti platter came out and it was huge!  Ham and Salami and Paté – meat overload!
By this time we were ready for the red wine so our waiter poured us each a glass and we ate our starter.  Everything was so simple but so delicious.  The quality of the produce was evident.  I'm not normally a big lover of paté but this one was to die for.  The wine went fantastically with all the different meats.  It was a blend of Merlot and Cabernet Sauvignon and was full-bodied, full of dark fruits with a hint of oak – my favourite kind of wine.
Starters done, it was time for the main course and what a spectacle it was.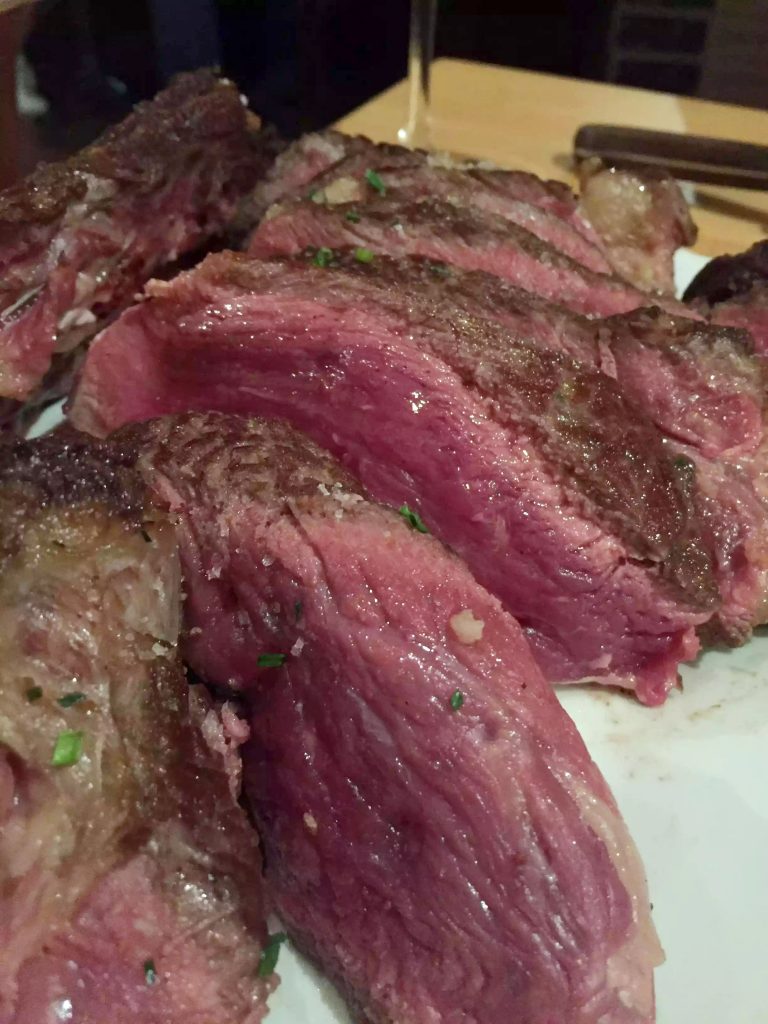 As it was brought to our table the whole restaurant turned round to see it.  It came with mashed potatoes so I asked for some vegetables instead.  The waiter looked at me like I was mad!  Wait a moment he said, and came back with a spinach frittata to have on the side.  I guess they see vegetables as superfluous here!  The meat was perfectly cooked and the frittata actually went incredibly well with it.  They know what they're doing here!  We wished we had more than 24 hours in Bordeaux so we could sample some other restaurants.
Full and tipsy we jumped on the tram and headed back to our hotel for an early night so that we could make the most of the next day.
Another beautiful day and this morning we decided to head to the newest attraction in Bourdeaux – The Cité du Vin.  A purpose-built, architecturally beautiful building dedicated to wine.  It's 7 floors of exhibitions, shops, bars, restaurants and is dedicated to educating visitors and locals about beautiful Bordeaux wines.
It's outside the main area of town so we took the tram and arrived to an incredible building.  It reminded me of a wine decanter!
It's a popular attraction and there's always a queue but our City Pass got us Fast Tracked and in for free!  (It's normally €20 to get in).  We decided to start in the permanent exhibition.  It's two floors of everything you ever need to know about wine, and Bordeaux wines in particular.  You get given some (really sexy) headphones and a kind of Iphone like gadget to allow you to interact with all the exhibits.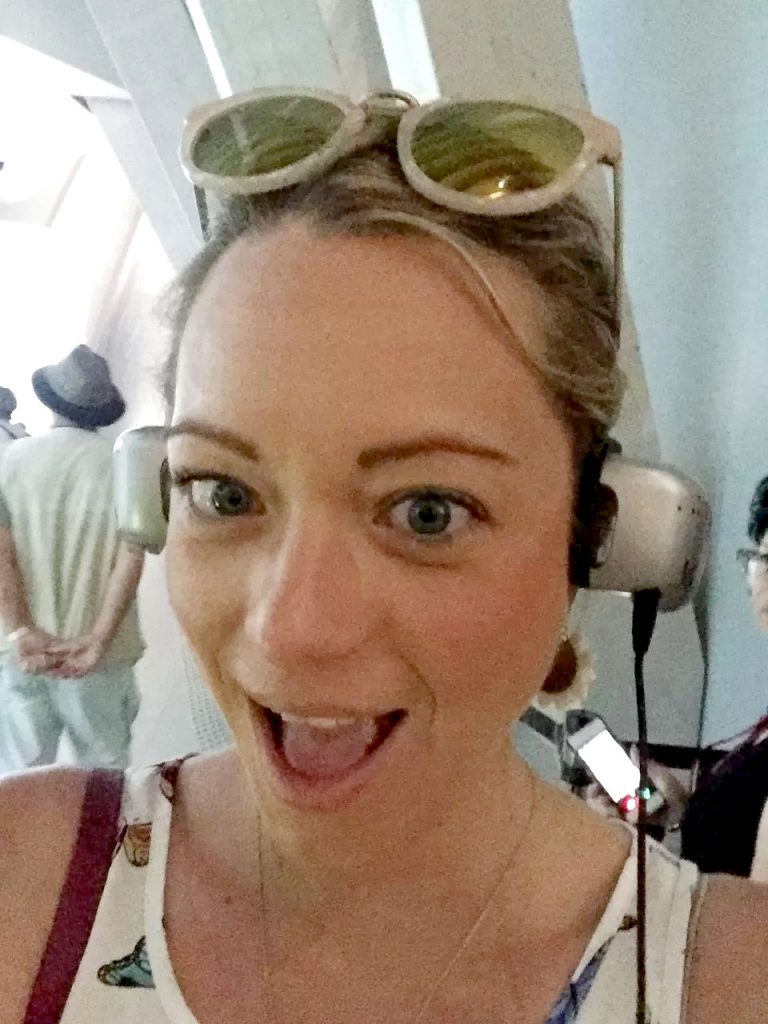 By pointing the Iphone at the exhibits you can start the audio playing and learn anything and everything about wine.  From ancient wine to how it's made today, grape varieties, harvesting, vineyards there is so much to see and do.  There are exhibits that allow you to guess specific aromas, fun facts, videos and games to play.  We spent an hour wandering around and it was really fun and engaging.
Included in the ticket price is entrance to the Belvedere, the 7th floor bar at the top of the Cité du Vin and a glass of wine.  It was still morning but…when in Bordeaux!  The first thing that struck me when we got out of the lift was the view.  The bar is light and airy with a 360° view of Bordeaux.  There's a platform that runs around the outside of the building and you can go outside and look out over the whole city.  Selfie time!
I also loved the ceiling.  Made up of wine bottles it was a really spectacular sight.
There are always a choice of 20 wines to taste and they change often.  You get to choose one to have a taste of, so I went for an oaky Bordeaux Blanc, the Chateau Hostens-Picant 2013 .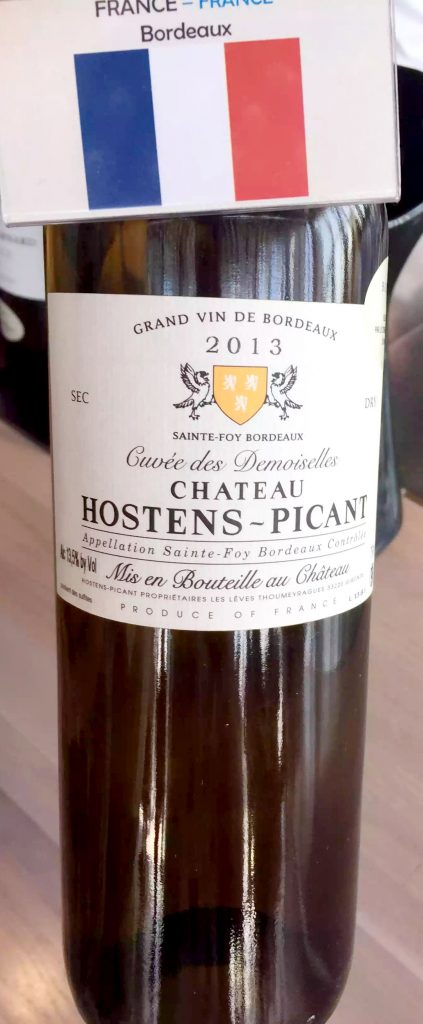 It was light and fresh with just a hint of the oak that I love so much in a white wine.  It was delicious, even though it was 11.30am in the morning and gave me an insight into Bordeaux white wines.  They're often overlooked in favour of the Bordeaux reds but I recommend giving them a try, they're really something special.
We wandered back downstairs and had a look around the wine shop.  It was a stunning room but we decided against buying any wine as it seemed the prices weren't as good as we'd seen elsewhere.
Having had our first glass of wine of the day, we had a taste for it and we were after some more.  Danny, our hotel manager recommended a trip to this place and we're so glad we followed his recommendation.  Situated opposite the Tourist Office, this is a whole building dedicated to promoting the wines of Bordeaux. The Bar à Vin has an ever-changing selection of 20 fabulous Bordeaux wines to try and taste.  The building is magnificent and we wandered through all the wine bottles to find the tasting bar.
We sat down and were shown the menu.  We decided to order 6 tasting glasses and share them all.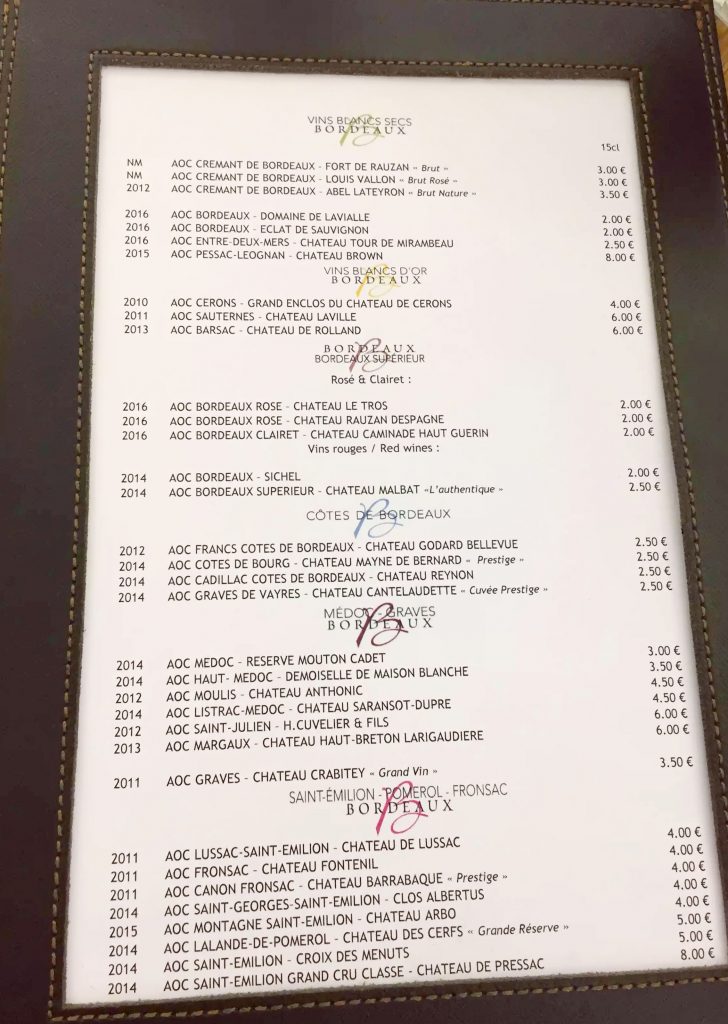 We went with the Crémant Bordeaux – Abel Lateyron 2012 to start and, having loved the wine at the Cité du Vin, the Chateau Brown 2015 Bordeaux white from Pessac-Leognan.  Crémant is essentially a champagne, made in exactly the same way, but can't be called that as it's not from the Champagne Region.  This one was light and fresh with very soft bubbles and you could taste the biscuity champagne flavours.  It was a great start to our tasting.  The Chateau Brown was pretty delicious too – looked like we'd made some great choices.  Oaky and creamy we were fighting over who got which glass of these first two!
Moving on to the reds we were feeling a bit peckish so we ordered the Bar á Vin platter to accompany our next selection.  We ordered four different reds from four different areas around Bordeaux, St Julien, Margaux, Pomerol and the St Emilion Grand Cru.
The first two, from Medoc, the H Cuvelier & Fils 2012 St Julien and the Chateau Haut-Breton Larigaudiere Margaux 2013 came out first.  We both preferred the Margaux.  It had more depth of flavour and longer finish and I loved the oakiness of it.
Our last two wines were the Chateau des Cerfs 2014, Pomerol and the Chateau de Pressac 2014 Saint-Emilion GrandCru.  The Saint Emilion won hands down.  It was rich, full of dark fruit flavours and heavy and robust and absolutely delicious.  Definitely the best wine that we tasted that day.  The prices seemed incredibly reasonable even though we chose the best (and most expensive wines to try).  You could easily taste four wines for under €10 if you wanted to.
We popped into the wine shop next door to pick up a few bottles of our favourites to take home (or drink on the rest of road trip!)
By then, our 24 hours in Bordeaux was up so we made our way to the station to catch our train to the next town, Arcachon.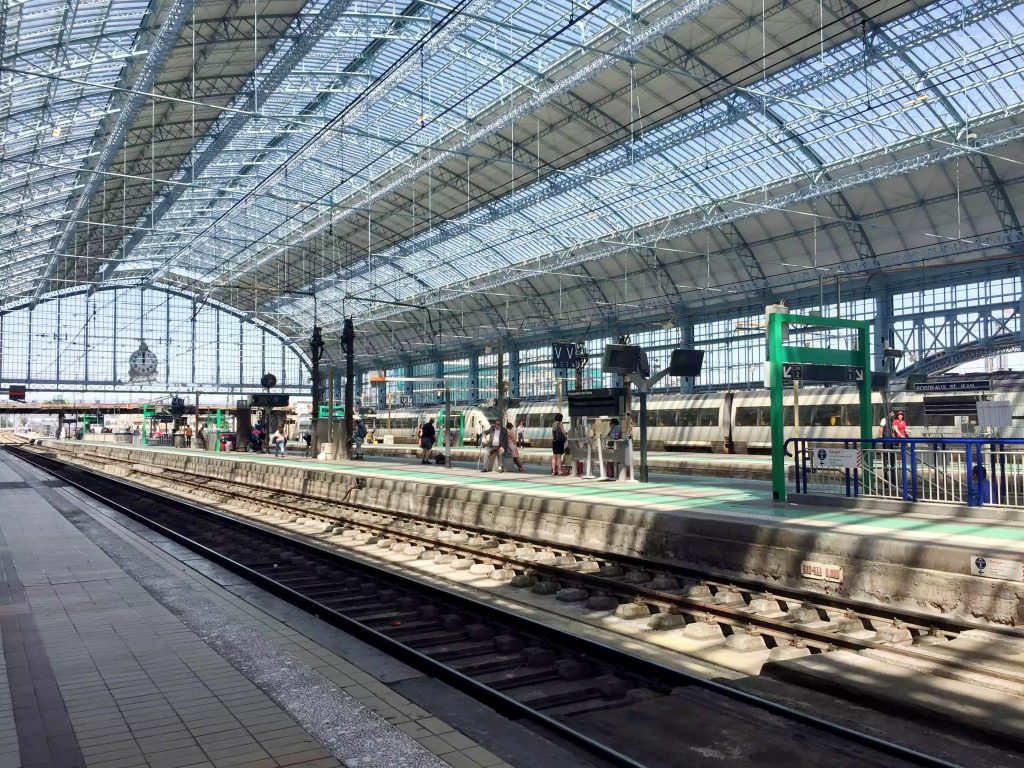 Our whirlwind tour of Bordeaux was complete but I saw more than enough to know that I'll be going back there.  We packed a lot into our 24 hours in Bordeaux but there's still so much more that we want to do.  We still want to visit Pessac-Leognan, St Emillion, Pauillac and travel around a bit more.  There's so many more fabulous restaurants that I want to try, and I'd love to take a wine cruise on the river.  Bordeaux I'll be back!
But for now we were off to the coast to visit Arcachon and Cap Ferret!
Pin it for later