Cicchetti Covent Garden was the destination for dinner tonight.  We'd been invited to review their menu and we were very excited.  I'd checked it out online at lunch and had been starving ever since!  Everything sounded so so appealing.  The concept at Cicchetti Covent Garden is small plates to share, a kind of Italian Tapas, which sounded fabulous.  I loved the sound of most of the menu so getting to try a few small dishes was perfect!
We walked into a light, bright airy restaurant that evening.  The decor was beautiful and seemed very decadent.  It was all gold and pale blue furnishings with marble and mirrors everywhere.
We were shown to our table and asked if we'd like an Aperitivo!  This being an Italian restaurant we both went for an Aperol Spritz (£10.95) while we looked at the menu.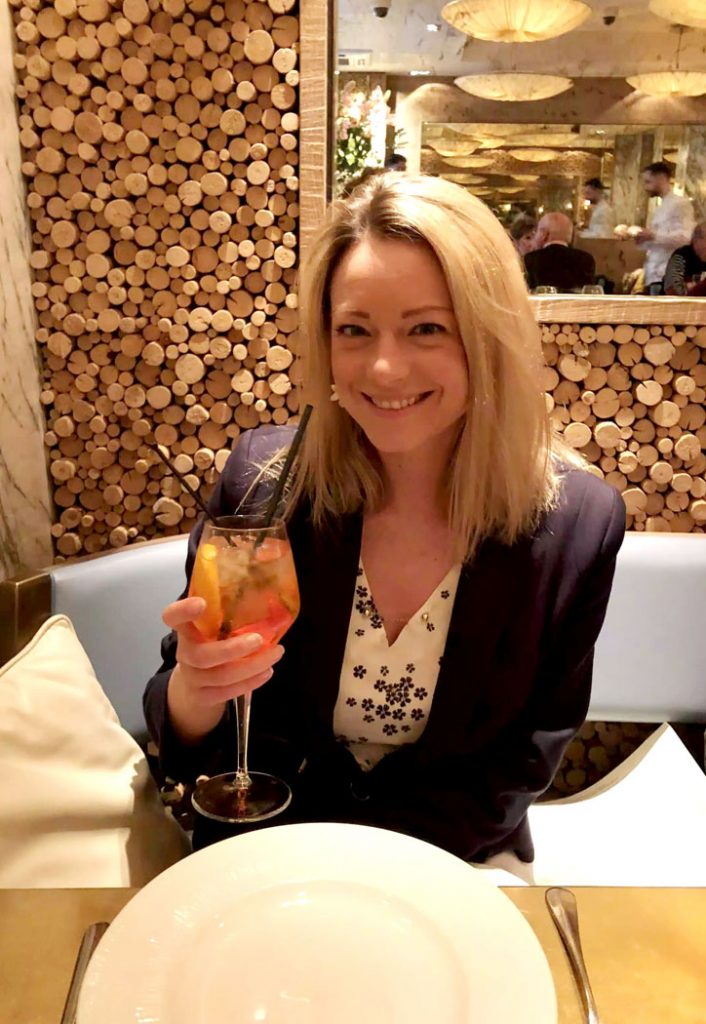 I asked the waiter if he could point out which dishes might be suitable for my diet.  He excused himself and came back brandishing a Gluten Free menu!  For someone like me with food intolerances, a menu as specific as this is like the Holy Grail!  Cicchetti Covent Garden had made me one happy customer!  Knowing that none of the dishes would contain gluten meant I just had to avoid any grains that were mentioned and I was all set.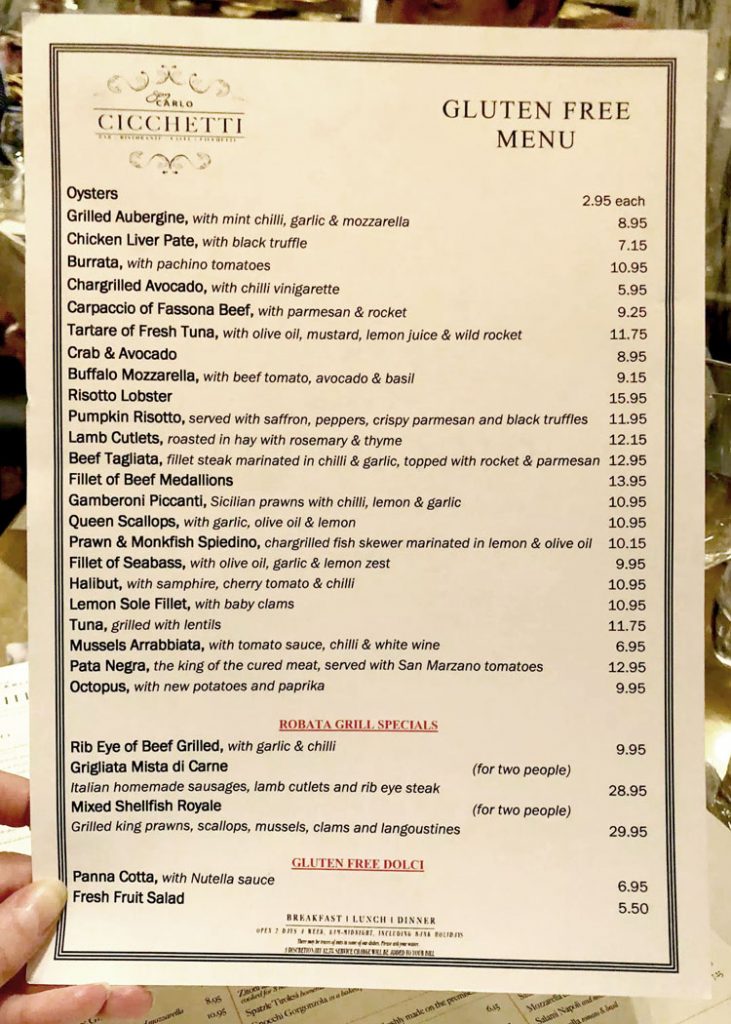 Now came the big problem.  How to choose what to have?  We were brought some olives and tapenade to nibble on while we made our decisions.  Daniele, our waiter suggested 4-5 small dishes between us so I set about ordering! (Dan gave me free rein to make the choices).  We were advised that the dishes just come out as they are ready so the cold ones would be first followed by the hot choices.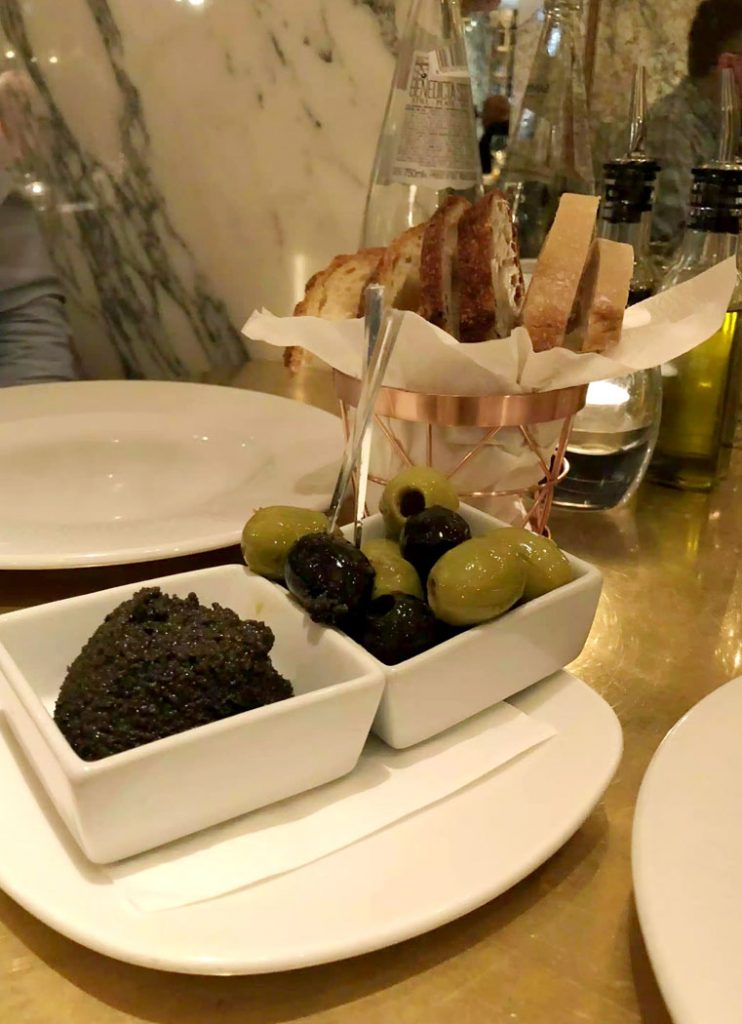 First up was an oyster each (£2.95).  I can't believe I used to dislike oysters.  I can't get enough of them now!  Ever since I took an Oyster Masterclass at Bentley's I fell in love with them.  I always have to order one when they're on offer.  These were so plump and juicy and with a dash of lemon juice and some black pepper they were the perfect start to dinner.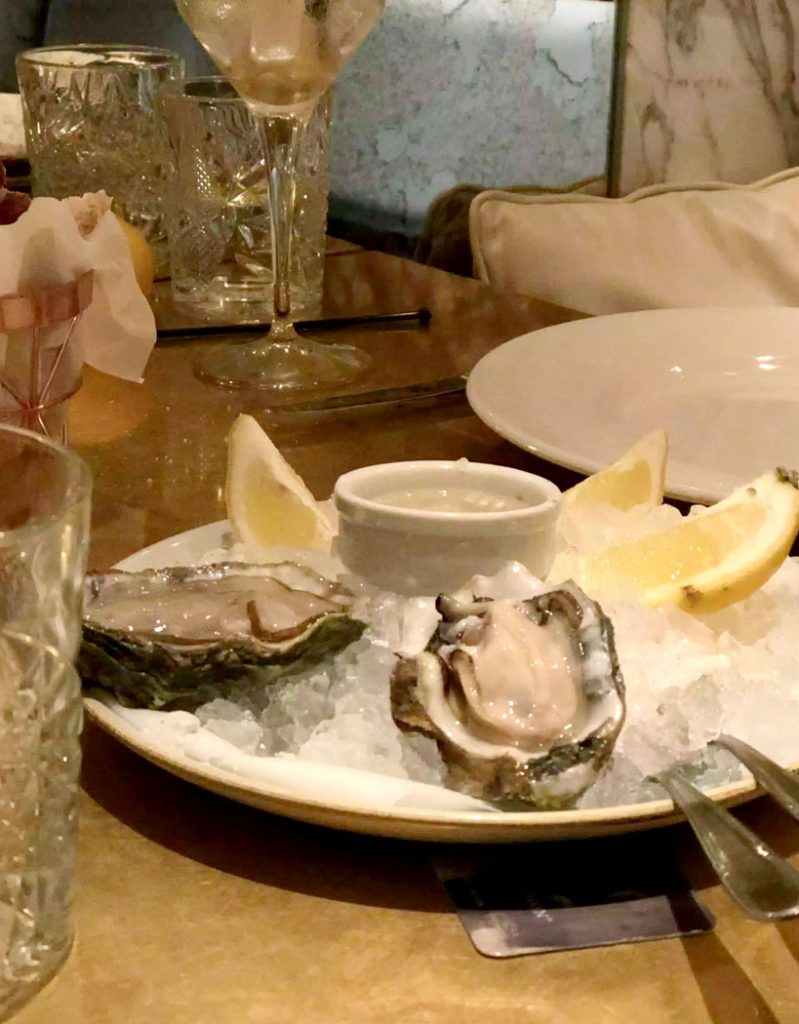 We decided to order a bottle of white tonight as we were having quite a bit of seafood.  We settled a bottle of Il Bianco di Vespa from Puglia (£30.95).  When we were in Puglia we couldn't find a nice white wine, and believe me we tried 😉 Plenty of reds, but no really good white wines.  The menu description on this sounded very intriguing to me though so we thought we'd give it a try.   The wine was made from Fiano grapes which were a completely new variety to me.  It was described as crisp and well-balanced with hints of honey and nuts.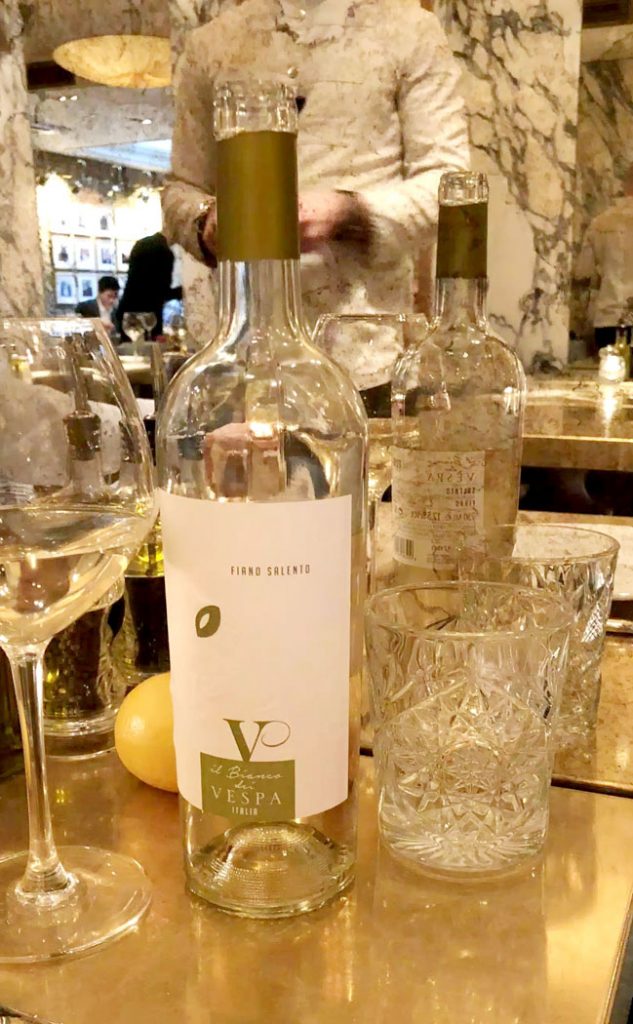 We were suitably impressed!  This was delicious and peachy and with a hint of sweetness.  We'd finally found a really lovely white wine from the Puglian region!
Then our first dishes arrived.  True to form I'd ordered the Burrata (£10.95)!  It came with Parma Ham and marinated black truffle.  You could smell the truffles as it came to the table.  It was sensational.  Creamy and gooey and pairing perfectly with the saltiness of the ham and the earthiness of the truffles!
I'd also ordered the Pata Negra with San Marzano Tomatoes £12.95.  Being a huge fan of Jamon Ibérico, I had to give this version a try.  It had such a nutty intense flavour and just melted in the mouth.  When paired with fresh acidity of the tomatoes it was divine.  You could tell the tomatoes were the real deal aswell.  They tasted like actual tomatoes!  Sweet and rich and not like the watery  tasteless variety we are so used to getting in the supermarkets!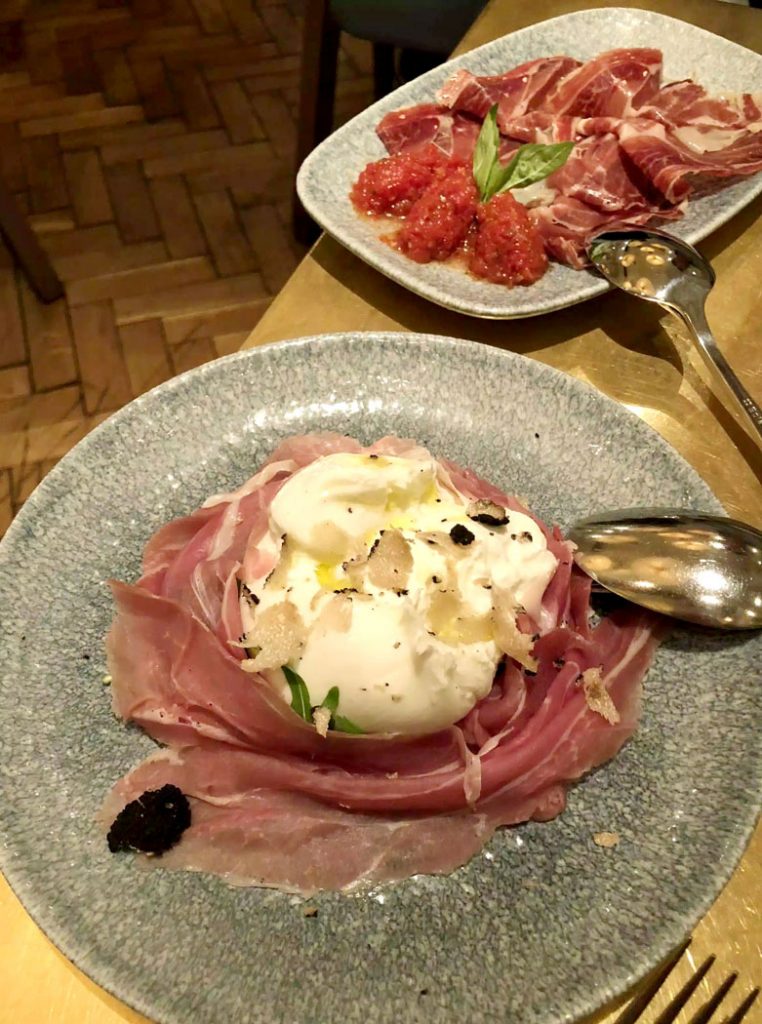 These first dishes didn't last long so luckily the next few arrived pretty quickly.  We'd decided on two seafood dishes and one meat.  We'd ordered the char-grilled monkfish and prawn skewer (£10.15), the Queen scallops with garlic and olive oil (£10.95) and the fillet of beef medallions (£13.95).
The monkfish and prawn skewer was marinated in lemon & olive oil and served with capers, shallots and fresh herbs.  It had all the flavours of the Mediterranean in one mouthful!
The scallops were beautifully presented.  Served on the half shell with charred griddle lines they were perfectly cooked.  I loved the combination of the slight char against the delicate sweet flavour of the scallops.  It reminded me of Italian beach holidays where the seafood comes fresh off the grill as you sit by the sea.
The beef should've come with a Café de Paris butter but I guess that has gluten in as it was served without.  I'd have preferred it with a different sauce or maybe just some plain butter.  I feel it could have done with something extra.  The plate didn't look very impressive, and looked like it was missing something.  The steak however, was cooked perfectly.  Rare and delicious it had a really beefy flavour and melted in the mouth.
After dinner the manager, Giovanni, came over to see if we had enjoyed our food.  We raved about all the dishes and especially about the Puglian wine that we' really enjoyed. We explained to him that we hadn't been able to find great white wine from Puglia and we ended up chatting over our love of the region.  Then, Giovanni, originally from Naples gave us the scoop on the Amalfi Coast!  He told us the best places to go, restaurants to visit and you'd better believe I took notes!  I see a trip to Italy on the horizon…
So what was the stand out dish of the night?  To be honest I loved the first two dishes.  The produce was just so delicious that you couldn't fault anything.  The quality of the ingredients spoke for themselves and the simplicity of the dishes won me over!  Plus Burrata and Pata Negra are two of my favourite ingredients ever so Cicchetti Covent Garden were already on to a winner with those!
There were so many other dishes that I wanted to try that you can bet I'll be back for round two!  Tuna Tartare, Gamberoni Picante, and Grilled Aubergine with Chilli and Lemon.  You're up next!
30 Wellington St
London
WC2E 7BD
Tel: 020 7240 6339
Cicchetti also have two other locations, one in Manchester and one on Piccadiily
Pin Cicchetti Covent Garden for later