Talli Joe makes the claim on its website that it is voted the Best Indian Restaurant in London.  In a city with literally hundreds if not thousands of Indian restaurants, this is a steep claim to make so it was time to put it to the test.  We were invited along one evening to try the food and drinks and see for ourselves.  The restaurant was buzzing and was very modern and trendy.  It had an urban feel to it with exposed brickwork and was completely different to any other Indian restaurant I've ever been to!  No velvet banquettes, elevator music or mood lighting to be seen!
So what does Talli Joe mean? It's a strange name for a restaurant.  I thought it was a play on Tally-Ho so I did some research.  Talli, literally means tipsy.  It is described as 'a happy intoxicated state of being, often rendering the legs useless,' and Joe?  Joe is the everyman traveller in India.  He represents the guy who has travelled extensively and brought back some of his favourite parts of the cuisine and culture.  My interpretation means that it's the place to eat authentic food and some pretty stiff drinks!  We decided to start with the drinks!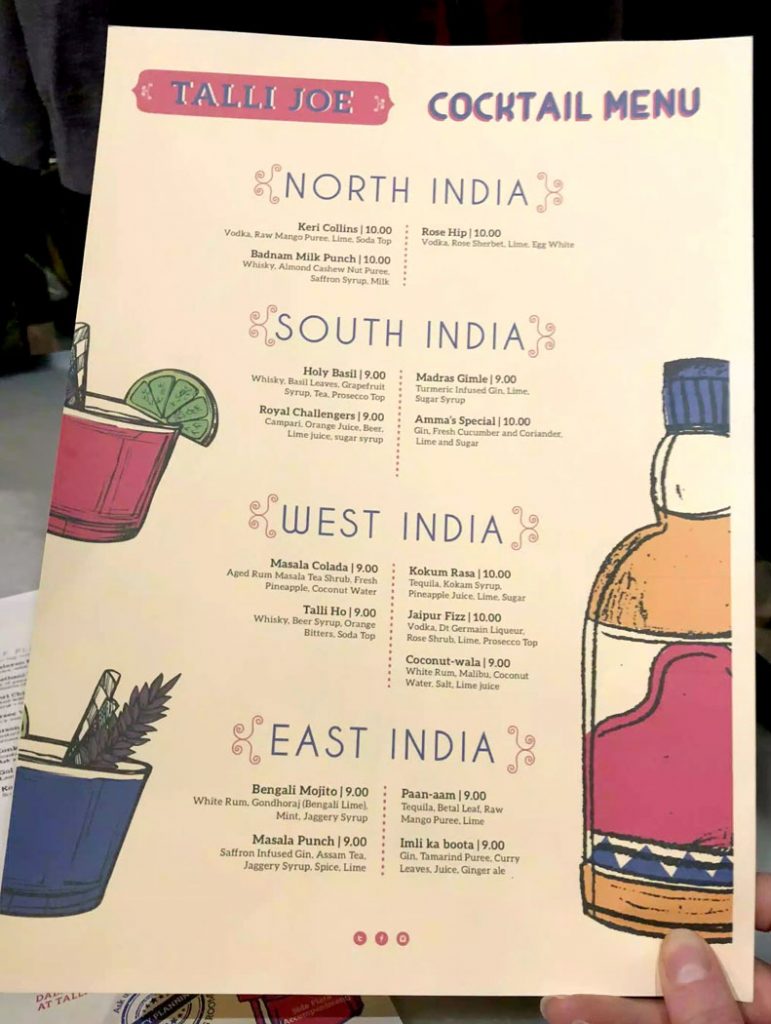 The cocktails sounded like nothing I'd tried before so we all decided to order a different one.  I went for the Masala Colada (£9.00).  It sounded like a lighter version of a Piña Colada with Coconut Water in place of the Coconut Cream, along with fresh pineapple, aged rum and Masala tea shrub syrup made with agave!
My dining companions, Dan and Tom made their selections too.  One Holy Basil (£9.00) and one Paan-aam (£9.00).  Dan's Holy Basil was a blend of whisky, basil leaves, grapefruit syrup, tea and Prosecco.  Tom's Paan-am was Tequila, Betel Leaf, Raw Mango Puree & Lime.  This one intrigued me as I was sure that Betel is hallucinogenic.  I did a bit of research and found out that it is the Betel nut  and not the leaf that contains those properties.  Phew, we were in the clear tonight – I didn't want Tom tripping out on me!
The drinks came out and we also ordered a 'Chakna' (appetiser) of Chana Jor Garam (£2.00) to munch alongside them while we looked at the menu.  The drinks themselves were indeed very different to your standard cocktails.  The flavours, such as the Masala tea were subtle but definitely there and they didn't pack too much of a punch so you could taste everything without the alcohol overpowering the flavours.  I loved my Masala Colada.  It was light and refreshing and the complete opposite to a sweet, sickly Piña Colada.
The Chana Jor Garam was black gram (an Indian bean) and chickpeas roasted with spices.  It came served with chunks of fresh tomatoes and herbs in it.  For such a small dish it really packed a punch of flavour and reminded me of 'chips and salsa' so it was the perfect way to start the meal.
On to the menu!  At Talli Joe, the menu concept is Indian small plates.  You are supposed to order a few each and then share everything on the table.  It's my favourite way to eat.  I like to be able to get a taste of everything and I often get food envy when I see other people's meals.  This way I can try all the food without getting glared at!  There were small plates, half plates and sides on the menu so we went for a combination of a bit of everything.  The best thing for me is that the menu listed all the allergens so I was able to make my gluten free choices with ease.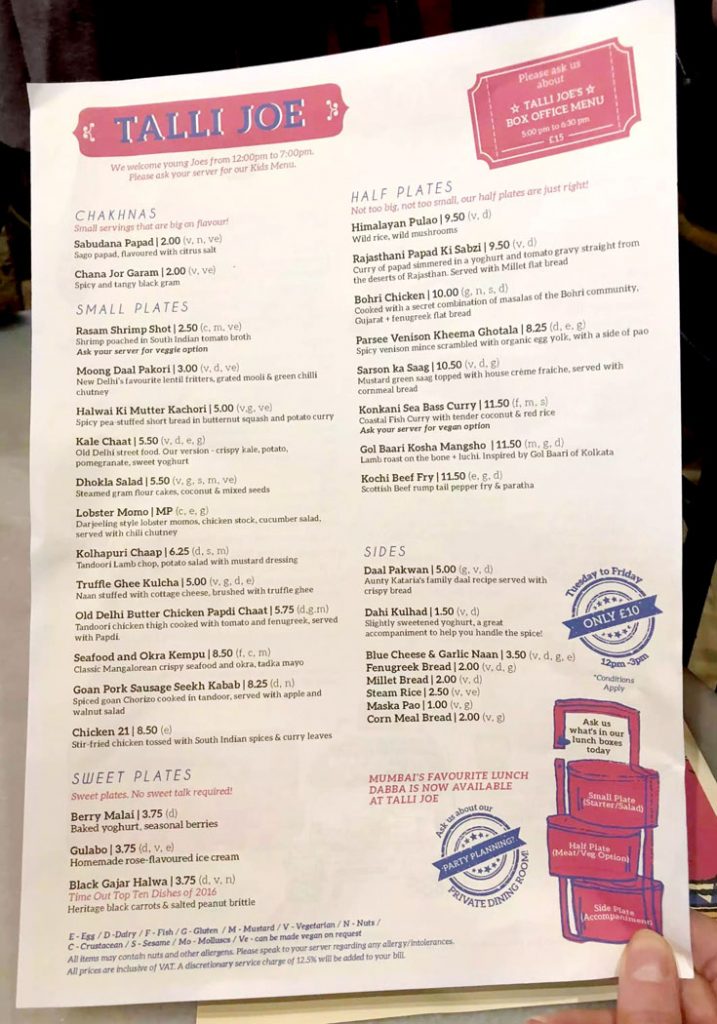 We each started with a Rasam Shrimp Shot (£2.50).  This was a large shrimp poached in south Indian tomato broth and served alongside a shot glass of the broth.  Small but it packed a huge punch.  The broth was so spicy and flavourful that this tiny mouthful became one of my favourite dishes of the night!
Next up was the Moong Daal Pakori (£3.00).  These were lentil fritters with grated mooli and green chilli chutney.  When you can't eat carbs, lentils are definitely the next best thing.  These fritters were crisp and light and tasty with just a hint of spice.  They paired really well with the light fresh salad and there were three of them.  Bonus!  We got one each!
We had also ordered the Goan Pork Sausage Seekh Kabab (£8.25).  Chorizo is one of my favorite ingredients so when I saw a spiced Goan chorizo on the menu, it was an obvious choice.  It was cooked in tandoor so it was nice and crispy on the outside and served with a fresh apple and walnut salad.
Not content with my gluten free choices, the boys topped up their meals with a Truffle Ghee Kulcha (£5.00).  This was a Naan, stuffed with cottage cheese and brushed with truffle ghee.  It smelt absolutely incredible and made me very jealous that I couldn't try a bit.
Then it was time for the half plates to come out.  By this point our cocktails were long gone so we asked to look at the wine list.  The boys wanted a nice fresh white to go with the spicy meal so they ordered a bottle of the Feinherb Mosel, Riesling, Germany (£7.00/£32.00).
I was almost tempted until I saw a Grovers Nandi Hill, Cabernet Shiraz, India (£6.50/£30.00).  Indian wine?  Yes please!  In all my years of wine tastings I don't think I'd ever had an Indian wine before so I just had to order a glass.  I was very pleasantly surprised.  It was juicy and fruity with just a hint of oak and soft tannins. It would hold up well to the spiciness of Indian food and now that Indian wine is on my radar I'll have to try some other ones!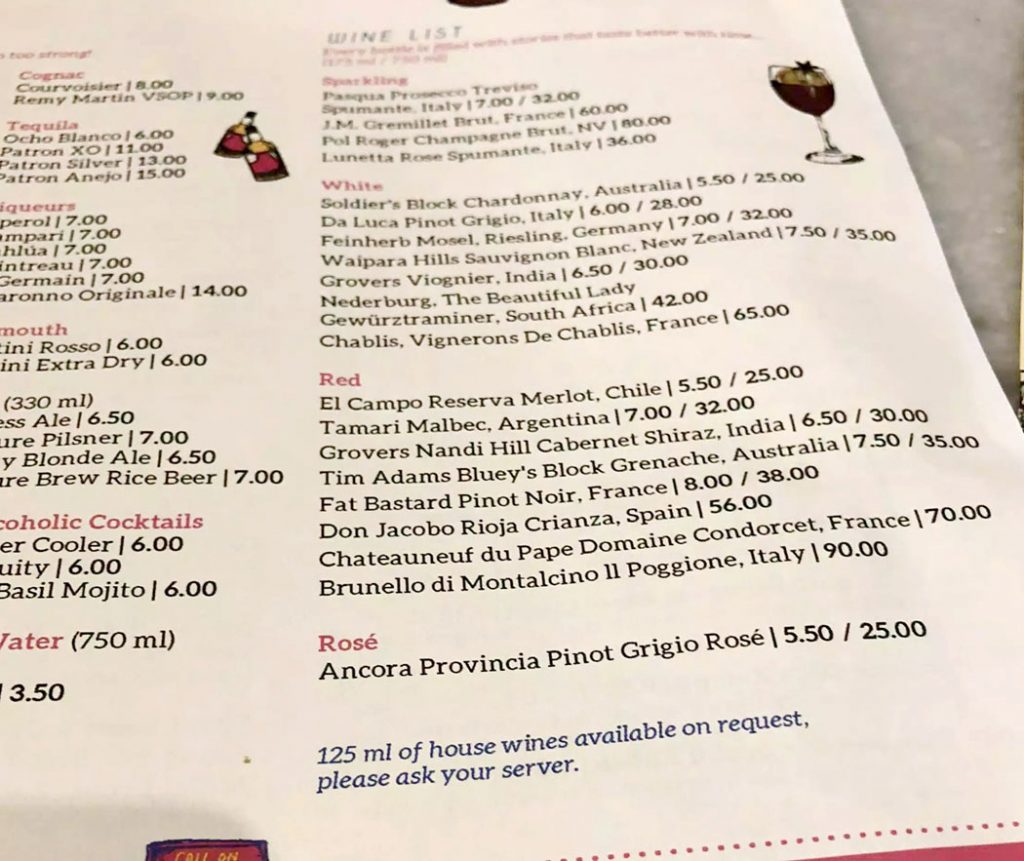 Soon our Half Plates arrived and we got stuck into the food once more.  These dishes were larger and more like a traditional curry than the half plates which were like starter options.  We had gone for three fairly different choices in order to be able to test the menu.  The first dish was the Parsee Venison Kheema Ghotala (£8.25).  This was a dry curry of spicy venison mince scrambled with organic egg yolk and a side of pao. I've never eaten venison in an Indian restaurant before so it was an obvious choice to try.
I usually tend to go for a curry with sauce so it was nice to try the dry version too.  I like the delicate spice in this one and the venison gave the whole dish a rich almost gamey flavour.  It was probably my favourite of the half plates and well worth trying out if you get the chance.
The second dish was also a drier dish as we'd gone for the Kochi Beef Fry (£11.50).  It was Scottish beef rump with fried peppers, herbs & paratha.  Palming the paratha bread off on the boys I tucked in to the beef.  It was slow cooked and so beautifully tender.  The peppers gave a nice kick of spice to the dish and it was a deliciously different option.
The last dish was more like the standard curry you would find in other Indian restaurants.  We had gone for the Konkani Sea Bass Curry  (£11.50).  We'd had two meat dishes and so we wanted to try a fish one.  This was a mild curry with plenty of coconut flavour and was a nice contrast to the spicier beef dish.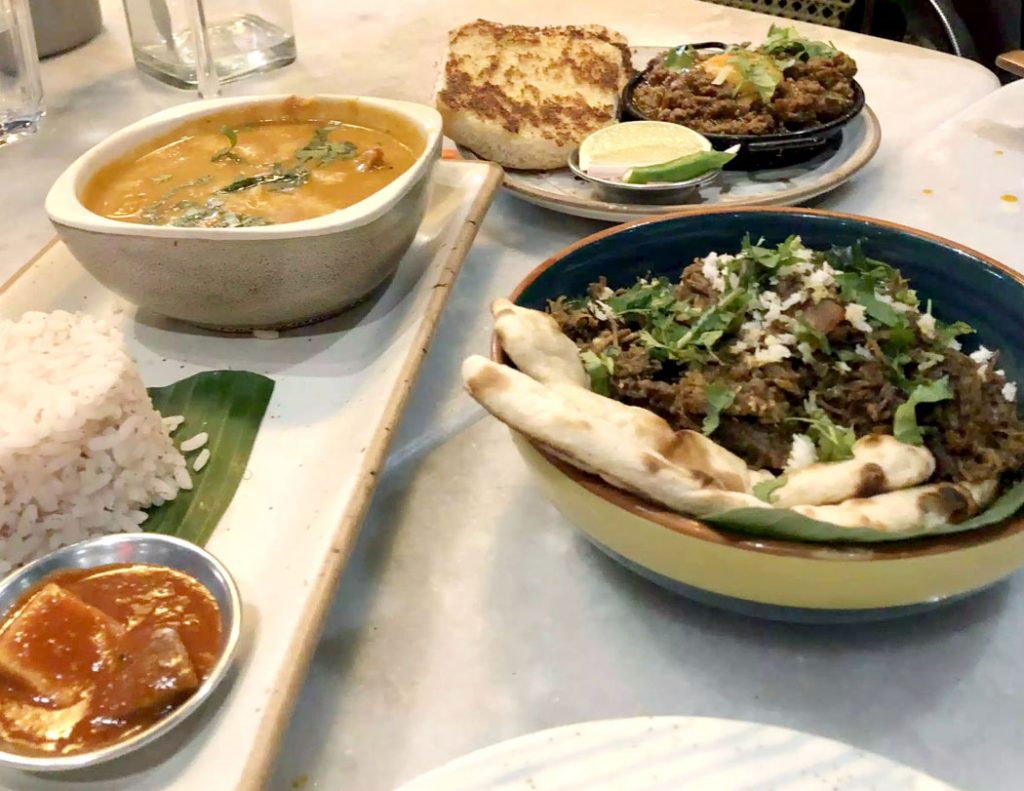 Price wise I found everything to be very reasonable.  Often, at small plates restaurants the prices sound great until you find that you have to order so many dishes that the price soon mounts up.  At Talli Joe the prices are low and the portion sizes are decent.  We ordered plenty of food to fill the three of us up and it only came to around £60.  For food of this quality I think £20 a head is super reasonable.  We ramped up the total with the alcohol but then we wanted to try a bit of everything!
Talli Joe makes for a very fun, sociable evening and is a great place to go with a group of friends for a fun dinner.
152-156 Shaftesbury Ave
London
WC2H 8HL
Tel 020 7836 5400
Disclaimer:  I received a complimentary meal in exchange for a review but all opinions are my own and reflect the experience I had during dinner at Talli Joe in Covent Garden.

Pin it for later