A dinner party for all your friends with none of the hassle?  Where do I sign up?  AmoChef have created a platform where you can hire a private chef for an evening to come and cook for you in your own home.  Whether you just want to spoil yourself for an evening or host a big party, every event and occasion is catered for.  Every style of food too!  You can choose a chef by location, budget, or by cuisine to ensure you create the perfect event for you.
I was invited to try out AmoChef by its creators to see what I thought of the platform.  The process seemed very simple.  I created an account online and then searched for chefs in and around London.  Each chef lists their culturally enriched, culinary experience online including the courses so you can see exactly what they would cook for you.  There were a few options, but when I saw Chef Silvestre, I knew I'd met my match!  Mediterranean food is my favourite cuisine and that is the style of food he chooses to prepare. His bio says that his food has fresh, seasonal ingredients at its core.
Next up I had to invite some friends over for dinner – and that was it.  My part of the job was done. I just had to wait with anticipation for the day of the dinner party…
On the day of the party, Chef Silvestre showed up at my door a few hours before my guests were due to arrive.  He had brought all his ingredients so after a short tour of the kitchen I left him to it.  He got to work and I prepared the house for the arrival of our friends.  I set the table, chilled the wine and that was it!  It felt so decadent to be able to sit back and relax when I'd normally be running around, stressing in the kitchen.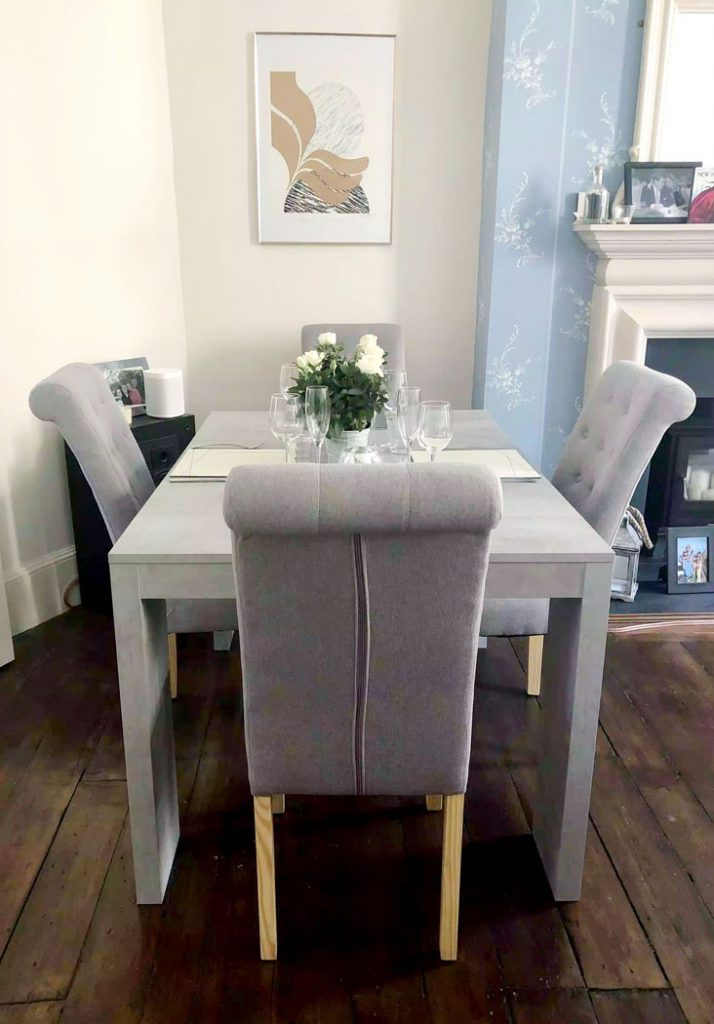 Our friends arrived and we welcomed them with a glass of champagne.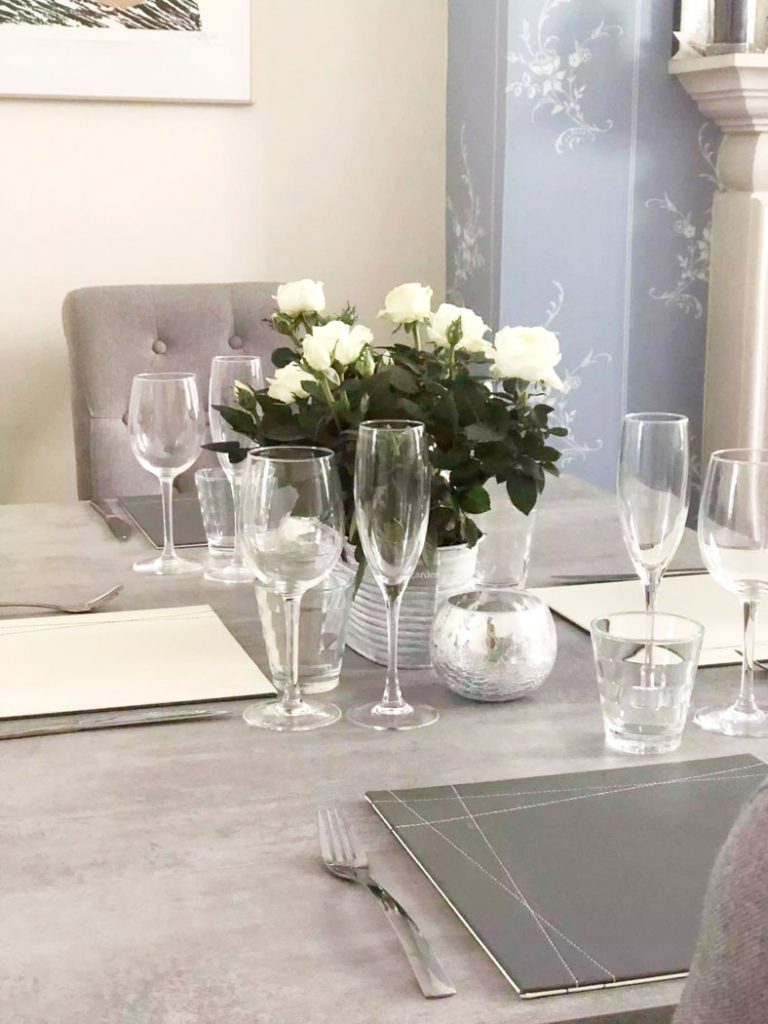 Chef Silvestre announced that he was ready to serve the first course so we sat at the dining table ready for our Mediterranean culinary experience.  Our first course was a creamy, fresh garden pea, spring onion and juicy prawn risotto.  Chef Silvestre had kindly served mine with a pea purée instead of the risotto, as I had asked when booking.
One of the best parts of booking through AmoChef is that you can communicate directly with the chef beforehand.  With all the dietary requirements that I have it was so reassuring to be able to speak directly to the chef.  After explaining what I could and couldn't eat I felt confident that Chef Silvestre would prepare dishes to my specific needs.
The dish was stunningly presented, I loved the fresh, vibrancy of the plate.  The prawns were delicious and the pea purée was sweet and smooth.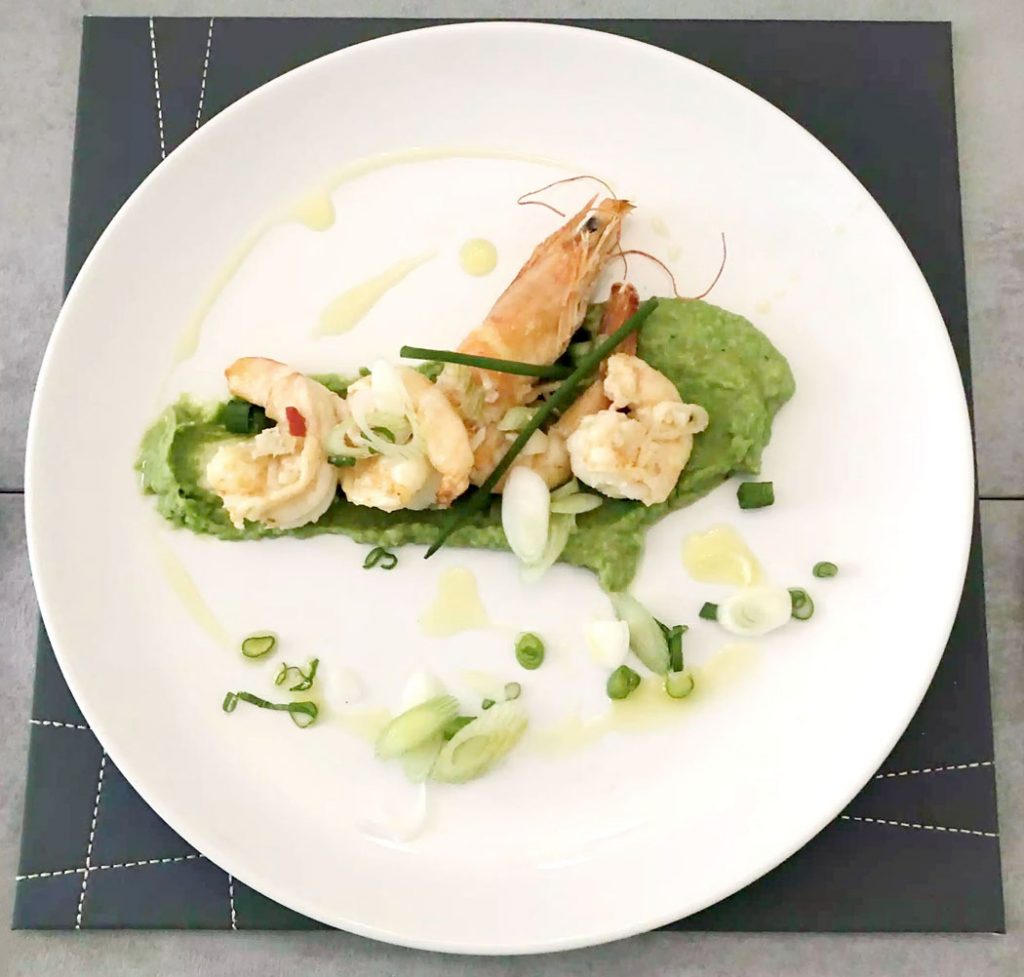 Next up were the main dishes.  When ordering we were able to choose between two dishes.  The first was a confit of freshly caught cod in an olive oil and garlic dressing.  It was served with sautéed potatoes and a vibrant carrot purée.  The second was roasted pork tenderloin with a red pepper paste, griddled spring asparagus and sweet potato mash.  I decided to order two of each so we could all share and taste all the flavours.
Again, Chef Silvestre had swapped out the sweet potato mash on mine for carrot and mushroom purée.
The two dishes were very different but both beautiful and elegant in their own right.  The cod was delicate and perfectly cooked.  It was a light, spring, healthy yet flavourful dish and took me right back to lunch in the Med!  The pork was a much heartier dish but still elegantly presented.
Of the two I was surprised that I preferred the pork.  Normally it's not a meat I would choose but it was delicious.  Paired with the earthy mushroom purée it was a nice change from the lighter meals I would normally go for.
Finally was the dessert course.  Chef had prepared a molten chocolate cake with fresh strawberries, crispy meringue and a zingy lemon sorbet.  For me, he had made a strawberry mousse sweetened only with honey.  I'm reliably informed that the chocolate cake was seriously decadent.  It was oozy and gooey in the middle like a chocolate fondant should be.  The fruit and the lemon sorbet cut through the richness and meant that the dish was not too sweet.
My strawberry mousse was to die for.  It's very rare that I can eat a dessert so to have Chef come up with something was such a treat.  It was light, fruity and not too sweet.  The perfect way to round off a delicious meal.
And to top it all off?  Chef left the kitchen spotless so there was no washing or tidying up.  We were able to sit back and relax with our friends.
After dinner Chef Silvestre joined us for a glass of wine and it was lovely to learn about his passion for food.  AmoChef is not merely a dinner party service.  It prides itself on allowing you to explore the cultures of the world through a true culinary experience, in your own home.  You go beyond having just a meal and Chef Silvestre definitely delivered that experience.  We learnt about his background, his love for food and flavours and seasonal ingredients.  'Amo' means love in Portuguese and the love and passion that the chefs have for food definitely shines through.  I'll definitely be using the service again, it was so reasonable.  At £40 a head for each of us it was so much cheaper than a restaurant meal.  Incredible value and amazing food!
Thanks to AmoChef for sponsoring this post.  They provided me with a chef to experience the service that they offer.  As always, all opinions are my own.
Pin it for later