When I think of small sharing plates, the cuisine that tends to spring to mind is Spanish.  Tapas is such a fun way to eat as I love being able to try a little bit of a lot of different flavours.  Recently I've also been able to discover the Italian version of tapas and tonight it was time to sample some meze.  Meze is a similar idea to tapas but from different part of the world.  Whereas Tapas tends to come from Spain, Meze is Middle Eastern in origin.  Tonight, CERU Soho had invited us down to see their new restaurant and check out the food.  They already have a successful venue in South Kensington but CERU Soho is their brand new opening and we were excited to see what was in store.
CERU Soho specialises in Levantine cuisine which was a completely new word to me.  The Levant is an area in the South East of the Mediterranean Sea and encompasses countries such as Lebanon, Israel, Palestine, Syria, Turkey, Egypt and Cyprus.  The food is healthy and grilled and full of middle eastern spices such as cumin and turmeric.  They often use fruit and nuts in their dishes and the cuisine is fresh and delicious and unfussy.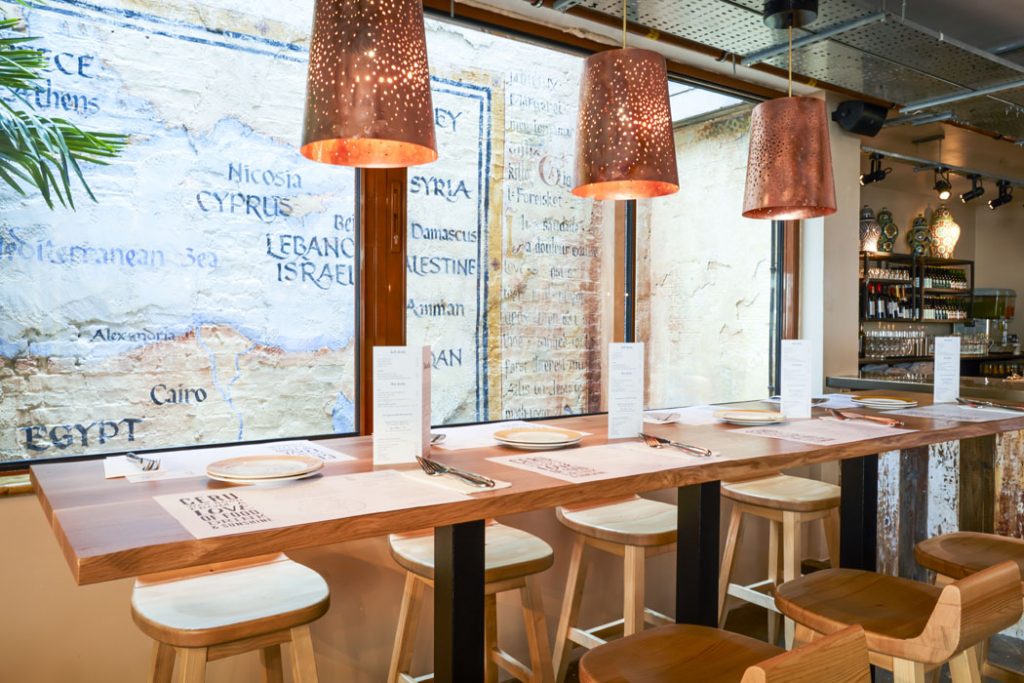 CERU Soho also have another huge selling point.  Almost the whole menu is completely gluten-free.  The only two things that aren't are the pita bread and the Hammara dip.  I decided to invite my mum along to dinner as she eats the same grain, gluten and refined sugar-free diet as I do!  We knew we'd be in for a treat when we had an entire menu to pick from and not just a few gluten-free options.
We arrived to CERU Soho and were shown to our table.  Taking a look at the drinks menu we decided to start with a cocktail.  However, all the cocktails were made with a sugar syrup and mum and I can't eat any refined sugar.  We decided to develop our own cocktails which the staff were more than happy to accommodate.  We each picked one of the mocktails which were made with fresh fruit juices and added a shot of vodka to each!  Mum picked the Apple Mojito (£4.25) which was made with fresh apple, lime, fresh mint and soda.  I opted for the Passion Fruit Mojito (£4.50) which was a blend of fresh passion fruit, lime, fresh mint & soda. The perfect refreshing, sugar-free cocktail!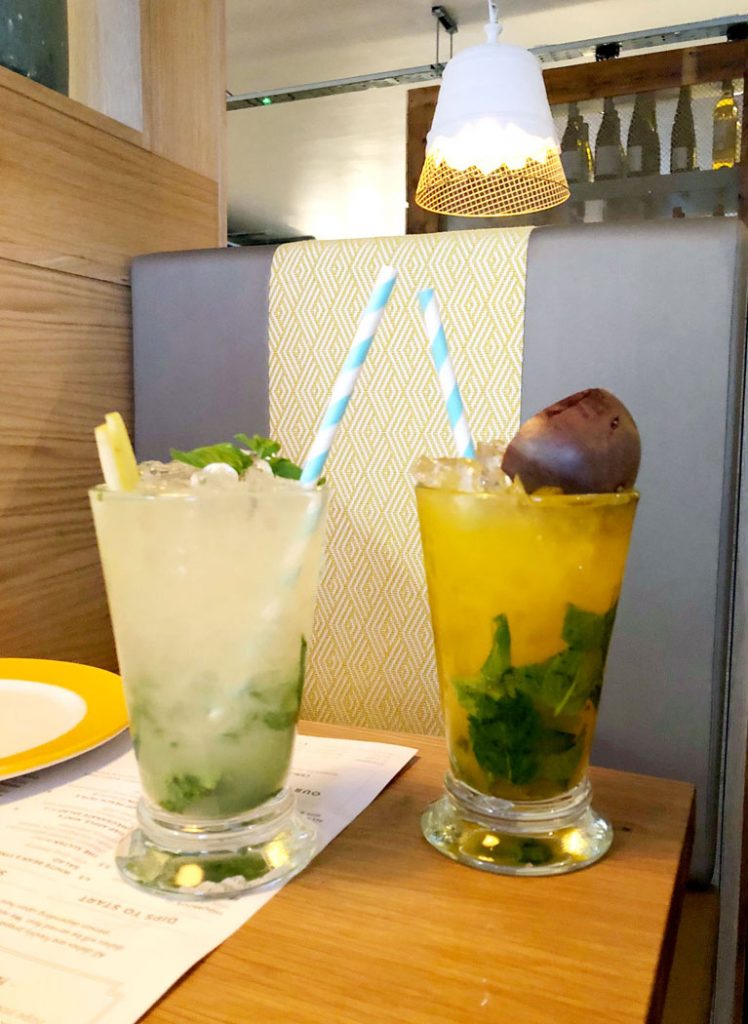 Next up we took a look at the main menu.  We were advised that  we would need around 6-8 dishes between the 2 of us.  We decided to start with a couple of dips and then try one dish from every section of the menu so that we could get a good overview of the cuisine.  This meant one salad, one meat, one poultry, one seafood and one vegetarian dish.
You can't eat meze and not get some houmous so that was definitely the first dip that we chose.  Along with the Houmous (£4.50) we decided to order one more dip and we chose the Fadi (£5.50).  This was roasted courgette with garlic, lemon and tahini.  You can have these served with pitta if you'd like but being grain and gluten-free, we opted for the crudité selection instead.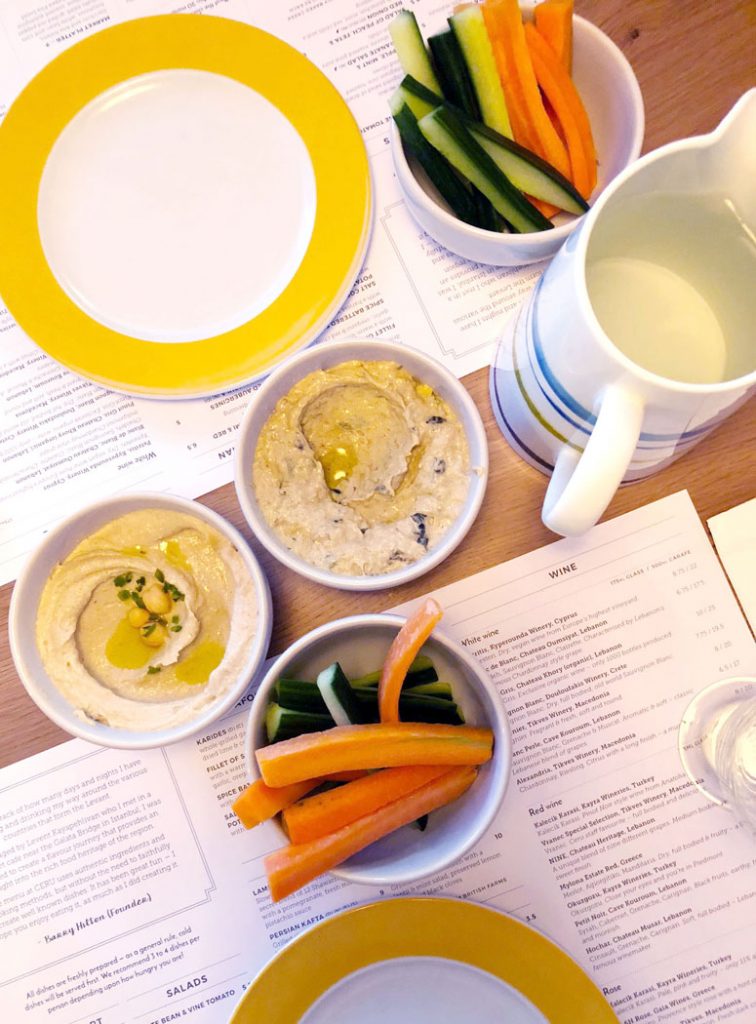 The houmous was honestly one of the best that I've ever tried.  It was very lemony which gave it a lovely fresh tang and it was the perfect contrast to the smoky Fadi.  You could definitely taste that the courgettes had been oven roasted and the richness of the tahini made for another incredible dip.
Next up, what I would call the main courses arrived.  We had opted for the Fillet of Sea Bream (£9.50), the Lamb Shoulder (£11.50) and the Merguez Chicken (£10).  We added the Roasted Aubergines on as a veggie dish too (£5).
By this point we had run out of drinks so we decided to take a look at the wine list.  Recently I've been trying some really different wines whenever I get the chance.  In the last few weeks I've had Turkish wine, Mallorcan wine and Lebanese wine.  Because of this, tonight we decided to try a wine from Macedonia!  We ordered a carafe of the Vranec Special Selection from Tikves Winery at £20.
It was full-bodied, delicious and much more complex than I was expecting.  These wines from various unknown regions can be little gems sometimes!  Dark fruits and a hint of chocolate paired so well with the dessert we had asked for.  Unfortunately, nothing on the dessert menu was sugar-free so the staff created us our own special dessert!  We asked for some cheese but what turned up was so much more.  Cheese drizzled with honey and toasted nuts and some fruit and salad.  Nothing was too much trouble for the chef!  We felt like they accommodated every request we had and went above and beyond to cater for our dietary needs.  It was a delicious end to what had been a meal full of fabulous flavour.
CERU Soho, you're on our radar now and we'll definitely be back to try the rest of the menu!  We loved your gluten-free ethos and the food was light, fresh and vibrant.
11 D'Arblay Street
London
W1F 8DT
Pin CERU Soho for later