I absolutely love houmous (or hummus if you're from the USA).  It's one of those staples at any party now, everyone's favourite dip that comes out with the nibbles.  You can dip crisps or crudité into it, spread it on bread and it goes fantastically with lamb as part of a main meal.  It's just so versatile.  The diet that I follow (the Specific Carbohydrate Diet) to help relieve the symptoms of my Lupus doesn't allow chickpeas.  It does however allow Haricot Beans (or Navy Beans as they're called in the USA), so  I created my own Haricot Bean Houmous and I defy anyone to tell the difference.
If you didn't know it wasn't made with chickpeas then you would never know the difference.  This Haricot Bean Houmous tastes exactly like standard houmous and has the same texture.  It's the perfect replacement if chickpeas are off the menu for you.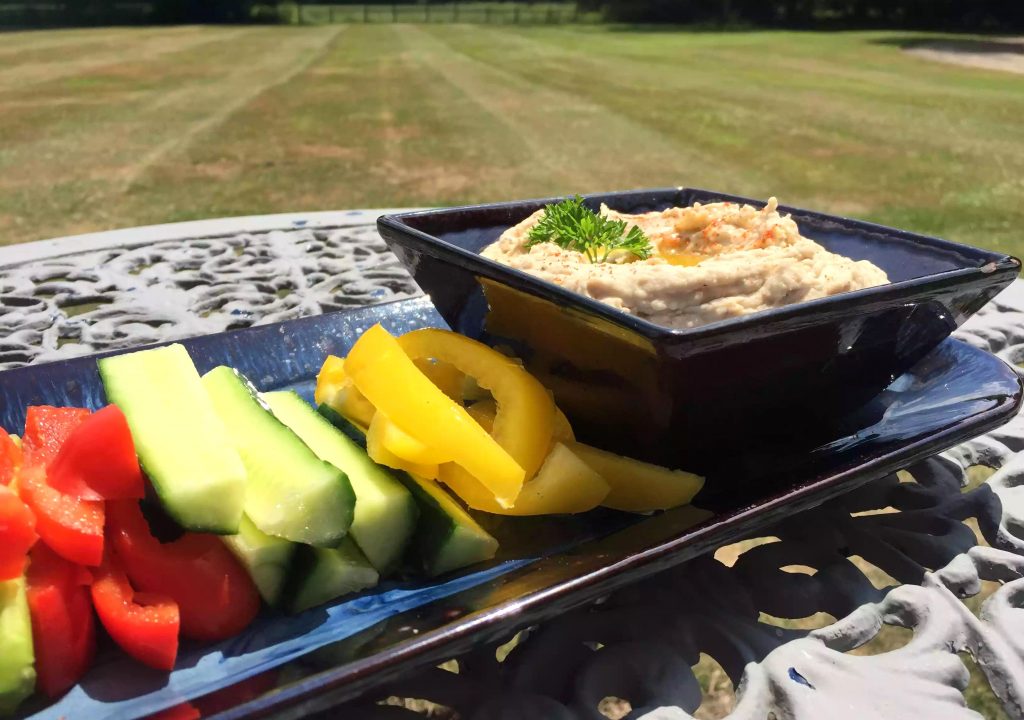 And…it's so easy to make.  From start to finish it's less than 10 minutes and so much tastier than anything store-bought!  All you do is rinse and drain the can of Haricot (Navy) Beans.  Add them to the food processor along with the Tahini
 (sesame seed paste), lemon juice and garlic clove and plenty of salt and pepper.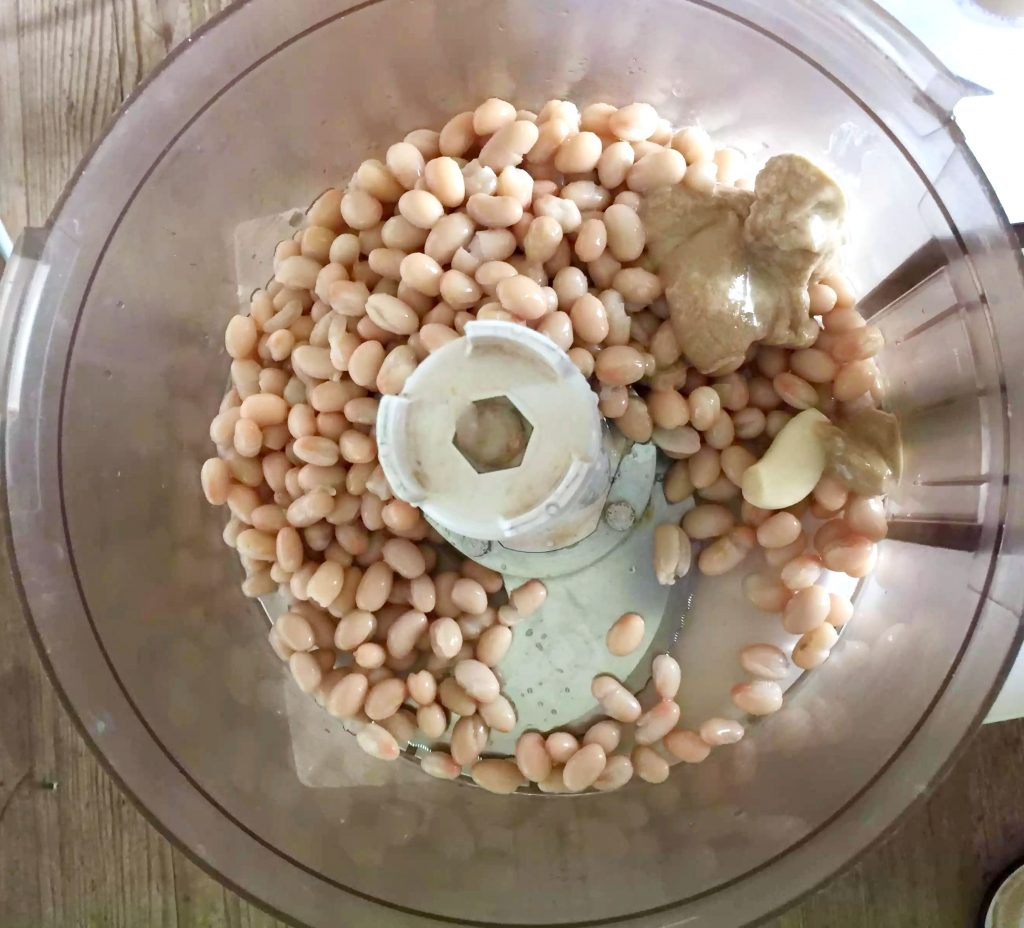 Turn the food processor on and blend for a couple of minutes.  Then dribble some good quality olive oil through the hole in the top until the houmous reaches the right texture.  I needed about two tablespoons of olive oil to reach the right consistency but you may prefer it thicker or thinner.  Scrape down the sides of the food processor and leave running for another 3 minutes or so to make sure the houmous is really smooth.
Scoop the houmous out into a bowl, make a well in the centre and fill with some more of the olive oil.  Sprinkle a pinch of paprika over the top and it's ready to serve.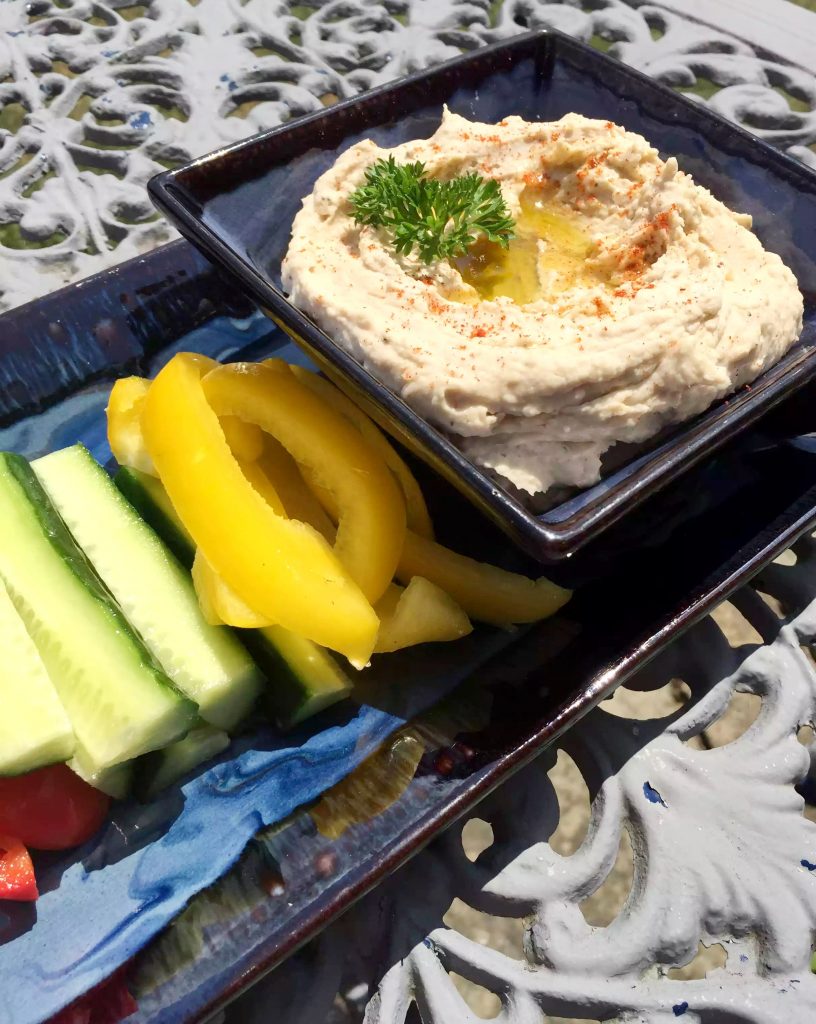 I served mine with crudité to dip into as a snack before our BBQ on Father's Day!  It's the perfect light appetiser to munch on while waiting for the BBQ food to cook!  This recipe makes a very generous portion that would serve about 6 people as a snack before dinner.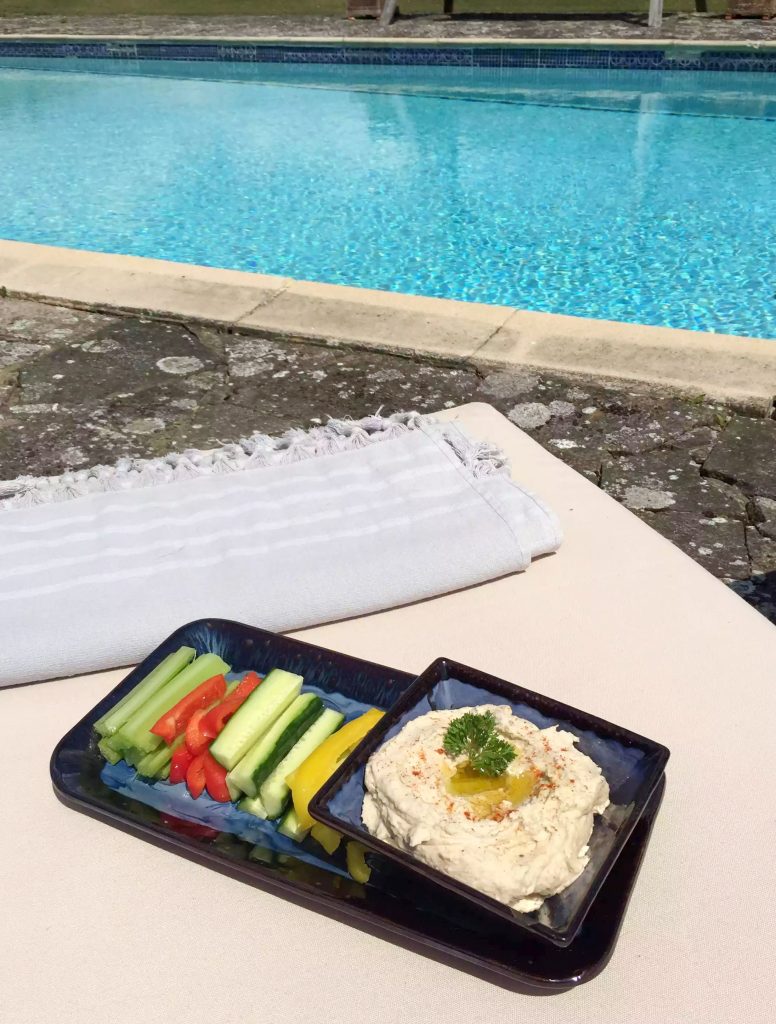 And on top of all that you can flavour it anyway you like.  I'll definitely be making it again and I've got plans for Roasted Red Pepper Houmous, Harissa Houmous and Lemon & Coriander (Cilantro) Houmous.  Let me know in the comments if there's any flavours you want me to create a recipe for!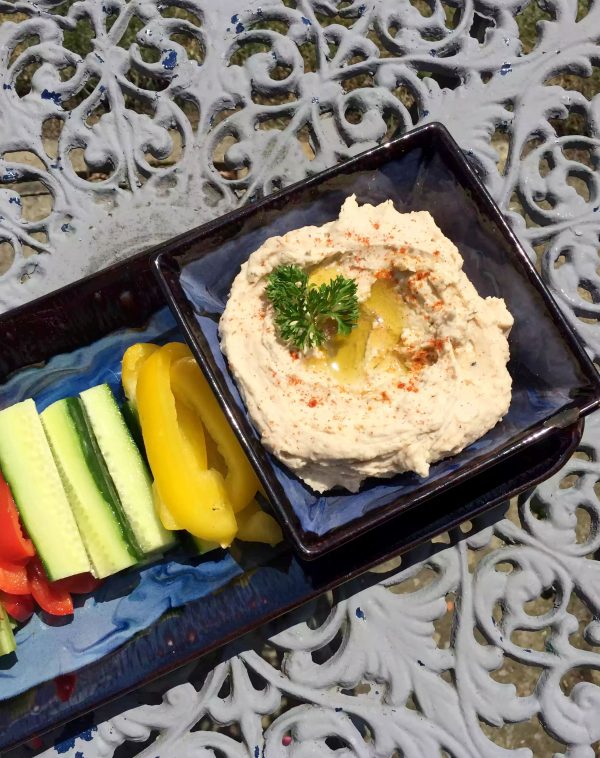 | | |
| --- | --- |
| | |
Rinse and drain the haricot beans.

Add to the food processor with the tahini, lemon juice, garlic and plenty of salt and pepper.

Blend for a couple of minutes.

Drizzle the olive oil through the opening in the top of the food processor, while it is still running, until the required consistency is achieved.

Blend for a further 3 minutes to make sure it is completely smooth.

Scoop into a bowl, make a well in the centre and garnish with the tsp of olive oil and pinch of paprika.
Allergy & Dietary Information for Haricot Bean Houmous (Navy Bean Hummus)
This recipe is Grain-Free, Gluten-Free, Dairy-Free & Refined-Sugar Free.  It's also suitable for SCD (Specific Carbohydrate Diet), Vegetarian, Vegan & Low Carb diets.
See my Products Page for Ingredients & Bakeware that I recommend.
Pin it for later